Hideki Matsuyama has one of the cleanest swings on the PGA tour, and he has proved himself with his Master's victory in 2021 with excellent iron play and precise short game.
A key feature of Hideki's swing is his pause and load at the top; this makes him an outstanding iron player with excellent compression and synchronization throughout the shot.
So what clubs does Matsuyama use? Here's the Hideki Matsuyama WITB: Hideki Matsuyama uses a Srixon ZX7 driver, Taylormade SIM 3-wood, Cobra King Radspeed Tour 5-wood, and Srixon Z-forged irons (4 to PW). Hideki uses RTX 4 Forged Prototype wedges with 46, 52, 57.5, and 62-degree lofts and a Scotty Cameron Newport 2 GSS putter with Srixon Z-star XV ball.
If you don't have the right equipment in your bag, then you may be add a serious disadvantage. Why not see if you can add a club from one of the best golfers in the world?
Read on to learn what's in the bag of Hideki Matsuyama and how he sets up his bag to complement his game perfectly.
Hideki Matsuyama WITB: What's In His Bag with Specs
Here's a table that summarizes Hideki Matsuyama clubs and WITB.
This is what it takes to win the Masters. Well, this and a lot of practice and some world-renowned swing mechanics. But don't worry, with years of practice; you might have a shot at Masters as well. Nonetheless, You can use these clubs to improve your game (proved by a major winner).
Read More: WITB of Tiger Woods
Hideki Matsuyama has stuck with Srixon drivers for the past few years. He used the ZX7 and ZX5 in 2022 and 2021, respectively.
In February 2023, he shifted to the ZX5 MK II LS prototype driver, and the switch for him went well because of his excellent driving stats after the shift.
Hideki has used a standard 9.5 degree with a Graphite Design Tour AD DI 8 TX shaft. Hideki likes to tinker with his clubs to ensure he uses the best one for his game.
Taylormade Sim line of fairway woods is famous among professional golfers because of its low center of gravity. Hideki likes his three wood to come hot off the face to gain maximum distance with low spin.
The Sim 2 fairway wood has excellent value for all golfers. Matsuyama 3 wood is a 15-degree 3-wood with a standard Graphite Design Tour AD DI 9 TX shaft.
Hideki uses his three wood as a fairway finder, but he can also use it off the deck to go for long par 5s in two shots.
Hideki Matsuyama uses Cobra Radspeed Tour 5 wood with 17.5 degrees of loft. Unlike most tour players who often opt for hybrids or three irons, he uses a five-wood.
The five wood is set up to produce high and spinning shots to stop on the green quickly from over 230 yards. It's an excellent option in the bag as it can stop the ball quickly on the green on long par-5s and par-3s.
Hideki's five-wood has a Graphite Design Tour AD DI 10 TX shaft.
You'll often see Hideki using a 20 degrees utility iron. He puts this club in the bag for a low option off the tee on a course with relatively windy conditions or when playing links golf.
It is an explosive club with an excellent feel. This club will help you with your beloved stingers off the tee.
Srixon Z — Forged Irons (4 to PW)
Hideki Matsuyama is widely renowned as one of the best irons players on the planet. So whatever Hideki uses must be a good option for any golfer. However, as mentioned before, Hideki is a great iron player because of his immense compression through the ball and hard rotation through the swing.
Hideki Matsuyama irons are Srixon Z forged iron set since Hideki likes to play with his setup. Hideki is a big fan of heel and toe notches and has significantly brought back heel and toe notches in the new Srixon Z forged Irons set. Hideki believes that notches produce more piercing ball flight and smooth turf interaction.
Hideki uses 46, 52, 57.5, and 62-degree wedges. Hideki rarely changes his 52-degree wedge but changes the rest after every other tournament to have maximum spin and consistency around the greens; after all, wedges are your scoring options.
All of his wedges have a subtle C-grind shape with slight offsets. Hideki likes a little offset in his irons and wedges compared to no offset.
Depending on his playing conditions, Hideki sets up his wedges with different widths and bounces angles on all three.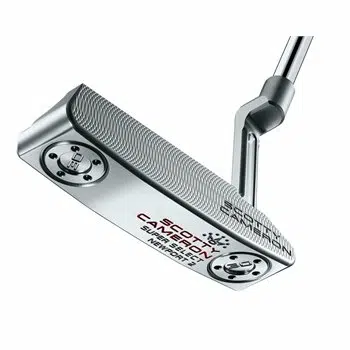 Scotty Cameron is a favorite choice among golfers when it comes to putters. Hideki prefers a blade-style putter, and Scotty Cameron Newport is the best in the business. Hideki Matsuyama putter shaft information is not available though.
Hideki has stuck with his putter for several years now. However, we have seen Hideki also using the Scotty Cameron Laguna One Six model.
Hideki Matsuyama golf ball is the Srixon Z-Star Xv. This golf ball is firmer than the Srixon Z and provides higher compression.
High-swing speed golfers prefer this ball. While the ball is firmer, it still delivers enough spin off the face for golfers to maneuver it.
The Srixon Z-star comes in pure white and tour yellow; Hideki often uses the yellow tour ball in colder conditions. However, Srixon Z-star Xv is not a famous ball on the tour.
Here's a list of the most used golf balls on the tour.
Hideki uses Asics golf shoes. These shoes have a very traditional design but have a sharp look non the less.
They come in limited colors but are durable and highly breathable on the course. They provide comfort and stability when it comes to swinging your swing.
This glove uses premium Cabertta leather, providing a soft feel on the golf club. This golf glove is excellent when it comes to breathability. However, this golf glove is not widely used on tour.
If one of the best in the game uses these gloves, you can also try them out for yourself.
Read more: Who makes the Srixon Golf Ball?
How Much Does Hideki Matsuyama's Bag Cost?
So let's break down how much it would cost to have a bag similar to Hideki Matsuyama.
FAQs
What Ball Does Hideki Matsuyama Use?
Hideki Matsuyama uses a Srixon Z-star XV ball. This ball is firmer than the Srixon Z golf ball. The golf ball performs well under colder conditions. However, it also provides excellent control and stability with a good amount of spin.
What is Hideki Matsuyama Wearing on His Wrist?
Hideki Matsuyama is one of the many golfers to wear a whoop strap on his wrist. The whoop strap provides in-depth health and fitness status with indicators such as your heart rate, heart rate when you're resting, variability in your heart rate, skin temperature, and blood oxygen levels.
Conclusion
Hideki Matsuyama is Japan's pride in his world-class golf game. The golfer holds excellent achievements in his career, and with his 2021 win at The Masters, he just entered the Hall of Fame category of international golfers.
Hideki Matsuyama's swing is hard to replicate, but learning his mechanics will significantly help your game.
Matsuyama is a Srixon athlete and has a long-term deal with Srixon. However, players are free to use any manufacturer's clubs. And since Hideki tinkers a lot with his golf clubs. So, for Matsuyama to be using Srixon says a lot about what Srixon golf clubs offer.