Rory McIlroy has become a favorite of many golf fans over the last few years. TaylorMade saw the opportunity to capitalize on his popularity back in 2017, and he's been with them ever since.
As a result, Rory has a full bag of 14 TaylorMade clubs. And he has used them to top many events, including the Masters.
Read on to learn the Rory McIlroy clubs that he uses on tour.
Rory McIlroy WITB: What Clubs Does Rory McIlroy Use in 2023?
| | | | |
| --- | --- | --- | --- |
| Item | Model | Loft | Shaft |
| Driver | TaylorMade Stealth Plus | 8.25º | Fujikura Ventus Black 6 X |
| 3 Wood | TaylorMade Stealth Plus | 15º | Fujikura Ventus Black 8 X |
| 5 Wood | TaylorMade Stealth Plus | 19º | Fujikura Ventus Black 9 X |
| 3 Iron | TaylorMade P770 | | Project X Rifle 7.0 |
| 4 Iron – PW | TaylorMade Rors Proto | | Project X Rifle 7.0 |
| Wedges | TaylorMade MG3 | 54º 58º | Project X Rifle 6.5 |
| Putter | TaylorMade Spider X Hydro Blast | | |
| Ball | TaylorMade TP5x | | |
| Apparel | Nike | | |
| Shoes | Nike Air Zoom Victory Tour 2 | | |
Rory McIlroy Driver: TaylorMade Stealth Plus
For the 2021 season, Rory McIlroy used both the TaylorMade Sim2 and Sim2 MAX drivers, but now he's using the newer and better Stealth Plus driver. You'll find plenty of other PGA Tour pros using this driver, including Colin Morikawa and Tiger Woods.
The Stealth range from TaylorMade has a huge sweet spot with a highly flexible face for incredible ball speeds. The Plus version has a more compact profile than the standard models and is more suited to low handicap players (like PGA pros). It also has a 10g sliding weight to mold shot shape bias.
Here are the exact specs for Rory's driver
9º at 8.25º
Fujikura Ventus Black 6 X shaft
lie angle 59º
D4.5 swing weight
Rory McIlroy's Woods: TaylorMade Stealth Plus
Rory is perhaps best known for his huge drives and fairway shots. So, it makes sense for him to have a set of woods that allow him to crack huge yardage numbers. He currently uses two TaylorMade Stealth Plus fairway woods with the following specs:
Loft: 15º
Shaft: Fujikura Ventus Black 8 X
Loft: 19º
Shaft: Fujikura Ventus Black 9 X
He often forgoes a 5 wood and instead opts for a hybrid, but more recently he's been sticking to two fairway woods.
Rory McIlroy Irons: Taylormade P770, Taylormade Rors Proto
McIlroy had been trying out a few different sets of TaylorMade irons but recently switched back to the Rors Proto series. These have a carbon steel clubhead and were introduced in 2017 for many TaylorMade Staff players. The specs of Rory's irons have irons have remained similar since then.
In this series, he uses a 4 iron to a pitching wedge with Project X Rifle 7.0 shafts. They have similar to standard 4° increments with lie angles that shift at a rate of 0.5°.
The Rory McIlroy setup iron is a TaylorMade P770 3 iron with a Project X Rifle 7.0 shaft.
Rory McIlroy Clubs: TaylorMade MG3 Wedges
Rory McIlroy golf clubs include MG3 wedges, which are a recently upgraded TaylorMade MG2 successor. He uses two wedges:
Both of them have a Project X Rifle 6.5 shaft. You'll find that many PGA Tour golfers use a softer shaft like this, so they have a bit more feel.
It's possible he may start including a 48º wedge again as he has done in the past. But for now, he's sticking to just two wedges.
Rory McIlroy's Putter: TaylorMade Spider X Hydro Blast
Flow Neck
Superstroke Pistol GT Tour Grip
Stating that he needs a more forgiving putter nowadays, Rory McIlroy has moved away from using blade putters. He said that although the good days with a blade putter like the Scotty Cameron 0009m he used to use are excellent, the bad days are worse.
He's had a lot more success on the greens with the TaylorMade Spider of late.
These putters make it a breeze to stay on line and are super forgiving. They're perfect for PGA golfers and high handicap players alike.
Rory McIlroy What's in the Bag: Other Items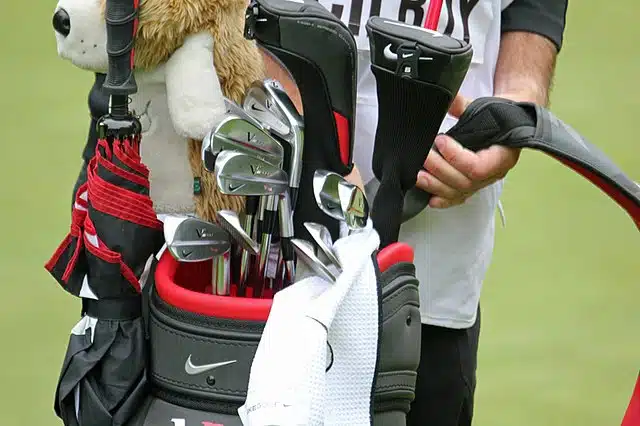 Golf Balls: TaylorMade TP5X
The TaylorMade TP5X golf balls are low spin and work perfectly for a player like McIlroy that really needs to capitalize on his strong fairway game.
Since they hold up their spin, they have minimal jump.
McIlroy stamps his balls with #22. So if you want to be exactly the same, you'll need a custom order.
Grips: Golf Pride MCC
These are multi-compound grips with plenty of texture and tack that provides comfort and control. You'll find most of the PGA Tour pros use these grips.
Apparel and Shoes: Nike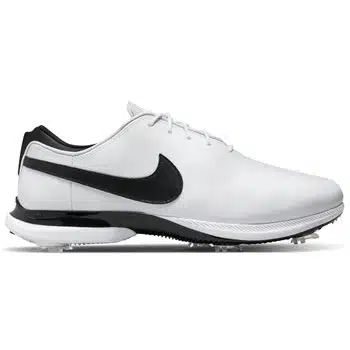 McIlroy has rocked the Nike Air Zoom Victory Tour 2 golf shoes since the 2021 Abu Dhabi HSBC Championship. Although he sticks to the one model of shoes, he frequently wears different colors ranging from special edition ones to more traditional white or black versions.
He also wears a Nike glove and apparel to match.
How Much Are Rory McIlroy's Clubs Worth?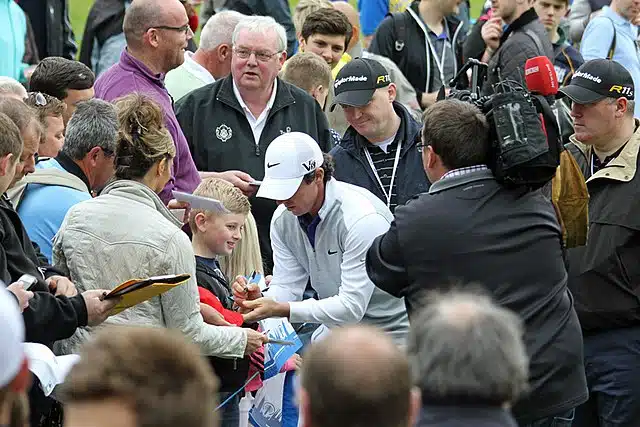 Since Rors Proto irons are custom clubs, we included the price for TaylorMade P790 Irons instead as they are the most similar. To match Rory McIlroy in the bag, you'll need a bit of money, but you don't have to be the richest golfer in the world.
Here's a breakdown of the approximate costs of Rory McIlroy's clubs at the time of writing this article, not including a Rory McIlroy golf bag:
| | | |
| --- | --- | --- |
| Item | Model | Approx Price (USD) |
| Driver | TaylorMade Stealth Plus | $600 |
| 3 Wood | TaylorMade Stealth Plus | $330 |
| 5 Wood | TaylorMade Stealth Plus | $330 |
| 3 Iron | TaylorMade P770 | $200 |
| 4-PW | TaylorMade P790 | $1,300 |
| Wedges | TaylorMade MG3 | $360 |
| Putter | TaylorMade Spider X Hydro Blast | $250 |
| | | Total |
| | | $3,370 |
Wrapping up – What's in the Bag With Rory McIlroy
Rory McIlroy clubs are all TaylorMade as he is a sponsored golfer. His bag is filled with some of the best TaylorMade clubs on the market. You'll find similar products in many of the other Taylormade players' bags too.
If you'd like to learn more about what other PGA Tour pros put in their bag, check out these guides:
Chris's love for golf is only rivaled by his wanderlust. A globetrotter at heart, He's played courses throughout Europe and Asia and at home in NSW, Australia. With a writing style as smooth as his golf swing, he'll help you find the right gear to match your skill level and style. You can connect with Chris on LinkedIn.