A quality stand bag is an essential piece of equipment for golfers who prefer to walk the course. Stand bags not only offer the convenience of easy transport but also provide storage for clubs, tees, balls, and other accessories that a golfer may need. 
Getting around the golf course with a carry bag can be the perfect way to add some cardiovascular training to your life. But getting the wrong golf stand bag could cost you energy and strokes.
The best golf stand bags vary from ultra-light (under 4 lbs) to having 11 pockets for everything you'd need. Which is right for you?
With so many options available, choosing the right golf stand bag can be a little overwhelming. From lightweight, easy-to-carry bags to durable, water-resistant models, a stand bag awaits every golfer's needs.
The 7 Best Stand Golf Bags 2023 Has to Offer
Ping Hoofer 14-Way Stand Golf Bag – Best for Storage
Cobra Ultralight Stand Bag – Best for Stability
Callaway Golf Fairway Plus Stand Bag – Best Hybrid Golf Bag
Nike Sport Carry Lite – Best for Aesthetics
Titleist Players 4 StaDry Stand Bag – Lightest and Dryest
Sun Mountain 2022 4.5 LS 14-Way Stand Bag—Best For Durability
TaylorMade Golf Ladies Select ST – Budget-Friendly Big Name Stand Bag
Why You Should Trust Us
Our team spends thousands of hours trying out and researching golf equipment to help you take your game to the next level. Here's our product review process.
We can bring these reviews to you through the small commissions we earn if you buy through the links below. 
How We Reviewed These Products
Golfspan only shares equipment and brands we trust. 
I'm a PGA-certified golfer and instructor and I thoroughly researched and evaluated the products shared below. Then an editor reviewed and fact-checked the list. Finally, we conduct regular content audits to update and revise our reviews to ensure you receive the latest information. 
To select these stand bags, we considered these criteria:
Cost
Durability
Comfort
Storage Space
Weight
Design
The Best Golf Stand Bags for Men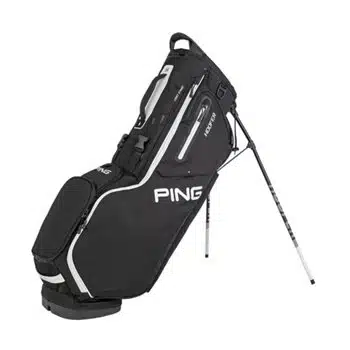 Specs:
Weight: 5.5lbs (2.5kg)
Pockets: 11
Waterproof: Partially
Colors: 3
Pros:
Easily switch between the single and double strap modes
Tailored pocket for rangefinders
Cons:
Heavier than those with smaller dividers
Limited color options
Ping Hoofer never disappoints when it comes to being the best golf stand bag. Boasting a huge 22 liters and accompanied by a 14-way divider, the Ping Hoofer is arguably the biggest and the best 14-way stand bag. 
While these bags are a little heavier than some of the ultra-light competition, they still only weigh a tiny 5.5 lbs.
The Ping Hoofer bags come with 11 pockets, including:
A valuables pocket lined with velour

A magnetic pocket for a rangefinder

A magnetic, top-loading slip pocket

A water-resistant pocket
One of the big selling points for these bags is how easily it converts between the premium double strap and single strap carrying systems. 
Shifting how you carry the bag in the middle of a game of golf can help prevent any one part of your body from becoming too tired and therefore help lower the number of mishits.
The channel for the straps is set away from the pockets, so you'll have full access to the ample storage these bags have on offer without removing the straps.
The Ping Hoofer bag has earned its long-standing celebration for a good reason. It performs exceptionally well in all aspects, providing ample storage space, lighter weight than the comparable Vessel golf bag, and that too at a very affordable price.
Specs:
Weight: 4.4lbs (2kg)
Pockets: 8
Waterproof: Partially
Colors: 8
Pros:
Very stable base
Oversized apparel pocket
Full-length dividers
Cons:
The Cobra Ultralight stand bag has plenty of storage, especially when compared with its weight. The dedicated apparel pocket is a particular standout as it is big enough to fit an extra layer of clothes plus a full set of waterproof clothes. 
8 pockets are also enough for most people to keep their gear organized.
Your clubs will be safe and sound in the 5-way, full-length dividers. Many of the cheaper stand bags only have a top divider. Although that saves a little weight, the clubs can get snagged more often.
Despite its lightweight, it doesn't compromise functionality or durability. 
The Cobra Ultralight is easy to maneuver too. It is designed with comfort in mind. It has quick-release shoulder straps to make simple adjustments. There is also a hip pad that keeps you cool on hot days. 
The handle at the crown of the bag also makes it a breeze to pull these bags in and out of the car.
This has one of the most stable bottoms of our top picks, so if you know your most frequented course is a little bumpy (or you spend a lot of time in the rough), this could be the perfect stand bag for you.
Specs:
Weight: 4.7lbs (2.13kg)
Divider: 4 ways
Waterproof: Partially
Colors: 8
Pros:
Tough zippers
Quick clip single strap design
Pushcart friendly
Cons:
Low rider 4-way divider won't suit all golfers
Slightly heavier than comparable models
The Fairway Plus line from Callaway golf is between the Fairway C and Fairway 14 making it a hybrid cart that is just as happy being placed in push carts as it is being carried around the course, making it one of the best golf bags for walking without question.
The trade-off is that these are a little heavier than similarly sized carts due to the addition of rubber over-mold grip blocks that make these bags so pushcart friendly.
The 4-way Apex system divider is well thought out and allows you to keep your clubs safe, even on long and hilly courses.
Despite its compact size, the 4-way top of the golf bag provides ample room for the clubs to move in and out of the bag. 
The padding at the top effectively protects the shafts from any kind of damage during transportation. The grab handles located at the top, front side, and bottom of the bag are very strong and practical. 
The fabric on these bags is extremely tough and will last a lifetime if you treat the bag with respect. The legs are also plenty sturdy to keep you carrying your bag around over the years.
These bags are one of the top contenders for those who like to use a push cart but sometimes like to exert themselves extra by carrying their bag.
Read more: For the best golf cart bags, read our full review.
Specs:
Weight: 4.3lbs (1.95kg)
Pockets: 7
Waterproof: Partially
Divider: 5 Way with dedicated putter well
Colors: 4
Pros:
Ample apparel pocket
Lightweight when compared to storage
Very sturdy legs
Cons:
Hip and strap padding could be better
No top handle
Sometimes it's nice to be kitted out completely in one brand. Given that Nike is the top apparel provider for golf, it would make sense to get a Nike bag, too, right?
Nike has established a worldwide reputation for excellence through its commitment for innovation and sustainability. Their golf bags are no exception when it comes to serving quality and durability. 
These bags keep up with Nike's good name in terms of aesthetics, and they offer a lot of space in their pockets compared to their meager weight.
They have a 5-way divider with a dedicated putter well. Some of the divider sections are full-length, but others aren't. The putter well isn't full-length, making it feel a little redundant.
The bag's dual strap system is well-padded and adjustable, providing a comfortable fit for golfers of all sizes. Additionally, the comfortable handle at the top makes it easier for the golfers to move around the course without feeling fatigued. 
The shoulder straps are comfortable but don't have as much padding as some of the other competitors. Yet, they have an awesome ability to be adjusted on the fly.
The Nike Sports Carry Lite has a modern and stylish design that will stand out on the course. It has various color options, allowing golfers to pick out a bag according to their preferences.  
The price point of these bags should be a real consideration. These cost half as much as comparable stand bags of the same weight and durability. If you can handle the slightly lower amount of padding. These bags are a hot contender for the best golf bag for walking and riding.
In short, the Nike Sports Carry Lite is a great choice for golfers who prioritize lightweight, style, and a comfortable carrying system. 
However, golfers who require more space or additional features may need to consider more expensive options.
Read More: For even lighter bags, check out our full review of the best Sunday golf bags.
Specs:
Weight: 3.74bs (1.7kg)
Pockets: 7
Waterproof: Yes
Colors: 13
Pros:
Very light
High-quality waterproofing
Classy aesthetics
Cons:
Shoulder pads are not the best
Expensive
Titleist Players 4 StaDry Stand Bag is a popular golf bag that has been designed with the golfer in mind. This bag is part of Titleist's Players Collection and comes with a range of features that are sure to appeal to serious golfers.
It's hard to believe that these bags are so light considering they have class-leading waterproofing on all the zippers over 7 pockets. But somehow, Titleist pulled it off.
One of the key features of the Titleist Players 4 StaDry Stand Bag is its waterproof design. The bag is made from high-quality materials that are designed to keep your clubs and accessories dry even in wet weather conditions. 
The bag's waterproof construction features high-quality zippers and sealed seams that provide maximum protection from rain and moisture.
The bag's 4-way top with full-length dividers provides ample space for all your clubs, keeping them organized and easily accessible. The top is designed to keep your clubs from clattering against each other, reducing the risk of damage to your clubs during transport.
As you'd expect from any Titleist product, these bags are also some of the best-looking bags on the market. The StaDry has 4 full-length dividers to keep your clubs safe and sound.
The 7 pockets include:
A magnetic accessories pocket

A full-length apparel pocket

A rangefinder attachment

An external water bottle holder
The straps on this bag are decent. But considering what you have to fork over to buy one of these bags, we expected more padding.
Although, you should still be able to get through 18 holes without any comfort issues.
Specs:
Weight: 4.41lbs (2kg)

Pockets: 9

Waterproof: Yes

Colors: 6
Pros

:
14-way top with full-length dividers keeps clubs organized and easily accessible

Multiple pockets, including a cooler pocket and velour-lined valuables pocket

Lightweight design makes it easy to carry for extended periods of time

Durable construction with high-quality materials for long-lasting use

Stand system with wide legs, provides stability on any terrain
Cons:
Pricier than some other stand bags on the market

Some golfers may prefer a bag with fewer dividers for a more streamlined design
If you're looking for a golf bag that can keep your clubs organized and accessible while providing plenty of storage space for all your golfing gear, the Sun Mountain 4.5 LS 14-Way Stand Bag is an excellent choice.
This bag features a 14-way top with full-length dividers, which means your clubs won't get tangled or damaged during transport.
Additionally, the bag has multiple pockets, including a cooler pocket and a velour-lined valuables pocket, which makes it easy to store all your golfing essentials. 
And despite all its features, this bag is surprisingly lightweight, making it comfortable to carry for hours on end.
Of course, as with any golf bag, there are some downsides to consider. For one thing, this bag is a bit on the expensive side, so it may not be the best option for those on a tight budget. 
Additionally, some golfers may prefer a bag with fewer dividers for a more streamlined look.
The Best Stand Bag for Women
There's no real difference between men's and women's stand bags except aesthetics. 
Cart bags are a different story as they are sometimes lighter than men's ones, but any of our above golf stand bag reviews could technically be the best stand bag for a female golfer. 
Regardless of whether you're a beginner or an experienced golfer, you're sure to find a stand bag on the list that will make your golfing experience more comfortable and enjoyable. 
So let's take a look at the top picks we made for you.
Specs:
Weight: 5lbs (2.26kg)
Pockets: 6
Waterproof: No
Dividers: 5
Pros:
Well priced
Easy to adjust
Comfortable carry straps
Cons:
TaylorMade is a well-known brand in the golfing industry, offering a wide range of golfing equipment and accessories, including high-quality stand bags. The ST range from TaylorMade is its budget-friendly carry bags designed to be both functional and stylish. 
They're the cheapest you'll find big brand name reliability in a stand bag. On the flip side of that coin, some of the premium features are missing. There's no waterproofing, and the bag is a little heavier than the competition.
If you're fine with carrying a 5lbs bag for 18 holes and don't need a waterproof pocket, then this bag is actually a great choice. It costs much less than comparable offerings from competing brands and gives just as much durability and comfort. 
It also features a comfortable strap system that distributes the weight of the bag evenly across the shoulders and back, reducing the risk of strain or injury. 
Overall these are a fantastic budget-friendly option that also caters to the women's section of the market. With its comfortable strap system, sufficient storage, and sleek design, this bag is sure to impress even the most discerning of golfers. 
Read more: For all the best women's golf bags, read our full review.
What to Look Out for When Shopping for Golf Carry Bags
Dividers and Club Protection
When shopping for a cart bag, you'll often want a lot of dividers. 14-hole dividers allow you to keep all your clubs separate and safe.
Yet, large dividers are not always ideal in a golf carry bag. They add extra weight and can also cause the top of the bags to be too large and shift the center of gravity to the wrong part of the bag. Chances are you'll be carrying fewer clubs around the course than if you were to use a cart bag anyway.
Usually, you should aim for a stand bag with four to six dividers. Having six or fewer will help prevent the clubs from snagging on the way out of the bag and save on space and weight. Well-designed bags with a low divider count can still provide enough protection for your clubs to prevent them from knocking together too much.
Even though this blanket rule is usually true, there are some exceptions. You'll find in our top picks there are still some stand bags on the market in 2023 that have 10-14 dividers and are so well designed that they work well and don't weigh too much.
Storage
Like with the dividers, more is not necessarily always better for storage pockets in stand bags. More pockets equal more fabric which makes the bag heavier. Yet, you should still have enough pockets on your golf stand bag to carry around everything you need.
A clever way that many of the best golf carry bags save on weight while still having storage is to use clips instead of pockets. There's space for umbrellas, water bottles, GPS', etc., without adding unnecessary weight.
The layout of the storage system of the bag is also important. You don't want a bag that falls over because of the weight of your water bottle. It's also a good idea to examine if the pockets interfere with each other and prevent you from using any of them to their full capacity.
You should also consider whether or not you need waterproof pockets. Generally speaking, bags with quality waterproofing are a little more expensive and may not be worth the extra spend if you don't use your phone or wallet on the course anyway.
If you like to carry a snack or meal with you during a round of golf, it's not a bad idea to look out for a stand bag with an insulated pocket. That way, your food and water can stay cold on summer days. The bigger, the better when it comes to insulated pockets. However, since stand bags are smaller than cart bags, you'll likely have to sacrifice some other storage pockets.
Straps
18 to 36 holes can take you an entire day to play. So, you'll need to make sure you're comfortable. You can end up with blisters or even a muscular-skeletal injury from carrying a bag with insufficiently padded straps. 
There are a few different types of straps that you might find on a stand bag. The most common type is a dual-strap system, which consists of 2 straps that go over each shoulder. This system is popular due to its ability to distribute weight evenly and reduce strain on the shoulders and back. 
Some stand bags also have a single-strap system, which is similar to the strap on the traditional carry bag. This type of system can be less comfortable over long distances, as it puts more pressure on one shoulder. 
The best quality stand bags have reinforced straps with plenty of padding to help you feel supported and stay fresh no matter how long you spend playing golf. 
Stability
You would think that the stands on a stand bag would be among the most important things on a stand bag. Yet, many of the dodgy bags on the market have insufficient legs that are either unstable or prone to breaking. Try to keep an eye out for durable and sturdy legs. 
Longer legs will generally provide a wider footprint. However, longer legs can also make the bag more difficult to carry and maneuver. 
The material of the legs can also impact the stability of the bag. Lightweight materials like aluminum or carbon fiber can help to keep the overall weight of the bag down, but may not be as sturdy as heavier materials like steel. 
The placement of legs on a stand bag is also a crucial factor to take into account. Certain stand bags have legs situated towards the front, while others have them at the back. This placement can have an impact on the balance and stability of the bag when standing upright. 
The opening and closing mechanism for the legs is another essential factor you need to consider. You'll be using it a lot, so it's ideal if the transition between opened and closed is as smooth as possible. 
This mechanism allows the legs to be extended and retracted quickly and easily, making it convenient for golfers to use the bag on the course. It is also better if the legs lock into place when they aren't in use so they don't rattle around or interfere with the bag's weight distribution.
Some stand bags have a twist-lock system. This type of mechanism requires the golfer to twist a locking mechanism to release the legs, which then extend out from the base of the bag. 
To retract the legs, the golfer simply twists the mechanism again, which locks the legs back into place.
Weight
As we alluded to in the other sections, weight is one of the most crucial things to consider when selecting the best carry golf bag for your needs. A few pounds can differ between suffering on the back nine or finishing up with as much distance on your long game as possible.
Stand bags are designed to be lightweight and easy to carry, which makes them a popular choice for golfers who prefer to walk rather than ride in a cart. 
The weight of the stand bag can vary depending on the size, materials, and features of the bag. Lightweight materials like nylon or polyester are commonly used to keep the overall weight of the bag down. However, some golfers may prefer heavier materials like leather for their durability and aesthetic appeal. 
If you know that you're going to keep your bag on a push cart most of the time, weight is less of a concern. Hybrid bags are usually a little heavier, but they offer more storage.
In addition to the materials used, the number and size of pockets on the bag can also impact its weight. More pockets and larger pockets will generally add more weight to the bag.
It's also quite effective to consider how many pockets they really need and whether the additional weight is worth it for the extra storage space. 
Again, you need to weigh up the trade-off between weight, storage, and comfort to decide on the perfect bag for your needs.
Read more: You can learn about the best hybrid golf bags in our full review.
Construction Materials
The material used for the bag impacts its durability, weight, and overall appearance of the bag. Most golf stand bags are made of high-density nylon or polyurethane. These materials are quite durable, so you don't have to worry about accidentally tearing them under normal usage. 
They are also relatively affordable, making them a good choice for golfers on a budget. 
Leather bags are often more expensive and heavy than bags made from synthetic materials, but they can last for many years with proper care. 
One of the differences between materials to look out for is the level of waterproofing. Most manufacturers mention it on their sales pages, so you don't need to be a whiz at remembering which material will keep the rain out the best.
The construction materials will also impact how a golf bag looks. Polyurethane tends to be a little shinier than nylon, but both materials come in a range of dyed colors to suit your style.
Budget
Golf bags can range in price from under $50 to several hundred dollars, depending on the brand, materials, and features of the bag. Spending more will usually get you a better bag. But for many of us, the price difference may not be worth the extra spend. 
When purchasing a stand bag on a budget, keep in mind that the bag should be functional and meet your needs on the course. 
While a cheaper bag may be tempting, we strongly suggest you invest in a bag that will last for many seasons with proper care. It's a good idea to set a budget for yourself and look out for the best stand bag you can afford at that price.
The Best Stand Golf Bags for Walking FAQs
Why Don't Professionals Use Stand Bags?
The reason professional golfers don't use stand bags is that they typically have caddies who carry their bags for them, so they don't need to worry about the weight or portability of their golf bags. 
As a result, they often prefer larger cart bags that can carry all of their gear, as well as any snacks or drinks they might need during a round. Additionally, cart bags often have more storage space and organization features than stand bags, making them a better choice for professionals who need to keep their equipment in order while on the course. 
That being said, some professionals do use a golf carry bag with stands, especially when they are playing in tournaments where caddies are not allowed or when they are practicing on their own.
Do I Need an Insulated Pocket?
Insulated pockets are a great feature to consider since they keep food and drinks cool, even on hot days. However, whether or not you need an insulated pocket depends on your individual needs on the course. 
If you don't bring food or drinks, don't mind drinking warm water, or usually stop at the clubhouse to refill your water and have a snack, then you don't need an insulated pocket. 
On the contrary, if you like to bring food and drinks with you or play in hot weather, an insulated pocket can be valuable. They can also provide extra storage space in your golf bag, but consider whether the benefits outweigh the added cost and weight.
Can I Use My Stand Bag on a Cart or Push Cart?
Yes, many stand bags are designed to be used on a cart or push cart as well as for carrying. These bags typically come with features such as cart straps and a base that is compatible with golf carts or push carts. 
When using a stand bag on a cart, be sure to secure it with the provided straps to prevent it from moving around during transport.
Some carts are also better at accommodating stand carts. If you're looking to get a bag that can do both, you should look into a hybrid golf bag like the Callaway Fairway Plus.
How Much Does the Strap System Matter on a Golf Stand Bag?
To put it simply, it matters a lot. The strap system is crucial to evenly distribute the weight of the bag across your shoulders and back, helping you play longer and more comfortably. 
On the other hand, an inadequate strap system can lead to discomfort and hinder your performance on the course. For optimal comfort, look for a golf stand bag with an adjustable, well-padded, and user-friendly strap system. 
Selecting the right strap system can make a significant difference in your overall golfing experience, so be sure to consider this important feature when choosing a golf stand bag.
What Should I Look For When Buying A Staff Golf Bag On A Budget?
If you're looking for the best staff bag on a budget, durability, storage space, and weight are all important factors to consider. Look for staff bags made from high-quality materials with reinforced seams and zippers to ensure longevity. 
The best staff bags should have ample storage space, including plenty of pockets and compartments for storing golf accessories. Additionally, consider the weight of the bag, as a lighter bag may be easier to transport. 
By keeping these factors in mind, you can find a budget-friendly staff bag that meets your needs while providing excellent value.
What Is A Stand Bag?
A stand bag is a type of golf bag that stands upright on two retractable legs. This allows the bag to be easily placed on the ground while you take your shots, while also providing convenient access to your clubs and other accessories. 
Stand bags typically weigh less than other types of golf bags and often come with comfortable straps for easy carrying. 
Is A Hybrid Stand Bag The Same As A Normal Stand Bag?
No, stand bags and hybrid stand bags are not exactly the same, although they share some similarities.
A stand bag is a type of golf bag that has 2 retractable legs, allowing it to stand upright on the ground when the golfer is playing a shot. Stand bags typically have a lightweight design and are meant to be carried on the golfer's shoulder during a round.
Hybrid stand bags, on the other hand, combine the features of both a cart bag and a carry bag. It is designed to be versatile and can be used either on a golf cart or carried on the golfer's shoulder during a round. 
Final Thoughts—Picking the Best Golf Stand Bag for You
At Golfspan, our team of experienced golfers has conducted extensive research and analysis to provide you with accurate and unbiased recommendations for the best golf stand bags on the market.
We stand behind our top pick for the best golf stand bag, the Ping Hoofer, as the ultimate combination of storage, lightweight design, and aesthetic appeal. 
While we recognize that individual preferences may vary, we firmly believe that the Ping Hoofer is the best option on the market for most golfers.