The most common golf bags among amateurs are stand-and-cart constructions. The stand bags are employed by players who carry their clubs, while the latter fits onto your trolley or cart's base.
In this guide, you'll learn the options for the best staff golf bags for 2022.
The options on this list are heavier than your standard cart or stand bag and fetch a higher price. That is why they are not ideal for casual players seeking to reduce expenses. However, every bag on this list offers exceptional storage room, organized tops, and durable material.
Which staff golf bag is best for you?
Read on to answer all your questions.
Top 3 Golf Staff Bags
Best Overall
Best Budget
Most Spacious
Callaway Golf Epic Staff
Mizuno Tour 6-Way Stand Bag
TaylorMade Stealth

Pros

Comfortable padded strap
Soft hip pad
9 pockets

6-way top with full-length dividers
Affordable
7 pockets

Durable
Maximum storage space
Good looking

Cons

It only contains a single strap
It is not fitted with a stand, like other Epic staff models

The valuables pocket is not easily accessible, but some golfers may appreciate that
Fewer pockets than other tour golf bags

Expensive
Your clubheads may dent the edges of the bag

Price Score
88.2
93.5
83.2
Space
91.7
86.1
93.3
Comfort
90.8
91.9
87.6
Durability
89.4
85.6
92.3
Rating
4.5 Stars
4 Stars
 Stars
What To Consider When Purchasing Golf Tour Bags
Budget
As I mentioned in the introduction, golf tour bags are expensive compared to stand and cart bags. Therefore, you must be comfortable with increasing your budget. In general, a staff bag runs between $400 to $500. After conducting our tests and research, I am proud to have four bags under the $400 threshold on this list.
The point is that your budget needs to be approximately double what you may spend on a standard cart or golf stand bag.
Read More: If you are a bargain hunter, these are the best golf bag for the money.
Weight
Golf staff bags are the heaviest on the market, requiring serious effort to carry them around the golf course. As a rule of thumb, your golf bag should not weigh more than 20% of your body weight. Therefore, if the bag weighs eleven pounds without your gear, it could exceed the recommended limit.
If that is the case, you need to consider hiring a caddie whenever you play golf or look for a golf cart. I will discuss the intricacies of finding a bag compatible with golf carts or push trolleys in a moment.
Ultimately, acquiring one of these bags is not ideal if you already suffer from back pain and intend to carry it yourself. If you wish to hire a caddie or a cart, that will bump up your expenses for every round.
Readers who prefer carrying lightweight constructions should learn about our best golf stand bags for this year.
Dividers
Standard staff bags feature a 6-way top with full-length dividers. This allows you to place your woods, long, mid, and short irons, wedges, and putter in their own compartments. As a result, it keeps your clubs in order and makes it easier to find them before each shot.
In addition, the full-length dividers help separate the shafts of your clubs to reduce entanglement. It makes it easier to add and remove clubs. Plus, there is less risk of scratching or bending the shafts.
Pockets
Storage space is a core reason why golfers choose staff bags. They offer spacious pockets that fit everything from your golf balls and mobile phone to your rangefinder and apparel. The average staff bag features between six and eight pockets for optimal storage.
You will find two products that contain a whopping twelve compartments in the below list. Keep reading to learn which gigantic brand managed this feat.
Base Diameter
The diameter of your staff bag base is vital because it determines whether the bag is compatible with a golf cart base. If it is too thick, you will struggle to secure the bag tightly and risk it falling off in transit.
Those planning to haul a staff bag on a golf cart should search for specific bags built to fit on the base of the vehicle. The average diameter of a golf cart bag is nine to 9.5-inches, while a staff bag sits at ten. The additional width may see the staff bag resting unevenly on the base, which is not recommended.
I took this into account during the test, and one bag on this list is compatible with the base of a push trolley. Golfers who prefer a cart to walk should study our best golf cart bags for 2023.
The Best Staff Golf Bags For 2023
The Callaway Golf Epic staff bag topped the tables in the tour golf bags contest in 2023. I found it provided an adequate dose of space, comfort, stability, and durability. It also prices lower than several competitors in our final eight.
Nine pockets line the golf bag, each assigned to holding a specific item. For example, your rangefinder, valuables, golf balls, tees, apparel, and refreshments enjoy a private compartment. One pocket is velour lined to cushion your valuables, such as jewelry or your mobile device.
Aside from the storage space, I found that the 10-inch 6-way top optimized the organization of your golf clubs. Your woods, long, mid and short irons remain separated, while your wedges and putter receive a slot each.
Naturally, the staff bag carries a higher mass than a cart or stand bag, and it is advisable to hire a caddie or car to lug it around. The Epic staff bag tips the scales at the 11-pounds before you add your equipment. Whoever carries your bag will find it comfortable thanks to a Double Padded OptiFit comfort strap and soft hip pad.
As far as Callaway staff golf bags go, this is a beauty. It offers everything you need from a tour bag at a fraction of the price of its competitors. Therefore, it is ideal for low handicappers with a reduced budget.
Pros
Comfortable padded strap
Soft hip pad
9 pockets
6-way top
Perfect balance base
Cons
It only contains a single strap
It is not fitted with a stand like other Epic staff models.
Rating: 4.5
Mizuno is renowned for its meticulous attention to detail, and they continued to uphold their standards with their Tour 6-way stand bag. This is our best budget staff bag, but it is by no means a cheap construction. It follows the standard layout of other golf tour bags. However, unlike its peers, this bag also possesses a stand.
The 6-way top dividers enable you to keep your golf clubs in order, and full-length dividers separate each compartment. This prevents the shafts of your woods from entangling with irons, wedges, or your putter.
I found the double shoulder straps a breeze to adjust, and they promoted a comfortable carry. In addition, the cushioned hip pad prevents the solid case of the bag from bruising your skin.
Mizuno fitted this stand bag with seven pockets, including an insulated cooler pocket for your beverages. Lastly, the Tour 6-way stand bag contains a bottom grab handle for an easy lift out of your trunk. Plus, it is compatible with a pushcart.
Pros
6-way top with full length dividers
Affordable
7 pockets
Cushioned hip pad
Stand
Cons
The valuables pocket is not easily accessible, but some golfers may appreciate that.
Fewer pockets than other tour golf bags
Rating: 4
Sticking with the Mizuno brand, we progress to the most durable golf tour staff bag for 2023. The Tour Staff Mid 5-way cuff boasts molded side panels to enhance the bag's durability. In addition, this reinforcement protects the contents nesting inside.
A 5-way top provides the platform to place your woods, long irons, and putter in their own compartment. Wedges and short irons share one section, while the mid irons hold down the fifth.
Furthermore, I noticed that Mizuno employed eight pockets for ample storage space. Among them are an insulated beverage pouch that keeps your drinks refreshed and a waterproof fleece valuables pocket. I was also impressed that the apparel pockets are deep enough to hold a pair of golf shoes.
Finally, the Mizuno Tour Staff Mid 5-way Cuff is fitted with a stable base to keep your bag upright between shots.
Pros
8-pockets
5-way top
Deep apparel pockets
Durable
Insulated drinks pouch
Cons
The 5-way top features one less compartment than most staff bags
Only available in the signature Mizuno blue and white.
Rating: 4
4. Cobra Radspeed – Best Looking Golf Tour Bag
Golfers concerned about their image need an attractive tour bag to complement their fashionable clothes. The Cobra Radspeed stands out for us in this department thanks to its bold black and gold finish. It stands out among its peers and does well concealing dirt patches.
Aside from its devilishly good looks, the Radspeed is kitted with six pockets and the traditional 6-way top layout. The storage space is underwhelming, considering many options on this list feature seven or more pockets.
However, there is still ample room for you to stash all your goods for a round of golf. Plus, the apparel pouches are sizable and make up for fewer pockets overall.
Furthermore, a 6-way top enables optimal separation of clubs to help you remain organized on the links.
Pros
Attractive finish
6-way top
Full length dividers
Insulated beverage pockets
Oversized apparel pockets
Cons
Fewer pockets than other bags
Expensive
Rating: 4
Some options on this list feature fewer pockets, diminishing their overall storage capacity. However, that is no struggle for TaylorMade Tour golf bags, which excel in this department. The Stealth Tour golf bag contains a whopping twelve pockets for optimal room.
Two hard shell compartments await your valuables, while two additional pockets hold your garments. In addition, the design team applied a Hard Shell Hex side to boost the toughness of the bag.
Following protocol, TaylorMade structured the top of the bag with six compartments to maintain order among your golf clubs.
Overall, the Stealth 2023 is an ideal tour bag for those demanding maximum space. It ensures the freedom to lug around your valuables, equipment, and accessories. On top of its outstanding features, its red and black finish makes it an attractive creation.
Pros
Durable
Maximum storage space
Good looking
6-way top
Large garment pockets
Cons
Expensive
Your clubheads may dent the edges of the bag
Rating: 4
No products found.
The TaylorMade SIM 2 Max Tour bag is another design with exceptional storage space. However, it is also the easiest bag to carry because of its three-point carry strap. The strap allows you to alter the position of your bag for hassle-free carry.
Included in its impressive repertoire of twelve pockets are two velour-lined valuables compartments, along with a dual garment pouch. In addition, two accessory pockets are shielded by a hard shell to protect your rangefinder or GPS device.
Moreover, I noticed they added the traditional 6-way top layout to promote organization among your clubs. This makes it easier to find the correct club before your shot without wasting time.
Ultimately, the TaylorMade SIM 2 Max Tour golf bag provides excellent storage space, structure top design, and a comfortable strap. It suits golfers who love their caddy or wish to operate this bag without assistance.
Pros
Exceptional storage space
Three point shoulder strap
6 way top
Stable base
Appealing look
Cons
Rating: 4
7. Tour Edge Exotics – Best Staff Bag For Wet Weather
You need a bag with waterproof dry pockets to protect your belongings if you are caught in a rain storm. The Tour Edge Golf Exotics construction is our top pick for the best staff bag for wet weather in 2023.
This bag features seven pockets with dual dry compartments that keep water out from the interior during a rainstorm. The additional pockets provide ample space to store your balls, tees, and beverages.
One area where I feel it falls short is the 4-way padded top with two full-length dividers. This is two fewer than a standard tour golf bag, which leads to a less organized structure. However, it still enables you to separate your woods, irons, wedges, and putter.
Finally, I enjoyed the padded strap with a three-point sling suspension, which I felt made it comfortable to carry. That said, it does weigh a whopping 12-pounds, making it unsuitable for the average person to lug around the links.
Pros
Dual waterproof dry pockets
Sufficient storage space
Comfortable carry strap
Two full length dividers
Cons
4-way top
The two full length dividers can cause your shafts to entangle.
Rating: 3.5
8. Burton USA – Most Patriotic PGA Golf Bag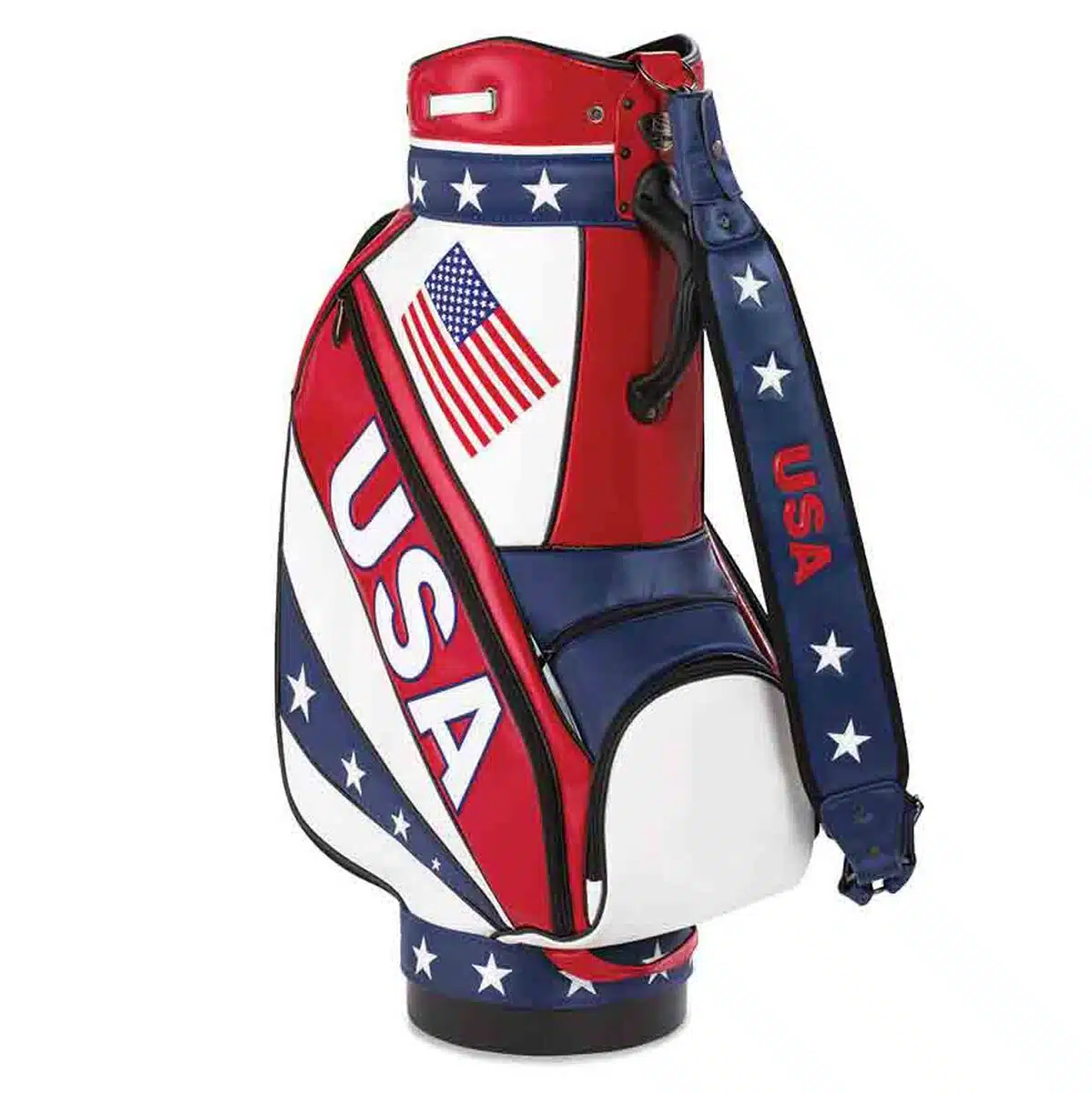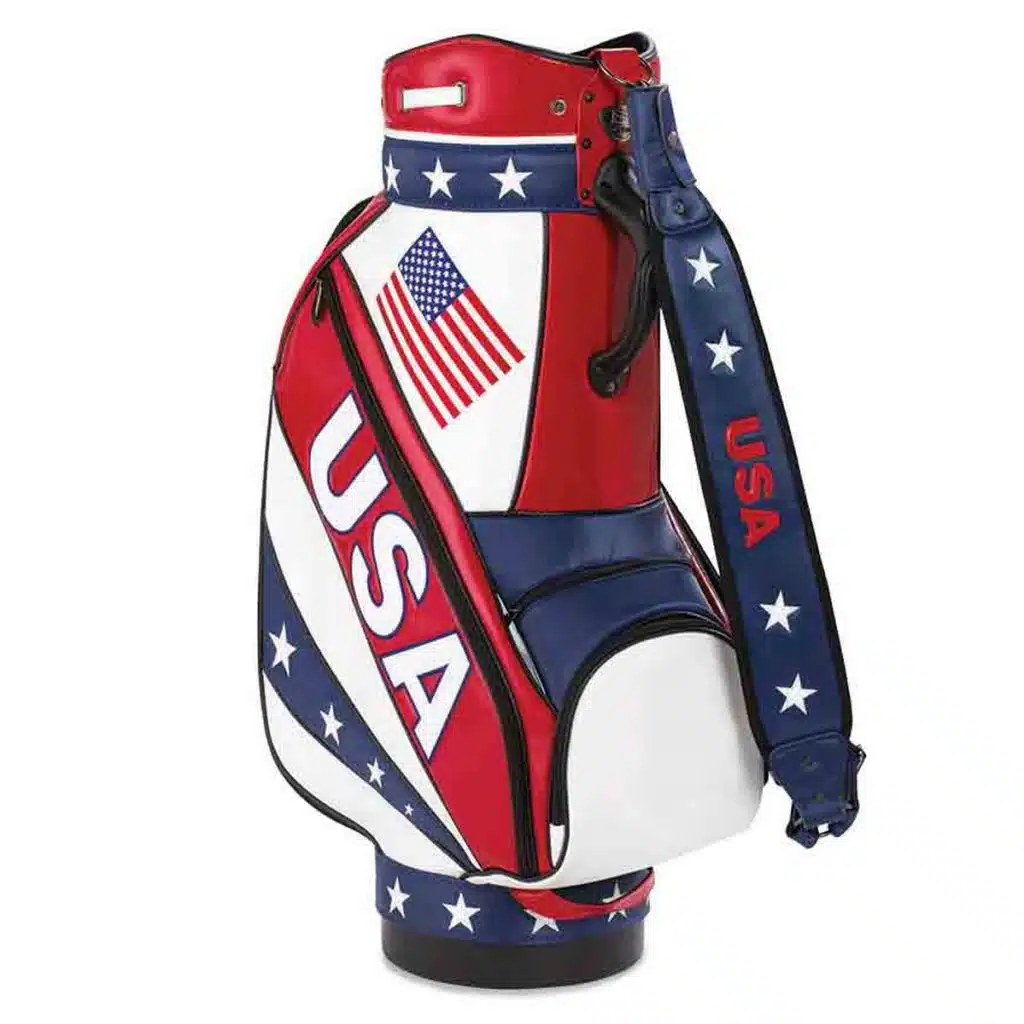 The Ryder Cup only comes around every two years, but that doesn't mean you can't relive it every time you hit the golf course. The Burton USA design claimed victory in the category of PGA golf bags because of its durability, comfortable strap, and structured top.
Burton crafted this bag using the colors of the United States flag. Stars and stripes are dotted around the bag, while the USA is printed down the side. This professional-looking golf bag sports six deep pockets to ensure optimal storage space. The space makes up for the reduced number of compartments.
Keeping with the norms. The USA staff bag contains a 10-inch 6-way velour-padded top with full-length dividers. This proves efficient in structuring your bag for improved organization. Plus, the six full-length dividers ensure that each club category remains apart. For example, the shafts of your woods will not interact with your long irons.
Moreover, I appreciated the durable molded bag bottom, which prevents moisture from seeping through the bottom. More importantly, it enhances stability and balance to keep your bag upright between shots. Lastly, the Burton USA Staff bag is fitted with a foam-padded strap to protect your shoulder when carrying.
Pros
6-way velour padded top
Full length dividers
Durable molded bag bottom
Foam padded strap
Six deep pockets
Cons
Expensive
The bold USA branding will not appeal to everyone.
Rating: 3
FAQ
What Is a Staff Golf Bag?
Professional golfers use a staff golf bag because of its optimal storage space and durable construction. Its attractive looks don't harm either. They are the heaviest golf bag construction, weighing 10 to 11-pounds, and tend to feature a 6-way top with at least six pockets.
What Is the Difference Between a Cart Golf Bag and a Staff Golf Bag?
Four key differences exist between a golf cart bag and a staff golf bag. Weight, top design, base, and transport mode.
A staff bag weighs an average of ten to 11-pounds, whereas a golf cart design tips the scales at five to 6-pounds.
In addition, modern cart bags commonly feature a 14-way top compared to the 6-way layout of a staff bag. The average diameter of a staff golf bag is 10-inches, while the cart construction pushes nine to 9.5-inches. Finally, a staff bag is built to be carried, and as the name suggests, you haul the other construction on a golf cart or push trolley.
Do Staff Bags Fit on Golf Carts?
It depends on the diameter of the base of the staff bag. It will be a tight fit for most. But, some manufacturers ensure their bags are compatible with golf cart and push trolley bases. If you are searching for a staff bag that fits on your golf cart, look at the Mizuno Tour 6-way stand bag.
How Much Does a Staff Bag Weigh?
The average staff bag weighs between ten and 11-pounds. The heaviest staff bags on our list in 2023 were the TaylorMade Stealth and SIM 2 Max Tour bags, along with the Tour Edge Golf Exotics design.
Why Do Pros Use Staff Bags?
Pros use staff bags thanks to their optimal storage space, durability, and their structured top design. In addition, these bags contain waterproof pockets, enabling players to protect their belongings in all conditions.
Conclusion
That concludes our review of the best staff bags in 2023. After testing and analyzing these golf bags, I am confident they best suit lower handicap golfers who stock an array of equipment, accessories, and apparel.
These bags are priced at a premium for a reason. They are durable, structured, and offer exceptional storage space. However, they are heavy and cost a fortune.
That is why I don't suggest beginners or mid-handicappers operate with these bags at this stage. Rather save the money for lessons, or put it towards your next set of golf clubs.
Before I wrap up, I will leave you with my top three staff bags for 2023. My suggestion for golfers on a budget is the Mizuno Tour Stand bag. Those seeking maximum storage space should look at the TaylorMade Stealth Tour bag.
Lastly, my top choice for this year is the Callaway Golf Epic Staff bag. It is comfortable, organized, durable, and spacious.
If you fancy the finer products in life, I suggest looking at our most expensive golf bags review. Here you will find the creme-de-la-creme of the market. Conversely, those who prefer something simple will enjoy our Sunday golf bag guide.