As great as a golf cart bag can be for holding all of your belongings and keeping your organized, they are really heavy. A heavy golf bag can make a round of golf quite a bit more tiring. In addition, lifting the bag in and out of the car may be nearly impossible.
I have always played with a stand bag as I feel they are all a golfer really needs on the course. There is plenty of room for gear technology that is easy to carry around, and I can switch from walking to riding quite easily.
We'll mostly cover stand bags in this review since this will be the most popular type. In these golf bags, you will see a perfect combination of golf club protection, ease of use, organization, and lighter weight to make the bag more maneuverable. If you are searching for the best women's golf bags in 2022, we have you covered.
Overview Of The Best Women's Golf Bags in 2022
Best Overall
Best Value
Best Premium
Sun Mountain Women's 2.5 Stand Carry Golf Bag
Hot Z Ladies HTZ Golf Bag
Callaway Fairway 14 Stand
Pros

Weighs less than 3 pounds
Comes in a variety of colors
Still has a 9 inch top for fitting all 14 clubs

Fair priced golf bag
Unique plaid coloring for the pattern
Very lightweight making it easy to lift in and out of the car

Made with durable fabric
Has 14-way divider
Nine total pockets
Large selection of colors to choose from

Cons

Limited storage capacity for larger items like rain gear

Not the most durable
Only available in two colors

Priced a little higher than other women's stand bags
With extra dividers, the bag is slightly heavier

Price Score
86.2
90.1
84.4
Weight Score
96.2
96.1
94.5
Functionality Score
95.8
88.3
92.8
Rating
4.9 Stars
4.3 Stars
4.7 Stars
Top 6 Best Women's Golf Bags 2022
Pros
Ultra-lightweight design
High-density foam shoulder straps
9-inch top with six total pockets
The Sun Mountain Women's 2.5 Stand Carry golf bag is one of those golf bags women will be extremely impressed with. The Sun Mountain 2.5 has six pockets and a 9-inch top to be sure to accommodate all of your golf clubs.
With the Sun Mountain golf bag, women will benefit from a total of six pockets, including a beverage pocket. If you like to walk and carry your clubs, the high-density foam shoulder straps will ensure you are comfortable and that the bag is well balanced on your bag. Having all of this functionality in a bag that weighs less than three pounds is pretty impressive.
The X Strap system is easy to adjust, and golfers can change from a single to a double strap with ease. The Sun Mountain comes in a few different colors and has a matching rain hood to help keep your clubs protected in a storm.
Rating 4.9
Pros
Very low pricing
5 zippered pockets
Comes with a rain hood and scorecard sleeve
6-way separator top
Cons
Not too many color choices
The Hot Z Ladies HTZ Golf Bag is the best value for a women's golf bag with stand. The best women's golf bag will have a combination of style, comfort, and functionality, and the Hot Z Ladies HTZ has all of these things.
With this bag, you will notice a 6-way top that can keep golf clubs separated and golf shafts from rubbing against each other. As this is a stand bag, there will be fewer pockets than we see with other bags, but still 5 zippered pockets for golfers.
The accessories and additional features of the Hot Z are really good. You will notice that there is a velcro strap to keep the legs of the bag together, meaning you could use this on a cart if you had to. In addition, you will find a pen sleeve, umbrella holder, tee holder, and scorecard sleeve.
Rating: 4.3
Pros
Only weighs 5.4 pounds
Padded comfort strap
Insulated water bottle pocket
Cons
Priced higher than other golf bag choices on the market
The Callaway Fairway 14 stand bag is one of the best-priced stand bags for women in 2022. Although this bag may be priced just a bit higher than others, it has all the functionality you could ask for in a golf stand bag. The key feature here is the 14 way top with full-length dividers.
Many golf stand bags try to save weight by eliminating the dividers. The issue with this is that those dividers are what keep our clubs protected. To have 14 full-length dividers is a great benefit of the Callaway 14 Fairway Stand. In addition, there is a self-balancing strap system and an OptiFit Comfort Hip Pad to ensure more comfort and control.
This bag is available in many different colors, and it is made with a lightweight ripstop fabric. The fabric also holds up well in the sun, so you shouldn't have to worry too much about the bag fading while playing a lot of golf.
Rating: 4.8
Pros
7-way top divider
Lined valuables pocket
Exterior water bottle pocket
Total weight of 4.9 pounds
Cons
Very limited color selection
The TaylorMade Ladies Select ST stand bag is the most durable option for women. This bag holds up over time and is perfectly designed for the woman golfer that plays quite a bit. The top of the bag has a 7-way top divider that helps ensure your golf clubs are protected from the other ones surrounding them.
The TaylorMade Select ST ladies golf bags are 4.9 pounds and have six total pockets. If you walk the course or simply don't want to lug a heavy bag, this is a great option for you to consider. The exterior water bottle pocket and velour-lined dry pocket are additional features that make this a really good women's stand bag for the money.
Rating: 4.5
Pros
Waterproof zippers
Only 4.5 pounds
Stable leg design
Cons
Waterproof designs are always more expensive
The Cobra Golf Ultradry Pro Stand Bag is the best women's golf bag for waterproof technology. When you get caught in the rain, not only does it take your golf bag a long time to dry out, it can be really bad for your golf clubs as well. The Cobra Golf Ultradry Stand Bag is a waterproof bag with sealed zippered pockets to protect anything you store inside the bag.
With the Cobra Ultradry, you will benefit from a new Swivel STrap system that allows for better maneuverability on the golf course. As you turn and walk and bend, you will have no trouble getting the bag to move right along with you.
The total weight of the Cobra Golf Ultradry is just 4.5 pounds making it an excellent solution for the player that likes lightweight technology.
Rating: 4.4
Pros
Lightweight stand bag just 4.5 pounds
5-way divider top
Comes in three great looking patterns
Cons
Only two full-length dividers
Not as durable as some other options on the market
The golf bag you choose is not only going to have to have functionality, but it should also look good. We love that the Ram Golf Ladies FX Lightweight Stand bag comes in three different color choices. One of the problems with the women's stand bag is that it does not come in as many colors as the women's golf cart bag.
The Ram Golf Ladies FX Lightweight has a 5-way divider top, but only two of those dividers are full length. The dual padded shoulder strap does a great job of keeping your bag balanced and comfortable on your back as you make your way around the course. With the automatic pop-out legs and a velcro glove holder, the Ram Golf Ladies FX has a great combination of functionality and features.
Types of Golf Bags for Women

There are several types of golf bags that women golfers should be aware of. Knowing the types of women's golf bags on the market and which ones are the best suited for your game will help ensure you are happy with your final purchase.
Cart Bags
Women's cart bags are used for playing golf in a cart. With the cart bag, you will have maximum storage and great club protection. The downside to these golf bags is that they are a bit heavier and more cumbersome to deal with.
Hybrid Bags
A hybrid golf bag is a mix between a cart bag and a stand bag. Hybrid bags are used by players who enjoy walking and riding the course. Most hybrid bags will have storage and plenty of dividers but will have a stand to help on the days you walk the course.
Stand Bag
The stand bag is a great choice for those walking and carrying their bag, or even if you want to put your bag on a push cart. The stand bag is lightweight and easy to maneuver. It allows golfers to keep just the right amount of gear in their bag without feeling like they are lugging around everything they own.
Sunday Bag
A Sunday bag is a very lightweight women's golf bag that only carries a few clubs. These bags are meant to be used at a driving range or a pitch and putt course. They can also be used when playing a few holes of golf on a Sunday afternoon. Most Sunday bags are very lightweight and will not come with a stand.
How To Choose The Right Stand Golf Bag For Women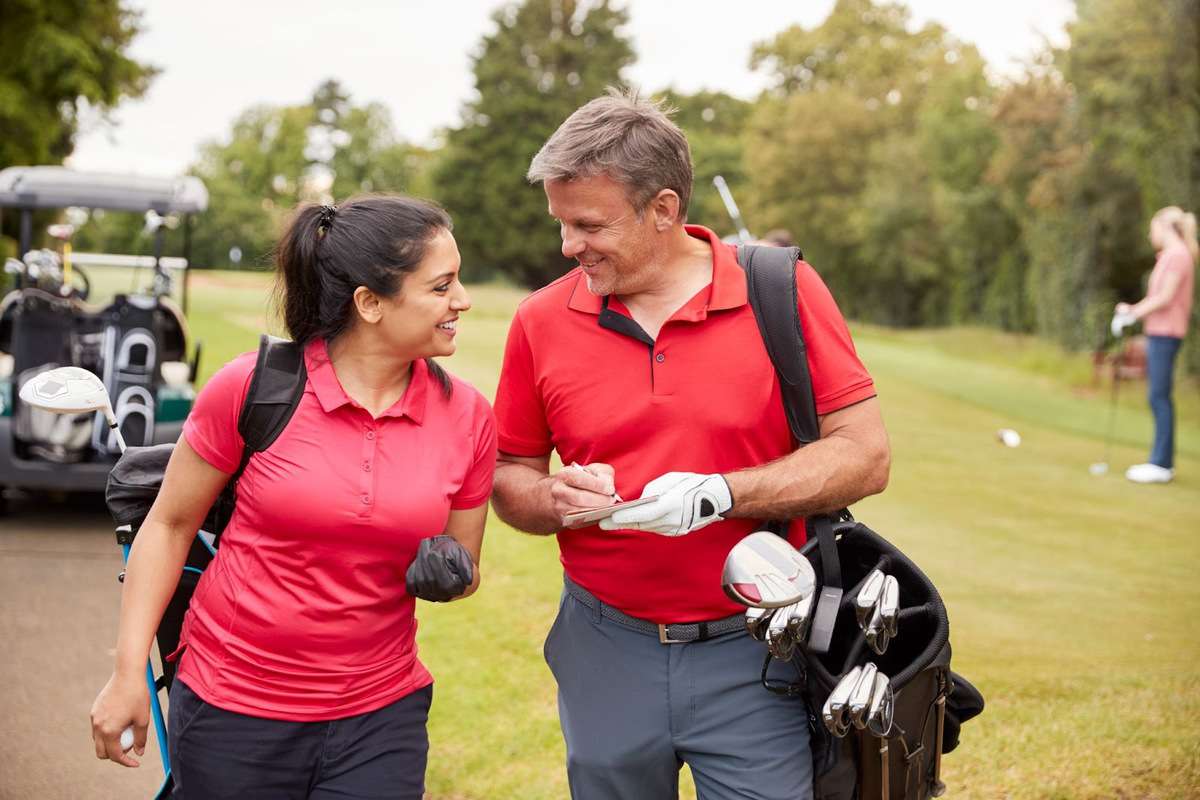 A golf stand bag for women should have certain features to help you enjoy your time on the golf course. If you choose the right golf stand bag for women, you may be able to use this for years to come. The best women's golf bags are not always made specifically for women; instead, they have all the features and functionality that women golfers need.
Color
Golf stand bags come in a variety of colors. Many of the options for women players are pink, purple, and white. Women golfers should choose the color of their golf bags carefully. A lighter-colored golf bag can get dirty easily and if you don't want to change your golf bag out every year or two, go with a darker color. Also, look for a bag with some UV protection to not fade.
Weight
The weight of a golf stand bag for women is usually less than five pounds. Some of the options on our list of the best women's golf bags are less than three pounds. For players that walk the golf course often, this is a perfect option. Walking one or two holes never feels tiresome, but when you commit to walking 18 holes, the weight of the golf bag is an extremely important consideration.
Strap
The strap on almost any stand bag is a double backpack type strap. This allows golfers to be completely hands-free and have the clubs evenly positioned across their back. The backpack strap sometimes needs to be adjusted, but it can usually find a comfortable spot for a woman golfer and allows for better overall posture.
Dividers
One of the downsides of a golf stand bag is that there are not as many dividers as you will find on a women's golf cart bag. Women's golf cart bags almost always have 14-way dividers. The dividers are really important for women's golf clubs. Most women play with graphite shafts, and when they sit too close to each other or hit each other in the bag, there is a chance for a split. Make sure the women's stand bag that you choose has at least a few dividers.
FAQs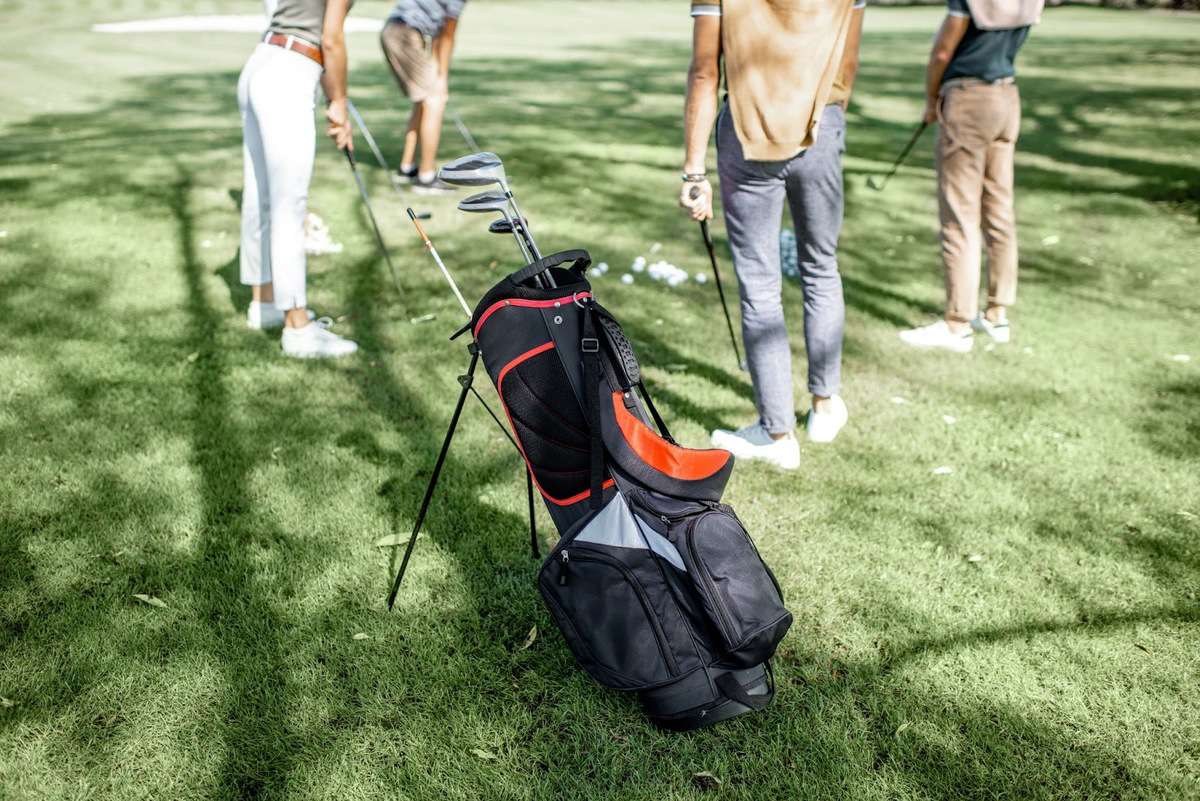 Sometimes, women golfers have a hard time choosing between a golf cart bag and a golf stand bag. Women golfers who walk the course often find that the stand bag is a great solution that helps improve energy and overall ability to play. Here are a few questions we often ask about the best women's golf bags.
Are Women's Golf Bags Different?
Some golf manufacturers make bags specifically for a woman golfer. Others will make a bag that is a solution for all players. Many companies will take a golf bag and change the fabric color to brand it more towards the woman golfer.
Most of the time, women's golf bags are light in color and may have a little less weight to them as well.
What Is the Nicest Golf Bag?
The nicest women's golf bag is the Sun Mountain Women's 2.5 Stand Carry. This bag has some impressive features great color choices, and it is so lightweight you will hardly even know you are carrying it. Any great golfer will tell you that the Sun Mountain bags hold up well over time.
Can a Woman Use a Man's Golf Bag?
Women's golf clubs tend to be shorter than men's; therefore, women's golf bags tend to be shorter as well. This usually makes the bag lighter. Aside from this, there is little functional difference, so if your clubs fit in a man's golf bag, then it would work just fine. Take a look at some of our favorite lightweight golf bags.
What Is a Good Weight To Carry On Golf Bag?
A good weight for a golf carry bag or stand bag will be around 4-5 pounds. In this range, you can still add all of your gear but not be completely weighed down by your golf bag. Try to avoid putting too much gear into your golf bag; golf balls can add up in weight rather quickly.
How Much Is a Decent Golf Bag?
Like most other products in the world of golf, pricing has gone up through the years. A decent golf bag is now around $200. If you want something with premium fabric, you may be looking at close to $300. If you find a great value on a bag from last year, it would be closer to $150 or so.
Conclusion
We hope you now feel like you can pick one of the best women's golf bags with a stand with complete confidence. These golf bags are highly functional and will help players of all handicaps stay organized and keep their equipment protected.
The Sun Mountain Women's 2.5 stand bag is the best overall option on the market because of the high-quality stand and unique colors.
Britt has been playing golf since she was seven years old. After becoming a Class A PGA Professional, teaching professional, and golf membership director, she decided a career in golf writing was the perfect fit. Today Britt plays more golf than ever with her husband and two children and still loves connecting with golfers worldwide.