As a PGA Professional, I've had my clubs regripped often. Not only is regripping an essential skill to learn for your own game, but it can also help students and other golfers immensely. Most golfers do not replace their golf grips nearly enough, and that typically is because of the cost to have this done. However, with the ability to regrip your golf clubs on your own, there is no reason not to complete this process every few months.
A two-year-old grip could cost you 3 to 4 strokes every round, according to Golf Pride. Learning to regrip your golf clubs can also save you up to $100 every few months and ensure that your clubs are always in great condition.
The supplies can be easily purchased online, and by the time you finish this article, you will know how to regrip golf clubs.
How To Choose The Right Golf Grips
Before you can start regripping golf clubs, you will need to choose a proper golf grip. There are hundreds of grip choices on the market. Here are a few ways to narrow down which one could be the right choice for your golf game.
Hand Size
The size of your hand is the most important factor to look at when choosing a golf grip. Golfers with smaller hands need something that is undersized, while golfers with larger hands should consider a midsize or oversized golf grip. The size of your hand can be measured, but some golfers will use the feel of a grip to decide the size of the grip they prefer.
Player Preference
So much of golf comes down to personal preference. If you like a grip, then you should use it as part of your golf game. Some golf grips are rough, while others have a more smooth feel or finish. The idea is that you have to find something that feels right in your hands. When you find the right grip texture, you will know.
Durability and Longevity
Some golf grips are soft and offer a lot of cushioning in the hands. This is a great feature, but it can deteriorate faster than a rubber cord-style grip. If you play a lot of golf and don't want to be regripping your clubs every few months, make sure you consider the durability and longevity of the grip you choose.
How To Regrip Golf Clubs – A Step-By-Step Guide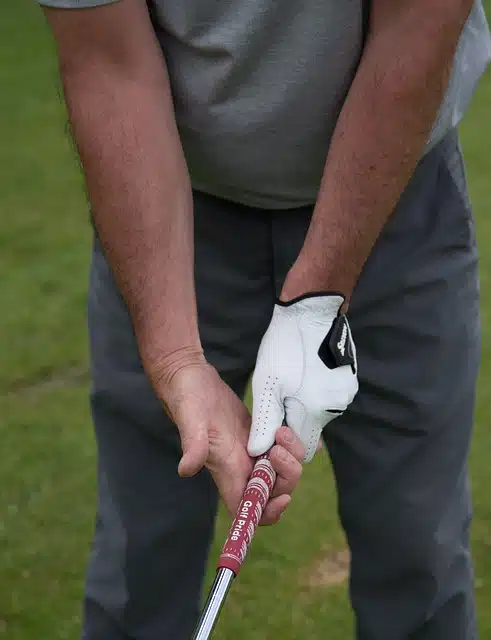 We have put together a step-by-step guide to help you regrip your golf clubs. If you follow these steps and take our tips and precautions into consideration, there is no reason for you to pay for another regripping.
Step 1: Gather Supplies
One thing that makes regripping a golf club so appealing to the average golfer is that you won't need that many supplies to complete the project. Some golf club customization projects require expensive or difficult tools, but the regripping tools are simple and easy to use.
Here are the supplies you will need to gather to replace the golf grip on your golf clubs . . .
Step 2: Prepare The Workspace
When regripping clubs, you will need to have an area set up to work. It is typically best to do this type of work in a garage or an area where you will not be worried if some mineral spirits or grip solvent were to get on the flooring.
You will need a vice to hold the club in place while you regrip. This is important to ensure that grips are installed correctly and lined up as they should be. Overall the project is not very messy, but some people will wear gloves to avoid mineral spirits getting on their hands.
Step 3: Remove Old Grip
The first step is to remove the old grip. Put the golf club in the vice, and then take out your hook blade. The removal process should not be difficult, but you need to be careful with the club's shaft.
Steel shafts are durable, and a slight scratch from the hook blade won't be a problem. However, you can seriously impact a graphite shaft's performance if you cut it with the hook blade.
Insert the hook blade at the bottom of the grip and pull up, breaking the grip apart as you pull up. Typically once you start the process, you can then put the blade down and use your hand to pull the grip off completely.
Step 4: Clean The Golf Shaft
Once your grip is off, you can look at the golf shaft and assess the situation. Sometimes you will find old layers of tape under the grip that need to be removed. You can use a scraper or your hands to pull this tape off and get the shaft as clean as possible.
When working with a graphite shaft, remember to be careful not to scratch or damage the shaft in any way. You may end up having to take a little extra time with the graphite shaft, but in the end, it pays to have a clean slate when applying the new grip.
Step 5: Apply Tape
The next step is to apply tape to the golf shaft. For this, you are going to use double-sided tape. One side of the tape will stick to the golf club, and the other side will stick to the underside of the golf grip.
The tape should be wrapped up in the grip in a circular pattern to cover the majority of the shaft. Be careful not to overlap the tape in areas, as this can increase the thickness of the grip and make it more difficult for players to get the proper grip width and feeling.
Step 6: Use Grip Solvent To Apply New Grip
At this point, you are ready to install your new grip.
First, take some grip solvent or mineral spirits and pour it into the new grip. You won't need much; you can fill the grip about a quarter of the way. Remember that the grip has a hole at its end, so you will need to plug that with your finger.
The next step is to pour the grip solvent on the double-sided tape (with the tape's backing already pulled off). This part of the process you will need to work quickly through.
At this point, you can take the new golf club grip replacement and slide it directly onto the wet golf shaft. This is where we recommend putting the rag at the end of the golf grip to ensure that any extra mineral spirits are caught in the rag and not all over your clothes.
When club repair professionals do this, they often have on an apron, and they leave a bucket under the club to catch any of the mineral spirits that fall from the shaft.
Step 7: Check For Alignment
The tough part of this process is that you will need to slide the golf grip on quickly to ensure that it will adhere properly. However, once it is in place, you do have a few seconds to turn it to line it up. Try to get the grip lined up when you first slide it on and not after the fact.
Sometimes when you try turning the grip, only part of it is going to turn, and then the alignment on the grip will be off. It is ok to take the club out of the vice and hold it as you would on the course. This can help ensure that the grip feels and looks like it should.
Golf grips with a rib in the back are the most difficult to install because the alignment has to be perfect for them to work properly.
Step 8: Dry Time
At this point, you can wipe down your grip and the shaft of your club to make sure there are no mineral spirits left over. However, we do not recommend using the club at this point. Some professionals will say that the grips are ready to go in about an hour or two, but we highly recommend waiting a day.
Try to regrip your golf clubs at night and then use them the next day.
Common Mistakes When Regripping Golf Clubs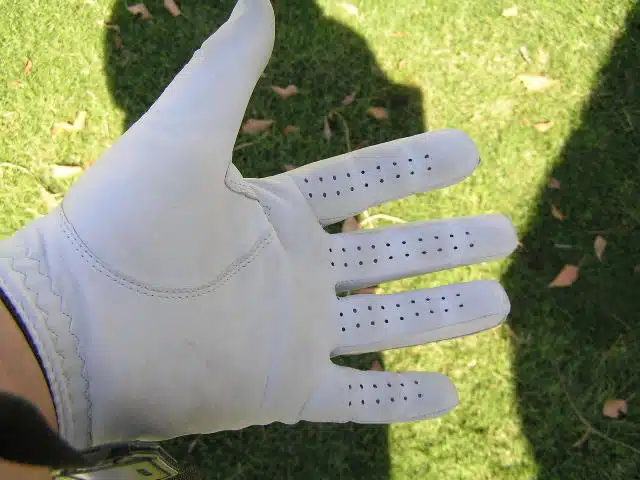 There are a few mistakes that golfers make when it comes to regripping golf clubs. These mistakes are easily avoided by following our process above. Here are the mistakes you will want to be aware of when regripping golf clubs.
Not Working Fast Enough
When you don't slide the grip down fast enough, it can get stuck. At this point, you will likely have a mess on your hands, and you will have to peel the grip off and then start the process from the beginning.
Not Being Prepared With The Towel
Mineral spirits or grip solvent will come out of the end of the grip. If you are not prepared with a towel to catch this, it's going to make a mess. Hold the towel over the end of the grip, and then ensure that you wash the golf grip after to remove excess mineral spirits.
Getting Hurt
If you try and complete this process without a vice, things can get really difficult. Golfers can get hurt when they are regripping because of the hook blade. We highly recommend starting the tear of your golf grip with the hook blade and then pulling it off by hand the rest of the way.
Three Top Tips For Regripping Golf Clubs

Here are a few of our best tips to help make your next golf regripping project quite simple:
Do not use grips with a rib in the back for your first regripping project; they are too difficult to line up until you have the process down.
If you don't want to use mineral spirits, you can regrip golf clubs with an air compressor.
Make sure that you use enough mineral spirits or grip solvent so that the grip can easily slide down the shaft; it's better to have a little extra cleanup than to be stuck with a grip halfway on.
Frequently Asked Questions
Here are a few of the most commonly asked questions about golf grips and how to put on golf grips. If you are changing golf grips, you are doing the best thing for your game, but make sure you fully understand this process.
Is It Easy to Regrip Your Own Clubs?
Many people wonder if it is hard to regrip golf clubs, but if you follow the proper steps, knowing how to replace golf club grips is pretty easy. The overall process takes just a few minutes, and you can save quite a bit of money on your next golf club regripping. Golfers' biggest mistake is not working fast enough to slide the grip down the shaft; if you do this, you will have no issues with the regripping process.
Is It Worth Regripping Golf Clubs?
It is well worth regripping golf clubs if they are starting to deteriorate or feel slippery. We highly recommend cleaning your golf grips before deciding if it is time to replace them. The cleaning of the grips can help ensure that they do, in fact, need to be replaced.
What Solvent Do I Use to Regrip My Golf Clubs?
There are companies that sell high-quality golf grip solvent, but you can also use mineral spirits, which is relatively inexpensive and works just as well.
Can You Use Water to Regrip Golf Clubs?
Water should not be used to regrip golf clubs. Mineral spirits and grip solvent will activate the glue in the double-sided tape so that a tight bond forms between the golf shaft and the golf grip. With this bond formed, golfers can feel confident that their grip and shaft are working together.
Can You Use Masking Tape to Regrip Golf Clubs?
Masking tape can be used to regrip golf clubs as long as it is a double-sided masking tape. Without the double-sided tape, golfers will not get the grip to adhere to the golf shaft properly.
Do New Grips Help Golf?
New grips can make a big difference in a golfer's game. With new grips in place, players can release some of their grip pressure and feel that they are letting the club do the work. Without new grips, many golfers will hold the club too tightly and have a hard time releasing the club the way they should.
Conclusion
We hope that you are now feeling more confident knowing how to regrip golf clubs. Learning to regrip golf clubs is a skill that will end up saving you and your friends quite a bit of money. The supplies are inexpensive and can save you up to $100 every few months.
Here are the supplies you will need to regrip your club:
In addition, you may be more willing to replace your grips often, which is something that will only help increase your ability as a golfer. Follow our process and our tips, and you will be an expert in no time.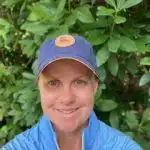 Britt has been playing golf since she was seven years old. After becoming a Class A PGA Professional, teaching professional, and golf membership director, she decided a career in golf writing was the perfect fit. Today Britt plays more golf than ever with her husband and two children and still loves connecting with golfers worldwide.