A golf club cleaner will help ensure that your golf clubs are ready for play at all times. When you take a swing with a club that is loaded down with dirt and sand, you are not giving yourself the best chance at a great shot.
A high-quality golf club cleaner will ensure that your grooves and club head are debris-free and ready for that next perfect swing. As a golf professional, I always kept golf cleaning tools or a golf club brush tool in my bag. It's really not worth taking a swing and having it impacted by a piece of dirt or debris.
Let's look at the best golf club cleaners in 2023 so that you can start using your clubs as effectively as possible.
What To Look For When Choosing A Golf Club Cleaner?
There are several things to consider when looking for a golf club cleaner. Try to think about how often you play and the major issues you deal with. Is it mud, dirt, sand, or simply debris gathering in the grooves? Here are a few things to keep in mind when shopping for golf club cleaners.
Functionality
Some golf club cleaners are just towels with a specific knit built to get in the grooves of the club and keep it clean. Other golf club cleaning tools will have a brush that will work for irons or even hybrids. Each golf club cleaner will have some different functionality, and you need to think about what will work best for your game.
Pricing
Most golf club cleaners are inexpensive. This is an accessory that you will have to replace from time to time. Purchasing a premium golf club cleaner does not make all that much sense. You should be able to find a solution for your needs priced between $10 and $20.
Durability
The best golf club brushes are durable and will last you several years. Sometimes it pays to ensure that the brush's bristles will be strong enough to hold up to consistent use. A durable golf club cleaner can also help you keep your shoes clean.
Portability
A golf club cleaner should be able to travel with you. Most of the options on our list come with a carabiner that can attach the golf cleaner to the bag and allow you to travel around the golf course with this cleaner in place. The carabiner is often retractable, meaning that you won't have to take the cleaner off of your bag to give your clubs a quick scrub.
The 6 Best Golf Club Cleaners for 2023
Let's look at the best golf club cleaner options on the market for 2023. The technology may differ slightly from one club cleaner to the next when looking at the best golf club cleaner. Sometimes this is just a golf club cleaner brush; other times, it will be a complete cleaning set.
Product Name
Best For
Key Features
Rating
Yorport Retractable
Best Overall

Two brush options
Retractable cleaner
Very reasonably priced

9.5/10
ToVii Golf Club Cleaning Kit
Best Golf Cleaning Kit

Comes with microfiber towel and cleaning brush
Offers complete solution for long-term golf club maintenance

9/10
Groove Tube Golf Club Cleaner
Best Golf Club Groove Cleaner

Combines a powerful brush and cleaning solution
Fair priced
Can be refilled with more cleaning solution

9/10
XinTan Tiger Golf Club Brush
Best Value

Comes with two brushes
Strong bristles
Groove cleaner included

8.5/10
Club Clean Kraft with Bracket
Best For Golf Cart

Will attach to most golf carts
Easy-to-refill cleaning solution
Durable bristles clean the entire clubhead

9/10
Stixx Golf Club Cleaner
Best Golf Club Cleaning Solution

Can be used on all parts of the club
Quick spray eliminates debris and breaks down difficult-to-remove debris
Biodegradable

9/10
Why You Should Trust Golfspan
Golfspan only shares equipment and brands we trust. 
I'm a PGA-certified golfer and instructor, and I thoroughly researched and evaluated the golf cleaners below. Then an editor reviewed and fact-checked the review. Finally, we conduct regular content audits to update and revise our reviews to ensure you receive the latest information. 
Pros
It makes cleaning golf clubs easy
It will allow you to clean without taking brush off the bag
Two bristles
Spike for cleaning grooves
Ergonomic handle
Cons
Does not have a cleaning solution included, as other models do
The Yoport Retractable Golf Club cleaner is one of the best brush options for those looking for a simple, effective, long-lasting golf club brush. The Yoport has an ergonomic handle and a soft rubber grip to help make it easier for the golfer to get clubs spotless.
The Yoport has a 2-foot-long retractable carabiner line that will make it easy for you to attach to your golf bag. Essentially you can pull this brush out after every shot or simply clean your clubs up at the end of a round.
This brush has two sides, offering a stronger and softer bristle. In addition, there is a spike for cleaning out grooves when needed.
Rating: 9.5 out of 10
Pros
A microfiber towel is easy to wash and carry
It comes with a divot tool and ball marker
Groove cleaner and brush
Retractable zip line on the brush
Cons
The handle design is not as ergonomic as other options on the market
The ToVii Golf Towel and Brush kit is the best overall option for a golf club cleaning kit. This kit comes with a microfiber cleaning towel for golf clubs and a club brush groove pick. The golf club brush tool will easily break through the dirt on the club, and then the pick can be used to clean the grooves out.
The brush portion of this kit comes on a retractable line that is almost 3 feet long. There is also a carabiner clip that will attach to your golf bag.
Rating: 9 out of 10
Pros
Lightweight and easy to use
Large nylon bristles
Attaches to golf bag directly
Easy-to-refill solution
Leakproof storage
Cons
Make sure to have a towel nearby in case this gets messy
Some golf manufacturers try to make golf cleaning tools more complicated to appeal to the technology-loving golfer. However, other options on the market are much better suited for the player who likes things simple and effective.
The Groove Tube Golf Club Cleaner is a very simple golf club cleaning system that allows you to use a little cleaning solution as you brush the clubs. You can refill the tube, and the extra water and soap mixture really helps break up dirt and debris stuck in the grooves of the golf clubs.
Rating: 9 out of 10
Pros
It comes with two golf club brushes
Can work on cleaning golf shoes too
Groove cleaning spike is effective and doesn't dull quickly
Cons
Brushes sometimes deteriorate quickly for avid golfers
If you need a great golf club cleaner and want the best value for your money, the Xintan Tiger Retractable golf cart cleaner is a perfect choice. This comes as a set with a blue and a red brush included.
The brush has two sets of bristles: one for irons and one for hybrids and fairway woods. In addition, there is a groove cleaning spike on the end of the brush that is quite easy to use. The durable carabiner makes it easy to ensure you always have this club cleaner with you when you play.
Rating: 8.5 out of 10
Pros
Very easy to attach to any golf cart
Can refill with club cleaning solution
Simple and quick-draining design
Polypropylene brushes for longevity
Cons
Not all golfers have the room on their cart to install this unit
For golfers that are lucky enough to have their own golf cart, the Club Clean Kraft with bracket is a great option for players to consider. This model will fit on various golf carts, and it even comes with a bracket to keep the club cleaner attached. The polypropylene brushes are very strong and will hold up well over time.
This is a low-profile design that you may not even notice when looking at the cart, yet it does a great job of keeping clubs clean. This is one of the fastest and easiest golf club cleaning solutions on the market.
Rating: 9 out of 10
Pros
Very easy-to-use solution
Requires a small amount and a microfiber towel
Gets grips to like-new condition
Cons
Expensive for a small amount of product
Many people recommend cleaning your golf clubs with just a small amount of soap and water. However, this does not always seem to work correctly for some golfers. If you struggle with debris and dirt and can't get the club head cleaned, the Stixx Golf Club Cleaner is considered the perfect option.
This is a small bottle of a biodegradable solution that requires just one spray and a wipe to get the club back in perfect condition. Our favorite thing about the Stixx Golf Club cleaner is that it will also work on the grips. You will get many more months of use out of your grips if you can keep them clean, and Stixx can help.
Rating: 9 out of 10
FAQs
Here are a few of the most commonly asked questions about the golf club cleaner and the best options on the market.
What Should I Use To Clean My Golf Clubs?
It is best to use a microfiber towel, a golf club cleaning brush, and some soap and water when cleaning a golf club. You will not want to cause any damage to your golf clubs when cleaning them, but at the same time, your clubs must be free of debris to get the right amount of spin and distance.
Can You Use Fairy Liquid To Clean Golf Clubs?
You can use Fairy liquid to clean golf clubs, and it should not cause you any problems. Since Fairy is a mild detergent, it can help break down and remove some of the debris that you find on your golf clubs.
Fairy liquid is not expensive, and you won't need much to get your clubs clean. Just a drop or two should be all that is needed.
Are Wire Brushes Bad for Golf Clubs?
Wire brushes are bad for golf clubs with unique finishes and titanium faces. If you are cleaning a steelhead golf iron and need help removing debris from the grooves, the wire brushes will not cause any issues.
Most golf brushes are sold with a wire side and a soft-bristle side. This is to help ensure that you are not going to be doing damage to your golf clubs.
Do Golf Brushes Scratch Clubs?
Most of the golf brushes on the market are made soft enough not to scratch golf clubs. However, you cannot use these steel bristle brushes on a titanium-faced golf club like a hybrid or a fairway wood.
What Is the Best To Clean Golf Clubs With?
Most great players will tell you that a microfiber towel with a little soap and water on it will do the best job of cleaning your golf clubs. However, there are times that debris can get stuck in the club's grooves, and this is where it makes sense to incorporate a brush or a groove cleaner.
Conclusion
We hope that you now feel ready to purchase a golf club cleaner. Undoubtedly, having a golf club cleaner on your bag is a smart decision. The Yoport Retractable Golf club cleaner is the best overall option because it checks all the boxes for what a golfer needs from a golf club cleaning kit. The ergonomic handle, double brush cleaning head, and groove cleaning pick make this a favorite option among golfers.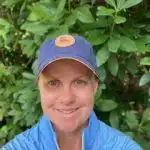 Britt has been playing golf since she was seven years old. After becoming a Class A PGA Professional, teaching professional, and golf membership director, she decided a career in golf writing was the perfect fit. Today Britt plays more golf than ever with her husband and two children and still loves connecting with golfers worldwide.