Although historically, golf has been a sport enjoyed by men, we are seeing more women than ever flood into golf, and it's great to see. In response to this, manufacturers began producing golf sets solely designed for women (it's only fair!).
While these clubs often share the same composition as those for men, they are differently shaped, shorter, and lighter to maximize a woman's performance from the tee to the green.
Here are the best ladies' golf clubs for intermediate players:
Strata Women's Complete Golf Club Set (16-Piece Set) — Best Overall
WILSON Women's Profile SGI Complete Golf Package Set — Budget Choice
TaylorMade Golf Kalea Complete Golf Set — Premium Pick
In this article, we will be providing a breakdown of the key features to help you identify the best women's golf clubs for intermediate players. And we'll start with the top five recommendations to get you started!
Featured Products
If, instead, you want the clubs across all skill levels, check out The Best Women's Golf Clubs.
5 Best Ladies' Golf Clubs for Intermediate Players
Specifications
Hand orientation: Right
Size: Standard
Material: Aluminum and graphite
Color: Purple, gold, pink, teal
Pros
Includes 11 clubs
Includes 2 hybrids
Forgiving
Powerful
2 years warranty
Multiple color options
Cons
Title is misleading
No clubs for left-handers
Rating: 9.6
The Strata women's complete 16-piece golf set has you covered in all situations, and we find it to be the best women's golf club set for intermediate players. The bundle includes 11 golf clubs in total, not 16 as the title suggests, as other parts such as the covers and stand bag contribute towards the total. So make sure you are aware of this fact before purchasing.
Both the driver and fairway wood are very forgiving, allowing you to confidently put more into your swing. The fairway wood also has a very aerodynamic head, making your swing smooth and effortless.
As for the putter, it uses precise milling on the face to enhance your accuracy and control of distance. One feature we really like is the two included hybrids. They are perfect substitutes for long irons and give you a fair bit of versatility.
Beyond performance, you also have some options to choose the right style for you. The set comes in either purple, gold, pink, or teal, covering a wide range of player style preferences.
Specifications
Hand orientation: Right
Size: Petite or regular
Material: Composite, graphite, steel
Color: Gray/pink, black/gold, grey/blue
Pros
Includes 8 clubs
Forgiving
Powerful
Low center of gravity
1-year warranty
Multiple color/style options
Cons
Only the woods have graphite shafts
No clubs for left-handers
Rating: 9.1
The WILSON women's complete golf club set has a few options available when you purchase. You can pick it up with either regular or petite clubs, and you have a total of 3 color options, with each also having a differently styled bag.
Included in the set are 5 irons and 3 woods. They feature the latest tech and are made of high-quality materials. Purpose-made for female players they use lightweight shafts and appropriately sized soft weather-proof grips. One aspect of the listing which is a little misleading is in regards to the shaft material.
Based on the wording, WILSON suggests that only the putter is made of steel, with all of the rest using a graphite construction. However, in actual fact, all of the irons are made of steel. So be aware of this fact.
Moving onto some features we like, the high-lofted driver has a sizable sweet spot and is very powerful. The premium golf bag is also very light and has plenty of padding, so it's both easy to move around and does a great job at protecting your precious clubs.
Specifications
Hand orientation: Right or left
Size: Petite, regular, tall
Material: Graphite, stainless steel
Color: Green/black
Pros
Inexpensive
Includes 8 clubs
Forgiving
Powerful
Low center of gravity
1-year warranty
Multiple color/style options
Cons
Only the woods have graphite shafts
Rating: 9.3
Presenting the world's first "custom fit in a box" system! The Profile SGI Complete Golf set incorporates 13 customizations from lengths to lofts, flexes, bags, and grips. This truly gives you an unrivaled set to meet your unique physical requirements.
Each of the clubs is tailor-made to meet the needs of female players and uses extra distance game improvement technology. This ensures you get that extra little bit of length to keep you in the game.
As with the WILSON Women's Complete Golf Club Set, all of the clubs feature graphite shafts except for the irons, which use stainless steel. This gives them a very low center of gravity for top-notch accuracy.
While you don't have any color choice with this particular model, you can go for just a cart bag or a stand bag, and also you can choose between three club sizes: petite, regular, and tall. Petite suits players from 4ft 11-in to 5ft 3-in, standard then goes up to 5ft 9-in, and finally, tall caps out at 6ft 1-in.
In our opinion, this is the best women's golf club intermediate set for those who are on a tight budget.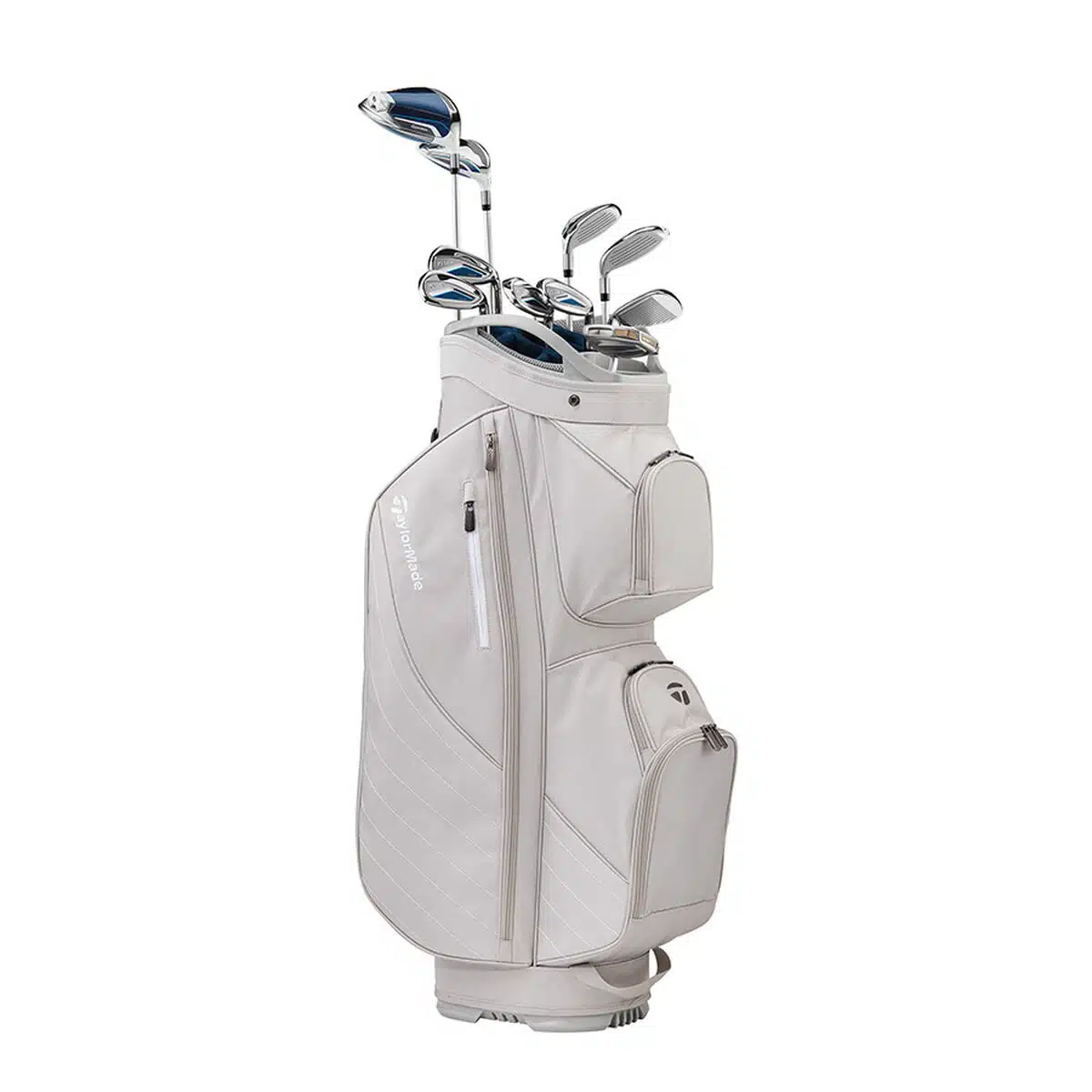 Specifications
Hand orientation: Right or left
Size: Petite, regular, tall
Material: Graphite
Color: Charcoal/black, black/violet, grey/green
Pros
Includes 11 clubs
Very lightweight
Powerful
Forgiving
Low center of gravity
Multiple color options
Cons
Expensive
No length adjustment available
Rating: 9.5
The most expensive women's golf set on this list is the Taylormade Golf Kalea Set by some margin — it costs over twice that of the other sets. The price knocks down its rating slightly, but solely in terms of performance, they are the best women's golf clubs for intermediate players.
With this bundle, you get a total of 11 clubs, all of which are ultra-lightweight and designed for maximum pace. One of which is the premium Spider Putter with Pure Roll insert for a more enhanced forward roll. It is less susceptible to twisting on impact, making it noticeably more forgiving. This becomes very apparent for long putts, where you put more force into your swing.
A great feature of these clubs are the speed pockets and soft flex premium shafts. These, again, add forgiveness and make it much easier to execute a high launch — perfect for intermediate players.
Specifications
Hand orientation: Right
Size: Petite, regular
Material: Graphite, stainless steel, titanium
Color: Cherry, pink
Pros
All clubs feature graphite shafts
Forgiving
Powerful
Multiple color options
Cons
The putter is not the best quality
No clubs for left-handers
Rating: 8.8
The Aspire XD1 ladies' complete golf set is a great buy for beginners and intermediate players alike. The clubs are strong and ultra-light, with all using a graphite composition for the shafts unlike the golf club sets by WILSON. This leads to reduced weight in your bag and faster swing speeds across the board.
The heads in this set are also pretty large, reducing your risk of mishits. A standout feature we love is the titanium driver. With its 450cc volume and 12° of loft, you get maximum reach that you can rely on.
The weakest area of this set is probably the mallet putter. It lacks a soft insert and is a touch on the heavy side. Therefore if you do choose to go for this set you might want to purchase a better putter separately. Also, you should be aware this set has no left-handed version. If you're a lefty, we recommend you read our dedicated guide for left-handed women.
Buyer's Guide
Distance
The sad reality is that biological women lack the strength that men possess. Therefore, they tend to under-hit their strokes. To account for this strength deficit, seek clubs with lightweight materials. This increases your swing speed resulting in greater distances.
Quality
As an intermediate player, you are now past entry-level equipment. You possess the skills to effectively use higher-quality equipment, and if you choose something sub-par, it will likely negatively affect your performance and enjoyment of the game.
Feel
You should choose clubs that provide a lot of feeling to hone your accuracy. These are usually forged and not too thick.
Forgiveness
As an intermediate player, you have good golfing ability but are still prone to mishits and poor form occasionally. This is why you should choose golf clubs with good forgiveness — they help make up for lapses in form. Don't jump to advanced clubs, as the best women's golf clubs for advanced players are not quite as forgiving and your performance will suffer.
The most forgiving golf clubs have both a large sweet spot and a low center of gravity.
FAQs
What Heights Are Women's Golf Clubs Designed For?
Women's golf clubs are usually designed to fit players with a height between 5ft 2-in and 5ft 9-in. However, this is just for a regular length set. Most give you a few different size options, so if you are smaller than 5ft or around the 6ft mark there are certainly still golf sets out there for you. In fact, we have a golf club guide for petite ladies.
What Is Considered an Intermediate Golfer?
An intermediate golf player has surpassed beginner status. They are capable of comfortably beating 100 and may frequently beat 90 as well.
Final Thoughts
Finding the best ladies' golf clubs for intermediate players is difficult. Golf clubs are a hefty investment, so it's important to pick correctly, and as a woman, you don't have quite the same selection as men do, which is frankly a bit frustrating.
We hope this guide has provided some insight into what to look out for when shopping as an intermediate player, and hopefully, a set or two has caught your eye. To summarize, the Strata Women's Complete Golf Club Set is our favorite of the bunch.
It's competitively priced, and the clubs offer great forgiveness and power, which is crucial for an intermediate player. The set also includes the most clubs at 11 and comes with 2 years warranty which is tough to match.
Women's golf has come along way through history, so I hope this review helps you take advantage of modern technology to take your game to the next level.
Recommended Further Reading:
Nick Lomas is the founder of GolfSpan, an avid golfer, not quite a pro but has over 15-years of experience playing and coaching golfers from all over the world. His mission is to bring the golfing community a better experience then it comes to choosing the right golf gear, and finding the right set up for your game.