Buying a quality set of irons that suits your game will help you reduce your weak areas and enhance your strengths on the course.
Different skills and levels will have different requirements and we will take you through the 5 best golf irons for a mid-handicapper.
At a glance: Our Top 5 Picks for Best Irons For Mid Handicapper
Buying Irons For a Mid-Handicapper
Many golfers put a lot of effort into driver and putter selection and give less attention to irons.
This does not make much sense when you consider that the majority of your shots will be played with your iron set, including your wedges.
The Benefits of Playing With a Set of Irons
While you might want to mix and match when it comes to drivers, fairway woods, putters and other specific clubs, it makes sense to get a set of irons. Apart from the time and cost-saving, a complete set will give you consistency and a fairly even gap between lofts.
There is no one size fits all set of irons but there are sets made for all skill and ability levels. Mid-handicappers will have different needs from beginners or very low handicap players so choose accordingly.
How Often Should Irons Be Upgraded?
This really depends on the individual. Budget is obviously a major factor. The truth is, the technology improves rapidly and your game generally evolves as you practice and play more often.
If your budget allows, it would be ideal to upgrade every 3 to 4 years. Having said that, many golfers become attached to a set of irons and get many more years out of them.
How To Select a Set of Irons For a Mid-Handicapper
While an easy launch and great forgiveness are the main requirements for high handicappers, you might want greater distance and control.
That is not to say launch and forgiveness are not still important but you want to get closer to the green and in a good position.
By the same token if you go for a set designed for low handicappers you will become frustrated and probably have a poor day's golf.
There are many great options available but you need to consider your specific requirements and needs.
Here some of the most important things to look out for when selecting a set of irons:
Club Head Design
The main options are cavity backs, blades (muscle-backs) and hybrids. Hybrid iron sets are a relatively new concept and will suit mid-handicappers wanting more forgiveness and easier lofts.
In general, stay away from blades until your handicap is down to the lower single digits. Some iron sets combine head designs according to the length/loft of the iron.
Shafts
As with all your clubs, shaft selection is important.
Most irons have steel shafts as the keeps cost down, are durable and versatile. They are slightly heavier than other materials and do not have much flex but are generally consistent and accurate.
Graphite shafts are more expensive but are lighter and have more flex. They are ideal for mid-handicappers with higher swing speed. The other drawback, apart from the cost, is a slightly less consistent feel.
Multi-Material shafts are becoming more popular and combine the benefits of a range of materials for a decent weight, flex and feel.
You will also want to look at the shaft length particularly if you are not average height. The correct length relative to your height can make a world of difference to your success with a set of irons.
Hosel design
Many mid-handicappers find that an offset hosel improves their game. These are set marginally in front of the clubhead. What this does is alter the center of gravity (COG) and give you more forgiveness while also helping you to launch the ball when you hit a less than dead center shot.
Set Make-Up
Not so long ago most iron sets were pretty standard, generally a 3 iron to the pitching wedge and sand wedge. Current sets come with a range of options so it is important to look at what you are getting.
You might have wedges you love or specific wedges you wish to buy, for example. Many players now often use hybrids instead of long irons. Give some thought to this before making your decision.
Budget
For most people, budget simply has to be a consideration. While there are many highly affordable sets available others can be an expensive investment.
This is also why it important to think about your needs and do your homework to find the best irons for your game.
A quality set of irons will help your game tremendously, both in terms of score and enjoyment. As they can last you many years of regular golfing it is worth investing in a decent set of irons.
Here are a few tips for buying a new set of irons:
Quick Overview: Our Top Picks for Best Irons For Mid Handicapper
The 5 Best Irons For a Mid-Handicapper Reviewed
While the company is probably best known for its popular drivers, TaylorMade makes a number of outstanding iron sets as well. Their main priority with their irons is to deliver a good launch and great distance, two things most mid-handicappers find critical to their game.
These are game improvement drivers and while not ideal for beginners they will suit a wide range of players and are favored by many mid handicappers.
The iron set is a great combination of technologies that have been refined and improved over time, the result of extensive research and development.
The RIBCOR technology is the most beneficial. This design creates a firm stiff perimeter which makes for a solid and powerful head.
The energy transfer is good for increased distance and the accuracy is impressive. While the perimeter is stiff it allows for greater flexibility in the face which makes the irons more forgiving.
Another benefit of the RIBCOR technology is a pleasing powerful sound on impact and good feel and feedback.
The weighting is another big focus with these irons. The heel and toe weighting have been enhanced for a higher moment of inertia (MOI).
This improves accuracy and makes the irons more forgiving as there is less twist when you hit slightly off-center. Your mishits will travel straighter and further as a result.
TaylorMade is well known for their Speed Pocket technology and this is still a leading feature of the M4 irons. It is slightly slimmer but longer than on earlier versions of these irons but still highly effective. This too will improve speeds, particularly on low center strikes.
In order to get the center of gravity (CG) lower and further back, TaylorMade has stuck with the Fluted Hosel. This design will also help with forgiveness and ease of launch.
2. Cleveland Golf Men's Launcher HB Iron Set
Pros:
Highly forgiving
Easy to launch
Good speed and distance
Lightweight and easy to swing
Steel or graphite shaft options
Cons:
These irons may take some time to get used to
Not as much playability or shaping as other irons
Even as a mid-handicapper, you can still benefit from a hybrid set of irons. While some traditional golfers might frown on this type of iron, they are perfectly acceptable and have many benefits for the vast majority of golfers.
Unless you are a pro or very low handicapper, forgiveness will always come in handy. While you might hit most balls solidly, with these irons you will still get good distance without too much loss of accuracy on those occasions when you do hit off-center. What's more, they will help you out of tricky lies with ease.
The only potential downside of the forgiving design is that as your skills improve you might want more playability.
You can still shape shots with these irons but you will have a bit less control than more traditional irons or blades. It is a trade-off that you have to weigh up according to your skills and requirement.
The hybrid heads are hollow and provide most golfers with an effortless launch and plenty of forgiveness.
The face has inserts of high-strength steel for higher ball speeds and greater distance. Good perimeter weighing further adds to the forgiveness and accuracy.  The irons have a low and deep center of gravity.
There is a choice of graphite or steel shafts to suit your style and swing speed.  The face is a thin HT1770 which helps deliver higher speed and distance and the sound and feel appeals to most golfers.
You might grow out of these as your game develops but while you are working past a mid handicap, these irons can do a lot to lift your game and save you a good few strokes on a round of golf.
You will likely see pleasing results, particularly with the longer irons.
3. Cobra Golf Men's King F7 Iron Set
Pros:
All clubs use CNC milling for optimal groove design
PowerShell Face is forgiving, durable and effective
Individual attention to each iron/wedge in the set
Good CG and forgiveness
Value for money
Cons:
Range of designs may take some time to adjust to
Some players would prefer more distance on certain irons
One thing that immediately stands out with this setoff irons is the specific design and technology that has gone into each individual iron. It is a progressive construction with thought and engineering features according to the specific iron.
While there is something to be said for consistency of design and feel that does not always translate into perfect performance across the range of irons. Cobra has used a hollow body on the longer irons and reduced that to half hollow on the mid irons.
The Short irons are cavity backed and the wedges are a blade design. Once you get used to the set you will appreciate the benefit of the range of technologies and design features.
There is no doubt that a vast amount of thought went into the research and development of these irons and they have a lot to offer the mid handicapper.
Cobra has even adjusted the groove design as well as materials to optimize the performance of each iron or wedge in the set, according to the purpose.
The PowerShell (PWRShell™) Face is one constant and this is strong and thin for a larger sweet spot, more forgiveness and great ball speeds with resulting distance gains. Cobra has used strategic zone weighting that is concentrated around the perimeter and the COG is positioned back and low for added forgiveness.
The groove technology moves from the V-Groove on the 3 to 6 irons while the 7 iron to pitching wedge has a U-Groove technology. This will optimize the spin and control of the various irons and improve consistency.
The included gap wedge, as well as the sand wedge, also have a groove technology specifically engineered for their purpose. To ensure quality trajectory and spin CNC milling is used to ensure a good groove result.
These popular irons are a favorite with many mid handicappers and for good reason. They are game improvers that should help most mid-handicappers shave a few strokes of their score and get to the green with more accuracy and ease.
Callaway has struck a good balance between all-important accuracy and distance with great playability. More skilled mid-handicappers especially will appreciate this combination. A number of technologies have been combined to achieve these benefits.
Firstly, Variable Face Thickness (VFT) has been used. This is combined with popular Callaway 360 Face Cup technology. These work together to deliver great speed and distance on all shots including off-center hits.
The VFT expands the sweet spot and increases flex while the Face Cup Technology creates greater face flex for higher balls speed and distance.
Callaway has used Tungsten Weighting which optimizes flight and control. The CG is precisely positioned on each iron for optimal performance and control. Tungsten is heavier than steel but gives the mid-handicapper greater control and precision.
Another feature is the urethane microspheres which deliver a decent feel with good feedback as well as an authoritative and pleasing sound. Unlike many other urethane technologies, the microspheres do not reduce flex and Coefficient of Restitution (COR). COR describes the energy transfer when you strike the ball and is important for speed and distance.
This is an iron set with good speed and distance with little compromise on forgiveness and control. They offer great value for money. There is a choice of steel or graphite shafts depending on your game.
In terms of appearance, these are larger than the average iron with a fairly thick topline as well as a noticeable offset.
5. Mizuno Golf Iron Set JPX 900 Hot Metal
Pros:
Quality and effective materials
Solid and enjoyable feel
Fast and far hitters
Appealing "tour" design
Selection of shafts available
Good playability
Cons:
No left-handed option
Slightly less distance than earlier Mizuno options
Another great set of irons that are game improvers to help mid handicappers lower their score is the JPX 900 Hot Metal set from Mizuno. The 4140M Chromoly steel makes all the difference and combines well with the 360 Cup Face.
The material and technology combine for good speed and distance. This is complemented by the power frame that improves energy transfer and improves the feel of the irons. The irons are forgiving so even off-center strikes will not stray too far off target and still travel a decent distance.
The head design is appealing to most players. The head is a fair size but the irons look sleek and professional. Despite the focus on distance most players still find thee to be extremely forgiving irons.
Mizuno has not always been favored by mid handicappers as they often lacked the speed and distance many players in this category wanted. They have overcome this with the Jpx 900s. They have an ultra-thin face which delivers great speed and distance.
The design, technology, and materials will appeal to a wide range of golfers in the mid handicap range. There is a range of options between the Tour, Forged, and Hot Metal irons so be sure to select the style that works best for your skill level and needs. There is a range of shafts to choose from according to your swing speed and style.
While these irons have good playability and shot-shaping ability they have the forgiveness, distance, and control to suit most mid-handicappers.
You can read a full review of the JPX 900 Irons here.
Conclusion
That should give you a good idea of what to look for when selecting irons and 5 leading choices for high handicappers. There is something to suit all playing styles and budgets.
The set that stands out as the best of the 5, for us, is the TaylorMade M4 Iron Set. Their RIBCOR technology, strategic weighting, and the Speedpocket combine to give the mid handicapper everything they need – accuracy, distance, an easy launch and plenty of forgiveness.
They are well made and durable, look great and have a pleasing sound and feel. Feedback from golfers that use the M4 irons is overwhelmingly positive and they are extremely popular.
Take the time to understand your skill level, your swing speed, and your strengths and weaknesses. Also, look at any particular requirements you have and don't forget to check the set make up. This will help you select the best irons for your needs.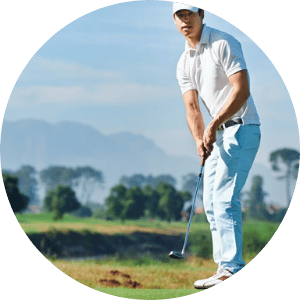 Nick Lomas is the founder of GolfSpan, an avid golfer, not quite a pro but has over 15-years of experience playing and coaching golfers from all over the world. His mission is to bring the golfing community a better experience then it comes to choosing the right golf gear, and finding the right set up for your game.