High launch and maximum forgiveness are the main requirements for high handicappers when buying irons. But as a mid-handicapper, you require greater distance and control.
That is not to say launch and forgiveness are not important. But you want to get closer to the hole and be able to do it more often. 
By the same token, if you go for an iron set designed for low handicappers, you will be punished for every mishit and will probably have a poor golf day.
While many golfers focus on the right driver or hybrid, these clubs won't be used as much as your irons. 
We've spent hours researching and testing many irons, narrowing it to the top 10 best irons for mid-handicappers for 2023. After the reviews, we've included a buyer's guide.
At a glance: Our Top 5 Picks for Best Irons For Mid Handicapper
Quick Overview: Our Top Picks for Best Irons For Mid Handicapper
In-Depth Reviews Of The 10 Best Irons For Mid-Handicappers 
Pros
RIBCOR and Speed Pocket technology delivers good distance

Relatively forgiving irons

Easy to launch

Medium offset

Accurate
Cons
Slightly lower lofted than similar irons

Inconsistent players might find gapping issues between irons
Specifications
Clubs: 5 – AW
Loft: 21.5° – 49°
Lie: 62° – 64.5°
Length: 38.5" – 35.5"
Offset: 5.2mm – 1.8mm
While the company is probably best known for its popular TaylorMade drivers, they make a number of the best golf clubs for mid-handicappers as well. Their main priority with irons is to deliver optimal launch and increased distance, two things most mid-handicappers could use some help with.
This iron set combines years of the best technologies they've ever come up with to get mid-handicappers more distance and more forgiveness.
The RIBCOR technology is the most beneficial of these new technologies. Get more distance with this design that creates a stiff perimeter for a solid and powerful clubhead. While the perimeter is stiff, it allows for greater flexibility in the face, making the irons more forgiving.
As a bonus of the RIBCOR technology, these irons have a pleasing and powerful sound on impact that gives great feedback to know exactly where you made contact.
There's A Way To Improve Accuracy Too
The heel and toe weighting have been enhanced for a higher moment of inertia (MOI). This reduces wayward shots as there is less twist when you make off-center contact. Your mishits will travel straighter and further as a result.
TaylorMade irons have another trick up their sleeve. Their Speed Pocket technology is still a leading feature of the M4 irons. It's slimmer now but longer than on earlier versions of these irons and highly effective. Specifically, this adds to increased speeds on low center strikes.
Read more:
For reviews of our favorite irons across all categories, check out our post on the
best irons available
. 
Pros
Highly forgiving

Easy to launch

Good speed and distance

Lightweight and easy to swing

Steel or graphite shaft options
Cons
These irons may take some time to get used to

Not as much playability or shaping as other irons
Specifications
Clubs: 4 – PW
Loft: 20° – 44°
Lie: 61.5° – 64.5°
Length: 38.86" – 35.75"
Offset: 2.73mm – 1.73mm
Even as a mid-handicapper, you can still benefit from a hybrid set of irons. While some traditional golfers might frown on this type of iron, they're perfectly acceptable and have many benefits for most golfers.
Forgiveness will always come in handy unless you are a pro or a very low handicapper. While you might hit most balls solidly, with these irons, you will still get good distance without too much loss of accuracy on those occasions when you do hit off-center. What's more, they will help you out of tricky lies with ease.
The only potential downside of the forgiving design is that you might want more shot shape control as your skills improve.
You can still shape shots with these irons, but you'll have less command than traditional irons or blades. It is a trade-off that you have to weigh up according to your skills and requirements.
A Brand New Design Unlike Any Other
The hybrid heads are hollow and give golfers an effortless launch and plenty of forgiveness.
The face has inserts of high-strength steel for higher ball speeds and greater distance. Good perimeter weighing further adds to the forgiveness and accuracy. The irons have a low and deep center of gravity.
There is a choice of graphite or steel shafts to suit your style and swing speed. The face is a thin HT1770 which helps deliver higher speed and distance, and the sound and feel appeal to most golfers.
You might grow out of these as your game develops, but while you're working through your mid-handicap phase, these irons can do a lot to lift your game and save you a good amount of strokes during your next round of golf.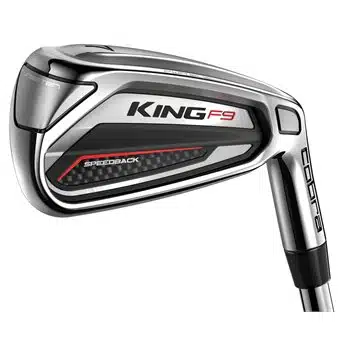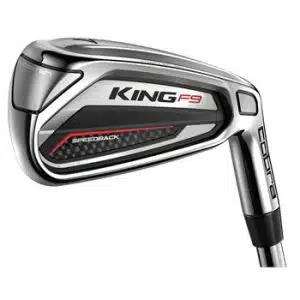 Pros
Added tungsten in the toe to increase forgiveness

Speedback design reduces drag to add more speed

Minimal offset to shape shot more easily

Internal foam absorbs shock from off-center strikes

Available in single-length shaft option
Cons
Thicker topline when looking down at address
Specifications
Clubs: 4 – PW
Loft: 19.5° – 44°
Lie: 62° – 65°
Length: 39.25" – 36"
Offset: 5.4mm – 1.5mm
Mid-handicappers have been benefiting from Cobra design and technology for many years. Unlike some other big brands that make clubs for low-handicappers, Cobra focuses on mid-high handicappers to help them lower their scores and just have more fun. 
These new irons represent Cobra's dedication to doing whatever it takes to help your game. Using new ideas, they can increase your distance and add even more forgiveness. 
The difference between the F9 and F8 is in the shape and weighting of the head. To broaden the sweet spot, more tungsten weight has been added to the toe. The most common mishit is off the toe, but you'll barely notice a difference with these irons. 
This allows them to minimize the offset without worrying about pushing or slicing. The look at address is more pleasing to the eye. The topline is a bit thicker than most other iron sets on this list but nothing too bulky. 
Game Improvement From All Angles
The inside of the head is padded with TPU and acrylic foam to help with feel. Your off-center hits are more accepted by this club and won't create vibration. This is especially nice for anyone who plays in colder climates. 
Cobra is also a big believer in single-length iron sets, and while you don't have to get them, they are an available option with these clubheads. All irons are the same length to keep your swing consistent, so you're always the same distance from the ball. 
Each iron shaft is weighted differently to account for the added or subtracted shaft length. If you're a mid-handicapper who is still new to the game, this might be a great option as more players adopt this theory every day. 
Pros
Low spin and impressive distance
Great forgiveness
Improved control and shot-making capabilities

Well priced

Very little offset
Cons
Not all golfers appreciate the sound of these irons
Specifications
Clubs: 4 – PW 
Loft: 20.5° – 44°
Lie: 60.5° – 64°
Length: 38.88" – 35.75"
Offset: 2.6mm – 2mm 
Callaway has struck a balance between all-important accuracy and distance with great playability. More skilled mid-handicappers will appreciate this combination. Several technologies have been combined to achieve these benefits.
Firstly, Variable Face Thickness (VFT) has been used. This is combined with the popular Callaway 360 Face Cup technology. These work together to deliver great speed and distance on all shots, including off-center hits.
The VFT expands the sweet spot and increases flex while the Face Cup Technology creates greater face flex for higher ball speed and distance.
More Control Than Other Game-Improvement Irons
Callaway has used Tungsten Weighting, which optimizes flight and control. The CG is precisely positioned on each iron for optimal performance and control. Tungsten is heavier than steel but gives the mid-handicapper greater control and precision.
Another feature is the urethane microspheres which deliver a decent feel with good feedback and an authoritative and pleasing sound. Unlike many other urethane technologies, the microspheres do not reduce flex and Coefficient of Restitution (COR). COR describes the energy transfer when you strike the ball and is important for speed and distance.
This is an iron set with good speed and distance with little compromise on forgiveness and control. They offer great value for money. Depending on your game, there is a choice of steel or graphite shafts.
Pros
Perimeter weighted cavity back design improves forgiveness

Great for beginners and part-time golfers 

Micro-milled face for added spin with all irons
Forged head provides pro-level feel
Cons
Heavier than other iron sets
Specifications
Clubs: 4 – PW 
Loft: 22 – 45 
Lie: 60.5° – 64.1°  
Length: 38.5 – 35.5 
Offset: 2.6mm – 2mm  
This iron set may have flown under your radar because they are not as advertised as most but don't let that sway your decision. These clubs are made with the same attention to detail as other brand-name clubs except for a much lower price. 
These are great for anyone's first set or a golfer who doesn't play multiple times a week. Their quality means they will stay with you for a long time and with their design, they'll never go out of style. 
Using a full cavity back design, these irons are meant to give you optimal forgiveness. By having the weight around the perimeter is forces the face to be more bouncy. Shots that are struck off the sweet spot will still have a lot of distance and will stay closer to your intende target line. 
Forgiveness and Spin 
The grooves on the face are also special. They are micro-milled which is great for adding spin. Your shorter irons will be able to hold greens better, no matter where you make contact on the face. 
More experienced players will appreciate these grooves on the longer clubs for two reasons. One, they will be able to hold greens from further away. Two, they will have more control over the ball flight. Adding spin means side-to-side as well, so you can shape the ball into greens or around corners much easier with these long irons. 
Another premium feature is that these iron heads are forged, meaning they are made from one piece of metal. This gives you incredible feedback on your shots so you know what you did wrong and how to improve it. This is hard to find on clubs that are this forgiving.
Pros
Quality and effective materials

Solid and enjoyable feel

Fast and far hitters

Appealing "tour" design

Selection of shafts available

Good playability
Cons
No left-handed option

Slightly less distance than earlier Mizuno options
Specifications
Clubs: 4 – PW 
Loft: 21° – 45°
Lie: 60° – 63°
Length: 38.25" – 35.5"
Offset: 2.3mm – 1.28mm
Another great set of irons that are game improvers to help mid-handicappers lower their score is Mizuno's JPX 900 Hot Metal set. The 4140M Chromoly steel makes all the difference and combines well with the 360 Cup Face.
The material and technology combine for good speed and distance. This is complemented by the power frame that improves energy transfer and improves the feel of the irons. The irons are forgiving, so even off-center strikes will not stray too far off target and still travel a decent distance.
A New Head Design Specifically For Mid-Handicappers
The head design appeals to most players; they look sleek and professional. Most players still find these extremely forgiving irons despite the focus on distance.
Mid handicappers have not always favored Mizuno as they often lacked the speed and distance many players in this category wanted. They have overcome this with the JPX 900s. They have an ultra-thin face which delivers great speed and distance.
The design, technology, and materials will appeal to a wide range of golfers in the mid handicap range. You can choose between the Tour, Forged, and Hot Metal irons, so select the best style for your skill level and needs. There is a range of shafts to choose from according to your swing speed and style.
Pros
VFT to help optimize all areas of the clubface

Tungsten screw in the toe stabilizes the face for better forgiveness

Lower CG adds height to all shots for more stopping power

Designed to have all the advantages of fairways metals

Thin topline for shot workability
Cons
Feel might be too soft for some
Specifications
Clubs: 4 – PW  
Loft: 20.5° – 44.5°
Lie: 60.5° – 64.1°
Length: 38.88" – 35.5"
Offset: 2.7mm – 1.1mm 
Ping is another company that has befriended mid-high handicappers, and we love them for it. The drivers are in a league of their own with being able to add distance and accuracy to tee shots, and now they have released irons to match. 
The theory with these irons is to be more like fairway woods. They are a bit heavier, with weight spread across the back of the face. Also, using VFT to optimize off-center hits just like the Callaway irons. 
More Toe Weight = More Accuracy
Added weight in the toe via a tungsten screw helps keep your ball straight when you contact the toe. This is the most common error with mid-handicappers, so being able to save those shots will lower your score all by itself. 
To hit more greens, Ping has improved the launch angle of these irons as well. There's lots of weight in the bottom of each iron which lowers the center of gravity (CG). This gives your ball more lift to stay in the air longer and come down on a steeper angle giving your shots more stopping power. 
With most of the weight being in the lower half, the topline is much thinner than many other of the best irons for average golfers. This will allow you to manipulate the ball flight more as you improve. There's nothing better than a crisp baby draw with a 5-iron tracking the pin. 
Pros
40% more tungsten for maximum accuracy

Thinner face on longer irons to maintain distance 

Rounded toe to improve turf interaction from thicker lies

Lofts are 2° stronger than previous models

Low CG for more height on all clubs
Cons
Thick topline view at address
Specifications
Clubs: 4 – PW 
Loft: 20° – 43°
Lie: 61.5° – 64° 
Length: 38.5" – 35.75"
Offset: 5.4mm – 2.2mm
We usually don't list Titleist as having great options for mid-handicappers, but recently they have been turning over a new leaf. This is the latest and greatest offering from Titleist, and it's a vast improvement from their other attempts. 
Like many other irons in this category, they have added tungsten in the toe to help increase MOI. What's different, though, is that they added a lot, 40% more than in previous models. This does wonder for keeping your off-center strikes stay on line and playable. 
To help your long iron game, the face is thinner in the heel since more mid-handicappers tend to be inconsistent with their longer irons. This is a huge help on long par 4s and long par 3s. If you don't hit the green, you'll be very close and hopefully in good position to get up and down for par. 
Devoted Titleist Followers Won't Recognize These Irons
Don't expect a traditional Titleist look from these irons; the topline is noticeably thicker than Titleist and other mid-handicap irons. The added bulk is necessary to counteract all the tungsten that went into it. 
This affects not only the appearance but also the shot control as well. These clubs are designed to go straight, and experienced mid-handicappers may have trouble shaping the ball if that's what you're used to. 
It's worth noting that these irons have an exaggerated rounded toe. This looks a little weird, but it's barely noticeable when you're at address. This also counters the weight so your clubhead can glide through rough without slowing down much.   
Pros
Lightweight design helps slow swing speed players

Patented V-sole improves turf interaction from many different lies

Thinner clubface on short irons improves feel and control

Deeper grooves in short irons also increases spin
Cons
More expensive than other iron sets
Specifications
Clubs: 5 – PW
Loft: 23° – 43°
Lie: 61° – 63.5° 
Length: 38" – 35.5" 
Offset: 2.4mm – 4.1mm
This may not be a company you're familiar with, but I assure you that will change in the coming years. XXIO (pronounced ZEK-SEE-OH) is killing it in the Asian markets and is now starting to get the recognition they deserve. It also helps when they keep making incredible golf equipment like these irons. 
With many defining characteristics, I have to start with the sole. This is unique to XXIO, and they call it a V-sole. It helps the club through many different lies, not just thick rough. This club is just as effective off hardpan as it is from squishy post-rain fairways.
Great For Those Wanting To Add Distance
These are also lightweight, which is the opposite of other mid-handicap irons. The reason for this is to help out those with slower swing speeds. 
Older players who may have lost a few mphs on their swing don't need added tungsten. They need distance. A lighter clubhead helps them generate power without having to change anything about their swing.
A different approach to clubface construction also helps with distance feel. Shorter irons are fitted with softer faces to add spin and control. Longer irons have strong steel to increase COR and keep your off-center hits traveling further. 
The grooves are also customized from one iron to the next. Shorter irons have deeper grooves that are closer together. This increases spin to hold greens better no matter the lie. The opposite is true with the longer irons to reduce spin and increase distance.  
Pros
Incredibly clean and professional look at address

Minimal tungsten added to toe to maintain feel 

Deeper and closer grooves from the 8-iron down to hit more greens

Progressive head size increases forgiveness in long irons
Cons
Long irons are harder to hit out of the rough
Specifications
Clubs: 3 – PW 
Loft: 20° – 44°
Lie: 60° – 63.5°
Length: 39" – 35.5"
Offset: 4.3mm – 2.4mm
Another offering from the other side of the world, Srixon is gaining steam stateside and introducing new outlooks on what great irons should look like. 
The first thing I have to note is how clean these irons look. The simplicity is divine, and even though they are meant for mid-handicappers, they look like they just came out of a tour player's bag. These are great for mid-handicappers who are on the cusp of earning the title of 'low-handicapper.'
Only a small amount of tungsten has been added to the toe to keep this look. It's just enough to help out on those off-center hits so you don't damage your score. The insert is visible on the end of the toe. 
Using Progressive Clubhead Design To Its Full Advantage
Srixon has also added a progressive groove system like the XXIO irons, but Srixon starts at the 8-iron. The theory is to create spin on the short irons since they will be used the most when you approach greens. 
Grooves are progressively spaced out from the 7-iron on up. This reduces spin and helps keep your ball in the air longer. Adding distance on these irons will have you clubbing down on approach shots and increasing your GIR stats. 
Srixon has taken progressive clubhead design a step further and adjusted the shape of the heads as well. Longer irons have longer clubheads to widen the sweet spot. Since the margin for error is greater with long irons, this added bit of help is very welcomed. 
You will also want to look at the shaft length, particularly if you're not of average height. The correct length is relative to your height and can make a difference to your scores with a set of irons.
How To Buy A New Set of Irons
Hosel design
Many mid-handicappers find that an offset hosel improves their game. This means the shaft sits ahead of the clubface and alters the center of gravity (COG), giving you more forgiveness when your face is open. It also helps you launch the ball higher when you hit a less than dead center shot.
Set Specifications
Not so long ago, most iron sets were pretty standard, generally a 3 iron to pitching wedge. Current sets come with a range of options, so it's important to look at what you are getting compared to what you need.
For example, you might have wedges you love or specific wedges you wish to buy. Many players now often use hybrids instead of long irons. Give some thought to this before making your decision.
Budget
For most of us who don't have multi-million dollar sponsorship deals, the cost has to be considered. While many highly affordable sets are available, others can be an expensive investment.
This is also why it's important to think about your needs and do your homework to find the best clubs for mid-handicappers.
A quality set of irons will help your game tremendously, both score and enjoyment. Since they will last you many years of consistent golf, investing in a decent set of irons is worth it.
FAQs
What Is a Mid-Handicapper?
A mid-handicapper is a golfer whose handicap is roughly between 10 and 18. This is determined by how many strokes over par you are. Someone who shoots in the low 80s to low 90s on a par 72 course would be considered a low handicapper. You can track your handicap on apps or through the USGA website to establish an official handicap. 
What Irons Are the Best for Mid-Handicappers?
The best mid-handicap irons are the TaylorMade M4s. Their combination of RIBCOR technology and speed slot system helps to increase distance while keeping your ball on the straight and narrow. A lower center of gravity also assists in getting a higher launch angle so you can hold more greens from further away.  
What Irons Are the Most Forgiving for Mid-Handicappers?
The most forgiving irons for mid-handicappers are the Cleveland Launcher HBs. They are a hybrid iron set that provides a lot of weight spread out across the back of the face. This broadens the sweet spot and corrects almost all off-center hits. Although they look unique, their performance speaks for itself and will help maintain distance, no matter where you make contact on the face. 
What Irons Provide the Most Distance for Mid-Handicappers?
The irons that provide the most distance for mid-handicappers are the Wilson D300 SuperLite Irons. Every design feature aims to increase power, so you don't have to change anything about your swing. Large weight pods in the heel and toe balance the lightweight and thin face. Together they cause the ball to explode off the face with less spin and more hang time. 
Related articles: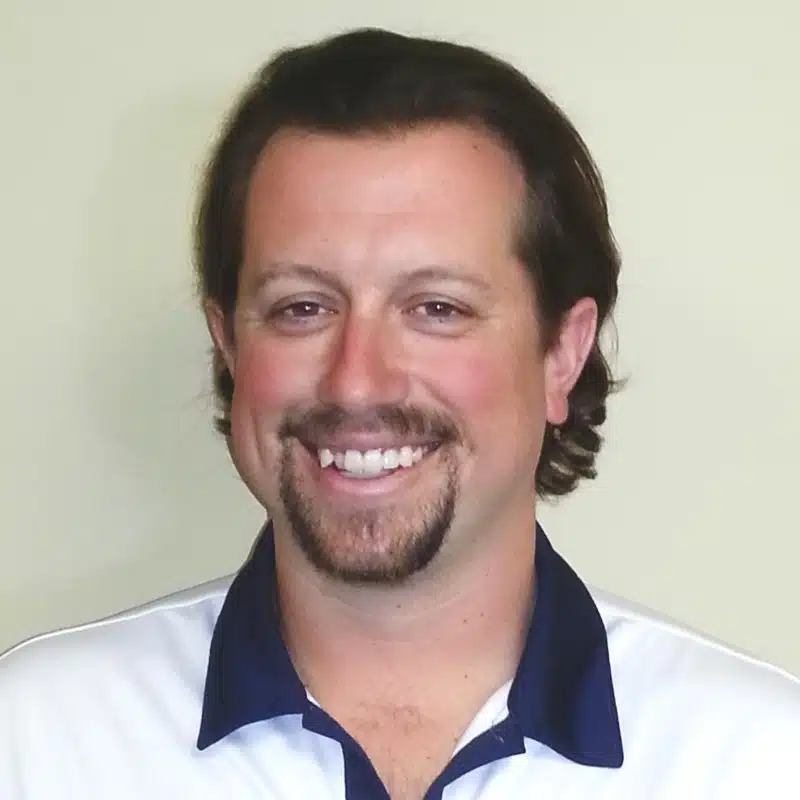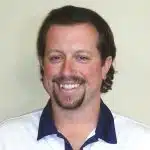 Clint became the Head Teaching Professional at one of Toronto's busiest golf academies and was featured on Canada's National Golf TV program, "Score Golf Canada," twice. He now tests and reviews golf equipment and gets to enjoy the game he loves whenever he wants while helping people lower their scores.