Ever since Ping launched their first set of irons back in 1969, the company has consistently strived to create clubs suited to a wide variety of golfers. Back in 1969, they revolutionized irons by enabling them to be customized to the preference of each golfer.
This trend continues with the brand's G25 irons, which they claim are ideal for golfers of all abilities. In this post, we will conduct a Ping G25 irons review, to see if the brand's statement is true or off the mark.
What To Consider Before Buying a Set Of Irons
Long Irons vs Hybrids
Before you choose a set of irons, it is worth assessing whether you will play better with long irons or hybrids. The average golfer typically finds it easier to get the ball airborne with hybrids compared to long irons.
Consider swapping out the long iron for hybrids for more forgiveness and a higher launching shot. Hybrids typically contain low and back CG, with perimeter weighting for optimal forgiveness across the face. Hybrids also deliver superior turf interaction to promote a cleaner strike from any lie.
Blades vs Cavity Backs
The next factor to consider is whether blades or cavity backs are better suited to your swing and ball-striking abilities. True Spec Golf's, Tim Briand, says he doesn't know any club fitter that would recommend blades to a player with a handicap higher than ten.
The reason for that is due to the lack of forgiveness and difficulty to launch those irons.
Cavity back irons typically contain more game improvement features that are easy to launch, offer increased forgiveness, and deliver consistent distance. Although I would recommend cavity backs to any golfer, mid to high handicappers will derive the most value from these clubs.
Shaft
The shaft you choose will impact your ball flight and the ability to achieve consistent carry and distance. Essential elements to consider when looking at shafts are length and flex.
You can see what shaft length is right for you in our post on longer golf clubs. However, I will briefly break down shaft flex.
Golf.com's Zephyr Melton recommends that you play with an extra stiff shaft if you swing a 6-iron above 92mph. He further states that swing speeds between 84-91mph work best with a stiff shaft, while 75 to 83 mph, is built for a regular flex shaft.
If your swing speed is below 75 mph, you should test out a seniors flex, and if that is still too stiff, you can always resort to a ladies' flex.
Forgiveness
Most of us average golfers struggle to strike the ball in the sweet spot consistently. As a result, we don't always end up on the fairway. That leads to a loss of distance and leaves us in trouble for the next shot.
That is why I suggest acquiring irons with an enhanced sweet spot to delivers maximum forgiveness.
Workability
Superior golfers who are confident in their ball-striking abilities may be happy to relinquish forgiveness in exchange for workability. If the need to induce a draw or fade is high on your priorities list, you should consider players irons or blades as they are also known.
Distance
If you are happy with reduced forgiveness but are not ready to play muscle-back irons. It is worth testing out players' distance irons. They deliver maximum distance. However, it lacks shot-stopping on longer shots into the green.
Ping G25 Irons Review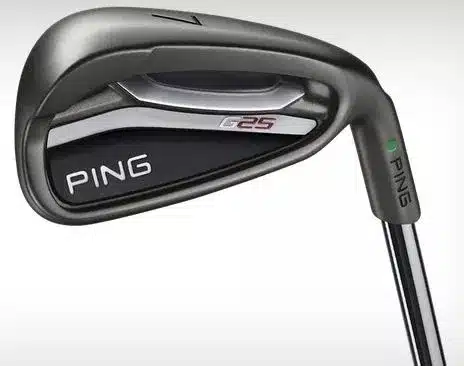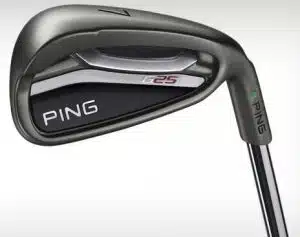 Pros
Deliver exceptional distance
Increased forgiveness
High launching long irons
It has a more compact profile compared to its predecessor, the G20's.
Promotes less spin
Cons
Difficult to locate a new set
Challenging to shape your shots
There are better feeling clubs on the market
The tradition of the G-range continues with the G25 irons, as Ping has rolled out an impressive game improvement set.
One could argue that the G15 and G20 irons were super game improvement irons. But the G25's features a more compact profile and set Ping back on track to being clubs that cater to both mid and high handicappers.
Ping released the G25 irons in February 2013. Eight short years later, and it is near impossible to source a new set. However, the distance, launch, and forgiveness of the G25's still give them relevance in the rat race of modern-day golf equipment.
The irons feature perimeter weighting, which helps to deliver explosive ball speed across the face. Furthermore, the long irons are designed to be easier to launch high, with low spin to achieve more carry and distance.
Ping's G25 irons are built for mid and high handicappers. But, superior golfers who don't mind oversized clubheads can benefit from this set.
Features & Benefits
Compact Profile
Even though Ping G25 irons are oversized clubheads, they feature the most compact profile in the G-series.
The size profile of previous G releases put them more in the super game-improvement category. Ping took this approach to make the clubs more appealing to golfers of all abilities.
Wide Sole Long Irons
The longer irons in the set feature wider soles. That helped Ping lower the CG and increase the forgiveness of the irons.
Low CG helps you launch your shot high and long, with ease. And a wider sole allows manufacturers to expand the sweet spot for explosive ball speed even on off-center strikes.
Narrow Sole Short Irons
Contrary to the wide sole long clubs in the set. Ping designed the short irons with narrow soles. That construction promotes more workability allowing you to shape shots for better control on the approach.
Reduced Offset
Compared to the G20 range, the middle irons in this set feature approximately thirteen percent less offset. That means it is easier to induce a draw or a fade with these irons than previous models, which will appeal to superior golfers.
Multimaterial Cavity Badge
Ping's multi-material cavity badge is more than a decorative piece. Instead, they included it to improve the feel and acoustics of the club. The material absorbs unwanted vibrations to ensure a smooth feel, even when you catch it thin.
Ping G25 Irons Alternatives
1. Cobra Radspeed Irons
Pros
Optimal ball speed
Maximum forgiveness
Low spin for more distance on long iron shots
Excellent face flex
High launching
Cons
The strong lofts of the longer irons are not suited to those of us with moderate or slow swing speeds
The short irons and wedges are chunky, resulting in terrible turf interaction in thicker grass and sand.
Weights form an integral part of the unique construction of Cobra Radspeed irons to deliver accelerated ball speed, increased distance, and maximum forgiveness.
Radial and heel and toe weighting ensure mass is strategically placed relative to the CG for explosive ball speed. Tuner Rad weighting stabilizes the club by centering the CG for consistent distance on off-center hits.
Added to various weights is a Forged Pwrshell face that is thin, flexible, and fast. This combination increases the flex around the sweet spot to produce exceptional speed for a high launch.
Finally, Cobra added a 3D medallion to the back of the clubhead to absorb vibrations and provide a pleasant feeling.
Like all the alternative options listed here, these irons are best suited to mid and high handicap players.
TaylorMade's SIM2 Max OS irons are their most stable and longest iron. They are built to deliver distance, feel, and forgiveness. These irons feature everything that we have come to expect from game improvement irons.
The oversized clubheads contain an ECHO Damping system the eradicates vibrations on off-center strikes, ensuring optimal feel.
Furthermore, the face on SIM2 Max OS irons prompts explosive ball across the surface, even on mishits, delivering more distance.
Finally, TaylorMade employed their trademark Inverted Cone Technology that increases the size of the sweet spot for maximum forgiveness.
Ultimately the SIM2 Max OS irons stand to benefit mid and higher handicappers the most.
Callaway's Apex DCB irons give you the best of both worlds. It offers the feel of a players iron and the forgiveness and consistency of game improvement cavity backs.
Callaway placed their Tungsten Energy Core in the set's long and mid irons to precisely position the CG. It helps you launch your shots higher and longer. Furthermore, the AI-designed Flash Face Cup generates accelerated ball speed and increased spin for a high launch and excellent shot-stopping power.
These wider sole irons with moderate offset are designed for players with a handicap over 12.
Final Thoughts
The main takeaway from our Ping G25 irons review is that despite their age, they remain relevant. Explosive ball speeds, a high launch, exceptional forgiveness, and consistent distance are what most of us average golfers desire, and these irons deliver.
The main downside is that you will struggle to find a new set. But, if you don't mind acquiring a pre-owned set you should check out GlobalGolf.com.
Related Articles
Nick Lomas is the founder of GolfSpan, an avid golfer, not quite a pro but has over 15-years of experience playing and coaching golfers from all over the world. His mission is to bring the golfing community a better experience then it comes to choosing the right golf gear, and finding the right set up for your game.