Fortunately, the situation has improved in recent years. We will take you through a few of the important things to consider when evaluating clubs for lefties and highlight some of the best options currently available.
At a glance: Our Top 5 Picks for Best Golf Clubs For Lefties
Selecting The Best Clubs For Left Handed Players
There are many famous lefties or southpaw golfers both past and present. The list includes legends such as Mike Weir, Bubba Watson and Phil Mickelson to name but a few.
Despite this, this part of the market has been sadly neglected in the past. This forced many left-handed golfers, amateurs and professionals alike to play right-handed. Curtis Strange, Nick Price, and Greg Norman are pros in this category.
These days there are many more club options for lefties of all skills and abilities and for all budgets. Some of the best clubs on the market are now available in a left-handed configuration which is great news for southpaws.
Another benefit is that online shopping makes it easier to find the best golf clubs for lefties. Many retailers do not carry that many left orientated clubs in stock so you will have to order and wait. Online it is much easier to source the ideal clubs for your needs and budget.
How Do Left-Handed Clubs Differ?
Naturally, a left-hander is approaching the ball and setting up the opposite way a righty does. Essentially it is a mirror image and the clubface faces the opposite way.
Lefties naturally have a different orientation but also have a slightly different posture.
The strike angle is also marginally different so better lefty clubs cater to this.
Another challenge lefty golfers face is instructions and coaching. Given that the majority of guides, training aids, and coaching pros are right-handed, one has to dig a bit deeper to find relevant help. Fortunately, there are now a number of options, particularly online.
This video, for example, explains how to set up your grip as a lefty.
Do You Need a Full Set?
If you already have a driver and putter that you enjoy you might not need a full set of clubs. In this case, you can invest in a decent set of irons. If, however, you need pretty much everything it is better to purchase a complete set. This will have a consistent feel and look and probably save you a bit of money.
Check exactly what the set contains when comparing options. The sand wedge, for example, is often excluded. This is not a major issue as one can purchase them separately but be sure to compare apples with apples when weighing up the options.
Generally, you will need a driver, a fairway wood or two, irons, a pitching wedge, a sand wedge, and a putter. You will also need a good golf bag to carry the clubs, accessories, and refreshments.
Most golfers will benefit from a hybrid or two to replace the longer irons and many will benefit from additional wedges.
One can always start with a basic set and add to it over time as necessary.
Choosing The Best Clubs For Lefties
Apart from the obvious "opposite" configuration of the clubs, the normal guidelines of club selection apply.
Understand your skill level
There is little point in a beginner investing in an expensive feature-rich set of clubs. They will not be able to extract the full value of the clubs so the investment is rarely worth it. Beginners would be better off with a set that is designed for their skill level and save money at the same time.
By the same token, if you are committed to the game, you want a set that will work with you as you improve. This will take a bit of thought.
Consider Your Needs
Lefties, just like righties, all have different needs. Some might desire great forgiveness while others will prefer more distance or possibly control. Give some thought to the factors that are important for your game and this will help guide you in your choice.
Budget
This is obviously an important consideration. The price of clubs ranges from highly affordable to fairly expensive. Again, it should be related to your skill level as well as your commitment to the game of golf.
An absolute beginner is probably better off with a relatively inexpensive set while they work out their swing speed, style, and other factors. Those with some experience and commitment might do well to invest a bit more in a set of clubs that will work well for them as their skills improve.
In most cases, the cost of left-handed clubs is the same as the right-handed equivalent.
Other Factors To Consider
Again, just as with any other club selection process, lefties need to consider a range of factors. The weight of the club as well as the shaft flex is important and is largely related to your swing speed. Slower swingers will want a lighter club and a shaft with more flex.
One also wants to consider the durability, looks, sound and feedback, grip and various other factors.
Quick Overview: Our Top Picks for Best Golf Clubs For Lefties
The 5 Best Golf Clubs For Lefties
Callaway needs no introduction and they have a reputation for quality clubs and leading technology. They have not neglected the left-handers in the market and the popular Men's Strata Complete Golf Set is available and perfectly optimized for lefties. It is great for beginners right through to intermediate or mid-handicap golfers so it covers a wide range of the market.
The set consists of a titanium driver with a confidence-inspiring and highly forgiving 460cc head. It is designed to optimize launch and distance while delivering plenty of forgiveness.
Next, you will get a versatile 3 wood and a 5 wood. They are also long and forgiving with good aerodynamics. The 4 and 5 hybrids will be appreciated by most golfers as they will save you from struggling to strike the perfect shot with the challenging longer irons.
The driver, wood, and hybrids all come with headcovers.
The irons consist of the 6 through to 9 iron and are they are stainless steel cavity-backed irons with high flight technology. This will offer most golfers control, distance, and forgiveness.
The wedges feature the same technology and unlike many sets, you get the pitching wedge as well as a sand wedge. The putter features precise face milling for improved control and accuracy. It is a mallet putter that should suit most golfers in the target market.
To complete this comprehensive set you get a quality stand bag that is lightweight and durable.  It has ample storage, a comfortable back strap and, most agree, looks good.
This is an extremely popular set. It is good quality at an affordable price. The set contains pretty much everything you need and will take you through from beginner level to a more advanced player. While it is not perfect for very low handicappers, the average leftie will get a lot of value from this quality set.
If you are after a quality set of clubs for lefties but are on a tight budget the Pinemeadow Men's PGX Golf Set cannot be overlooked. Do not be distracted by the budget price, these are quality clubs that are popular and receive heaps of positive feedback from happy golfers.
You will get an impressive 460cc driver that is forgiving while delivering an impressive distance and good accuracy. Further to that, you will also get a 3 wood. These clubs both sport a lightweight graphite shaft.
You also get a handy 4 hybrid. This will help you to avoid the tricky longer irons. These three clubs all come with headcovers. They also all have a white finish that most enjoy and is designed to improve visibility.
The irons run from 5 to the pitching wedge. They have ultra-wide soles and are optimized to deliver and easy launch and good spin. As is often the case with these sets, the sand wedge has not been included. They are easy to find separately and need not cost a fortune.
You will also need to add a putter but again, these can be found for a great price and this will allow you to select the style of putter you are most comfortable with.
One of the most outstanding features of this set is that despite the good quality they are highly affordable. Lefties on a tight budget would do well to check these out.
You might need to add a few clubs to the set, especially as your game improves but this is a good start to build on. The bag, if you don't already have one, will need to be purchased separately.
3. Cleveland Golf Men's Launcher HB Iron Set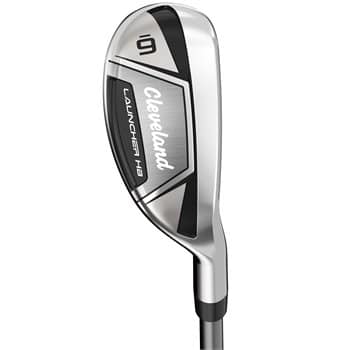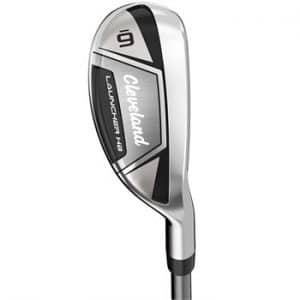 Pros:
Hollow construction
High strength Ht1770 steel face
Progressive design
Hybrid-like feel on all irons
Easy to launch
Accurate
Forgiving
Good greenside control
Quality sound and feedback
Cons:
Not ideal for better golfers
Playability is limited
The looks will not work for all players
What Cleveland aimed for with the HB Irons is a set that is really easy to hit, effortless high launches, straight shots, and extreme forgiveness. Looking at the popularity of the set and the feedback from golfers, it is clear that many believe they have achieved this goal.
Working on the popularity of hybrids, they have tried to extend that forgiveness and effectiveness to the full range of irons. The HB stands for HiBore and is something Cleveland has been successful with in the past. They have built on their past success adding more technology along the way.
The HiBore crown works well with the full hollow construction of all the irons.  It gives them a deep and low center of gravity with more weight distributed on the perimeter. The irons have a wide sole for better interaction with the turf. This combination gives great forgiveness, helps with a good launch and improves distance control around the green.
Added to this is the high strength Ht1770 steel face with steel inserts. The face has good flex which will improve energy transfer for higher speeds and longer distance. The internal ribs create a pleasant sound and the feedback is good.
There is not too much more one could want from a set of irons.
The set consists of the 4 iron through to the pitching wedge and a progressive design has been used. The short irons look much like regular game-improvement irons but as they move towards the longer irons they look more like typical hybrids.
Shafts are available in stiff, regular or light and the options include the Miyazaki C Kua graphite or the True Temper Dynamic Gold 98 steel shaft. The grip is the Lamkin Cleveland Blue Cap.
Most people enjoy the looks of the set but the more conservative players might prefer more traditional looking irons. They have a thick top line and a chrome finish. For most, they will inspire confidence at address.
The irons are highly rated and are great for beginners and higher handicappers. A vast number of golfers reported an instant and dramatic improvement in their iron game.
Intermediate players should also get a lot of benefits from the Cleveland Golf Launcher HB Irons however better players will probably want more playability and control.
4. TaylorMade Men's M2 Golf Iron Set
Pros:
Multiple leading technologies
Return of the face slot
Quality multi-material design with high-density tungsten
Extremely long-hitting irons
Highly forgiving
Pleasing consistency
Classical classy looks
Good turf interaction
Smooth transition between irons
Durable construction and finish
Cons:
The mid to low spin reduces greenside control
Relatively expensive
The face slot technology mutes to sound a bit
The M2 irons are a tried and tested set of irons that have always been great but just keep getting better. There is a lot of leading technology that goes into these irons and despite a relatively high price tag they are highly popular and much loved by many golfers. They are extremely versatile and appeal to golfers at all levels.
The main focus was on flight trajectory and distance. Many claim these to be the longest irons they have ever experienced. To add to that, there is plenty of forgiveness, something that appeals to the vast majority of golfers.
This set runs from the 4 iron to the pitching wedge but there are other options that include an attack wedge and a sand wedge.
The enhanced face slot makes a comeback and means that off-center hits will still deliver good speed and distance so the irons are forgiving. The ends of the slots are reinforced for strength and durability. You will be grateful for this particularly when striking on the toe or heel.
TaylorMade has to recover the weight of the reinforcing elsewhere and they started by thinning the leading edge of the Speed Pocket as well as the undercut top line. The 180-degree fluted hosel also helped with weight distribution.
They could then ensure a low center of gravity. The speed pocket technology has been around for some time but has been further thinned and works well with the face slot and the weighting for fast forgiving irons.
The multi-material contains high-density tungsten. The 3 to 7 irons all have tungsten weights lowering the CG further for speed and ease of launch.
The leading edge is optimized for decent turf interaction including a three-way bevel which gives the irons more workability and makes them effective even of a poor lie.
Another improvement on earlier iterations of the M2 is that the irons transition more smoothly as you move through the irons. In the past, one could feel the movement particularly as you go from non-slotted to slotted irons. TaylorMade has worked on this to make the move less noticeable. The irons are more consistent than they were in the past.
The looks are impressive as one would expect from TaylorMade. At address, the somewhat compact heads with a slim topline and reduced offset are sure to bolster your confidence.
Some reported that the face slot mutes the sound somewhat but much has been done to overcome this. The badge below the top edge and the rear ribs help to make up for what is lost from the face slot. Most golfers have no issues with the sound and feedback from the M2 irons.
The irons come with a steel FST Reax HL 88 shaft. It is light and works well with the M2 design. It is available in stiff or regular according to your swing speed. Another option is the slightly more expensive but lighter graphite M2 REAX shaft 75-45g available in 4 flex options.
TaylorMade has tweaked and made minor enhancements to all elements of these quality irons for improved performance. The results are an easy launch with exceptional distance and more than enough forgiveness for most.
5. MAZEL Single Length Golf Club Irons Set
Pros:
Value for money
Single length helps to improve consistency
Aids confidence for many
Includes sand wedge
Forgiving design
Wide sole improves turf interaction
Cons:
Some distance will be sacrificed with these irons
Not the most pleasant sound
Not suitable for lower handicappers/better players
Mazel might not be the best-known name in golf equipment but they are well-established and have been around since 2002.
If you are a beginner lefty looking for an affordable set of irons then this set should be considered. They have a number of benefits and are well-liked by many higher handicap and beginner golfers as well as juniors.
It is a 9 piece set that runs from the 4 iron through to the often excluded sand wedge. What is quite unique about these irons is that they all use a single length 37.5-inch graphite shaft. This offers greater consistency in feel and swing weight and simplifies many aspects of the game. It gives most golfers greater confidence which results in more powerful swings and, hopefully, better shots.
The stainless steel irons have a large and forgiving sweet spot. The center of gravity is positioned low for more accurate strikes. The 4 and 5 irons have a full hollow design for enhanced forgiveness and the 6 to sand wedge are cast with a polished surface.
The wide soles are also designed for forgiveness and improved turf interaction.
Most consider them to look good and have decent durability.
They have an anti-slip rubber grip that is comfortable, effective and reduces shock.
Consumer feedback was overwhelmingly positive so Mazel is certainly onto something with this well-priced set of irons.
Final thoughts
After many years of near neglect, the lefty golfer is now spoilt for choice. There are many great options to consider.
While we have done extensive research to bring you only the very best clubs for lefties, one set stood out for us, the Callaway Men's Strata Complete Golf Set.
Despite being great value for money the set has a lot to offer. It is a comprehensive set that contains pretty much everything you will need. The quality set even includes 2 woods, 2 hybrids, a pitching wedge, sand wedge as well as a decent putter and quality golf bag. It has been specifically designed and optimized for lefties and is a popular option.
Give some thought to your specific needs, your skills, and your budget. This will guide you towards the perfect set to help you find the best golf clubs for lefties. You cannot go wrong with any of the options we have featured.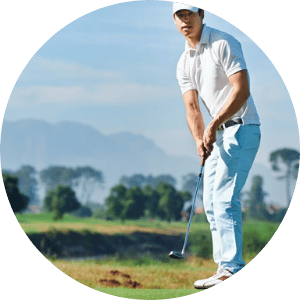 Nick Lomas is the founder of GolfSpan, an avid golfer, not quite a pro but has over 15-years of experience playing and coaching golfers from all over the world. His mission is to bring the golfing community a better experience then it comes to choosing the right golf gear, and finding the right set up for your game.