This piece is intended to prepare you in your pursuit of a good quality set at a reasonably inexpensive price and techniques that you can implement to optimize the money spent on a set.
Whether you choose to purchase specific irons, or you want to purchase a set of irons, it will demonstrate the importance of thinking about some fundamental qualities regardless of the design. In the present competitive market, the quality of the set will play a significant role.
In your pursuit of the top money-for-value package, you should not disregard preceding versions that are trading at a rebate compared to the latest models. You can conserve a considerable sum while the loss of technology will not influence your scoring substantially.
Every golfer possesses his or her distinctive traits and that makes golf such a remarkable sport. Manufacturers have done their research to fulfill as many different combinations as feasible and the diversity of clubs offered indicates that you are virtually guaranteed to find a set that will fulfill your distinctive needs.
The clubs most frequently used in your set of clubs will be the irons as they will be utilized on par 3 holes, off the tee on shorter par 4 and then for approach shots on nearly all holes.
At a glance: Our Top 5 Picks for Best Golf Sets Under $500
Choosing The Best Golf Irons Under $500
Irons are split into 3 key classifications, beginner or high handicap golfers, Intermediate or mid-handicap golfers and the advanced or single handicap golfers.
Even though there are these distinct categories to guide you in the style of club you ought to decide on, it is not restrictive in that gifted beginners can play with clubs designed for better golfers without experiencing any consequences.
Type of Irons
Exploring the type of irons, you will stumble upon many catchphrases that could be rather bewildering, but we will attempt to highlight the generally used phrases and words.
Most clubs are manufactured from either steel, graphite or tungsten or combination of materials. Composite materials have increased distance vastly over the years and golf clubs have resorted to lengthening the courses to counteract the increase in distances.
Blade irons, for the single handicap golfers, generally have smaller clubheads than other clubs and a thin face with a small sweet spot. The blades are more conducive for shaping your shots in a draw or a fade.
Cavity back, for beginners and advanced golfers, irons, on the other hand, focuses the weight towards the back of the head for an increased Moment of Inertia (MoI).
Hybrid clubs, for all level of golfers, is the result of engineers merging the best characteristics of irons and best features from woods thereby creating a club with the iron swing mechanics and forgiveness and distance offered by a wood.
The two most common type of irons are:
Forged Irons
These are produced from a single piece of pure metal which is pounded into the preferred form. It involves appropriate refining and buffing to attain a solid look.
They have an incredible feeling when the ball is struck on the sweet spot providing more workability and therefore results in the ball being shaped according to the golfer's requirements.
Cast Irons
These are produced through a less expensive method combining iron and other metals and then pouring it into a mold to cool down. This enables the manufacture to do more sophisticated and precise work.
There are benefits and drawbacks to both processes and they are designed for distinct markets. Where forged irons are aimed at the more advanced and single handicap golfers, cast irons are targeted at the beginner to advanced golfers.
There will be an overlap where golfers will compete with the cast iron but still be capable to play either one. Only you can decide which is the best fit for your game.
Avoid Foreign and Buy US
You will be well advised to purchase from local sellers or even making your online purchases from local sellers. It's prudent to avoid foreign vendors as the probability of receiving counterfeit gear is less and you will have more recourse against local vendors.
Shopping intelligently will allow you to pocket sizable savings without the risk of dealing with international sellers.
Buy Astutely
Manufacturers have cycles in creating and releasing newer models with the hottest technology. Some do it every year and others have longer running cycles.
At the time, or just before the release of the latest version, the existing stock of the older version is put on sale at a markdown to prepare the way for the latest model.
Not to worry about purchasing older technology as it will still be fairly new and provide you with all the bang for your buck at a price that will have you laughing all the way to the bank
Second Hand Is Not Taboo
Be prepared to buy pre-loved clubs but confirm that they are in decent condition.
Some golfers have big bucks to consume and like the hottest equipment in their bags. This combined with the rapid release cycles set by manufacturers has established a market where there are pre-loved clubs that are still in good condition to be had at superb prices.
After you have played a few rounds with the brand-new model, they too are second hand but came at a premium.
The premium brand manufacturers are referred to as premium for a reason. They have been around for an extended period and have built quality products that golfers know they can depend on. They also tend to spend a massive amount on marketing to strengthen their brand.
For that reason, they can command a premium price for their products. There are newer brands such as Hireko and Benross that might not have the premium standing yet but still produce outstanding quality products, at a much lower price. You will be pleasantly surprised by what they offer.
Your opening port of call should be top-ranked merchants as they should have a well-known record of content clients. Be thorough in your due diligence and scrutinize negative commentary but recognize that there will always be some dissatisfied client that will offer negative comment. Look at whether the positives outnumber the negatives by a wide margin. If they are close, be vigilant.
Online purchases are very prevalent and quite a new way of doing business so you will find good and bad players in this domain. Do not be fearful of raising questions concerning the equipment.
Ask about the serial numbers, motivation for selling, the number of times it was used, how many transactions the seller has done, etc. Responses (or absence thereof) will provide you with a good sense of the transaction. If in doubt, don't be reluctant to walk away.
You are more likely to be deceived online as you will only see the article when it is delivered to your home. Counterfeit equipment or equipment that is in poor condition will be complicated to return once you have paid over your money. Be alert and make sure that the vendor has a reputation for delivering the correct gear.
Look For Package Deals
Clubs come it sets and frequently many fairway woods, hybrids, and wedges are bundled jointly with the irons. You gain by paying a better price for the package and the vendor benefits by not having to pay shipping costs for every club.
A Few Notable Terms To Look Out For
Center of gravity
For clubs that will launch the ball higher and longer, you will require a Center of Gravity (CoG) that is located lower and more near the back of the club. This merely indicates that the weight distribution within the club has been pushed as low and far back as feasible.
This is regularly accomplished by applying various materials of which Tungsten is highly fashionable. Tungsten is heavier than steel and by adding it to the sole, the manufacturers generate a lower CoG. The broader soles will likewise facilitate the push backward of the weight for a superior CoG.
The lower and rear based CoG will aid in launching your lengthier shots higher and create a bigger likelihood of the ball remaining on the green instead of running off the back.
Shaft
When determining the shaft of a club there are a few areas to take into consideration such as material, loft, length, flex and tipping point. Shafts most frequently come in either steel or graphite.
Graphite is used on effectively all drivers and woods while steel shafts are more commonplace on irons and wedges. Seniors and people with slow swing speeds also benefit by employing graphite shafts on all clubs in their bag.
Loft
The loft of your club is related to your swing speed. Higher swing speeds will need less loft to get the ball into the air than lower swing speeds. On drivers, fast swing speeds typically need lofts of 10 degrees or lower while slow swing speeds will cope better with lofts above 10 degrees.
Lofts on your irons may possibly fluctuate between sets and the upshot of this is that certain sets attain lengthier distances with the identical club as others. An example of this is that a 6 iron with a 31-degree loft will likely attain more distance than a 6 iron with a 33-degree loft
Stiffness
As with many aspects of your clubs, the shaft stiffness is associated with your swing speed. Very fast swing speeds require and Extra-stiff shaft (X) while slightly slower swing speeds will require a stiff (S) shaft.
The most common use shaft that is appropriate for most golfers is an aptly called a regular (R) shaft. Lower swing speeds will use either the senior (S) or ladies (L) shaft.
The most used shafts on irons are steel shafts as they are heavier and firmer hence highly endorsed as the benchmark.
Design
Clubs come in all sorts of designs to accommodate virtually every possibility. Some clubs are designed solely for distance, or advanced players while there are clubs that are designed for forgiveness that will offer assistance and self-confidence to golfers that are starting out
This video sheds some light on shaft selections.
Quick Overview: Our Top Picks for Best Golf Sets Under 500
The Best Golf Sets Under $500 Our Reviews
The 7-iron set comprises a 4-iron to 9-iron, a pitching wedge but no sand wedge.
Shafts
Shaft selection will suit almost every golfer as the irons are available in either steel or graphite shafts, a choice between regular and stiff flex, and right or left-hand orientation.
A fluted hosel focusing the bulk of the weight at the bottom of the heel produces lightweight irons.
Clubface
A thinner blade look enabled TaylorMade to save weight and still provide the forgiveness that most cavity back golfers require.
TaylorMade's Speed Pocket Face Slot technology on the topline and leading edge of the clubface is only 1 mm thin. The face slots reduce the loss of ball speed on off-center strikes.
Weight has been moved to the bottom of the clubface to reduce the weight above the ball on impact.
To achieve a thinner face, TaylorMade lowered the CoG by 1.2mm which is a 7% improvement on its predecessor.
Stiffening the face and optimizing the sound and feel required TaylorMade to place ribs on the back of the clubhead.
The weight design and slotted face make for highly forgiving irons.
Performance
TaylorMade M2 irons are designed to launch the ball as high as possible, as fast as possible, to travel as far as possible, and to land with the steepest landing angle possible.
And they have been extremely successful to achieve what they set out to achieve.
Using these irons out of the rough makes the shot straightforward and enables you to strike the ball with more confidence.
Striking the ball is pleasing on the ear due to the Geocoustic Engineering technology deployed by TaylorMade.
Verdict
TaylorMade implemented loads of innovative technology in the M2 irons that have produced tremendous results.
In addition to the technology, TaylorMade has now managed to provide a good set of irons for below $500.
The Cleveland Golf 2018 Men's Launcher CBX cavity back iron set consists of 7 golfing irons offering you a choice of either a combination of a 3-iron to a 9-iron and a pitching wedge or a 4-iron to a 9-iron and a pitching wedge plus a DW.
Shaft
Standard shafts are available in the steel Dynamic Gold DST 98 shaft or graphite Miyazaki C. Kua in regular, senior, and stiff flex models. A variety of shaft configurations is available depending on your swing speed and requirements.
The critically acclaimed Dynamic Gold DST 98 shaft is super lightweight and features a high balance point for enhanced speed and an easier launch.
Clubhead
Cleveland implemented their Feel Balancing technology has a microcavity, a hollow section at the bottom of the hosel, for improved consistency in performance.
Feel Balancing technology transfer the center of gravity from the hosel and toward the center of the face for enhanced forgiveness, feel, and distance control.
Tour Zip grooves channel debris away from the ball for more consistent spin and control in all turfconditions.
Laser milling roughens the clubface which intensifies friction and enhances spin for wedge-like control.
A combination of Zip grooves and laser milling on the clubface produces spin consistency from all lies.
The 3-iron to 7-iron use the Cleveland Launcher Face Cup technology that wraps around the chassis of the club placing the join line at the rear of the face. This flexes at impact thereby imparting more energy to the ball and enhance forgiveness on off-center strikes.
Short irons in the set use a compact shape and thin top line for more control while long irons use a thicker top line and low profile offering you maximum distance. The offset on the long irons may not suit better players.
Progressive V Sole
Another piece of technology used by Cleveland is their Progressive dual sole (V-sole) that provides forgiveness and enhance lift through the turf. The design changes progressively throughout the set of irons.
The V-shape cut smoothly through the turf with minimal loss of speed for better contact and distance control
Verdict
The Launcher CBX is aimed at mid to high handicappers that require higher launch and control.
Coming in below $500 for the regular flex set, you can consider the Cleveland Launcher CBX value for money.
This Callaway Strata 12-piece set is great value for money.
Clubhead
The stainless steel irons offer a combination of control and forgiveness.
A 460cc forged titanium head in the driver provides distance and easy launch.
Shaft
The uniflex lightweight steel shaft is ideal for golfers that swing the club around 90mph
and feel that a regular shaft is too soft, but find a stiff shaft too hard.
Sound and Feel
The large sweet spot on the forged titanium driver feels soft off the face and creates good ball speed at contact.
The sound can be rather loud for some.
The irons have a moderate, powerful sound at impact and a good soft feel.
Technology
The Forged titanium head in the driver gets the ball out there off the tee and launches easily.
An oversized aerodynamic head on the 3 wood launches high and far off the fairway.
Balance throughout the set creates forgiveness and control.
Verdict
Callaway is renowned for producing high-standard golf clubs and the Strata set is extremely well priced and offers good playability for all skill levels.
Definitely more suited to the mid to high handicap golfer and also provides a great package for the social weekend golfer.
The Callaway X2 Hot Iron was released in 2013 and is the second generation of a distance iron.  This generation got a nice trim, particularly when looking at the depth of the club while it provides game-improvement forgiveness and distance. The X2 irons are the most precise distance iron from the Callaway stable.
Clubhead
The reshaped sole and rear of the clubhead improved the MoI and the contact between the clubhead and the grass for improved reliability.
Shaft
The X2 has standard shafts for either steel or graphite shafts. The preferred steel shaft is the lightweight True Temper Speed Step 85g and the standard graphite shaft is the Aldila Tour Blue.
Technology
The perimeter weight allows for an expanded sweet spot while there is a steadying arch that bolsters the face leading to superior sound and feel.
Performance
The X2 performs to the standards that are expected from a Callaway club and easy enough to hit by beginners and advanced golfers.
Verdict
This is a versatile club that can be utilized by beginners and they can develop into it while advanced golfers will derive the benefit as well.
5. Tour Edge Hot Launch C521 Set Regular Graphite Shaft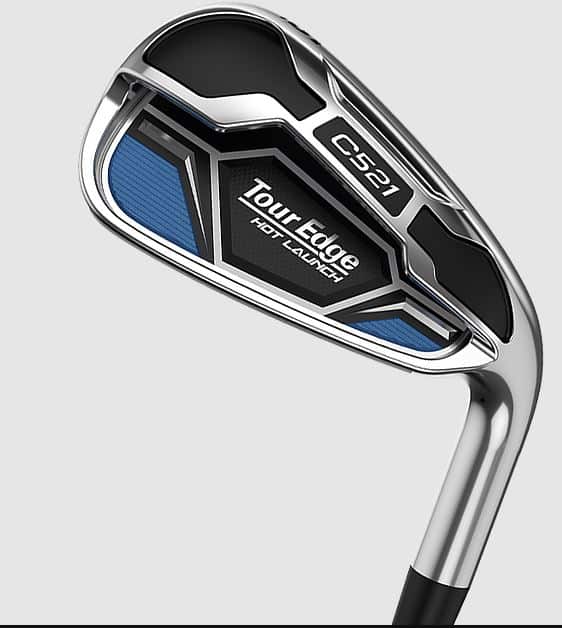 Pros
Cavity back design for maximum distance and forgiveness
Aldila Rogue Graphite shaft is a winner
Wide Sole design lowers the CG and improves ball contact
Chamfered top-line easy on the eye at address
Cons
Thickish top-line will not suit all players
Wide sole design not popular with the better player
The Hot Launch C521 set is a high-tech distance iron offering enhanced forgiveness on mis-hit shots.
Shaft
The Aldila Rogue graphite shaft is a proven shaft on the tour.
Mid-high launch with mid-spin allows the better player to control the flight of the ball.
The graphite shaft may be too soft for the strong player and an alternate KBS lightweight steel shaft is an option.
Clubface
The clubhead is manufactured from extremely soft 431 stainless steel.
The expanded undercut cavity moves more weight back for maximum stability and power.
The wide sole offers lower CG and creates clean contact and high-flying shots.
Performance
A cavity back design that is long with great feel and will suit all golfers seeking that little bit extra for their money.
Verdict
The high specifications and technology offered in this set are a winner.
The soft cavity back head generates speed off the face and provides a great feel at contact.
Players looking to increase distance without compensating feel will enjoy these Irons.
Finally, the price is a steal.
The JPX 900 Tour is the purest and most solid feeling JPX iron in the Mizuno range.
It combines the best attributes of grain flow forged using a single billet of 1025E pure select mild carbon steel, advanced weighting strategies, and aggressive styling.
Combined with the Harmonic Impact technology the JPX 900 Tour provides incredible soft, solid, and consistent feel with enhanced distance control.
The Mizuno Golf men's JPX-900 Tour iron set consists of 8 clubs, 3-iron to 9-iron, and a pitching wedge. There is no sand wedge included.
Shaft
As the clubs are aimed at the better player, the shaft is only available in dynamic gold AMT S300 steel
shaft
Clubface
Mass is removed from behind the head and redistributed to the extreme corners of the clubhead creating a compact face gauge, narrow tapered sole, and a low toe height to enhance crisp ball-striking, shot workability, and trajectory control.
The redistribution of the weight combines authentic Mizuno feedback with advanced stability as well as providing a surprising level of forgiveness.
Bottoming out the clubhead is a triple cut sole.
Traditionalists may find Mizuno MP-5 more suitable to their eye than the Mizuno JPX 900 Tour, but many golfers will find it aesthetically pleasing. While it does not look like a game improvement club, the 900 Tour is a little more inviting.
A little more offset the matte finish, and geometric lines offer the JPX 900 Tour a more modern vibe.
This club is not designed for the beginner and does not favor vibration reduction. It has great balance, and you can feel the head throughout the swing.
Verdict
The Mizuno JPX 900 Tour is a great looking club that allows better players to shape their shots and provide the crisp ball striking you expect from a Mizuno iron.
Wilson Staff has produced wonderful looking clubs that work exceptionally well for numerous years and the D200 is no different. Playing from the rough will be less demanding and performance will be more predictable when using the D200.
Clubhead
The FLX Face Technology presents the full face open at contact thus promoting a high launch and increased distance.
Shaft
You can choose either of the tried and tested a Matrix Ruiz A-Type Graphite Shaft or the KBS Tour 80 Steel Shaft and the trusted Wilson Staff Tour Traction Grip makes contact between hand and club an absolute pleasure.
Sound and Feel
You will be exceedingly delighted with the look of the D200. There is a thick top line with adequate offset and the elegant brushed chrome finish that is characteristic of Wilson that is especially attractive at address while the customary red Wilson Staff badge completes the look.
Technology
The urethane filled power holes combined with the FLX Face Technology present phenomenal flex on the face. The evenly distributed weighting on the perimeter throughout heel to toe delivers a lower center of gravity and heightened forgiveness.
Verdict
Consistency in length and direction are features to be expected from Wilson Staff. Golfers will not regret assessing the Wilson Staff Clubs.
Final Thoughts
We certainly hope that you found this piece valuable and enlightening and that there is something that will aid you in reaching the appropriate conclusion.
There are numerous sets on the market offered under $500 and each one has its specific benefits and drawbacks. Some are from earlier releases but still relevant in this market that will help you move in the appropriate direction.
Ultimately the selection that you make has to be the right fit for you. While these are all great options, the Callaway X2 Hot Iron Set stood out as the winner in this category. They are top quality clubs at a great price and feature leading Callaway technology.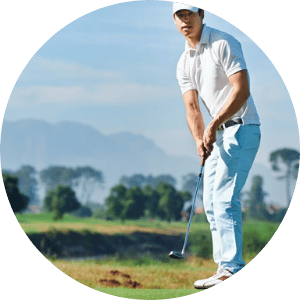 Nick Lomas is the founder of GolfSpan, an avid golfer, not quite a pro but has over 15-years of experience playing and coaching golfers from all over the world. His mission is to bring the golfing community a better experience then it comes to choosing the right golf gear, and finding the right set up for your game.