There's no denying golf can get pretty pricey. Even if you start with a budget-friendly beginner set, it won't be too long before you want to try more advanced equipment. 
On top of this, you may well end up purchasing single clubs here and there to bolster your set. 
Trust us, it can get out of hand very quickly!
But what are the most expensive clubs in 2023? And which of these clubs can you actually buy today? 
These are the questions we will be answering today. Whether you're interested in learning about the most expensive golf clubs in the world that are readily available for purchase or collector's edition clubs that should belong in a museum. 
Read on to learn everything you need to know.
The Most Expensive Clubs To Improve Your Game
Why Are These Clubs So Expensive?
High-end golf clubs have such steep price tags for at least one of three reasons; no, performance is not among them. However, this is not to say that they are not high performing, because they certainly can be.
The first reason is due to previous ownership. These are clubs that professional golfers have owned, and as a result, we see their worth skyrocket in value relative to what they usually cost. Think screen-used props. This is a larger market with crazy high prices. While seemingly worthless, a sheet of paper with some text can be worth thousands of dollars if featured in a popular movie or show. 
The second reason is the scarcity of the club itself. If only a few clubs remain in existence high demand tends to drive the price upward. Of course, this only really applies to old golf equipment. Clubs that go up for auction from the 16th – 19th century generate very high figures.
And finally, the last reason the top clubs are so expensive is that their price is purposefully inflated using gold and other precious metals and stones. Unlike the other two categories, these are luxury golf clubs. They are designed for use as a kind of flex rather than a statement piece for the home. 

Quick Overview: Our Top 20 Most Expensive Golf Clubs
The Top 20 Most Expensive Golf Clubs
Key Features
Expertly designed clubface for rapid speed and low spin

Promotes a square clubface at impact for straight shots

Maximum Forgiveness
PRGR golf is owned and operated by Yokohama Rubbers and has developed golf clubs since 1983. Their PRGR RS Red Driver closes out our list of the top 20 most expensive golf clubs 2023 edition at $1,359.
If you thought a new TaylorMade, Callaway, or XXIO driver was pricey, think again. The Minato City-based manufacturer crafted the RS Red with optimal face geometry. Thus, dividing it into 4 parts that contain varied face thickness for rampant ball speed and low spin on all shots.
Besides its velocity and spin capabilities, the engineers concocted a stable clubhead, which resisted twisting and promoted a square clubface at contact. The added stability helped me preserve speed and lower spin on all strikes for consistent launch and distance off the tee.
 
Key Features
Enhanced acoustics

Limited offset for maximum workability

Forgiving blades
Following on from their hometown rivals, TaylorMade, I turn my attention to the Callaway Apex 21 irons. The $1,479.99 set features a 4 iron up to a gap wedge which is forged from 1025 mild carbon steel for crisp acoustics and a smooth feel on approach.
Callaway furthered the trend of forgiving players' irons by adding extra tungsten weight for precise CG and greater forgiveness. I find the long irons are built for a high launch, while shorter irons generate a controlled trajectory and superb spin.
The Callaway Apex 21 irons feature an attractive, clean profile you would expect from a luxury golf club. In addition, the limited offset enables enhanced workability to shape your shots into green.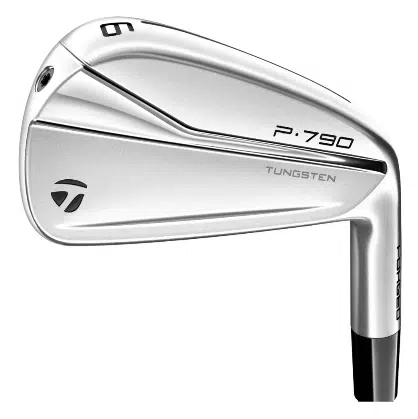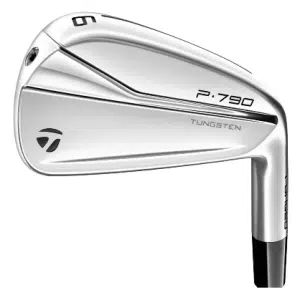 Key Features
Compact players' iron design

Promotes maximum workability

Forgiving for a player's iron
The first TaylorMade to feature on our list of the most expensive irons is the admired P790 players' irons. They carry the compact, attractive profile of classic golf blades, but are stacked with modern technology. It is the combination of forged artistry and technology that you pay $1,714.99 for.
P790 irons are forged from 8620 soft carbon steel, which produces delicate feedback on each strike. Plus, I had no challenges working the ball into the green due to its lower offset and compact profile.
However, the P790s are more than just a pretty face. They possess game improvement technology like SpeedFoam Air, a Thru-Slot Speed Pocket, and an enhanced sweet spot. The SpeedFoam Air intensifies contact, feel, and acoustics, while the Speed Pocket boosts clubface flexibility.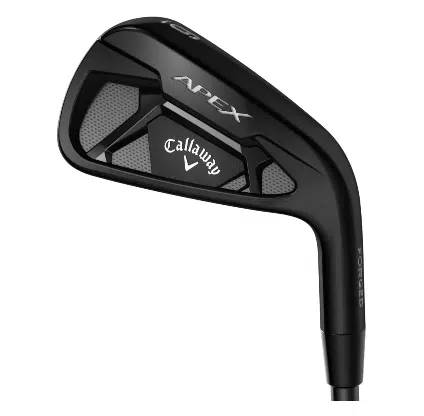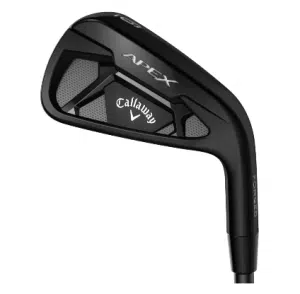 Key Features
Forged from 1025 mild carbon steel

Glare-resistant Black Plasma PVD finish.

Buttery soft feel
The Callaway Apex Black irons move us into the under $2000 range with a compact profile, sensational feel, and glare-resistant finish. At $1,720 for a 4-iron through gap wedge, these forged clubs are within reach of lower handicap golfers.
Callaway engineers forged these irons from 1025 mild-carbon steel, delivering an exceptional feel and sound. The urethane microspheres further enhance this. The urethane drowns shocks felt on off-center strikes and improves the audio for a crisp response off the turf.
In my experience, these irons also feature a precise CG in all the irons for a higher launch with long clubs and a lower one on short shots. This enhanced my control and enabled me to shape my strikes on approach. Finally, it is not stingy on ball velocity either.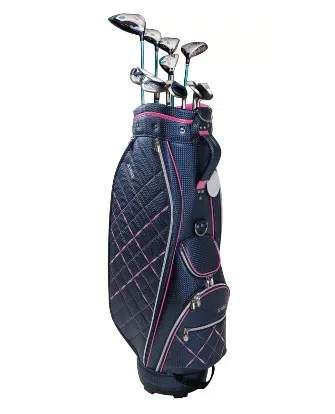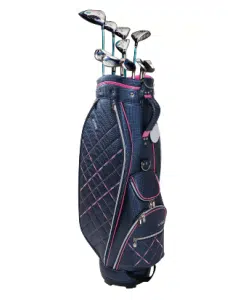 Key Features
Balanced composition of golf clubs

Progressive CG for optimal flight through the bag

Detailed obsessed construction
XXIO are renowned for their premium equipment and rings true with their most expensive golf club set for women. The $2,999 set offers every club a lady needs to hit long and score low. At the top end of the bag, you enjoy a driver and a 3, 5, and 7 wood.
The middle clubs comprise a 6-hybrid and 7 and 8 iron, while a 9-iron, pitching wedge, and sand wedge closes out the set. You are paying for detail-obsessed construction, forgiving clubfaces, and aerodynamic designs.
In addition, seasoned lady golfers will appreciate the progressive CG engineering of Japanese clubs for optimal flight in all clubs. The most expensive set of golf clubs for ladies launches high in the long irons and lower for more control in the short irons and wedges.
  
Key Features
Built with materials usually used in drivers

Explosive clubface

Compact hollow back design
After all the expensive golf club brands we have discussed, this may be the first you are familiar with. The Carlsbad-based Callaway leap onto our list with their $3,149 Great Big Bertha iron set. You are paying for a revolutionary design that features materials predominantly used in a driver.
That means these irons are flexible and fast to transfer enhanced energy levels to the golf ball at contact. Furthermore, their flexible clubface combats low-face strikes to preserve spin and ball velocity for a boosted launch.
Although the blade design and clubface combination produce a naturally delicate feel on each strike, Callaway took it a step further. They utilized Patented Urethane Microspheres to drown vibrations on mishits and amplify acoustics. 
 
Key Features
Soft feel

High launching long irons, lower launching mid and short irons

Glare-resistant black finish
Continuing with Japanese craftsmanship, we move to another famed operator, Miura. Their TC-201 QPQ irons fetch $3,220 for a set that includes a 4-iron through pitching wedge. Besides its composition, it carries an attractive glare-resistant black finish for fewer distractions on the links.
You pay for precision and comfort with these irons as the long golf irons launch high and straight, while mid and short irons are controlled. I also enjoyed ample forgiveness with these irons due to the stabilized heel and toe weighting.
Miura retains forgiveness, ball speed, and spin without comprising feel and acoustics. For moderate cavity back irons, these soft carbon steel irons produced a buttery-soft experience in the mid and short irons.
Key Features
Lightweight design

Spider Web Technology for consistent face contact

Exceptional acoustics
Sticking with the Prestigio X range, we move on to the driver, which backs up its glamorous appearance with sensational performance features. Its gold finish immediately struck me, a match made for golfers looking to make a statement.
After a few swings and a closer inspection, I found that Majesty spared no expense with the production of the X driver. The $4,371 golf club contains innovative Spider Web Technology to ensure you get sufficient clubface on the ball at all times.
I approve of the lightweight finish and an aerodynamic clubhead from the Japanese masters, which accelerated swing speed on the way down. Finally, the Prestigio X driver delivers a soft feel and amplified acoustics off the tee.
Key Features
Handcrafted by Takumi craftsmen

Built for slower swing speed

Contains a 7, 8, 9, PW
The Maruman Majesty Prestigio X range is the culmination of decades of manufacturing experience and modern technology. A low center of gravity and explosive maraging steel face is built for slow-swinging seniors to launch high and long.
They also produce exceptional forgiveness on off-center strikes, but the leniency will cost you. Prepare to fork out $6,397 for the five-club set, where a 7-iron is your lowest lofted option. What you are paying for is the output of Takumi craftsmen who have built a wealth of knowledge over five decades.
Adding to its impressive performance features is a golf plate in each cavity, assured to make a colorful statement with your playing partners. I find the Maruman Majesty Prestigio X luxury golf clubs best suited to discerning senior golfers looking to invest in consistent, forgiving premium golf clubs.
11. Bentley Golf Complete Set 2021 — $11,999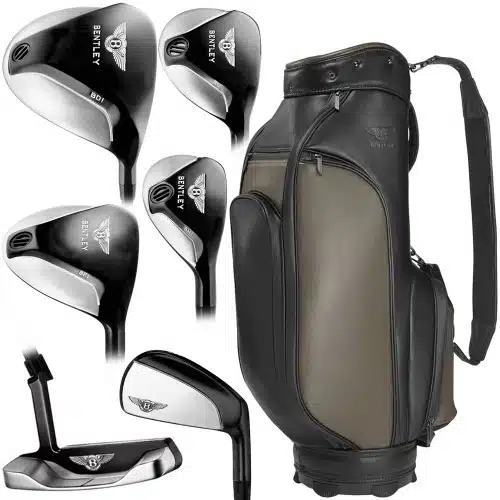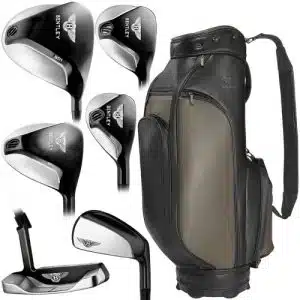 Key Features
Made by the luxury brand Bentley

Hand-forged in Ichikawa
Bentley may be most well known as a luxury British car manufacturer, but they are also experts when it comes to golf, having a variety of products on offer. As you would expect, their premium price tag carries over to their golf products. 
To purchase the Bentley Golf Set with graphite shafts, you'll be looking at a hard-to-stomach $11,999. Of course, you could always opt for steel shafts instead, but this will only save you $800, so it is hardly worth it.  
Created with the aid of VEGA, these clubs are hand forged in the Japanese city of Ichikawa. With strong forging routes dating back to the samurai sword era, the city's craftsmanship is among the best in the world when it comes to forging. Therefore if you want an immaculate golf club set and dig Bentley products, this may well be a bundle you should consider. 
10. Maurman Majesty Sublime Irons 6-SW — $12,369
Key Features
6-SW irons

Stunning design

High performance
Our next golf club set sports a similar colorway — gold really sells! What we like about this set is the laser-etched detailing on the back with the complimentary red accents. You'll also find a matching laser-etched gold portion on the hosel, which completes the look. 
As for performance, the Maurman Majesty Sublime irons feature thin steel faces with a tapering of 1.4 mm to 1.8 mm, ensuring excellent pace. The 9 iron to SW also produces respectable levels of spin and precision due to the high-density grooves on the clubfaces. 
While much cheaper than the BERES Five-Star irons, the Maurman Majesty Sublime irons are still one of the most expensive golf club sets, and they'll put you $12,369 in the red.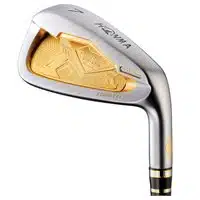 Key Features
6-11 irons

Innovative technology 

Beautiful design
In 8th position, we have our first and most expensive set of golf clubs: the BERES Five-Star irons. These gold-plated gold clubs are like the Golden Putter First Lady Special Edition. They feature an elegant gold, silver, and black color scheme and, to put it simply, are dreamy to look at.
Created in Sakata, Japan, they were made to deliver unrivaled beauty and elite-level performance. The Beres Five-Star Irons have excellent carry distance and are equipped with Honma's most advanced shaft yet, a large face opening, and increased face volume. So if you care about optimizing your game and looking good while doing it, the BERES Five-Star luxury golf clubs are a super option if you have $27,000 to spend. 
Alternatively, you can pick up the Honma Beres IS-03 set preowned for just over £1,000 if you don't have enough dosh for the most expensive golf club set. 
8. Palmer Patent Fork Shaft Wood — $49,000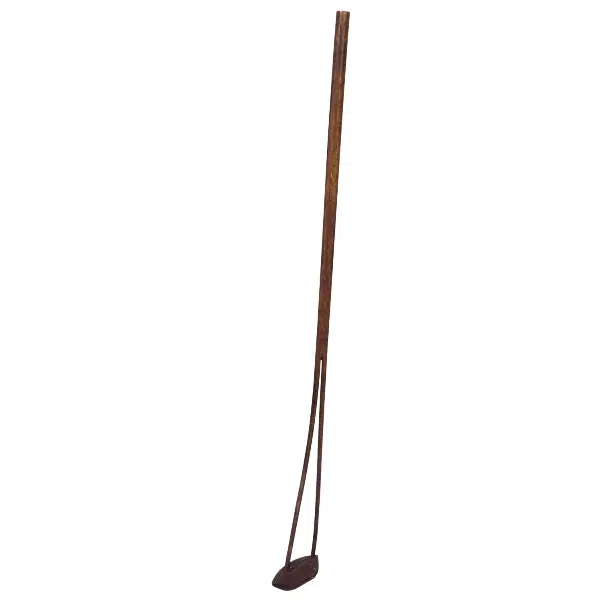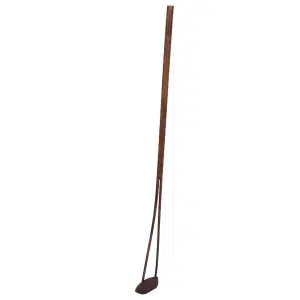 Key Features
Produced in 1907

Wooden shaft

Unusual forked construction
Manufactured by sporting goods company A.G. Spalding & Bros in 1907, this club has an unusual appearance due to its forked wooden shaft, perhaps explaining why it sold for such a high figure. We should also note that the clubhead features a stamp proving its authenticity.
Speaking of the clubface, the Palmer Patent Forked Shaft Wood has a lead back weight. A fiber slip is also screwed into the leading edge of the sole with three screws.  
7. Long-Nosed Scraper Golf Club — $91,000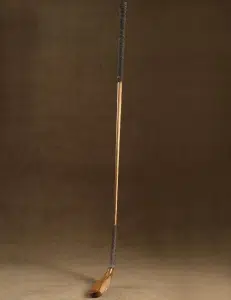 Key Features
18th century

Wooden shaft

Excellent condition considering its age
The Long-Nosed Scraper is the third highest-selling club on this list that was part of the Jeffery B Ellis collection that went on sale in 2007 (alongside numbers 3 and 5). 
The shaft is made from unidentified wood and features an apple head with a ram's horn inset. There's also plenty of lead weight at the rear to increase MOI.  
6. Golden Putter First Lady Special Edition — $150,000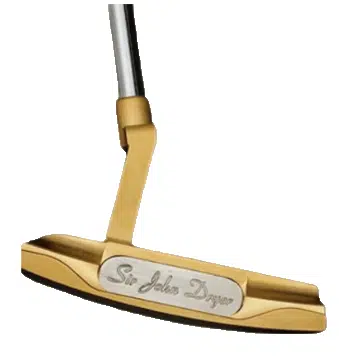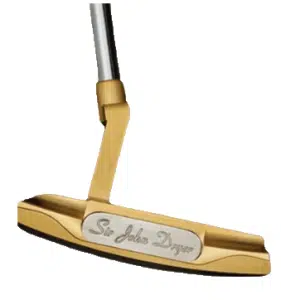 Key Features
24ct gold plating

Diamonds and other gemstones
Narrowly missing out on 4th place is the Golden Putter First Lady Special Edition. Made by Barth and Sons, this club is a high-performing statement piece. It features 24ct gold plating, diamonds, and other gemstones — perfect for bling lovers with deep wallets. 
Also included is a cherry wood case and a leather grip. 
5. Square Toe Light Iron Golf Club — $151,000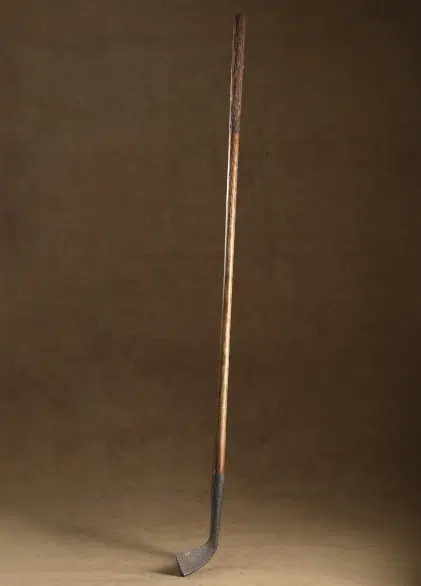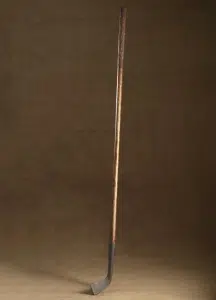 Key Features
Dates back to circa 1600

Wooden shaft

Forged by a blacksmith/armorer
The Square Toe Light Iron golf club is one of the oldest on this list dating back to around 1600. Back in those days, golf was a very different sport, there were only around a dozen courses in the whole of Scotland, and you could only play if you were royalty or upper class. 
The courses and clubs were also rather different from what we see today. The light iron was one of two irons that golfers would carry and was for use on pebbled or sandy ground. As you may be able to tell from its rudimentary appearance, it was hand forged, most likely by a blacksmith or armorer. Just twelve such golf clubs are known to exist today, making it highly sought after. 
4. Simon Cossar Fruitwood Blade Putter — $165,000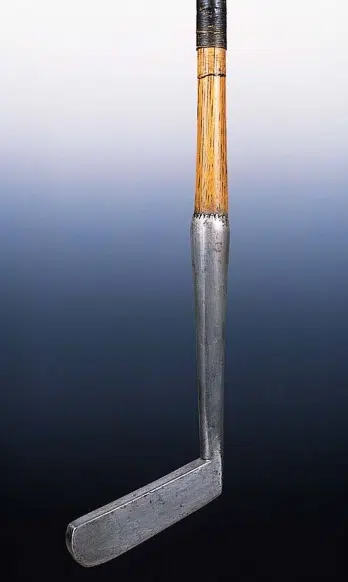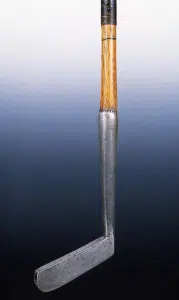 Key Features
Made by Simon Cossar

Fruitwood shaft

Late 18th to early 19th century
Continuing with another old club, we have the Simon Cossar Fruitwood blade putter. This club features a fruitwood shaft and a metal head. Simon Cossar was a popular golf club maker throughout the 18th and 19th centuries, and he was one of the first manufacturers to inscribe his clubs to show proof of authenticity.    
At $165,000, it is one of the most valuable golf clubs in existence.
3. Andrew Dickinson Long-Nosed Putter — $181,000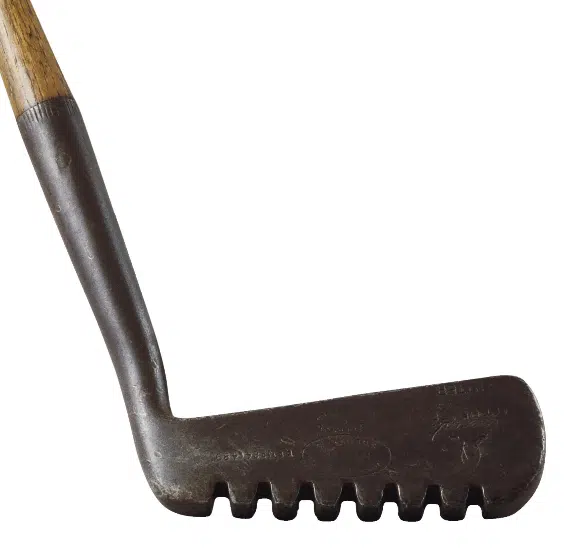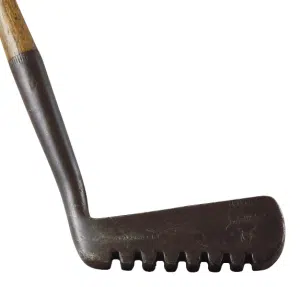 Key Features
Made by Andrew Dickinson

Over 300 years old

Wooden shaft
The Andrew Dickinson putter is another premium golf club collector's piece. Its authenticity was verified before an auction that took place in 2007 in New York. The putter is stamped A.D, and at over 300 years old, it is one of the few surviving wooden clubs.
The final sale price was $181,000 and the buyer was anonymous. 
2. Tiger Woods' Backup Putter — $393,000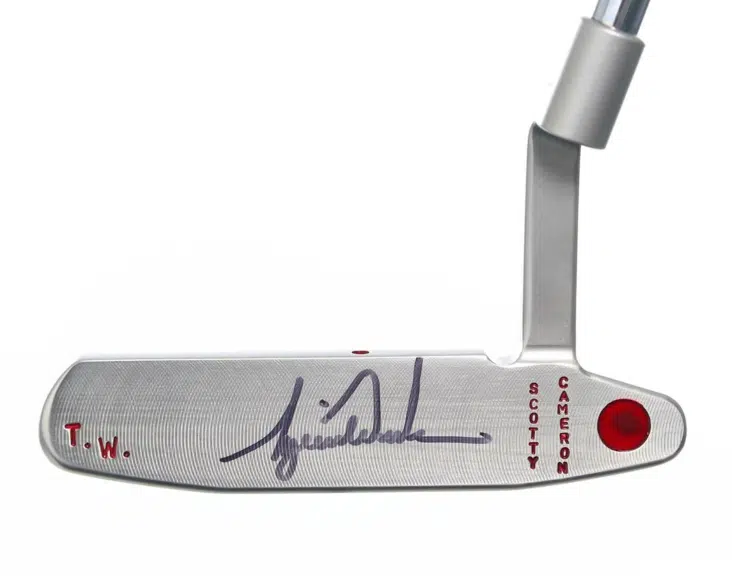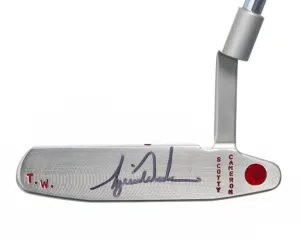 Key Features
Ex-Tiger Woods putter

Resided in Europe, the Far East, and the Middle East for 18 years
Next up, we have the second most notable Tiger Woods equipment sale. It was for one of his Scotty Cameron putters. The same as the one pictured above minus the autograph. 
The backup putter sold for $393,000 in 2021, making it one of the second most expensive golf clubs to date.  
1. "Tiger Slam" Irons and Wedges — $5,156,162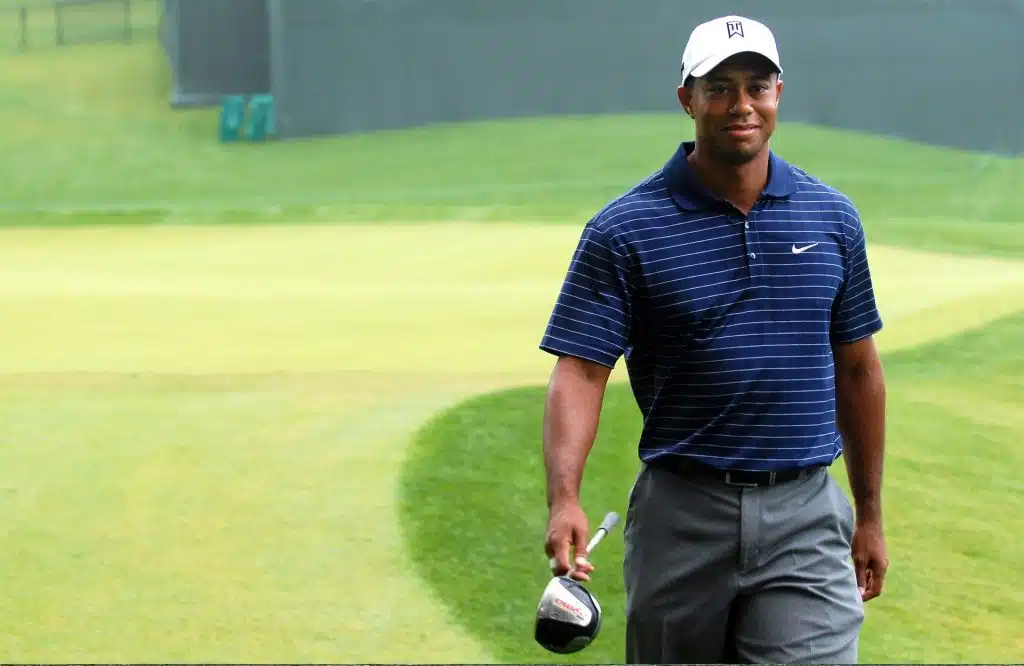 Key Features
Ex-Tiger Woods irons and wedges

Used during his successful streak in 2000-2001
As the biggest name in Golf, it should be no surprise that owning ex-Tiger Woods equipment is a big deal. They make for the ultimate collector's piece and are in hot demand. This dates back several decades. Woods' backups have been selling for a pretty penny for some time, with one of his former putters selling for $154,928 in 2001. Fast forward to 2022, and the demand has risen to insane levels.
This particular sale included the irons and wedges he used for the 2000-2001 'Tiger Slam'. The Tiger Slam was a particularly successful period where he won four consecutive major victories, explaining why the set sold for so much higher than initially expected. At over $5 million, it is easily the most expensive golf club set in existence.
FAQs
How Much Do Tiger Woods Clubs Cost? 
Ex-Tiger Woods equipment sells for hundreds of thousands of dollars per club as he is a very popular figure in the sport of golf. The most expensive individual Tiger Woods club was a Scotty Cameron putter, which sold for a mighty $393,000. However, the 'Tiger Slam' set knocked this figure out of the park selling for over $5 million.
Which Brand of Golf Clubs Are the Most Expensive?
It depends on your viewpoint. In terms of sales, ex-Tiger Woods equipment like the Titleist Scotty Cameron clubs are the most expensive, but much of their value comes from Tiger Woods' ownership. 
I would instead suggest Andrew Dickinson is one of the most expensive golf club brands. This is because the Long-Nosed Putter that sold for $181,000 was sold based on its age and rarity. Therefore any left in existence are worth a comparable amount, the same cannot be said for all Titleist Scotty Cameron clubs.
What Is the Rarest Golf Club?
Many old golf clubs have similar rarity due to the fact there are only a few known to still be in existence. This is why the Jeffery B Ellis collection sold for such astronomically high figures. The set included an Andrew Dickinson Long-Nosed putter, a Square Toe Light Iron golf club, and a Long-Nosed Scraper. I would consider these to be among the rarest golf clubs today. 
What Are the Most Expensive Golf Irons?
The most expensive iron set that is readily available is the Maurman Majesty Sublime Irons. They cost $12,369 and are the most expensive irons due to their gold plating.
Conclusion 
So there you have it. Those are the most expensive golf clubs in 2023. Most are collector's pieces and fetch such high value because very few exist. However, the 'Tiger Slam' Irons claimed the crown for the most expensive golf clubs. And it was by no slim margin. At almost 30x, the price of the next most expensive club not previously owned by Woods, it is the set to pick up if you are a golfing addict with insanely deep pockets. 
Given that Woods is still active and Scotty Cameron makes one to three backups per season, we could very well see more Woods putters go up for auction in the near future. The most recent sale was in November of 2022 at Golden Age Auctions. So be sure to keep your eyes peeled if you're interested in one of Tiger Woods' clubs.
Now, if you have the budget for expensive golf clubs but not quite the rarest golf clubs, let's review your options. The TaylorMade P790 irons are suitable for low-handicap golfers seeking playability with a dash of forgiveness. In addition, the PRGR RS Red driver is worth testing if you demand a long, forgiving big stick.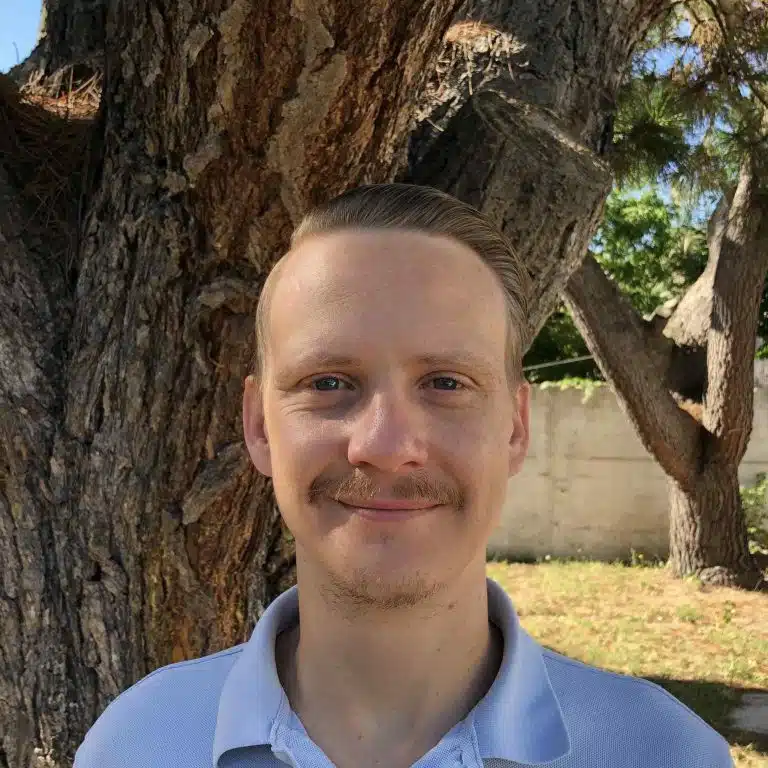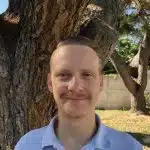 Matt is a seasoned golf equipment writer and sports fanatic. He holds a Postgraduate in Sports Marketing and has played golf for over 28 years.