A question that often comes up in conversation with my fellow golf nerds is what are the most expensive golf courses in the world?
Although many articles address this topic, I have found the information to either be outdated or confusing. Many posts combine membership fees and green fees, resulting in an inaccurate outcome.
That is why we are keeping this article simple and focusing on the most expensive courses based on green fees.
1. Shadow Creek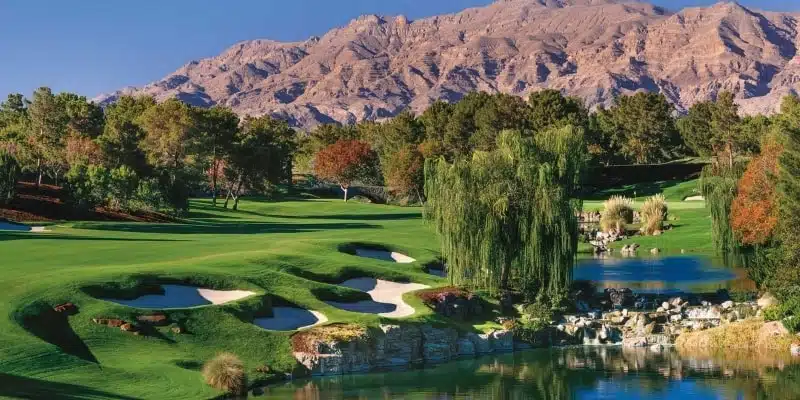 Location: Las Vegas, Nevada
Green Fees: $1000 per round in peak season
Shadow Creek tops the list for the most expensive golf course in the world. According to Golf Digest's Stephen Hennessey, the course claimed the crown in 2019 when they increased their green fees to $600 per round during peak season.
The Las Vegas-based course has not looked back since and hiked its fees again in 2021 to $1,000 a round. Even 18 holes in the quiet season is more expensive than any other course on this list.
Besides a gaping hole in your wallet from the most expensive round of your life, you will need to budget for hotel accommodation. You see, Shadow Creek is open to the public, but only if you stay in one of MGM Resorts International properties in Sin City.
2. Pebble Beach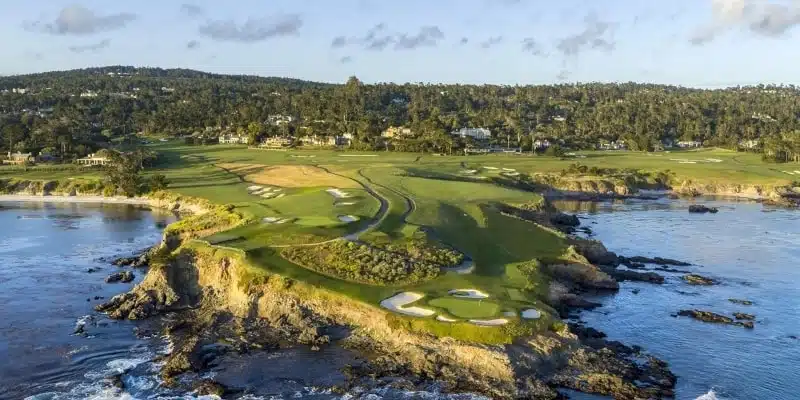 Location: Pebble Beach, California
Green Fees: $620 per round in peak season
Pebble Beach has the honor of being voted the best public course in America by Golf Digest since 2013. The golf course lies on the Monterrey Peninsula and is the annual venue for the AT&T Pebble Beach Pro-Am. Plus, it has hosted more US Opens than any other course in the last 50 years.
Hennessey explains that Pebble Beach and Shadow Creek have long competed for the title of the most expensive green fee in golf. However, even at $620 per round, Pebble is now well more affordable than Shadow Creek.
Players who stay at Casa Palmero, The Inn at Spanish Bay, and the Lodge at Pebble Beach will enjoy a $45 discount on your round as you are not required to pay the cart fee.
However, if you are on a budget, it makes sense to pay the extra $45. Because you can expect to pay more than a thousand dollars a night for a room in one of these establishments.
3. TPC Sawgrass Players Stadium Course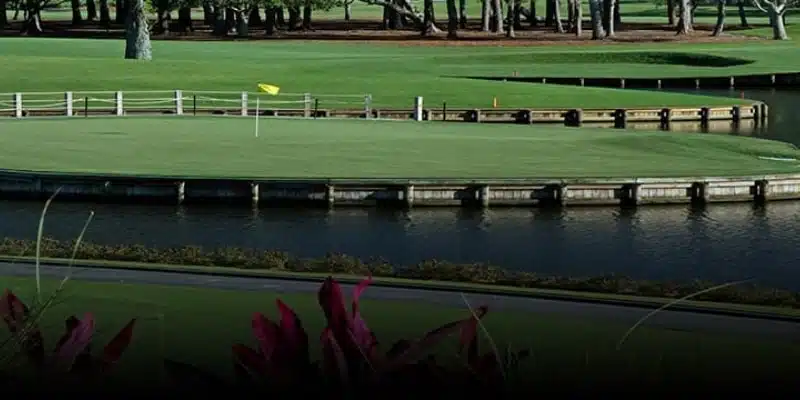 Location: Ponta Vedra, Florida
Green Fees: $600 per round in peak season
Built in 1980, this TPC Sawgrass layout is the OG of stadium courses and the host venue for the annual Players Championship. Every year my sadistic side enjoys seeing the world's best suffer at the signature par 3 17th.
At the 2021 edition of the event, Byeong Hun An carded an eleven, on the Island Green hole, after hitting four balls into the water.
If you back your skills and are ready to take on this Pete Dye track, be prepared to fork out $600 for the round. You can save a few shekels if you play the course in the off-season. Although the temperatures drop in North Florida in the winter, the conditions are still suitable for a round of golf.
Your six Benjamins entitle you to 18 holes, a cart, a forecaddie, and a warm-up bag of balls.
4. Whistling Straits, Straits Course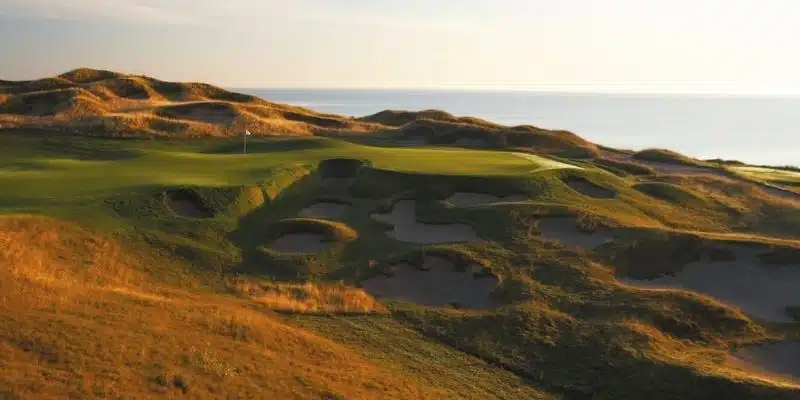 Location: Haven, Wisconsin
Green Fees: $555
The host venue for the 2021 Ryder Cup is the Straits course at Whistling Straits, Sheboygan, Wisconsin. There are two golf courses at Whistling Straits, the Irish and the Straits. Both layouts are designed to resemble the features of an Irish golf course.
Situated on the shores of Lake Michigan, The Straits will become the first public golf course in 25 years to host the Ryder Cup, as team Europe looks to defend their title. If this Pete and Alice Dye course is on your radar, you will need to budget $555 for the round. Plus, you will only be able to book a time two weeks in advance.
Those that feel that the Straits green fees are excessive can enjoy a round at its sister course. 18-holes at the Irish will run you $270, according to Golf Monthly.
5. Wynn Golf Club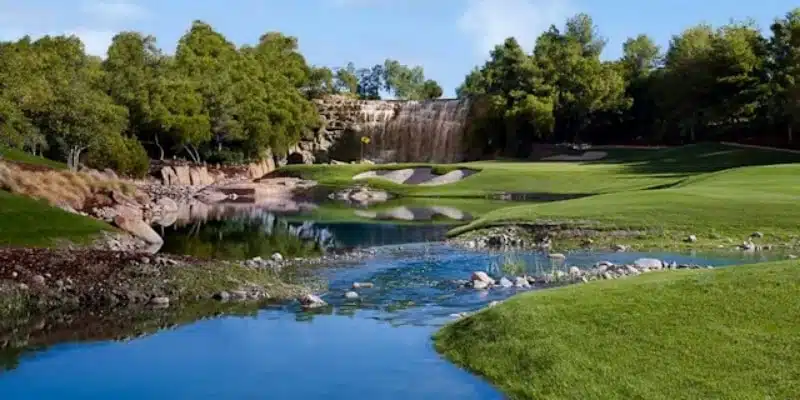 Location: Las Vegas, Nevada
Green Fees: $550
Our second Vegas course on the list is the Tom Fazio-designed Wynn Golf Club. The course opened in 2005. In 2017, Tom returned with his son Logan to optimize the layout. After two years of construction, the course re-opened in 2019.
Wynn Golf Club is proudly the only resort golf course on the Las Vegas strip, giving you a unique experience of playing golf in the heart of the City.
At $550 per round, Wynn Golf Club delivers a truly luxurious experience from battery-powered golf carts to forecaddies and a Rolls Royce pickup for off-site guests.
6. Pinehurst No. 2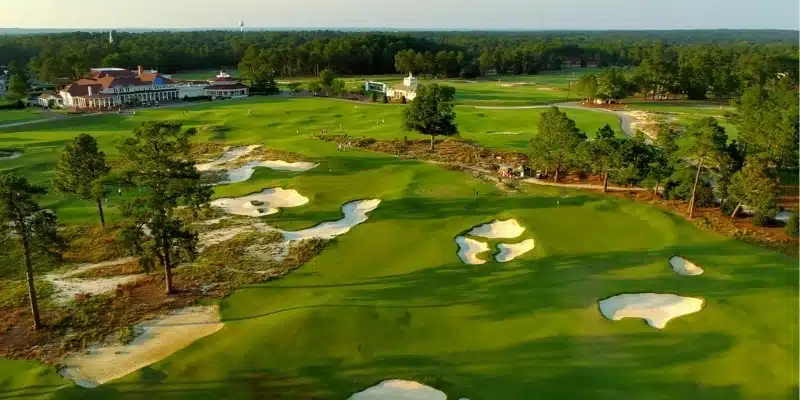 Location: Pinehurst, North Carolina
Green Fees: $495 per round in peak season
Pinehurst No.2 is one of the older courses on this list, having opened in 1907. The Donald Ross design has the honor of hosting more professional championships than any other golf course in the United States, including three US Opens and a Ryder Cup.
Although staying at accommodation in Pinehurst is recommended to play No. 2, it is not essential. If you are not a hotel guest, you can book a tee time five days out from the intended date of play.
While a club like Wynn delivers a luxurious experience, Pinehurst provides a traditional golfing experience in a historic town. Your $495 green fees only secure you a tee time, and if you require a caddie or a cart you will need to fork out extra.
But keep in mind that carts are restricted to the path on No. 2 and will demand significant amounts of walking to get to your ball.
7. Kingsbarns Golf Links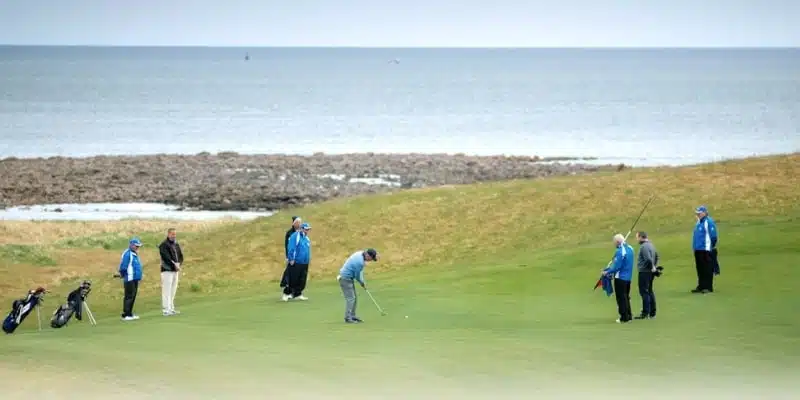 Location: St Andrews, Scotland
Green Fees: $478 (May – November)
Our first non-US establishment on the list is Kingsbarns golf links, in St Andrews, Scotland. The game was first played on this land in 1793. However, the tenant farmer churned up the links in 1850 to increase the area of arable land.
The course was reestablished in 1922, and nine holes were built on the land. But it was not until 2000 that it would become an 18-hole layout.
As is the case with many courses in Scotland, Kingsbarns is a walking links. Carts are only permitted if you produce a valid medical certificate. Highlighting the course's preference for walking, they only possess four carts, or buggies as they are called on that side of Atlantic.
Green fees for Kingsbarns will set you back £328, which at the time of writing, is $478. If you play a second-round within seven days, you only pay half.
8. Kiawah Island Ocean Course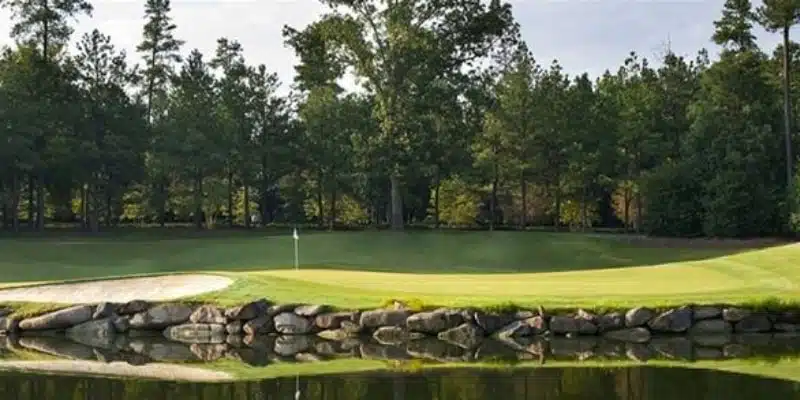 Location: Kiawah Island
Green Fees: $463 (May – November)
The Ocean Course on Kiawah Island is a premium Pete and Alice Dye design that features more oceanside holes than any other layout in the Northern Hemisphere. During construction
Excessive exposure to the Atlantic Ocean leaves golfers at the mercy of the wind. This can lead to eye-watering scores. It is the belief of the team that there is no links outside of Ireland and the United Kingdom that are impacted as much by wind, as Kiawah's Ocean course,
The venue for the 2021 PGA Championship and 1991 Ryder Cup is a walking-only course. Except between June and August, where restrictions apply. Included in your $463 green fees is a caddie. However, the standard tip is $100 per bag.
If you plan to hang out on the island for a few days, it is worth considering one of the available packages.
Read on: Best Golf Courses In Ireland
Conclusion On The Eight Most Expensive Golf Courses In The World
Golf is not the most affordable sport around. And this claim is substantiated by our list of the ten most expensive golf courses in the world by green fees. From a $444 round at the Old Head Links in Ireland to $1,000 green fees at Shadow Creek, many bank-breaking options are waiting for you to play.
Out of curiosity, do you think it is worth spending this type of money on green fees, or would you prefer to save and play more golf at your local municipal course? With that in mind, if you had to choose one from our list of the ten most expensive golf courses in the world, where would you tee it up?
Nick Lomas is the founder of GolfSpan, an avid golfer, not quite a pro but has over 15-years of experience playing and coaching golfers from all over the world. His mission is to bring the golfing community a better experience then it comes to choosing the right golf gear, and finding the right set up for your game.