When Karsten Solheim created the first Anser putter in 1966, the aim was to help the average golfer square their face up at impact. Over sixty years later, the company's mission remains the same. To demonstrate, I am conducting a review of the Ping G425 hybrid to see if it is right for you.
I will explain how this hybrid reduces sliced shot, generates rapid ball speed, and helps you launch high and straight.
If you are familiar with this hybrid, take a look at our review of the Ping G425 3-wood. But, if you are a traditionalist and don't appreciate the rescue club, learn about the Ping G425 irons.
Ping G425 Hybrid Overview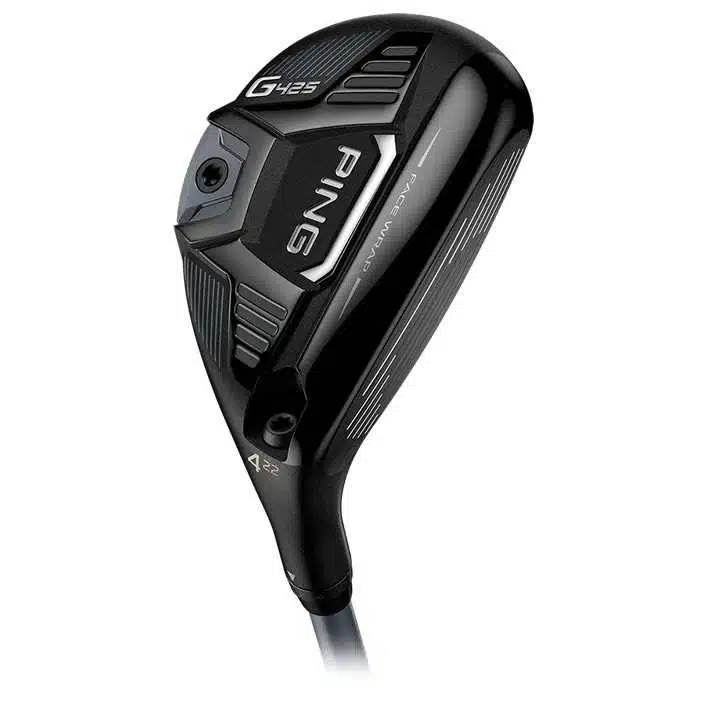 | | |
| --- | --- |
| Total Score | 86.5 |
| Star Rating | 4-stars |
| Distance | 90 |
| Forgiveness | 96 |
| Feel | 85 |
| Workability | 82 |
| Aesthetics | 83 |
| Price | 83 |
Pros And Cons
Pros
Forgiving
Easy Launching
Exceptional turf interaction
Generates explosive ball speed
Adjustable loft hosel
Cons
Ping G425 Hybrid Specs
Maraging Steel Facewrap
To produce maximum ball speed, Ping fitted a high-strength maraging steel face. It wraps into the sole to increase the flex of the clubface, prompting increased ball speed at impact, resulting in the optimal distance.
If you lose distance due to insufficient ball speed, this feature will help you achieve consistency in your long game.
Spinsistency
Most casual golfers struggle with ball striking, which impacts the distance and accuracy of their shots. The engineers added Spinsistency technology to overcome this, which increases ball speed and spin rpm off the lowest part of the clubface.
That means that if you don't connect the ball in the sweet spot, you still enjoy an element of distance. More than you would if you mishit a long iron.
Alignment Aid
A simple but effective feature Ping added to the G425 hybrid is the alignment dots. The three dots on the crown show you where to position your ball in the face for better impact. It also helps you understand where your clubface is aiming.
Adjustable Hosel
The next feature of the Ping G425 hybrid that stands out is its adjustable hosel. Its design enables you to strengthen or weaken the loft by 1.5-degrees.
Therefore, if you struggle to launch your shots with the stock loft consistently, you can weaken it. Conversely, if you generate excessive spin and lose distance, strengthen the loft.
In addition, you can also adjust the lie from neutral to flat, depending on your preference.
Ping G425 Hybrid Adjustment Chart
| | | |
| --- | --- | --- |
| Settings | Loft Adjustment | Lie |
| o | 0° | Neutral |
| + | +1.0° | Neutral |
| + | +1.5° | Neutral |
| – | -1.0° | Neutral |
| — | -1.5° | Neutral |
| F | 0° | Flat |
| F- | -1.0° | Flat |
| F+ | +1.0° | Flat |
Tungsten Weighting
Adding tungsten weight into the hybrid's sole increases its moment of inertia (M.O.I). That means that you enjoy more stability at impact and overall forgiveness.
The additional weight in the sole helps the clubface to maintain ball speed even on heel and toe mishits.
Loft
The Ping G425 hybrid lofts start at 17-degrees and run up to 34-degrees. The 17-degree 2-hybrid carries the equivalent loft of a 2-iron or 5-wood. A 3-hybrid is on a par with a 3-iron or 7-wood, and a 4-hybrid is the same as a 4-iron or 9-wood.
That leaves you with the choice of a 26-degree, 5-hybrid, 30-degree, 6-hybrid, and a 34-degree, 7-hybrid.
| | | | | | | |
| --- | --- | --- | --- | --- | --- | --- |
| Club | 2-Hybrid | 3-Hybrid | 4-Hybrid | 5-Hybrid | 6-Hybrid | 7-Hybrid |
| Loft | 17.0° | 19.0° | 22.0° | 26.0° | 30.0° | 34.0° |
Remember that if you find the stock loft too strong or weak for your swing, you can use the adjustable hosel to alter it.
Shafts
The stock shaft available with the Ping G425 Hybrid is the Ping Alta CB, designed to suit fast, medium, and slow swingers.
However, the faster swingers may prefer the two additional Ping G425 hybrid shaft options. The Aldila Rogue Black 95 and Mitsubishi Tensei CK Pro Orange 80.
Grip
The stock handle on the Ping G425 hybrid is an Arccos Caddie Smart grip, which helps you elevate your game. The grip is fitted with microsensors that record and analyze each shot. That information is then synced to the Arccos Caddie application and stored for you to review.
This information helps you identify the strengths and weaknesses of your game. You can subsequently correct the action and see an improvement in your results.
Ping G425 FAQs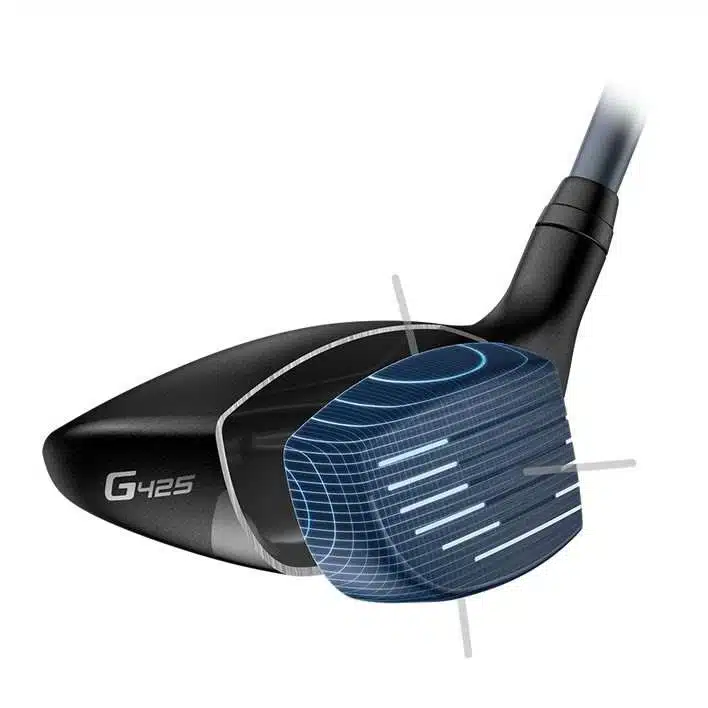 Is The Ping G425 Hybrid Forgiving?
Yes, the Ping G425 hybrids provide optimal forgiveness, thanks to their Spinsistency technology and tungsten sole weight. The Spinsistency structure generates optimal ball speed and spin on low face strikes, while the sole weight increases M.O.I.
How Far Do Ping Hybrids Go?
The Ping hybrid's distance depends on the hybrid loft and the player. Golfweek estimates that the average male golfer hits a 3-hybrid 170 to 220-yards and a 4-hybrid 160 to 210-yards. Furthermore, they suggest that men hit their 5-hybrid 150 to 200-yards and a 6-hybrid 140 to 190-yards.
Conversely, the publication notes that women hit the same hybrids an average of 40 to 50-yards shorter than men.
Is Ping Coming Out With New Hybrids In 2023?
Ping has not mentioned anything about releasing new hybrids or clubs in 2023. Given the recent global supply chain shortage, they need to fulfill past orders before sending any new products to market.
Do Ping Hybrids Have Dots?
Yes, the Ping G425 hybrids feature alignment dots that help you position the ball correctly at address for optimal accuracy.
What Is The Flat Setting On Ping G425?
The flat setting on the Ping G425 means that the angle between the ground and the shaft is reduced. You can strengthen or weaken your loft by 1-degree on the flat setting and alter the lie up 3-degrees.
Should your face lie too flat for your swing, it will cause the toe to be lower than the heel at impact, resulting in an open clubface. That will cause you to generate sidespin that leads to a slice. As a result, a neutral setting is better suited to you.
Conversely, if the neutral lie does not suit your swing, the toe will be higher than the heel at impact, causing you to hook your shot. In that case, a flat lie is recommended.
To help you understand the flat face lie, 2nd Swing Golf demonstrates the impacts of each setup.
Are Ping Hybrids Adjustable?
Yes. As I highlighted under the features section, the G425 hybrid features an adjustable hosel. It enables you to strengthen and weaken your loft by 1.5-degrees, as well as switch between a flat and neutral lie.
Alternative Options To Ping G425 Hybrids
The TaylorMade SIM Max offers an excellent alternative to the G425. It possesses optimal turf interaction, low CG, and optimal ball speed.
Although it sports a premium price, this hybrid is packaged with game improvement technology to help you launch high and long. The SIM Max is available with 19, 22, and 25-degree lofts and acts as a substitute for your 3, 4, and 5-iron.
TaylorMade's engineers equipped the club with a V-steal sole plate. It enables your clubhead to glide through the turf and connect the ball cleanly for greater ball speed.
Furthermore, the V-steal sole plate combines with the low CG to help launch the ball high for increased carry distance.
Extra yards are not its only strong point. Its Twist Face design uses corrective angles to mitigate mishits by restricting undesirable side spin. As a result, you enjoy straighter shots.
Finally, the SIM Max is fitted with a Speed Pocket that is tasked with increasing the flex of the face for explosive ball speed. It is particularly effective in the lower face, as it delivers consistent speed to send your ball airborne.
In summary, the SIM Max is an all-around hybrid that justifies its higher price tag. Mid and high-handicappers with the budget should take it for a test drive.
Wilson has a knack for producing affordable game improvement clubs that perform like their premium counterparts. That trend is no different with the Staff Launch Pad hybrid.
Moderate hosel offset combined with 13-grams of weight in the sole helps you keep your clubface closed at impact. That reduces the risk of slicing your shots and makes it easy for beginners and high-handicappers to launch.
Furthermore, the lightweight construction of this hybrid enables you to increase your clubhead speed and maximize ball speed at impact. These components assist you in optimizing your distance.
Overall the Wilson Staff Launch Pad is an affordable, high-launching, forgiving hybrid. Although all players can use it, high handicappers and beginners will benefit the most.
The design of the Cobra F9 Speedback aims to help you increase carry and total distance.
The Speedback technology, coupled with Baffler Rails, promotes clean strikes and high launches. That is achieved by lowering the CG and enhancing the turf interaction.
Added to its high launch, the head of the Speedback is shaped to produce optimal MOI without sacrificing playability. That means you enjoy forgiveness and can still shape your shots for extra control.
Moreover, the inclusion of a thin forged face increases its flex, which maintains ball speed on mishits. Plus, to ensure a high launching shot, the engineers placed 30-grams of mass deep in the head to lower the CG.
The final feature of this hybrid is that the shaft is one-length. That means that a 3-hybrid will have the same length as a 5-wood. Although this may seem uncomfortable, it can help you to swing consistently.
In conclusion, the Cobra F9 Speedback is ideal for mid and low handicappers looking for a high launching, workable club.
Final Thoughts – Is The Ping G425 Worth It?
That concludes our Ping G425 hybrid review. The high launching, forgiving nature of this adjustable hybrid explains its premium price.
The inclusion of Spinsistency technology and a Maraging Steel Face wrap result in accelerated ball speed, superior forgiveness, and increased accuracy.
Even though every golfer could benefit from the features of the Ping G425 hybrid, it adds the most value to mid and high-handicappers.
Therefore, if you are currently looking for a consistent, long, and forgiving hybrid, think about the Ping G425. However, if you want to weigh up your options, read our review of the best hybrid golf clubs.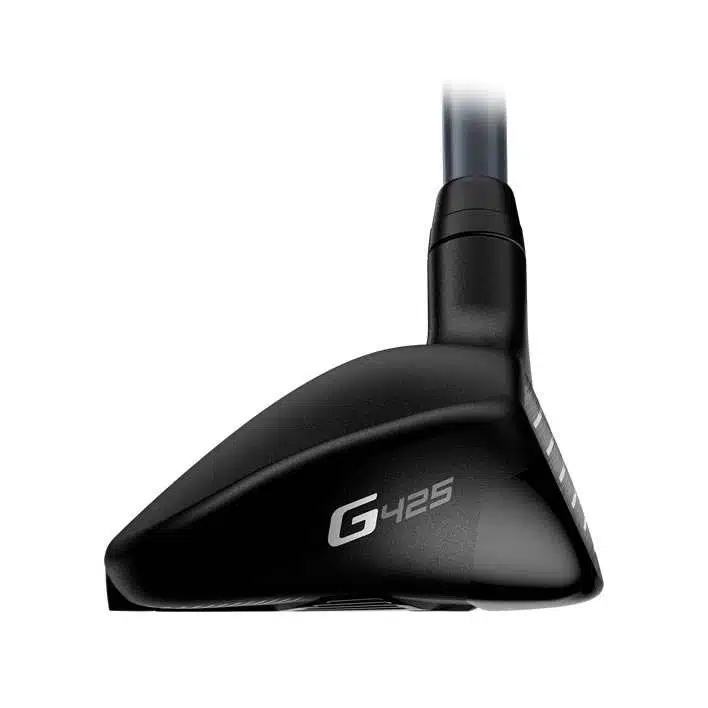 Related Posts
Where Are Ping Golf Clubs Made?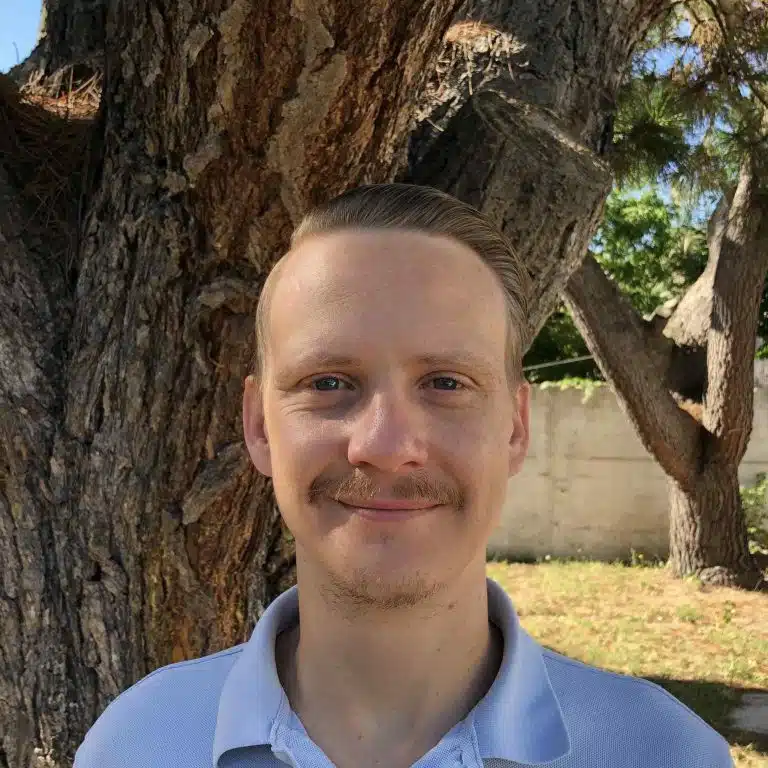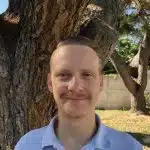 Matt is a seasoned golf equipment writer and sports fanatic. He holds a Postgraduate in Sports Marketing and has played golf for over 28 years.