Golf has changed rather a lot over the years: theories have been developed, technology has been improved, and attitudes towards achieving the perfect swing have become exceptionally nuanced. Thus, there is no such thing as the perfect set of irons, because what works for some might not quite fit the bill for others.
In response to this, we have seen more and more manufacturers introduce multiple club head offerings in the same line. This allows players to make more specific choices whilst sticking to their favored manufacturer.
With their Rogue family, Callaway are primarily appealing to the most rapidly growing market in golfing irons: game-improvement. The general idea of game-improving irons is to have high amounts of forgiveness without sacrificing too much performance.
Both the Callaway Rogue and Callaway Rogue X irons have met this challenge head-on, with some important differences between them which you ought to know about in order to make the best decision.  Here's our Callaway Rogue Vs Callaway Rogue X review…
What to Look For in Irons?
Before purchasing a set of irons, it's important to think about the various factors that define their quality. We all know that golf is a complex game, and the lion's share of complexity arguably resides with iron-play. If you can find a set of irons with a good balance of the following factors, you're on to a winner.
Forgiveness
In terms of game-improvement irons, forgiveness ranks very highly in importance. It is basically the extent to which you can get away with playing a mishit – and anyone who has so much as looked at a golfing iron will know that mishits are very common indeed.
Game-improving irons usually have a larger, offset face with a low center of gravity (CG), making them less punishing and better equipped to get the ball up and away.
Distance and Accuracy
It's no good using irons if they don't really get you anywhere – or if they repeatedly send you into the bushes.
Generally speaking, game-improvement irons aren't about pushing maximum yardage or giving you complete shot-control. Rather, they are designed to provide solid distance and accuracy without requiring you to be a scratch golfer. If your irons can consistently help you get up-to and onto greens, that's pretty much mission accomplished.
Grip and Feel
Having a comfortable grip on your irons will have a huge impact on your game. On an average round, we spend a fair amount of time with an iron in hand; it would be very detrimental to spend all that time holding a club that didn't feel right. Discomfort almost always translates to bad shots.
Grips come in a variety of textures and sizes, so it's best to try out a few and see what's best for you. How an iron feels to hold and swing will vary from person to person, so trust your instincts, and look for something that feels good.
Shaft
It's important to remember that there are different shafts available to suit different swing speeds. If you have a slower swing, you'll want to consider opting for a regular or flexible shaft, since these will give you extra whip. If you have a faster swing, you'll be far better off with a stiff shaft.
Appearance and Size
Playing well is one thing; playing in style is quite another. However, in our experience, having a good looking set of clubs can have a tangible impact on your game. We won't pretend to understand the psychology, but we're pretty sure that liking the way your irons look is the first step to becoming a better golfer.
On a more objective note, it's worth knowing that some clubheads have been carefully designed to inspire confidence at address. They are of a certain shape and size that they look like they're going to play a good shot as you look down on them, helping you to take your swing with positive thoughts.
Callaway Rogue Vs Callaway Rogue X: What's the Difference?
There are, of course, many similarities between the Rogue and the Rogue X, but their differences are enough to appeal to separate needs. The Rogue strikes more of a balance between distance, accuracy, and forgiveness, while the Rogue X has a greater emphasis on distance.
Callaway Rogue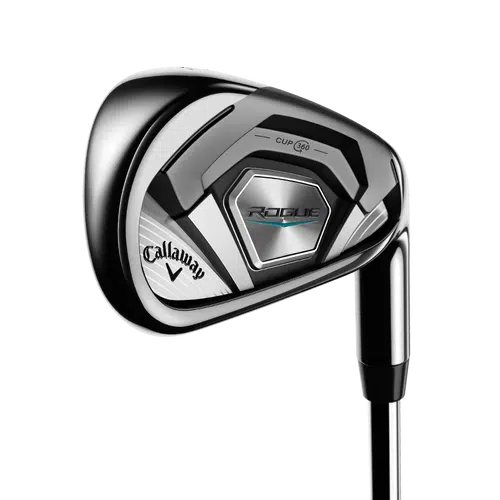 The standard Callaway Rogue irons are one of the best selling sets on the market. Striking an excellent balance between distance, forgiveness, feel, control, and accuracy, they go above and beyond their target of being a user-friendly, high performing, game-improving club.
A particularly noteworthy feature of these irons is the loft angle. The 7-iron is angled at 30 degrees, which the aficionados among you will know is the usual loft for a 6-iron. This would typically result in less loft – however, this is countered by a purposefully low CG. This basically means that the irons are capable of greater distances without sacrificing the ease of loft.
When you also consider the generous off-set and large profile at address, it's clear that these irons are the kind of club that can give a game-improver a huge confidence boost. However, if you are looking to perform some shot-shaping, they won't be quite up to the task. Thus, they are most appropriate for mid to high handicappers.
Callaway Rogue X
In the realm of the Callaway Rogue Iron family, the 'X' essentially stands for 'more distance'. They are built with the same tools of forgiveness as the standard Rogue, only they feature a longer shaft, a larger head, a handful of other adjustments that slightly change up the feel of the club, as well as adding more distance.
From our testing, it was evident that the Rogue X goes slightly further than the Rogue. The loft angle has been taken even lower than that of the standard Rogue, resulting in some of the strongest launches in the market. This does a lot to help the Rogue X achieve the extra distance for which it strives.
The Rogue X is aimed at a similar caliber of golfer as the standard Rogue.
However, due to its potential for greater distances, it may also have an appeal to lower handicappers.
Features of the Callaway Rogue Vs Callaway Rogue X
Clubhead Shape
Both sets feature a large offset, tailored for maximum forgiveness.
The Rogue X carries a larger overall profile. The sole is particularly wide and is actually visible behind the top line at address. This has clearly been designed to inspire confidence as well as provide forgiveness.
Clubface
Both sets feature Callaway's unique Urethane Microsphere, a special material that fills the cavity behind the face. This material basically allows the face to be thin and flexible whilst dampening the unpleasant vibration and sound. The result is a nice feeling, nice-sounding club face which is capable of decent ball speeds.
Both sets feature a double white scoreline at the bottom of the face to aid with alignment.
Launch Angle and Spin
The standard Rogue iron features a stronger-than-usual loft angle, but the Rogue X takes it a step further, featuring one of the strongest lofts on the market. With slightly fewer degrees of loft, they are designed to go that little bit further. However, both sets feature a low CG to counter the complications of having a stronger loft.
Game-improving irons generally aren't known for their spin-controlling capabilities, but Callaway have done enough here that it shouldn't be too much of an issue. Thanks to the low CG, both the Rogue and the Rogue X can help you generate ample spin.
The Rogue generates quite a bit more back-spin than the Rogue X.
Club Length
The shaft of the Rogue X is slightly longer than that of the Rogue. The longer shaft basically enables you to generate more clubhead speed, helping you to achieve those superior distances.
If you struggle more with accuracy than distance, the shorter shaft of the Rogue will probably be a better fit.
Ball Speed
On average, the Rogue X generates significantly faster ball speeds than the Rogue.
Carry Distance
On average, the Rogue X carries further than the Rogue.
Consistency
Both sets can help to bring more consistency to your game thanks to their high levels of forgiveness.
If you aren't used to playing with longer shafts, you will probably achieve greater consistency with the shorter shaft of the Rogue.
Sound and Feel
Thanks to the Urethane Microspheres, both sets feature a satisfying, unobtrusive sound.
Striking the ball feels great on both sets, even on off-center hits. The Urethane Microspheres help to generate a soft yet solid sensation.
Appearance
Both sets look great, with a successful blend of tradition and modernness.
The Rogue X has a slightly darker finish.
Final Thoughts
If you consider yourself to be a game-improver, it'd be difficult to go wrong with either of these sets of clubs. They should have everything you need to get around the course in a comfortable manner and shave off some shots in the process.
The Callaway Rogue set has adopted a more rounded approach. It strikes a neat balance between distance, accuracy, and forgiveness, which will be well suited to many mid to high handicappers.
The Callaway Rogue X set has a greater emphasis on distance, but it has also gone to town in the name of forgiveness. It should be enough to keep you hitting consistently despite the longer shaft and stronger loft angle.
The bottom line is that when it comes to Callaway Rogue Vs Callaway Rogue X, both sets are as good as each other; it really comes down to what you personally want to get out of your iron play.
Related Articles
Nick Lomas is the founder of GolfSpan, an avid golfer, not quite a pro but has over 15-years of experience playing and coaching golfers from all over the world. His mission is to bring the golfing community a better experience then it comes to choosing the right golf gear, and finding the right set up for your game.