Callaway is a premium brand that supplies a range of iron sets to help your game, including the Callaway Rogue Irons. These irons are game improvement irons offering loads of forgiveness with larger clubheads and bigger sweet spots. 
The Callaway Rogue Irons series was released in February of 2018 and was one of their top products. They have since been superseded by the Callaway Rogue ST Max series, which are even better.
Are the Callaway Rogue Irons right for your game?
Read this in-depth Callaway Rogue Irons review to see if they are a good fit for you.
Callaway Rogue Iron Models – Which Version is Best For You?
There are the original 2018 Rogue irons and Rogue X Irons, which are comparable. You can check out our full comparison of Rogue vs Rogue X here.
But, the 2022 models are known as Rogue ST Max, and they come in 3 varieties too. 
Callaway Rogue Irons ST Max
These are the new standard model for Callaway Rogue Irons. These are the ones to go for if the others don't seem to be the right fit.
Callaway Rogue Irons ST Max OS
The OS stands for oversized. Oversized irons provide even more forgiveness across the entire front of the face at the sacrifice of a little control, and are therefore more suited to high handicap players.
Callaway Rogue Irons ST Max OS Lite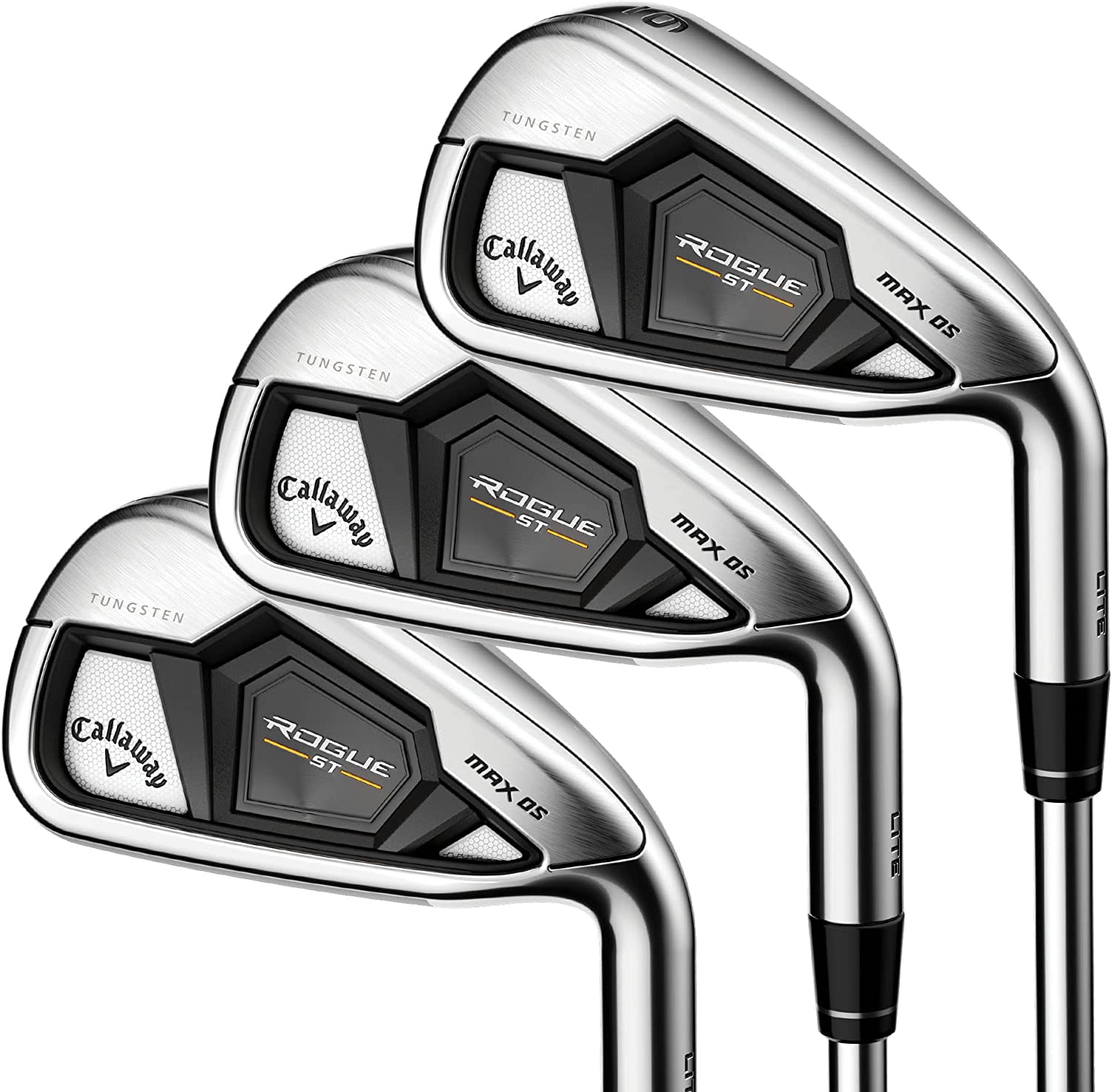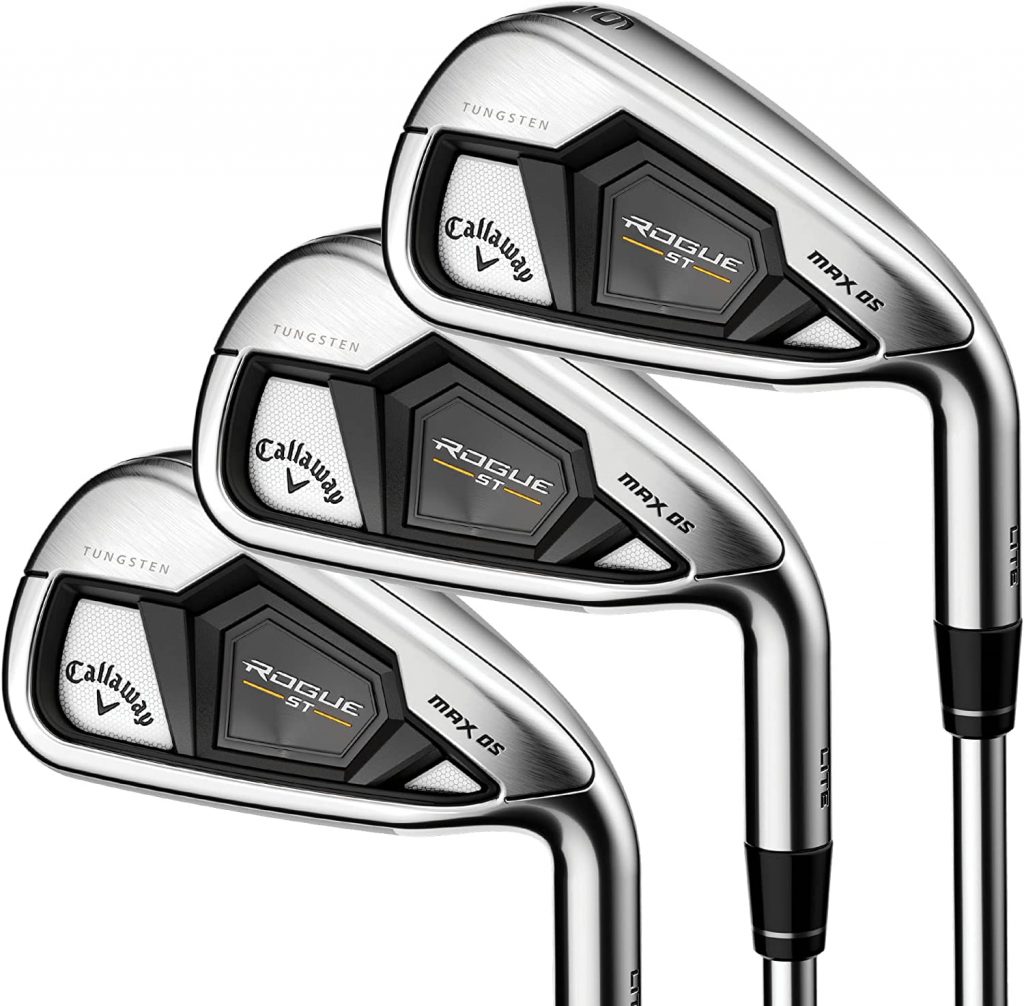 This version is aimed at golfers with a slow swing speed that need lighter irons to help with that potential issue.
Verdict – The Callaway Rogue Irons ST Max Sets
Pros:
Super forgiving
Excellent distance on the greens
Available in Lite and OS versions to suit different swing styles
Cons:
Hard to find second-hand and often out-of-stock new
Expensive for a full set
Callaway Rogue Irons Reviews
Since we've covered what each version can offer, we've combines our Callaway Rogue Iron reviews into one, concentrating mainly on the ST Max line.
In line with Callaway's philosophy of creating playable irons for mid-and-high handicap golfers, the Callaway Rogue Irons continue this tradition and moved the bar higher for competitors to meet.
Callaway launched the Rogue Irons on February 9, 2018, with the XR model in the US and the UK but had disappointing results at first. This was due to the lack of distance and the clunky sound off the face.
Golfers were disappointed with the launch angles that robbed them of the distance they craved. To address these issues, Callaway launched the new Rogue range of irons later in 2018, aimed at mid-to-high handicap golfers and both left- and right-handed males and females. Callaway learned from their mistakes, and the newer ST series of Rogue irons provide plenty of distance when taking shots from the fairway (or the rough).
The sets generally consist of a 4-iron thru 9-iron, Pitching Wedge, and Approach Wedge, although the 3-iron is available for men, while the Sand Wedge and Lob Wedge can also be acquired separately.
The Rogue range of irons consists of three sets aimed at different golfers. The range consists of the Rogue Pro, Rogue, and Rogue X Irons. This Callaway Rogue review will only look at the Callaway Rogue Irons.
Watch this video to give you an understanding of the Callaway Rogue Irons' biggest selling points and how they are so forgiving.
More Distance For Mid & High-Handicap Players
A Callaway Rogue Irons set is not aimed at the advanced or single handicapped player that doesn't lack distance. The strong lofted Callaway Rogue Irons will add the distance that mid-to-high-handicap golfers need to get closer to the green for shorter approach shots.
The mid-launch angle adds distance to your shots while aiding the forgiveness of the irons.
Less experienced golfers will benefit tremendously from the playability of the Rogue model due to the combination of distance, forgiveness, and feel.
Look/Sound/Feel
Callaway Rogue Irons ST Max Irons are slightly muted compared to some of the lime green irons in the Callaway brand like the Epic Irons.
As mentioned above, the microspheres muffle the vibrations for an improved, less clicky sound at contact.
Long irons such as the 4-iron and 5-iron have a slightly larger backend to keep the center of gravity back for enhanced launch and forgiveness.
Distance
A growing trend in the iron market is strengthening the lofts of irons to enable manufacturers to claim that the irons hit the ball farther than previous irons.
This can be seen in the change of a standard 7-iron loft around 34 degrees initially, now being closer to 27 degrees.
However, manufacturers have created a higher launch angle with higher lofts that keeps the ball in the air for longer carry distances. It also makes for a softer landing, and the angle into the green is much higher.
Although this is working well at the moment, it creates gaps in the higher lofted clubs that are being filled by more specialist wedges.
Forgiveness
Callaway's Variable Face Technology, combined with its Face Cup Technology, creates a large sweet spot offering excellent forgiveness on mishits. This is especially true for the ST Max OS version of the Rogue Irons.
Price
Callaway stopped producing the initial Rogue Irons, and you cannot buy a new set. These irons are well priced in the used market, offering tremendous value for money. But the ST Max series will set you back just over $1000 for a full set, including every iron plus wedges.
Ratings
Shaft Options: 3/5
Aesthetics: 3/5
Distance: 5/5
Forgiveness: 5/5
Price: 5/5
Men's Callaway Rogue Irons ST Max Specs
The strong lofted irons with a slight offset are available in steel and graphite shafts. Note that the Pro models are a little different.
| | | | | | | | |
| --- | --- | --- | --- | --- | --- | --- | --- |
| Irons | Loft | Availability | Length | Lie | Offset | Graphite Swing Weight | Steel Swing Weight |
| #4 | 18.5° | RH / LH | 38.875″ | 60.5° | 7 | D0 | D2 |
| #5 | 21.5° | RH / LH | 38.25″ | 61.25° | 6.8 | D0 | D2 |
| #6 | 24.5° | RH / LH | 37.625″ | 62.0° | 6.4 | D0 | D2 |
| #7 | 27.5° | RH / LH | 37.00″ | 62.5° | 6.1 | D0 | D2 |
| #8 | 32° | RH / LH | 36.50″ | 63.0° | 5.8 | D0 | D2 |
| #9 | 36.5° | RH / LH | 36.00″ | 63.5° | 5.3 | D0 | D2 |
| PW | 41° | RH / LH | 35.75″ | 64.0° | 4.8 | D0 | D2 |
| AW | 46° | RH / LH | 35.50″ | 64.0° | 4.3 | D0 | D2 |
| GW | 51° | RH / LH | 35.25″ | 64.0° | 3.7 | D0 | D2 |
| SW | 56° | RH / LH | 35.00″ | 64.0° | 3.2 | D0 | D2 |
Shaft Options
Only stock shaft options were available at the Callaway Rogue Irons' original release. Since the Callaway Rogue golf club's production run ended, you may experience some difficulty finding an original Rogue Iron with a custom shaft. But, from some pro shops, you can order a new set of Rogue ST Max Irons with custom shafts.
That should not be a major issue since the stock shafts are ideal for the purpose it serves on the Callaway Rogue Irons.
Here are the shaft options for the current run of Callaway ST Max Rogue Irons:
Mitsubishi Tensei AV Blue IR Graphite
| | | | | |
| --- | --- | --- | --- | --- |
| Manufacturer         | Flex | Shaft Weight         | Torque         | Kickpoint |
| Mitsubishi | Regular | 60 | Mid | Mid |
| Mitsubishi | Stuff | 70 | Low | Mid |
Project X Cypher Black IR Graphite
| | | | | |
| --- | --- | --- | --- | --- |
| Manufacturer         | Flex | Shaft Weight         | Torque         | Kickpoint |
| Project X | Light | 50 | Mid-High | Low |
True Temper Elevate Mph Steel
| | | | | |
| --- | --- | --- | --- | --- |
| Manufacturer         | Flex | Shaft Weight         | Torque         | Kickpoint |
| True Temper | Stiff | 95 | Low | Low-Mid |
Technology
Callaway is renowned for its advanced technology and has implemented some existing technologies in the Rogue Irons.
Rogue Irons implemented Callaway's fastest 360 Face Cup technology at the time of release, with the Center of Gravity weight placed directly behind the center zone.
A coefficient of restitution (COR) of approximately 0.835 is claimed by Callaway, which places the clubface of irons in the same league as what you can expect of a driver's face.
Distance irons with large clubheads and a cavity back generally flex tremendously on mishits that can cause vibrations. To overcome this, Callaway filled the cavities with Urethane Microspheres to enhance the sound and feel off the clubface. The Urethane Microspheres create little air pockets that absorb unwanted sounds.
Although it enhances the feel, it is still not anywhere near the feel you will get from a forged iron.
FAQs
Are Callaway Rogue Irons Any Good?
Callaway Rogue Irons replaced the Callaway XR Irons in 2018 to address the lack of distance and feel. It has done so successfully and has become some of the bestselling Callaway clubs.
Are Callaway Rogue Irons Discontinued?
Callaway no longer produces Rogue Irons, but they are still available as pre-owned sets on their website and many other e-commerce sites. You can also get the updated Rogue ST Max irons which were launched in 2022 and offer everything good about the initial run of Rogue irons and makes them better.
Are Callaway Rogue Irons Suitable for Beginners?
Beginners and high-handicap golfers will benefit from the extra distance from Rogue Irons and additional forgiveness. For absolute beginners, make sure you opt for the ST Max OS for maximum forgiveness.
Who Should Use Callaway Rogue Irons?
Callaway Rogue Irons are not aimed at advanced golfers. Its target market is mid-to-high handicappers that want more distance without sacrificing forgiveness.
What Does CF18 Mean with Callaway Rogue Irons?
CF18 refers to the model number, which could refer to 2018 since some new Callaway Rogue Iron models were released.
Why Did Callaway Stop Making Rogue Irons?
Despite their later success, they weren't met with great appreciation when they were first released. However, in March 2022, Callaway reopened the Rogue line of irons with the ST Max range.
What Year Are Callaway Rogue Irons?
The Callaway Rogue irons release date was in 2018. However, the newer Rogue ST Max irons were released in 2022.
Which Callaway Rogue Is Most Forgiving?
The Rogue ST Max OS is the most forgiving version of Callaway Rogue irons.
Are Callaway Rogue Irons Longer?
The ST Max range of Rogue irons are among the longest and most forgiving on the market for mid to high-handicap players.
Alternatives
Here are some of the best alternatives to the Callaway Rogue ST Max golf clubs.
Cleveland Launcher XL Halo Irons
Cleveland Golf is renowned for its advanced engineering that goes into clubs used by professional golfers. It then implements the technologies in clubs aimed at the mass market where most mid to high-handicap golfers compete.
Its Launcher CL Halo Irons are perfect for golfers with a mid-to-high handicap ranging from a 15-handicap to a 25-handicap. These are the latest and greatest among the Launcher line from Cleveland that offer extreme length without sacrificing forgiveness.
A wider topline enhances the confidence of these players, while the optimized MOI (moment of inertia) and lower center of gravity adds forgiveness.
Cleveland clubs are generally on the lower end of the pricing scale, and the Launcher XL Halo Irons compare well to the Callaway Rogue Irons but are a little cheaper.
TaylorMade Sim Max Irons
Although TaylorMade started as a producer of clubs for the higher end of the market, such as professionals and single-digit handicap golfers, they have produced outstanding irons for the mid-to-high handicap market.
The introduction of the Sim range started with the drivers and developed over three years into the long but forgiving Sim Max Irons too.
These aren't quite as long and forgiving as the ST Max line. But they're a little cheaper when you compare the Callaway to TaylorMade irons.
Final Thoughts
When replacing the Callaway XR Irons, there was a high expectation that the Callaway Rogue Irons would rectify the shortcomings of the XR Irons.
Indeed, the Rogue Irons successfully adopted the changes required to fill the void left by the XR's lack of distance and unimpressive sound.
Callaway achieved this by strengthening the lofts on the Callaway Rogue Irons, while the Callaway Rogue X Irons have even stronger lofts to generate more distance. In filling the void left by the XR Irons, the Callaway Rogue Irons has been one of the bestselling sets Callaway has ever put out.
The Callaway Rogue ST Max Irons are even better than their predecessors and offer even more forgiveness and distance. They're a no-brainer if you have the budget to add big brand name irons to your bag as a mid to high handicapper.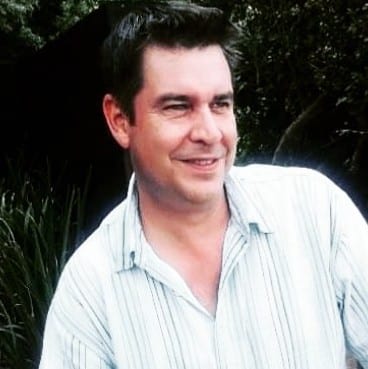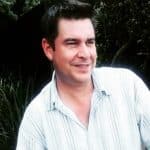 Charl is an avid golfer who studied marketing and advertising. He is fascinated by new technology in golf equipment and the mechanics of the perfect swing.