The PING i230 irons are successors of the famous i210 irons. Like the i210s, PING has crafted another superb set of golf clubs with great performance.
I took the PING i230 irons out 7 times over a month and mostly liked them.
Quick PING i230 review: The PING i230 irons are players' irons with a cavity-back that deliver increased distance, forgiveness, and consistency. These irons also provide excellent spin and control on your shots and are perfect for golfers with fast swing speeds and mid to low-handicaps.
The i230 irons aren't for every golfer. To determine if the i230s will benefit you, keep reading. In this PING i230 irons review, I'll analyze the pros, cons, and features to see who they're best for.
Overview of the PING i230 Review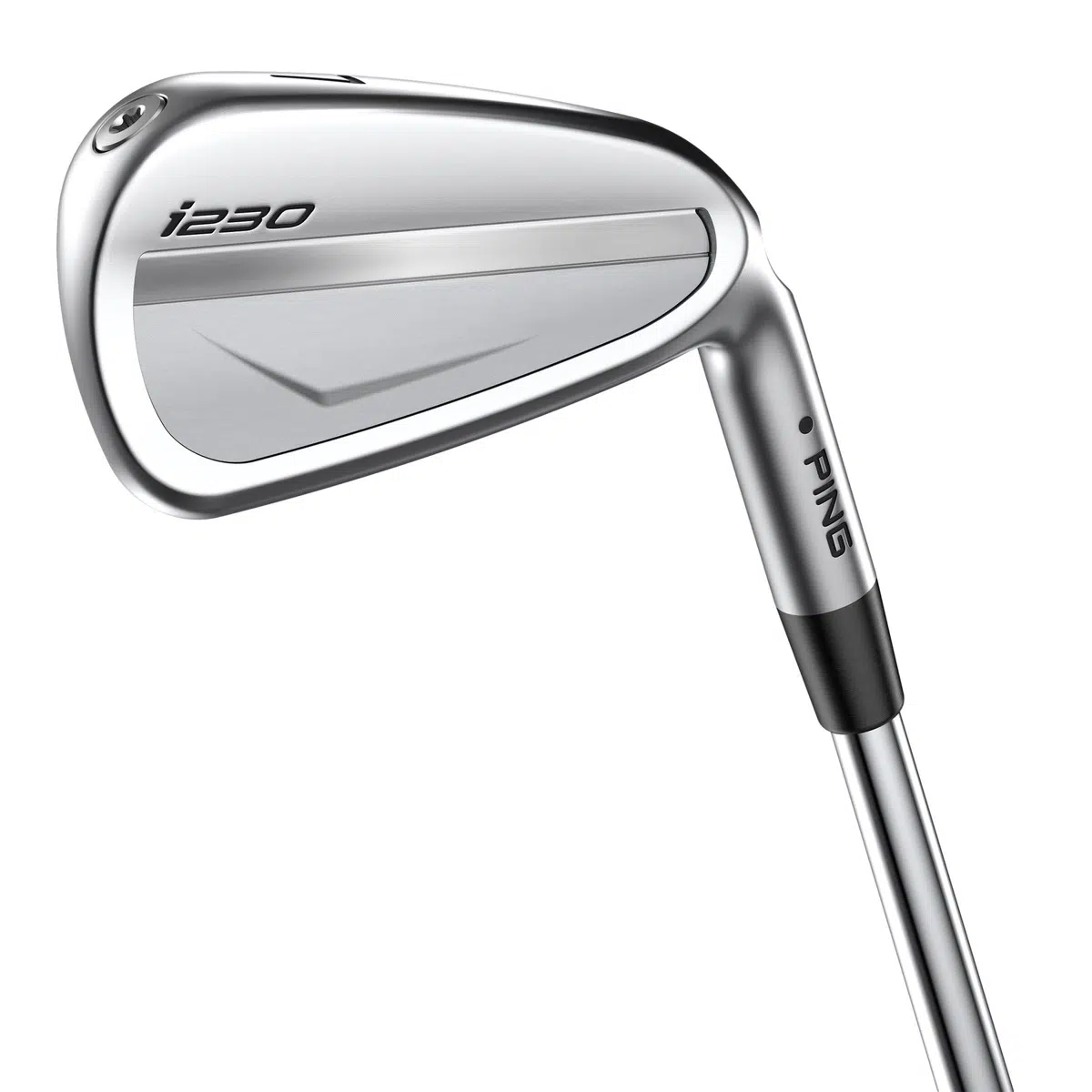 Pros
Excellent feel
Great distance
Great forgiveness
Satin Chrome finish gives an attractive design
The Milled Micro Max Grooves give improved control and spin
Cons
They're expensive
Not suitable for golfers with slower swing speeds
Key Metrics to Consider
These are my ratings for the PING i230 Irons.
Note: All ratings are out of 100.
| | |
| --- | --- |
| Overall | 85 |
| Star Rating | 4.5 out of 5 |
| Distance | 85 |
| Forgiveness | 90 |
| Feel | 90 |
| Workability | 80 |
| Aesthetics | 85 |
| Price | 75 |
Verdict
The PING i230 irons are excellent player's irons that inspire confidence and increase consistency.
In my review of the PING i230 irons, I discovered they provided a great blend of distance, forgiveness, and control and a fantastic overall feel.
These irons are ideal for low-handicap golfers who want extra distance and forgiveness from their shots without sacrificing the feel and appearance of the clubs.
They are more suited to golfers with low handicaps and fast swing speeds. If you have a slow swing speed, these irons are not recommended.
These cavity back irons are designed to offer improved distance, forgiveness, and performance.
The i230 irons are also played by tour players and many pros.
So, if you are looking for good performance irons with an added touch of distance, forgiveness, and control, you should try the i230s.
Who They're Best For?
The PING i230s are designed for golfers who can generate high swing speeds and have low handicaps.
Although handicap isn't always the best way to measure the ideal target audience, the handicap range for these clubs should be 2-10 after my experience with them.
Low-handicapped golfers will like these irons as they're excellent for gaining more distance on your shots without compromising forgiveness. These irons also provide decent spin and control to effectively work your way around the course.
Mid-handicappers can work their way out with these irons, but I might suggest other options that would suit them better. You can check out this article for the best irons for mid-handicappers.
Finally, I'd suggest that high-handicappers and beginners avoid buying these irons and get irons that suit beginners.
I will only recommend these irons to you if you've got a low handicap and you're looking for high-performing irons.
Things to Consider Before Buying PING i230 Irons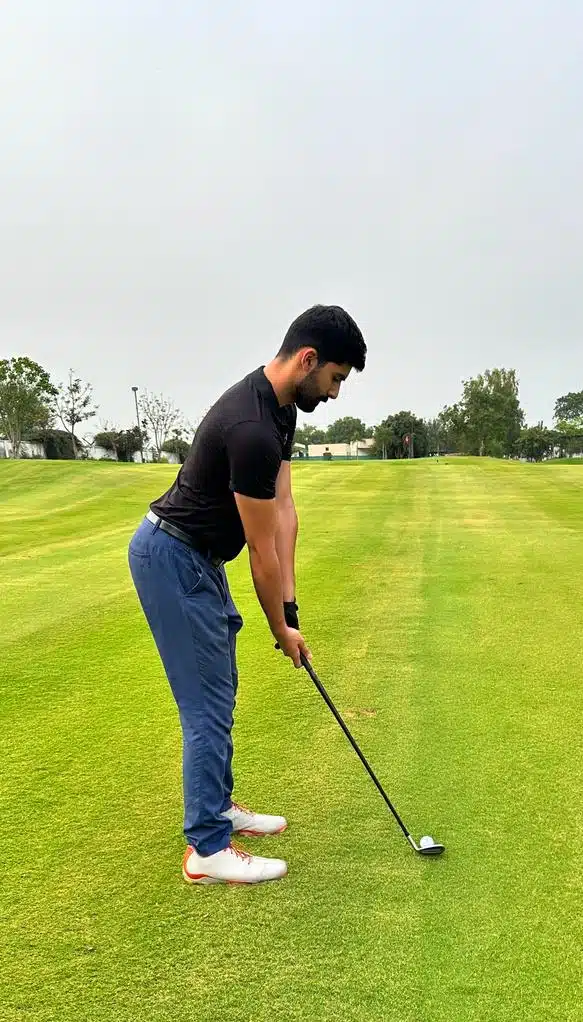 You should consider the following things before purchasing the PING i230 irons.
Your Budget
The PING i230s are a bit more on the expensive side. So, before purchasing these golf clubs, you must consider your budget carefully.
You can always buy used PING clubs if you think getting new ones would be out of your budget.
Your Skill Level
The i230 irons are perfect for low-handicappers who can use these magnificent golf clubs fully.
If you're a mid-handicap golfer, you can still take advantage of features such as excellent distance, control, and forgiveness.
High-handicappers and absolute beginners should go for game improvement irons.
Your Swing Speed
Your swing speed is important to consider as it can greatly affect your performance. Golfers with fast swing speeds will find the i230 irons a good fit for their game.
If your swing speed is slow or medium, you may want to look at alternatives like the PING G710 irons or Callaway Mavrik.
However, golfers with faster-swing speeds can utilize these irons most effectively.
Your Playing Style
The playing style of a golfer varies a lot. You'll see that each golfer has a unique style that helps them perform on the golf course. Some favor extra forgiveness, workability, and control, while some favor distance, shot-making, etc.
Senior golfers usually prefer game-improvement irons or irons that suit their playing style. You may want to look at the best irons for senior golfers if you're a senior golfer.
So, it's important first to analyze and study your style of play and then make an effort to buy the clubs.
Why You Should Trust Us
Our team spends thousands of hours trying out and researching golf equipment to help you take your game to the next level. Here's our product review process.
We can bring these reviews to you through the small commissions we earn if you buy through the links below.
How We Reviewed These Products
Golfspan only shares equipment and brands we trust.
I'm an experienced golfer and writer who thoroughly researched and evaluated the drivers shared below. Then an editor reviewed and fact-checked the list. Finally, we conduct regular content audits to update and revise our reviews to ensure you receive the latest information.
I considered these criteria for my i230 review:
Cost
Distance
Spin & Control
Feel, Appearance & Sound
Launch & Accuracy
PING i230 Irons Review
The PING i230 Irons are one of the latest additions to the PING lineup.
The four-layer cavity badge with an elastomer insert and 431 stainless-steel head gives extra distance and forgiveness.
The Milled MicroMax Grooves provide consistent launch and spin to improve accuracy and get better distance and trajectory control.
To gain valuable insights into the PING i230 irons, I've spent a lot of time researching these golf clubs. Let's find out more about them.
Distance
In my research, I discovered that the PING i230 irons are designed for golfers to provide them with improved distance because of the lower CG and Higher MOI.
I was impressed to see how long the i230 irons were, the distance wasn't crazy, but it was still better than many other distance irons.
The PING i230 irons can be extremely favorable if you want good spin, control in your irons, distance, and forgiveness. However, golfers who cannot hit solid shots consistently will not get as much distance as they would want from their shots.
Forgiveness
Like the PING i210s, the i230 irons offered plenty of forgiveness. The tungsten toe and tip weights incorporated in the face of the club provide extra forgiveness in these golf clubs.
The clubs provided consistency and precision even on off-center hits because of the larger, more compact club face. As long as your ball striking is good, you'll feel an added element of forgiveness in your shots with these clubs in your bag.
If you value forgiveness as a low-handicapper or fast swing speed, you'll find the PING i230 irons more than enough.
Accuracy
PING is known for delivering accuracy in their golf clubs and has done the same with the i230 irons. I've played with the G425 irons, and accuracy was one of my favorite features about them, even though they weren't fitted for me.
The i230 are fantastic golf clubs that have a very tight dispersion pattern. The Micromax Groove technology delivers consistent launch and spins in the long irons and excellent control with the short irons to give golfers more accuracy.
If you want more accuracy in your shots, the i230 irons can do more than just do the job.
Launch
The PING i230s, like its predecessor, gives excellent launch angles and stopping power on your shots.
The longer irons have high launch angles to give golfers that extra distance, whereas the shorter ones provide soft launch for different spin and control with your approach shots.
Note: launch performance can vary due to various factors such as swing speed, club loft, and course conditions.
Feel & Look
Tour players and local golfers love the PING i230 irons, and the reason is because of the great feel and appearance of the clubs.
At impact, the PING i230 irons feature a quiet, sturdy feel. The sound is described as a "tock," neither loud nor soft. The feeling is also regarded as precise, with golfers able to feel exactly where the ball made contact with the face.
The PING i230 irons feature a simple and modest design. The cavity is fair and straightforward, with a small and discreet "i230" etching on the toe. The entire structure is quite simplistic, which may appeal to some golfers.
Like other PING irons, I must admit that the i230 irons are among the best-feeling irons on the market, and the minimalistic tour design is likable for most golfers.
Features & Benefits of the PING i230 Irons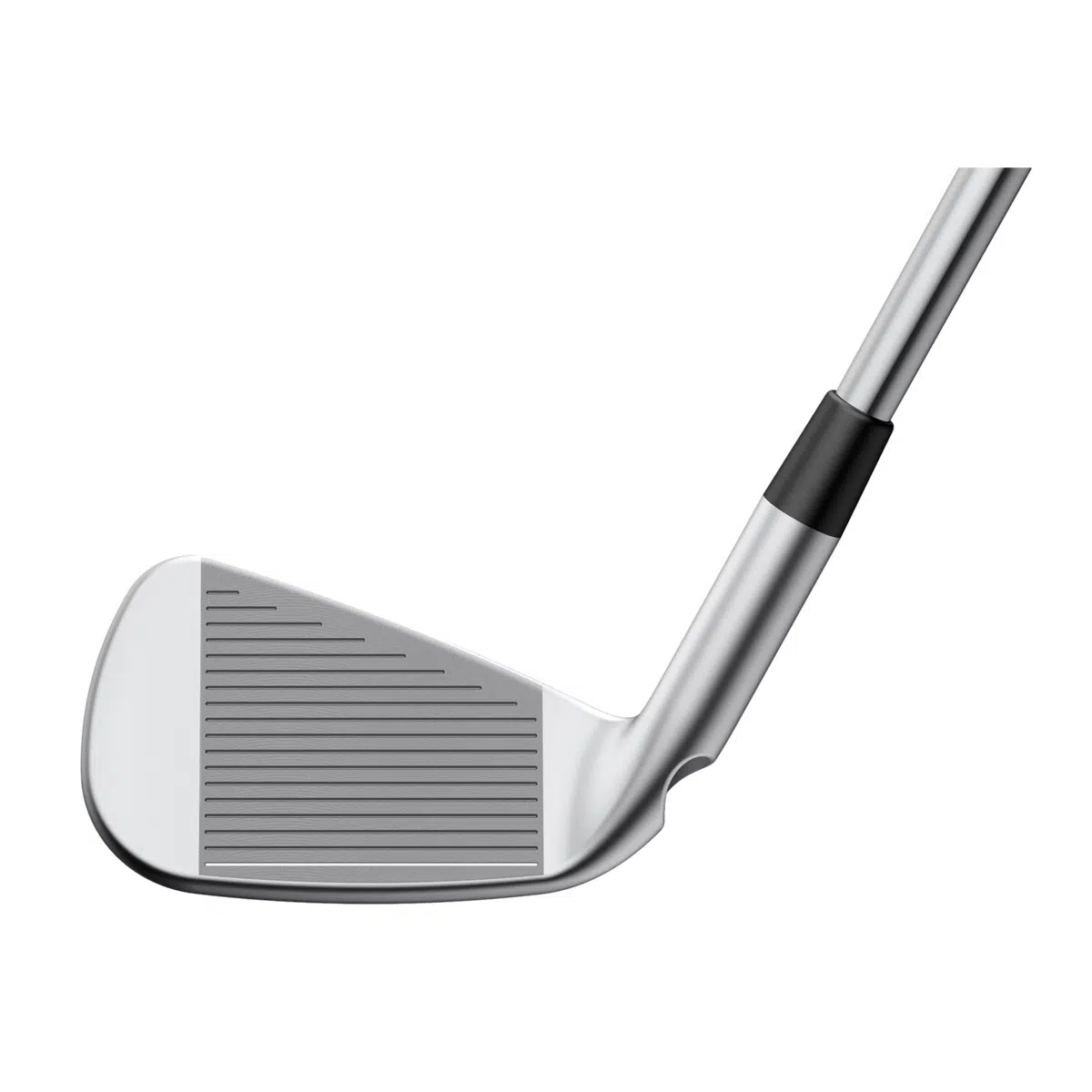 Let's find out what features the PING i230 Irons offer and how they can benefit your game.
Multi-Material Construction
The i230 irons are made of five pieces, including a forged 431 stainless steel body, a four-layer cavity badge, and a soft elastomer insert.
The cavity badge and elastomer insert work in tandem to reduce unwanted frequencies, resulting in a more pleasant feel and impact sound.
The elastomer insert reinforces the clubface for consistent bending and energy transmission, allowing you to achieve constant distance and score higher.
Milled Micro Max Grooves
The face of these irons has incorporated the Mico Max Grooves technology, designed to deliver more spin and control.
These Precision-milled MicroMax grooves provide consistent launch and spin for long iron accuracy and enhanced control in short irons and wedges, especially in wet conditions where the grooves and hydro pearl 2.0 chrome finish assure low launch angles with high spin.
Head Shape and Weights
The i230 irons' slightly bigger head design gives more forgiveness on off-center smashes. The rounded head form also improves turf interaction, making the ball easier to get out of the ground.
Because the elastomer inserts save weight, PING moves extra weight down to the perimeter via tungsten toe and tip weights for better forgiveness and distance.
The i230 irons' tungsten toe and tip weights serve to reduce the center of gravity (CG) and promote forgiveness. The lower CG also increases ball speed, leading to longer distances.
Consistent Gaping and Finishes
The i230 provides predictable and repeatable distance while also providing the control and playability needed to achieve precise yardages, ensuring the gapping consistency required of a player-style iron.
The Satin Chrome finish on the i230 irons is designed to be long-lasting and corrosion-resistant.
The HydroPearl coating is intended to be more resistant to moisture and grime, making it an excellent alternative for golfers who play in wet weather.
PING i230 Irons Specs
I've mentioned the PING i230 specs, including lofts, lie, offset, and shaft length here. Scroll down for more information about the PING i230s.
| | | | | | | | | |
| --- | --- | --- | --- | --- | --- | --- | --- | --- |
| Club | 4 | 5 | 6 | 7 | 8 | 9 | PW | GW |
| Lofts | 22.5° | 26° | 29.5° | 33° | 37° | 41° | 45° | 50° |
| Lie | 59 | 60.5° | 61.3° | 62° | 62° | 63.5° | 64.1° | 64.1° |
| Offset | 0.17 in | 0.144 in | 0.12 in | 0.09 in | 0.07 in | 0.05 in | 0.03 in | 0.02 in |
| Length | 38.5 in | 38.00 in | 37.5 in | 37.0 in | 36.5 in | 36.0 in | 35.5 in | 35.5 in |
Note: All of this data was gathered from PING.
Alternatives to The Ping i230 Irons
If you believe the PING i230 irons are not what you are looking for, many different clubs can provide appropriate features to improve your game.
I've given several options for you to examine below.
Taylormade P770 irons are an excellent choice for golfers seeking a forgiving iron with a more compact head shape and a conventional appearance at the address. The top line of the clubs is thin, and the sole is narrow.
These can be a good alternative if you want a better feel and more forgiveness from your clubs.
Pros
Good distance
Exceptional feel
Great forgiveness
Cons
Less forgiving compared to game-improvement irons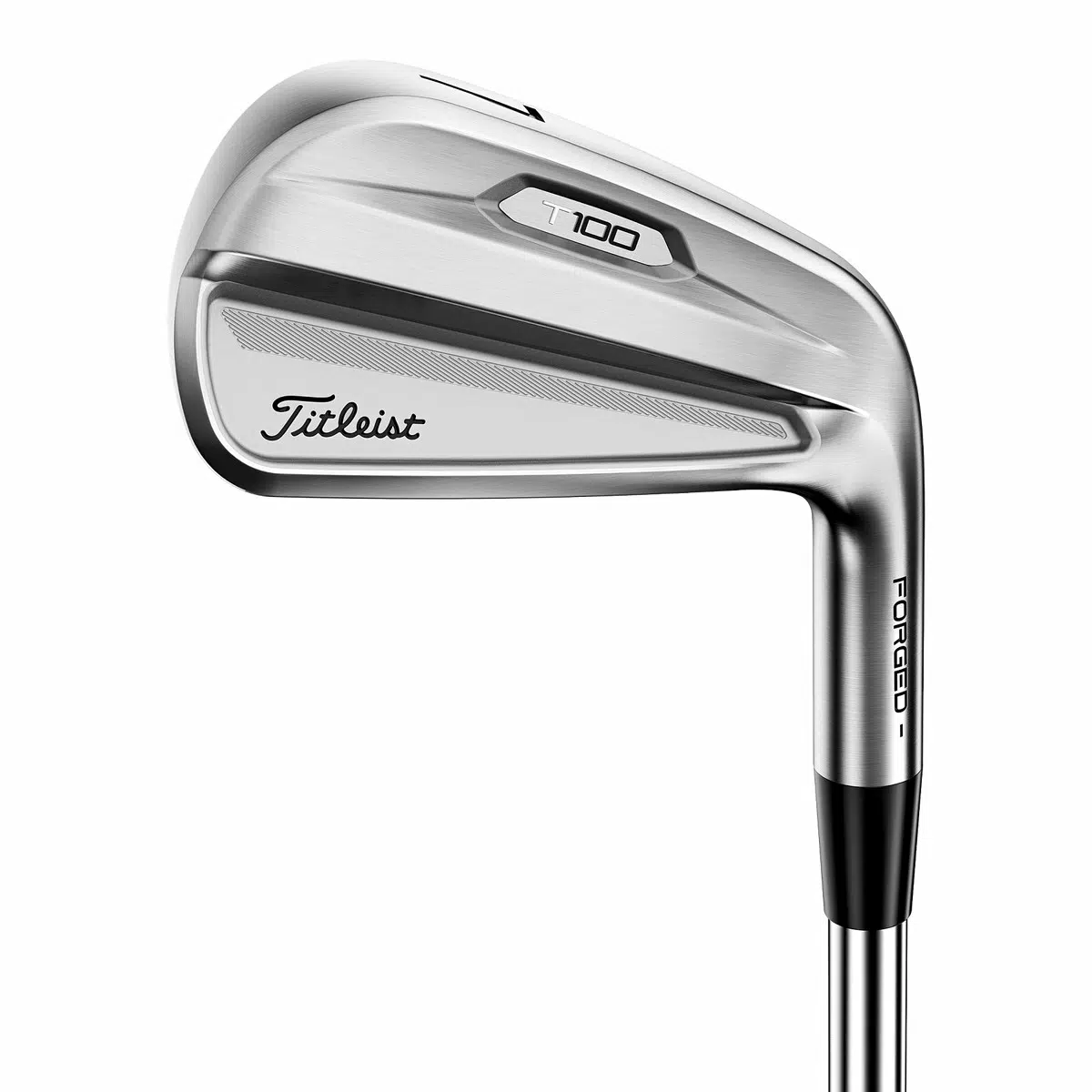 The Titleist T100 Irons are one the most used golf clubs. They're well-known irons due to their performance and feel.
These irons are forged and have a slightly larger head than the Ping i230 irons. They have a more compact head shape and a traditional look at address, providing a decent combination of feel and forgiveness.
Golfers who want forgiveness and control can look to these irons for consistent performance and a great feel.
Pros
Great feel
Good forgiveness
Traditional Look
Good performance
Cons
Less workability compared to more compact players' irons.
Slightly expensive
The Srixon ZX7 irons are renowned for having a superb feel and usability.
These irons are designed for competent players and have a conventional design. The forged construction of the ZX7 irons improves feel and feedback and offers a solid blend of forgiveness and shot-making abilities.
Pros
Great combination of forgiveness, feel, and performance
Forged from 1050 carbon steel
Hollow body construction for increased ball speed and forgiveness
Tour-proven design
Cons
Not as forgiving as some other alternatives
Not as long as some other alternatives
FAQs
What Does PING i230 Replace?
PING's i230 replaces the i210, a company's best-seller. The PING i230 release date is October 2022. The offset of the PING i230 is slightly less than that of other PING irons. Lofts are also a little stronger and provide players with some extra yardage. Spin rates were still remarkable despite the lower loft.
Is PING i230 Forged or Cast?
The PING i230 irons are cast irons. They're made from a 431 stainless steel alloy with a five-piece head. The head has a soft elastomer insert at the back of the club face.
Forged irons are made from a single piece of metal, typically forged from soft carbon steel, while cast irons are made from molten metal poured into a mold.
Are i525 More Forgiving Than i230?
The PING i525 irons are more forgiving than the PING i230 irons because of the relatively larger club head size, perimeter-weighted design, and forged construction of the i525 irons. However, the i230 are incredibly forgiving for irons made for low-handicap players.
What Are The Best PING Irons?
The best PING irons for low handicappers are the PING i59. They offer a combination of forgiveness and feel that is unmatched by other irons on the market. The best PING irons for mid-handicappers and high handicappers are the PING G425. They offer a lot of forgiveness and distance, making them a great choice for players who struggle to hit the ball consistently. The PING i230 are a good option for players who want a more traditional feel in their irons. They offer a good balance of forgiveness and workability, making them a versatile choice for various players.
Final Thoughts
So, after this PING i230 review, I can confidently say these are among the best cavity back irons in 2023.
The PING i230 irons are a good option for low-handicapped golfers, especially tour players and pro golfers with relatively faster swing speeds looking for extra control and workability.
I wouldn't recommend these clubs to a higher-handicap golfer, though. They have much better options to choose from, which would improve their game.
So, would I buy these irons? Probably yes. That's because I'd love to switch to proper player irons with a good combination of distance, forgiveness, spin, and control. What about you?
Read more:

As a skilled golfer and wordsmith, Abdulmoiz brings a fresh and engaging voice to the golfing world. Whether he's on the course or at the keyboard, he strives to improve and inspires others to do the same.