Blade irons are sought after by skilled golfers seeking a compact profile, buttery-soft feel, clean turf interaction, and workable flight. In this post, I reveal the best blade irons in 2023 to help low handicap golfers improve their control on approach and achieve their desired flight, curve, and spin.
By the end of this post, you will know whether the less forgiving, soft-feeling forged blades suit your swing. Alternatively, you may find that you rely heavily on forgiveness and are not ready to start swinging blade irons.
Here are the 10 best blade irons for 2023:
But given the cost of a premium irons set, you'll want to review each of these irons to avoid getting stuck with the wrong clubs, which will stall your progress.
Read on to learn the pros, cons, specs, and ratings of each set of irons. You'll also learn what to consider when buying high-quality irons.
Top 3 Best Blade Irons For 2023
Best Overall
Best Budget
Most Forgiving
Callaway Apex Pro 21
PXG 0317 ST Players Irons
Callaway Rogue ST Pro
Pros

Narrow sole width
Generates explosive ball speed
Attractive compact profile

Priced lower than its peers
Superb feel
Enhanced spin on short iron and wedge shots

More forgiving than most blade irons
Fast clubface
Promotes constant contact with the golf ball

Cons

Expensive
Not forgiving enough for the average amateur

Limited forgiveness
The Precision Weighting medallion at the back is an eye sore

The feel is not as pure as the Apex Pro irons
No other complaints

Price Score
87.3
90.1
89.2
Feel
93.1
90.4
86.4
Playability
92.7
87.6
90.7
Aesthetics
90.1
81.9
84.4
Rating
4.7 Stars
4.5 Stars
4.4 Stars
Why You Should Trust Us
Our team spends thousands of hours trying out and researching golf equipment to help you take your game to the next level. Here's our product review process.
We can bring these reviews to you through the small commissions we earn if you buy through the links below.
How We Reviewed These Products
Golfspan only shares equipment and brands we trust.
I'm an experienced golfer of 28 years and thoroughly researched and evaluated the products shared below. Then an editor reviewed and fact-checked the list. Finally, we conduct regular content audits to update and revise our reviews to ensure you receive the latest information.
To select these irons, we considered these criteria:
Cost
Feel
Speed
Spin
Feel
Distance
Accuracy
10 Best Blade Irons 2023 Reviews
Pros
Narrow sole width
Generates explosive ball speed
Attractive compact profile
Stable at impact
Promotes workable flight
Cons
Expensive
Not forgiving enough for the average amateur
The Callaway Apex Pro 21 soared to number one on our best blade golf blades 2023 review, thanks to its aesthetics and moderate forgiveness. In addition, the clubface generates explosive velocity out of the sweet spot leading to impressive long and mid-iron distance.
I learned quickly that the Apex Pro 21 irons were no ordinary player's irons owing to the presence of game improvement technology. Firstly, the A.I. designed Flash Face Cup increases energy transfer for a higher coefficient of restitution (COR), rapid ball speed, and controlled spin.
Next, Callaway engineers fitted 90-gram tungsten weights in each iron, which form the Tungsten Energy Core. I found it added superior stability to the clubhead at impact, preventing ball speed drop-off and controlling spin for a desirable launch on all shots.
Finally, I welcomed the delicate touch enjoyed on every strike with these irons and the subsequently amplified acoustics.
Rating: 4.7
Read More: Best Callaway Irons
Pros
Priced lower than its peers
Superb feel
Enhanced spin on short iron and wedge shots
Forgiving cavity back long irons
Produces crisp turf interaction
Cons
Limited forgiveness
The Precision Weighting medallion at the back is an eye sore
Blade irons are not the cheapest golf clubs, but the PXG 0317 ST offers a more affordable alternative to legacy brands. Our best budget pick for 2023 combines the elegance of milled grooves with a compact profile and forged feel to deliver an outstanding iron experience.
Despite their player's iron label, PXG added a twist in the long irons, fitting a cavity back to the 4 and 5 irons for increased perimeter weighting. The added mass boosted stability at contact, minimizing ball speed drop-off and containing spin to achieve my optimal launch.
In addition, I relished the feel and acoustics produced by the 8620 soft carbon steel milled clubface. It prompted a buttery soft touch across the clubface and crisp acoustics for an enhanced feel. Plus, the grooves boosted friction on short iron and wedge shots for increased spin revolutions and improved shot-stopping power.
PXG engineers fitted a single Precision weight close to the center of gravity (CG), helping you achieve your perfect swing weight. Finally, the PXG 0317 ST Players irons delivered smooth turf interaction, promoting a clean strike from any lie on the links.
Rating: 4.5
Pros
More forgiving than most blade irons
Fast clubface
Promotes constant contact with the golf ball
Encourages workable flight
Enhanced stability at impact
Cons
The feel is not as pure as the Apex Pro irons
No other complaints
Callaway finds themselves on our best golf blades 2023 list for the second time with the Rogue ST Pro irons. Not your standard blade set, these irons promote optimal player performance with the consistency and leniency of game improvement technology.
Despite the presence of game improvement technology, the Rogue ST Pro still punished my mishits, as I would expect from blades. Most of its forgiveness came from the lightning-quick A.I. Designed Flash Face Cup, which upped my ball velocity across the clubface for a powerful launch.
Next, the A.I. optimized clubface increased the COR, paving the way for a faster ball pace and a high launch. In addition, the irons minimal offset and workable nature allowed me to impart curve on the ball for a draw or fade into the green.
I received an extra dose of forgiveness from the 48 grams of high-density tungsten. Lastly, I felt the Rogue ST Pro was more efficient at eradicating vibrations on off-center strikes thanks to its patented urethane microspheres. They managed to protect my palms against shocks, promoting a soft feel.
Rating: 4.4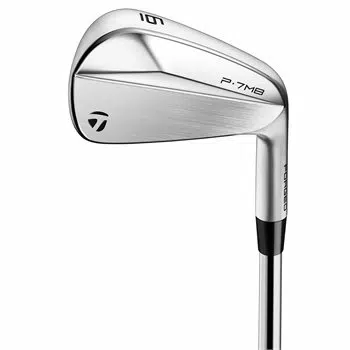 Pros
Precise launch through the bag
Soft feel
Outstanding spin levels
Promote increased workability
Amplified acoustics
Cons
Expensive irons
Minimal forgiveness
I was impressed by the precise launch of my shots with the TaylorMade P7MB irons during testing. It resulted in a desirable apex through the bag. Added to its optimized launch were superb feel, enhanced workability, and gorgeous aesthetics.
Overall, these TaylorMade blade irons delivered a lower launch than their peers. However, the progressive CG location in the irons switched up the height of each launch to achieve desirable results through the bag.
After the precision of each launch, the Machine Milled Grooves were my favorite feature. They enhanced friction and imparted superior spin levels on the golf ball for my preferred trajectory and shot shape on approach.
Finally, TaylorMade engineers exposed the P7MB irons to their Compact Grain Forging process. The clubs are met with 2,000 tons of pressure during the process, which tightens the structure and omits a soft, pleasurable feel on every strike.
Rating: 4.3
5. Titleist 620 MB – Best Bladed Iron Set For Workability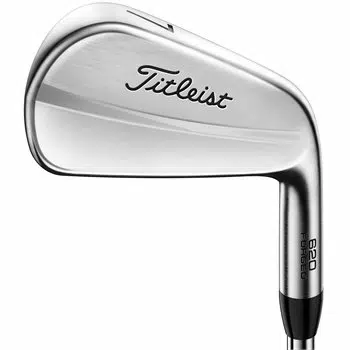 Pros
Enhances workability
Soft feel
Clean, classic shape
Produces crisp turf interaction
Limited offset
Cons
It offers low forgiveness
Not effective at combating hooks and slices
Blade irons empower skilled golfers to induce draws and fades for greater control on approach. The Titleist 620 MB produced the finest shape during testing, providing the necessary versatility to control my ball flight on approach to the green.
The best MB irons from Titleist in 2023 feature reduced offset through the set, enabling me to open and close the clubface when needed. While this is dangerous for the average golfer, skilled players will relish the ability to play the shape they desire at any point during the round.
Next, the tour-refined sole construction showed its value in the rough and the sand, helping me get clean contact on the golf ball. I also liked the progressive blade length, which gave an expanded surface to strike the ball with the long clubs while refining it for playability in the short irons.
Finally, the 620 MB Titleist irons blades are stunning and feature a classic blade design that true traditionalists can appreciate.
Rating: 4.3
6. Srixon Z-Forged II – Best Turf Interaction For Forged Blade Irons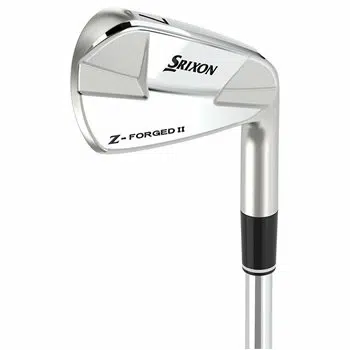 Pros
Clean turf interaction
Buttery soft feel
Amplified acoustics
Progressive grooves generate ideal spin through the bag
A compact, clean shape
Cons
Limited forgiveness
Not the most glare resistant-irons
Clean turf interaction goes a long way to ensuring your club glides across the turf and does not dig into it. The Srixon Z-Forged II irons scooped the top pick in this category thanks to its compact profile, elevated moment of inertia (MOI), and versatile sole.
Srixon engineers roped in the smooth gliding Tour V.T. sole to help navigate the club head through the fairway, sand, and rough. The Z-Forged II helped me get the clubhead through all lies for cleaner contact thanks to the optimal bounce and toe to heel weighting.
Next, the irons sport a 1020 Carbon Steel face, which produces a super soft feel on strikes out of the middle. However, I experienced increased vibrations on mishits for improved overall feedback.
Lastly, I appreciated the Progressive Grooves setup, especially the deeper closer set grooves on the mid irons and wedges. They enhanced my spin revolutions with shorter clubs in the bag leading to hop and stop spin on approach.
Rating: 4.2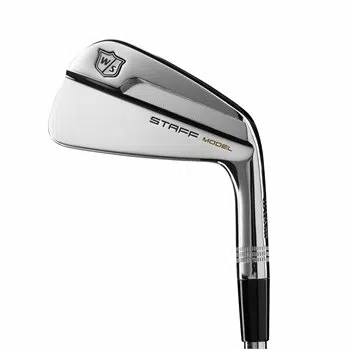 Pros
Classic profile
Soft feel
Encourages workable ball flight
Clean turf interaction
Impressive feedback
Cons
Limited forgiveness
Contains little to no game improvement technology
I fell in love with the look of the Wilson Staff Model Blade Irons the moment I laid eyes on them. They are not the most technologically advanced blades, but they brought back memories of the classic blade Irons I learned to play golf with in the 90s.
Their 8620 Carbon Steel clubface steals the show, as it enhances the appearance and appeal of the iron while promoting a silky smooth touch on each shot. My feel was further enhanced by the milled diamond patterns on the clubface, which also improved my feedback.
Wilson eliminated unnecessary weight from the hosel thanks to its Fluid Feel Hosel construction. The engineers then reposition the saved mass elsewhere, resulting in an enlarged clubhead and a wider sole for superior turf interaction and workability on approach shots.
Speaking of turf interaction, I enjoyed the brilliance of the Optimized Sole Camber construction, which eased across rough, sand, and fairway. As a result, I consistently got clubface on the ball, no matter the lie.
Rating: 4.1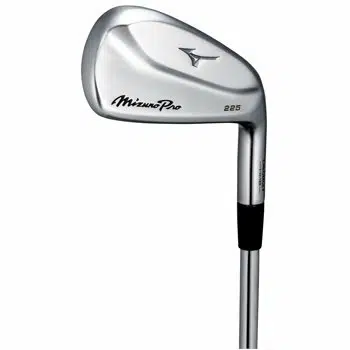 Pros
Fast clubface
Maximizes energy transfer
Produces outstanding ball speed
Encourages a higher launch
Soft feel
Cons
The higher launch will not appeal to everyone
I struggled with glare resistance on a few shots
The Mizuno Pro 225 delivered spectacular ball velocity during testing owing to its CORTECH multi-thickness clubface. I managed to generate a relatively consistent pace across an expansive surface of the face, which I struggle to do with other blades.
My ball speed was further boosted due to the COR Forged Hollow Body tungsten weight and Grain Flow Forged 4135 Chromoly. The latter thins the clubface across the surface for maximum velocity. In addition, the COR Forged Hollow Body added to my speed needs and promoted a higher launch.
Next, the Pro 225 provided that buttery-soft feel you expect from a Grain Flow Forged Mizuno iron. The combination of forged carbon steel and a Soft Copper Underlay softened each strike and amplified acoustics for better feedback.
Lastly, Mizuno built the Pro 225 irons to generate towering ball flight for an easier launch and consistent carry distance. While one should remain mindful of the reduced forgiveness, these irons are not a bad option for mid-handicappers looking to transition to blades.
Rating: 4.1
9. Ping i59– Highest MOI Bladed Irons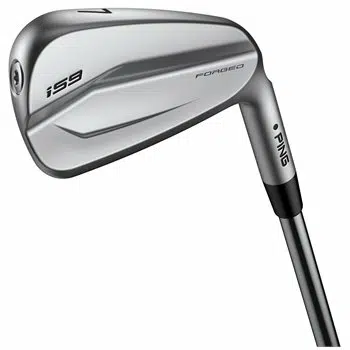 Pros
Enhanced MOI profile
Produces rapid ball speed
Superior spin profile
Sheds water from the clubface for cleaner contact
Produces a pleasant feel
Cons
Super price
Not the longest best blades golf clubs
Skilled golfers seeking increased stability at impact should contemplate the services of a high MOI set of irons. The Ping i59 iron clubs put their hand up to be counted by producing splendid forgiveness during testing.
The robust MOI profile on the i59 was made possible by tip and toe weighting in the club, raising the forgiveness of the forged iron. Unlike its peers, the i59 prevented ball speed drop-off on mishits, encouraging a consistent strike, launch, and carry distance.
The engineers saved 30 grams from the center of the clubface using AlumniCore technology. That weight was then applied to the tip and toe of the clubhead to maximize MOI. Besides benefitting from the ball speed and accuracy of the i59, I welcomed its superior spin profile.
The MicroMax Milled Grooves boosted my spin profile, improving my control and shot-stopping power on shorter approach shots. Finally, the Ping i59 carries a hydropearl finish which sheds water from the clubface to ensure clean contact between the clubface and the golf ball.
Rating: 4.0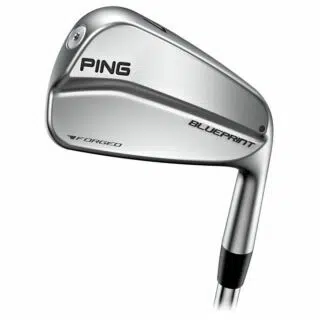 Pros
Amplified acoustics
Soft feel
Maximum workability
Clean turf interaction
Enhanced spin
Cons
Limited forgiveness
Difficult to find a new set of Blueprint irons
We close out our best golf blades 2023 review with the finest-sounding blade Irons this year, the Ping Blueprint irons. My compatriot Louis Oosthuizen consulted on the design, which led to amplified acoustics, feedback, and clean turf interaction from the fairway, sand, and rough.
The compact design sports an 8620 Carbon Steel clubface, which produces a delightful feel at contact and impressive audio. I could hear when my ball came out of the sweet spot and when I missed the center and delivered a weak strike.
Next, the Blueprint irons are fitted with a tungsten toe screw that boosts forgiveness by stabilizing the clubface at contact. I managed to prevent ball speed loss on off-center shots, thanks to the added weight from the toe screw.
Lastly, the machined face and grooves proved valuable on approach as they raised the spin levels, leading to increased shot-stopping power. Finally, I relished the workable flight the Blueprint promoted, enabling me to draw and fade my approach shots to attack the flagstick and make a few scores.
Rating: 3.8
What To Consider When Purchasing Blade Irons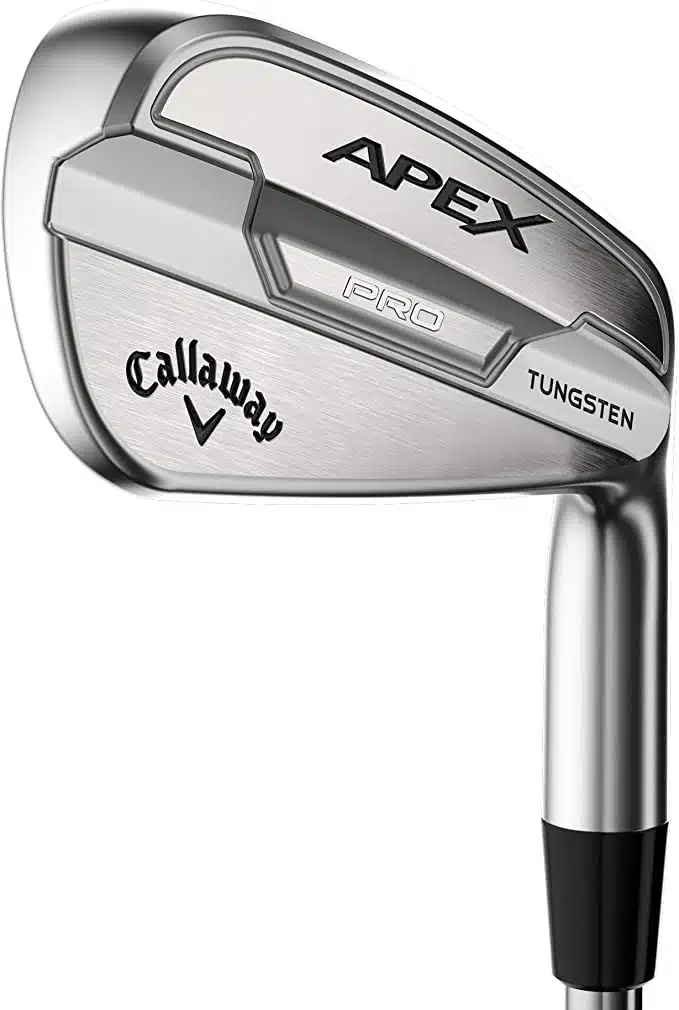 Workability
Workability is vital for skilled players to attack the flagstick on approach shots in the hunt for a birdie or an eagle. The ability to induce a controlled draw or fade allows you to remove hazards from your line and control the golf ball spin as it lands on the dancefloor.
Not all blades generate equal levels of workable flight, and the degree of offset is a telltale sign of how much shape irons offer. Offset is measured in inches or millimeters, and the higher the number, the more offset an iron is.
Although most short irons and wedges in blade sets feature a limited offset, you may find the long irons carrying increased levels. Manufacturers enhance the offset in 3, 4, and 5-irons to offer greater forgiveness and encourage straighter flight for improved accuracy.
Feel
Blade irons typically generate a buttery-soft feel on shots out of the sweet spot compared to their cavity-back counterparts. However, despite the soft touch on shots out the middle, they also emit enhanced feedback on off-center hits, causing vibrations to run up the shaft and attack the palm of your hands.
Superior golfers often prefer high-feedback equipment because it is easier to identify where the clubface struck the ball. But, vibrating golf clubs are not ideal for arthritis-sufferers or players with sensitive hands.
If you struggle with the harsh vibrations on mishits, think about the Callaway Rogue ST Pro irons. They are fitted with patented urethane microspheres, which drown vibrations and still induce a soft feel.
Acoustics
Amplified acoustics are a welcome feature for superior golfers seeking to identify the exact spot a ball struck the clubface. We know it came out the middle of the clubface on a crisp strike. However, on a harsh-sounding strike, it is easy to tell that you struck the ball with the golf club's toe, heel, or teeth.
In my experience, blades constructed with 8620 carbon steel deliver the finest combination of acoustics, feel, and feedback. However, manufacturers now employ technology like a Soft Copper Underlay found in the Mizuno Pro 225 irons.
Forgiveness
Golf blade irons are not renowned for their forgiveness, but modern designs are incorporating more game-improvement technology than before. Traditionalists may argue that forgiving blades are not blade irons, but we are witnessing the evolution of their design.
The Mizuno Pro 225 and Callaway Rogue ST Pro are more lenient than their peers, encouraging consistent ball speed and launch. However, their forgiveness is far off what you find in a set of game improvement irons.
Therefore, only think about carrying blades when your game is consistent enough to sacrifice forgiveness for feel and workability.
Budget
The final factor to consider is budget because blade irons are far from a cheap and cheerful item. They are the most expensive golf irons category because many sets are forged from a single piece of stainless steel.
Therefore, golfers on a strict budget should stick to an affordable player's distance or a game improvement set. Alternatively, you could consider pre-owned blades, which are in good condition, and friendly on your wallet.
The PXG 0317 ST Players Irons were the most affordable, worthwhile set we trialed in 2023, hovering near the $1,000 mark.
FAQ
Do Pro Golfers Use Blade Irons?
Yes, pro golfers use blade irons. A quick look at the Callaway, Cobra, and Titleist tour staff reveals that all their PGA Tour players use blade irons. Some modern pros prefer cavity-back long irons but still swing blades in the mid to short irons for improved control and workability on approach.
What Handicap Should Use Blade Irons?
Golfers below an 8 handicap can consider using blade irons because they are skilled enough to sacrifice forgiveness in favor of workability and control. However, no rules are preventing you from playing blades as a mid or high handicapper.
I grew up playing blades, which is probably why I found golf frustratingly difficult in my earlier years.
Which Blades Are Most Forgiving?
Our testing revealed that the Callaway Rogue ST Pro are the most forgiving irons in 2023. They produce consistent ball speed, a stable clubface at contact, and promote a high launch for enhanced carry distance.
Does Tiger Woods Use Blade Irons?
Yes, Tiger Woods uses blade irons. According to Tiger's profile on the TaylorMade tour page, he is swinging the P7TW irons in 2023.
Do Blade Irons Go Further?
No, blade irons do not go further for most players because they offer limited forgiveness on mishits, leading to a soft launch and a loss of carry distance. You must strike blade irons in the sweet spot on every shot to enjoy decent length, which is why amateurs hit further with game improvement cavity back irons.
What Are The Best Golf Blades Of All Time?
The Mizuno TN-87 is widely regarded as Mizuno's best golf blades of all time, while the Miura MB-101 is my best golf blade of all time. In addition, the Titleist 600 series were exquisite clubs. All in all, the answer is personal because each player finds value in different clubs. What is best for me is not necessarily best for you.
Conclusion
Our best blade irons review revealed their compatibility with skilled golfers searching for a soft feel, enhanced workability, and clean turf interaction. Although blades offer less forgiveness than game improvement irons, several products have improved their leniency to promote consistency on approach.
The Callaway Apex Pro irons claimed the title in 2023 for their superior energy transfer, rapid ball speed, soft feel, and stability at impact. I found it easy to work my ball into the target and welcomed the compact profile of the irons and their clean turf interaction.
If you are considering a set of blades but still require an element of forgiveness, think about testing the Apex Pro irons.
Read More: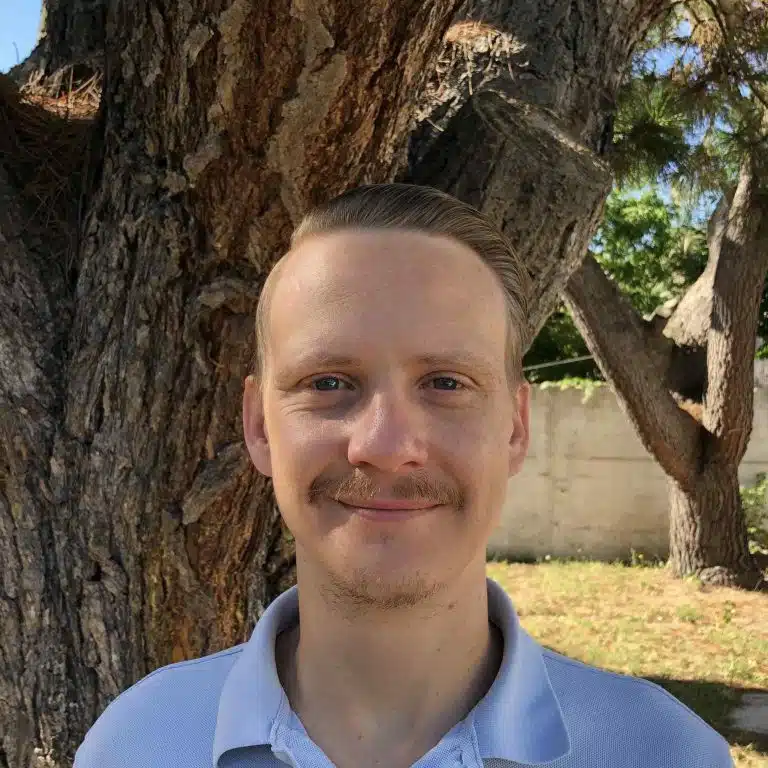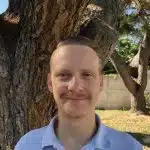 Matt is a seasoned golf equipment writer and sports fanatic. He holds a Postgraduate in Sports Marketing and has played golf for over 28 years.