TaylorMade irons are renowned for their forgiveness and distance. That is part of the reason they are still so well-loved after first turning out in 1980. More than four decades later, they are still doing the business.
Though, they didn't start out with irons. Gary Adams founded TaylorMade Golf a year before that and the only product offered was a metal driver with 12 degrees of loft. One year later,  TaylorMade iron history began with a design inspired by Ken Venturi.
So, let's take a look at the TaylorMade irons by year – it will be a trip down memory lane. We will also look at how the irons have changed over the years and how you can use these changes to your advantage.
List of TaylorMade Iron Models by Year
We took a trip through the TaylorMade archive to find a list of every iron released by the company:
| | |
| --- | --- |
| TaylorMade iron | Year released |
| KVD (Ken Venturi Design) | 1980 |
| PR1 | 1980 |
| EL-1 | 1982 |
| Technician | 1984 |
| Tour Preferred F | 1985 |
| Iron Cleek | 1986 |
| Tour Preferred TD | 1987 |
| ICW 5 | 1991 |
| ICW 11 | 1991 |
| ICW Mid Tour | 1992 |
| Burner Mid Size | 1993 |
| Burner Double Oversized | 1996 |
| Burner Bubble Tour | 1996 |
| Burner Bubble LCG | 1997 |
| Ti Bubble 2 | 1997 |
| Supersteel | 1999 |
| Firesole Tour | 1999 |
| Firesole Forged | 1999 |
| 300 Forged | 2000 |
| 300 Series | 2000 |
| 360 Series | 2000 |
| RAC LT | 2002 |
| RAC OS | 2002 |
| RAC MB | 2006 |
| RAC TP MB Forged | 2006 |
| RAC CB | 2006 |
| RAC CGB | 2006 |
| R7 | 2006 |
| R7 Draw | 2007 |
| R7 TP | 2007 |
| R7 XD | 2007 |
| R7 CGB | 2007 |
| R7 CGB Max | 2007 |
| Burner Plus | 2008 |
| Burner XD | 2008 |
| Tour Burner | 2008 |
| Burner | 2009 |
| Tour Preferred TP | 2009 |
| R9 | 2009 |
| R9 TP | 2009 |
| Burner Super Launch | 2010 |
| Burner 2.0 | 2010 |
| R11 | 2011 |
| Tour Preferred CB | 2011 |
| Tour Preferred MC | 2011 |
| Tour Preferred MB | 2011 |
| Rocketballz | 2012 |
| Rocketballz Max | 2012 |
| Rocketbladez | 2013 |
| Tour Preferred CB | 2013 |
| Tour Preferred MC | 2013 |
| Tour Preferred MB | 2013 |
| Speedblade | 2014 |
| SLDR | 2014 |
| RSi 1 | 2015 |
| RSi 2 | 2015 |
| PSi | 2015 |
| PSI Tour | 2015 |
| M2 | 2016 |
| M2 Tour | 2016 |
| M1 | 2017 |
| M2 (2017) | 2017 |
| P790 | 2017 |
| P770 | 2017 |
| P750 Tour Proto | 2017 |
| P730 Forged | 2017 |
| M CGB | 2017 |
| M3 | 2018 |
| M4 | 2018 |
| P760 | 2018 |
| P790 Black Finish | 2018 |
| M5 | 2019 |
| M6 | 2019 |
| P790 | 2019 |
| P790 Ti | 2019 |
| P7TW (Tiger) | 2019 |
| M Gloire | 2019 |
| SIM Max | 2020 |
| SIM Max OS | 2020 |
| P770 | 2020 |
| P7MC | 2020 |
| P7MB | 2020 |
| SIM 2 Max | 2021 |
| SIM 2 Max OS | 2021 |
| P790 | 2021 |
| P790 (2019) Black Finish | 2021 |
| Stealth | 2022 |
Will There Be New TaylorMade Irons in 2023?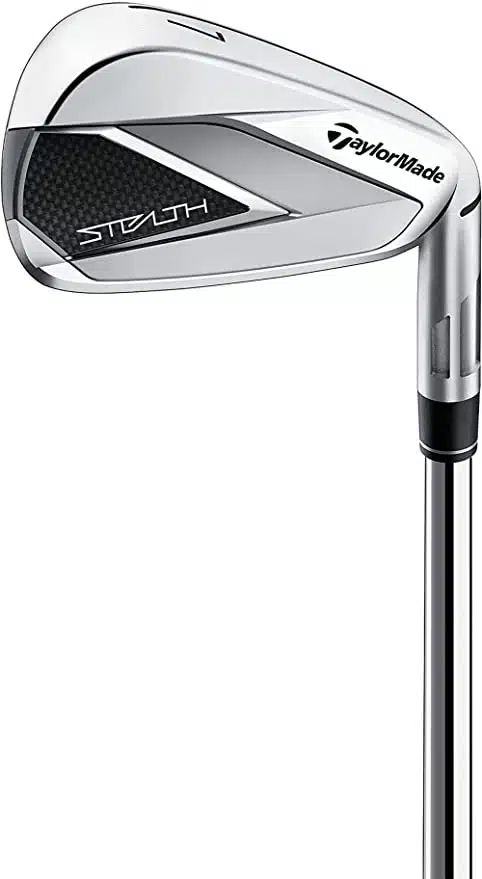 Yes, TaylorMade is just about to release new irons for 2023. The Stealth HD irons will be released in retail February 17th and will cost $999.99. The focus of the new irons is to deliver high launching distance in addition to a draw bias so golfers can expect better shots more regularly.
Top TaylorMade Irons Over the Years
TaylorMade Irons from the 2000s
In 2002, the RAC LT irons came out and they featured cavityback with a thin top line to unite the look and feel of a tour-level iron with a high MOI. It meant they were workable and forgiving clubs. Larger feel pockets also improved vibration control for a better feel than clubs that came before.
In 2006 came the RAC CGB irons that retailed at a mighty $1,300. They were longer and more forgiving than older TaylorMade irons so they set the standard for irons that were being produced.
The Burner irons from 2009 sold very well for the brand. By lots of people, they are deemed to be golf's first distance iron. At the same time, they were also forgiving without being too big. The long, mid, and short irons were also all made separately.
TaylorMade Irons from the 2010s
The M2 irons came out in 2016 and are built for distance. At the same time, they allow you to hit peak trajectory too. That is helped by the thick-thin fluted hosel where 3g of weight in the hosel is redistributed as low as possible in the club head to decrease the CG. Therefore, it has a higher launch and more ball speed.
The P790 irons aren't just some of the best irons made across this decade, I think most golfers would agree they are some of TaylorMade's best ever irons. Released in 2017, they were the first irons to come with the SpeedFoam technology to improve sound and feel while enabling distance at the same time. They were and are highly forgiving and the lightweight design suits those with a high handicap.
Launched ahead of the 2019 Masters and designed for Tiger Woods, the P7TW irons are a thing of beauty. To suit Tiger's needs, they have a longer blade length, a thinner top line, and a progressive face height. Additionally, they are the first clubs to have a milled ground sole to promote consistent turf interaction.
TaylorMade Irons from the 2020s
The SIM Max, released in 2020, is designed for forgiveness whilst maximizing distance. It has a lovely forged-like feel too thanks to the improved Speed Bridge and ECHO Damping System.
Also released that year was the SIM 2 Max OS. It is the longest and most stable iron that TaylorMade had produced upon creation. That is helped by the oversized construction and a sweet spot that accounts for the most common impact points.
Imagine a nice forged-feeling club that is both fast and forgiving. Open your eyes and you have the Stealth irons. The new CG placement makes it easy to launch high to provide long carry distance too.
How TaylorMade Irons Have Evolved and Improved
It's no secret to anyone that the history of TaylorMade irons has seen dramatic change. Looking at the first KVD iron, they weren't too thick but it is unlikely that they would have been as mobile as the irons of today. Obviously, technologies promoting distance and forged feel wouldn't have been available too.
1980s & 1990s
In 1987, the Tour Preferred TD irons featured hollow cavity in the shorter irons which would allow for more forgiveness but less vibration and movement of the club head.
In the early 90s, two sets of irons were made catering to players of different handicaps. The ICW-5 was for those with a lower handicap and ICW-11 was for those of a more average ability.
Perimeter weighting became involved in 1993 with the Burner Mid Size as the club heads were filled with foam. This enabled a larger sweet spot for a better connection with the ball.
1997 saw the launch of the Ti Bubble 2 irons which had a decreased CG in the club and allowed for a higher launch angle thanks to tungsten and copper weights.
2000s
In 2000, the 320s came out and they were slightly larger than clubs that had gone before them. This helped with a higher launch angle and more forgiveness.
RAC irons then began to change the game in 2002 which is part of why they were so popular. The RAC LT's had vibration control with a better feel than ever before. The RAC OS irons included a lightweight cartridge so 32g of weight could be relocated in the club head and the RAC HT's had bigger club heads and wider soles for launch and distance.
Distance irons then came to prominence in 2009 with the Burner 09' which was very popular. A year later, the Burner 2.0 irons had a super thin face and more specific weighting to add more feel and playability to the distance.
2010s
When did the TaylorMade RBZ irons come out? The TaylorMade RBZ irons launch year was 2012. The Rocketbladez's sole had a slot for greater distance and launch.
In 2014, golfers now had a choice of iron that was a middle ground for those wanting a distance iron and a players iron. It was a slim iron that still enabled maximum performance. To do so, TaylorMade redesigned the Speed Pocket so it continued through the head to the main cavity so the club head was more flexible in providing ball speed. That also allowed for a higher launch angle too.
Two years later the M2 came which set the precedent for the longest flying there had ever been thanks to a very low CG. Since then, we have seen the M1, M3, M4, M5, and M6 all with their own adaptations.
New technologies were still on the rise for TaylorMade at this time. The 2017 M2's came with Face Slot technology to help your poor shots not be as detrimental. The M3 welcomed RibCOR technology which transfers more energy to the ball to better ball speed and the straightness of your shots.
2020s
The M4 combined RibCOR and Speed Pocket to encourage face flexibility and the M5 saw the Speed Bridge come in to back up the super thin club face for more distance and faster ball speeds.
Now, in 2023, TaylorMade is only getting better using differing technologies to cater to different types of golfers in each iron. For example, the Stealth HD irons feature an ultra-low CG that progressively gets higher during the set. The irons also alter from traditional cavity backs to Cap Back Design for better forgiveness, feel, and distance.
Tips for Choosing the Right TaylorMade Iron Set for Your Game
Be Mindful of Your Handicap
Your handicap can be a good indication of what TaylorMade iron will suit you. Higher handicappers will be better off using game improvement irons that are designed for forgiveness and distance. The Stealth and the Sim Max irons are suited to beginners and high-handicappers.
If you are of a lower handicap and looking to improve the finer details in your game players irons will probably be for you. They suit those primarily looking for distance control, workability, and feel. Clubs like the P770 with longer blade length and a thinner top line will work well for you.
If you are of a higher handicap that doesn't mean you aren't allowed to look at irons to suit better-quality golfers or aspire to play with them. With your current ability, you would probably find it tougher to get the best out of them so you should suit game improvement irons more.
Don't Go Over Budget
You need to consider how much you are going to spend on new irons. You could have found a set of irons that, on paper, look and read like they will enhance your game ten folds but they cost $999 and that may be out of your budget and it is not worth going over that.
Even if it looks and feels right for you, if it is too expensive don't force it. There will be cheaper alternatives that you can buy that can be very similar. Additionally, if you really wanted a specific club but didn't want to pay the premium price, it may be worth looking at where you can get used TaylorMade clubs instead.
They Need to Look the Part in Your Eyes
If your new TaylorMade irons look the part, you will probably feel the part too. What I mean by that is if you are very pleased with the look and design of your new irons, it will bring about confidence that you are going to play well in them and enjoy using them.
For example, if you are a high handicapper and have a thick topline in your club, it may provide some comfort knowing that it is more forgiving than other clubs. This will only contribute positively to your game.
Otherwise, if you just have some irons you aren't encouraged by with a design you aren't very keen on, you may lack confidence in your setup and which could impact your swing and connection with the ball. One thing leads onto another.
Final Thoughts
Now you know about both new and old TaylorMade irons. You are aware of the history of the irons, how they have changed, and which clubs you can use to help you now.
So, whether you take away some facts to tell your golfing friends or spend more time choosing the right iron for you, we hope you have found it useful.
Perhaps we will return in another four decades to recount the TaylorMade irons by year then too…
FAQs
When Did TaylorMade Make Burner Irons?
Burner irons first came out in 1993. They were the Burner Mid Size and then came the Burner Double Oversized (1996), Burner Bubble Tour (1996), and the Burner Bubble LCG (1997). Further Burner irons were released in 2008, 2009, and 2010.
How Long Do TaylorMade Irons Last?
TaylorMade irons will last a similar length of time to other irons on the market. A rough time frame is around 8 – 12 years or 300 games of golf. The irons will last a shorter length of time if you play twice per week and if they aren't looked after too, this could impact their lifetime.