Since 1979, TaylorMade has worked to develop equipment that makes the lives of the average golfer easier. Although the company focused on metal woods initially, they have grown to possess an impressive selection of irons and drivers. A little extra forgiveness and distance around the course certainly don't hurt the game of most golfers. TaylorMade's team are masters at improving these areas, and the SIM2 Max irons are a testament to that.
Are the TaylorMade SIM2 Irons right for your game? 
In the following TaylorMade SIM2 Irons review, we'll dig into the features and benefits of this game improvement series to help you decide if the SIM2 Max irons or SIM2 Max OS is better for your game. You'll also get an insight into how the irons perform in terms of ball speed, spin, and forgiveness.
If you already know how great these irons are, check out the equally impressive TaylorMade SIM Max driver.
TaylorMade SIM2 Irons Review Verdict
Best for Mid-to-High Handicappers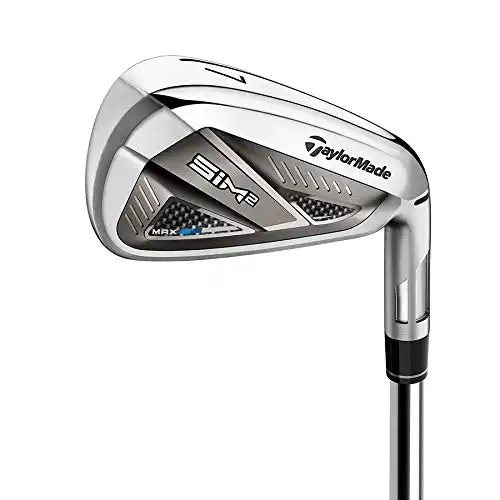 | | |
| --- | --- |
| Total Score | 87 |
| Star Rating | 4-stars |
| Distance | 92 |
| Forgiveness | 95 |
| Feel | 85 |
| Workability | 79 |
| Aesthetics | 82 |
| Price | 89 |
TaylorMade's SIM2 irons succeed the high launching, low CG SIM range.
On the surface, both editions carry the same performance features. It makes sense, considering that they were released a year after each other. However, the SIM Max 2 irons offer a superior feel to its predecessor and produce a straighter ball flight.
Like the SIM range, the TaylorMade SIM2 Max irons are available in two options, the standard irons or the combo hybrid-iron set. Both sets deliver accelerated ball speed, maximum forgiveness, and a smooth feel at impact.
The only difference is that the hybrids in the combo set feature a C300 steel face that produces straighter ball flight on heel and toe mishits.
Who Are the TaylorMade Sim2 Max Irons For?
These irons are perfectly suited for mid to high-handicap players that need more forgiveness as their swing still needs improvement. The Max OS version is even better at producing distance if this is a particularly weak point for your game. They're the best TaylorMade irons for such a player. The oversized face on this version of the irons is also more forgiving as the larger face is less punishing for off-center swings.
TaylorMade Sim2 Max Irons vs. Sim2 Max OS
| | | |
| --- | --- | --- |
|   | SIM2 Max Irons | SIM2 Max OS Combo Set |
| CAP BACK™ DESIGN | Yes | Yes |
| ECHO® DAMPING SYSTEM | Yes | Yes |
| ULTRA-THIN FACE | Yes | Yes |
| PROGRESSIVE INVERTED CONE TECHNOLOGY | Yes | Yes |
| FACE PROFILE | Standard | Oversized |
| MAX DISTANCE |   | Yes |
| CUSTOM SHAFTS & GRIPS | Yes | Yes |
| LOFT & LIE ADJUSTMENT | Yes | Yes |
| LAUNCH | MID/HIGH | HIGH |
Check the Price of TaylorMade Sim2 Max OS Irons
TaylorMade SIM2 Irons Specs
| | | | | | | | |
| --- | --- | --- | --- | --- | --- | --- | --- |
| CLUB | LOFT | LIE | OFFSET | BOUNCE | LENGTH | SWING WEIGHT (ST/GR) | HAND |
| 4 | 19.0° | 61.5° | 5.8mm | 2° | 39.125″ | D1/D0 | RH/LH |
| 5 | 21.5° | 62.0° | 5.2mm | 3.5° | 38.50″ | D1/D0 | RH/LH |
| 6 | 25.0° | 62.5° | 4.7mm | 5° | 37.88″ | D1/D0 | RH/LH |
| 7 | 28.5° | 63.0° | 4.2mm | 5.6° | 37.25″ | D1/D0 | RH/LH |
| 8 | 32.5° | 63.5° | 3.5mm | 6.3° | 36.75″ | D1/D0 | RH/LH |
| 9 | 38.0° | 64.0° | 3.0mm | 6.8° | 36.25″ | D1/D0 | RH/LH |
| PW | 43.5° | 64.5° | 2.6mm | 7.8° | 35.75″ | D1/D0 | RH/LH |
| AW | 49.0° | 64.5° | 2.0mm | 9° | 35.50″ | D1/D0 | RH/LH |
| SW | 54.0° | 64.5° | 1.5mm | 9° | 35.25″ | D3/D1 | RH/LH |
| LW | 59.0° | 64.5° | 1.5mm | 9° | 35.00″ | D3/D1 | RH |
Thru-Slot Speed Pocket
TaylorMade's engineers employed their trademark Speed Pocket technology to enhance the flex of the face. The additional flex causes your clubface to rebound rapidly, leading to maximum ball speed and forgiveness on strikes low on the clubface.
According to TaylorMade, the objective of the technology is to make the face of a long iron as fast as the SIM 2 driver.
Cap Back Design
The multi-material cap back design works alongside the speed pocket technology to optimize the rebound of the face at impact. That helps to produce rapid ball speed, which leads to added distance.
Furthermore, the lightweight Cap Back provides a support structure for the club's top line. As a result, you enjoy crisp acoustics and a smooth feel.
Taylormade SIM2 Irons Echo Damping System
Thanks to the hollow back construction created by the Cap Back design, there was sufficient space to insert the Echo Damping System.
The soft polymer blend provides multiple contact points around the face to absorb vibrations from off-center strikes. Therefore, you enjoy the feeling of a forged iron with the forgiveness of a game-improvement design.
Inverted Cone Technology (ICT)
Sir Nick Faldo describes ICT as expanding the clubface zone that delivers explosive ball speed on mishits. That means that even when you catch the ball in the heel or toe of the face, you will generate sufficient ball speed to enjoy consistent distance.
Low Center Of Gravity (CG)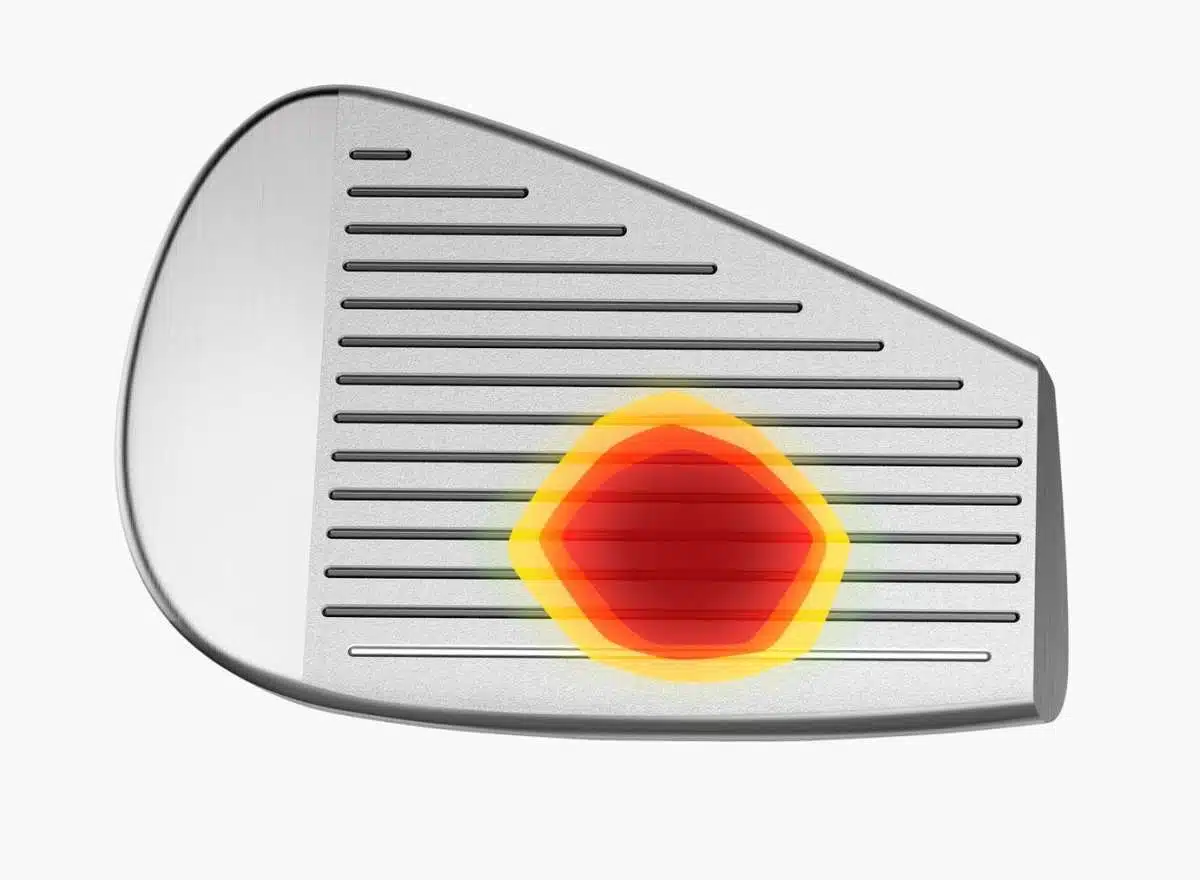 The combination of a fluted hosel, ultra-thin face, and 360-degree undercut work to produce an ultra-low and back CG. That helps you achieve a mid-to-high launching iron shot that descends upon a steep slope, resulting in superb shot-stopping qualities.
In addition, the low CG is ideal for those with slower swing speeds to consistently get their iron shots airborne.
Loft
The SIM 2 irons feature strong lofted irons, which practically give you an additional club.
For example, the 4-iron in the set contains 19-degrees of loft, which is 1.5-degrees stronger than the average mentioned by Elliot Heath of Golf Monthly. Even the pitching wedge in the set is 1-degree stronger than the.
Although the strengthened lofts are ideal from a distance perspective, the long irons can be challenging for slow-swinging players to launch.
| | | | | | | | |
| --- | --- | --- | --- | --- | --- | --- | --- |
| Iron | 4 | 5 | 6 | 7 | 8 | 9 | PW |
| Loft | 19.0° | 21.5° | 25.0° | 28.5° | 32.5° | 38.0° | 43.5° |
Shafts
The stock shafts for the TaylorMade SIM2 Max irons best suit golfers with moderate to fast swing speeds.
The graphite and steel shaft options are available in stiff, regular, and senior flex. However, you can customize the irons to add your preferred shaft. For example, if you possess a super-fast swing, you can fit them with an extra stiff flex shaft.
Conversely, if your swing is on the slower side, you can opt to play with a ladies' flex shaft.
If you struggle to launch your iron shots, your shafts might be too heavy and stiff for your swing. That means you should consider a more flexible option.
On the contrary, should you balloon your shots and generate excess spin. Your shaft might be too flexible. As a result, a stiffer shaft option will help you achieve a lower ball flight and optimal distance.
Looks
The downside of game improvement irons is that they often feature chunky profiles. It is off-putting to traditionalists and low handicappers. However, TaylorMade managed to construct a slimmer profile that is appealing at address.
TaylorMade SIM 2 Max FAQs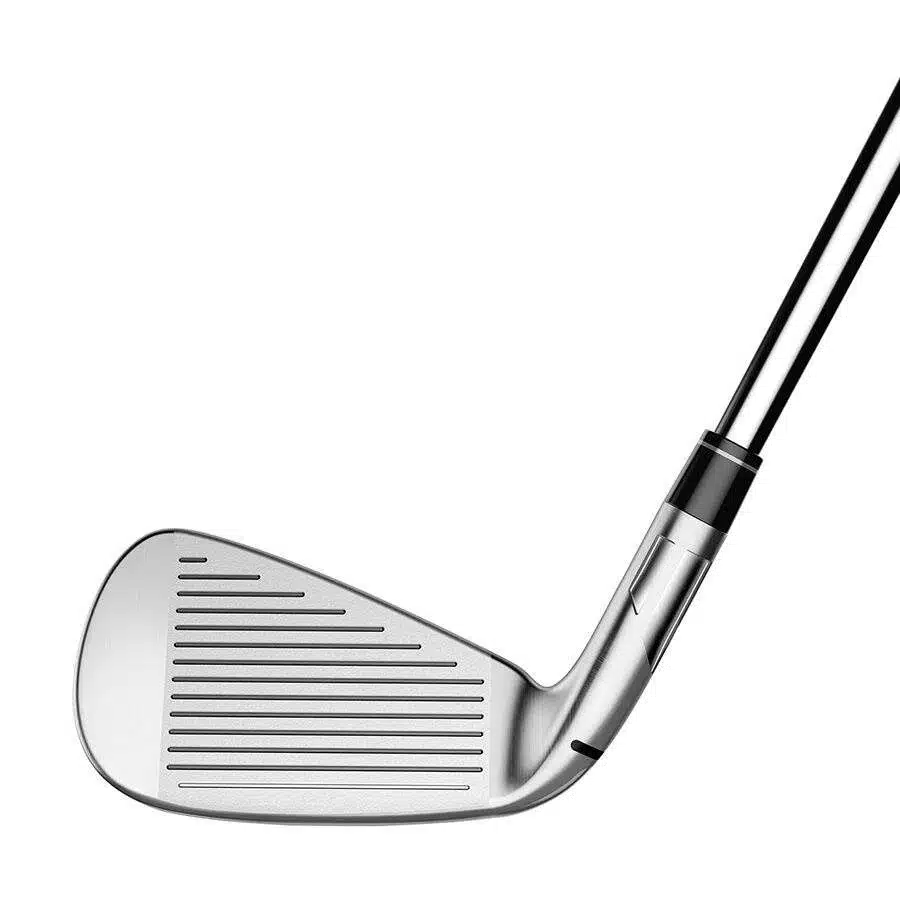 Are The SIM 2 Irons Good?
Yes, the SIM 2 irons are good. They are easy to launch, provide optimal forgiveness, and generate accelerated ball speed. These game-improvement qualities make them a suitable option for various mid to high handicappers. Check out our full TaylorMade sim 2 iron review to know more.
When Did TaylorMade SIM2 Irons Come Out?
The TaylorMade SIM2 irons are the youngest edition in the family. They first hit the shelves in 2021. One year after the SIM Max and Max OS sets were released.
Are TaylorMade SIM2 Irons For High Handicappers?
The game-improvement features of these irons are perfect for high handicappers. They provide exceptional forgiveness and produce explosive ball speed, and distance. Plus, they are easy irons to launch. All of these features combined make life easier for high handicappers.
Are  SIM 2 Max Irons Good For Beginners?
Based on the performance features mentioned in our TaylorMade sim max 2 irons review, they are a good option. However, beginners may find the SIM2 Max Combo set easier to launch.
Are Taylormade Sim 2 Irons High Handicappers?
As alluded to in our TaylorMade sim 2 max irons review, they are a game-improving set of irons, they're great for high handicappers. But, the Max OS version is the best for high handicappers.
Are the Taylormade Sim 2 Irons Forgiving?
Yes, their speed pocket, low center of gravity, and cap back design make them some of the most forgiving irons on the market today.
Are SIM2 Irons Cavity Back?
Not quite. Instead, they have a cap-back which is a polymer cap in place of a cavity. TaylorMade argues that this design makes them even more forgiving than most cavity pack designs on the market.
Taylormade SIM2 Max Irons Review – Alternatives
Taylor Made Sim Max Irons
The TaylorMade Sim Max irons still hold up pretty well compared to their newer brother. They offer enough forgiveness for most mid-handicap players to avoid trouble on the fairway.

They don't offer the same distance benefits as the Sim Max 2. Nor are they quite as forgiving.

But, the most appealing this about the Sim Max irons is their price point. You can pick up a brand new set for around two-thirds of the price of a Sim 2 Max set. And, since they're an older model, there are plenty of well-looked-after second-hand sets on the market. If you're willing to shop around, you can get them for a steal.
If you can afford the Sim 2 irons, they're a better choice, but the Sim is still worth considering if your budget is tight.
Callaway X Hot Irons
Callaway's X Hot range help mid and high handicappers optimize their iron play on a budget. They have a 5-9, PW, AW configuration. Or you can swap out the approach wedge for a sand wedge.
Beginners, seniors, or slower swingers may benefit the most from the graphite shaft version. Conversely, mid-handicappers are better suited to the alloy steel shafts.
Their design ensures a robust thin face that provides stability at impact. They offer a smooth feel and crisp acoustics. The technology also removes harsh vibrations felt on off-center strikes, preventing your hands from taking the blow.
Moreover, the experts at Callaway included a face that enables you to maximize ball speed. The leading edge of your iron functions as a hinge to enhance rebound off the face. That results in rapid ball speed and optimal distance.
Overall, these Callaway irons produce exceptional ball speed and distance while ensuring a smooth feel.
Cleveland Launcher HB Turbo
Cleveland's HB Turbo iron set is an option for maximum distance from their fairway shots. They are fast, high launching, forgiving, and provide optimal greenside control.
The core feature is the back of the clubs. You'll notice that they almost border on hybrid design. They also have enhanced face flex to enhance the sweet spot for a high level of forgiveness.
Furthermore, they have a low CG which helps to promote a high launching shot. The high ball flight leads to a controlled landing angle, equipping your ball with superb shot-stopping ability. As a result, you have a higher chance of the ball holding on compact greens.
These are the choice for high handicap players as they're some of the best golf clubs for such players, perhaps even a little better than the Sim 2 Max.
Final Thoughts On Our SIM 2 Irons Review
That wraps up our TaylorMade SIM 2 Irons review. These are game improvement irons that are packed with technology to make the game of golf easier for mid to high-handicap players.
Increased forgiveness, coupled with its impressive ball speed generation, high launch, and distance, make this iron worthy of consideration. They're a smart choice for any mid to high-handicap player that is looking to shave a few strokes off their mid-game.
If you are in the market for a new set of game improvement clubs and need extra distance, consider SIM2 Max OS Irons. in lieu of the standard Sim2 Max.
Related Posts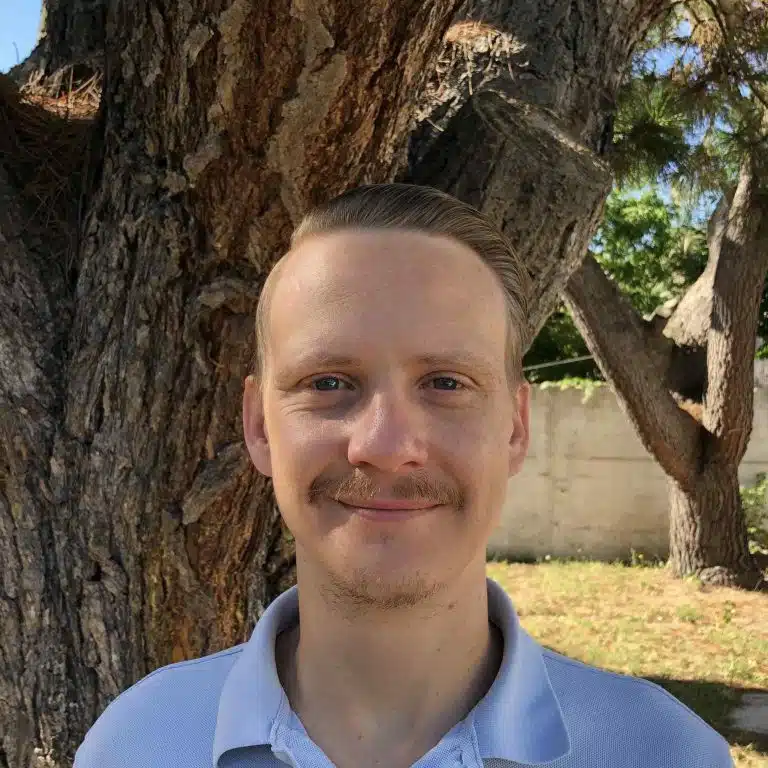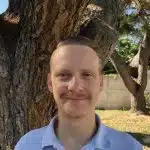 Matt is a seasoned golf equipment writer and sports fanatic. He holds a Postgraduate in Sports Marketing and has played golf for over 28 years.