If you're the kind of golfer that likes to keep up with the latest and greatest, and you're looking to spruce up your performance off the tee, then the TaylorMade SIM Max could be the driver for you. In TaylorMade SIM Max Driver Review, we'll take a dive into the finer details of this club, and see if its performance measures up to TaylorMade's promises of driving advancement.
Things to Consider Before Buying a Driver
Buying a new driver is an exciting time, but it's important not to rush straight into a decision. There are many elements that go towards achieving your ideal swing, so the goal is to find a driver that ticks enough of your own personal boxes.
Forgiveness
Arguably the most important factor of any golf club, forgiveness is the extent to which you can get away with playing mishits. Over the years, manufacturers have found clever ways of allowing their club faces to provide power and precision even on off-center hits.
Distance
We pull out the driver because we want to achieve maximum distance off the tee, so it pays to have a club that can help us explore our limits. Some drivers really are designed to take you that little bit further.
Loft and Launch
The quality of your drive depends on what exactly happens the moment when the ball is struck. The driver should offer a powerful yet controlled launch, and it should have enough loft to achieve the optimal distance.
Feel and Sound
When you first hold a driver, you should know pretty quickly if it feels right. The same goes for when you swing it: the more natural it feels, the better. Feel is something that will be personal to you, and only you can really know what's going to suit you best.
Adjustability
Most drivers nowadays come with an adjustable hosel, allowing you to slightly alter the loft of the face. Some drivers take it a step further, offering the means to adjust the center of gravity (CG) and directional settings of the clubhead. If you're the kind of player who likes to make slight adjustments to their driver from time to time, this is something to look out for.
Looks
Everyone knows that good looking drivers play better shots. Right?
Released in 2020, the SIM and SIM Max drivers are the next step on the path forged by the M drivers of previous years. The speed injected twist face technology remains, as does the MOI sole weight – only it's been implemented slightly differently this time. The focus of this review is the SIM Max, though the SIM is of course very similar, only with a smaller face and more adjustability.
Naturally, the first thing we noticed about this driver was its great looks. The bottom of the head has been cleaned up a bit since its predecessor, and the dark, metallic colors come together to form a sharp, aesthetically pleasing design.
In terms of performance, TaylorMade say that this driver is offering more forgiveness than ever before and that they have geometrically optimized the sole weight to further increase MOI. The idea is that the swing will be more aerodynamic, thus faster. It has also been designed to offer slightly higher launch conditions than previous models.
TaylorMade were pretty happy with the way the faces of the M drivers were working, and so no tangible changes have been made to the speed injected face twist technology. As we've come to expect, the ball rockets off the face, and it's been specially designed to help you out when you strike the ball on parts of the face which usually causes problems. It also sounds fantastic.
There's no denying that TaylorMade has been able to increase ball speeds over the years, but it's likely that they are now facing the problem of diminishing returns. This is a great driver, and the new sole weight seems to make a slight difference, but any improvements in performance may feel insignificant to most players.
Players who want to stay up to date with the latest in driving technology should have no qualms with this driver, and it could possess the means to give them a few precious extra yards. For others, anyone from beginners to pros could have fun with the SIM Max – just don't expect a huge leap in performance from previous models.
Features and Benefits
Asymmetrical Weighted Sole
At this point, TaylorMade is well acquainted with the weight-saving capabilities of carbon-fiber. Throughout their M series, they continued to innovate and optimize, eventually implementing the Twist Face and Speed Injection technologies. Now, moving on from the M series, their focus has shifted onto something often overlooked: geometry.
SIM, which stands for Shape in Motion, is a concept that strives to improve the aerodynamics of the entire swing – in particular, the part of the swing where drivers experience the most drag. After extensive research, including the use of some sophisticated 3D tech, they came up with a solution.
They took the same weighted sole which was used on the M6, but instead placed it at a slight angle, making it asymmetrical. According to TaylorMade, this is better equipped to serve the natural arc of a swing, whereas most drivers simply focus on speed in a straight line.
It's a very nuanced design, and if we're being honest, it's probably only going to make a difference at the highest level of the game. We did feel like our swings were slightly faster than usual, but that could have just been the placebo effect.
Perhaps more importantly, this weighted sole provides a low CG, with the majority of the weight placed right at the rear of the head, providing higher launch conditions and aiding in forgiveness.
Speed Injected Twist Face
Making its return from the previous TaylorMade M models, the Speed Injected Twist Face technology is back to continue pushing driver faces to their legal limit of ball speed. It was a success the last time, and by its very nature, it legally can't be optimised any further.
No doubt about it, this face is capable of generating some serious ball speeds, even on off-center hits. However, this technology is about more than just speed; the face has been 'twisted' to reinforce the parts of the face which typically play lousy shots, creating a highly forgiving driver. It might not be brand new, but this is a great piece of tech that's always a joy to play with.
It's also worth noting that the face of the SIM Max is 8% larger than that of the SIM; it's clear that this driver has been designed to provide maximum forgiveness.
New Cosmetics
It seems that TaylorMade have been doing some research in the cosmetics department as well as the performance optimization department. Though the looks of the SIM Max are somewhat related to those of the M models, they have, for all intents and purposes, received a bit of a makeover.
The bottom of the head looks great, sure, but the top is where the real magic happens. The silver strip alongside the TaylorMade logo works as an effective alignment tool, while the grey-tinged, chalky, chrome carbon fiber crown provides a very sleek appearance. Perfect if you want to make your playing partners jealous.
Alternatives
After reading this TaylorMade SIM Max Driver Review you think that this might not quite be the right driver for you, not to worry. Here are a few worthy alternatives which you could check out.
Coming in at roughly the same price as the TaylorMade SIM Max, the Callaway Mavrik Max is another sterling exhibition in the blending of performance and forgiveness. With a low and deep CG, and a large, low-spin face, the draw-biased Max comes packed with forgiveness, helping you to consistently achieve those beautifully arced, drawing drives.
Thanks to two movable weights, the Mavrik Max offers quite a bit more adjustability than the SIM Max. Callaway have also attempted to optimize aerodynamics with this driver, though they have taken a slightly different approach to TaylorMade. The results, however, are reportedly quite similar.
As meticulously designed as the SIM Max, the Cobra King Speed Zone has had every square millimeter of its face optimized with the help of computers and all sorts of other gizmos. The result is a high launching, tightly controlled, straight-shooting driver that is every bit as forgiving as the SIM Max.
It's slightly cheaper than the SIM Max and offers a bit more adjustability with its moveable weights.
3. Cleveland Launcher HB Turbo
Rather than focusing on extremely nuanced design adjustments which only the pros would truly benefit from, Cleveland continues to keep the realistic needs of the average player at the forefront. The Launcher HB Turbo is a straight-talking, straight-shooting driver that should tick all the boxes for a game-improver.
By not building adjustability in this driver, Cleveland were able to save some weight which they could instead place in the rear of the club head to increase stability. It is thus very forgiving of off-center strikes and generates a fair blast on impact. It's also significantly cheaper than the SIM Max.
Final Thoughts
Golf club technology continues to push forward, and TaylorMade seems to be a key pioneer. The SIM Max, with its intelligent MOI weight, tried and true speed injected face, and sharp aesthetic, is a superb driver. Those who play at a high level – who think they would benefit from just that little bit of extra MOI and clubhead speed – may find great success with this club.
Higher handicappers can also join in the fun. The clubface may be optimized for speed, but it's also been built to be as forgiving as possible, and the carefully placed CG will help you to get the right amount of loft.
If you currently play with the TaylorMade M5 or M6, don't expect a huge transformation to occur when you pick up the SIM Max – however, you can rest assured that this driver is a quality piece of kit.
After reading our TaylorMade SIM Max Driver Review you might be keen to see what the latest in driving technology has to offer, check out the TaylorMade SIM Max here.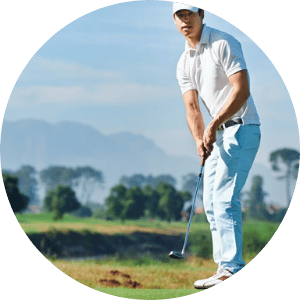 Nick Lomas is the founder of GolfSpan, an avid golfer, not quite a pro but has over 15-years of experience playing and coaching golfers from all over the world. His mission is to bring the golfing community a better experience then it comes to choosing the right golf gear, and finding the right set up for your game.