For quite a while, I've been looking for game-improvement golf clubs with strong lofts like the Cobra Radspeed Irons. But what makes them so special?
Here's a quick Cobra Radspeed irons review: The Cobra Radspeed irons have unique radial weighting, providing enhanced forgiveness and superior distance. Their consistency on off-center hits outperforms competitors, making them ideal for game improvement and all mid-high handicappers.
Finding the right set of irons can be the difference between continual improvement and getting stuck in a plateau for years in your game. But what else do the Radspeed Irons offer, and how do they stack up against the competition like Mavrik?
Read on to learn about the Cobra Radspeed Irons:
Pros and cons
Verdict
Who they're best for
Key metrics to consider
Things to consider before buying
Key features
Alternatives
FAQ
Cobra Radspeed Irons Review
Pros
Innovative 3D printed medallion design for a lighter weight
Strong loft, high MOI, and low CG maximizes forgiveness on off-center shots
Exceptional distance and higher flight of the ball
Cobra Connect shot tracking feature with analytics and GPS information
Appealing and professional appearance with a chic carbon topline
Solid feel and great speed off the face
Cons
Long iron might lack control and grip, while short ones are chunky
Lower ball spin limits the stopping power in greens, which might not suit all golfers
Verdict
Cobra has gone all out with the Radspeed Irons for its innovative and sleek design. The meticulous detail Cobra dedicated to radial weighting technology is evident – they strategically positioned weights at the club's extreme toe and heel. This innovation provides stability, reduces spin, and propels faster ball speeds.
I noticed how these irons cater to higher handicap golfers – off-center strikes will be less evident; instead, they demonstrated remarkable consistency. This feature increases the odds of making par, a key aspect for golfers trying to improve their scores.
The sleek carbon topline initially caught my attention due to its design, but there's more to it than meets the eye. It brings an aesthetic touch to the functionality of these clubs, further showcasing Cobra's commitment to both performance and style.
The Radspeed irons also boast a 3D-printed Nylon Medallion, contributing to a lightweight feel upon impact and effectively damping vibrations. I was quite impressed by the distance I could achieve, even with lower swing speeds. The forgiveness these irons offer is commendable, making off-center hits less punishing.
However, no club is perfect. One minor drawback I noticed was the sound on impact – it was slightly duller than I prefer. This, of course, is subjective and might not bother every golfer.
Comparatively, when I tested the Callaway Mavrik irons, I found the Radspeed irons to offer a bit more forgiveness, a feature invaluable to high handicappers. Yet, the Mavrik irons had an edge in feel.
Cobra Radspeed Irons: Key Metrics to Consider
To help you with more statistical analysis, I reviewed the Cobra Radspeed irons' specs and ranked its performance based on the following features.
| | |
| --- | --- |
| FEATURE | RANKING (OUT OF 10) |
| Distance | 10 |
| Forgiveness | 9 |
| Performance & Power | 8.5 |
| Feel | 8.5 |
| Workability | 8 |
| Appearance | 9 |
| Value for Money | 8.5 |
| Sound | 7 |
| Overall Ranking | 8.5 |
Who Are the Cobra Radspeed Irons Best Suited For?
The Cobra Radspeed Irons is recommended for mid to high handicappers, with its length and forgiveness as dominating features. The Cobra Radspeed is tailored just for you if you want to improve your game with consistency and greater distance.
While it is difficult to establish a definitive lower threshold for the handicap range, individuals with handicaps of 20 or higher should seriously consider using game improvement irons.
Featuring a lightweight design crafted on an intricate lattice structure, this golf club surprises you with its power. Most golfers will notice a better chance of making par with the Cobra Radspeed, especially if you want to improve your game with lower spin and greater stability.
I found the Cobra Radspeed to be exceptional in forgiveness, which is why I'd highly recommend it for golfers who want to improve their accuracy with higher launches and minimize errors in the game.
While this particular product ticks the requirements of many golfers in terms of solid feel, modern aesthetics, and a mid-high trajectory, I have to say that the Radspeed might not be a wise choice for shot shaping.
Things to Consider Before Buying the Cobra Radspeed Irons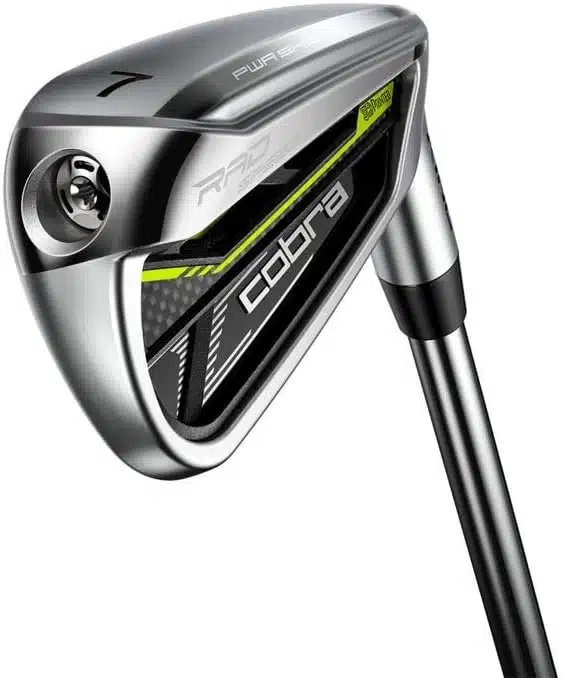 At face value, the Cobra Radspeed Iron would be your best bet if you're looking for game improvement to enhance speed, distance, and overall forgiveness with a solid feel. Before investing in this set, you should be fully apprised of all the features and setbacks.
The Radspeed Irons are crafted to provide impressive power and distance, so if a golfer is seeking to extend their shot range, these clubs could be an excellent option. The 3D-printed medallion incorporated in the design and the overall aesthetics contribute to a superior feel, which can significantly affect the golfer's performance and enjoyment.
Cobra Radspeed irons boast high forgiveness, which is suitable for golfers who want to maintain their performance even on less accurate shots. However, golfers who prefer traditional loft configurations might need to adjust their play style or choose another model. Why do I say this?
They have stronger lofts and generate lower spin, which might affect stopping power on greens. If the sound is a factor that affects your concentration or enjoyment, you might want to consider the loud-pitched noise too.
The club comes with a thick Lamkin grip, essential to reduce vibrations, but if you're accustomed to thinner grips, you might have difficulty using the Cobra Radspeed. Those who value clubs with a more traditional design or higher spin might consider other options like Callaway APEX or TaylorMade Stealth, which might provide similar distance and forgiveness but with a more traditional feel and aesthetic.
Lastly, it is essential to consider the price point, which is often the make-or-break factor in a decision. Based on my judgment, these irons offer a competitive price for their features, but I'd advise potential buyers to go with their budget and weigh the cost against their specific needs and preferences in golfing.
Comparing the Cobra Radspeed irons review to other popular options in the market can give a better idea of the price value.
Features of Cobra Radspeed Irons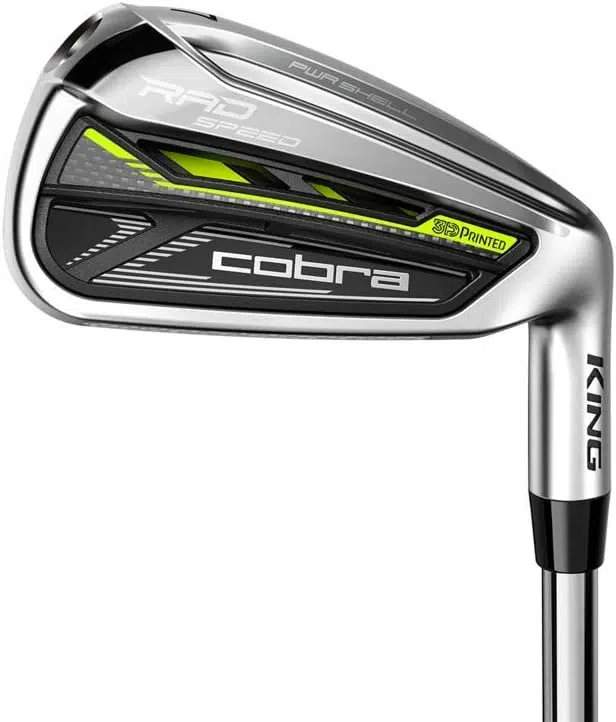 Let's dig into the promising features that distinguish the Radspeed irons review from the rest.
The overall performance, aesthetic appeal, and innovative technologies in the Cobra Radspeed Irons make them a worthy consideration for golfers looking to enhance their game.
Innovative Radial Weighing
The major perk that comes alongside the 3D Medallion printing is a smart yet complex design that increases ball speed, reduces spin, and enhances stability. The Radial Weighing technology concentrates weights on the toe and heel of the iron to lower the center of gravity while increasing the moment of inertia.
By optimizing the placement of weights, Radspeed achieves faster ball speed and maintains forgiveness, resulting in enhanced stability with reduced spin.
Sleek Carbon Topline
The Cobra Radspeed is not all looks and appearances. While the carbon line has become a crowd favorite due to its thinner impression, it serves a dual purpose. Cutting down on weight further augments the CG's lowering and creates an illusion of being thin.
Aside from the standard-length version, Cobra offers a customizable length option for their irons. This variable length design includes progressive head shapes, grooves, and hosel lengths optimized to improve launch conditions as per your preference.
Flexible PowerShell Face
Crafted with robust stainless steel, you'll feel the power and durability as you get your hands on the Radspeed iron. This increases the flexibility of the face with a larger pocket from toe to heel and a deeper undercut to favor higher velocity and launch.
Convenient Arccos Sensors
Cobra has gone the unconventional way with this AI-powered feature suitable for serious golfers. Arccos sensors are small devices attached to the bottom of golf grips. They provide smart distance calculations and map overlays for your rounds, breaking down estimated distances for each club.
The overlays help track your shots and improve your approaches. The Arccos Caddie app uses this data and GPS to determine where each club was used on the course.
To ensure accuracy, it's important to have sensors on most of your clubs and keep your phone nearby during play. Worth the hype!
Alternatives To The Cobra Radspeed Irons
If you're not entirely convinced by my Cobra Radspeed iron review, here are some other mention-worthy products that could fit your requirements.
As a successor of the Cobra Radspeed, it is self-explanatory to see the Cobra LTDx with improved features. Offering better value for the price will delight you if you're looking for the lowest spins and even greater lengths with higher speed.
As the name suggests, the LTDx claims that this model featured the longest total distance xtreme off the tee, so that's something to look forward to. With a newer construction interface of carbon fiber, aluminum, and titanium, the weight of this golf club is considerably reduced to give even faster speeds.
Another competitive name in the golf world, TaylorMade SIM2 Max irons, will be a popular choice among golfers looking for a fast swing. These irons, specially designed for mid to high-handicap players, offer increased distance and precise control.
This game-improvement iron helps you improve consistency and accuracy, all while maintaining reasonable stopping power. Also, forgiveness is the highlight of this model, which is pretty much similar to the Cobra Radspeed irons.
The Callaway Mavrik Irons offer a superb alternative to the Cobra Radspeed irons. With their AI-crafted design, these irons assure optimal weight distribution and a high MOI for a perfect balance in each shot.
The Mavrik irons also feature a 360 Flash Cup face, which is ultra-thin for superior ball speed, and a vast, flexible sweet spot that provides remarkable forgiveness. Add to that the urethane microspheres on the back that dampen vibrations upon impact, and you've got a set of irons that are tailored for distance and perfect for golfers of all skill levels.
FAQs
What Handicap Is the Cobra Radspeed Irons Suitable For?
The Cobra Radspeed irons specs are designed for mid-high handicaps who play off a 15 or above. For high-handicap golfers, the primary focus should be to maximize distance and forgiveness. Minimize the impact of mishits or poorly struck shots by prioritizing these factors. The Cobra Radspeed features create an improved feel, which are key factors in improving ball strikes.
Is the Cobra LTDx Better than the Radspeed?
Yes, the LTDx is better than Radspeed Irons. While both cater to high to mid-handicappers, the LTDx offers longer shots and more forgiveness. Its milled face ensures spin control and stability. Despite its perks, the Radspeed provides fast speeds and long distances, suitable for beginners. This is true for both the driver and the iron.
Final Thoughts
With all the technology packed into the Cobra Radspeed Irons, I'd highly recommend them to golfers looking for game improvement. This Cobra Radspeed irons review was all about distance and forgiveness, contributing to making it a popular choice among beginners or high handicaps who want to enjoy themselves in practice.
Performance-wise, they deliver just as they claim to. By correcting poor swings, the Radspeed enhances the ball's trajectory, enabling it to travel straighter and faster than its natural route.
The low CG and high MOI contribute to achieving what they claim; high launch, low spin, and fast speed. Overall, I was impressed by the feel and design, with due credit to the innovative 3D medallion printing. The Cobra Radspeed is worth a try if you can tame it.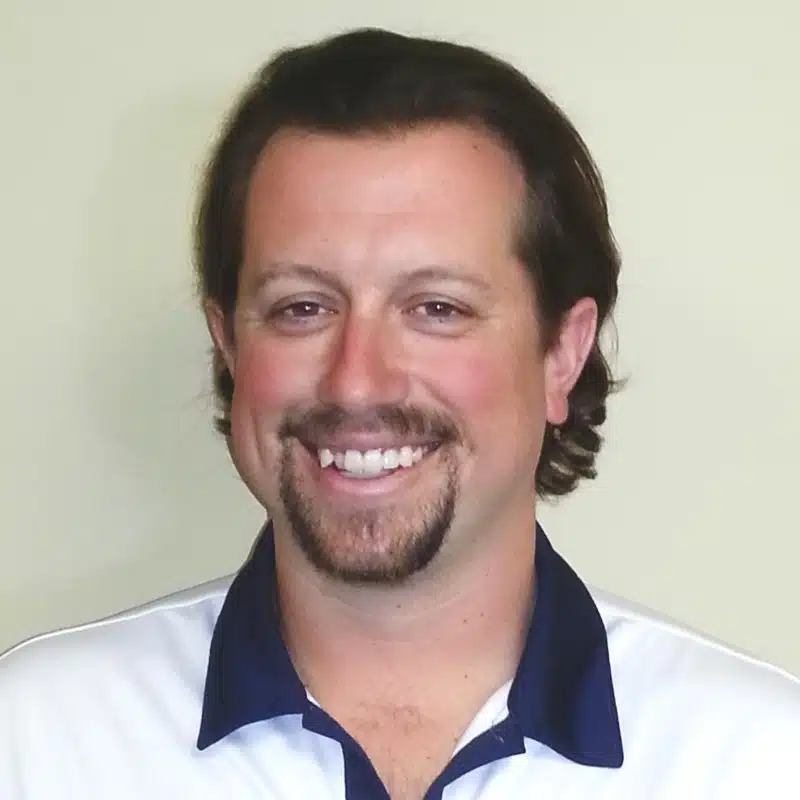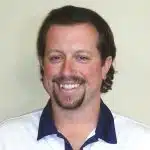 Clint became the Head Teaching Professional at one of Toronto's busiest golf academies and was featured on Canada's National Golf TV program, "Score Golf Canada," twice. He now tests and reviews golf equipment and gets to enjoy the game he loves whenever he wants while helping people lower their scores.