Titleist recently launched its latest addition to the T series irons in 2022. Introducing the T400 irons, Titleist claims that these are the longest-distance irons that provide maximum distance gains, especially for high-handicappers and players struggling with slow swing speeds. How accurate are these claims? Find out in this Titleist T400 review.
The Titleist T400 irons help golfers achieve great distances and are easy to hit. Their thin L-Face and hollow construction design ensure speed and accuracy even on mis-hits. The strategic tungsten weighting lowers the center of gravity, resulting in an impressive launch and increased distance gains.
The T400 irons perform spectacularly on the course. They deliver incredible yardage gains. And the remarkable forgiveness of these clubs ensures that even mis-hits maintain speed and direction. But are these irons worth the steep price tag?
In this review, I will dive into the depths of the T400 irons and discuss all the features and drawbacks. Keep reading to find out more about the latest Titleist irons made for beginners.
Overview of the Titleist T400 Irons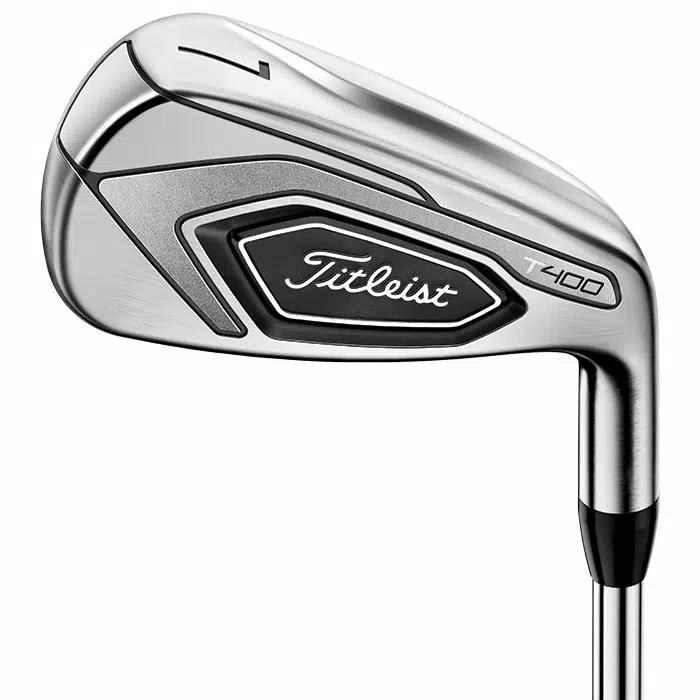 I've discussed the pros and cons of the T400 irons below.
Pros
Extremely forgiving
Long and straight
Excellent distance gains
Instant feedback on every shot
Solid feel
Easy to hit for golfers with slow swing speeds and seniors
Cons
Difficult to hold the green with short irons because of a lower spin
Expensive
Titleist T400 Rating
These are my ratings for the Titleist T400 irons.
Note: All ratings are out of 100.
| | |
| --- | --- |
| Overall | 90 |
| Star Rating | 4.5 out of 5 |
| Distance | 95 |
| Forgiveness | 90 |
| Feel | 90 |
| Workability | 75 |
| Aesthetics | 93 |
| Price | 80 |
Keep reading to learn more about the Titleist T400 irons and who should buy them.
Verdict
The Titleist T400 irons are one of the longest irons by Titleist. This is the first time Titleist has moved away from Tour irons and produced something for beginners and 'less experienced' golfers.
They're designed to offer high-launch, maximum forgiveness, and distance, especially for golfers with slower swing speeds.
They feature a super thin L face to preserve speed on mishits and strategic tungsten weighting in the toe and heel to increase the launch and deliver distance gains. Moreover, the hollow construction increases the MOI and offers maximum forgiveness across the entire clubface.
These top-notch Titleist irons deliver longer carries without compromising on forgiveness. They also feature a satin chrome finish that further adds to its appeal.
While reviewing it, I was blown away by the distance gains, even on mis-hits. The ball traveled far and straight on off-center shots, too!
But remember that these are premium irons that are extremely expensive! So, ensure they fit your budget and won't break your bank.
Although I'm thoroughly impressed with the consistency delivered by the T400 irons, I'll probably not use them myself due to their low spins. As a mid-handicapper, I'd like more spin and shot-shaping abilities with my irons.
However, these may be the right pick for golfers who need help with launch, ball speeds, and distance gains. I'd highly recommend you get a customized fitting to get the best out of these irons.
Who Are They Best For?
The Titleist T400 irons are ideal for high-handicappers and golfers with slower swing speeds. Their handicap range is 15-30.
Considering the high lofts of the T400 irons, it's very clear that these are designed to deliver distance! So, for players with slower swing speeds who struggle with distance, the T400 irons are a great option.
These irons also feature graphite shafts for golfers with a slower swing speed. Senior golfers who've lost their swing speeds over the years may be able to get some of it back by switching to the Titleist T400 irons!
Read More: The Best Titleist Irons
Why You Should Trust Us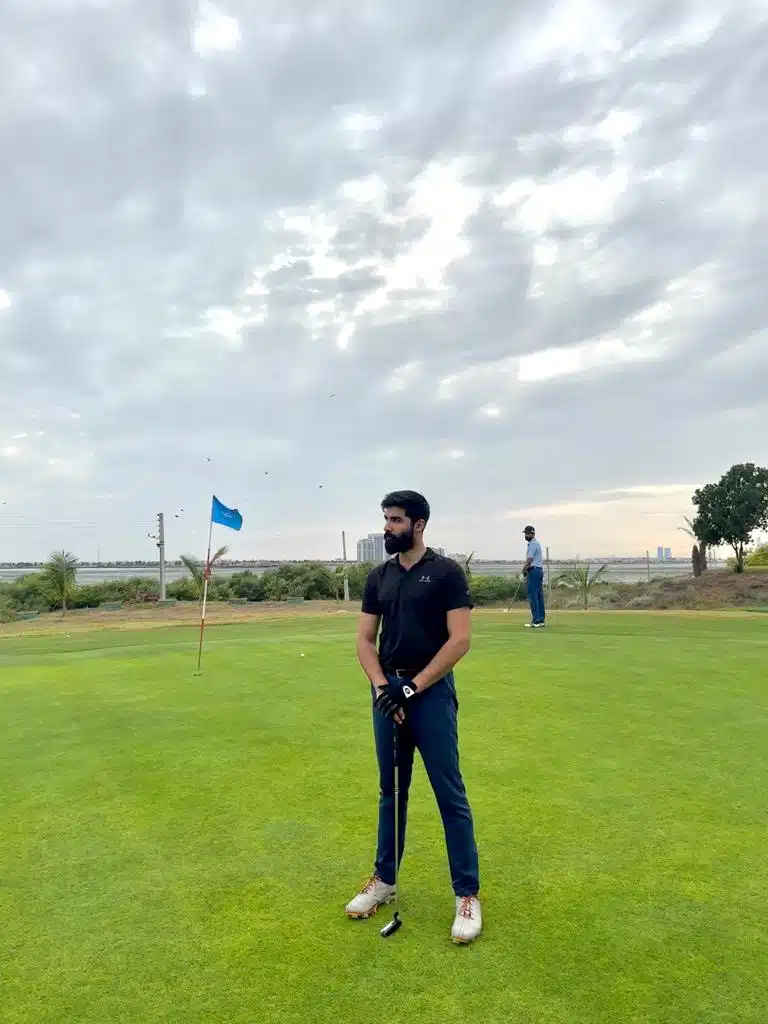 Our team spends thousands of hours trying out and researching golf equipment to help you take your game to the next level. Here's our product review process.
We can bring these reviews to you through the small commissions we earn if you buy through the links below.
How We Reviewed These Products
Golfspan only shares equipment and brands we trust.
I've played golf for over 5 years, usually every other weekend at the Karachi Golf Club. To write this review, I tested these clubs at my local golf shop to write this review. I also polled my team at GolfSpan for other experiences with them. Finally, I reviewed the latest reviews on online retailers and social media.
Here are the criteria that I considered for the Titleist T400 Irons review:
Cost
Distance
Forgiveness
Feel, Appearance & Sound
Launch
Things to Consider Before Buying Titleist Irons
Before purchasing the Titleist T400 irons, you should consider a few things.
Budget— The T400 are premium irons that are very expensive. So, ensure these fit your budget and won't be too heavy on your pocket.
Skill Level— The T400 Irons are designed for high handicappers and golfers with slower swing speeds. So, if you fall into this category and struggle with generating distance and forgiveness, these irons may be an excellent fit for you.
Playing Style— Evaluating your style and preferences is essential when picking new irons. The T400 Irons are known for their forgiveness, high launch, and straight-ball flight. So, if these are the characteristics you want in your new set of irons, the T400 may be a good option.
Current Irons— If you're a beginner with advanced irons, you might want to switch to golf irons for beginners. The same goes for the other way around. Golf irons are made to last a lifetime. Compare your current irons with the T400. Feel free to get the latest ones if you feel a significant difference.
Titleist T400 Review — Performance Analysis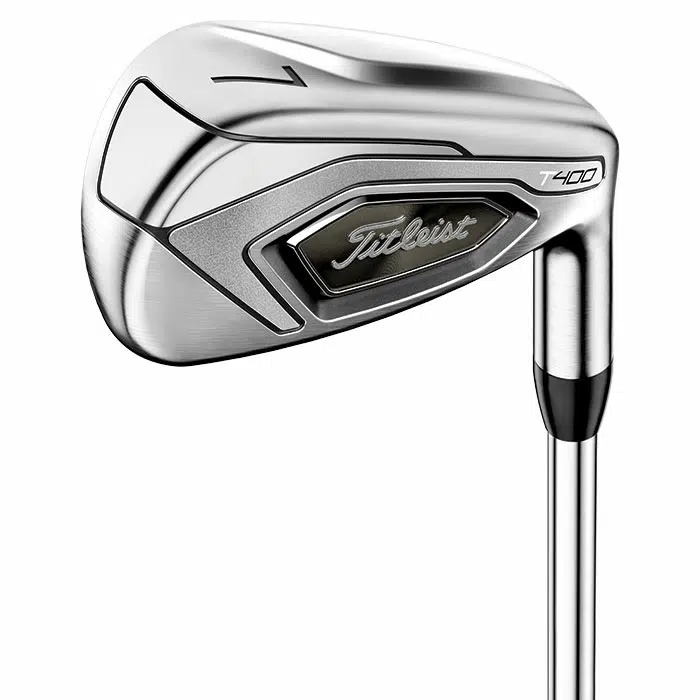 Titleist launched its latest addition to the T series irons, the T400, in 2022. These are "super-distance" irons designed to deliver extreme distance gains and maximum forgiveness on mis-hits.
The irons are great for beginners and golfers with moderate swing speeds.
I've thoroughly evaluated and researched the Titleist T400 irons to know more about their performance on the course.
Keep reading to learn how the T400 performed on the course regarding distance, forgiveness, and playability.
1. Distance
Let's make one thing very clear— these irons are exceptionally long! They're designed to provide spectacular distance, which makes them a standout option for those wanting to hit the ball far.
When compared to the T300, the T400 offers even more distance gains. The average player may gain up to 7-9 yards with these irons. And trust me, that's a lot!
The launch height gained by both the T300 and T400 is similar. However, the T400 generates more ball speeds and allows your ball to travel farther.
One major drawback is that the T400 iron has reduced stopping power. So, if you're already struggling with holding the green, you might need other irons with greater stopping power. The Mizuno JPX923 Hot Metal irons are a great option in that case.
Read More: Titleist T200 Iron Review
2. Forgiveness
The T400 irons offer great forgiveness. In the 5-7 irons, a thin L-Face and a hollow body design maximize ball speeds, even on mis-hits.
When it comes to the T400's smash factor (which measures the efficiency of the energy transferred to the ball on every strike), the T400 irons perform exceptionally well.
You can expect a smash factor of 1.43 or higher unless you make a bad swing. As irons that are designed for game improvement, this is impressive.
The T400 irons are even more forgiving than the T300. They're better able to preserve the distance and direction on off-center shots.
While reviewing the irons, I found they're least forgiving on the toe's end and the face's upper part, but only relative to the other regions of the clubface. The difference is really small!
3. Spin
The T400 generally lacks spin. This is great for players looking for maximum distance gains and reducing wayward shots. However, the lower spin reduces the stopping power of the ball and may make holding the green a little harder.
The Cobra King Forged TEC may be the right pick for players looking for more spin. These mid-spin irons provide more spin, a soft, buttery feel, and crisp acoustics. However, remember that since they're mid-spin irons, they won't offer as much forgiveness and distance as the T400.
4. Playability And Trajectory
The T400 irons produce a mid-high trajectory, with the ball traveling far and straight.
The strong loft of the T400 5-7 irons may make you think they will deliver lower trajectory shots. However, Titleist has tackled this with the tungsten weighting, which counteracts the strong loft and produces a higher launch.
The strong lofts may become an issue with the shorter irons. While evaluating them, I discovered that holding certain greens may be more challenging, especially if they're elevated or short.
You might need some practice to control your distance and landing on these types of greens with the T400 shorter irons.
As far as workability goes, the T400 irons aren't very workable. They're targeted toward beginners and don't give you much shot-shaping power. You can only expect to get slight fades and draws with them.
5. Sound
The T400 is quite different from traditional Titleist irons. It produces a loud sound on impact due to its hollow-head construction. The impact creates a distinct "clap," which I found slightly different from other Titleist irons.
As a bonus, the irons are incredibly forgiving and help minimize the negative effects of small swing mistakes. However, if you make bigger mistakes, you'll notice a distinct difference in the sound and feel of impact.
I find this helpful in understanding how well you've hit the ball and identifying areas for improvement in your swing.
Features of the Titleist T400 Irons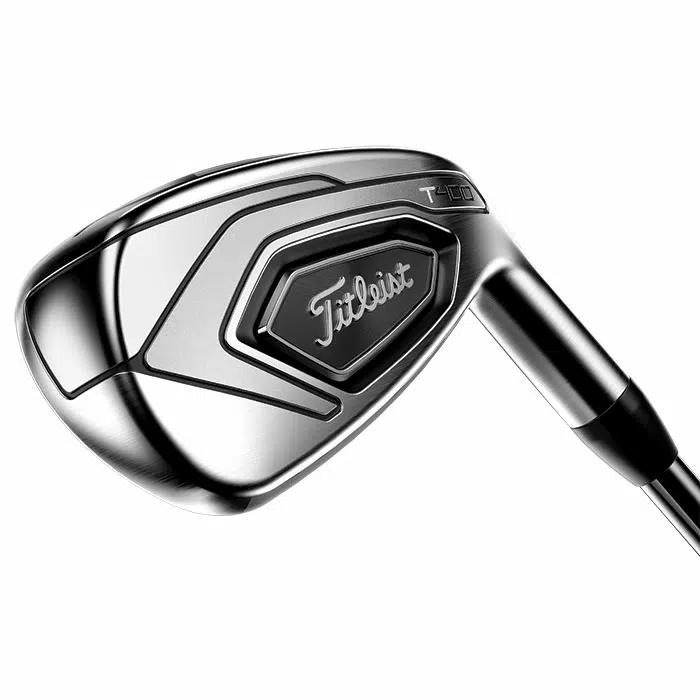 Below is a list of all the features of the T400 irons.
1. Super Thin L-Face
The Titleist T400 5-7 irons feature a very thin L-Face insert to maximize energy transfer to the ball on every hit.
This L-Face insert sits at the clubface's lower edge and wraps around the sole to preserve ball speed even on shots hit low on the face.
As someone who struggles with low-face shots when playing with low irons, I see my iron striking improve with the T400.
2. Strategic Tungsten Weighting
The T400 irons feature approximately 100 grams of tungsten strategically placed in the 5-7 irons' toe and heel.
Through this strategic tungsten weighting, Titleist has lowered the center of gravity, increasing the launch and, consequently, the distance gains!
The higher flight trajectory gives you more control and helps your ball hold its position on the green instead of rolling too far off.
3. Hollow Construction
The T400 iron's hollow construction design offers significant weight reductions. This saved weight is strategically redistributed to increase the MOI and maximize forgiveness across the entire face of the club.
While reviewing the T400 iron, I discovered that even mishits fly straighter and longer than usual mishits.
4. Split Sole Design
The T400 iron features a unique design, the Split Sole, to maintain excellent distance and forgiveness while providing a more refined feel when interacting with the turf.
The Split Sole design helps the irons glide smoothly through the grass on every strike, making it easier to hit the ball accurately from different lies or positions on the course.
The Split Sole design is not magic, and it won't make the course feel like a practice mat, but it provides consistent results that improve your overall performance.
5. Stock Info
The T400 iron is offered in a wide range of options, starting from the 5-iron and extending to the 55° wedge.
The standard T400 set includes irons from the 6-iron to the gap wedge (GW). However, you can also purchase individual irons and get a customized set.
The irons in this T series come with two featured stock shaft options: the Mitsubishi FUBUKI MV 50/45 (high launch, graphite) and True Temper AMT Red (mid-high launch, steel).
The Mitsubishi shaft offers a higher launch, making it ideal for players seeking maximum distance gains. As for the True Temper AMT Red, its mid-high launch provides a good balance between distance and control, making it ideal for players struggling to get their flight trajectories right.
For the grip, the T400 iron comes with the Golf Pride Tour Velvet 360 stock grip. It's a popular choice amongst golfers of all skill levels, providing a comfortable feel and secure traction.
Titleist T400 Specifications
Here are the Titleist T400 specs from our Titleist T400 iron review.
| | | | | | | | | | |
| --- | --- | --- | --- | --- | --- | --- | --- | --- | --- |
| Club | 5 | 6 | 7 | 8 | 9 | PW | Wedge 1 | Wedge 2 | Wedge 3 |
| Lofts | 20° | 23° | 26° | 29° | 33° | 38° | 43° | 49° | 55° |
| Lie | 62° | 62.5° | 63° | 63.5° | 64° | 64° | 64° | 64° | 64° |
| Length | 38 in | 37.5 in | 37 in | 36.5 in | 36 in | 35.75 in | 35.5 in | 35.5 in | 35.25 in |
Alternatives to the Titleist T400 Irons
If the T400 irons don't fit your budget or you're looking for something with a little more versatility, here are options you could consider.
The Mizuno JPX923 provides a spectacular blend of ball speed and forgiveness.
With an 8% thinner and 35% stronger metal face, the Mizuno JPX923 has increased MOI and offers maximum forgiveness over a larger portion of the clubface. Moreover, its Deep CG design increases launch and gives you more control over the flight trajectory.
These irons are incredibly versatile and offer spectacular shot-shaping abilities! Their consistent performance and maximum forgiveness make them ideal for mid to high handicappers.
Pros
Aesthetic looks
Holds the green exceptionally
Excellent forgiveness
Fast but controlled feel
High launch angles
Cons
Does not offer significant gains over the older model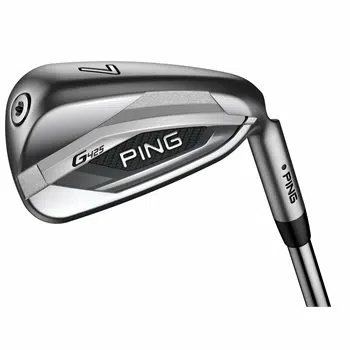 PING launched the G425 irons in 2021, and these are some of the best game-improvement irons of the year.
The G425 irons are stacked with features that can help the average golfer. These irons are a great alternative to the Titleist T400 irons.
Read our complete PING G425 Irons review here.
Pros
Fast ball speeds
Ideal amount of forgiveness
Great shot-shaping ability
High launch angles
Cons
Slightly expensive
Less roll, which impacts distance
The TaylorMade P790 irons are one of my favorite irons by TaylorMade. These irons look absolutely beautiful and have a balanced overall performance.
Although these are players distance irons, we can still compare them with the Titleist T400 if you're an experienced golfer and you're confused between the two.
You can read our complete review of the P790 irons here.
Pros
A thicker topline that helps the average golfer
Lower spin rate
Soft feel
Great overall performance
High launch angles
Cons
Thicker topline is not for low-handicapped golfers
Sound of mishits isn't pleasing
Final Thoughts
The Titleist T400 irons reviews are coming in, and they're great! These super distance irons are designed for beginners and golfers with slower swing speeds that need more speed and distance boosts.
One thing that I can tell after this Titleist T400 review is that these are some good-looking and great-performing irons for slow-swing golfers.
They've got a great balance of ball speed, distance, and forgiveness. The irons lack spin and workability, but that's not a focus for new golfers.
In my opinion, the trade-off is worth it for high handicappers. Overall, if you want to add distance and consistency to your shots, the Titleist T400 irons deserve serious consideration. If I were new to golf and had a deep pocket, this would be my go-to irons.
FAQs
What Is The Difference Between Titleist T300 and T400?
The T400 irons are Titleist's super distance game-improvement irons with extremely strong lofts and maximum distance gains. They are designed for high-handicappers and players with slower swing speeds. Additionally, these irons have a larger head with increased MOI and maximum forgiveness.
The Titleist T300 doesn't have as strong lofts. These irons are designed for mid-to-high handicappers and players with moderate-to-high swing speeds.
Does Titleist Make Good Irons?
Titleist have been making premium golf irons since 1970. Several pro players, including Patrick Cantlay and Jordan Speith, use these irons. Apart from tour players, Titleist also makes spectacular irons for mid-handicappers, such as the Titleist T200 irons, and high-handicappers, such as the Titleist T400 irons.

As a skilled golfer and wordsmith, Abdulmoiz brings a fresh and engaging voice to the golfing world. Whether he's on the course or at the keyboard, he strives to improve and inspires others to do the same.