PING has been known to ship out high-quality golf products, and it seems that the i59 is here to stay. These irons feature a sleek, blade-style design incorporating advanced technology to deliver greater accuracy, distance, and control on the course.
We were excited to put them to the test and see if they live up to the hype. In this PING i59 review, we'll break down the irons' specs, provide a performance ranking table, and share our detailed i59 review of their pros and cons.
PING i59 Irons: Pros and Cons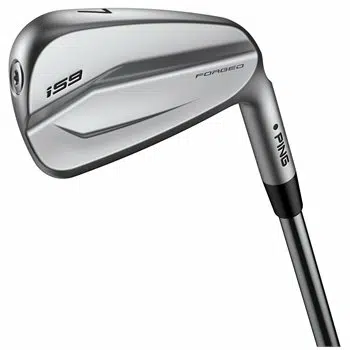 PING i59 irons have numerous advantages that make them stand out from other irons on the market.
Pros
Unmatched feel and feedback due to the proprietary hydropearl 2.0 finish and precise milling of the grooves
Consistent and accurate shots even on off-center hits, thanks to the tungsten toe weighting that increases MOI
High level of customization options, including a variety of shafts and grips, as well as the option for custom fitting to optimize performance and feel
Top-of-the-line forged 1025 carbon steel construction provides exceptional durability and a smooth feel at impact
Cons
Not meant for mid-high handicappers
On the high end of the price scale
PING i59 Irons: Performance Ranking
We know some like numbers, so our group of experts rated the PING i59.
| | |
| --- | --- |
| Factor | Rating (out of 100) |
| Forgiveness | 80 |
| Sound | 90 |
| Distance Control | 85 |
| Workability | 90 |
| Feel | 95 |
| Ball Flight | 90 |
| Design | 95 |
| Price | 75 |
PING i59 Irons Specifications
| | |
| --- | --- |
| Specification | Detail |
| Club Type | Iron |
| Lie Angle | 60.5°-63.5° |
| Shaft Material | 17'4 Stainless Steel |
| Shaft Weight | 30g |
| Flex Options | Regular, Stiff, X-Stiff |
| Grip | Golf Pride Tour Velvet 360 |
| Club Length | Standard |
| Set Composition | 3-PW |
| Head Material | Forged 1025 Carbon Steel |
| Finish | Hydropearl 2.0 |
Is It The Right Choice For You?
When it comes to selecting the perfect golf iron, there is no one-size-fits-all solution. The PING i59 iron set is an excellent choice for intermediate to advanced golfers who demand premium quality, exceptional feel, and outstanding performance from their irons. However, it may not be the best option for beginners or high handicappers.
If you're a golfer who loves the sleek design of the i59 irons and appreciates the excellent control and precision they provide, then this set is undoubtedly worth the investment. With its hydropearl 2.0 finish and MicroMax grooves, the i59 irons deliver outstanding performance and offer a solid, crisp sound on impact.
On the other hand, if you're new to the game and still developing your swing, the i59 irons may not be the best option for you. They require a certain level of skill and experience to use effectively, and mishits can be more punishing than with more forgiving irons. Additionally, the price point of the i59 irons may be a barrier for those on a tighter budget.
Of course, you can still opt for it, but we'd highly recommend getting a cheaper one to train on. You might also want to check out the best PING driver around in this regard.
[Check Price & See User Reviews Here]
How We Tested The PING i59 And Why Should You Trust Us?
When it comes to buying new golf equipment, trust is everything. And we totally get that. That's why we don't take our product testing process lightly.
For the PING i59 irons, we went all out and tested them for different factors, including accuracy, distance, feel, forgiveness, and even sound. We then pitted the results against other top contenders in the market to give you an unbiased rating for the product.
With our rigorous testing process and expert input, we firmly believe that our review of the PING i59 irons is a trustworthy resource for any golfer on the hunt for new irons.
PING i59 Review—Here's What Our Experts Found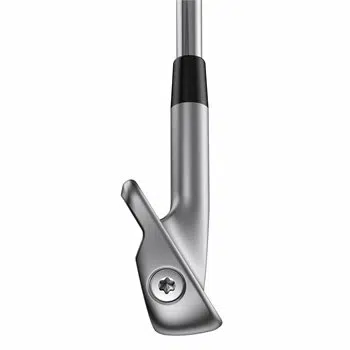 The PING i59 is one of the top contenders from 2021 for the best PING iron around. Let's see how it stacks up in the different facets.
Design and Construction
The PING i59 irons 2023 epitomizes precision and elegance, designed for better players who crave control over their shots. The i59s' sleek and compact look is pleasing to the eye, and its hollow head with an aluminum core allows for a better feel.
From what we observed, the groove configuration boasts four more grooves than the previous iBlade model, and the shorter white bottom groove frames the ball well, enhancing focus and confidence at the address.
Although the i59 irons' offset, blade length, and bounce angle remain the same as the previous iBlade model, the sole width has been reduced for a more compact look that will appeal to discerning players who demand precision.
The i59 irons also feel more solid and springy, delivering a slightly louder, more pingy sound thanks to improved consistency across the face, leading to more accurate approach shots.
Features and Performance
Let's dive into the meat of the matter: the features and performance of the PING i59 irons. The i59 irons are loaded with some serious technology, including a hydropearl 2.0 finish and precision-milled grooves. So, what does that mean for your game?
For starters, the hydropearl 2.0 finish is designed to repel moisture and reduce friction, which means less spin and more distance. And the MicroMax grooves heavily increase spin and control, even on off-center hits.
But let's not just take PING's word for it. We put these irons through their paces on the fairway, in the rough, and on mishits, and we were seriously impressed. These irons are forgiving, accurate, and long. They're easily one of the best distance irons of 2023.
Feel and Feedback Of The i59 Irons
The feel and feedback are crucial factors that affect your shot and confidence level. And when it comes to the Ping new irons 2023, both of these features are hard to ignore.
The feedback you get from the i59 irons is excellent. The impact sound is crisp, pleasing to the ear, and gives you immediate feedback on how well you've hit the ball. And with minimal vibration, you won't feel any discomfort even if you hit the ball hard.
Similarly, the feel of the new Ping i59 irons is unique and different from other irons on the market. The blades are thin, and the sweet spot is smaller than other irons, but this doesn't mean they're difficult to hit. Instead, they're designed to give you more control and a better sense of the ball's position on the clubface.
Forgiveness and Playability
The Ping i59 irons are quite decent in terms of forgiveness, thanks to their MicroMax Grooves. However, it isn't known for that purely. This is because the club is meant for better ball control and workability, which means they are not as forgiving as some other game-improvement irons on the market.
In terms of playability, the i59 irons offer a lot of versatility. They're suitable for various shot types, from low punch shots to high, soft landing shots. Their tungsten toe weighting provides an optimal balance of high launch and low spin, making it easier to get the ball airborne and fly it straight.
That being said, it's worth noting that forgiveness and playability can vary depending on the golfer's skill level and swing type. While the i59 irons are designed to be versatile, they may not be the best golf irons for those who struggle with a particular swing type or who are just starting with the game.
Customization Options and Fitting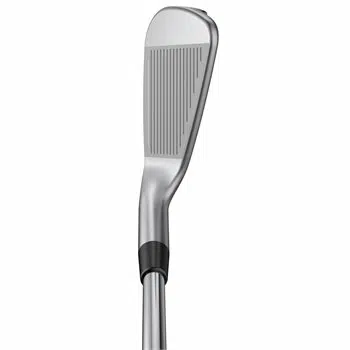 One thing that we really love about these irons is their perfect fitting. The Ping i59 iron has several customization options, including shafts, grips, and lie angles.
The importance of custom fitting cannot be overstated in optimizing the performance and feel of your golf clubs. For instance, if the lie angle is too upright or too flat, it can result in a slice or hook.
The PING i59 irons come with a standard lie angle of 62.5 degrees, but it can be adjusted according to your height and swing style.
Shaft options are also critical in custom-fitting your golf clubs. The Ping i59 irons come with either the Dynamic Gold 120 or the Project X LZ shafts. Both shafts are high-performing, but they have different weights and stiffness.
The Dynamic Gold 120 is heavier and stiffer, providing more control and stability for your swing, while the Project X LZ is lighter and more flexible. This can amp up the distance that the ball travels.
In terms of grip customization, the i59 is geared up with the Golf Pride Z-GRIP, which offers excellent traction and feel. However, if you prefer a different type of grip, you can have it replaced with your preferred grip.
Sound
The sound may not be as crucial as forgiveness and other aspects, but when you're paying around $1500 for a club, you deserve the best.
The PING i59 irons feature a soft, muted sound that many golfers find appealing. This is partly due to the club's 1025 carbon steel construction, which provides a more refined and subtle sound than other materials.
Price
The PING i59 price is definitely on the higher end of the spectrum. However, this is to be expected given the premium materials and advanced technology used in their design and construction.
The price point may only be acceptable for some golfers, but those who are serious about their game and willing to invest in top-of-the-line equipment will likely find the PING i59 irons a worthwhile investment. Currently, these clubs cost somewhere between $1500-$1800.
[Check Price & See User Reviews Here]
Alternatives To PING i59 Irons
The set is designed with a progressive set technology and features a multi-material construction that provides a combination of playability and forgiveness. The irons have a thin top line and thin sole for better turf interaction and a more penetrating ball flight, allowing for precision and control.
The longer irons have a tungsten weight in the toe for increased forgiveness and the shorter irons have a slight offset for improved accuracy. The faces have been precision milled for improved performance, even on off-center hits.
Ensure the set includes Vokey Wedges for better spin and control around the green. With its combination of playability, forgiveness, and precision.
The Callaway Golf Rogue ST Pro Iron Set is an excellent choice for skilled golfers. This set of irons has been designed to provide maximum performance and distance control. The irons are made from high-grade stainless steel, which gives them a sleek and professional look.
The irons also feature an innovative Speed Step face design, which increases ball speed, as well as a low center of gravity, which helps to launch the ball higher and farther. The set also includes a progressive sole design, which allows for better turf interaction, resulting in more consistent shots.
Additionally, the irons have a progressive offset and a moderate sole width, supplying more forgiveness and control. This set of irons is perfect for the skilled golfer who needs accuracy and distance control.
The TaylorMade P770 Iron Set is a great choice for low-handicap golfers because it offers a combination of power, precision, and feel that is hard to match.
The clubs feature a thin face and narrow sole design which improves workability, allowing players to hit a variety of shots with accuracy and control. The progressive offset in the long irons helps to reduce the spin rate for greater distance and accuracy, and the short irons feature a more traditional blade shape and sole width for improved accuracy and feel.
These irons also feature a forged construction with a soft and responsive feel. The P770 irons have a low center of gravity, which helps to launch the ball higher and further, and also helps to reduce the spin rate for increased accuracy.
Frequently Asked Questions
Are PING i59 Irons Forgiving?
The PING i59 irons are designed for better ball control and workability, with a focus on delivering precision shots.
While they are not the most forgiving irons on the market, they do offer some forgiveness due to their cavity-back design.
However, if you're looking for maximum forgiveness, there are other options available that may be a better fit for your game.
Do Any Pros Use PING i59?
Yes, several professional golfers have chosen to play with the PING i59 irons, including Louis Oosthuizen and Viktor Hovland.
These players have praised the irons for their workability and feel, as well as their ability to deliver consistent performance on the course.
When Did PING i59 Come Out?
The PING i59 release date is early 2021, and since then, they have quickly gained a reputation as one of the best players' irons on the market. Designed with the needs of skilled golfers in mind, the i59s offer a compact blade shape, minimal offset, and excellent workability.
They also feature a forged construction for added feel and performance, making them a popular choice among golfers of all levels. Despite the fact that the original PING i59 irons' release date is 2021, they still stand strong against newer options in the market.
Conclusion
The PING i59 irons are a great option for golfers who want a club that offers workability, control, and feel. These irons provide exceptional distance, accuracy, and forgiveness, making them a popular choice among low to mid-handicap golfers. With this PING i59 review, you should be all geared up to make the final decision!