In a recent post, I spoke about the forgiving game-improvement features of the Callaway Rogue X irons. This time, I am catering to the advanced players among us and am discussing players' distance irons. That is why I am conducting a Callaway Rogue Pro Irons review.
It can be tough to find the original Callaway Rogue Pro irons models released in 2018, but the new ST range is coming out in early 2022.
In this post, I will focus on the new ST range and assess the workability, feel, and turf interaction produced by these irons. Plus, I will determine if they are blades or a hybrid construction.
If you are a high handicapper, I urge you to spend your time researching the most forgiving Callaway irons instead.
Callaway Rogue Pro Irons Specs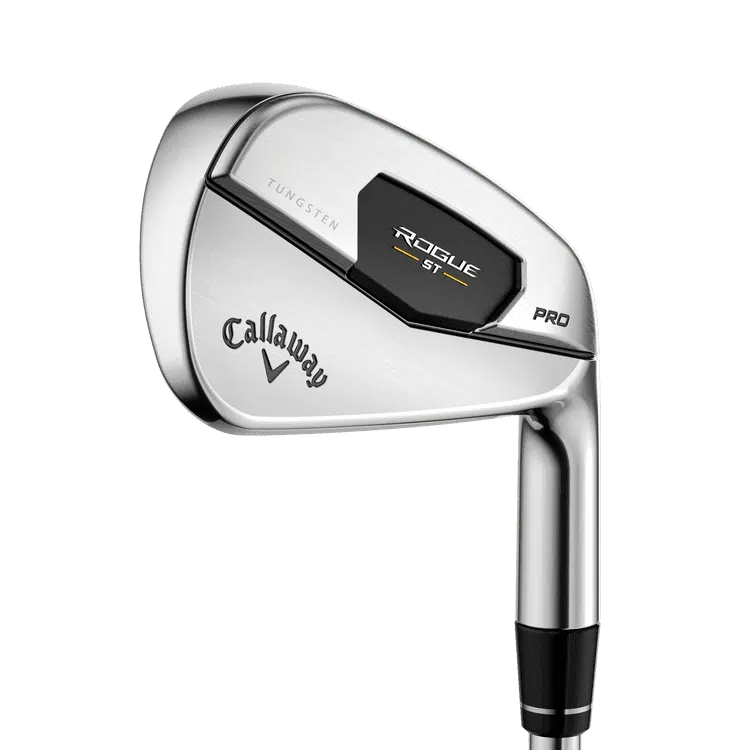 A.I. Designed Flash Face Cup
Continuing on their mission to break boundaries, Callaway's engineers combined their A.I.-designed Flash Face Cup with 450 steel.
The company claims it is a first for the golf industry to deliver maximum ball speed without sacrificing forgiveness. As a result, you enjoy consistent distance and accuracy, even on off-center strikes.
In addition, each club is optimized to produce the desired spin, coefficient of restitution, and ball speed for a high launch and controlled landing. That means that you can hold more greens and improve your distance control.
Urethane Microspheres
TaylorMade's patented Urethane Microspheres appears in the Rogue Pro irons to improve the feel and acoustics. The difference this time is that the Microspheres work about the sixth groove to eradicate vibrations from high and low mishits.
Furthermore, the Urethane Microspheres produce crisp sounding acoustics at impact. A sound welcomed by most golfers.
Precision Tungsten Weighting
Added to its fast face and soft feel, the Callaway Rogue Pro ST range features 48-grams of tungsten weight in the sole. The addition of the metal helps to stabilize the clubface at impact. It promotes a higher launch and increased carry distance.
Thanks to the stability provided, your clubhead promotes consistent ball speed even if you don't catch the ball in the sweet spot.
Compact Profile
Mid and low-handicappers will appreciate the compact profile for two reasons. The first is that it looks appealing, and the second is its workability. Unlike game improvement irons that produce straight ball flight, these irons are made to shape your shot.
If you wish to induce a draw or fade, these are the irons that will help you generate the sidespin to pull that shot off. The increased workability provides you with extra control to enhance your accuracy around the course.
Loft
The Callaway Rogue Pro irons lofts are slightly stronger than the average suggested by Golfweek.
In their article, Golfweek mentions that the average 3-iron loft is 20-degrees and the average 4-iron carries 21-degrees. However, the Callaway Rogue Pros measure 19 and 21-degrees, respectively.
Furthermore, the article mentions that the average loft of a pitching wedge is 45-degrees, whereas this pitching is 43-degrees. Therefore, you launch your ball lower than a standard pitching wedge loft.
| | | | | | | | | |
| --- | --- | --- | --- | --- | --- | --- | --- | --- |
| Club | 3 | 4 | 5 | 6 | 7 | 8 | 9 | PW |
| | 19° | 21° | 23.5° | 26.5° | 30.5° | 34.5° | 38.5° | 43° |
Shaft
There are three stock shaft options available with the Callaway Rogue Pro Irons. The two graphite constructions are the Mitsubishi Tensei Av White IR 75 and 85. Conversely, the steel option is a Project X Tour Flighted 105.
All three options are designed for players with moderate and faster swing speeds following the advice of Golf Magazine.
Turf Interaction
The compact profile of the Callaway Rogue Pro irons enables them to glide through the turf, ensuring a clean connection from any lie. As a result, you can induce your preferred shot shape with optimal control from any lie on the golf course.
Rogue Pro Irons Alternatives
The Wilson Forged irons are a more affordable option for those lower handicappers on a limited budget. Precision-milled grooves feature a diamond scoreline pattern to increase the side spin needed to work your ball. Plus, the thin clubface prompts accelerated ball speed for optimal distance.
Although forgiveness is limited compared to game improvement irons, it still possesses enough to minimize disasters on off-center strikes. However, I do not suggest that beginners or high handicappers rely on this forgiveness. Stick to game improvement designs instead.
Furthermore, the engineers at Wilson added a Fluid hosel to reduce the weight in that area. That enabled them to reposition the weight for optimal launch and forgiveness without impacting workability or feel.
Added to its workability is an optimized sole camber, rounded front-to-back sole ratio. This design enables the club to glide through the turf freely to promote a clean solid strike from the fairway or rough.
Unlike game improvement irons, this set features a 3-iron through to pitching wedge and no hybrids. The lofts are weaker than the Rogue ST Pro irons and help you generate increased spin for a higher launch and impressive carry distance.
As you would expect from the Japanese manufacturer, the JPX921 Forged Irons are a quality product. They are crafted to provide a superior feel, rapid ball speed, and maximum playability.
These irons contain a large rebound area in the back slot to enhance the flexibility of the clubface at impact. That helps the face generate explosive ball speed across an increased zone, especially low in the face. As a result, you enjoy consistent distance and accuracy on low-face connections.
Moreover, Mizuno coated these irons with a Pearl Brush finish to reduce glare and wick away moisture from the face. Therefore your clubface makes clean contact with the ball, even in the wet.
Mizuno employed Chromoly 4120 to help them reduce the thickness of the face to ramp up ball speed. It results in a 35% increase in the coefficient of restitution (COR), meaning more energy is transferred from the clubface to the ball, leading to a powerful launch and extra distance.
To increase the stability of the irons at impact, Mizuno added perimeter weighting to each clubhead. Therefore, you enjoy a higher MOI and ball speed on heel and toe mishits.
Finally, a short blade length profile and minimal offset deliver optimal workability for increased control.
Overall, the Mizuno JPX921 is suited to the lower handicap golfers who appreciate feel and workability.
Before I dive into the features of the SIM Max irons, I have a disclaimer. I know full well that these clubs are game improvement irons made for mid and high handicappers. However, I thought it would be good to showcase a set that caters to the better players who are not ready to sacrifice forgiveness.
The TaylorMade SIM Max irons include Speed Bridge technology which supports the top line of the clubs to ensure stability. Additional stability helps deliver rapid ball speed for optimal distance without impacting forgiveness.
In addition, TaylorMade's team fitted an Echo Damping system to improve feel and sound. The system absorbs the impact of mishits and ensures that the club emits a buttery-soft feel. Therefore you enjoy a soft feel and crisp acoustics on most of your shots.
Furthermore, the classic TaylorMade speed pocket is installed to increase the flex of your clubface. That is especially relevant on strikes off the low part of the face, which typically lack ball speed and loft. The flex accelerates ball speed and ensures that it launches high into the air for extra carry distance.
A thin 1.5-millimeter face combines with Inverted Cone Technology (ICT) to expand the face's sweet spot. That produces optimal ball speed across a wider zone and reduced side spin for straighter ball flight.
Although it reduces your workability, it enhances accuracy.
In summary, the TaylorMade SIM Max irons are forgiving, long, and soft for a game improvement set. Plus, they are nearly half the price of an entry-level player's irons set.
Callaway Rogue Pro Iron Set FAQs
What Is The Difference Between Rogue And Rogue Pro Irons?
In our review of the Callaway Rogue vs Rogue X, Nick Lomas explained that The Rogue irons are ideal for all players. Based on their qualities, these are game improvement irons. As a result, they are best suited to mid and high handicappers.
The Rogue Pro Irons are designed for the superior golfers among us. These irons are more compact, offer less forgiveness, and promote increased workability.
What Year Did The Callaway Rogue Pro Irons Come Out?
The Rogue Pro irons came out in 2018, as you can see in coach Michael Newton's video above. However, they will release the new Rogue ST Pro irons in 2022.
Are Rogue Pro Irons Blades?
No, these irons are not traditional blades. They do feature a compact profile and a hollow back. The difference is that the irons are manipulated to carry an element of game improvement technology.
Are Rogue Pro Irons Forgiving?
These irons do offer an element of forgiveness. But nothing that can save a beginner or high handicapper. They offer less than a game improvement iron but more than older blade constructions.
Final Thoughts On Our Callaway Rogue Pro Irons
That concludes our Callaway Rogue Pro irons review. As you can see, these golf clubs are made to cater to mid and low handicap players looking for distance without sacrificing forgiveness.
They combine to provide explosive ball speed, a superior feel, and optimal workability. These are features that every mid to low handicapper desires. Plus, it even offers an element of forgiveness.
Although these are not traditional player irons, they represent where blades are going. If you are looking to work your shots and generate increased ball speed, take a closer look at the new Rogue ST irons here set now.
For a more budget option, you might be able to find some of the original Callaway Rogue Pro irons through secondhand shops or websites.
Callaway Rogue Pro Irons Review Recap
| | |
| --- | --- |
| Total Score | 88.6 |
| Star Rating | 4-stars |
| Distance | 93 |
| Forgiveness | 82 |
| Feel | 91 |
| Workability | 90 |
| Aesthetics | 93 |
| Price | 83 |
Pros
Optimal turf interaction
Superior workability
Buttery-soft feel
Generates accelerated ball speed across the face
Increased stability at impact
Cons
Moderately expensive
Reduced forgiveness
Not suited to high handicappers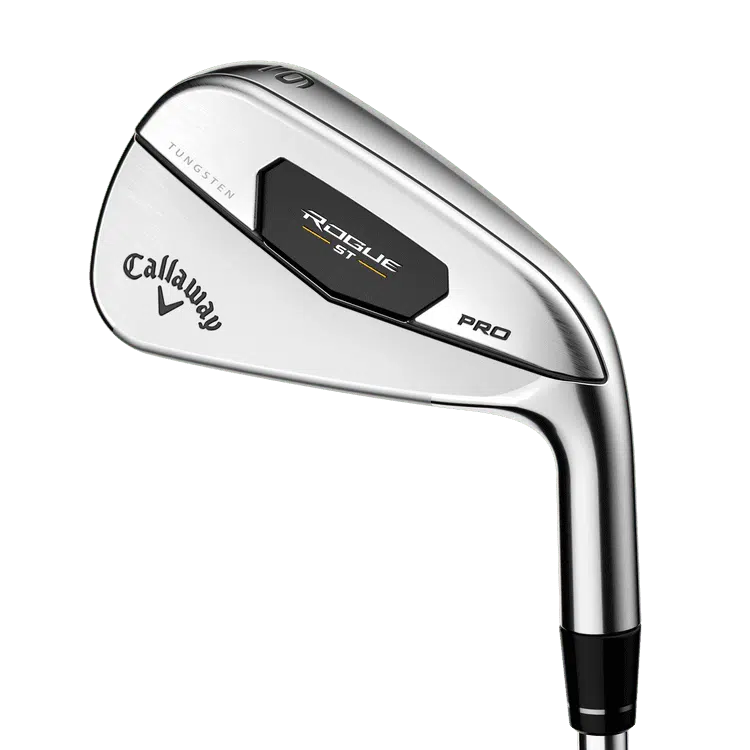 Related Articles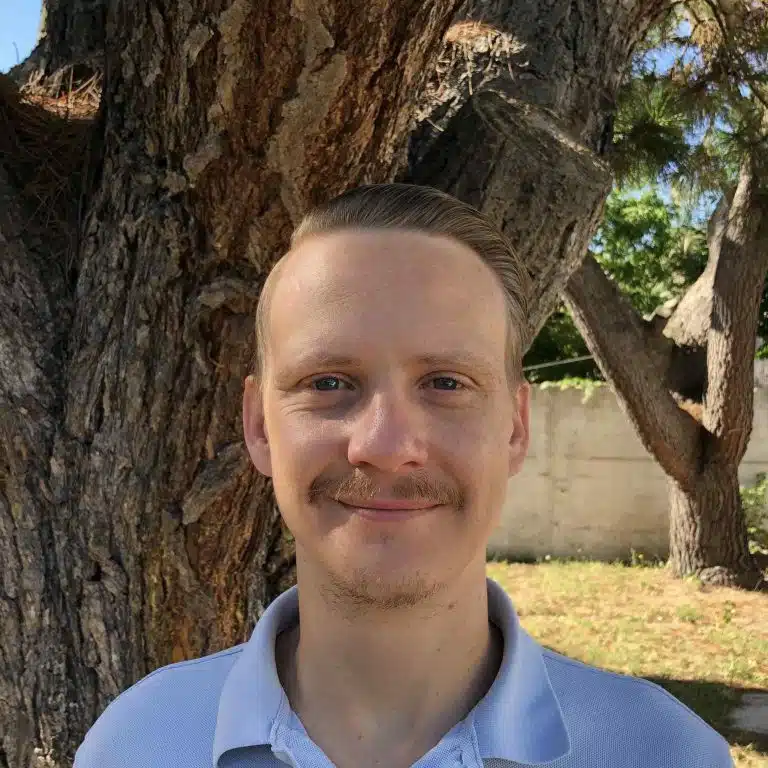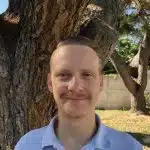 Matt is a seasoned golf equipment writer and sports fanatic. He holds a Postgraduate in Sports Marketing and has played golf for over 28 years.