I have swung Callaway Fairway Woods for low, mid, and high handicappers over the years, and I am impressed with the brand's robust portfolio. Whether you desire workability, a towering launch, or a slice-fighting offset, you will find what you need in my Callaway Fairway Woods review.
Here are the best Callaway Fairway Woods:
After completing this review, you will know which fairway woods launch the highest, fly the straightest, and produce minimal turf interaction. I also reveal the top-performing Callaway woods for high, mid, and low-handicap men and the optimal woods for ladies.
Top 3 Best Callaway Fairway Woods
Best Overall
Best For High Handicappers
Best For Mid-Handicappers
Callaway Paradym
Callaway Paradym X
Callaway Rogue ST Max
Pros

Launches high
Smooth turf interaction
Neutral flight

Combats slice
Built for high handicappers
Consistently fast clubface

Fast clubface
Launches medium to high
Lowers spin

Cons

Expensive
Only the 3 wood has an adjustable hosel.

The draw bias design restricted my ability to fade shots
Expensive

The oversized profile may not suit all golfers
Not suited to low handicappers

Price Score
84.3
84.3
88.7
Distance
90.3
88.4
93.6
Forgiveness
94.2
96.8
91.0
Accuracy
92.8
93.2
90.8
Rating
4.6 Stars
4.5 Stars
4.3 Stars
How Do The Best Fairway Woods Compare With Callaway Fairway Woods? Read The Full Post.
Callaway Fairway Woods Reviews
Pros
Launches medium to high
Smooth turf interaction
Neutral flight
Slick finish
Forgiving
Cons
Expensive
Only the 3 wood has an adjustable hosel.
Specs
Lofts: 15°, 16.5°, 18°, 20°, 21°, 24°, 27°
Shaft: Aldila Ascent PL Blue, Project X HZRDUS Gen 4 Silver
I found the Callaway Paradym delivered the best overall performance in 2023. I appreciated the aerodynamic clubhead, smooth turf interaction, medium to high launch, and neutral ball flight.
I also felt its face provided ample rebound, promoting rapid ball speed and controlled spin.
It does not threaten the longest Callaway woods ever, but the Paradym was consistent. The C300 maraging steel face generated outstanding speed and power across the surface. I still conjured up sufficient pace on heel and toe mishits, resulting in satisfactory length.
The Tungsten speed cartridge sent the center of gravity (CG) low and forward in the club. This helped me lower my spin rate, which I typically endure with fairway woods. It prompted a higher ball flight and a softer landing on approach.
I felt the forgiveness, neutral ball flight, and elevated launch suit mid-handicappers seeking consistency from their Callaway woods.
Rating: 4.6
2. Callaway Paradym X – Best Callaway Fairway Woods For High Handicappers
Pros
Combats slice
Built for high handicappers
Consistently fast clubface
Promotes a high launch
Generates low spin
Cons
The draw bias design restricted my ability to fade shots
Expensive
Specs
Lofts: 15°, 16.5°, 18°, 20°
Shaft: Aldila Ascent PL Blue, Project X HZRDUS Gen 4 Silver
My tests with the Paradym X highlighted the fairway woods' suitability for high handicappers. It combats slices better than other Callaway woods, launches higher, and offers the most forgiveness in the Paradym range.
The most significant difference between the Paradym X and the standard Paradym is its increased offset. I noticed that getting my clubface square to target at impact was easier to reduce the risk of slicing my ball.
Like the Paradym, the X version carries a low and forward CG. I was initially skeptical about its performance but then began to praise my lower spin numbers and mountainous launch. Finally, high handicappers will appreciate the stretched face design, providing marginally more area to catch the ball.
Rating: 4.5
3. Callaway Rogue ST Max – Best Callaway Woods 2023 For Mid Handicappers
Pros
Fast clubface
Launches medium to high
Lowers spin
Mitigates slice shots
Moderately affordable
Cons
The oversized profile may not suit all golfers
Not suited to low handicappers
Specs
Lofts: 15°, 16.5°, 18°, 20°, 23°, 25°
Shaft: New Mitsubishi Tensei AV Blue, Project X Cypher Black, Fujikura Ventus Blue, New Mitsubishi Tensei AV White
The Callaway Rogue ST Max impressed my mid-handicap skills with its distance, neutral flight, and perimeter weighting. I enjoyed the benefits of workability and control without hampering my distance and forgiveness.
I appreciated the minor assistance of the semi-draw bias design into impact, as it helped me square my clubface. This helped me achieve a satisfactory accuracy record on approach, avoiding deviating flight.
In my experience, the Batwing technology and C300 clubface formed a lethal combination. The Batwing technology stabilized the clubface at contact to prevent ball speed drop-off and spin increase. The fast metal enhanced spring off the clubface to catapult my ball high into the air.
Rating: 4.3
4. Callaway Mavrik – Best Budget Callaway Fairway Wood
Pros
Affordable
Explosive clubface
Contains spin
Generates a flat trajectory
Delivers impressive distance
Cons
The only remaining options are in 3 loft profiles
No adjustable hosels
Specs
Lofts: 15°,  18°, 21°
Shaft: Project X Evenflow Riptide, Aldila Rogue White 130 MS, UST Helium Black
A newer Callaway fairway club fetches a premium, which may deter golfers on a budget. However, the Mavrik offers a reliable, fast, long, and forgiving option that suits mid and high-handicap bargain hunters. Besides its price tag, I was impressed with the ball speed, launch, and distance from the Mavrik.
My distance received a boost from the lightning-fast and forgiving clubhead and clubface components. The Flash Face Cup maximized spring off the clubface at contact to improve energy transfer and ball velocity while restricting spin.
I thought the inclusion of a single fixed weight in the head worked well. It dropped the CG low and deep into the clubhead, encouraging a consistently high launch. I noticed this works well for slower swing speeds struggling to consistently get the ball airborne.
Rating: 3.9
Read more: How does the Callaway Mavrik Driver compare with the fairway wood? Check the full post.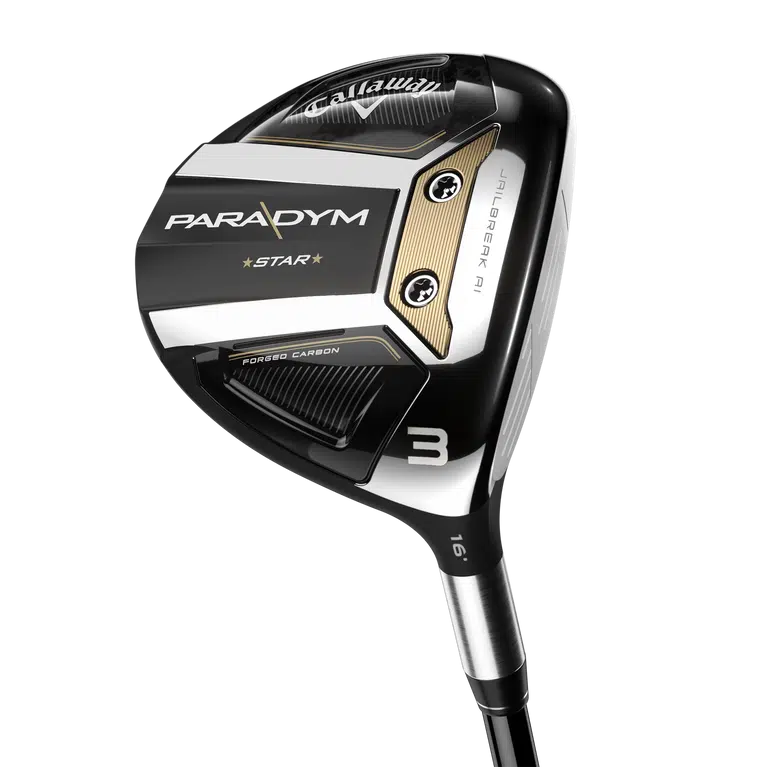 Pros
Constructed with lightweight components
Suited to slow swing speeds
Fast clubface
Prompts a towering launch
Contains spin
Cons
The lightweight shaft had excessive torque for my swing
Expensive fairway woods
Specs
Lofts: 16°, 19°,  22°, 25°
Shaft: UST ATTAS SPEED 40
Seniors require lightweight components to maximize club head speed on the downswing and energy transfer into contact. While conducting my Callaway fairway woods comparison, I discovered that the Paradym Star ticked all these boxes.
The ATTAS Speed T1100 and Winn Dri-Tac Lite grips are responsible for the weight reduction of these fairway woods. I found them easy to unload from the top and accelerate my speed into contact. It helped me produce a few extra mph as my clubface released downwards, encouraging enhanced compression at impact.
Once my clubface made contact with the ball, the forgiving qualities of the fairway wood kicked in. The explosive face preserved speed across the surface, while the Batwing technology stabilized the clubface. The outcome was consistent speed, controlled spin, and a high launch on all shots.
Rating: 3.8
Pros
Encourages acceleration on the downswing
Clean gliding sole
Maximum Forgiveness
High offset
Elevated launch
Cons
Fixed hosel
The high offset is not ideal for workability
Specs
Lofts: 15°,  18°, 21°, 24°
Shaft: Callaway RCH
I found the Callaway Big Bertha Reva fairway woods incredibly easy to launch. The oversized design offered plenty of surface to strike the ball, preserving velocity and containing spin on heel and toe mishits. I also relished the stability and offset of the clubface, helping me square the clubface at impact.
I noticed the shallow face worked to my advantage, improving energy transfer across the surface for accelerated ball speed. The oversized design enhanced my forgiveness by producing swift turf interaction from any lie, minimizing the risk of chunking shots.
The Callaway RCH shaft lightened the load of these fairway woods and helped me accelerate on the downswing. I feel this works in the favor of slow to medium-swing speed ladies seeking additional speed and long-game distance.
Rating: 3.6
How Does The Callaway Big Bertha Driver Compare With The Reva Fairway Wood? Read The Full Post.
7. Callaway Paradym TD – Best Callaway Fairway Woods For Low Handicappers
Pros
Super low spin
Fast clubface
Suits consistent ball strikers
Workable flight
Smooth turf interaction
Cons
Not as forgiving as the Paradym and Paradym X
Premium price
Specs
Lofts: 13.5 °, 15°,  18°,
Shaft: Mitsubishi Kai'li White, Project X HZRDUS Gen 4 Black
My experience with the Paradym Triple Diamond (TD) showed that these fairway woods perform for low handicappers. It delivered a fine combination of minimal spin, consistent ball speed, neutral flight, and impressive distance.
Admittedly, my moderate swing speed struggled with consistency. Occasionally, I produced exceptional distance, thanks to the ball speed and low spin. However, my mishits caused my ball velocity to drop and spin to increase, leading to fewer yards.
The TD demands consistent ball striking, and when you get it right, the shots are a joy to watch. I thought the low and forward CG combined with the steel face cup performed beautifully when struck cleanly. However, the inconsistencies proved that the Paradym is a better option for mid and high-handicappers.
Rating: 3.4
What To Consider When Purchasing Callaway Fairway Woods
View this post on Instagram
When you are in the market for a new Callaway driver, think about the optimal lofts, shafts, offset, and CG for your golf game. Keep reading to learn what options Callaway offers and how they impact your golf game.
Lofts
Fairway wood lofts typically range from 13.5 ° to 25° of loft. A 13.5 ° Callaway wood is a strong lofted 3-wood and typically played by higher swing speed golfers, and for some ridiculous reason, myself as a junior. The weakest lofted 3-wood is generally 16°, designed to launch higher for slower swing speeds.
A 5-wood is the next option at 18°, followed by a 7-wood at 20° or 21°. I carry three fairway woods in the bag, a 3, 5, and 7-wood, but most golfers stick to the 3 and 5-wood setup before selecting easier launching, forgiving hybrids. There is also the option of a 9-wood and 11-wood, but these are less common.
Shafts
I have tested an abundance of Callaway stock shafts over the years and always appreciate the offerings. You can find super flexible ladies, senior flex shafts, and firmer, regular, stiff, and extra stiff from industry-leading manufacturers like Mitsubishi and True Temper.
I am a moderate swing speed golfer who unleashes a driver at 85 mph. I find I perform best with regular flex shafts. It adds an element of flex but still provides the control I need leading into impact. Conversely, a faster-swinging golfer, who swings over 105 mph, is generally better off with an extra stiff shaft.
Finally, slower swing speeds, like seniors and ladies, should consider the option of these softer, flexible designs. They offer added velocity and spring into the golf ball at impact, maximizing energy transfer.
Draw Bias
Modern Callaway woods for high and mid handicappers are often offset, meaning the clubface is closed. This design helps amateurs square the clubface at contact to lower the risk of slicing their shot.
I find the Callaway Paradym X best promotes a square clubface at contact, owing to its semi-draw bias design.
Launch
In my experience, Callaway Fairway Woods produces a mix of low, medium, and high launch profiles to aid different skill levels.
In my 2023 test, I discovered that the Paradym X launched incredibly high to suit high handicappers, while the Paradym produced a medium to high launch.
Finally, the Callaway Paradym TD produced a penetrating launch to improve workability on longer shots. A characteristic low handicappers will appreciate.
View this post on Instagram
Which Pro Golfers Use Callaway?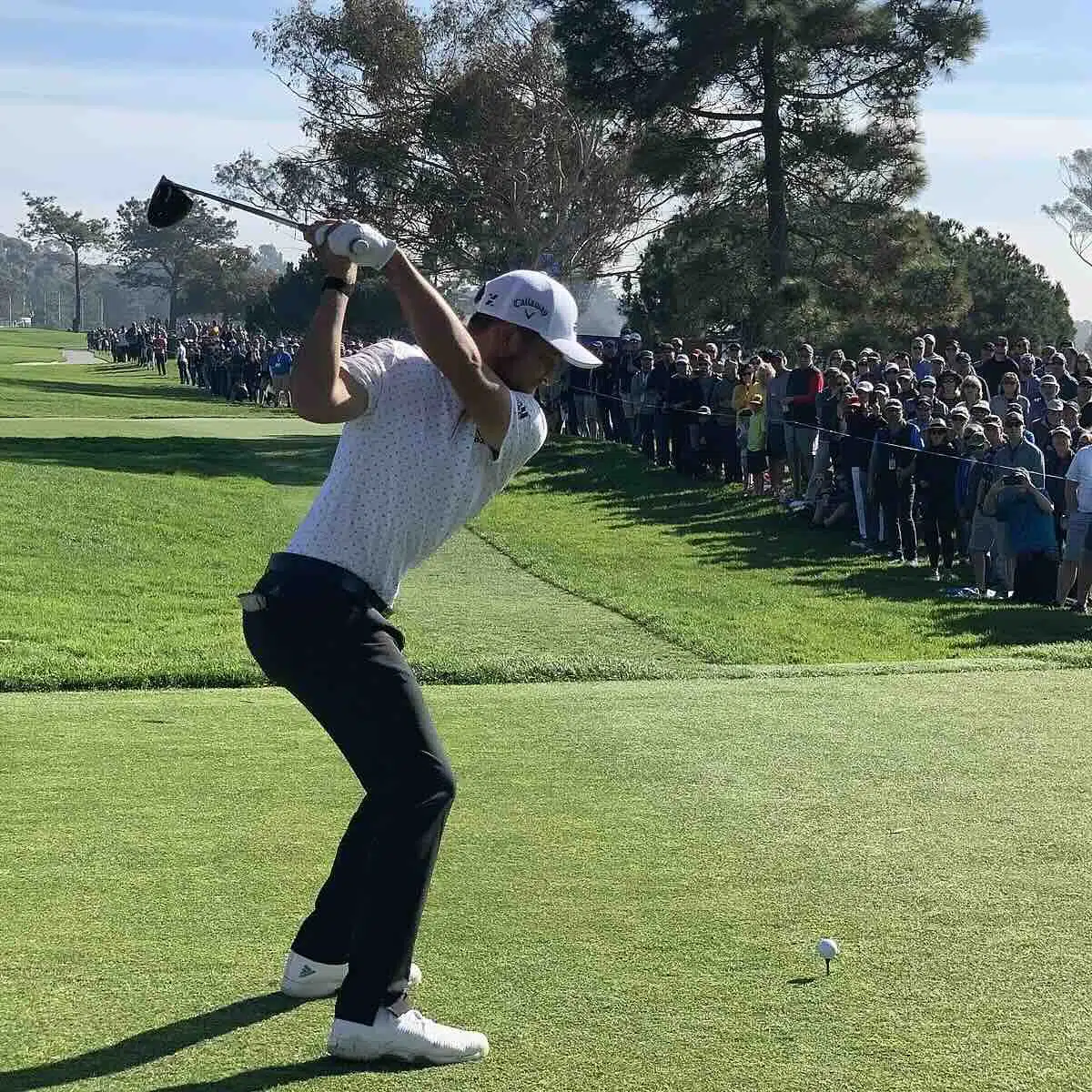 Jon Rahm, Xander Schauffele, Sam Burns, and Min Woo Lee use Callaway golf clubs on the PGA Tour. In addition, Atthaya Thitikul and Yuka Sasso swing Callaway clubs on the LPGA Tour, while Retief Goosen uses them on the PGA Tour Champions.
Conclusion
My experience with Callaway Fairway Woods highlights the brand's ability to cater to every golfer on the links. They stock forgiving, offset, and elevated launching woods for mid and high-handicappers.
Callaway also has no shortage of low launching, neutral flying, and workable fairway woods for skilled players.
I recommend sticking to the fairway wood best suited to your skill level to ensure forgiveness, accuracy, and distance.
However, the Callaway Paradym is my best recommendation for most golfers. I find mid-handicappers benefit the most from its features, but its leniency does work for high-handicap golfers.
Read More: