Transitioning from irons to woods is crucial for anyone's bag and choosing a hybrid or 5 wood.
The most debated topic is: 5 wood vs 3 hybrid?
The 5-wood was here first and has a lot of die-hard fans, but are they right to defend what could be the next extinct club? I think there's a time and a place for both the 5 wood vs. 3 hybrid, but choosing the correct times can be tricky.
Quick Answer—5 Wood vs. 3 Hybrid
A 5 wood goes further, but a 3 hybrid is easier to control. Many prefer the 3 hybrid because it's easier to use from various lies, but skilled players like a 5 wood for its distance and ability to shape the ball flight left and right.
Top Reasons To Carry A 5 Wood
You want more distance
You want more control over your shot shape
You have a relatively consistent swing
Top Reasons To Carry A 3 Hybrid
You want less shot dispersion
You want to be able to hit out of various lies
You want more height on longer shots to the green
Difference Between 5 Wood And 3 Hybrid—At A Glance
| | | |
| --- | --- | --- |
| | 5 Wood | 3 Hybrid |
| Loft | 19.5° – 22° | 18.5° – 19° |
| Length | 41" – 42" |  40" – 41" |
| Size | 150cc (approx) | 80cc (approx) |
| Most Distance | ✔ | ✖ |
| Most Height | ✖ | ✔ |
| Most Spin | ✖ | ✔ |
| Most Swing Control | ✖ | ✔ |
| Most Workability | ✔ | ✖ |
| Easier To Use | ✖ | ✔ |
In-Depth Analysis Of 5 Wood Versus 3 Hybrid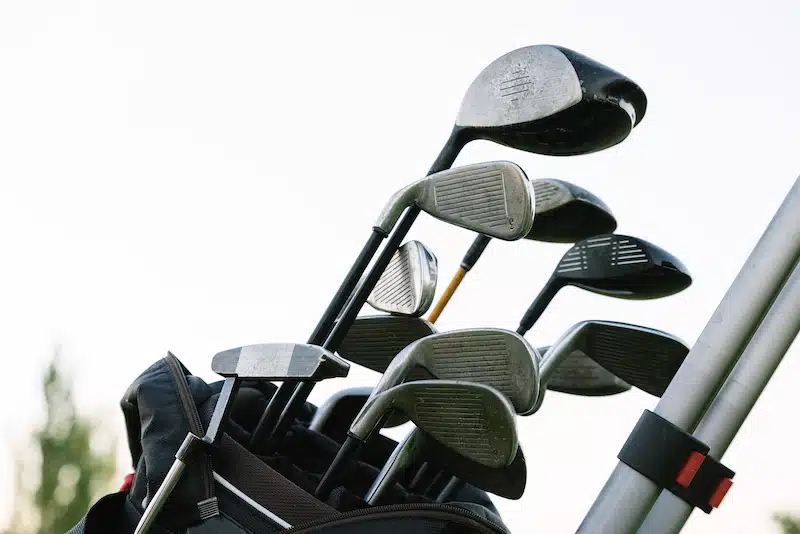 It may be tough to get guys like me who grew up using 5 woods to switch to a 3 hybrid (or any hybrid for that matter). Still, stranger things have happened, and we should all be open to anything that may lower our score.
Let's break down every aspect of the 5-wood and see how it compares to a 3 hybrid from a practical standpoint.
Physical Differences
Of course, the first thing you notice is the look of each club. The 5 wood is noticeably bigger and takes on the shape of a traditional fairway wood (although much bigger than 30 years ago). This can be intimidating for some.
Swinging a large object can be hard to control and requires precision to get clean contact every time. Dealing with a 3 hybrid is much more appealing, especially to beginners and high-handicappers.
The more diminutive stature of the 3 hybrid creates a smooth transition from your irons into your woods. In contrast, the 5-wood is quite a jump from your nearest iron which is most likely a 4-iron.
Length
If you stand a  5 wood and 3 hybrid next to each other, you'll see that the 5 wood is taller/longer. This may not seem like a lot when you measure in the pro shop, but out on the golf course, it accounts for a considerable difference on the course.
That extra inch or two can cause havoc with your swing tempo and your ability to return the clubhead to the ball. It can also add many yards to your shots, so learning how to control the length may be worth it to you.
Performance Differences
Let's assume you hit both clubs effectively; what will you be rewarded with from each should you have the ability to control both?
Distance
Your 5 wood distance vs. 3 hybrid will be much greater. You'll have more use for a 5 wood off the tee when facing narrow yet long par 4s. Off the deck will have the same results; your 5-wood will travel further in the air and provide more roll if you want. It's made to hit high or with a lower penetrating flight; the choice is yours with a 5-wood.
Ball Flight
Since your 5 wood loft vs. 3-hybrid will be different, you'll have to choose how you want your shots to look. It's not just about height; this affects direction as well.
The lower loft of the 5 wood will make it easier to work the ball left or right. A 3 hybrid is designed to reduce spin and keep your ball straight, similar to an iron. You can still get some action from a hybrid, but if that's your goal, you'll want to select the best hybrid after testing many different ones.
When and Who Should Use a 5 Wood or 3 Hybrid?
It doesn't make sense to carry both of these clubs, so evaluate these situations and decide which ones you are more likely to face.
Slow Swing Speeds—5 Wood
Generating power is made much easier these days with technology. You don't have to do anything crazy to your swing or body to add more yards, just optimize your set. A 5-wood will help get you closer to the green on par 5s, hit narrow fairways on par 4s, and attack longer par 3s.
Inconsistent Swings—3 Hybrid
Keeping the ball in play is crucial to breaking your personal best score. We need a swing that repeats itself as much as possible to do this. That is made much more difficult with drastically changing club lengths. A shorter 3-hybrid will help you keep your ball in play both off the tee and off the deck.
Playing From The Rough Or A Variety Of Lies—3 Hybrid
The unique design of a 3-hybrid allows it to get your ball out of a wide range of different kinds of lies. Of course, you want to be able to exit the rough, and that is much easier for all skill levels with a 3-hybrid vs. 5-wood.
Consistent Swings—5 Wood
Low-handicappers and confident swingers will get an advantage with the 5-wood. The design of it allows for more workability left and right. If you find yourself on tight, curvy tracks where length is not important, a 5-wood could be your best friend either off the tee or out of the fairway.
Are You A 3 Hybrid or 5 Wood Kinda Golfer?
There are only two kinds of people in this world! You must choose!
Don't get me wrong, you can always switch, but no one will benefit from carrying both of these clubs in the same round.
5-wood players are seeking more distance and a lower ball flight. If you do not have options for short par 5s or long par 4s, then a 5-wood could be your answer.
A 3-hybrid will help those who often find themselves in trouble. These escape artists will help any golfer get out of the rough and hold greens a lot better than a 5-wood.
The Best 5 Wood & 3 Hybrid To Buy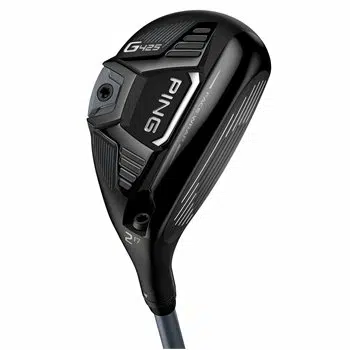 Pros
Added tungsten weight
Wrap-around face technology
Compact clubhead design
Easy to swing through rough lies
Cons
Tough to work the ball left or right
This hybrid is a safe choice because it truly sticks to its title of being a hybrid between a wood and an iron. It's designed more like a mini wood that looks like an iron. The center of gravity is lower than other hybrids due to the tungsten weight at the back. This helps you get the ball airborne no matter where you make contact on the face.
The wrap-around face is typically only seen on fairway woods and drivers; PING has implemented it on this hybrid. It adds distance by allowing more flex in the clubface at impact.
With all this going on, you might think that the club head is bulky or hard to swing; I'm sorry to inform you that you're wrong. They managed to fit all these features in a compact and sleek club head.
The design of the PING G425 hybrid allows you to glide through rough, just like any other hybrid but with the power of a 5-wood.
[Check Price & See User Reviews]
Pros
Deep clubface for more forgiveness
Newly designed head increases swing speeds
V-shaped sole for optimal turf interaction
Longer shaft and lower loft to maximize distance
Cons
Maybe not the most popular but if you're looking for a smooth transition from your irons to your woods, PXG has thought this through for us. Most 5-woods are made to go far and attack par 5s, but PXG has worked hard to offer you more from their 5-wood.
If you look at the club face, you'll see a lot of similarities to a hybrid clubface. It's slightly deeper than other 5-woods, which will help get you more forgiveness than 5-woods usually lack.
The design of the club head is streamlined more like a driver, adding distance not only compared to a 3-hybrid but to every other 5-wood out there. Their high modal frequency design gives you better feedback on all shots, so you'll know how to improve.
Bear in mind this is longer than other 5-woods and comes with a low loft of 18°. If you can learn to harness the energy this 5-wood has, then you'll be sure to attack longer holes with tons of confidence.
[Check Price & See User Reviews]
Final Thoughts
Before asking, "should I carry a 5-wood or 3-hybrid?" you should fully understand where this club will fit in your set.
Those who want distance will favor the 5-wood, and those who want accuracy will favor the 3-hybrid. Still, experienced golfers will dig deeper and explore all the differences and challenges faced when choosing between 5-wood or hybrid.
FAQ
Is A 3 Hybrid Equivalent To A 5 Wood?
No, a 3-hybrid is not equivalent to a 5-wood; they have many differences. The only similarity you may find will be in the loft. Many 5-woods are lower lofted, but it's common to see a 3-hybrid and a 5-wood have the same loft but produce very different ball flights and trajectories.
What's Easier To Hit, 5 Wood Or 3 Hybrid?
The easier club to hit between a 5-wood and a 3-hybrid is the 3-hybrid. Its shorter length and more compact head make it so any level of golfer will have more control. This is also a huge advantage when hitting out of the rough; the 3-hybrid will slice through thick grass much easier than any 5-wood can.
Should I Replace My 5 Wood With A Hybrid?
Yes, you should replace your 5-wood with a hybrid if you want to have more control and be able to hit out of various lies. A hybrid is made to keep your ball in front of you and will also offer more height to make holding greens much easier from far out. Replace your 5-wood with a hybrid to take the big number out of play.
Still Not Sure How To Set Up Your Bag?
Read more: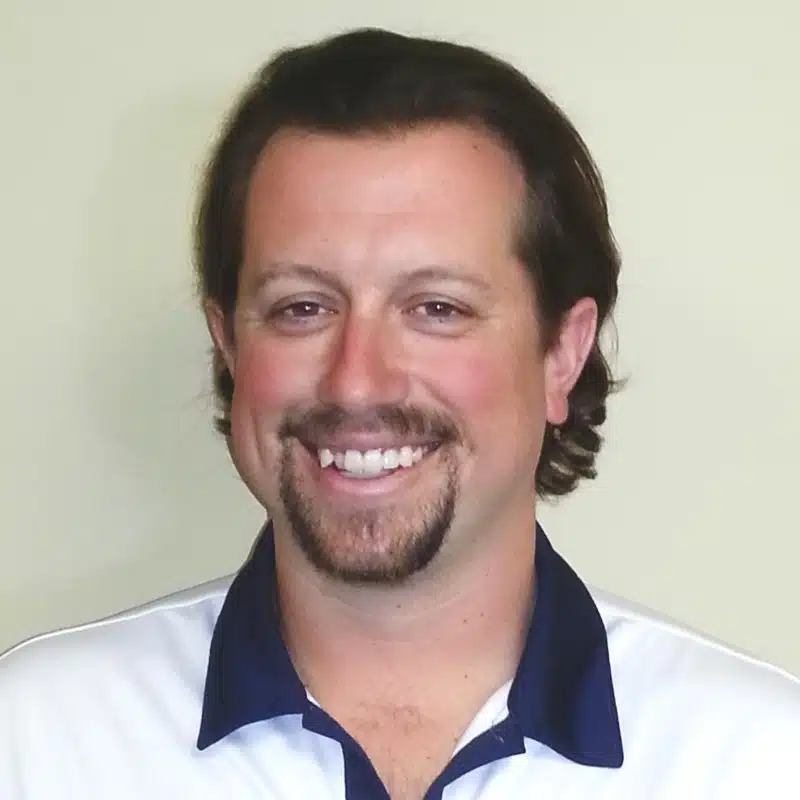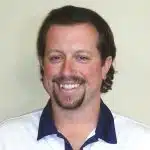 Clint became the Head Teaching Professional at one of Toronto's busiest golf academies and was featured on Canada's National Golf TV program, "Score Golf Canada," twice. He now tests and reviews golf equipment and gets to enjoy the game he loves whenever he wants while helping people lower their scores.