Initially released in 2004, Callaway Golf released a club that appeared like fairway woods but performed like hybrids; they called them Heavenwood. And the name got stuck as the years passed and new models came in.
The Callaway Heavenwood blends a hybrid and fairway wood. It originated from the Big Bertha clubs and is found in many Callaway sets. It's mostly used in roughs and approaches instead of long irons or hybrids. The name Heavenwood comes from the high loft angle and ability to send the ball high (into the heavens).
It's essential to choose the right Heavenwood to get the most out of your game. In this Callaway Heavenwood review. I'll discuss:
What is a Heavenwood
Design and characteristics of the Heavenwood club
Advantages and disadvantages of the Heavenwood
How to choose the right Heavenwood for your swing
Tips on how they can help you improve your game
Let's dive in!
What Is a Heavenwood?
Heavenwood, released by Callaway in 2004, was one of the first of its kind hybrids with features of a fairway wood. Since then, hybrids have evolved and provided various options exclusive to its clientele.
All these years after the release of the initial Heavenwoods, Callaway still releases Heavenwoods with its latest models. Here are the unique features of Heavenwood.
Callaway Heavenwood Specs & Key Features
A Heavenwood golf club is different than regular hybrids and fairway woods. A Heavenwood is a 7-wood fairway metal with a shaft length of a 4-wood or 3-wood. The longer shaft helps in increased distance and longer shots.
Heavenwood, because of its higher lofts than 3-wood, is not a normal part of a wood set up in the golf bag. They also differ in ball flight and control as compared to traditional 3-woods. Heavenwoods are much bulkier than your usual hybrid, giving a feeling of confidence over the ball.
Heavenwood loft angles range from 17 to 23 degrees. Heavenwoods coincide with the following irons in a golf bag.
| | |
| --- | --- |
| Heavenwood Loft | Equivalent Iron |
| 17 degrees | 2 or 3 iron |
| 20 degrees | 4 iron |
| 23 degrees | 5 iron |
Custom clubs of 14 degrees and 26 degrees loft Heavenwoods are also available, but nowadays, they're rare to find.
Following are the stock shafts in the original Heavenwoods.
Graphite RCH 75w shaft.
Big Bertha Uniflex steel flex.
The stock grip on these is the standard Golf Pride.
The Advantages and Disadvantages of Using a Heavenwood Club
A Heavenwood can be a great addition to your bag. They come in the game improvement club rage and have proved themselves to be a great weapon on the course over the years.
Below I'll try to mention some of the advantages and shortcomings of this club.
Advantages
Easier to hit than long irons.
A reliable option in the bag for specific longer distances.
Can help stop the ball quickly on the green from longer distances.
A Heavenwood will give you more distance than a hybrid because of its long shaft and bigger clubhead.
A fairway wood alike face on the Heavenwoods gives golfers extra confidence standing over the ball compared to hybrids.
A mishit on a Heavenwood is much more forgiving than your regular hybrid or long iron (2 or 3 iron).
Disadvantages
For higher swing speeds, it may add too much spin.
Lack of maneuverability of the golf ball can be a turn-off for better golfers.
Some people would be uncomfortable with the longer shaft of a Heavenwood compared to a hybrid.
How to Choose the Right Heavenwood Club for Your Game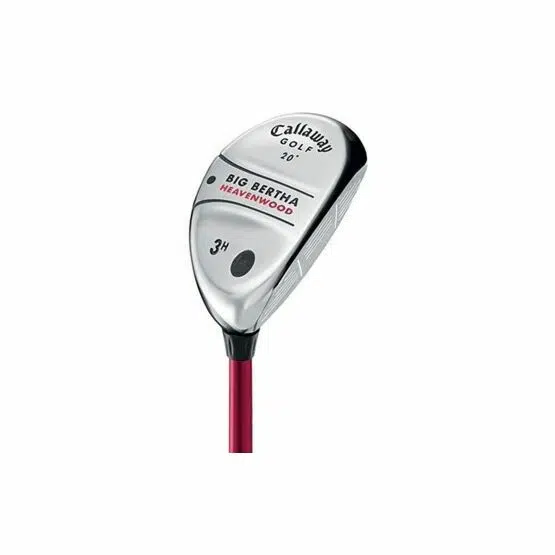 Since you have some options when choosing Heavenwoods, adding one of them to your bag can require some thought.
But before we get into what shaft, loft, length, and grip you should choose for your Heavenwood, I will set a profile that perfectly fits a player who could potentially gain from the Heavenwood in their bag.
Heavenwoods are usually used by slower swing-speed players who need more height and distance on their long irons. So, if you struggle with long irons, you can swap them out with a Heavenwood.
Here's a quick walkthrough to help you decide which loft of Heavenwood will suit you the best.
If you struggle with 5 irons and longer, use a Heavenwood with a 23-degree loft.
If you're comfortable with a 5 iron and struggle with a 4 iron, go for a 20-degree loft Heavenwood.
And if you only find the 2 or 3 iron challenging, the 17-degree loft Heavenwood will be ideal for you.
If you struggle with compressing the golf ball in case of long irons, which is crucial for hitting any irons, Heavenwood might be the right choice for you.
Hybrids are good for hitting the ball high, even on long-distance shots – this can be a crucial skill on the course. If you struggle with a high launch angle and loft, a Heavenwood can help you a lot.
If you're an occasional golfer who is a little tired of hitting bad shots on long irons every time you visit the course, you can consider buying Heavenwoods to make things a little easy for yourself.
As a lower handicapper, you constantly want to improve your game no matter how it looks. You should consider switching to Heavenwoods if you leak score with longer irons.
If you're struggling with anything in the list mentioned above, your decision to get a Heavenwood is a valid one.
Which Heavenwood Is Right For You?
Another factor you should consider is which model of Heavenwood should you consider. Which one is right for you will depend on your budget. Your options are listed below: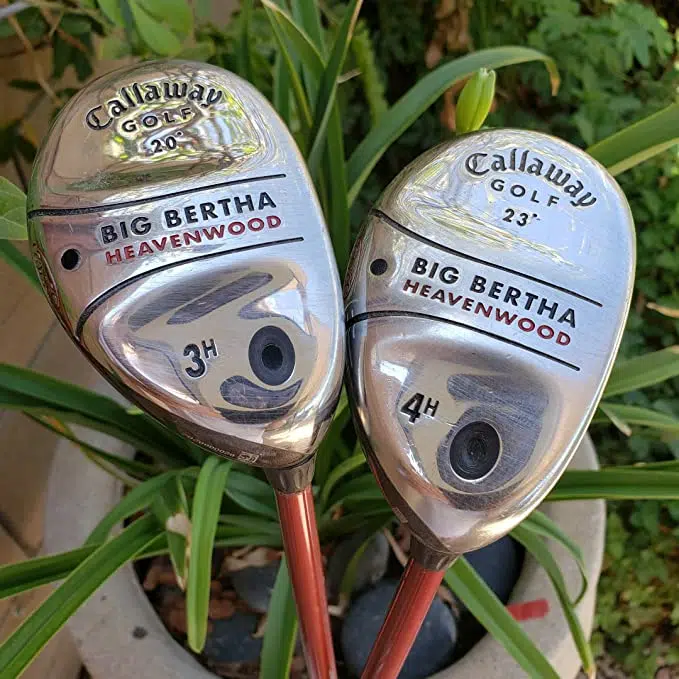 The original Heavenwood will make the least dent on your budget. However, they are hard to find and mostly available in grade-A conditions.
The 20 degrees Heavenwood adopts technologies such as AI-enhanced face and tungsten cartridge inclusive in the Rogue series developed by Callaway. This Heavenwood will provide you with good value for money.
Callaway MAVRIK also offers a 20-degree Heavenwood which is one of its kind. The SS20 flash face along with optimized weighting and its progressive leading edge. This club while providing a lot of performance it is also economical.
The Epic Max is one of the highest-selling series produced by Callaway. Epic Max does not need any introduction. Its multi-face construction and flash face SS21 want you to put this in your bag.
The 2023 version of Callaway Heavenwoods are by far the best-looking one in the market if you're looking to splurge. The extra distance and better feel are worth the spend.
Factors To Consider When Buying A Callaway Heavenwood
You can now move to the next step, which is what to buy. Consider the following things when buying a hybrid.
1. Loft
Heavenwood hybrids, as mentioned before, come in different loft sizes. You must define which long irons you can play before your game starts dipping.
For example, if you can play your 5-iron great but lose accuracy on longer clubs after that, you should consider purchasing the 20 and 17-degree loft Heavenwoods, which will effectively replace your 3 and 4-iron in the bag.
Not all hybrids will feel great in your hand, so before you purchase one, be sure to find the one that helps you deliver the maximum results because there is no point in going from bad to slightly less bad.
2. Shaft
As mentioned in the first section, Heavenwoods have two stock shafts, although you have options to get fitted for the one you like.
To choose which stock shaft best complements your game, let me explain what these shafts bring to the table for respective golfers.
Graphite shafts are more flexible and considerably lighter than steel shafts. They automatically add an extra gear to your shots.
If your swing speed is below 85 mph and you prefer using a lighter-weight, flexible golf club, I recommend you opt for this shaft.
Big Bertha Uniflex Steel Shaft
If you ever get a chance to get fitted for golf clubs. You will notice that club fitters usually recommend steel shafts to golfers with higher swing speeds (>95 mph).
Steel shafts have relatively less flex and weight than steel shafts. They are relatively cheaper compared to graphite shafts.
Steel shafts provide feedback in the hands, vital for lower handicappers to feel their shots through impact.
If you want a club in your bag with a consistent result every time, you should consider purchasing a Heavenwood with a steel shaft.
3. Length
Heavenwoods shafts are longer than regular hybrids providing more distance and speed through the ball. A typical length of a Heavenwood is similar to a traditional 4-wood (somewhere about 41-43 inches).
If you like how Heavenwood feels in your hand when hitting golf balls but find the longer shaft setup somewhat inconvenient. You can always get fitted for a shorter shaft, approximately the size of a traditional hybrid, to suit your needs better.
4. Grip
The standard grip on the Heavenwoods is a good choice for anyone. The grips provide a high friction contact between the hand and the club, leading to more club control through the swing.
Where to Buy a Heavenwood Golf Club
Even though the newer versions of the Heaven are more readily available, obtaining the original Big Bertha Heavenwood will require a little effort. You can still find Heavenwoods in different retail and online stores selling used golf clubs.
You can find Heavenwoods at one of the following online stores.
4 Tips for Getting the Most Out of Your Heavenwood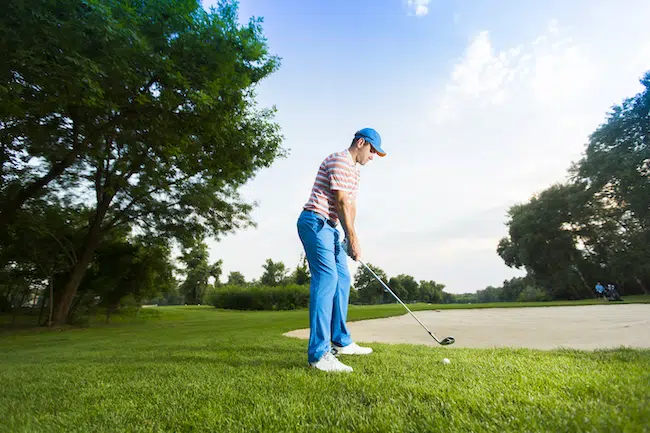 Heavenwood can provide you with a much-needed, safe, and reliable option on the course. The following tips will help you gain maximum advantage from your Heavenwoods.
Heavenwoods play like fairway woods and perform like hybrids, so there is no need to hit down on the golf ball excessively. Play your Heavenwoods like you would play your fairway wood. If you want to learn more about hitting a fairway wood, read our full article.
Make a shallower swing for maximum results. A shallower angle of attack will help you deliver the golf club perfectly behind the ball, and if you're lucky and your mechanics are good, you can have draw-shaped ball flight.
Put the ball a little left of the center of your stance. This technique will help you to hit the ball more parallel to the ground and assist your shallower swing.
Your swing thought should be to make a fluent and smooth swing through the golf ball. This swing thought will provide you with a much more reliable ball flight which would help your game, providing you with more predictable results.
How to Maintain and Care for Your Heavenwood Club
Taking care of your golf clubs is vital for them to perform at their maximum and provide you with the desired results. You should look into the following things when it comes to caring for your Heavenwoods.
Always keep the grooves of your Heavenwood clean. You can do this using a golf brush and groove cleaner, which should be essential to your bag.
Clean your Heavenwood after every shot, so no dust or impurities leave a mark on the face.
Since the atmosphere can oxidize a metal, causing it to rust. Using a fairway wood cover to protect your club face during inactivity is probably a good idea.
Common Mistakes to Avoid When Using a Heavenwood Club
Heavenwood provides a lot of utility to your golf game. If these golf clubs are not applied correctly, they can be costly to your golf round.
When people are about to swing with a hybrid, they get an unexplained urge to hit the ball hard. When using a Heavenwood, always swing smoothly. The club is designed to assist your game and to help you hit the ball farther and straighter. Hitting it harder will just add more unpredictability to how these clubs behave.
Another crucial mistake golfers make when hitting hybrids is trying to hit the ball low. Hybrids, specifically Heavenwoods, are not designed to hit the ball low. Trying to hit the ball low will add more spin and cause the golf ball to waver off the path.
FAQs
What Is A Heavenwood Used For?
The Callaway Heavenwood club is best used for helping golfers get out of the rough and hit approach shots toward the green instead of long irons. The shaft and loft angle help in a high launch which is useful in getting out of the rough or approach shots.
What Is A Heavenwood Equivalent To?
The Heavenwood is equivalent to a 4-hybrid or 7-wood. It's got the face of a 7-wood and shaft of the 4-iron which delivers the distance of a fairway wood at the ease of a hybrid shot. You can use your Big Bertha Heavenwood instead of your 4-hybrid or long irons.
How Far Does a Heavenwood Go?
The Callaway Heavenwood goes anywhere between 190-220 yards. Beginner golfers would have a range of 170-190 yards while professionals can go around 225 yards with the Heavenwood. This distance is similar to a 7-wood but less than a 9-wood.
Is a Heavenwood a Hybrid?
The Heavenwood is essentially a hybrid golf club launched by Callaway. It's got the feel of a hybrid, the accuracy of a long iron, and the distance of a fairway wood. These are best for golfers that find hitting long irons challenging.
Final Thoughts
Heavenwoods bring much-needed control and support to your game, depending on your swing and the type of Heavenwood you purchase. Your Heavenwood will always fly a specific number, and you will feel relieved whenever you face that number during your round.
You should opt for a Heavenwood if you struggle with your longer irons and prefer a hybrid in your hand. These clubs are easier to swing and always help in improving distance.
The next time you're playing golf with your friends and facing a long par-3 over a forced carry, you will feel a lot more confident with a Heavenwood in your hand.