The golf equipment industry is big business. In 2023, the golf market is forecasted to be valued at $8.74 billion despite continued worldwide economic concerns.
Finding equipment is easy with many helpful golf sites, but learning which brands you should avoid is tougher.
These are the top 10 golf club brands to avoid:
Hammer X
Alien Golf
Nitro Golf
Top Flite Golf
Ram Golf
MacGregor Golf
Yamaha Golf
Giga Golf
Autopilot Golf
Honma Golf
However, some on the list may not be the worst golf club brands in the world for a beginner or a golfer who seldom plays. These value clubs do serve a purpose for some.
But one brand on the list should be avoided simply because of the ridiculous cost. A club is in the $5,000+ neighborhood—for one iron!
If you want to buy a high-quality golf club set, read on. We will examine what golf brands you should avoid, especially if you are a middle to low-handicap golfer.
Let's dive in and look at each of these brands to see why they made the list.
Do you want to drop 5 strokes off your game and avoid those score-killing holes? Sign up to get the best golf drills.
You can also get access to our free newsletter full of tips, reviews, and the latest PGA news.
How To Tell if It's a Golf Club Brand To Avoid?
With so many of the best club brands having big-time marketing budgets, if you haven't heard of a particular brand, that is your first warning.
Some of the more infomercial-type and gimmicky clubs do actually manage to get their names circulating.
But if a brand is not advertised in more mainstream and traditional golf media channels, that is a big red flag.
Want to learn about the best golf clubs? Read our full round-up review.
Top 10 Golf Club Brands to Avoid
Buying golf clubs is an investment, like buying stocks or a house. These clubs could be with you for years and take you from a beginner to a top-notch golfer (or at least better than your buddies).
While you may find some sweet deals, these are the golf club brands to avoid.
1. Hammer X
The Hammer X might be one of the most gimmicky, worst golf clubs ever made. The claims about what this oddity can do for your game are far-fetched.
Jack "The Hammer" Hamm calls the newest rendition, the Hammer Turbo Air, the "Coolest Driver on the Planet." He also claims this club will give you "Life Changing Distance."
Buyers beware when terms such as "Turbo Air Speed Slots" and "One of a Kind Smart Shaft Technology" get thrown around. There are reasons why the Hammer X's flat shaft is one of a kind, if you get my drift.
Is it the ugliest golf club? I wouldn't go that far but you may get some looks from other golfers.
Probably your best clue to avoid this club is in the price. Not so much for what it sells for ultimately, but how it is presented. The Hammer X claims a retail price of $499, but it can be yours for only $149! That right there seems a little suspect to me.
2. Alien Golf
Like with the Hammer X, the Alien Golf line does indeed have some notoriety. The Alien Wedge is widely known. What is less widely known, however, is the fact that Alien offers a full line of clubs.
In golf, there are definitely different player demographics. Some newer golfers or those that play less frequently are not usually looking to spend $1000 on clubs.
Many look at purchasing used clubs to start. While some like the idea of buying new clubs, but don't want to spend a lot.
These bargain or off-brand club companies are often looked at when this is the case. In addition, when golfers are less informed about what makes equipment good, companies like Alien Golf can pique their interest. This is mainly through their marketing practices.
Alien claims that their Alien Wedge is the best-selling wedge ever. Like with the Hammer X, Alien creates buzz in their marketing.
"The Alien Roswell™ Wedge comes loaded with so much technology, the club does all the hard work for you!
When describing the technology the wedge provides, Alien uses terms such as "Gravity Rail System" and "Outer Limits Face Technology." Or how about "Space Gel™ & Stabilizing Bars." They actually went as far as to trademark those buzz terms.
These clubs may have a place for some golfers, and I have a little more faith in this brand over Hammer X. But not much.
3. Nitro Golf
Known for their popular discount golf balls, Nitro Golf makes a full line of clubs. This brand is another example of a club company looking to attract newer or less frequent players.
Nitro offers equipment at a price point that is much more appealing to golfers on a budget. These golfers tend to just need clubs to get them from point A to point B. They really are less concerned about performance and technology.
That is a good thing because you really do get what you pay for with brands like Nitro. That is not necessarily a knock on the brand, but more being realistic on what they can offer a player.
Many times brands like Nitro have very inconsistent manufacturing of their clubs. One tester said the loft on the Nitro Blaster Driver was over 4 degrees lower than what was stamped on the club. It actually measured at only 6 degrees of loft. That driver would be extremely hard to hit for any golfer.
Basically, I see that the Nitro Blaster is slower with lower carry and less distance and spin than the top-notch golf club brands I'll share below.
4. Top Flite Golf
Top Flite is another widely known discount brand in the golf space. Like with Nitro, Top Flite is more widely known for their discount golf balls. However, they offer a wide line of clubs, mostly aimed at newer or higher handicap golfers.
Top Flite was once among the higher-tier golf club companies. In the early 2000's PGA Tour players such as Hank Kuehne and Ricky Barnes were under contract with Top Flite.
But the company has seen many changes in ownership over the years. Today, they are owned by Dick's Sporting Goods and offered as a store brand.
If you want to learn who makes Top Flite golf clubs, read our full article.
The clubs themselves are not at all the worst in the world. In fact, for a discount brand, they are pretty good. Like with so many in this lower tier of equipment manufacturers, the problem lies in a slightly inferior product.
Top Flite may be a good option for newer and high handicap golfers. They are also good for budget-conscious golfers. If you are middle to lower-handicap golfer, you are better off staying away. Spend more money and get equipment with more beneficial and proven technology.
Top Flite's Budget-Friendly Golf Club Set
No products found.
5. Ram Golf
Like with other companies that have some name recognition and have made this list, I need to be fair. They are not at all the worst club manufacturers in the world and actually do serve a purpose. Ram Golf is a great example of this.
Ram Golf may bring back memories for some readers. They were made famous by Hall of Fame golfers like Tom Watson, Raymond Floyd, Gary Player, and Nick Price. What has happened throughout Ram's storied history, like with other manufacturers, was a pivot in their philosophies.
Right on Ram's homepage, you can see this idea:
"We don't spend big bucks sponsoring tour players. We don't even make clubs for tour players. We make clubs for golfers like you…"
Ram Golf can sell cheaper golf clubs with a lower marketing budget and no stores. They will just deliver them directly to you.
So, again, to be fair, Ram is not at all producing terrible clubs. The reality is they are no longer a player in the top-line and premium game. They are a discount equipment manufacturer for a very specific golfer: new, high handicap, and budget conscious.
In order to serve its purpose and offer more affordable equipment, there are some sacrifices. One of those may be the comparable performance to other top brands.
Ram Golf's Budget-Friendly Iron Set
No products found.
6. MacGregor Golf
MacGregor Golf offers a very similar story to Ram Golf with a storied history that goes back to 1829. MacGregor clubs have won a combined 59 majors, played by both Jack Nicklaus and Greg Norman.
MacGregor echoes Ram Golf's modern strategy. No big contracts, no reps, and clubs made for the average golfer. With that said, MacGregor is far from its glory years as a top manufacturer. But they do serve a purpose.
Some sacrifices must be made to offer clubs pricing that is more appealing to their customer base. What makes top manufacturers of the day appealing to better golfers is how the clubs can help their games. With companies like MacGregor and Ram, some of that simply won't be there.
7. Yamaha Golf
Yamaha Golf is a little bit different animal. Yamaha is a massive global brand. Yamaha Corporation is a Japanese multinational company with a vast range of products. These include musical instruments, computers, audio-visual equipment, appliances, and yes, golf equipment.
The golf equipment made by Yamaha is not at all bad. It has much of the same technology that all of the game's top brands offer. I have a simple problem with Yamaha and why it made this list. The price point is entirely too high.
Many other Japanese brands sell golf equipment that is not well-made. They are manufactured with materials of lower quality and passed off as superior. That is not the case with Yamaha.
The problem is the pricing. It is, without question, over the top. When a single club costs almost as much as a full iron set of other top brands, that is worth a note of caution.
8. Giga Golf
There are many manufacturers of golf equipment in the marketplace that are what is referred to as knockoffs. These clubs are made to appear as if they are major manufacturers' equipment and, worse yet, try to pass themselves off as actually being them.
Many knock-off manufacturers try to sell their clubs at the same premium prices as the actual clubs. This practice is illegal and a major problem in golf.
Other companies, like Giga Golf, are manufacturers of "Clone" equipment. These clubs are made as close to identical to the major manufacturers but do not try to pass themselves off as being them. These clubs sell for much, much less than the originals do.
Some clone manufacturers make decent equipment. However, it is impossible to think they can duplicate what original manufacturers do, especially at the much cheaper price points.
While Giga Golf doesn't make low-quality golf equipment, they are not as good as the originals.
9. Autopilot Golf
Never heard of Autopilot Golf? Don't worry. You are not missing too much.
The clubs offered by Autopilot are, for the most part, rather gimmicky. And while many gimmick clubs like the Hammer X are relatively inexpensive, that is not true with some of Autopilot's offerings.
Take for example, their S7K Putter. This is a stand-up on its own putter. There are many claims made in the putter's infomercial. Usually, when you hear claims like this, you are almost guaranteed to pay very little for it. It's a wow-type offering. The S7K has an MSRP of $249 and an online price of $179.
You can find more quality putters for cheaper from much more reputable manufacturers. Again, this putter is more of an infomercial, gimmicky piece of equipment. Claims are usually made without the same testing major manufacturers would have with their clubs.
Autopilot Golf also offers the Square Strike Wedge. You may have actually heard of this club. Andy North pitches the club in its infomercial. While the concept is interesting, it's hard to believe claims that this is the cure-all for those with chip yips.
10. Honma Golf
Rounding out our list is Honma Golf. Make no mistake, the craftsmanship of clubs from Honma is highly touted by many.
But with the line's Five-Star series costing over $5,000, spending this much on clubs seems almost ridiculous. Oh, and when I said $5,000 per club…a full set will set you back almost $75,000.
You might think that if you were spending that much, they should be made out of gold. And actually you would not be wrong. The Five-Star series is made from some of the most expensive precious metals in the world. Clubs are plated in 24-karat gold for a truly unique and luxurious finish.
Too rich for my blood, and 99% of the world's golfers too.
5 Top Golf Brands to Embrace
It would be wrong not to mention some of the golf world's best brands to help offset what the above has laid out. Many of the best manufacturers in the world are household names among fans of the game. Regardless, they are certainly worth mentioning.
1. Titleist
Founded in 1932, Titleist is one of the games' most recognized brands. Not only is Titleist known for being a leader in the club and ball game, but they may be one of the most trusted too.
The company's Pro V1x golf ball continues to be the most popular ball on the major Tours and probably in all of golf. The company also makes some of the best golf clubs on the market as well.
2. PING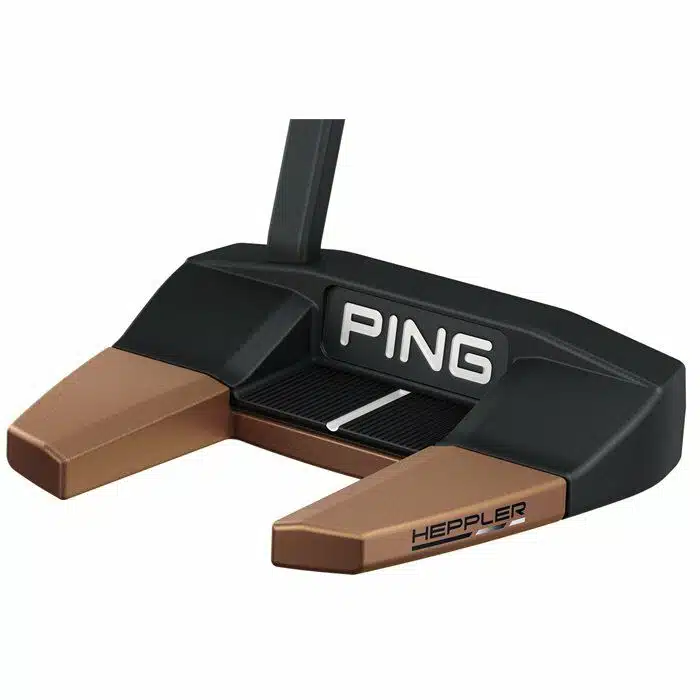 Founded in 1959 by Carsten Solheim, PING is another household name in the game. Ping was the first manufacturer to offer high-quality die-cast clubs using investment casting. This helped reduce costs and improve quality control. PING was also one of the innovators of the modern-day fittings process.
PING manufactures some of the most classic putters in the game. Utilizing "heel-toe" weighting, Solheim's first putter made a "PING" sound whenever he would strike a putt, leading him to name it the PING 1A.
3. Cleveland Srixon Golf
Cleveland and Srixon are both leading manufacturers of custom golf clubs, equipment and accessories. Cleveland Golf was founded in 1979 as Cleveland Classics by club designer Roger Cleveland.
In 2007, SRI Sports, the parent company of Srixon, acquired the more widely known Cleveland Golf. Both the Cleveland and Srixon brands carry great respect throughout the globe.
I have been a PGA Staff Professional with Srixon and Cleveland for many years. I can attest to the quality of the products.
4. TaylorMade
TaylorMade Golf has been one of golf's leading manufacturers of high-performance equipment for more than four decades. The company was founded in 1979 with a single product. An innovative driver made of steel and not persimmon like clubs of that time were constructed of.
Today, TaylorMade has continued its reputation of excellence with industry-moving innovations. In addition, the company has an impressive list of PGA Tour stars playing their equipment. Tiger Woods, Scottie Scheffler, Collin Morikawa, Rory McIlroy, and Rickie Fowler, just to name a few.
5. Callaway
As of the fall of 2022, Callaway Golf is now known as Topgolf Callaway Brands following Callaway's merger with Topgolf the previous year. Callaway Golf has long been one of the game's leading equipment manufacturers. They design and sell golf clubs and balls, golf bags, and other golf-related accessories.
Ely Callaway bought half of Hickory Sticks USA in 1982, and the company was renamed Callaway Hickory Stick USA. In 1983, he became the company's president, and in 1984 bought the rest of the company. In 1988, the company changed its name to Callaway Golf.
Topgolf Callaway Brands has expanded to include far more than just golf equipment. Regardless, the Callaway name itself is still a leader in quality equipment.
Final Thoughts
The golf equipment industry is a crowded one. The game's most trustworthy brands include Titleist, Ping, Cleveland, Srixon, TaylorMade, and Callaway.
If you start to venture into brands beyond those industry leaders, you should be a little cautious. Not all off-brands or discount brands are bad. However, something must be said about the quality associated with those household-named companies we all know.
Hopefully, this list of 10 golf club brands to avoid has armed you with information on which clubs to be cautious of.
FAQ
Do Expensive Golf Clubs Make a Difference?
Potentially. But price should not be the sole factor that dictates whether or not clubs make a difference. What matters most with golf clubs is whether they fit the golfer correctly and if they offer benefits to their game.
What Clubs Should You Upgrade First?
Without a doubt, your wedges and putter. These are your scoring clubs and the ones that will make the most impact in improving your scoring. Being fit for and upgrading these clubs could prove to be extremely helpful. After those, your driver would be next in line.
Do Bad Clubs Make You Bad At Golf?
Not necessarily. Bad technique and bad course management are what make a golfer bad. Good or bad equipment will only help or hurt you after your technique improves.