It's pretty rare for me to look at a new golf club company and be particularly impressed. Most are usually either not that good or just not worth paying for. You might as well go for Callaway in that case.
But Stix Golf clubs made a heavy case of exception for me. I was genuinely shocked to see their reviews online and just had to get my hands on them. I did, and after extensive testing, here's what I found.
Stix Golf Clubs Verdict: Stix Golf Clubs are not the flashiest clubs around, nor the most premium option, but if you're looking for money to value ratio, let me tell you. This is the gold mine!
Stix clubs aren't for everyone, though. Read on for a review of each club and our overall impressions. I also included some alternatives to consider.
Stix Golf Clubs: A Comprehensive Review for the Passionate Golfer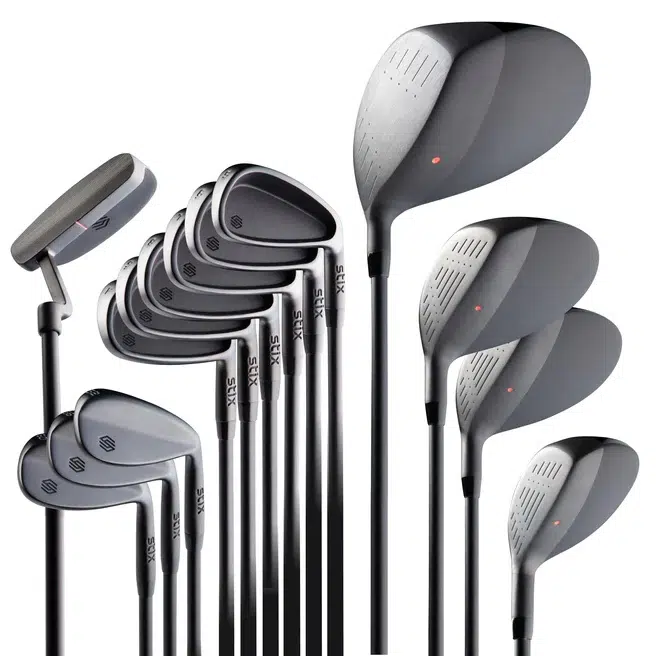 I've been around the block regarding golf clubs, having tested many different brands with unique pros and cons. Recently, I got my hands on Stix Golf Clubs, and I'd like to share my thoughts on them.
The primary appeal of Stix clubs lies in their target audience: they're meant for those still getting a feel for golf, and their design reflects that simplicity and affordability.
But let's break this down into our key sections.
First Impressions
My initial impression of the Stix Golf Set was positive. The clubs, intended for golfers still honing their skills, have a simplistic yet modern design. Stix's mission to provide rookie and casual golfers with good-looking, well-constructed clubs certainly shone through.
From drivers to irons and wedges, the clubs' sleek design and striking black or silver finishes pleased the eye.
Another point of note was the variety in club sets, catering to different golfers' needs with their 14-club, 11-club, and basic 9-club sets. They also offered the option of purchasing individual clubs, which I found accommodating for those not ready to invest in an entire set.
How Stix Clubs Perform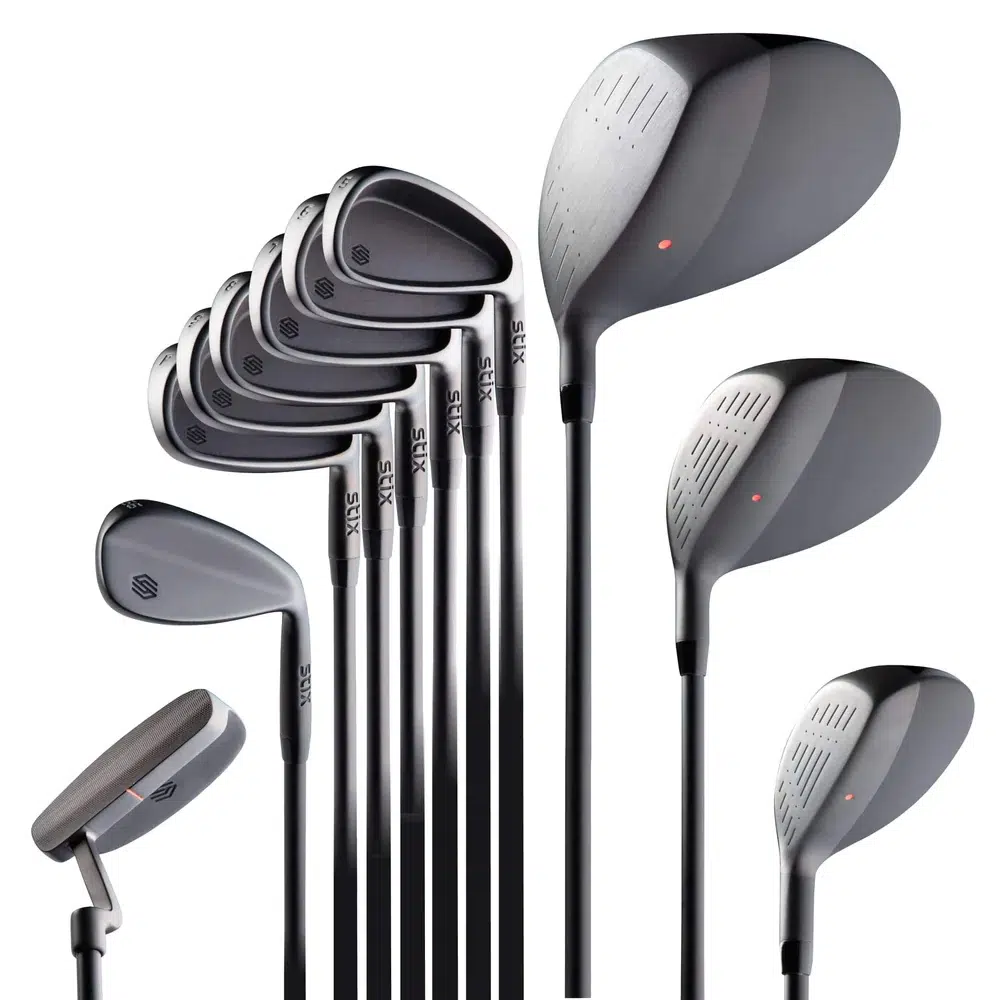 Moving on to their performance, I had the opportunity to try a 14-club set. Starting with their range performance to testing them out on a municipal golf course, I must say, I was pleasantly surprised.
Though considered light by veteran golfers, the clubs offered a balanced and gentle feel, perfect for beginners and casual players. The graphite shafts and modern metal club heads offered a unique experience different from the older clubs I had previously used. The sensation differed from the high-end clubs I typically play with, but the Stix clubs still maintained an appeal in their own right.
The putter, in particular, stood out. It had a solid feel, and the roll off the face was quite reliable, a crucial aspect for making more putts.
In terms of construction, Stix clubs come with graphite shafts available in three flex levels and five length variations. The clubheads are made of titanium (driver) and steel, or cast steel for irons, putting them on par with basic sets from long-standing manufacturers. The clubs also include a basic, textured grip, which I found to be adequate for the entry-level golfer.
Ordering Stix Golf Clubs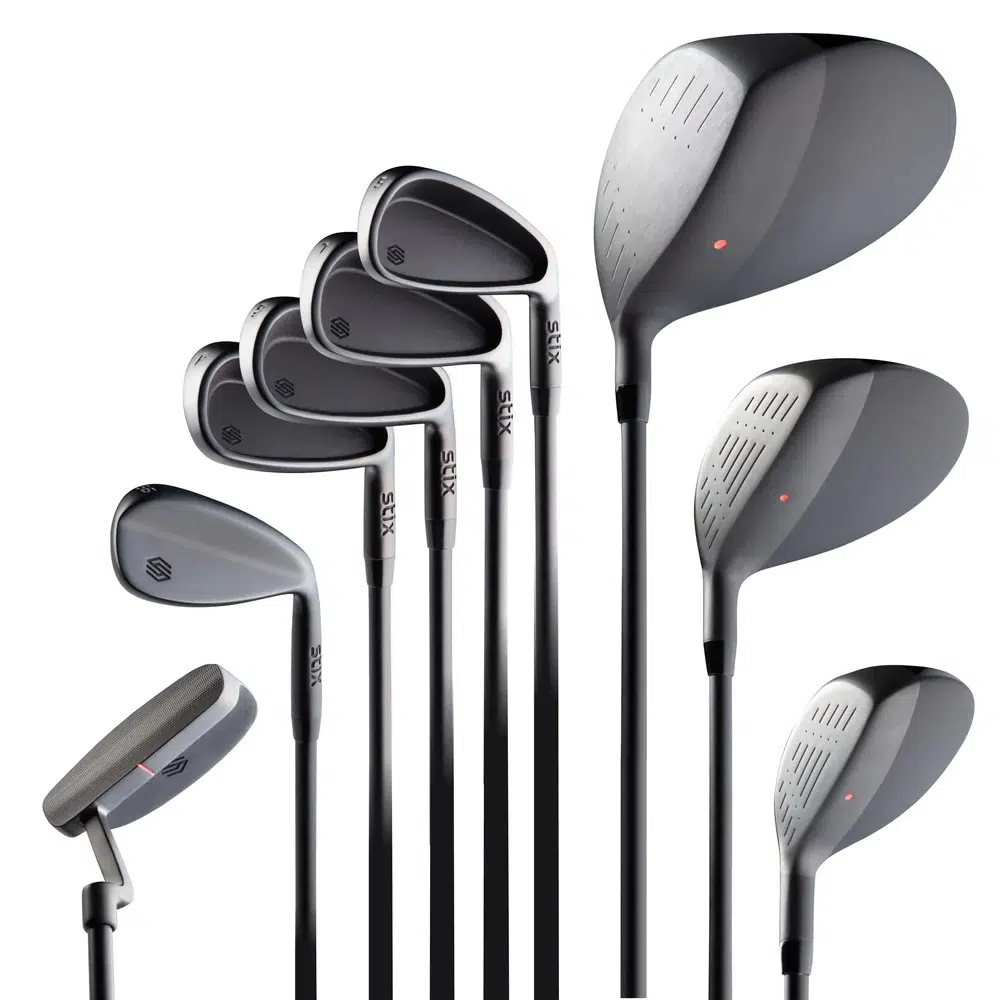 Ordering Stix Golf Clubs is quite straightforward. They offer different sets, including the full set of 14 clubs for around $1000, classic sets for around $800, and casual sets for around $700. They even provide lightly-used sets for less, making them quite affordable.
I'd advise subscribing to their newsletters to keep up with any special offers they might have. You can purchase directly from their website, and they seamlessly guide you through the process.
The crux of the situation is that this is definitely not a golf club brand to avoid.
Who Are Stix Golf Clubs For?
These clubs are designed to improve your game without breaking the bank. They fall under the category of game improvement clubs, which means they are specifically crafted to help you achieve more consistent shots and elevate your performance on the course.
What sets Stix apart is its commitment to offering high-quality clubs at an affordable price point. With sleek and minimalist designs, these clubs deliver on performance and add a touch of style to your golf bag.
So, if you're searching for clubs that strike a balance between performance and affordability, Stix clubs should definitely be on your radar. You'll be pleasantly surprised by the positive impact they can have on your game.
Why You Should Trust Us
Our team spends thousands of hours trying out and researching golf equipment to help you take your game to the next level. Here's our product review process.
We can bring these reviews to you through the small commissions we earn if you buy through the links below.
How I Reviewed The Stix Golf Clubs
Golfspan only shares equipment and brands we trust.
I'm a PGA-certified golfer and instructor, and I thoroughly researched and evaluated the Stix clubs. Then an editor reviewed and fact-checked the review. Finally, we conduct regular content audits to update and revise our reviews to ensure you receive the latest information.
When researching this Stix clubs review, we considered these criteria:
Cost
Launch
Speed
Spin
Feel
Distance
Accuracy
Stix Golf Club Reviews
Stix Driver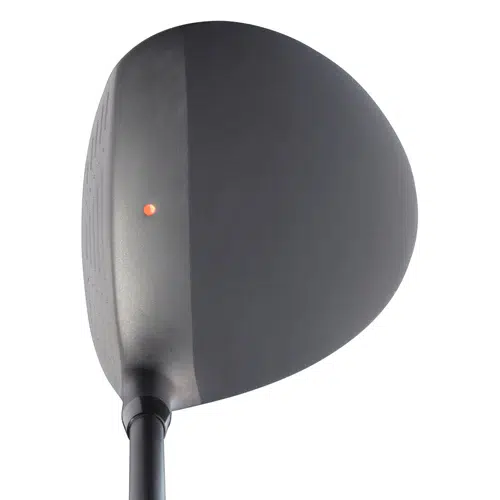 Pros
Lightweight, ensuring ease of use.
Forgiving 460cc clubhead size.
Good balance of stiffness and flexibility.
Solid performance in terms of distance and accuracy.
Cons
Higher ball flight, which may not suit all golfers.
Limited customization options.
Key Features
Graphite shaft.
Black matte finish.
Minimalist design.
With its black matte finish and minimalist design, the Stix Driver immediately caught my eye as it stands apart from most other drivers on the market (except PING drivers).
The first thing I noticed upon holding it was the lightweight feel of the driver – a characteristic that doesn't compromise on the build quality. The 460cc clubhead size is generous and forgiving, giving a real confidence boost when standing on that first tee.
When it comes to performance, I was genuinely impressed. The Stix Driver delivers a potent combination of distance and accuracy. The graphite shaft balances stiffness and flexibility, helping maintain control while maximizing swing speed. However, I noticed a bit of a higher ball flight than I prefer, but this could be a plus for golfers looking for additional loft.
A downside, though, might be its limited customization options. If you're a golfer who likes to tweak the loft or face angle to match your swing perfectly, you might find the Stix Driver a bit lacking.
A good alternative would be the TaylorMade SIM2 Max Driver in such cases. This driver comes with an adjustable loft sleeve, allowing you to fine-tune your club according to your personal swing characteristics. Despite this, this Stix Driver fits the bill perfectly for most amateur golfers looking for a solid driver that offers excellent performance.
Overall, this is a fantastic driver providing solid value for money. It is user-friendly and is a joy to play with on the course, making it a great addition to your golf set.
Stix 3 Wood and 5 Wood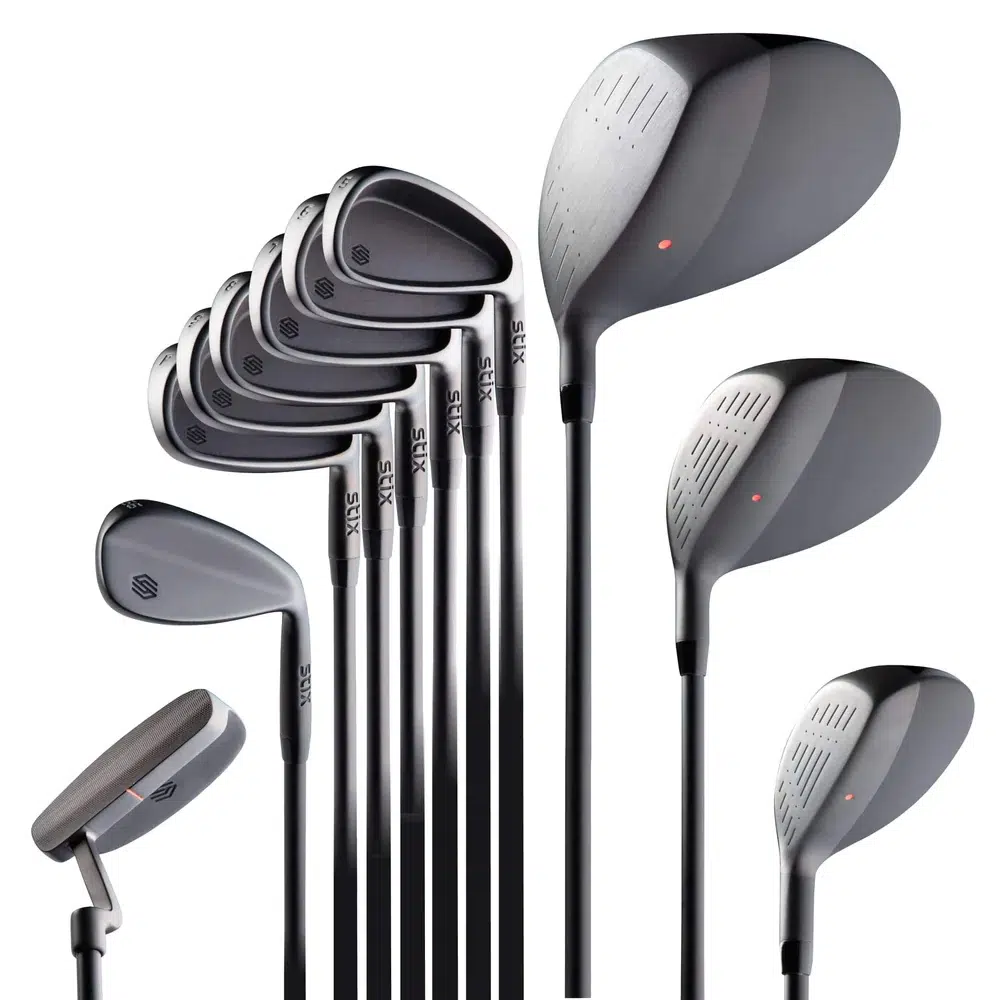 Pros
Easy to launch, promoting high and straight shots.
Durable and high-quality build.
Great value for the price.
Cons
May lack the distance of some competitor brands.
Limited adjustability.
Key Features
Low center of gravity.
High-strength steel face.
Matte black finish.
The Stix Fairway Wood was quite a revelation for me. It's not just its sleek matte black finish that catches my eye, but also its performance that caught my attention.
The club has a low center of gravity, which makes it incredibly easy to launch. I consistently achieved high and straight shots, a characteristic I find immensely valuable in a fairway wood. The high-strength steel face ensured the club's durability while contributing to a solid feel at impact.
Regarding value for the price, the Stix Fairway Wood stands out. Its high-quality build and performance at its price point make it an excellent choice for golfers on a budget or those just starting their journey in the sport.
However, I did notice a couple of shortcomings. The club may lack the distance that some competitor brands can offer. Additionally, the limited adjustability might be an issue for players who like to tweak their club settings for optimal performance. The TaylorMade SIM Max Fairway Wood, known for its impressive distance and adjustability, might be a worthy alternative in such scenarios.
All things considered, I was thoroughly impressed with the Stix Fairway Wood. The combination of ease of launch, durability, and excellent value for the price makes it a commendable choice for any golfer looking to improve their long game.
On a side note, if you're looking for clone golf clubs, we've got a list for that as well.
Stix Hybrid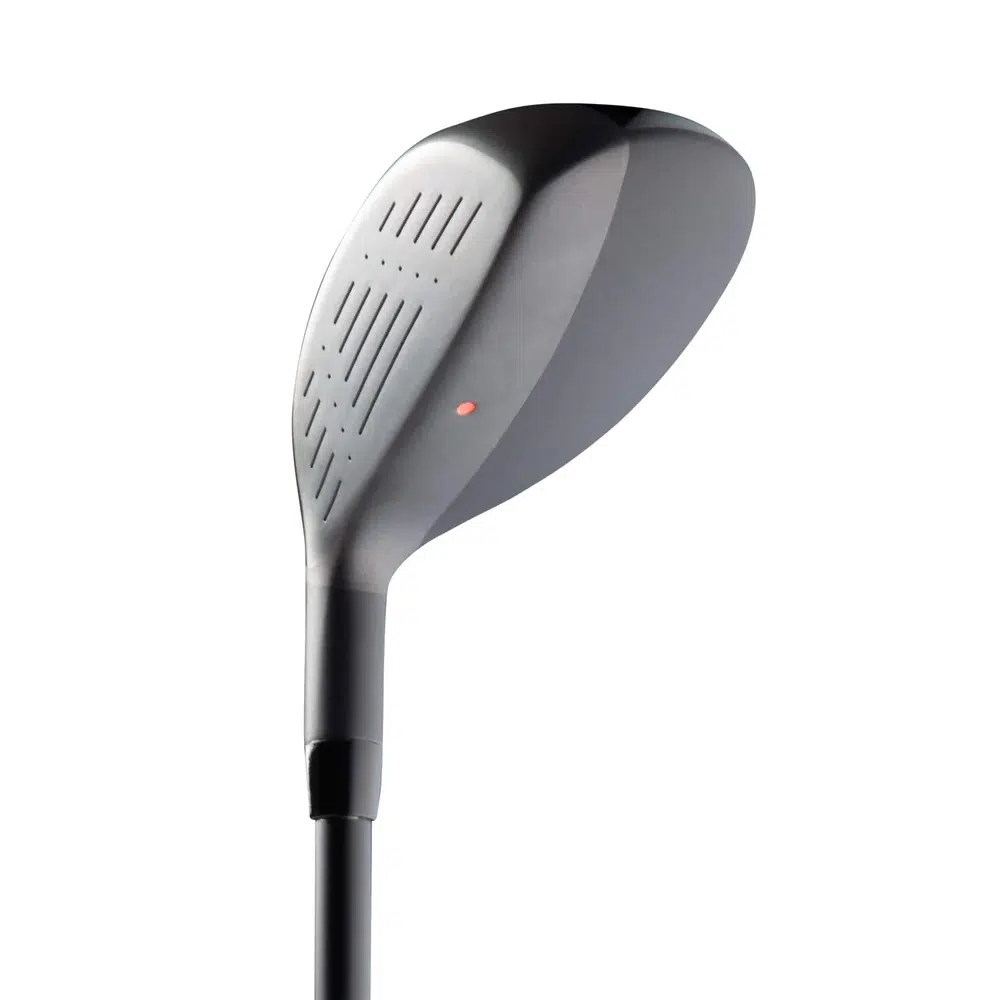 Pros
Provides a solid feel at impact.
Delivers consistent performance.
Very forgiving and easy to hit.
Cons
Less suited for golfers who prefer a traditional look.
Not the best for shaping shots.
Key Features
Compact, modern design.
Graphite shaft.
High MOI for stability.
From the outset, I was intrigued by the modern, compact design of the Stix Hybrid. The club sets itself apart with a confident look that is both stylish and innovative, and it wasn't long before I discovered that its performance lived up to its appealing aesthetics.
In hand, the hybrid provided a solid feel at impact, which inspired confidence with each shot. I found the graphite shaft to be a good complement to the club head, providing a nice balance of stiffness and flexibility. The high moment of inertia (MOI) design was a boon, too. It ensured that the hybrid was forgiving and easy to hit, a quality always appreciated on the course.
However, not every aspect of the hybrid impressed me. While appealing to me, the modern design might not be to everyone's taste, particularly those who prefer a more traditional look. Additionally, while the hybrid delivered consistent performance, it wasn't the best for shaping shots. If you're a golfer who enjoys manipulating ball flight, the Callaway Apex Hybrid might be a more suitable alternative.
Despite these minor reservations, my overall impression of the Stix Hybrid was very positive. It's a reliable club that delivers consistent performance and forgiveness, making it a worthwhile addition to the bag. The Stix Hybrid is worth considering for golfers who value modern design and dependable performance.
Stix Irons 5-PW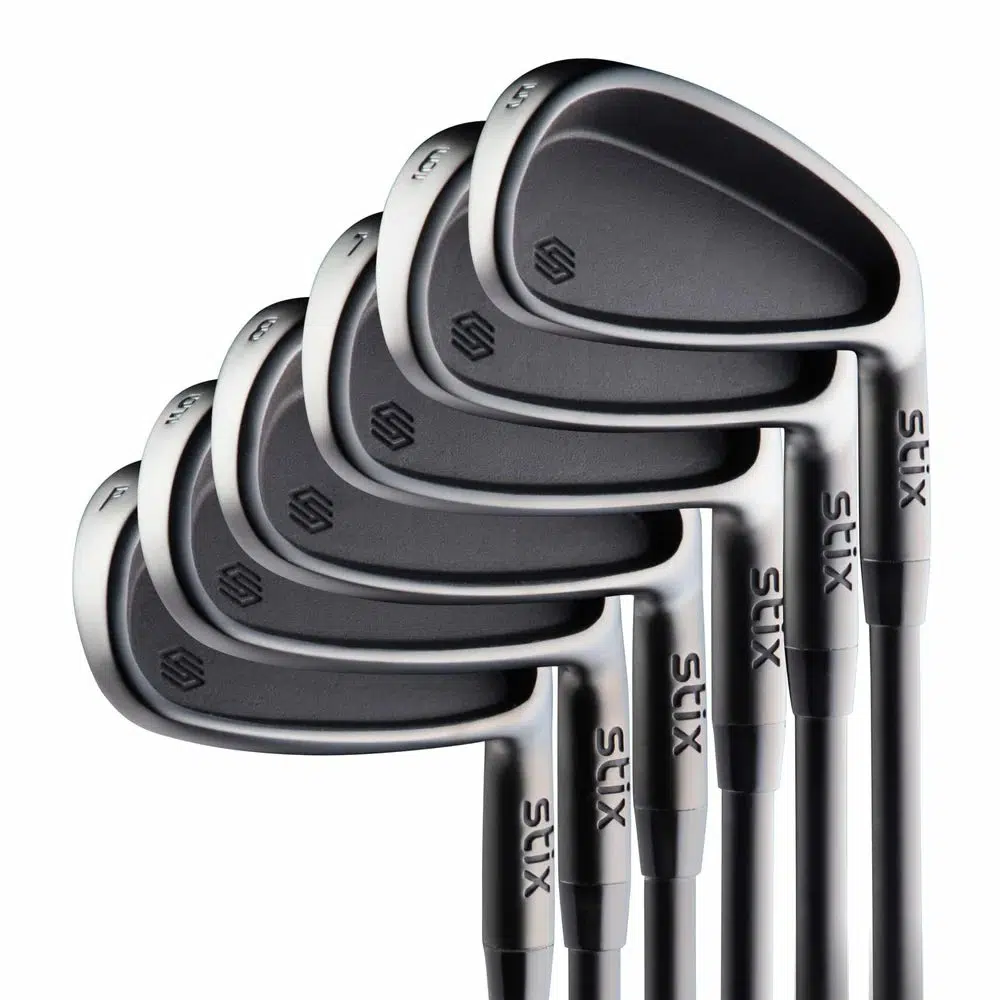 Pros
Cavity back design for forgiveness and ease of use
Good feel and feedback upon impact
Straighter and more consistent ball flight
Blade-style wedges with high bounce for forgiveness
Ability to spin and check balls on the greens
Cons
Not as refined-looking as some higher-end brands
Key Features
Cavity back irons for forgiveness and game improvement
Blade-style wedges with high bounce
Matte black or silver finishes available
Good ball spin and check on greens
As an experienced golfer, one tends to develop a particular taste in irons, and I must admit, the Stix Irons didn't disappoint. The first thing you'll notice about these irons is their sleek, all-black design. I think they look just as good, if not better, than many of the top-tier brands out there. But, of course, looks are just the icing on the cake.
What truly impressed me was the playability. They offer excellent distance control, which is a crucial factor in iron play. They have a consistent launch, and their distance gapping is accurate, ensuring you don't get surprised by the club's performance during the game.
One possible issue I noted was the lack of feedback on mishits. Some golfers might find this concerning, especially those who like instant tactile feedback on their shots. If you fall into that category, a good alternative could be the Callaway Mavrik Irons. These irons are well known for their feedback, letting you know instantly when you've not quite caught the ball right.
But remember, no club is perfect, and what the Stix Irons might lack in feedback, they more than make up for forgiveness and consistency.
They are incredibly forgiving, helping to keep your shots on target even when the strike isn't perfect, which is a big plus for high handicappers or beginners. So overall, these irons are an excellent choice for those looking for consistent, reliable performance on the fairway.
Stix 52, 56, 60 Degree Wedges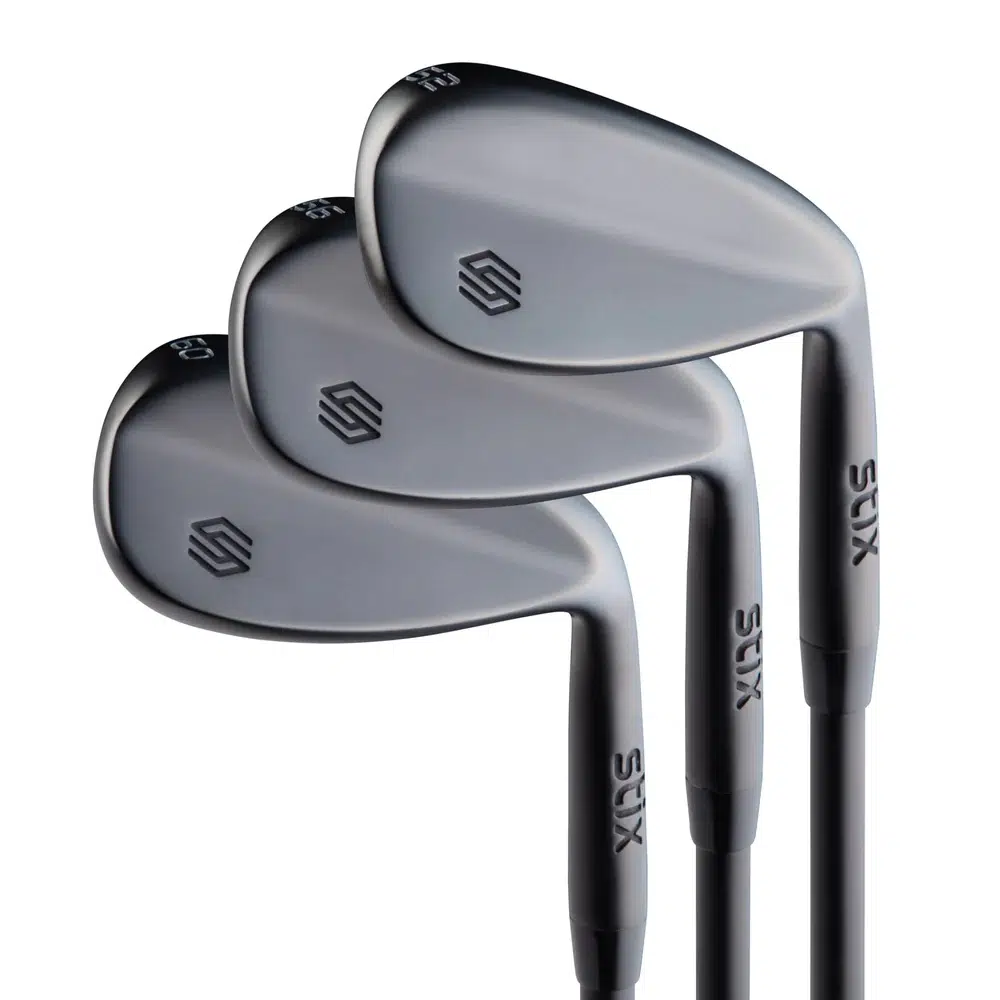 Pros
Impressive spin control.
Versatile design, suitable for various course conditions.
Solid impact and feel.
Cons
Less suitable for players with a steeper swing.
Limited loft options.
Key Features
Cavity back design.
304 stainless steel body.
Sleek matte black finish.
Regarding precision shots, the right wedge can make a world of difference, and the Stix Wedges did not disappoint me. Crafted with a sleek matte black finish, it's visually impressive, and its performance is equally commendable.
The moment I got the wedge in my hands, I first noted its solid impact and feel. I appreciated the way the 304 stainless steel body communicated the strike's quality. The cavity back design contributes to a higher moment of inertia, enhancing stability and forgiveness – essential features when you're trying to escape the sand or hit close to the pin.
In terms of control, the Stix Wedge stood out for me. It delivered an impressive spin on the ball, providing excellent command over shot shaping and landing. Thanks to its versatile design, this club was exceptionally useful in various course conditions.
However, there were a couple of aspects I found less appealing. Because of its design profile, the wedge may not suit golfers with a steeper swing. Also, the limited loft options might not cater to everyone's needs, especially those who desire a more tailored wedge setup. In such cases, an alternative like the Titleist Vokey SM9, with its wide array of lofts, could be considered.
All in all, the Stix Wedge proved to be a highly capable club. Despite a few minor shortcomings, I believe it brings excellent performance and versatility to the table, making it a worthy asset in any golfer's bag.
Stix Putter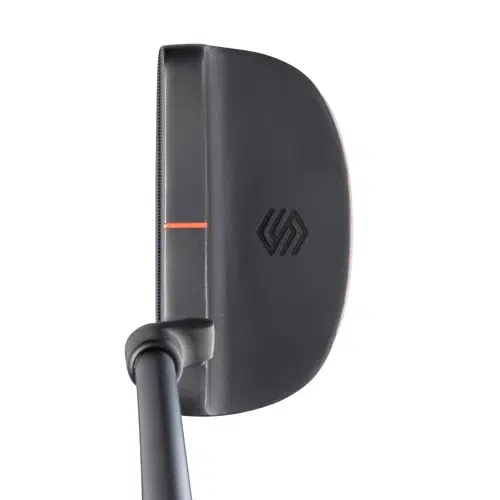 Pros
Consistent and accurate distance control.
Well balanced, encouraging a smooth stroke.
Sleek and attractive design.
Cons
The matte finish may show wear over time.
May feel too lightweight for some players.
Key Features
Precision milled face.
Perimeter-weighted design for increased stability.
Matte black finish.
The Stix Putter has proven to be a valuable addition to my golf equipment. Right off the bat, its sleek and attractive design is worth mentioning. The matte black finish gives it a modern and stylish look that definitely turns heads on the green.
I particularly liked this putter's well-balanced nature, encouraging a smooth and consistent stroke. Coupled with the precision milled face, I was able to attain consistent and accurate distance control, which is crucial in the game of putting.
The perimeter-weighted design further added to the club's stability, reducing twisting and making off-center hits less punishing. These features collectively contribute to a reliable and forgiving putting experience, something I really appreciate.
However, I noticed a couple of potential downsides. The matte finish, while attractive, may show wear and tear over time. Also, some golfers might find the club too lightweight, potentially affecting their feel and control. The Odyssey White Hot OG could be a viable alternative for those looking for a heavier option.
Despite these minor setbacks, I firmly believe the Stix Putter would be a great addition to any golfer's bag. With its balance of appealing aesthetics and consistent performance, it's a club that delivers where it counts.
FAQs — Stix Review
Who Owns Stix Golf Company?
Stix Golf Company is privately owned, and its founder is Gabe Coyne. During the pandemic, he launched the company just a couple of years ago to provide high-quality golf clubs at an affordable price point. Stix Golf has experienced significant growth and success in its first year, expanding its distribution and gaining popularity among golfers.
Are Stix Golf Clubs Good For Beginners?
Yes, Stix golf clubs are one of the best ones for beginners. The company's clubs are designed with affordability and performance in mind. This makes them accessible for particularly new golfers that want the quality but at a lower price. And the fact that these clubs are more on the forgiving end makes it an appealing option for beginners as well.
Where Are Stix Golf Clubs Made?
Stix golf clubs are manufactured in Asia. The company outsources production to take advantage of cheaper labor markets, allowing them to offer competitive prices for their clubs. However, Stix is not alone here since many other golf companies rely on Asian countries as well due to the low costs.
Are Stix Clubs Graphite?
Yes, Stix golf clubs come with graphite shafts. Graphite shafts are lightweight and help golfers increase their swing speed, resulting in improved distance and easier play. Stix focuses on providing clubs with graphite shafts to enhance the overall performance and playability of their clubs.
Conclusion — Stix Golf Club Reviews
As a seasoned golfer, I can confidently attest that Stix Golf Clubs have exceeded my expectations in terms of performance and value. While they may not possess the flashy features of high-end brands, Stix excels where it truly matters on the course.
Their cavity back irons deliver an exceptional combination of forgiveness and game improvement. With each swing, I felt a surge of confidence, knowing that even off-center strikes would still yield satisfactory results.
The wedges are equally impressive, providing excellent spin control for finesse shots around the green. And let's not forget the putter, which consistently delivered accurate rolls and instilled trust in my short game. Overall, I'll highly recommend these for new golfers that don't want to blow a hole in their pocket but still want a somewhat premium experience.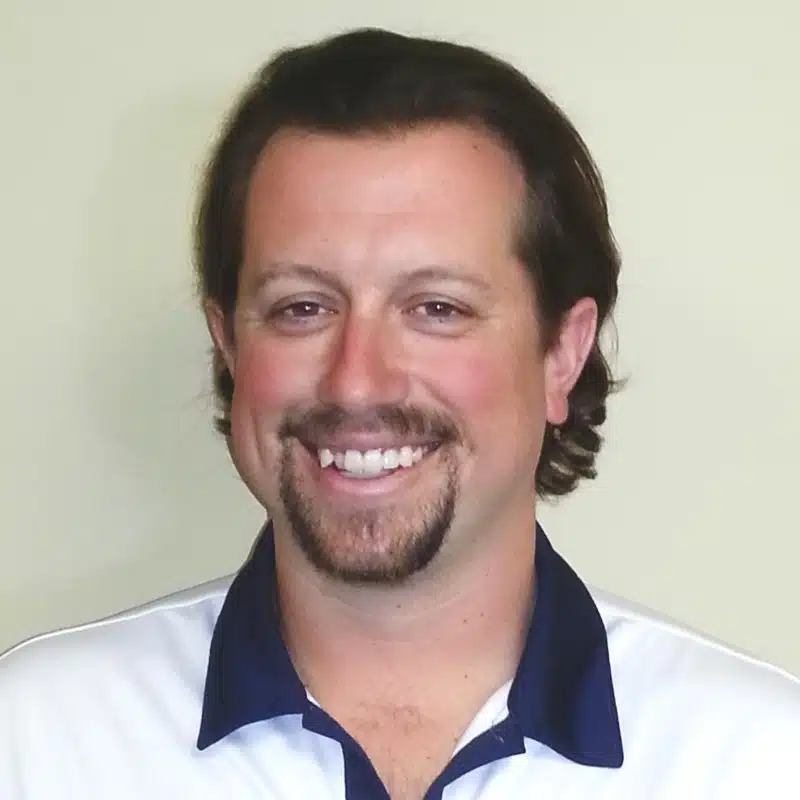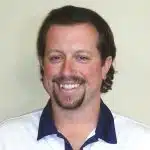 Clint became the Head Teaching Professional at one of Toronto's busiest golf academies and was featured on Canada's National Golf TV program, "Score Golf Canada," twice. He now tests and reviews golf equipment and gets to enjoy the game he loves whenever he wants while helping people lower their scores.