Bob Vokey's wedges are well-loved by pros, so we thought we'd give you an insight as to why and whether the latest addition would work for the everyday golfer too.
The newest Vokey wedge is the Titleist SM9. Possibly the biggest selling point with the wedge is six choices of grinds to appease every golfer.
So, is the Vokey SM9 worth the investment? The SM9 is a sleek-looking wedge with six grind options, which can appeal to low-handicap golfers. It isn't a huge upgrade from the SM8. But if you're upgrading your wedge from another brand, the micro-grooves will add spin and control. Plus, there's a decent amount of forgiveness. 
There are plenty of other details to review if you need a great wedge. Below we'll dive into the SM9's pros, cons, features, specs, and which golfers could knock off a few strokes with this club.
If you have been umming and ahhing about whether to pay the big bucks for the SM9 wedge, hopefully, after reading this Vokey SM9 review, you will be better informed on the decision at hand.
Titleist Vokey SM9 Wedge Review
Pros
New micro-grooves for increased spin and control
Increased forgiveness
Looks really slick
Differing grind options to work with your swing
Cons
Not a massive upgrade from SM8
| | |
| --- | --- |
| Total Score | 79.5 |
| Star Rating | 4-star rating |
| Distance | 74 |
| Forgiveness | 84 |
| Feel | 76 |
| Workability | 91 |
| Aesthetics | 81 |
| Price | 71 |
Who Is the Vokey SM9 for?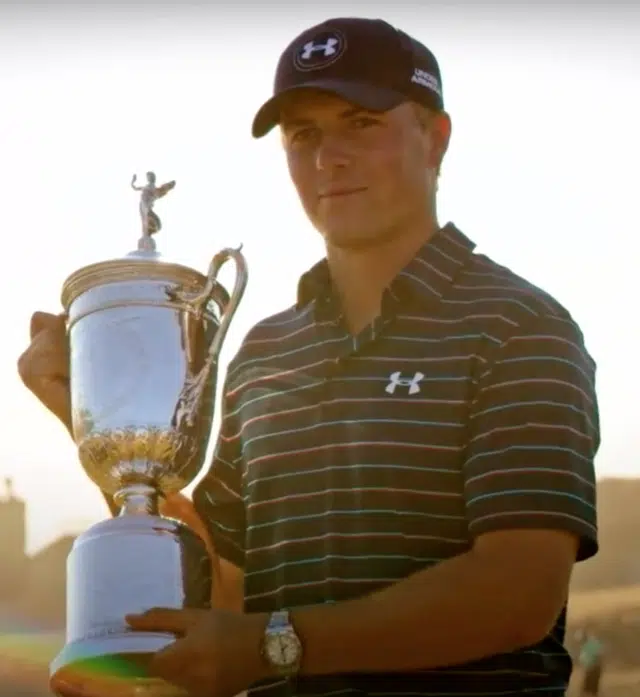 The Vokey SM9 is ideal for low-handicapped golfers and those who prefer a traditional wedge sole.
The likes of Jordan Spieth, Will Zalatoris, and Justin Thomas all used the SM9 in 2022, so it is obviously popular with the pros. It also suits relatively low-handicapped amateurs who want to invest in their game and want the latest clubs to reap their tech gains.
You can also make use of the used Vokey SM9s if you can't justify a fresh wedge right now.
For more options, check out the best wedges on the market this year.
When Was The Vokey SM9's Release Date?
In January 2022, it was announced that the SM9 wedges would come out a couple of months later in March. The exact Titleist SM9 release date for the average golfer was on March 11. The original price for the Vokey SM9 was $179.99.
Titleist Vokey Wedges Specs
| | |
| --- | --- |
| Shaft Material | True Temper DG S200 |
| Shaft weight | 130 grams |
| Lie angle | 64 degrees |
| Stock Grip | Golf Pride Tour Velvet 360 White |
| Length | 35 – 35.75 inches |
| Milled or Forged | Spin milled |
Key Features of the Vokey SM9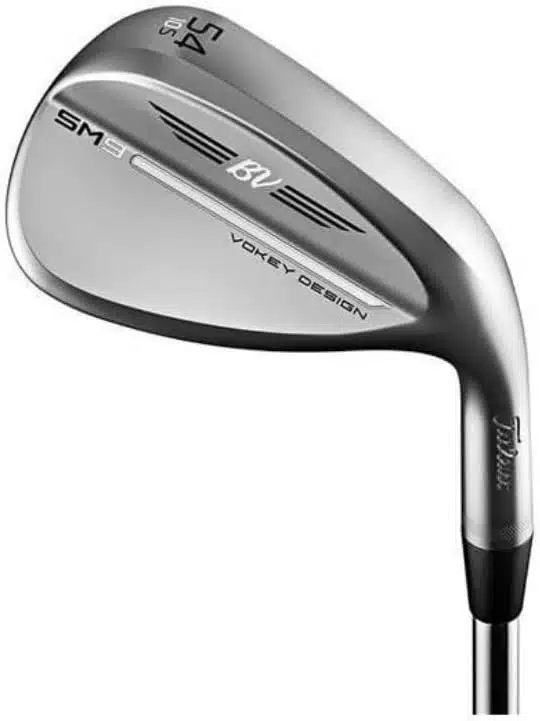 Sleek Look
If slickness could be a golf club, it would be the Vokey SM9. The silver finish, with gentle touches of the black strips and white markings, makes it look the part.
The dimple on the wedge's sole covers a larger surface area than the SM8, which allows for a little more forgiveness.
Soft Feel
When connecting with the club, the overwhelming feeling is about how gentle and soft the club is. It makes your shots feel caressed more than anything, and it's certainly a feel-good club to use, which is ideal.
Smooth Energy Transfer
The almost effortless connection with the ball allows for a natural swing to connect with the ball nicely, and the energy transfer is calm and controlled as the ball is sent on its way.
Consistent Ball Speeds
The control on the club allowed for shots of consistent ball speeds. There was nothing hugely speedy about how the ball moved, but it is better to be in control of where you are sending your shot than smashing it miles with little regard for accuracy.
Maximum Spin
The new micro-grooves are cut to the edge and will therefore maximize spin on the wedge. They impressed me, and I can vouch for the club enabling more spin than the SM8.
To double the durability of the groove, a localized heat treatment is applied to the impact area of the club.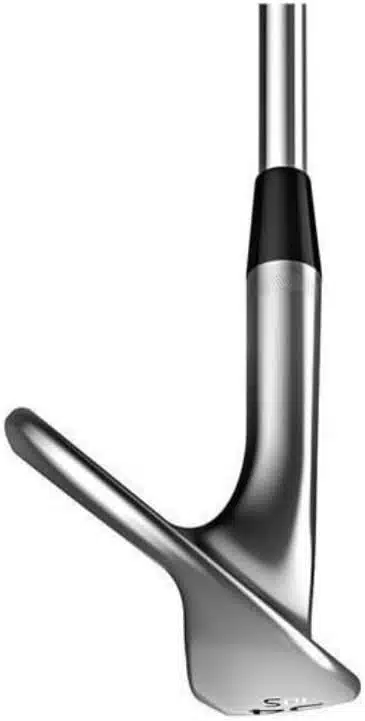 Low Launch
The low launch of the ball is more controlled after solid contact with the wedge. This is thanks to a new raised center of gravity on the club, so you can control the trajectory of your shots better.
Decent Forgiveness
Now, this club is more forgiving than its predecessor, the SM8, but still not overly forgiving. It is best suited to a low handicapper who can get the club fitted and operate it handily.
Range of Loft
Six different grind options allow a loft range of between 46 and 62 degrees, depending on your preference. I favor controlling the loft on my shot, so I opted for the S Grind and was not let down. If you find one that doesn't suit you, play around with the grinds to see what works for you.
Your swing is unique, and that means you require a unique wedge. Once you work out your ideal grind will enable you to hit varying wedge shots across different conditions.
Shafts
I was working with the 130-gram True Temper DG S200 stiff flex shaft, which was a little heavy but more than manageable. It suits those looking for a low-ball flight to control their shot.
Grip
The grip is the faultless Golf Pride Tour Velvet 360 White. The non-slip pattern does what it says on the tin and is very effective.
[Read more customer reviews on the Vokey SM9]
Grind Options for the Titleist Wedges Vokey SM9
There are six grind options for the SM9 wedges:
L Grind (available from 60 degrees – maximum versatility
F Grind (available from 46 to 56 degrees) – all-purpose grind for full wedge shots
M Grind (available from 56 to 62 degrees) – multi-purpose grind for versatility
S Grind (available from 54 to 60 degrees) – for those who want to control loft
D Grind (available from 54 to 60 degrees) – for those with a steeper angle of attack
K Grind (available from 58 and 60 degrees) – ultimate bunker club
How We Tested the Titleist Vokey Wedge
Golfspan is independent and not pressured by manufacturers to recommend products. We were not paid for the reviews in this article. These clubs were selected by our team, who have over 100 years of experience playing golf and thousands of hours reviewing products. But we may earn an affiliate commission when you purchase something through our retail links.
3 Alternatives to the Vokey SM9
Comparing a few alternatives when investing big in a wedge is helpful. Here are 3 other options instead of the Vokey SM9.
Beautiful look and great feel
5 different grinds
If you are looking for a club that also offers lots of grinds to make it easier to play a wider variety of greenside shots, this is your club. The new tour-tested W and C grinds have both been updated. The Mack Daddy also offers a stunning look and a soft feel.
Its head shaping has progressed from the traditionally-shaped lob and sand wedges to a compact player-preferred design in the gap and pitching wedges to allow for a seamless transition into an iron set.
The stock shaft options are either the True Temper Tour issue 115 or the Project x Catalyst 80.
[Read more customer reviews of the Callaway MD5 Jaws Wedge]
Very forgiving
Maximized spin
If you are looking for something a little more forgiving if your handicap is rather high for example, this wedge would work well for you.
A low-density, lightweight core boosts moment of inertia (MOI) for increased forgiveness on each shot. Additionally, weight in the toe with a hollow chamber near the heel allows for a more forgiving wedge wherever you connect with the face.
UltiZip grooves are very helpful for maximizing spin and channeling debris.
A TPU insert absorbs vibrations and improves the feel of it too.
[Read more customer reviews of the Cleveland CBX Zipcore]
6 different grinds
Grooves cut to maximize spin
We did say the SM9 isn't a huge upgrade from the SM8. The previous version is a solid choice for a slightly cheaper alternative to a new SM9.
Like the SM9, there are also 6 grinds with the SM8.
The SM8's grooves are cut to the edge to maximize spin and shot control. Also, each groove on every head is inspected for conformity.
It is a club that has been well-loved by the pros, too, as Tyrrell Hatton, Scottie Scheffler, and Russell Henley have all used it previously.
If you have a relatively low handicap, this could be the alternative for you.
[Read more customer reviews of the Titleist Vokey SM8]
Final Thoughts
If you are a talented golfer, you should back yourself with the Vokey SM9s. Unless you want an upgrade immediately, your current wedge will suffice, but if it's time to up your game on the wedge front, you can count on the SM9 to serve you well.
If you are an everyday amateur, there are more forgiving wedges you can use before the SM9. Though, if it's love at first sight, that doesn't mean you can't use it. Keep working on your game; before you know it, it could be time to take a Vokey to the course.
After reading this Vokey SM9 wedge review, hopefully, you can better understand whether they suit you and your qualities. They can be rather heavy and not as forgiving as other wedges for new starters.
And if you wondered 'are Vokey wedges the best', they are certainly one of the best wedges around, especially for pros, which is why they are so common in their golf bags.
FAQs
Are SM9s Forgiving?
The Vokey SM9 may not be the most forgiving club, thanks to its design for talented golfers. Though, the wedge is trying to become more forgiving. The raised center of gravity adds to the forgiveness and enables a square face when connecting with the ball.
Are Vokey Wedges Hard to Hit?
Vokey wedges will be quite tough to hit well for a high-handicapped golfer. They may be more forgiving than previously, but there are still other wedges that are more forgiving, and they can be deemed quite heavy, which isn't ideal when your handicap is still high.
What Vokey Wedges Do Pros Use?
This year, big names such as Jordan Spieth, Will Zalatoris, and Justin Thomas have all used the Vokey SM9. The likes of Justin Rose, Ian Poulter, and Russell Henry have all been spotted sporting the Vokey SM8 over recent years too.
Read more: