Jordan Speith is arguably the best post-Tiger-era irons player. So, we're excited to see what he's packing for his irons and wedges. He is quite a well-known Titleist enthusiast. He has only used Titleist clubs for his entire professional career.
So, you can expect to see top-of-the-line clubs from one of the biggest golf brands in the world in his bag. Even before he was sponsored, he used them as an amateur. Join us as we dive deep into his golf bag and check out which Jordan Spieth clubs you can get for yourself.
Read on to find exactly what's in Jordan Spieth's bag for 2023.
What Clubs Does Jordan Spieth Use?
| | | | |
| --- | --- | --- | --- |
| Item | Model | Loft | Shaft |
| Driver | Titleist TSi3 | 10.5º (9.75V setting) | Fujikura Ventus Blue 6 X |
| 3 Wood | Titleist TS2 | 15º | Fujikura Ventus Blue 7 X shaft |
| Hybrid | Titleist 818 H2 | 21º | Graphite Design Tour AD DI-95X |
| 2 Iron | Titleist T200 | | Graphite Design Tour AD DI 95 X |
| 4-9 Irons | Titleist T100 | | True Temper Project X 6.5 |
| Wedges | Titleist Vokey Design SM9 | 46-08F, 52-08F, 56-10S | True Temper Project X 6.0 |
| 60 Wedge | Vokey Proto (60T) | 60º | True Temper Project X 6.0 |
| Putter | Scotty Cameron Circle T 009 | | |
| Ball | Titleist Pro V1x | | |
| Apparel | Under Armour | | |
| Shoes | Under Armor Spieth 5 SL | | |
Jordan Spieth Driver: Titleist TSi3
In previous years, Jordan Spieth used a combination of the Titleist TS2 and 915 drivers. In 2023, it appears he's switched to the newer TSi3.
These drivers have a compact head that suits a pro player like Spieth. However, it's still ultra-forgiving, even more so than the rest of the TS series. They are also easily adjusted, making them perfect for a vast array of swing styles.
If you're a Titleist fan and, more importantly, a Jordan Spieth fan, these drivers are a good one to consider buying.
Jordan Spieth What's in the Bag – Woods: Titleist TS2
No products found.
Similar to the drivers he spent years playing with, Spieth uses a TS2 3 wood while he's on tour. He started using the TS2 in 2018 and has continued with it without waning since.
It's a trend we are seeing more and more of in modern golf. Even though there is a newer, "better" model from Titleist, he prefers to use a fairway wood that he's comfortable with.
We're predicting he may switch to the TS3 series in the off-season of 2023. We'll have to wait and see.
What Clubs Does Jordan Spieth Use – Hybrids: Titleist 818 H2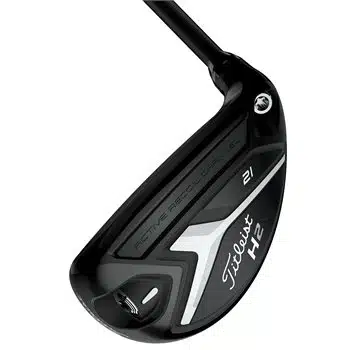 Just like with his fairway wood, Spieth opts to use an older hybrid model while on the PGA Tour. His hybrid of choice is the Titleist 818 H2. His particular favorite has a 21° loft. He's on record saying he likes to hit a golf ball two or three thousand times with a club before he feels comfortable with it. So, it seems sensible he uses the older Titleist 818 H2 for tournament play.
Jordan Spieth New Irons: Titleist T100 and T200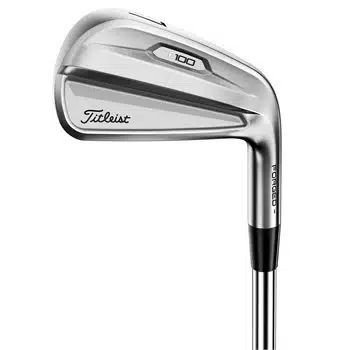 For the 2023 season, Jordan Spieth has used a combination of Titleist T100 and T200 irons. Primarily, he uses T100 irons ranging from a 4 iron to a 9 iron, and the T200 2 iron may or may not be in the bag for any tournament.
Although he jokes that he's not good enough to use a blade iron, he obviously is. In fact, he's one of the best irons players around at the moment. But he also says that everyone is bound to have a slight mishit now and again during a round of golf, so why wouldn't you want a forgiving set of cavity-backed irons that can still do everything blade irons can? One or two strokes can be the difference between placing in a tournament or not.
Jordan Spieth WITB – Wedges: Titleist Vokey SM9, Vokey Wedgeworks Proto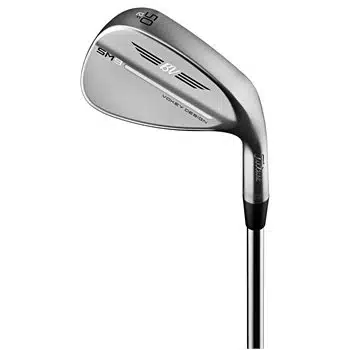 Spieth uses three wedges in lofts of 46°, 52°, and 56°. All three of these belong to the Titleist Vokey SM9 line.
You will also catch him with a 60° prototype Vokey Wedgeworks proto in his bag too. The latter is perfect for making shots when Spieth needs to keep the leading edge as low as possible to hit shots from a tight lie.
The prototype has been in his bag since 2020, and given his penchant for sticking to clubs he's comfortable with, it will be in there for years to come.
Jordan Spieth Golf Clubs – Putter: Scotty Cameron Circle T 009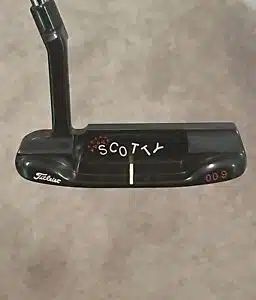 It seems a little strange that since Jordan Spieth is an advocate for forgiving irons that he doesn't use a mallet-style putter for that little extra forgiveness.
On the other hand, he likes to stick to clubs he feels comfortable with. Since he's had the Scotty Cameron Circle T 009 in his bag for over 10 years, it's safe to say he has mastered how to use it.
He was first inspired to put a 009 into his bag as two of his favorite golfers (Geoff Ogilvy and Adam Scott) used them as he was coming up the ranks.
If you were looking for a similar putter that's newer, the Scotty Cameron Special Select Newport 2 Putter is highly recommended.
Jordan Spieth's Golf Balls: Titleist Pro V1x
It would make sense for a Titleist Staff golfer to use the top-of-the-line Titleist balls, right? The two best golf balls from Titleist are the V1 and V1x. The V1x that Spieth uses is the low spin model, which is essential for the extra distance that tour players sometimes need. They're a little less forgiving than the V1 balls, so keep that in mind when you're looking to add balls to your golf bag.
Jordan Spieth's Apparel and Shoes: Under Armour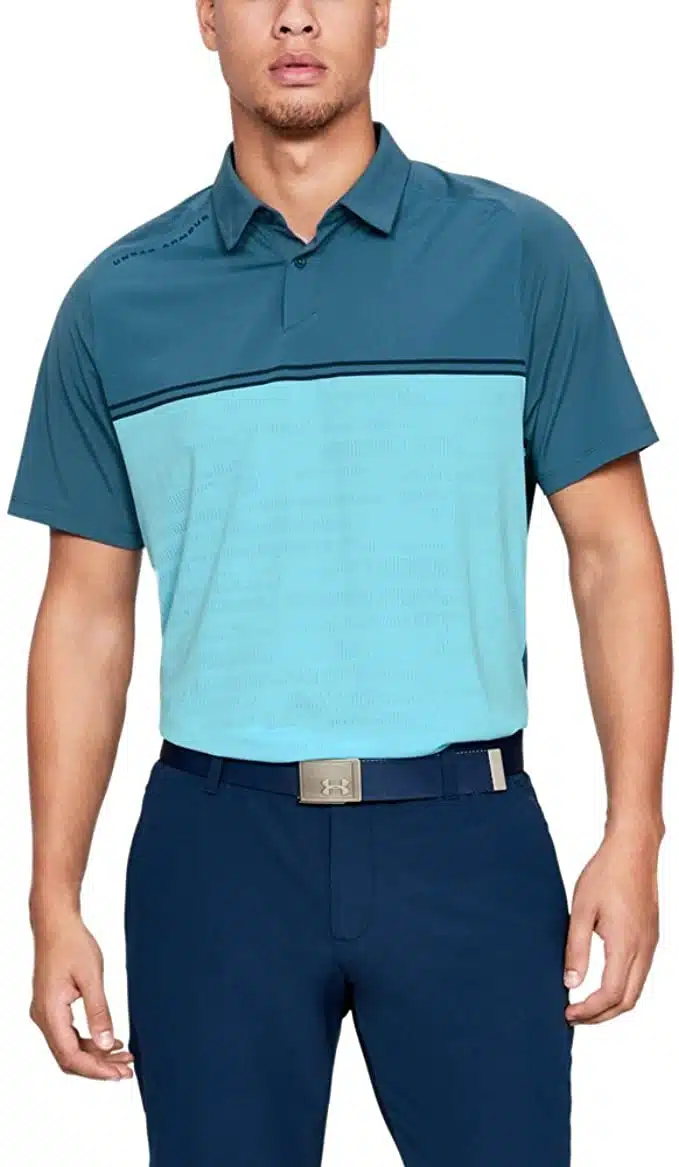 You'll always find Spieth wearing Under Armor apparel on a golf course. He also has his own custom line of shoes called Spieth 5 SL, which has a 3D molded foot bed with an internal wrap to close the gap between your foot and the shoe to roll easier during your stroke.
You can buy the Spieth 3 or Spieth 4 both sport similar features.
FAQs
Who Sponsors Jordan Spieth?
Jordan Spieth uses Titleist clubs and has Under Armor apparel and shoes.
What Irons Does Jordan Spieth Use?
A Jordan Spieth golf bag uses a combination of Titleist T200 (2 Iron) and Titleist T100 (4-9 Irons).
What Country Club Does Jordan Spieth Belong To?
As a Texas local, Spieth plays in plenty of clubs around Texas. But, his club is the Dallas National Golf Club. As a Masters Champion, he's also a member of the Augusta National Golf Club.
How Much Are Jordan Spieth Clubs Worth?
Since Jordan Spieth uses a lot of older clubs, you'd likely have to shop second-hand to find the exact same clubs. So, we've given our best estimate of what you can get a second-hand club for. Since a lot of his gear is older, you don't have to be the richest golfer in the world to play his clubs.
The most expensive part of the bag that you can still find new is the Jordan Spieth irons set of Titleist T100.
SH = Second Hand
Item
Model
Approx Price (USD)
Driver
Titleist TSi3
$650
3 Wood
Titleist TS2
$200 (SH)
Hybrid
Titleist 818 H2
$100 (SH)
2 Iron
Titleist T200
$150
4-9
Titleist T100
$1,500
Wedges
Titleist Vokey SM9
$190 Each
$570 Total
60 Wedge
Vokey Wedgeworks Proto
N/A (Custom Club)
Putter
Scotty Cameron Circle T 009
$400 (SH)
Total
$3,470
Wrapping up the Jordan Spieth Setup
Unfortunately for those looking to emulate their favorite golfer, Jordan Spieth clubs are a little older and harder to get your hands on. But you could buy the newer versions of what he plays and likely have an easier time on the course anyway. Chances are, over the coming years, he will upgrade to the same Titleist clubs that you pick too.
Do you want to check out what some of your other PGA Tour favorites are playing? Check out these articles:
Chris's love for golf is only rivaled by his wanderlust. A globetrotter at heart, He's played courses throughout Europe and Asia and at home in NSW, Australia. With a writing style as smooth as his golf swing, he'll help you find the right gear to match your skill level and style. You can connect with Chris on LinkedIn.