There is a multitude of golf balls on the market to suit players of every handicap, swing speed, and ability.
One of the best known, but not quite in the premium category any longer is Noodle golf balls. In this Noodle Golf Ball review, we will look at some of the best, most affordable, and most played noodle golf balls.
The durability, affordability, and playability of Noodle golf balls have made them amongst high handicap and beginner golfers alike.
Noodle golf balls have an interesting and celebrated past that have had some twists and turns but they have never lost the desire to produce excellent quality golf balls for their target market.
Now-obsolete British Tyre & Rubber Co. Ltd. (BTR) merged their numerous sports brands when they acquired Dunlop Holdings in 1985. This takeover included brands such as Dunlop Sport, Slazenger, Maxfli, and Carlton Sports. Maxfli, then part of the Dunlop Holdings Group, owned the Noodle brand name.
After more than a decade under the management of British Tyre & Rubber Co. Ltd., the Dunlop Slazenger management entered a leveraged management buyout of the company, facilitated by private equity firm Cinven, in 1996. A rather disastrous period followed, and Dunlop Slazenger soon came under the control of a consortium of banks led by The Royal Bank of Scotland.
Under a previous licensing agreement between TaylorMade adidas Golf and Maxfli, the Maxfli brand fell under the control of the TaylorMade adidas Golf group in 2004. The rights to Slazenger Golf in North America were acquired by the Slazenger Golf Products Company TaylorMade adidas Golf retained the Noodle trademark and associated golf ball patents.
Although TaylorMade adidas Golf sold Maxfli to Dick's Sporting Goods on February 11, 2008, Noodle golf balls are still manufactured in the TaylorMade adidas Golf manufacturing facility in Korea.
This creates the certainty that Noodle golf balls undergo strict manufacturing and quality controls delivering consistent quality that conform to the legal requirements set by the various governing bodies of golf.
Noodle golf balls are aimed at golfers with a swing speed of between 70 and 95 mph.
The most popular Noodle golf balls on the market today include:
1. TaylorMade Noodle Long & Soft Golf Balls
Pros
Affordable offering excellent value for money
Durable Iothane cover
Soft 34 compression rating
Adds consistency to the long game
Cons
Not suited to golfers with a fast swing
Cannot compete with premium golf balls on and around the green
TaylorMade Noodle Long and Soft golf ball is a 2-piece ball with a durable and soft Iothane cover wrapped around an Impact Propulsion Core. Noodle's patented 342 dimple designs produce improved aerodynamic for a straighter ball flight that cuts through the air for more distance.
Golfers with a moderate swing speed between 80mph and 90 mph will benefit most from the Long and Soft Noodle golf ball.
Impact propulsion core is aimed at releasing energy with greater force and higher ball speed while the 34-compression of the core provides an ultra-soft feel. The durability of the cover is a result of the anti-sheer cover and cross-linked material construction.
Although the spin rate off the tee is kept low for the increased distance the Noodle Long and soft golf ball does not sacrifice spin and feel around the green. It may not compare to premium golf balls but is comparable in feel to any other golf ball in the value category.
Overall, the Long and soft provides ample versatility to golfers that swing the driver a little slower than average.
2. TaylorMade Noodle Neon Matte Color Golf Balls
Pros
High dimple count promotes the accuracy and lessens air resistance
Compression rating ideal for a smooth and easy golf swing.
Affordability will ensure you don't break your budget if you lose some
All colors are available in one package to test which color suits your eye the best
Cons
Low compression golf balls are not ideal for faster swing speed or mid-to-low handicap golfers
For the more flamboyant golfer that want color in their game, Noodle offers red, blue, and lime green neon matte-colored golf balls. The neon matte colors increase the visibility of the golf balls in flight and are easier to find on the ground.
The 2-piece construction is built around the 62-rating low compression-high speed REACT core covered by a durable Surlyn cover. The energy released from the REACT core is uniformly dispersed around the ball for straighter shots.
The color on the cover is made of high-quality UV-resistant paint to retain the color for longer. A 342-dimple pattern is designed to minimize resistance in the air thus enabling the ball to travel farther.
Although not competitive to premium golf balls around the green, the Noodle Neon Matte golf balls provide ample spin and feel to remain competitive in the value golf ball category.
Combining the technology with affordability makes the Noodle Neon Matte golf balls popular amongst beginner and high-handicap golfers.
TaylorMade Noodle Easy Distance Golf Ball has a compression rating of 50, which is the lowest of the Noodle golf balls reviewed in this article, making it ideal for young golfers, senior golfers, or the average golfer with a driver swing speed below 85 mph.
The high-energy, resilient, low 35-compression core allows slower swingers to hit the ball farther without pushing the limits. Covering the core is a soft but durable ionomer cover that produces a soft feel on and around the green with plentiful spin to stop it quickly.
Alternatives
Competition in the value distance ball market is high and some of the high-value brands are competing with the TaylorMade Noodle golf balls.
Srixon Soft Feel is an uncomplicated 2-piece construction that is extremely highly rated by golfers in that want distance without sacrificing too much feel and control around the green.
Soft Feel golf balls are affordable and compete well with the Noodle range. It suits a wider range of golfers meaning that you can use it further into your development as a golfer while cutting your handicap.
Its 2-piece construction wraps the reactive gradient growth core with a compression rating of 60 in an ionomer cover containing 338 dimples to produce the speed needed for the longer ball flight. The thin ionomer cover offers sufficient spin and control around the greens to satisfy the average golfer.
It is available in Pink, Matte White, and Yellow.
Pros
Softest ball designed by Callaway to date
The target market includes beginners and high handicappers
Longer distance off the tee without sacrificing control
Soft feel around the green
A soft and thin outer layer helps with the soft feel around the greens
Cons
Less affordable, it competes in the upper end of the pricing spectrum of value golf balls
Designed specifically for slower swing speeds
Callaway Supersoft golf ball is the softest golf ball designed and manufactured by Callaway to date.
The 2-piece construction offers a low compression core with a 38-compression rating wrapped in a Trionomer cover using 332 hexagon dimples. The Trionomer cover is based on an Ionomer cover with some added resins for durability.
The design of the Callaway Supersoft is based on golfers with swing speeds of around 90mph or less.
Supersoft golf balls are available in matte white and yellow.
Final Thoughts
The distance golf ball market is always expanding with a variety of branded golf balls from yesteryear have found a niche market.
Premium brands want to retain their exclusivity without losing out in probably the biggest market in golf balls as beginners and high-handicap golfers tend to lose more golf balls.
TaylorMade quality and engineering make the Noodle brand a golf ball to reckon with. High-quality Noodle golf balls are here to stay and will make your round extremely enjoyable without having to worry too much about the budget.
Have you played with a Noodle golf ball recently? Your experience and thoughts will be appreciated in the comments section below.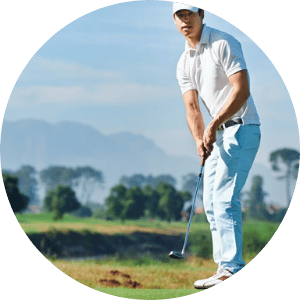 Nick Lomas is the founder of GolfSpan, an avid golfer, not quite a pro but has over 15-years of experience playing and coaching golfers from all over the world. His mission is to bring the golfing community a better experience then it comes to choosing the right golf gear, and finding the right set up for your game.