Callaway Supersoft golf balls are a popular budget-friendly ball. But are they any good?
Callaway offers some of the best golf balls on the market, and the Supersoft ball line is one of Callaway's most popular balls.
So, are the Callaway Supersoft golf balls right for you? The Supersoft balls are great for beginners. If you are looking for distance and have a slower swing speed (below 85mph with a driver). Supersoft balls also won't offer a lot of spin, which helps you maintain control and avoid the dreaded slice. Lower handicap golfers wanting more spin could try the Callaway Chrome Soft golf balls instead.
Having the right golf ball for your swing can help you with each shot and could help you lower your score by a few strokes. There are more details to consider, and below, you'll learn the pros, cons, aerodynamics, cover materials, and price. Read on to learn everything you need to know.
Rating:
★★★★☆
| | |
| --- | --- |
| Low-Compression | ✔ |
| Firm Cover | ✔ |
| Reduced Spin | ✔ |
| Soft Feel | ✔ |
| Increased Distance | ✔ |
Callaway Supersoft Golf Balls Verdict
The spin of the Supersoft golf balls is nowhere near the spin of the premium golf balls on the market, but that is not bad. Too much spin is real and could hurt a bad or average golfer.
If a beginner golfer has a slice, it could be worse with a ball that spins a lot because it will be even more dramatic of a slice!
The basic premise of the Supersoft golf balls is that they're long and straight golf balls with a very soft feel to them. The low compression core makes the ball speeds faster than average and causes more consistency due to less spin.
Some of the ball's technology enhances your ball's lift, therefore increasing the carry and distance possible with the shot. The golf ball is aimed at beginner and average golfers who want a premium soft ball.
Who Is This Golf Ball Suitable For?
For players that like a hard feeling off the face of their clubs, then these balls might not be the best option on the table. Also, this might not be your best bet for players that like to work the ball and spin it back on the green as the pros do.
A hard ball is generally aimed at beginner golfers because they do not need to spin the ball and prefer cheaper golf balls.
It's certainly not for scratch golfers who prefer a ball that is both soft and has a ton of spin with it. Those players play the most premium balls on the market and would not prefer the Callaway Supersoft golf balls.
To know whether the Callaway Supersoft is for you, you should look for a pretty soft ball with an excellent feel around the green. It will also be fairly straightforward because it does not have as much spin as other golf balls on the market.
Callaway Supersoft Golf Balls Features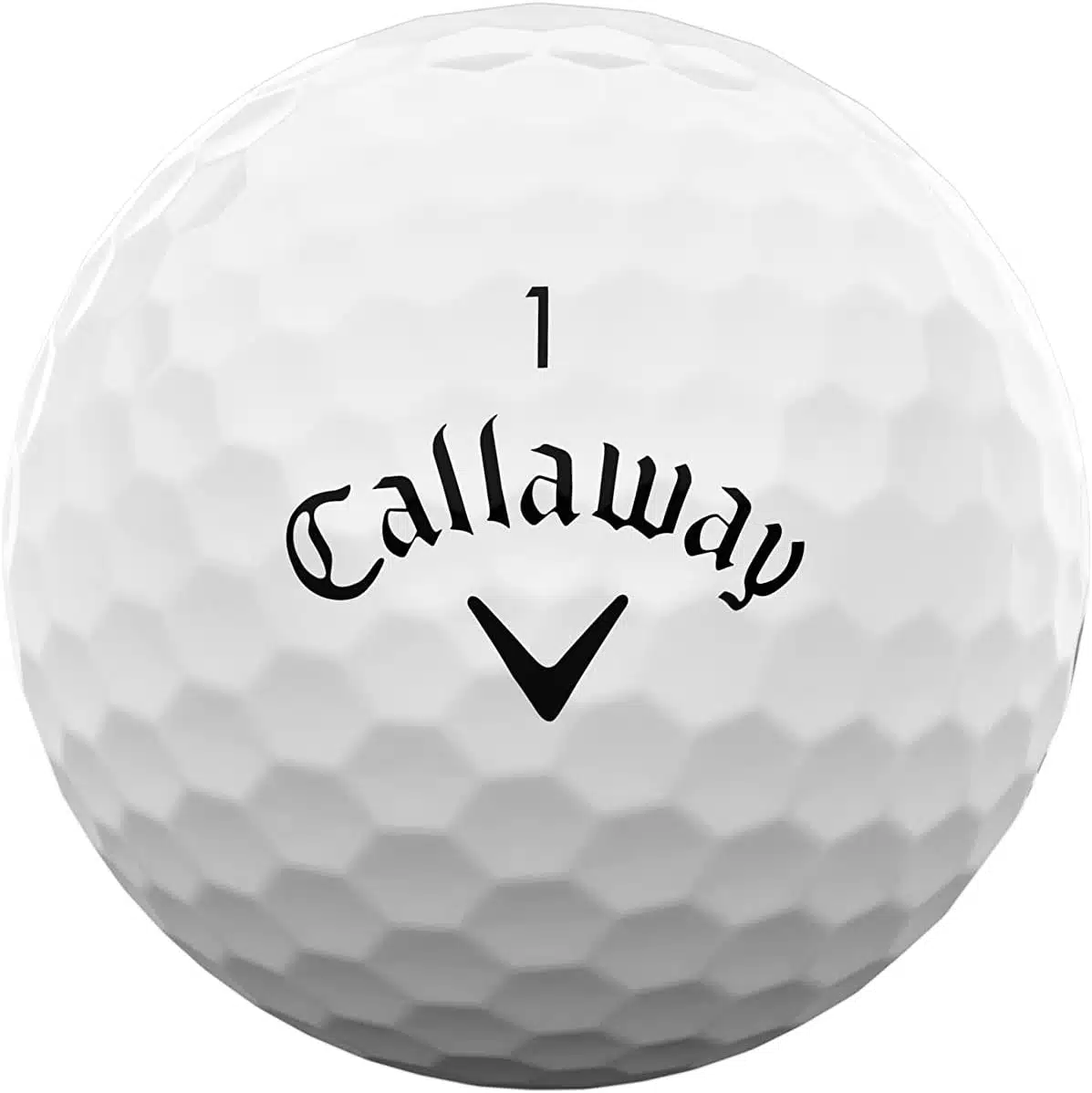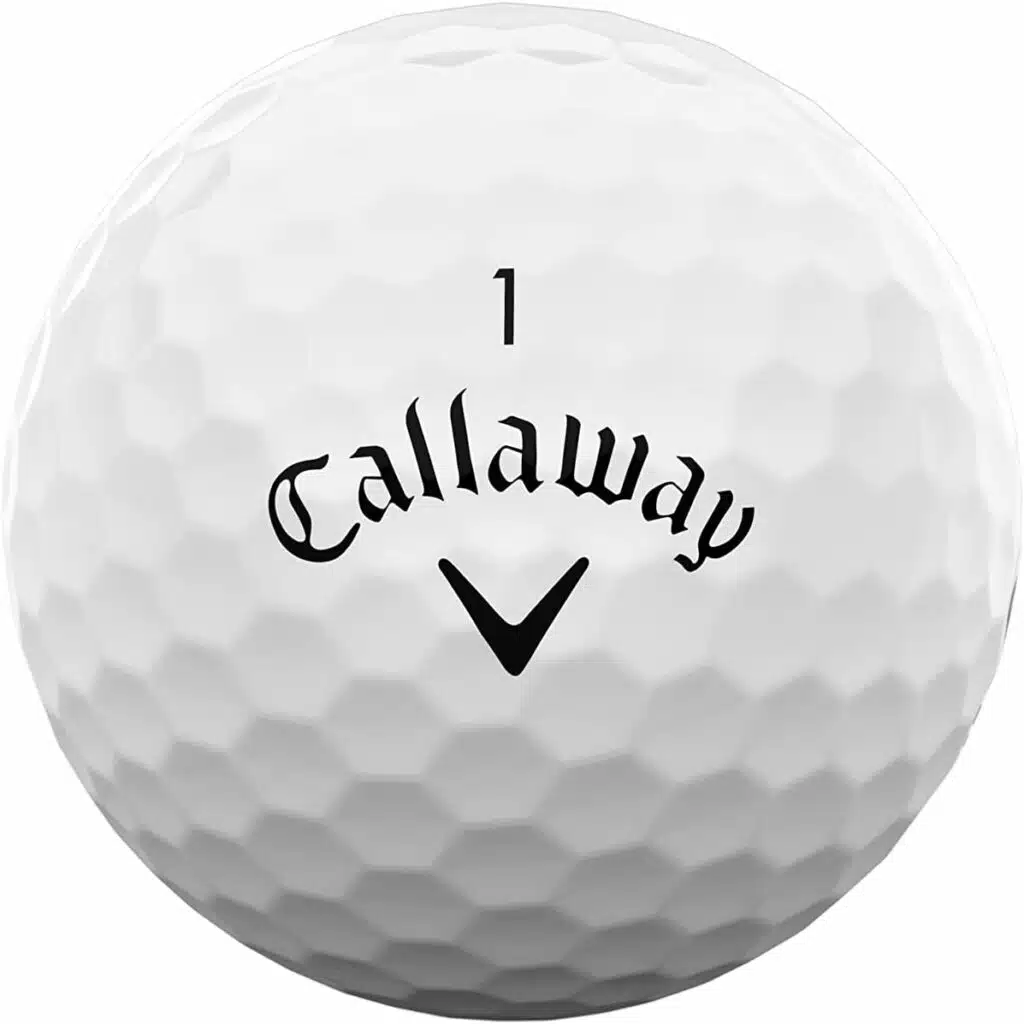 New Low Drag HEX Aerodynamics
This technology is specific to the Callaway Supersoft golf balls. The benefits of the technology are that it reduces drag through impact and during ball flight initially. The reduced drag positively impacts your carry and distance on your shots, especially your driver.
Added distance with your driver is something that all golfers can't get enough of! It may not be a huge difference, but the added distance could shave a few strokes off of your game here and there.
2-Piece Design with Ultra Low Compression Core
The design and compression of this ball make it perfect for golfers to really gain distance on their shots. The distance increases because of the compression a club face can make on the ball.
The 2-piece design also helps golfers maintain accuracy because less spin will make your drives straighter.
Extremely Soft Cover
A soft cover is your best bet for players who want the most greenside control and feel. A hard ball just does not have the same feel that most players are after.
If you are one of those golfers who really wants a great feel with your wedges, then definitely go after this type of golf ball.
On the greens is especially where most golfers prefer that soft feel. There really is not much of a better feeling than a soft golf ball coming off the face of your wedge or putter. Also, the sound of a soft ball is usually more appealing to golfers.
Comes in a lot of Options
Usually, if you find a golf ball you like, you only have one option, such as a white one. With the Callaway Supersoft golf ball, you can choose between matte green, matte pink, matte orange, matte red, and yellow.
Of course, you can always resort to the classic white color if you are traditional like that.
The matte golf balls are certainly a new phenomenon in the golf ball industry, and it really does at a new flavor for golfers to try out. Even though the matte has a unique look, it does not have any noticeable effect on the golf performance compared to the white version.
Low Price for the Industry
Golf is certainly not a cheap sport, so it's wise to save money where you can without sacrificing quality. Spending less money and getting great quality is exactly what the Callaway Supersoft golf balls are about.
While some players prefer to play balls that are exactly twice as much in cost, you can save money by playing these golf balls. It can be hard to find soft golf balls that play well around the greens and are not super high priced.
Nothing is worse than playing golf balls that you're scared to lose because they cost so much. Playing cheaper balls will make you not feel guilty when you go for that green over the water.
Alternatives for the Callaway Supersoft Golf Balls
The Titleist Velocity golf balls are aimed at the same target audience but have more of a premier feel and are priced a bit higher on average than the Callaway Supersoft golf balls.
All of the choices above are comparable to the Callaway Supersoft golf balls because they are all soft and generally aimed at the same crowds of players. The Bridgestone Golf e12 Soft golf balls are another premier golf ball choice in this soft golf ball niche. Bridgestone is arguably the king of this sector in the golf ball industry, and it would be smart to try these balls out.
FAQs
Are Callaway Supersoft Any Good?
Yes, Callaway's Supersoft golf balls are good for beginners. They are perfect for players looking to improve their game without spending a fortune. They combine a soft feel with long distance, which high-handicappers and mid-handicappers will benefit from. They also reduce stress because the price is fair, and you won't feel too bad about losing them.  
Are Callaway Supersoft Balls Good For High-Handicappers?
Yes, Callaway Supersoft balls are good for high-handicappers. They will reduce spin to help straighten their shots. The most noticeable difference will be with the driver. Most high-handicappers slice, which is caused by having too much sidespin on the ball. With less spin comes less slice, and that's always a good thing. 
Is Callaway Supersoft A Good Ball For Seniors?
Yes, Callaway Supersoft is a good ball for seniors. It provides more distance that seniors tend to lose over time. Its firm feel will travel further in the air and also provide lots of roll-out once it hits the fairway. Seniors will also benefit from its soft cover around the greens. They have been honing their short game for years, and a too-hard ball will not help seniors get up and down. 
What Compression Is A Callaway Supersoft?
Callaway Supersoft compression rating is a low-compression that is meant to help add distance even on mis-hits. Being a two-piece ball helps it compress more upon impact, making it travel through the air more efficiently. Low-compression balls are known to travel further and are great for players seeking more distance. 
Why Use Callaway Supersoft Golf Balls?
You should use Callaway Supersoft golf balls if you're past the beginner stage in your career but still struggle with consistency. These golf balls will show you the difference between old used balls and something that is expertly manufactured to improve your distance off the tee and feel around the greens. 
Final Verdict
The Callaway Supersoft golf balls are good for players who have been looking for extremely soft golf balls that don't break the bank.
You should check out this golf ball if you want extra feel around the greens and on those pesky chip shots. Also, it can be a great way to increase your carry and distance on your shots. With those benefits, just think about how much of an impact that could make on your golf game.
Your short game is where golfers give up the most strokes. So why not create an advantage for yourself with much better feel around the greens? It is certainly worth a shot with the Callaway Supersoft golf balls. 
Related Articles
Nick Lomas is the founder of GolfSpan, an avid golfer, not quite a pro but has over 15-years of experience playing and coaching golfers from all over the world. His mission is to bring the golfing community a better experience then it comes to choosing the right golf gear, and finding the right set up for your game.