Are you currently looking for a golf ball that you can trust, and it will not break the bank to play?
I used to hop around and use a different golf ball almost every time I lost a ball on the course. It was tough to remember the feel of a certain golf ball and I did not even know what kind of ball I was playing half the time.
It is vital in my opinion to find a ball that you like and use it for every round you play on the golf course. Consistency is key, and you do not want a bunch of different variables changing every time you play.
The key is to find a ball that you love the feel of, the price, and the confidence that you get from playing it.
After addressing this problem and checking out balls like the Callaway Supersoft, I knew that I had to write a Callaway Supersoft review.
Things to Consider Before Buying a Callaway Supersoft Box
Some of the key aspects that golfers look for is a great feel around the greens. It kind of goes without saying that was one of the goals of Callaway because they call them Supersoft balls.
The soft feel of the ball can improve some golfers' game and give them more confidence. Players do tend to prefer a ball that has a softer feeling when hitting shots that require some touch.
For players that like a hard feeling off the face of their clubs, then these balls might not be the best option on the table. Also, players that like to work the ball and spin it back on the green like the pro's do, this might not be your best bet.
A hard ball is generally aimed at beginner golfers because they do not need to spin the ball and prefer cheaper golf balls.
To know whether the Callaway Supersoft is for you or not, you should be looking for a pretty soft ball that has excellent feel around the green. It also is going to be fairly straight because it does not have as much spin as other golf balls on the market.
Callaway Golf Supersoft Basics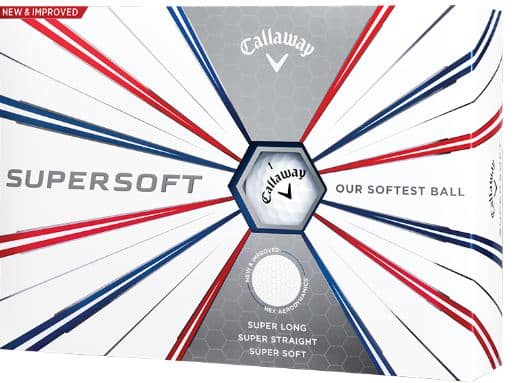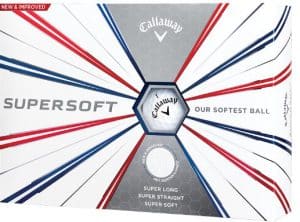 Pros
Above average soft feel
Low price point compared to other premium soft golf balls
2-piece ball for maximum forgiveness
Comes in many different colors
Cons
May be too soft for your liking
Lack of spin around the greens for extra backspin
Designed for higher handicap golfers
The basic premise of the Supersoft golf balls is that it is a long, and straight golf ball that has a very soft feel to it. The low compression core makes ball speeds faster than normal and causes more consistency due to less spin.
Some of the technology in the ball enhances lift of your ball, so therefore it increases the carry and distance that are possible with the shot. The golf ball if really aimed at beginner and average golfers that want a premium soft ball to use.
It is certainly not for players that are scratch golfers that prefer a ball that is both soft and has a ton of spin with it. Those types of players play the most premium balls on the market and they would not prefer the Callaway Supersoft golf balls.
Those types of players that play the premium balls are playing ProV1X's and other balls that cost over $40 for a 12-pack.
The spin of the Supersoft golf balls is nowhere near the spin of the premium golf balls on the market, but that is not a bad thing. Too much spin is real, and it could really hurt a bad or average golfer.
If a beginner golfer has a slice, it could be worse with a ball that spins a lot because it will be even more dramatic of a slice!
New Low Drag HEX Aerodynamics
This technology is specific to the Callaway Supersoft golf balls. The benefits of the technology are that it reduces drag through impact and during ball flight initially. The reduced drag actually has a positive impact on your carry and distance on your shots.
Added distance is something that all of us golfers just can't get enough of! It may not be a huge difference, but the added distance could shave a few strokes off of your game here and there.
2-Piece Design with Ultra Low Compression Core
The design and compression of this ball makes it perfect for golfers to really gain distance on their shots. The distance is increased because of the compression that a club face can make on the ball.
The 2-piece design also helps golfers maintain accuracy because less spin is going to make your drives spin badly.
Extremely Soft Cover
For players that want the most amount of greenside control and feel, a soft cover is your best bet. A hard ball just does not have the same feel that most players are after.
If you are one of those golfers that really wants a great feel, then definitely go after this type of golf ball.
On the greens is especially where most golfers prefer that soft feel. There really is not much of a better feeling than a soft golf ball coming off the face of your putter very smoothly. Also, the sound of a soft ball is usually more appealing to golfers off of the face of a wedge or putter.
Comes in a lot of Options
Usually if you find a golf ball that you like, you only have one option such as a white golf ball. With the Callaway Supersoft golf ball, you can choose between matte green, matte pink, matte orange, matte red, and yellow.
Of course, you can always resort to the classic white color if you are traditional like that.
The matte golf balls are certainly a new phenomenon in the golf ball industry and it really does at a new flavor for golfers to try out. Even though the matte does have a unique look to it, it does not have any noticeable effect on the performance of the golf compared to the white version.
Low Price for the Industry
Golf is certainly not a cheap sport, so it is smart to save money where you can without sacrificing quality. Spending less money and getting great quality is exactly what the Callaway Supersoft golf balls are about.
While some players prefer to play balls that are exactly twice as much in cost, you can save money by playing these golf balls. It can be hard to find golf balls that are soft and play well around the greens and are not super high priced.
Nothing is worse than playing golf balls that you are scared to lose because they cost so much. Playing cheaper balls will make you not feel guilty when you go for that green over the water!
Alternatives for the Callaway Supersoft Golf Balls
Srixon Soft Feel Golf Balls
Titleist DT TruSoft Golf Balls
Bridgestone Golf e12 Soft Golf Balls
All of the choices above are comparable to the Callaway Supersoft golf balls because they are all soft and generally aimed at the same crowds of players. The Srixon Soft Feel balls are the cheapest out of the bunch and is one of the most popular golf balls in this niche.
The Titleist DT TruSoft golf balls are aimed at the same target audience but they have more of a premier feel to them and are priced a bit higher on average than the Callaway Supersoft golf balls.
Lastly, the Bridgestone Golf e12 Soft golf balls are another premier golf ball choice in this soft golf ball niche. Bridgestone is arguably the king of this sector in the golf ball industry and it would be smart to try these balls out.
With excellent reviews on all the alternatives, it will come down to your personal preferences.
Final Verdict
Players have been looking for a golf ball that is extremely soft and it does not break the bank, and here it is with the Callaway Supersoft golf ball.
You should really check out this golf ball if you want a soft golf ball for extra feel around the greens and on those pesky chip shots. Also, it can be a great way to increase your carry and distance on your shots. With those benefits, just think for a moment how much of an impact that could make on your golf game.
Your short game is where golfers give up the most strokes. So why not create an advantage for yourself with much better feel around the greens? It is certainly worth a shot.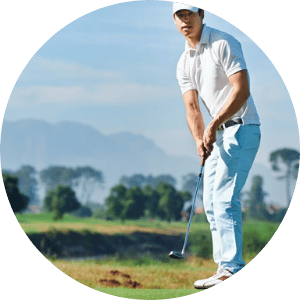 Nick Lomas is the founder of GolfSpan, an avid golfer, not quite a pro but has over 15-years of experience playing and coaching golfers from all over the world. His mission is to bring the golfing community a better experience then it comes to choosing the right golf gear, and finding the right set up for your game.