Golf is still one of the most popular sports played by senior citizens. Although things have changed over the years there are still some pieces of equipment that retain their basic shape and purpose.
There is only one piece of equipment, the golf ball, that is in play with every shot that you play and no matter what advancement we made in the game of golf, this will remain a fact.
Although the material used for construction has gone through many changes over the years, the basics remain in place.
at a glance: Our Top 6 Picks for Golf Balls for Seniors
What To Look For When Buying a Set of Golf Balls
The golf ball has retained many characteristics over the years but technology has played its part in the improvements made to make a ball available that suits all the characteristics of every golfer.
All manufacturers have a range to suit every golfer's preference for spin, trajectory, feel and hardness. Even though you may not be the young and agile golfer of yesteryear, choosing the correct ball can still make you look confident on the course.
The choice of ball that will suit you is very difficult in a sea of options and prices and feel would probably play a big role at the end of the day. The most suitable ball for your swing, speed, and equipment is not a decision to take lightly.
As age creeps up on you things tend to change and the golf swing is not immune to these changes. Swing speed tends to slow down and the ball in play must be evaluated and changed to suit the lower swing speeds. Fortunately, there is a vast array of balls available that will enable you to find a suitable product.
Visibility
With age creeping up on us we lose that eagle-like sight that could trace the ball even on the longest drives and the odd stray shot into the rough.
Even though we lose some distance as we age, we also struggle to see the ball landing and especially looking for it off the fairway.
There is a solution for this in multiple brightly colored balls. This could bring back the joy by spending less time looking for the ball, speeding up play and benefiting your pocket by not losing as many balls.
Price
Buying the cheapest ball on the market may not be the most beneficial to your game nor would the most expensive balls. Expensive balls normally impart more spin, even side spin, and mishits with the expensive ball could end up way off the target and ultimately costing a pretty packet ending up in the water.
Stick to a cost-effective solution and invest the rest in more rounds of golf.
Location and Weather Conditions
Your location and type of course that you play will impact on your decision of which ball you will play. Soft courses require longer carry and have softer greens as opposed to links courses where the ball rolls out further but requires more spin for control on the greens. Coastal and windy areas require a different ball to stay below the wind.
Priority
In making a final decision on the ball(s) you want to put in your bag you must decide what is ultimately the most important to you.
Gone are the days of just booming your drives down the fairway! Selecting a ball that suits your swing speed will optimize distance and leave you with a shorter approach shot. However, distance should not be the only factor in choosing a ball.
Some extra distance can be achieved by using a surlyn covered ball that spins less than a urethane-covered golf ball and saves you money as well. The combination of a 2-piece golf ball, softcore, and a Surlyn cover can be a great combination resulting in lower spin and increased distance.
Should you be fortunate to still have a medium swing speed, a 3-piece golf balls with an extra layer under the cover for an increased spin could be the one for you.
Surlyn covers are firmer than urethane covers and provide less spin. This results in straighter shots as the impact of sidespin is more controlled. For the average senior golfer, a surlyn covered ball should be sufficient and address all the distance and accuracy requirements.
In addition to the spin and accuracy, the surlyn covered balls are also more reliable and most competitive in the pricing category.
If you are used to playing with urethane covered balls and then move to surlyn covered balls you may find that there is a period of adjustment as the ball rolls out more. Shots will have to be aimed short of the pin to allow for the rollout and lack of spin.
Urethane covered balls are more suitable for seniors that have not lost too much distance and require more spin on the greens. You will also lose out in the finance category as these balls are normally more expensive and not so durable due to the softness of the cover.
As for those ever so smart dimples, look for balls with wider and shallower dimples as they assist in air resistance reduction and less spin.
The Best Golf Ball Reviews For Seniors
Quick Overview: Our Top Picks for Best Golf Balls For Seniors
1. Taylor Made TP 5 Golf Ball
Pros:
85 compression.

Soft Feel and more spin around the greens.

5-layer construction that performs well on every club.

High launch with less spin on the driver.

New paint on 322 urethane cover.
Cons:
If you play on a course with plenty of water or thick rough, losing a few balls during the round could be costly.
The new Taylor Made Tp5 golf ball is stacked with improvements and fits in well with other premium balls.
It features a 5-layer ball that has a unique Tri-Fast Core and a Dual-Spin outer layer that allows the ball to perform with every club.
The 4th and 5th layers are now 30% stiffer than the previous model, adding durability.
This High-Flex-Modulus converts the deflection more efficiently at impact into forward velocity and enabled TaylorMade to make a softer core and hence reduce driver spin.
Less spin off the driver will add carry and distance whilst also increasing accuracy.
Reduced drag, increased launch, and better control are all by-products of these innovations.
The compression has been slightly increased from 83 to 85 but is still in the range for slow swingers or senior golfers.
Greenside playability, and the confidence to attack chip and pitch shots around the green, are sure ways to reduce shots per round.
The feel off the putter is soft and smooth, which should suit most good players
A great ball to play in windy conditions.
2. Callaway Supersoft Golf Balls
Pros:
Beginner senior golfers can reap most out of its features
Multiple vibrant colors
Awesome distance combined with a soft feel
Excellent on the putting green
Callaway hexagonal-shaped dimples give it a unique look
Cons:
The matte finish may not be to everyone's liking
Lack of stopping distance on the greens
Skilled golfers may feel a lack of control over the ball
The SuperSoft is a 2-piece, low compression golf ball that performs well above its price. It has an incredibly soft ultra-low 35 compression points core. The SuperSoft is one of the softest balls available and has changed how golfers play with ultra-soft golf balls.
This combined with the low drag hex aerodynamics technology that promotes low spin you get a ball that is designed for faster ball speed, increased distance and straight ball flight.  You can rely on a straight trajectory combined with a good flight from a well-struck shot. Not only will you get incredible distance but the Supersoft has a great feel around the greens.
The Supersoft is available in a range matte-finished bright colored balls making it easy to spot after your extra-long drive or in the rough. You will not be breaking the bank should you have to splash out on replacement balls if you find your Supersoft in the rough.
Straighter and more accurate shots are on the cards as the Supersoft has a low spin and will not veer too far off the line on some errant shots.
The Supersoft gives great feedback off the putter face and should result in your putt end in close proximity, if not at the bottom of the hole.
From the tee golfers with clubhead speeds, less than 95 mph will achieve high launch, hang time, reduced sidespin and the low backspin. This all resulting in a straighter and longer drive.
From the fairway, the Supersoft achieved high ball flight resulting in shots dropping quickly and stop very quickly.
Around the green Supersoft exceeds industry standards for balls in the same category. This ball feels wonderful with any club and is well suited for senior golfers with slower swing speed.
Read more: Callaway Supersoft Review
Editors Opinion
The Supersoft is a high performing ball that will provide distance and accuracy from senior golfers with slower swing speeds. The lack of spin could frustrate the better golfers as the stopping distances around the greens aren't quite what the better golfers will expect.
Seniors that are either beginners or high handicap golfers will gain most from the features of the Supersoft but it is not recommended for very high skilled senior golfers.
The must-try ball for senior golfers providing the best feel and outstanding distance
3. Srixon Soft Feel Golf Balls (One Dozen)
Pros:
Soft and thin cover that provides a soft feel around the greens and on chip shots

An dimple design that is engineered to provide golfers with more consistent results

Soft inside and firmer outside that promotes distance and higher launching shots

Very affordable and fair price compared to competitors
Cons:
Might feel too soft for players that prefer more of a firm feeling

For advanced golfers this golf ball might not spin enough compared to other balls in the industry
Srixon is one of the leading golf ball brands in the industry for a reason.  They offer balls for every player and their play type, and these balls happen to fit into a lot of categories.
Beginner golfers and advanced golfers will find a benefit with these balls most likely.  The most common characteristic that golfers say about them is that they are soft, and that goes without saying.  It is in the name for a reason!
The Verdict
For anyone that wants a golf ball that feels very soft around the green but does not lack in the distance department, then this might be it.  Beginner golfers can even use this high-quality golf ball because it is reasonably priced.
We recommend that you pick up a box and let us know what you think!
Benefits of changing to a ball that would suit your senior status
Provides more forgiveness and fun
Gain distance and accuracy
Don't force for extra length, let your swing and the correct ball do the work
Add some color to your life.
4. Chromax Metallic M5 Colored Golf Balls
Pros:
The vast array of colors makes this ball stand out visibility especially in inclement weather conditions.
Expect long shots with extra roll resulting from the durable cover and a strong core.
The M5 will be a big attention grabber in your four-ball as well as other golfers that encounters it on the course.
Cons:
The color could create a distraction due to all the attention it receives from other golfers.
The Chromax Metallic M5 a 2-piece golf ball, with a 75 compression points high energy Inner Core mixed with a titanium powder, molded under high temperatures and extreme pressure for superior durability, elasticity and a high coefficient of restitution.
It is covered with a translucent High Flow poly-resin Surlyn Ball Cover containing 302 larger Dimples achieving longer distance. The outer cover is durable and provides high energy transfer and spin for distance and control.
The balls are highly visible and have a unique metallic color and this is one of the outstanding features of the Chromax Metallic M5. This is achieved through a metallic, durable, patented Surlyn coating ensuring high visibility golf balls.
The patented coating enables golfers with fading eyesight to find the balls in all light conditions. The M5 is available in silver, neon green, pink, gold, yellow, orange, blue or purple.
The metallic colored Chromax Metallic M5 will make it very unlikely for you not to be able to spot your ball during the flight or that you will spend too much time looking for the ball. It will shout its location out to you with the exciting array of colors making it ideal for senior golfers with eyesight that is fading.
Editors Opinion
The M5 must rate as one of the coolest balls available due to the color range. The ball plays long and has a lot of roll on and off the greens. Chromax Metallic M5 neon green is the stand-out color in the range.
The AD333 delivers longer accurate distance, improved iron, and greenside control. This is achieved via three technologies combined in a two-piece golf ball with Srixon's lower-compression Energetic Gradient Growth™ Core, a more elastic third-generation Spin Skin™ coating with less bonding points and 338 Aerodynamic Speed Dimple™ Pattern. The technology achieves low drag for straighter and more accurate direction.
Srixon AD333 is one of the best-priced balls selected, not the cheapest, thus golfers will pay a handsome price for losing balls. Well to be honest, for senior golfers looking for a ball that's going to serve them off the tee into greens and around greens, while at the same time not hurting their pocket!
The AD333 comes in white and yellow to assist seniors when the visibility reduces.
From the tee, you will see a stable flight even in windy conditions as a result of the aerodynamic dimple pattern and excellent distance. You experience the feel of a premium ball without the loss in distance.
From the fairway, you experience a gentle combination of accurate launch, soft feel and spin to inspire confidence that the shot will have perfect results. Even shots from the rough will fit from the ball coating for more consistent spin on the greens
Around the green, the Spin Skin coating certainly helps to create a degree of check on cleanly struck chips, but this is not quite at the same level as a premium urethane-covered ball. The gap has certainly narrowed, though, and the feel is surprisingly soft.
The AD333 Tour was designed to deliver across-the-board tour performance for golfers with moderate swing speeds.
Editors Opinion
The AD333 is an excellent versatile golf ball with an acceptable price tag suitable to senior players with slower swing speeds.
Promoting long penetrating ball flight from the tee with extra height on approach shots combined with the Spin Skin™ coating allows the ball to stop quickly on the greens. The ball feels soft around the green and you will notice a little extra grab on the greens.
A reasonably priced very good all-rounder with an excellent pedigree this ball is going to appeal to ALOT of senior golfers.
These Srixon balls are highly recommended for senior golfers with a slower swing speed looking for a ball with long-distance and great short game feel.
Conclusion
The golf balls reviewed are all suitable for senior golfers and are not biased to any brand. In order to achieve the most enjoyment of playing golf, it is recommended that if you are unsure about your decision on which ball to play, do a ball fitting at your local professional.
It will give you a new perspective on the aspects of the ball that is most suited to your personal game.
Stick with one type of ball for at least 12 rounds to determine whether it is best for you. Do not swap between brands and types as it will impact on your consistency.
A Note On Ball Fitting
Ball fitting is as important as fitting for the right club. Your confidence will grow knowing that you will benefit from having the right ball in your bag that suits your equipment and swing.
This is, however, not necessary until you get to the lower handicap ratings and need to shave a stroke or two off your game.
In Summary
Callaway Supersoft Our Top Pick The must-try ball for senior golfers providing the best feel and outstanding distance. Skilled golfers may feel a lack of control over the ball
TaylorMade Burner is a very good runner-up and a serious contender to have in your arsenal in your bag
Srixon AD333 A reasonably priced very good allrounder with an excellent pedigree this ball is going to appeal to a wide variety of senior golfers
Titleist DT Trusoft is the most durable of all the balls tested and rates very high on the value for money scale.
Bridgestone Golf 2015 e6 Golf Balls is an allrounder and offers excellent performance for skilled senior golfers. However, it is not recommended for seniors that have only recently started playing golf
Chromax Metallic M5 is the most visible ball you will find on the course.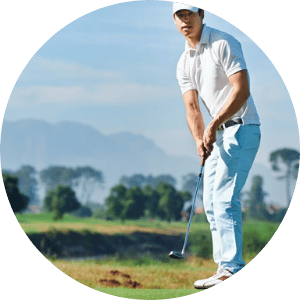 Nick Lomas is the founder of GolfSpan, an avid golfer, not quite a pro but has over 15-years of experience playing and coaching golfers from all over the world. His mission is to bring the golfing community a better experience then it comes to choosing the right golf gear, and finding the right set up for your game.