Choosing a golf ball can be one of the tougher aspects of finding the right equipment because it's hard to test them.
When you hit irons and drivers, it's easier to see what fits your stroke. But it can be tough to tell how a different golf ball will help — or hurt your game.
Would the Titleist Velocity golf balls help you cut a few strokes?
The Titleist Velocity golf ball is a great place to start your search. Its features are all versatile, and after a few rounds, you'll either love it or know exactly where you can improve.
In this Titleist Velocity golf ball review, I'll identify who will benefit the most and what the differences are from past models of the Titleist Velocity ball. I've tested it enough times over the years to be able to spot any changes.
Let's dive in.
Quick Overview of Titleist Velocity Golf Balls
Pros
Larger core for lower compression and greater distance
Re-formulated cover provides soft feel on the greens
New dimple design improves aerodynamics and gives a higher launch
Now available in matte blue
Made by Titleist
Cons
Not the cheapest ball on the market
Rating: 4.5 out of 5 stars
This is a quintessential ball for mid-handicappers. Its features promote long distance off the tee and long irons, and the cover provides a playable feel around the greens. The new core adds some distance from previous Velocity models, but this is not a huge difference.
Anyone who plays on the weekends or once a month will love this ball because it performs well and doesn't break the bank. It's also made by Titleist, which should instill some confidence in you while looking down at it.
| | |
| --- | --- |
| Cover Material | NAZ+ Ionomer |
| Number of Dimples | 328 |
| Compression | Mid-Range |
| Number of Pieces | Two Piece |
| Core Material | Firm LSX |
In-Depth Titleist Velocity Review for 2022
Writing Titleist Velocity golf balls review is always fun because there are now 10 versions of the ball. Having the previous models to compare is a great way to see improvements and ensure that the claims being made are true.
In the case of this new iteration, most of the claims are true.
Compression
This is an area that has been improved but only slightly. This new core is larger and therefore provides more compression to go farther, but we had a hard time seeing a big difference.
Velocity golf balls are great for stretching your drives, but they're not the longest ball on the market.
Having this middle compression rating, though, is not a bad thing. It helps keep your ball straight and allows you to manipulate the shot shape a little. As you improve, this will come in handy, and if you switch to a ball with more feel, you will really see a difference.
Off The Tee
Hitting a driver isn't all about distance. Most golfers would agree to sacrifice a bit of distance to always be on the fairway. This ball is a great happy medium that provides distance but not at the expense of accuracy.
The added distance comes from the improved core but also the re-designed dimples. These balls help lift your shots, so they reach higher heights. This is great with a low spinning ball like the velocity because it will help you hit longer tee shots and hold a green with your 7-iron.
Around the Greens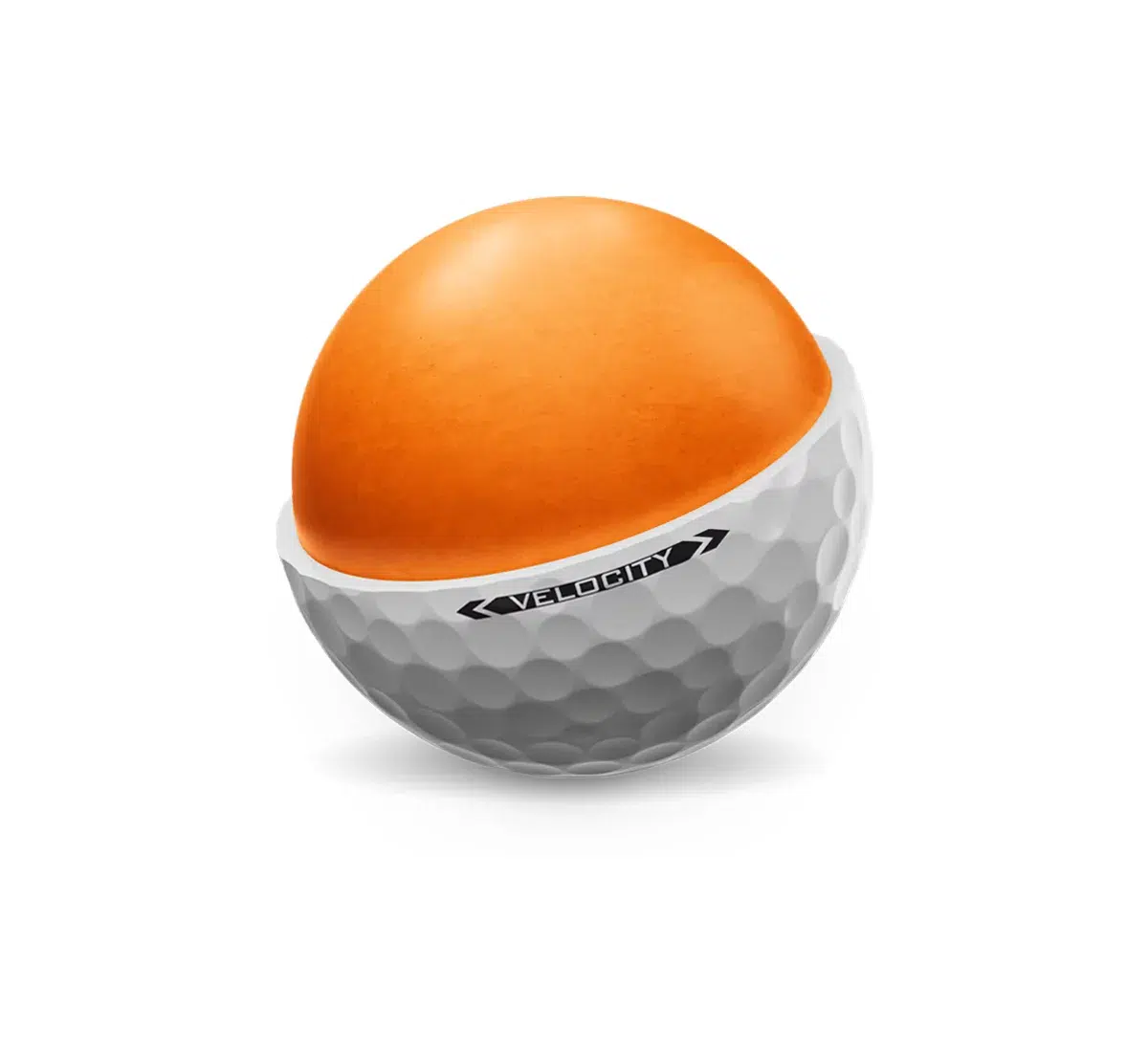 This is arguably the most important aspect to consider with any ball. You will spend more time around the greens than you will be hitting drives, so optimizing your ball for inside 100 yards should be a top priority.
The cover is a key component for getting good interaction with the green, and this one has been improved from the previous model. The NAZ+ ionomer material is an excellent balance of soft feel with durability so that it won't scuff or rip easily.
Overall Feel
The best part about this ball is the balance. It's a long ball that also feels great off your putter face. Remember, this is the same company that makes the most popular ball in the history of golf (Pro V1), so there's always going to be that added level of quality.
Having your ball perform is one thing but having confidence in it and feeling great when you pull it out of the box is something not all golf balls can accomplish. The overall feeling you get from placing a Titleist Velocity on the tee can not be replicated. Since golf is such a mental sport, this must be considered.
Alternatives
For a step up from the Velocity, you can get more spin and better control from the Bridgestone Tour B XS. This ball uses a proprietary cover that reacts differently at various club head speeds. It becomes softer at low speeds to allow the face to produce more spin than typically happens with short irons.
With your driver, it will firm up to ensure you get maximum COR to send your tee shots bounding down the fairway. No other ball has a cover like this. This is the same brand and technology that Tiger Woods now uses, so they must be doing something right.
The Callaway Golf Warbird golf balls are an affordable 2-piece golf ball built to deliver accelerated ball speeds on all shots. The highly compressible core aids players who are looking for additional ball speed to achieve a powerful launch and more consistent distance.
Callaway employed their HEX aerodynamics technology to construct a ball that reduces drag, and encourages a powerful launch for added ball speed, carry, and distance. Furthermore, The Warbird golf balls are affordable.
FAQs
Are Titleist Velocity Golf Balls Good?
Yes, the Velocity is a good golf ball that is meant to help improve scores across a wide range of players. Anyone from mid-high handicappers will benefit from its larger core and increased distance. It's also great for around the greens and when putting. The versatility of this ball is unmatched
Is Titleist Velocity A Hard Ball?
No, the Titleist Velocity is not a hard ball. There are many other golf balls that are harder and provide more distance, but a Titleist Velocity is not a soft ball either. The beauty of it is that it can act as both, seeing as it provides long drives but also spinning wedges. It's great for players who are unsure of their specific needs.
Is Titleist Velocity The Longest Ball?
No, Titleist Velocity is not the longest ball, it is arguably the longest ball that Titleist makes, but it's not hard enough to compete with other long balls such as Top-Flite and Pinnacle. It is, however, a very long ball given how soft the cover is and with the new improvements this year, this ball is in a league of its own.
Are Titleist Velocity Good For High Handicappers?
Yes, Titleist Velocity is good for high handicappers. It can help them gain much-needed distance off the tee and will help keep those shots straight. High-handicappers will also benefit from the re-designed dimples that provide a higher launch. This is perfect to help those off-center hits still get the distance they need to carry a hazard.
What Swing Speed Is Titleist Velocity For?
The swing speed that is best for Titleist Velocity will be anything that's under 101 mph. If you swing over that, you can still benefit from the Velocity, but you might as well help yourself and get something a little softer. Your distance won't suffer that much when you swing at those speeds.
Do Titleist Velocity Golf Balls Come In Yellow?
Yes, Titleist golf balls come in yellow. This color is very easy to see while in the air, and if you have to search through longer rough. Titleist Velocity is also available in green and, new this year, blue. Standard white is still the most popular, and if you're looking for that touch of class, then there is no substitute for white.
Is Titleist Velocity For Slow Swing Speed?
Yes, Titleist Velocity is for slow swing speeds and women. The core design, coupled with newly shaped dimples, will help any slow swing speed player achieve greater distance. It also helps them to fire straighter shots, so no distance is lost to a sweeping slice or hook.
Conclusion
My verdict on the Titleist Velocity golf balls is simple, it's one of the best balls out there for mid-handicappers and suits a wide range of players. Its versatility is the selling point here, and not many balls can please such a diverse crowd.
If you're comfortable with the price, then you can count on the Titleist Velocity to help you lower your scores and get more enjoyment from the game. Sometimes, those two things go hand-in-hand.
Read Next: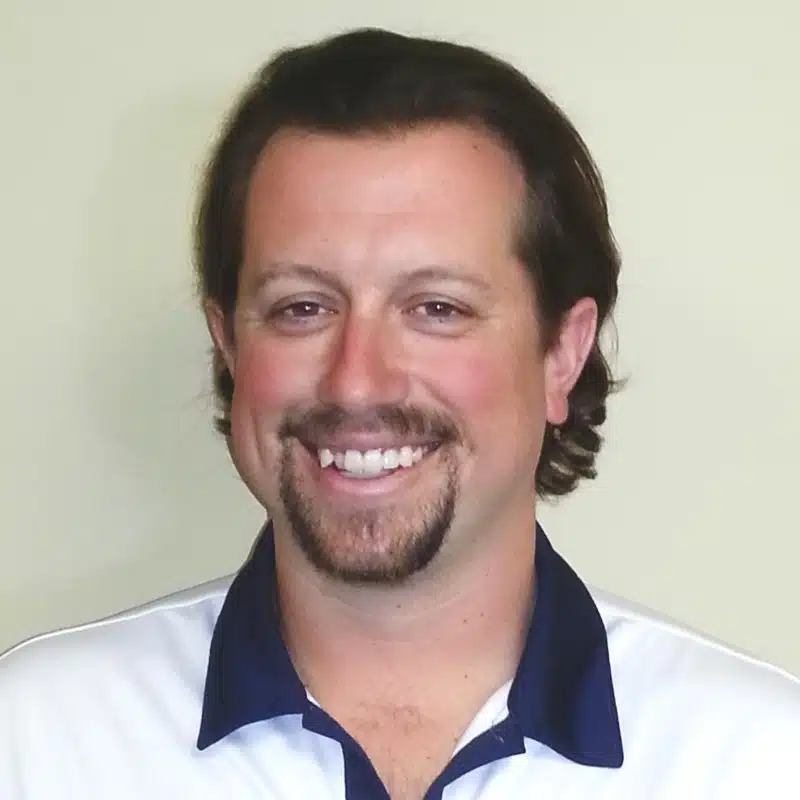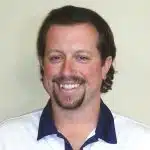 Clint became the Head Teaching Professional at one of Toronto's busiest golf academies and was featured on Canada's National Golf TV program, "Score Golf Canada," twice. He now tests and reviews golf equipment and gets to enjoy the game he loves whenever he wants while helping people lower their scores.