If I were to jump back in a time machine to when I started playing and told young me to stop buying trashed second-hand golf balls, I'm sure I could have lowered my handicap much sooner.
More so now than ever before— golf ball precision technology is improving rapidly. Buying one of the best golf balls can improve flight time, accuracy, and distance. But depending on your goals, some good golf balls might be a serious waste of money with little upside.
So with all the options, what is the best golf ball for you and your game?
Featured Best Golf Balls
The Best Golf Balls 2023 Has to Offer
Top-rated golf balls from this list could be the perfect addition to your game. But make sure you read all of the golf ball reviews closely to decide which will be the best fit for you.
Construction: 3 Piece
Case: Urethane
Soft/Firm Rating: Firm 1/5 (soft on the outside but firm overall)
Titleist is famous for its high-quality golf balls, and the Pro V1 balls are among their top-of-the-range balls. So, it stands to reason that these are the market leaders and managed to land as our top pick in our golf ball ratings.
The Pro V1 range has been around since 2000 and blew away much of the competition at that time. And these balls have only gotten better since. One example of some changes Titleist made is increasing the dimple count. The current version has 388, while previous versions capped out at 352. This change allows for greater distance and a more steady flight path.
Many pro players use the Pro V1, such as Jordan Spieth and Nelly Korda. If you'd like to play with the same gear as the pros, a decent ball is the best way to do it without blowing your savings.
These are not to be confused with the Titleist Pro V1x golf balls. Those also made our top list but give a slightly high trajectory off the tee and aren't as soft as the V1.
[Check Prices & See User Reviews]
Pros:
A great all-rounder
Consistent, no matter your swing speed
Used by a ton of pro golfers
Excellent mid-game
One of the best golf balls for spin control
Cons:
Rarely on special
Pricey for golfers on a tight budget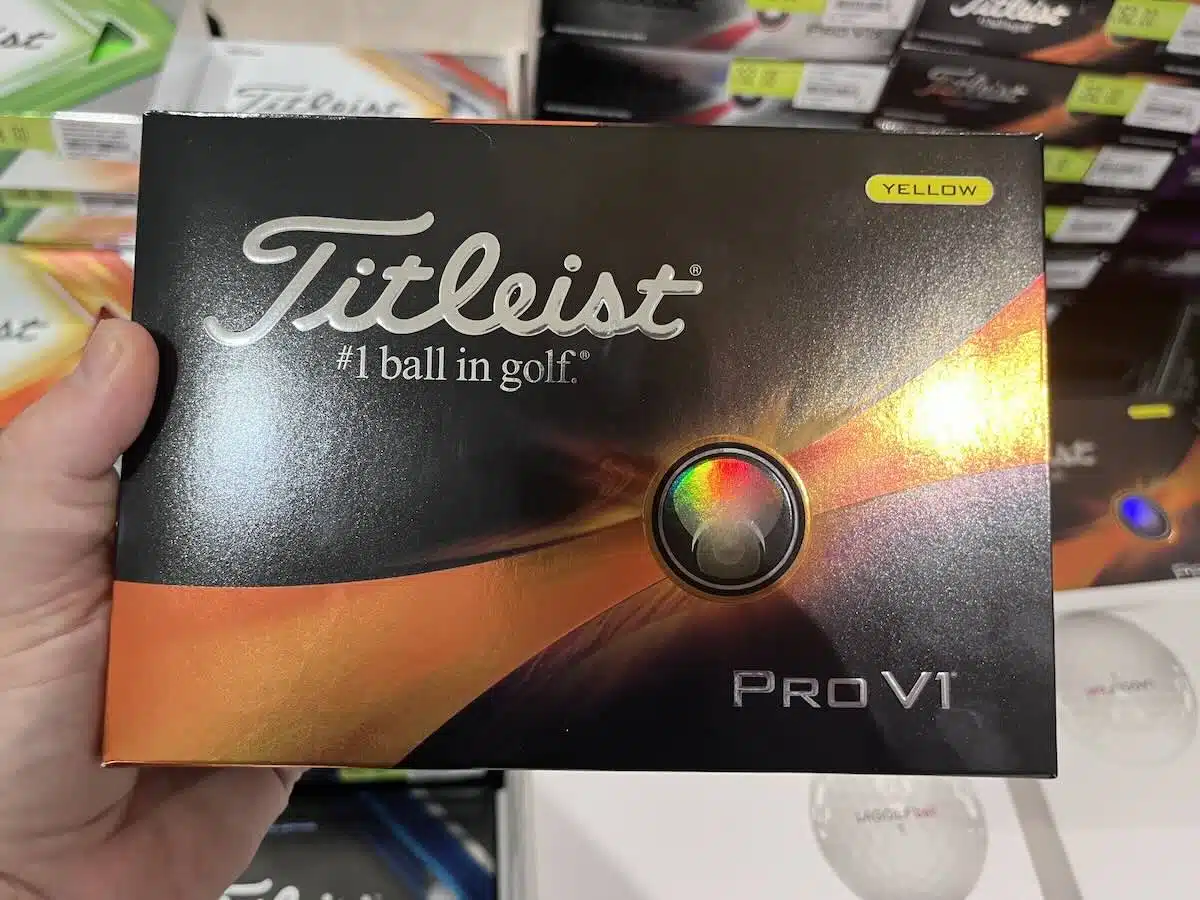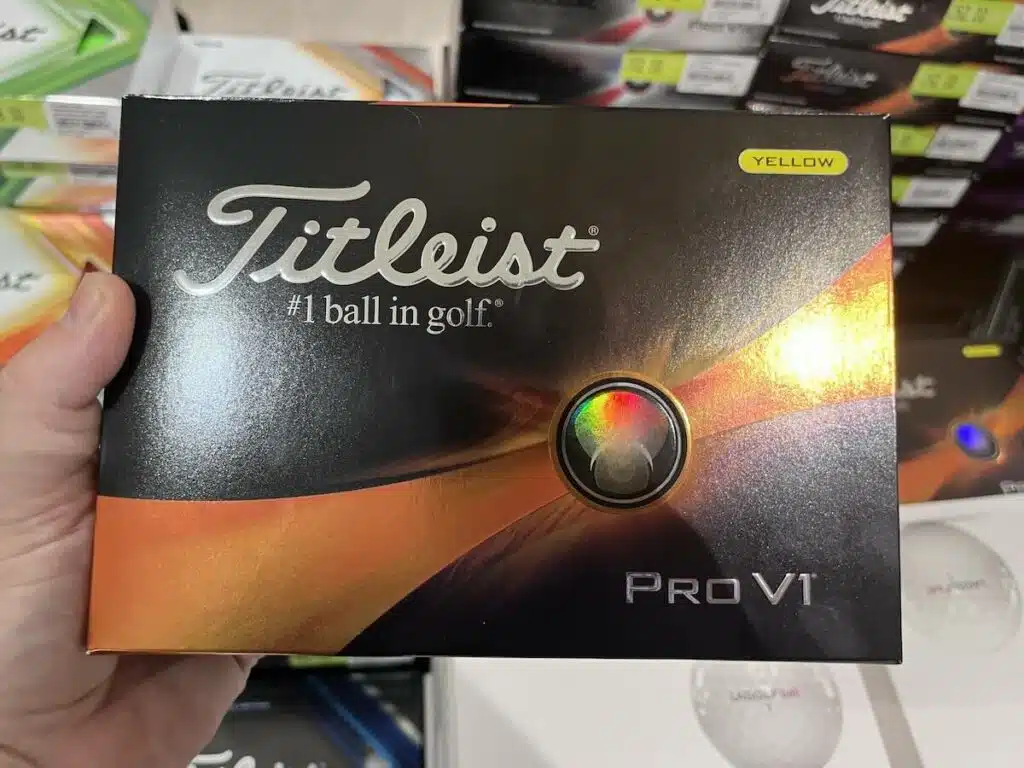 I like how the second-generation ZG Process Core that helps me push out those extra few yards, especially off irons and hybrid clubs.

Clint McCormick, Class A PGA Golf Professional & Degree in Golf Management
Read a head-to-head comparison between the Pro V1 and Pro V1x
Construction: 5 piece
Case: Urethane
Soft/Firm Rating: Firm 4/5 (Generally firm but with a thin, soft outer layer)
These golf balls have dual radius dimples on their casing. This allows them to be aerodynamic and resilient against wind gusts (no blaming the weather now!). This design also allows for the extra distance that many players crave.
The five-piece design comes equipped with a speed layer system that allows the TP5x balls to leave the face of your club with incredible speed. The patented High Flex Material (HFM) in these balls is the driving force behind this facet of its performance.
These are similar to the TaylorMade TP5 golf balls but launch higher and further when met with fast swing speeds. If your swing speed is a little slower, consider the TP5 instead.
[Check Price & See User Reviews]
Pros:
Class-leading aerodynamics
Spring-like cores increase the speed of the face on drives
The ball still feels soft despite being a distance ball
Resistant to the wind
Cons:
Low launch off of irons (but still accurate on the green)
You need a fast swing speed to capitalize on these balls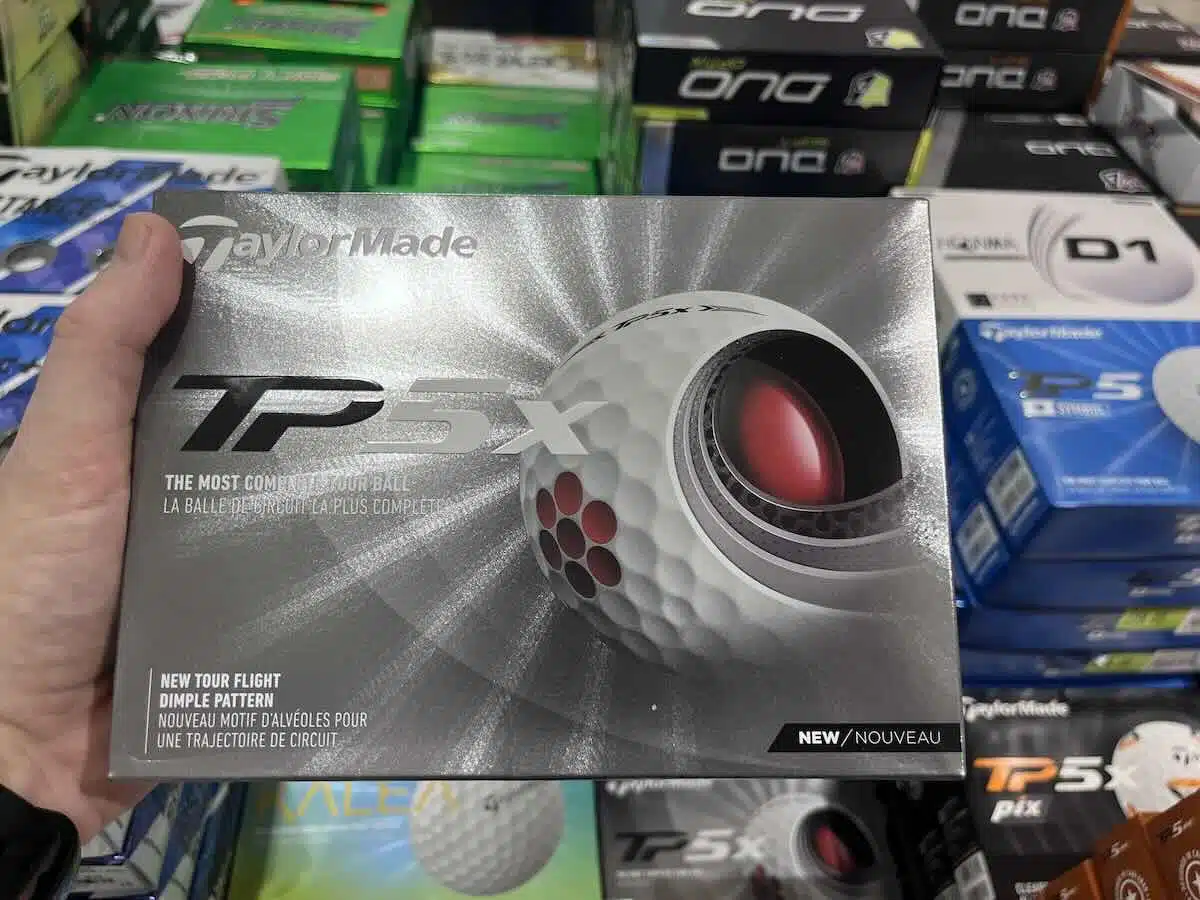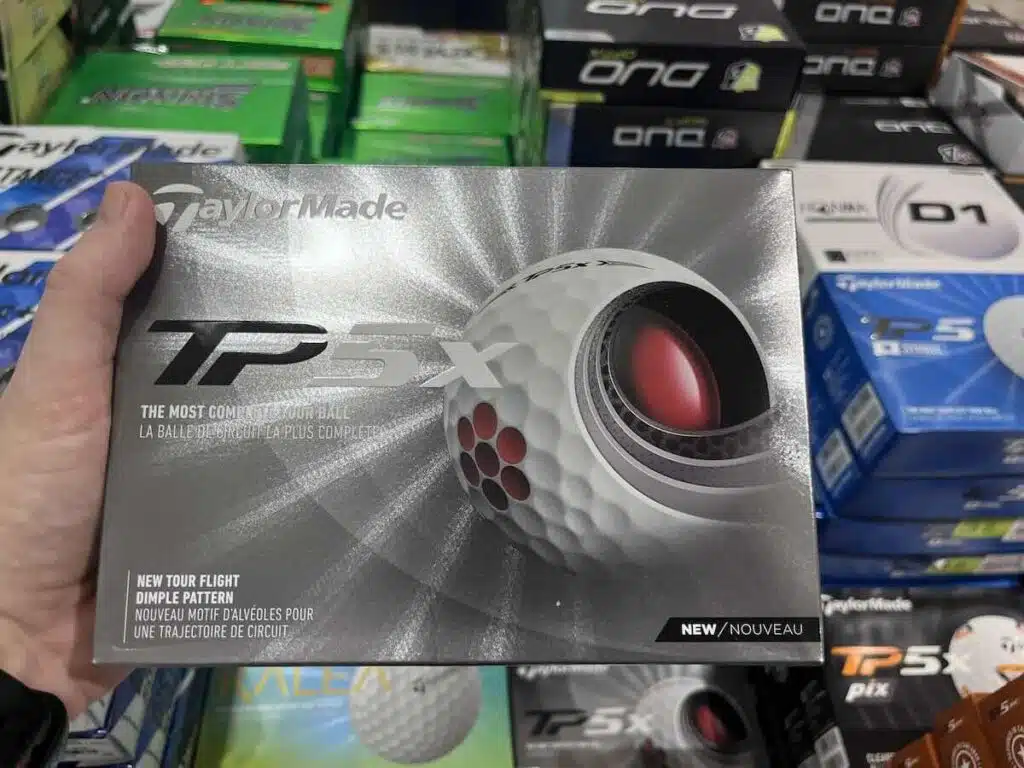 I like that off the tee, the TP5x is a low-spin ball, but its case pattern allows it to grip wedges and provide accurate high-spin shots into the green.
Read a head-to-head comparison between the TP5 and TP5x
Construction: 3 piece
Case: Urethane
Soft/Firm Rating: Soft 5/5 (soft ball that feels firm)
TaylorMade markets these as top-tier golf balls for mid-tier players. But what does that even mean?
First of all, you'll save about 20% on price compared to TaylorMade's flagship golf balls. Yet, you still get a lot of the same technology that makes the TP5 great. One such example of this is the identical dimple pattern. This offers fantastic aerodynamics for a straight and distant flight path.
When shooting around the greens, these balls could be the best-spinning golf ball, which is a godsend for many mid-handicap players. These balls can combine an ultra-low compression react core and urethane cover.
This will launch slightly higher and run further than PGA-level golf balls. But that's not necessarily bad for many mid-level and entry-level golfers. Think of your last game, and I'm sure there are a few shots you wish your ball traveled a little higher or moved a bit further on the green.
Another fantastic feature of these golf balls is that they're built tough. You're more likely to need to replace them from water traps or being lost in the rough than from damage.
[Check Prices & See User Reviews]
Pros:
Optimal backspin
Soft feel for a high-speed ball
Great cost-to-quality ratio
New teach taken from premium TP5 line
Cons:
Still pretty expensive for a "cheaper ball."
Construction: 4 piece
Case: Urethane
Soft/Firm Rating: Soft 3/5 (soft throughout to provide spin)
These Wilson balls are relatively new to the scene and offer some pretty up-to-date technology.
The four-piece design allows for spin, which is exceedingly high. Perhaps to the detriment of mid-level golfers. But, those with a low handicap will appreciate the extra control these golf balls offer.
The V-CORE design also helps these balls fly off the face for drives. If you know your swing already leans towards low straight drives, these balls could help you capitalize on what may already be a strength in your game.
Those that usually have a high launch may still get a little extra distance off the tee with these balls but less so than those with clubs to match the intent of these balls.
If it spins a lot off the tee, you can imagine what it's like on the green, right? You'll get plenty of control and accuracy off the face of your irons with the Wilson Staff Model.
[Check Prices & See User Reviews]
Pros:
Tour level workability
High velocity off the clubface
Long and straight with low flight
Durable
Cons:
High spin on drives won't suit every golfer
Construction: 3 piece
Case: Urethane
Soft/Firm Rating: Soft 3/5 (low compression and very responsive)
Callaway is more known for its clubs than its golf balls. But that doesn't mean they don't make some of the nicest golf balls on the market.
The Chrome Soft line is a particular standout in the Callaway range. They offer plenty of forgiveness without sacrificing too much control. This is thanks mainly to the Softfast Core, which is Hyper-Elastic and provides plenty of compression off the club face.
These balls stand out because they work from drive to putt to help the golfer lower their score. They offer particularly strong greenside control.
The Chrome Soft line provides low spin for iron shots which may not suit all golfers' green game. Be aware of this if you decide to opt for these balls.
The Tour Aero Urethane case provides plenty of resistance to windy conditions. But not as much as the Mizuno RB Tour. However, it's still worth noting as a quality feature of the Callaway Chrome Soft.
Just because these are forgiving golf balls doesn't mean you won't find them on the PGA Tour. John Ram is a notable example of a pro that uses Callaway Chrome Soft balls.
[Check Prices & See User Reviews]
Pros:
Very forgiving
Fast ball speed
Soft response
Perfect for low handicappers
Cons:
Less control than some other top picks
Read a head-to-head comparison between the Callaway Supersoft and the Chrome Soft
Construction: 3 piece
Case: Urethane
Soft/Firm Rating: Soft 4/5 (Very soft all-around)
Mizuno spent over 12 years perfecting its wind-defying RB range of golf balls. The Tour RB, in particular, is their flagship model that offers plenty of control in the mix too.
The wind tunnel testing behind the development of these gold balls led to the cone shape C Dimple design. This design ensures that the trigger points remain close to the surface, which means that these balls have minimal drag. It also helps that fast air stays close to the ball to increase distance off the tee.
The Ionomer mantle also provides a bit of bounce from maximum power shots while remaining responsive and soft on the green.
The tour model is a low spin ball. Make sure that's what you want before you choose. Otherwise, you could go for the Tour X, which provides a mid-range spin.
It may even be a good idea to keep a few of these balls in your bag and save them for an unexpectedly windy day on the course.
[Check Prices & See User Reviews]
Pros:
C shape dimples prevent drag
High-energy Ionomer mantle
Soft feel
Long-distance off maximum speed iron and hybrid swings
Cons:
Downward attack angles off the drive may frustrate some players
Construction: 2 piece
Case: Hybrid Paraloid
Soft/Firm Rating: Soft 1/5 (soft interior with a sturdy cover)
Since their inception, Callaway Supersoft balls have been incredibly popular. They have their quality design, excellent flight, and low price to thank for that.
Their soft impact design makes these an obvious choice for seniors or other golfers with back, elbow, or wrist issues.
Despite the muted impact, they give a satisfying thwack off the tee. Yet, if you rely heavily on physical feedback to correct your swing, these may not be the ball for you.
These balls have a high flight path, and the hex aerodynamics help them stay straight and true.
The soft core also allows for plenty of ball speed off the face of the club, so you can get extra distance on your drives compared to many other balls. This is surprising, considering the Supersoft is a low-impact golf ball.
[Check Prices & See User Reviews]
Pros:
Soft impact for golfers with medical issues
Bright colors available
Great control on the green
Surprisingly good distance
Cons:
The two-piece design lacks the premium features of more expensive balls
Construction: 3 piece
Case: Composite
Soft/Firm Rating: Firm 4/5 (the core is slightly soft, but that's about it)
Pretty happy with your overall game, but want it to be BIGGER? The Wilson Profile Distance balls could be the perfect match for you.
The best part is that these golf balls are cheap as chips. You can pick up a 36-pack for the same price as a 12-pack of many of our other top picks. That makes the Profile Distance a good choice if you're prone to slicing your drives and may lose a few balls from time to time.
They can also help avoid sliced shots as they minimize spin on your drives, providing the right amount of forgiveness to keep you on the fairway or at least on the edge of the rough.
Their high-energy core is the source of the extra distance you'll get from the tee. Just keep in mind that your iron shots may be a little heavy-handed. Try not to overshoot the green.
[Check Prices & See User Reviews]
Pros:
Designed for getting the most out of your long game
Cheap
Low ball spin
Cons:
Construction: Varied
Case: Various
Soft/Firm Rating: Various
Not sure exactly what you want from a golf ball and want to experiment with a few different styles before committing to a bulk purchase? This variety pack is perfect for you.
This pack includes:
Vice Pro Plus
Vice Pro Soft
Vice Pro
Vice Tour
Vice Drive
You may not have heard of Vice Golf, but they're making waves in the Pro-Am circuit and already have plenty of big names promoting their gear. This variety pack is the perfect way to get a taste of the overall quality of their products.
Even if you decide against buying any more of the balls included in the pack, you can still compare them against competing models from big golf ball manufacturers like Titleist to make a similar choice from their product line.
These golf balls are also often on sale, so you can get them for a steal. Just don't expect to see the single ball-type versions for as cheap. You could consider these a way to get your business. We can't even be mad about it. The product speaks for itself.
[Check Prices & See User Reviews]
Pros:
A chance to try out several ball types
8 Different Golf Digest gold medal balls included
Cons:
Only 2 of each type of ball
Not great for those that know what they want
Lesser known brand
10. Srixon Q-Star – Great Ball for Average Golfers 
Construction: 3-piece
Case: Urethane
Soft/Firm Rating: 5/5
This ball is perfect for the average golfer. It's a three-piece, high-spin ball with a compression rating of 75 aimed. That's right. We're talking about the Srixon Q-Star.
It is one of the greatest golf balls for intermediate golfers, but could even work for advanced players as a result. It is coated with an enhanced spin skin layer and features an energetic gradient growth core inside of a thin Urethane cover.
324 Srixon speed dimples are dispersed throughout the urethane cover of the ball. The ball will fly farther and with better control thanks to the dimple pattern's minimal drag.
This produces a golf ball that performs and feels like a tour ball and is designed for players with average swing speeds.
The Q-star makes certain durability tradeoffs to improve performance and feel. With the performance, you'll experience what it's like to be on tour.
[Check Prices & See User Reviews]
Pros:
Tour-like feel and spin with spin skin Urethane cover
Arrow decal aids putting alignment
Affordable price for Tour-level performance
Soft compression core helps with low driver spin
Cons:
It runs out a bit longer in your short game
Which Golf Ball is Right For You? A Buyer's Guide
With so much targeted advertising and pro shops stocked to the brim with different golf balls, choosing the best golf ball for your playstyle can be confusing. Let's take a quick look at some factors that may impact your choice.
Popularity
People often talk badly about Starbucks. But they're so popular and one of the biggest names in the coffee industry for a reason—their product is good! You can apply this same logic to golf, specifically golf balls.
People simply aren't going to continue to buy a product that doesn't cut the mustard. Sticking to top-of-the-line balls from reputable brands is an extremely safe bet. Still, there's a lot more to consider.
The Best Golf Balls for Your Playstyle
You could rush out and get the highest-rated golf balls, but that doesn't mean they're the best choice. For instance, you may need to consider a few points about your swing to help you decide, such as:
Swing speed
Distance off the tee
Accuracy
Short game control vs. long game strengths as weaknesses
Price
Let's face it. We'd all have the best brand of golf balls in our bag all the time if we could afford it. But, for some of us, the cost can be a deciding factor. It may be worth considering whether a set of good golf balls in the mid-range is better suited for you.
This is especially true if you're prone to losing balls to water traps or in the rough. We've all been there, so don't worry.
Covering
Golf balls come in a range of different casings and coverings. Some are more forgiving by providing a higher spin rate off the face of the club, while others are more durable and will last longer.
Urethane: Perfect for high-handicappers or those who prefer a soft feel and extra forgiveness
Surlyn: A tough and durable case with satisfying feedback
Ionomer: Good for counteracting unwanted side spin but not super durable
Firm or Soft Golf Balls?
Many of the top golf balls come in 2 options: firm or soft. You could opt for either, depending on your preference. However, each brand defines 'firm' and 'soft' a little differently.
These golf balls are ranked on a scale of 1-5 on how soft or how firm they are within their category. For example, a firm ball with a rating of 5 is very firm, and a softball with a 5 rating is very soft.
Firm golf balls give a little less spin and are slightly forgiving but allow for more control.
Soft golf balls can provide that slight touch of extra accuracy that many intermediate golfers need, especially when combined with a forgiving driver or set of irons.
The Best Golf Balls in 2022 – Frequently Asked Questions
What Is the #1 Golf Ball?
The number one is any ball by Titleist if you believe their slogan. The truth is that they have the sales numbers to back this statement up compared to other golf ball brands. Their flagship ball is the V1, and it really is one cracker of a golf ball design and well worth your consideration.
Which Golf Balls Go the Farthest?
Golf balls with low spin and a spring-like compression rating off the club face tend to travel the farthest. An excellent example of this type of ball is the TaylorMade TP5x. These provide all the extra distance a golfer with a high swing speed could ask for.
But, if your swing speed is a little slower, you may be better off with a TP5 instead of a TP5x to maximize your distance off the tee.
What Ball Does Tiger Use?
Tiger Woods has used a few different golf balls over the years. At the moment, he uses a Bridgestone Tour B XS golf ball.
Are Expensive Golf Balls Worth It?
This is a tricky question to answer without knowing what kind of golfer you are. The fact is, you often won't notice the difference if you're a beginner, and the extra couple of strokes off your final score probably won't matter.
On the other hand, if you're playing competitively, those extra few feet off the tee or the straighter flight path offered by a premium ball could be the difference between needing an extra shot to get to the green.
We all know that getting a birdie feels infinitely better than scoring par, bogie, or even a double bogie. You just have to decide if that's worth spending a little extra on your balls.
Can You Change Balls to Putt?
In most tournaments, when you mark and lift your ball on the green, you must replace it with the same ball.
Do Golf Balls Lose Distance With Age?
Yes, golf balls lose distance with age by losing some of their inner elasticity. After 7+ years of use, the golf ball may have lost up to 1% of its initial velocity, resulting in losing a few years of distance from an identical stroke.
Do Golf Balls Make a Difference?
Yes, golf balls can provide more wind resistance, lower or higher flight, more forgiveness, greater distance, and many other benefits.
A better question would be, do golf balls make a noticeable difference for most players? Even in that case, the answer would be a resounding yes. Try playing a round of golf and use budget balls for nine holes and top golf balls for the back nine, and check how many extra strokes above par you are between the two.
Obviously, there are other variables at play, so repeat the experiment a few times and try using the premium balls for the front nine, etc.
When Do Golf Balls Go on Sale?
You should be able to find some great discounts around the holiday season as many manufacturers provide specials to boost their sales during the winter period.
Another reasonable period to buy golf balls is April or May before the new season starts. Often the best deals at this time are muti-dozen deals like buying two packs and getting the third free. It doesn't hurt to have some spares instead of rebuying when they're no longer on special.
Should I Always Play One Ball (Model) Per Round?
In tournament rules, you are usually allowed to change balls at tee-off but not during the hole, especially not on the green. However, many golf coaches recommend sticking to one type of ball to get used to its flight path.
On the other hand, if you're a more experienced player and want to experiment to find the best golf ball for your needs, you could do so during one round of golf.
What Are the Best Golf Balls for Beginners?
The best brand golf balls have a forgiving design and allow for extra lift and distance. The Callaway Chrome Soft is the best for newbies from the top picks in this article. We have an entire post dedicated to the best golf balls for high-handicappers. Check it out to learn more.
What Is the Best Golf Ball for Low Handicappers?
More than the average golfer, low-handicap players likely have more of an idea about their swing style and how they play. Therefore, they can be pickier with the stats of their ball.
For instance, if a semi-pro player knows their drives are straight and low, they could go a golf ball like the Wilson Staff Model to capitalize on that.
Final Thoughts—Choosing From the Highest-Rated Golf Balls
Hopefully, you have a better idea about which of the best golf balls will suit your swing style and game the most.
If you're still stuck and unsure which to get, try out the TaylorMade Tour Response ball. They're not as popular as the Titleist V1, but for most casual golfers, they're much softer than the Titleist V1.
They're the best-selling ball on the market, and they live up to the name. They're also an all-rounder-style golf ball, so they are a safe bet for most golfers.
If you still need to know more about golf balls, check out some of our other related content: