You can't talk about golf without talking about Callaway. The company has gained a well-deserved reputation for its golf equipment, especially golf balls. But with so many companies coming out with new and innovative golf balls, it can be difficult to decide what to invest your money in. This Callaway ERC Soft review will help you decide whether to invest in this soft ball.
The Callaway ERC Soft ball has a compression rating of 60 and gives you extra yardage with each shot while delivering a soft feel on impact. The innovative HyperElastic SoftFast Core and the all-new GRIP Urethane coating give this ball good greenside spin, forgiveness, and trajectory control.
In this Callaway ERC Soft golf balls review, I'll dive deep into all the ball's features, pros, and cons. I've also got some alternatives for you to consider if the ERC Soft doesn't meet your criteria.
Overview of Callaway ERC Soft
The latest 2023 version of the Callaway ERC Soft offers a decent mid-price category option for mid and higher-handicap players.
The golf ball introduces the new GRIP Urethane Coating System for an optimal greenside spin, and the HyperElastic SoftFast core maintains the ball's soft feel without compromising on its speed.
Alignment aids are always nice, and the Triple Track designs help you visualize your putts and direct your shots accordingly.
The ball stands its ground in an already crowded mid-price category. But is it worth its price? You can answer that question better by the end of this ERC Soft review.
Here are some pros and cons of the Callaway ERC golf ball:
Pros
Soft cushioned feel with every shot
Holds well even in windy conditions
Triple-track design helps as an alignment aid
Good distance coverage with both the iron and driver
Cons
The ball scuffs up easily
Expensive for its category
Specs
USA Launch: 8th February 2019
Ball Covering: Urethane
Ball Construction: 3-piece
Spin: Low
Color Options: Yellow, White
Ball Feel: Soft
Alignment Aid
Dimples: 322 Hex
Compression Rating: 60
Key Metrics To Consider
Here's how I rate the Callaway ERC.
*All ratings are out of 100*
| | |
| --- | --- |
| Overall | 80 |
| Star Rating | 4 out of 5 |
| Distance | 92 |
| Forgiveness | 81 |
| Feel | 85 |
| Greenside Spin | 84 |
| Price | 70 |
Callaway ERC Soft Ball: Verdict
The Callaway ERC Soft Balls are designed for a wide range of swing speeds, but it specifically caters to moderate to slow swing speeds. The triple-layer design with the HyperElastic SoftFast Core ensures the ball travels those extra yards with each hit while maintaining its trajectory.
The ERC soft is also the perfect golf ball for mid-handicap golfers looking to go the extra distance on the fairway. Plus, even with strong winds, the ERC soars unfazed.
I particularly love a softer feeling on my impacts, and this ball has a nice soft feel.
The triple track guidelines can also benefit beginner golfers, especially around the greens. At the back of my mind, I end up buying balls with nice alignment aids and I liked this ball's design.
If you're looking for a solid, reliable ball to start your golf game with, the Callaway ERC shall not disappoint.
Who is it Best For? – Handicap Range
Based on my Callaway ERC Soft ball review, the ball is best suited for mid- or high-handicap golfers. Although, golfers at any handicap can benefit from this ball.
The ball's HESFC adds extra yardage with each swing, while the spin control ensures the ball remains on target. I also found a bit of forgiveness in the ball, ensuring that even if you've had a miss-hit, the after-effects won't be as severe.
The ERC Soft is a nice blend of forgiveness, spin control, and distance enhancement, making it beneficial for mid and high-handicap golfers.
For golfers still trying to perfect their putts, the triple guidance lines can also greatly help. As a beginner, an alignment aid on the ball helped me control the direction and speed of my swing.
If you've got a different handicap but are looking for a solid golf ball, these are some of the best golf balls by Callaway that you can check out. There's a little something for every handicap range here.
5 Things to Consider Before Buying Callaway's ERC Soft Balls
Think about this before making your purchase.
1. Budget
The Callaway ERC Soft ball lies at a slightly higher price than other balls in this range. It's not one of the most expensive golf balls, but if you're looking for budget options, I'd recommend you check out some other balls.
Here's a list of our most affordable golf balls.
2. Type of Ball
You'll find multiple types of golf balls for different purposes. The Callaway ERC Soft is designed to travel a decent distance while having a soft impact. The ball compromises on shot-shaping and greenside spin, but if you're not that skilled, you don't need to get a high-end ball.
If that's something you're looking for, give this ball a shot – literally.
3. Layers
Some golf balls have a two-layer design, which is mostly preferred for beginner-level golfers. Alternatively, multilayered golf balls range from 3-5 layers. These work great for more experienced golfers as they're better suited for faster swing speeds.
For the slower shots, only the ball's outer layer gets activated. Whereas for harder shots across the fairway, all the layers down to the central core can get activated.
4. Covering
Golf balls either have a Surlyn or a Urethane covering. Surlyn is a lot more commonly used, durable, and scratch-resistant. If you're using a non-professional golf ball, there's a high chance it'll have a Surlyn covering.
The Callaway ERC Soft has a Urethane covering which is usually found on more professional golf balls. It's not as durable but gives better spin control, performance, and feel.
5. Feel & Compression Rating
While feel may not be a deciding factor for beginner-level golfers, professionals know exactly how important it is.
This is where you can judge the compression rating on a ball. This Callaway ball has a compression rating around 60.
The lower the compression, the more the golf ball will deform. This allows players with lower swing speeds to hit the ball at a greater distance while minimizing spin. This is why lower compression balls have a soft feel to them.
Why You Should Trust Us
Our team spends thousands of hours trying out and researching golf equipment to help you take your game to the next level. Here's our product review process.
We can bring these reviews to you through the small commissions we earn if you buy through the links below.
How We Reviewed These Products
Golfspan only shares equipment and brands we trust.
The information you get in this article is up-to-date because we conduct regular content audits to update and revise our reviews to ensure you receive the latest information.
When reviewing these golf balls, the following criteria were of utmost importance to me:
Cost
Distance
Greenside Spin
Forgiveness
Feel and Control
Launch and Accuracy
Callaway ERC Soft Review: Features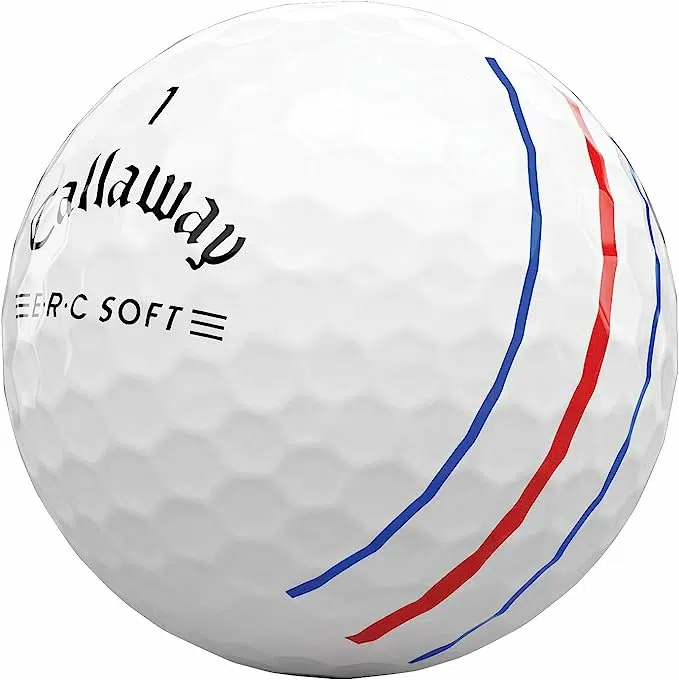 Here are all the features of the ERC Soft you need to know.
HyperElastic SoftFast Core
This is arguably the most notable feature of this golf ball and what lets this ball put up a strong fight in the mid-price category. The HyperElastic SoftFast Core allows the ball to move at high speeds without compressing too much at impact.
With the ERC, Callaway aimed to make the just soft enough to give it a soft feel, but the company did not want to compromise on the ball's speed, and you can see this in the final product.
Over 100 different materials go into making just the core of the ball and from these materials, many are unreacted that simply act as filler material for the ball. Not only do they not contribute towards the ball's functionality, but they can often make the ball stiffer, reducing its elasticity.
Callaway decided to target these unreacted materials by putting its scientists to work. These scientists played the chemistry of these materials to allow the "filler materials" to become reactive. This increased cross-link density, making the ball much more elastic when striking.
GRIP Urethane Coating
The new GRIP Urethane coating is another standout feature of the ERC Soft. But the company mentions an ionomer-covered ball, so which one is it? Ionomer or Urethane?
Well, I got a little confused here as well.
So, what Callaway did is that they took the all-new high elongation urethane formula and sprayed a layer of it on top of the ionomer cover.
So put it into perspective; this is a triple-layered ball with a HyperElastic SoftFast Core, covered by an ionomer and finally coated in GRIP Urethane.
Callaway chose the GRIP Urethane material since it's extremely stretchable, which increases the contact time between the club and the ball, allowing for improved low-speed shots on the green. This makes the ball a strong contender for both long-haul and short-distance shots.
It's also important to note that this coating only increases spin on the green. For the rest of the course, the ball maintains its low-spin feature.
Performance
The unique features mentioned above contribute to the ball's overall performance. As soon as i placed it on the tee, I could tell it was a promising ball. Whether it was my first shot or the 10th, the ball consistently went soaring off the tee.
Compared to other similar golf balls and even the Callaway Super Soft, the ERC Soft gave me equal, if not more, yardage without compromising accuracy. The ball maintained its course even during a windy day game and did not seem to deviate much.
From delicate spins to bunker shots, the ERC had good spin each time.
Feel and Control
Since it's a softball, its feel, and control are important factors in this Callaway ERC review. I particularly really liked the ball's responsive feedback on impact. As soon as the clubface touches the ball, you can feel it's softer than expected.
The sensation upon impact and the control gave me confidence during my shots, contributing to pleasant gameplay.
If you're looking for consistent feedback and a soft feel, you'll particularly appreciate what the ERC offers.
Durability
Although a solid ball overall, I was not too impressed by the ball's durability on the course. After just a few rounds, I noticed scuff marks on the ball, and it soon started looking worn out. But I must admit that regardless of this, I did not see any downgrade during the actual gameplay.
So regardless of the few scuff marks, the Callaway ERC Soft ball proves to be a solid, reliable ball that will last you multiple rounds without compromising its performance.
Spin and Greenside Control
Callaway says the latest ERC soft ball gives over 400 rpm more spin than its previous models. While the ERC soft balls aren't particularly famous for their greenside spin, the 400 rpm spin is noteworthy.
It takes a while to get used to the ball's spin and control but isn't that the case with most new things we try? I felt this ball worked best for shots within 20 yards, so I'd rate the greenside control just above average.
Compared to the greenside, the ball is undoubtedly more suitable for long-haul shots and provides much better accuracy and control.
Distance
The biggest pro that this Callaway Soft ball brings to the table, and probably the main reason I'd invest in a set, is the distance it covers with each shot. Whether I used the driver or the iron, the balls soared down the fairway.
The team at Callaway did not want to compromise on the ball's yardage; you can see that. The advanced design and construction allow the ball to cover impressive distances with each shot.
So if you're looking to improve on your distance particularly, the Callaway ERC has the potential to bring about significant betterment in your game.
For golfers particularly focused on distance and direction, here are some of the best straight-flying golf balls.
Alignment Aid
This might be the most debated feature of this golf ball; some golfers love the added assistance, while others find it unnecessary. I personally enjoy alignment aid, and I was excited to try out the triple-track alignment lines on the ERC.
Although I'd have to admit, the lines can be a distraction on the fairway. However, the triple lines were more helpful for putts.
Price and Value for Money
The Callaway ERC Soft golf ball is in the mid-price category. It is a three-layered ball featuring a hybrid Paraloid cover. The ball isn't as durable as I'd like, given its price point.
The added dollars are surely for the brand name, but since it's Callaway, you can trust that what your paying for is top quality.
But if you're not big on brand names, multiple options in the market offer similar features for a lower price tag.
Alternatives For Callaway ERC Soft Golf Balls
If the Callaway ERC golf balls aren't fitting your budget or you're looking for an alternative, there are multiple soft balls available that prove to be strong contenders.
Here are some alternatives that particularly stood out for me:
Wilson's Duo Soft Balls are among the softest golf balls available. The company managed to reduce the compression rating on the ball to almost 40 without compromising on distance or greenside spin.
Plus, it's almost half the price of the Callaway ERC golf balls, so you can save the extra dollars.
Pros
Budget-friendly
Velocity boosting additive to increase distance
Low driver spin rate
Cons
Performance difference between the Yellow and White covers
Rating: 4.7/5
These Tour Soft Balls aren't just great for beginners – they can also be used professionally.
Not only do these balls go flying over long distances and maintain their trajectory, but they also work great for short games, giving you just the right amount of greenside spin.
Pros
Great short game control
Increases distance and maintains trajectory
Responsive soft feel with each strike
Cons
Rating: 4.7/5
FAQs
What Is the Difference Between ERC and Chrome Soft?
Beginners or average golfers looking for more distance during their games will prefer soft balls such as the ERC, whereas, for more professional golfers, a better spin and feel around the greens is more important. For them, Chrome Soft is a better fit.
What Is the Compression of a Callaway Erc Soft Ball?
The compression rating of the Callaway ERC Soft ball is about 60, making it ideal for slow swing speeds. A lower compression rating delivers a softer feel but can compromise on the distance.
What Gives the New ERC Soft More Ball Speed Without Increasing the Balls Compression?
The HyperElastic Soft Fast Core and the GRIP Urethane coating give the ball speed and extra distance without increasing its compression.
Final Thoughts
I hope you enjoyed reading my Callaway ERC Soft review. The Callaway ERC Soft is a great golf ball, especially for the mid-price category.
I found the ball to travel a long distance while delivering a soft feel at impact. If you're a mid or high handicapper, this is just the tool you require to level up your game and get those extra yards with each shot.
As for me, I could consider giving the Callaway ERC Soft a shot. What about you?

As a skilled golfer and wordsmith, Abdulmoiz brings a fresh and engaging voice to the golfing world. Whether he's on the course or at the keyboard, he strives to improve and inspires others to do the same.