Wilson is known for making affordable golf balls for high handicappers. However, the newly launched Wilson Triad golf ball is aimed at mid and low-handicappers looking to break 80. So how does this new ball perform? Is it a hit or a miss? Find out in this Wilson Triad Golf Ball review.
The Wilson Triad golf ball is designed for mid to low handicappers. It has a 3-piece construction and a compression rating of 85. The ball delivers impressive distance and a nice feel around the green. The ultra-thin urethane cover increases the ball speed, maximizes tee distances, and provides increased control.
The Wilson Triad ball has a high compression rating, unsuitable for slow swing speeds. Finding the ideal golf ball took a lot of trial and error for me.
This article is a deep dive into the Wilson Triad Golf Ball's features and its performance on the course. So, if you're looking for a new ball to add to your bag, keep reading! Here's a review of one of Wilson's most excellent golf balls.
Overview of the Wilson Triad Golf Ball
The Wilson Triad Golf Ball is specially designed for players looking to break the 80. It delivers straighter and longer shots with reduced spin off the tee. Its ultra-thin urethane cover also provides good spin and precise control for chips, pitches, and other short-game shots.
The Wilson Triad golf ball is a three-piece golf ball with spectacular stability and consistency. Its tri-balanced construction maintains uniform density throughout all three layers and provides a better roll on the green.
I've discussed the pros and cons of the Wilson Triad balls below.
Pros
Spectacular distance gains off the tee
Lower spin on tee shots reduces chances of wayward shots
Provides a softer feel when putting
Spectacular durability
Great balance during flight
More affordable than other urethane golf balls
Cons
Does not generate as much greenside spin as Tour-level premium golf balls
Not suited for slow swing speeds because of a high compression rating
Specs
Ball Construction: 3-Piece
Cover Material: Urethane
Compression Rating: 85
Feel: Mid
Spin: Low Driver Spin
Ratings
Here's how I've rated the Wilson Triad Golf Ball.
Note: All ratings are out of 100
| | |
| --- | --- |
| Overall | 85 |
| Star Rating | 4.8 out of 5 |
| Distance | 93 |
| Forgiveness | 90 |
| Feel | 80 |
| Workability | 80 |
| Aesthetics | 85 |
| Price | 88 |
Keep reading to find out more about the Wilson Triad golf ball and its unique features.
Wilson Triad Golf Ball: Verdict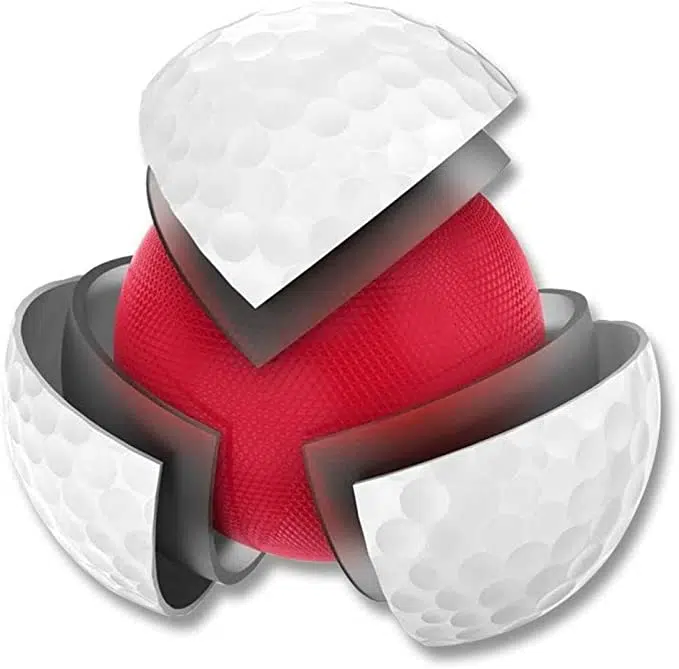 Before getting into the specifics of my review, I'll discuss my general conclusions regarding the Wilson Triad Golf balls.
The Triad is a spectacular all-rounder that delivers good distance off the tee and a great feel around and on the greens. I was particularly impressed with the ball's performance on chipping and putting shots. It feels soft and responsive on every shot and greatly impacts your overall performance on the greens.
For golfers who have been using the more budget-friendly Wilson golf balls and are now seeking to up their game, the Wilson Triad might be the perfect pick.
It's more budget-friendly than the Staff Model R but is jam-packed with some great features that are particularly great for mid to low-handicappers.
While reviewing it, I found the Wilson Triad golf ball similar to the TaylorMade Tour Response. Both feature similar thin urethane covers and offer spectacular distance gains.
Who They're Best For?
The Wilson Triad golf ball is specially designed for mid to low-handicappers looking to improve their scores. It's a consistent and forgiving ball that delivers ample distance off the tee with straight and long trajectories.
The Triad golf ball also offers a responsive and soft feel upon impact, giving low handicappers the spectacular feedback they desire. This softness allows them to make precise adjustments for swing and shot selection, enhancing their overall control over the ball.
Additionally, the Wilson Triad compression is in the 80-90 range. So, it is also an excellent option for players with higher club head speed as they can get maximum performance gains with the ball.
Things to Consider Before Buying The Triad Balls
Here are a few things that you should consider while buying the Wilson Triad golf ball to ensure that it meets your preferences and requirements.
Budget– The Wilson Triad golf ball is more affordable than other premium golf balls, making them great for people on a budget. However, you will be compromising on greenside spin and your shot-shaping ability with this ball.
Swing Speed— The Triad golf ball is designed for players with higher clubhead speeds. You may not fully benefit from its performance characteristics and distance gains if you have a slower swing speed. So, matching the ball's design and compression stats to your swing speed is essential for maximum results.
Distance and Forgiveness— This golf ball is mainly known for its distance and forgiveness. It delivers straighter shots with increased ball speeds off the tee, helping you sink your putt in fewer strokes.
Skill Level– The Wilson Triad is made with mid to low handicappers in mind. So, assess your skill level and determine if you fall within this range. If you have a higher handicap, you could benefit more from other options.
Why Should You Trust Us?
Our team spends thousands of hours trying out and researching golf equipment to help you take your game to the next level. Here's our product review process.
We can bring these reviews to you through the small commissions we earn if you buy through the links below.
How We Reviewed These Products
Golfspan only shares equipment and brands we trust.
The information you get in this article is up-to-date because we conduct regular content audits to update and revise our reviews to ensure you receive the latest information.
I considered these criteria to review this golf ball:
Cost
Spin & Control
Distance
Feel
Longevity
Wilson Triad Golf Ball Review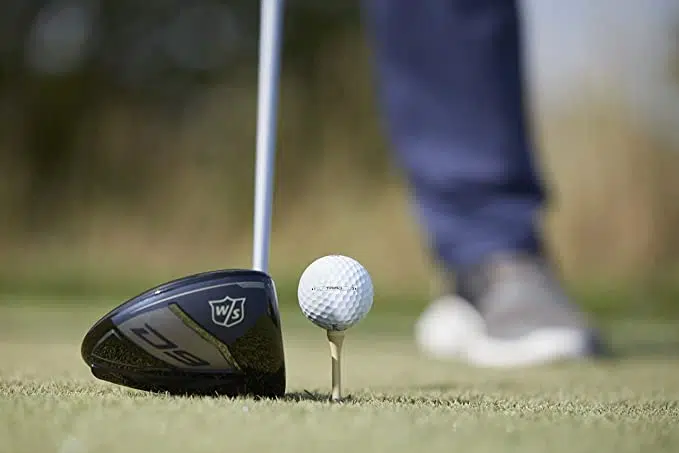 I found the Wilson Triad golf ball to perform admirably during my evaluation. I was pleasantly surprised that the ball offers a low spin on tee shots, delivering longer and straighter flights while having a moderate spin on iron shots, giving you more control around the greens.
This ball is also much cheaper than most on the market. It's also highly durable and long-lasting, making it one of the best Wilson golf balls!
So, if distance and longer flights are your main priority, this might be the right ball for you! But utilizing different spin-based shots, like a side spin or a backspin, and holding the green may be more difficult with this ball.
Below is a detailed review of the Wilson Triad Golf Ball's features.
Features and Benefits
Here are the innovative new features of the Wilson Triad Golf Ball.
1. High MOI Design
The Wilson Triad golf ball is specially designed to deliver a higher MOI and offer more forgiveness.
Unlike many other manufacturers, the innovative Triad design shifts the weight distribution away from the core. Traditionally, manufacturers make the golf ball's core its heaviest part, but Wilson relocates the weight towards the cover, enhancing ball speeds and forgiveness.
While reviewing the ball, I was amazed to see its stability, even on off-center shots. The ball maintained its intended flight trajectory almost perfectly, making it an excellent choice for high-handicappers with good swing speeds as well.
2. Tri-Balanced Construction
The Wilson Triad ball features a tri-balanced design. It's a three-piece golf ball with a rubber core, a thermoplastic layer, and an ultra-thin Urethane cover.
This tri-balanced core design reduces manufacturing inconsistencies and provides a more consistent and balanced roll.
3. Thin Cast Urethane Cover
The Wilson Triad golf ball features a thin case urethane cover. Thinner covers offer higher ball speeds and increased responsiveness around the greens.
Wilson uses a thin urethane cover to allow the Triad golf ball to deliver maximum energy transfer upon impact, resulting in enhanced ball speed off the clubface. So, you can enjoy longer distances off the tee and greater overall performance with this ball.
While the Triad golf ball may not provide the same level of spin as premium models like the Pro V1x or Piper Gold, the thin case urethane cover still offers remarkable responsiveness around the greens. So, for short-game shots like chips, pitches, and bunker shots, you can expect a good level of control and feel, making it easier to sink your putts.
Its thin case urethane cover provides a high friction surface, increasing the grip and interaction between the ball and the clubface on shorter shots. This extra grip is particularly beneficial for mid to low-iron shots as it can generate more spin and speed, giving you complete control of the ball's trajectory.
Performance Review
Now that you know about the features of the Wilson Triad golf balls, it's time to get into their performance on the course.
I've discussed the golf balls' distance, spin, feel, and longevity below.
1. Distance
The Wilson Triad golf ball is an excellent choice if you're looking for some extra distance gains. Its innovative design and weight distribution allow it to deliver increased ball speed, allowing you to enjoy impressive distances off the tee.
I was particularly impressed with the low spin characteristic of the ball from the tee box. This means that you'll experience less resistance in the air, helping the ball carry further and get that extra roll once it lands. The Wilson triad golf ball is like having an extra boost of distance!
However, due to its high compression rating of 80-90, you'll need some clubhead speed with this ball.
Higher compression balls like this work best with higher clubhead speeds. So, you'll need to generate good clubhead speed to get the maximum distance benefits this ball offers.
2. Forgiveness
The Wilson Triad Golf Ball has a higher MOI due to its innovative weight distribution. So, it's a highly forgiving ball, and I found it to perform remarkably even on mishits.
There's a lot of room for mistakes with this Triad ball, and you'll probably be able to get your intended ball flight on most off-center shots.
3. Spin
The Wilson Triad golf ball offers low spin rates off the tee, making it great for players in the mid to low handicap range. The ball has a more stable and controlled flight with reduced chances of wayward shots caused by excessive spin.
However, regarding the short game and shots around the green, the Triad has slightly lower spin rates than I'd like. Shaping your shots around the green and stopping the ball on the green can be challenging. You may also struggle with gauging the effectiveness of your short-game shots and have limited spin-based shot options.
If you're a pro at stopping the ball on the green and enjoy maximum control on approach and wedge shots, then the Wilson Triad might be the right pick for you. It provides an outstanding balance of distance and spin for players who can generate spin when needed.
However, a more premium ball like the Callaway Supersoft might be a better choice for golfers struggling to generate sufficient spins on the ball and get it to stop on the green. The Supersoft offers a softer feel and potentially provides higher spin rates, particularly on shots around the green.
4. Feel
While Wilson called this ball a softball, I found it to be more on the firm side.
In comparison, most soft golf balls, such as the Vice Pro Soft, offer an exceptionally soft and buttery feel. While this softness makes the golfing experience more fun, it can make it difficult to accurately gauge how the ball will react off the clubface. So, shaping your shots will be more difficult with such balls.
Although the Triad is labeled a soft golf ball, it offers a slightly firmer feel, giving you more control over your shots. The firmer feel makes it easier to understand the ball's response and make more precise adjustments to your shot and swing selection.
5. Longevity
Although the thinness of the urethane cover had me a little concerned for its durability, I was glad that I was wrong.
The Wilson Triad golf ball offers maximum durability, even for golfers with fast swing speeds. This means that even if you have an aggressive swing and generate high club head speed, the cover can withstand the impact and remain in perfect condition over multiple rounds of play.
So, the Triad golf ball can maintain its performance and stay in play for long periods.
This golf ball does not cut easily after bad shots, and the cover holds up perfectly even after hitting trees, cart paths, and other hard surfaces on mishits.
Alternatives
If the Wilson Triad Golf Ball does not meet your requirements, here are two other options you could consider.
The Callaway Chrome Soft X golf ball is designed explicitly for mid-to-low handicap players who require increased distance with incredible greenside spin. This golf ball is known for being the fastest, with its new Hyper-Elastic SoftFast Core generating higher speeds and greater distances off the tee.
Several professional players like Phil Mickelson, Jon Rahm, and Sam Burns swear by the Callaway Chrome Soft X, and I can see why.
Its increased greenside spin gives professional players more room for precisely controlling their shot game shots and sinking their putts.
The ball features a four-piece construction that provides consistent performance across all golf course areas, giving golfers the confidence they need for accurate shot-shaping.
The Callaway Chrome Soft X golf ball offers an impressive blend of spin, distance, and performance.
Pros
Excellent ball speeds
Maximum distance
Superb greenside spin
Durable
Soft feel
Cons
May be too difficult to use for beginners and high handicappers
The Titleist Pro V1 features remarkable consistency in the long game. Titleist has made subtle yet significant improvements to the Pro V1 ball without compromising the characteristics that have made previous versions incredibly popular.
The major upgrade in this ball is a high-gradient core with varying firmness levels. The ball's periphery is firm and gets gradually softer towards the center. This feature optimizes ball speed and minimizes the spin in the long game, enhancing overall performance. Upon reviewing it, I found that the boll offers lower launch and spins lesser than other Titleist balls.
The Pro V1 2023 ball includes the same cast thermoset urethane cover, speed-amplifying high-flex casing layer, and the tetrahedral dimple design as the 2021 model. All these features offer excellent distance gains, ball speeds, and stable and consistent flight trajectories.
Pros
Remarkable tee-to-green performance
Spectacular distance gains, particularly with mid irons
Strong ball flight
Great green-side spin and control
Cons
Higher handicappers may have trouble working with the ball's greenside spin
Expensive
FAQs
Is The Wilson Triad Golf Ball Good?
The Wilson Triad golf ball is excellent, especially for mid-to-low handicappers and fast swingers. It provides maximum distance gains off the tee, solid consistency, and responsiveness around the green. It also uses advanced technologies to maximize the MOI and offer considerable forgiveness to players.
Who Makes Wilson Golf Balls?
Foremost in Taiwan produces Wilson-designed balls under the Wilson Staff Model and Staff Model R namesakes. This company also makes balls for popular brands such as OnCore, Vice, MaxFli, and Top Flite.
Final Thoughts
Are Wilson golf balls good? After this Wilson Triad golf ball review, I can confidently say that they're better than I thought.
The Wilson Triad golf ball is jam-packed with great features. While reviewing the Wilson Triad golf ball, I was impressed by its distance gains off the tee. Even mishits travel straight and far, allowing you to get a successful hole from a poor drive.
This ball gives you pretty awesome control over your chips and putts. However, you get less greenside spin with the Triad than other premium golf balls. While this may only be a minor drawback for some golfers, those relying heavily on spin for their short game may find the Triad slightly lacking.
Overall, the Triad's performance, forgiveness, distance gains, and balanced roll makes it an excellent choice for mid to low handicappers with a fast swing speed.

As a skilled golfer and wordsmith, Abdulmoiz brings a fresh and engaging voice to the golfing world. Whether he's on the course or at the keyboard, he strives to improve and inspires others to do the same.