Today we check out the best low compression golf balls for seniors as senior golfers have a tremendous ball choice to play.  Selecting the right ball can be simplified by adhering to certain fundamentals; swing speed, type of golf shots preferred high flying or low boring, or chip and run rather than the flop shot to the pin.
Golf balls have probably changed the game the most in recent years, yet it is an area where the wrong ball is often put into play. If Tiger, Dustin, Phil, or Louis peg it up with their sponsored brand ball, that doesn't mean the ball will suit all seniors or amateurs.
Types of Low Compression Golf Balls
Urethane Cover—The low compression urethane cover is for the golfer that likes a soft feel off the clubhead. The amount of spin generated allows for an attacking aerial-style approach to the pin on short shots. If you expect to play a few rounds with a ball, then the urethane cover is not the greatest as it marks and "scuffs" very easily. Cart paths and thin shots will leave marks and affect the aerodynamics of the ball. It is also the most expensive ball.
2-Piece Ball— The 2-piece low compression ball is by far the most popular ball across the full spectrum of senior players wanting distance. Made from a solid plastic-like core, which is then encased in the cover. They are the cheaper ball, so if you tend to lose a few balls a round, this is for you. The ball has a harder feel off the club.
3-Piece Ball— The 3-piece low compression ball has a solid rubber or liquid core. Wrapped in a layer of rubber or a liquid-produced layer, and molded into a cover of Surlyn or Urethane. The ball is softer and offers more spin and better control for the good player.
4-Piece Ball— The 4-piece low compression ball has a solid rubber center and an inner cover, with a middle cover over it. This middle cover is normally the outer layer of a 3-piece ball. The final outer layer on the 4-piece is generally made of urethane and provides most of the feel. It also adds punch and spin during compression.
5-Piece Ball— TaylorMade is the only manufacturer of the 5 -piece golf ball. They have increased the compression from 83 to 85 on the latest addition. They start with a very soft 16-compressive core, then pack the extra layers on, that adds speed, with no loss of velocity.
A Selection of Low Compression Golf Ball Manufacturers
Titleist
Callaway
Bridgestone
TaylorMade
Srixon
Wilson
Pinnacle
1. Titleist
Titleist is the leading ball on the PGA Tour and has won many major tournaments including Senior Tour events. When talking Titleist, most golfers think of the ProV1 or ProV1x models, but other models will suit the senior golfer better.
ProV1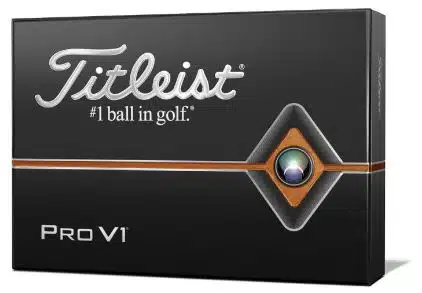 The ProV1 model continues as the flagship ball, and as much as we all like to play the same equipment as the Pros, it is evident that the ball does not suit all. The main reason is sufficient clubhead speed is required to compress the ball, to obtain the best results. The ProV1 is a 3-piece ball with a compression of over 100 with the softest Cast Urethane Elastomer cover ever used on the ball. Whilst golfers may get away with the swing speed with the driver, the iron swing speed is about 30 percent less. No compression means no distance. The ball also spins more and increased side spin on off-center strikes will increase a slice or hook. Being the best also attracts a big price tag.
ProV1x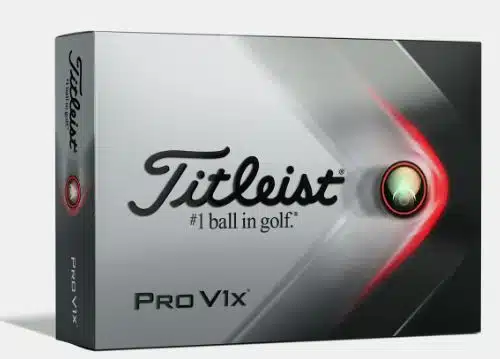 *Get 8% off from Global Golf with Code: GOLFSPAN
The Prov1x is very popular with players with fast swing speeds in the region of 110 to 130mph. It is a 4-piece ball with a Cast Urethane Elastomer cover. The ball is slightly harder than the ProV1 and requires that extra velocity to get it out there. An advantage of the ball is less spin off the face. Reduced spin allows the ball to fly high and straight and reduces big hooks and slices. It is also a good ball in windy conditions and suits the player that prefers the low rolling shot, to the aerial route. Very few senior players should play this ball as any off-center strike will result in major distance loss.
Titleist Tour Soft
A great ball for all senior golfers. At 65 compression, it will deliver good results even on mis-hits. The Tour Soft has the largest core of any Titleist ball on the market and provides smooth spin and additional distance. A 342 dimple pattern, adds stability in the wind, and the ultra-thin 4CE grafted cover will still look good after a few rounds. A 2-piece ball. Price is competitive.
2. Callaway
Callaway has a great range of low compression golf balls ideally suited to the senior golfer. Phil Mickelson plays out of their stable and there is no better "magician" when it comes to playing creative golf shots. At 50 he still hits the ball harder than most seniors, but he plays the chrome soft ball and proves the "stopping" power of the ball.
Callaway SuperSoft
*Get 8% off from Global Golf with Code: GOLFSPAN
The Callaway Supersoft ball has a 38 compression, making it one of the lowest in the industry. This soft compression core maximizes energy transfer to increase ball speed. A 2-piece ball offering distance and feel.
Designed for lower swing speeds, it is an ideal ball for the senior player wanting to get the best out of his game.
The  HEX Aerodynamic Dimple Pattern reduces drag, and increases carry with a high ball flight. A low spin rate diminishes side spin and reduces slices and hooks. The durability, soft feel, and greenside control are exceptional.
Callaway SuperHot
The Callaway SuperHot lives up to its name and is long. A 3-piece ball with a soft cover. For senior golfers wanting distance over and above feel and spin, then this is the ball to play. The compression at 50 is higher than the SuperSoft at 38. Lower spin characteristics favor distance over greenside control. Durability is good and the ball can be used for several rounds.
Callaway Chrome Soft
*Get 8% off from Global Golf with Code: GOLFSPAN
The Callaway Chrome Soft ball is their answer to the Titleist ProV1. It has a softer urethane cover and is a 4-piece premium ball. It has a magnificent soft feel and the urethane cover grips the grooves on the clubface maximizing spin and control. Ideal for the senior golfer seeking ball and flight control over sheer distance. Smooth off the putter face.
3. Bridgestone
Bridgestone has a few big names playing with their product and Tiger and DeChambeau are two of them. Understanding the characteristics of the ball, allows these players to extract the best results. Senior golfers will enjoy their low compression golf balls on offer.
Bridgestone e6
*Get 8% off from Global Golf with Code: GOLFSPAN
The Bridgestone e6 is designed for golfers with a slower swing speed looking to increase distance on every shot. A larger softer core makes the ball easier to compress. The 2- piece surlyn cover ball with a low compression of 45 is designed for high speed and distance. Reduced spin allows for straighter ball flight and the feel off the clubface is soft. A great distance ball for seniors.
Bridgestone e-12 Soft
*Get 8% off from Global Golf with Code: GOLFSPAN
The Bridgestone e-12 Soft is a 3- piece 50 compressions surlyn cover golf ball and ideal for the senior golfer seeking all-around playability. Designed for players with a driver speed of less than 105mph. Bridgestones' new proprietary Active Acceleration Mantle layer provides increased thrust and higher velocity at impact.
The softcore provides plenty of feel and forgiveness. The Delta Wing Dimple pattern creates less drag and smoother airflow for increased accuracy and distance. Well priced.
Bridgestone Golf Tour B-X 22 Ball
*Get 8% off from Global Golf with Code: GOLFSPAN
The Bridgestone Tour B-XS golf ball has a Reactive Urethane Cover that creates distance for clubhead speeds below 105mph. The ball is great on slow swings with the irons and offers tremendous spin and control with the wedges. It is a 3-piece 86 compression ball and is deemed to be the softest tour ball from Bridgestone.
Any senior golfer that prefers a soft feel for greenside play, will benefit by putting this ball into play. Off the driver, it delivers distance for long straight tee shots. The smart  TPU injection molded urethane cover reacts differently depending on the force applied at impact. The 330 Dual Dimple design enhances aerodynamics and adds distance due to less drag and more efficient trajectory.
4. TaylorMade
TaylorMade has made huge strides with the development of its golf ball range. Current PGA tour players on their books include Dustin, Sergio, Rory, and Colin Morikawa. Their range for senior golfers is impressive.
TaylorMade Tour Response
*Get 8% off from Global Golf with Code: GOLFSPAN
A fantastic golf ball for the senior player seeking exceptional all-around performance from the ball they put into play. It is a 3-piece, 40 compression ball with a 100% urethane cover. Every golf ball used on the tour has a urethane cover which enhances the feel and spin around the green.
The softcore maximizes energy transfer and rebound at impact, creating distance. Bridgestone has used the same technology as the TaylorMade TP5 and TP5X to deliver fast ball speeds. The ball offers durability and does not "scuff" easily. Priced well for a tour-like performance golf ball.
TaylorMade Project (S)
The TaylorMade Project(S) ball is a two-in-one offering that will please the senior golfer looking for the ultimate ball to play and at a reasonable price. It has a soft feel and produces less driver spin for long accurate shots. The reduced spin includes side spin which in turn decreases the big slices and hooks.
The Dual Distance Core reduces the compression to 60 while still offering a soft feel and maintaining rebound for fast ball speed. It is a 2 layer system that has a large, low compression inner core matched with a softer resilient outer core polymer that adds feel while still delivering fast ball velocity.
An Aerodynamic Ionomer Cover, combined with the TaylorMade high lift 342LDP Dimple Pattern, ensures lower backspin, reduces drag throughout the ball flight, for more distance.
TaylorMade TP5 Golf Ball
*Get 8% off from Global Golf with Code: GOLFSPAN
Taylor Made is the only current constructor of a 5-piece ball and continues to push the boundaries for the ultimate performance golf ball. The TP5 features a Dual-Spin Cover and a Tri-Fast Core that combine for a 5-layer golf ball construction that is specifically engineered to perform with every club in the bag.
The unique 3 layer Tri-Fast Core in the TP5 and TP5X features progressive compression, enabling maximum energy transfer and generating explosive speed on full shots. The contrast of the ultra-soft cast urethane and a semi-rigid inner cover creates maximum interaction between the cover and the club grooves. This Dual Spin Cover offers fantastic spin control on wedge and chip shots around the green.
At 83 compression the ball has a mid-trajectory, is long, and has a soft feel. A premium ball at a premium price.
5. Srixon
Srixon has a large range of golf balls to suit every type of golfer on the planet. Great offerings for the senior player, and they would do well to make use of this product.
Srixon Soft Feel 12
*Get 8% off from Global Golf with Code: GOLFSPAN
The Srixon Soft Feel 12 is the 12th generation of this golf ball that has gained traction in the marketplace and is used by golfers of all ages and abilities. It is a golf ball that the senior golfer can put into play with full confidence that the ball will deliver on its manufacturer's promises.
It is a 2-piece ball with a low compression of 71. The soft Fast Layer Core with a low compression produces more distance and control off the tee. A soft thin Ionomer cover offers more spin and feel on all shots around the green. Soft Feel's 338 Dimple Pattern reduces drag at launch and increases lift on descent leading to more distance. Overall performance is improved and mirrors multi-layered models.
Srixon Q Star Tour 6
*Get 8% off from Global Golf with Code: GOLFSPAN
The Srixon Q Star Tour 6 ball has a few innovations from their R & D program.
It is a 77 compression 3-piece ball that delivers exceptional all-around performance throughout the bag. The new FASTLAYER Core starts soft at the center and gradually becomes firmer around its outer edge.
FastLayer delivers exceptional ball speed and feel for maximum distance. It is the largest core in its class. A 338 Speed Dimple Pattern creates less drag and more lift, boosts overall accuracy and distance, and is a great performer in the wind.
A New Spin Skin with SeRM is a coating with flexible molecular bonds, sinks deep into iron and wedge grooves, and creates impressive spin for more control and stopping power. It is a very elastic-type urethane cover with a very soft feel and launches the ball at a mid-trajectory.
6. Wilson
Wilson Golf has been around for decades and they are better known for their irons than golf balls. That has all changed in recent years and their products are worth testing by senior golfers.
Wilson Staff Duo Soft+
*Get 8% off from Global Golf with Code: GOLFSPAN
The Wilson Staff Duo Soft+ golf ball comes with many features that rival the big name brands. Ultimately the cost is a major factor when choosing a ball to put into play, and this ball will not disappoint any senior golfer. It has a low compression of just 29 and is a 2-piece ball with a 302 dimple pattern. It is very durable and will do a few rounds.
Wilson claims this to be the softest and longest premium 2-piece ball on the market.
The VelocitiCore incorporates advanced material that amplifies every ounce of energy in the swing to deliver outstanding performance in terms of distance, accuracy, and feel. Engineered to deliver consistency throughout the bag, the ball launches high, fast, and accurately.
Wilson Staff Duo Professional
*Get 8% off from Global Golf with Code: GOLFSPAN
The Wilson Staff Duo Pro is a step up from the Duo Soft+ and is aimed at the better senior player that demands good all-round performance.  It is a 3-piece ball with a compression of 60 and will suit most senior golfer swing speeds.
The tour-level performance characteristics of a soft feel, ball control, and high spin are easily met by this model. It launches high and straight for better distance but has exceptional spin for greenside control. The urethane cover is fairly durable and will last for a few rounds of golf without discoloring too badly.
7. Pinnacle
Pinnacle golf balls have always been a front-runner when it comes to distance. They have now introduced a softer ball that is good in the wind, and also performs around the green
Pinnacle Soft
The proprietary core formulation combines with an incredibly soft ionomer cover to produce a soft feel but still deliver the distance all senior golfers seek. The 332 Icosahedral Dimple Design produces a penetrating consistent ball flight.
A good ball for the senior player who may want just a touch more feel through the bag.
Pinnacle Rush
Pinnacle has introduced the Rush golf ball which is softer than the previous offerings. It is an out and out distance golf ball that will suit senior golfers wanting to maximize distance over feel. Extra distance throughout the bag will please most golfers. The ball will also perform well for those players who prefer to play "bump and run" shots into the green rather than take the aerial route.
A 2-piece ball with a compression in the mid-40s, the durable ionomer cover boosts velocity and minimizes spin. Less spin will deliver straighter tee shots and reduce the sidespin that causes hooks and slices. The high-energy core along with the advanced 332 Icosahedral Dimple Design combine for powerful consistent ball flight.
Final Thoughts
The multitude of choices in the marketplace for golf balls can be a bit daunting to even the seasoned golfer. Senior golfers want to maximize their ability to get the ball out far and high onto the fairway.
Many other manufacturers produce great golf balls for seniors to play, other than the listed ones in this article. Check them all!
Marketing strategies are part and parcel of this game of golf and every manufacturer wants to attract as many senior golfers as possible to their brand. Unfortunately, all the jargon does not always live up to expectations.
Swing speed is the most important factor when deciding what golf ball to put in play. As mentioned earlier, the iron swing speed is about 30% less than the driver speed through the ball. Low compression golf balls will give the best and most consistent results for any senior golfer and it would be wise to have your swing speed checked, before deciding on which ball to play.
Time waits for nobody, so seniors get out there and enjoy this great game with the right equipment.
Related Articles