As we age, our swing speed inevitably decreases, it's a hard-to-accept but unavoidable reality. To mitigate the damage this does to our game, we need to switch to lower compression balls so that we don't lose too much distance. There are tonnes of different options to choose from, and I embarked on a quest to find the best balls to save you the hassle.
Here are the 8 best low-compression golf balls:
1. Callaway Supersoft — Best Overall
2. Bridgestone e-12 Contact — Best for Straight Shots
4. Titleist Tour Soft — Great Short Game Spin
5. TaylorMade Noodle Long and Soft
6. Bridgestone e6 — Best for Distance
7. Callaway Chrome Soft — Superb All-rounder
8. Wilson Staff Duo Soft — Best Value
Getting the wrong golf balls can seriously hurt your career, so consider giving one of these balls a try. Below you'll learn about each in more detail.
8 Best Low-Compression Golf Balls for Seniors
We'll proceed through each of the major low-compression golf ball manufacturers and offer details on each ball so that you'll know which ball is right for you by the end.
Pros
Compression rating of 38
Competitively priced
High control
Multiple color options
Cons
The Callaway Supersoft is a 2-piece golf ball that has a compression rating of 38, making it one of the lowest in the industry. This is largely attributed to the Softfast core which maximizes energy transfer to increase ball speed. Given the ball is so soft, it may actually be too soft for a lot of slower swingers, we estimate a swing speed of around 70 mph or lower is ideal.
The new 2023 model has improved the ball across the board. One such improvement is the cover. Softer than before, it now carries even more greenside spin. Another reason to purchase is the appealing price tag — it is one of the cheapest balls we looked at, yet it is still very high performing. As for drawbacks, we found the cover is a bit troublesome to clean as it is so soft, but as far as issues go, this is rather insignificant.
Pros
Compression rating of 70
Straight ball flight
Feels great
Good short-game spin
Cons
Like the Callaway Chrome Soft, the Bridgestone e-12 Contact has a compression rating of 70, making it notably harder than most of the other soft golf balls on this list. There's a lot of technology to talk about with the latest version of this ball, but we'll try to keep it brief. It's a 3-piece ball that features a gradational core, an Active Acceleration Mantle, and a Contact Force Dimple cover.
The standout feature for many will be the cover which creates 46% more surface contact with the ball, giving you longer and straighter shots. This is an 8% jump on their 2021 version which shows that Bridgestone is constantly innovating to give us better balls. From our testing, we can say that the ball flew straight just as advertised, and we also got pretty good distance too.
What surprised us was the short game spin. Given how straight the ball flew in the long game, we expected issues creating spin in the short game, however, this wasn't the case. This gives it a distinct advantage over the majority of other balls.
It's hard to pinpoint issues with this exceptional ball, but if we had to pick, its price is its biggest turn-off. It's by no means expensive, but the old 2021 version of the ball is selling for almost 10 bucks cheaper, so we feel that a lot of golfers will be tempted to pick this up rather than the newer version.
Pros
Compression rating of 60
Good distance
More spin in the short game than most
Excellent price
Cons
Prone to scuffing
Quiet when putting
Srixon is now up to its 13th generation with the Srixon Soft Feel, the softest golf ball they make. Not much has changed on previous versions, this two-piece ball features a FastLayer Core which has a super soft center that gradually hardens the closer to the exterior it gets.
In our experience, it produces admirable distance, but what impressed us more is the short-game spin which is lacking in many of the other models we looked at, the Callaway Chrome Soft and Bridgestone E6 being two such examples.
There are no pressing issues to report, rather a few minor drawbacks. The first is that the ionomer cover is prone to scuffing, and the second is that the soft cover makes putts fairly quiet, which will not appeal to all golfers. The soft cover also diminishes feedback somewhat, which is something to consider.
Yet overall I feel that the Srixon Soft Feel is one of the top low-compression balls on the market, and considering its excellent price, it is a ball worth considering. It is also available in a series of colors such as Brite Orange, excellent if you find yourself losing one too many golf balls on the course.
Pros
Compression rating of 65
Workable
Alignment aid
Cons
Spin can be tough to control in the short game
Somewhat pricey
A great ball for all senior golfers. At 65 compression, we found it delivers good results even on mis-hits. The Tour Soft has the largest core of any Titleist ball on the market and provides smooth spin and additional distance for senior players. A 342 dimple pattern, adds stability in the wind, and the ultra-thin 4CE grafted cover gives superb spin in the short game so you can perform whatever the distance.
However, we did find that it can be tough to control the spin at times, which is the exact opposite of most of the other soft balls we studied. Yet, with a bit of adjustment to your game, the Tour Soft could prove to be an unrivaled asset when it comes to the short game. For many, the price will be a deterrent, but rest assured, the quality is there if you're happy to invest.
Pros
Compression rating of 50
Inexpensive
Long
Highly forgiving
Cons
The TaylorMade Noodle Long and Soft may have an incredibly soft core (rated 34), but with respect to the golf ball as a whole, it measures 50. As the name suggests, it is soft compared with most golf balls and hits very long, certainly not the longest we have hit with, but very respectable if you're a slow swinger.
During testing, we noticed the firm iothane cover is effective at mitigating spin. This is super helpful at keeping your drives nice and straight, however, it does mean that your short game will suffer, as you really have to work to put spin on the ball.
Undoubtedly one of the most alluring qualities of the Noodle Long and Soft is the price. It comes in at the same cost as the Callaway Supersoft and is one of the cheapest balls out there. As such, it's easy to recommend if you're in the market for an inexpensive soft golf ball.
To learn more, check out our TaylorMade Noodle balls review here.
Pros
Compression rating of 50
Excellent distance
Easy to control
Inexpensive
Cons
The Bridgestone e6 has long been hailed as one of the best distance golf balls, and we are pleased to report that this remains true in the latest iteration of the ball. This is despite the fact it has a compression rating of 50, so it actually performs better than the harder balls on this list for distance.
The reason it retains this title is that the core is both larger and softer than before, giving the ball improved compression. As you might expect, its exceptional distance is a result of low spin. This is true both of the long game and short game. We partially attribute this to the core which is made of surlyn rather than urethane.
However, it's not all doom and gloom when it comes to the short game. While you'll likely want more spin when you're hitting your wedges, we found the Bridgestone e6 feels great for putting. What's more, the ball is super cheap, beating out both the Callaway Supersoft and TaylorMade Noodle Long, so if distance and value are high on your list of priorities, you may well have just found the best golf ball for you.
Pros
Compression rating of 70
Great all-rounder
Accurate
Cons
Short-game spin could be better
Pricey
The Callaway Chrome Soft ball is a 4-piece premium ball with a compression rating of 70, making it one of the hardest soft balls out there. Being a premium ball, it should come as no surprise that the Chrome Soft is a great all-rounder, offering the perfect blend of distance, control, and spin. We particularly like the buttery soft feel around the green.
When comparing it to the Chromes Soft X, it was immediately clear that it offers a higher launch and reduced spin off the tee, giving it an edge when you're after distance. However, it couldn't quite keep up in the short game, offering respectable, but considerably less spin.
There's no doubt in our mind it is one of the best soft balls available in terms of performance, and given it is a little harder than most of the others on this list, slightly faster swingers can get away with using it. The main drawback is the cost. As a premium ball, it costs twice that of the cheapest models, so while it excels in performance it does not excel in terms of value.
Pros
Compression rating of 38
Unbeatable price
Low driver spin
Fairly workable
Respectable distance
Cons
Easy to launch too high
Tough to control in the short game
Advertised as "The world's softest golf ball," the Duo Soft ball is pretty darn soft with a compression rating of 38. However, there are softer golf balls out there, but none are on this list — the Callaway Supersoft does match it though.
Despite being so soft, the Duo Soft is plenty long thanks to the velocity-boosting additive in the core. It also flies exceptionally straight as a result of the improved aerodynamics. Yet while you might jump the gun to criticize a lack of spin in the short game, you'd be wrong. Spin is nothing exceptional here, but the ball is more workable than you'd expect, which is an excellent trade-off for straight shots in your driver. It reminds me a lot of the Bridgestone e-12 Contact in this way but to a lesser extent.
The main issue for me was launching the ball too high, but this was probably a result of my swing speed being too fast if anything, as the ball is very soft. That being said, you may need to make adjustments like me when playing low pitches.
To summarize, the Wilson Staff Duo Soft is a superb low-compression golf ball. It's our top choice if you're on a budget as Wilson has really outdone themselves by packing so much quality into such an inexpensive ball.
Types of Low-Compression Golf Balls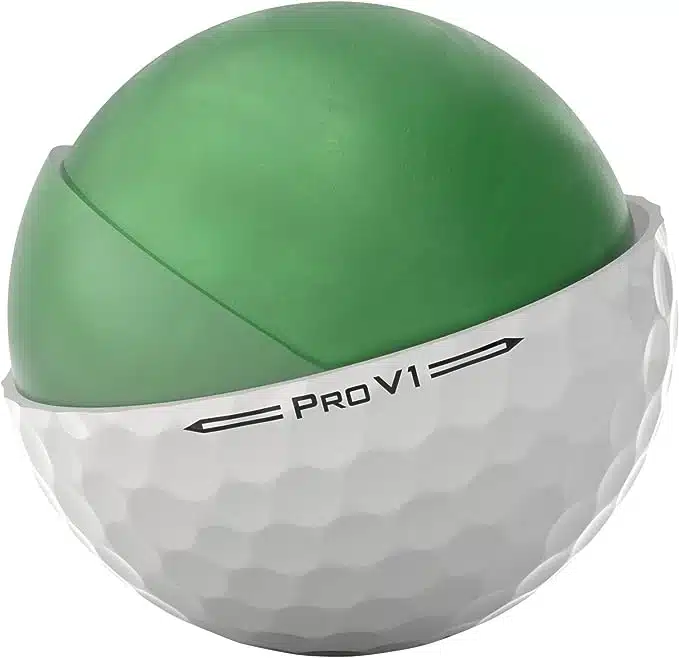 Urethane Cover—The low compression urethane cover is for the golfer that likes a soft feel off the clubhead. The amount of spin generated allows for an attacking aerial-style approach to the pin on short shots. If you expect to play a few rounds with a ball, then the urethane cover is not the greatest as it marks and "scuffs" very easily. Cart paths and thin shots will leave marks and affect the aerodynamics of the ball. It is also the most expensive ball.
2-Piece Ball— The 2-piece low compression ball is by far the most popular ball across the full spectrum of senior players wanting distance. Made from a solid plastic-like core, which is then encased in the cover. They are the cheaper ball, so if you tend to lose a few balls a round, this is for you. The ball has a harder feel off the club.
3-Piece Ball— The 3-piece low compression ball has a solid rubber or liquid core. Wrapped in a layer of rubber or a liquid-produced layer, and molded into a cover of Surlyn or Urethane. The ball is softer and offers more spin and better control for the good player.
4-Piece Ball— The 4-piece low compression ball has a solid rubber center and an inner cover, with a middle cover over it. This middle cover is normally the outer layer of a 3-piece ball. The final outer layer on the 4-piece is generally made of urethane and provides most of the feel. It also adds punch and spin during compression.
5-Piece Ball— TaylorMade is the only manufacturer of the 5 -piece golf ball. They have increased the compression from 83 to 85 on the latest addition. They start with a very soft 16-compressive core, then pack the extra layers on, that adds speed, with no loss of velocity.
A Selection of Low-Compression Golf Ball Manufacturers
Titleist: Titleist is the leading ball on the PGA Tour and has won many major tournaments, including Senior Tour events. When talking Titleist, most golfers think of the ProV1 or ProV1x models, but others will suit the senior golfer better.
Callaway: Callaway has a great range of low-compression golf balls ideally suited to the senior golfer. Phil Mickelson plays out of their stable, and there is no better "magician" when it comes to playing creative golf shots. At 50 he still hits the ball harder than most seniors, but he plays the Chrome Soft ball and proves the "stopping" power of the ball.
Bridgestone: Bridgestone has a few big names playing with their product, and Tiger and DeChambeau are two of them. Understanding the characteristics of the ball allows these players to extract the best results. Senior golfers will enjoy their low-compression golf balls on offer.
TaylorMade: TaylorMade has made huge strides in developing its golf ball range. Current PGA tour players on their books include Dustin, Sergio, Rory, and Colin Morikawa. Their range for senior golfers is impressive.
Srixon: Srixon has a large range of golf balls to suit every type of golfer on the planet. They would do well to use this product with great offerings for the senior player.
Wilson: Wilson Golf has been around for decades and they are better known for their irons than golf balls. That has all changed in recent years, and their products are worth testing by senior golfers.
Pinnacle: Pinnacle golf balls have always been a front-runner regarding distance. They have now introduced a softer ball that is good in the wind and also performs around the green
Final Thoughts
If you're a slower swinger you should seriously consider switching to low-compression golf balls, otherwise, you'll lose yardage and hurt your game. There are a multitude of choices in the marketplace for low-compression golf balls, and this can be a bit daunting to even the seasoned golfer. Hopefully, we've helped cut through the noise to provide some recommendations that you're interested in.
To recap, our favorite low-compression golf ball is the Callaway Supersoft. It's one of the most purchased low-compression balls because it is from a top name, offers excellent control, and is very competitively priced. Another great choice that captured our hearts is the Bridgestone e-12 Contact. While it's true the latest model is priced more than most of the others, it has the advantage of offering the straightest ball flight, and we all know how important this is!
Related Articles
Nick Lomas is the founder of GolfSpan, an avid golfer, not quite a pro but has over 15-years of experience playing and coaching golfers from all over the world. His mission is to bring the golfing community a better experience then it comes to choosing the right golf gear, and finding the right set up for your game.