Using a wedge on shots just short of the green is stressful, especially for mid-to-high handicap golfers. It takes precision to get it close to the hole that can come with experience and practice. But the best golf chippers will save you from this problem in the first place.
Here are the 8 best golf chippers:
Improving your chipping can take several strokes off your game. You might never reach your potential if you don't have the right club for chipping.
Read on for the reviews of the best chipper golf club options on the market today. Below you'll find a complete buyer's guide. 
At a glance: Our Top 3 Picks for Best Golf Chippers
What Are Golf Chippers and Why Should You Use Them?
Many golfers use a putter when the golf ball is close to the green in scenarios where there is a little rough between the ball and the green. This can steer the golf ball slightly offline and add to your score.
Fortunately, golf chippers can get the ball slightly off the ground to get over the initial hazard and then roll out like a put. So, they're a highly specialized club that is perfect for these kinds of shots.
Who Should Use a Chipper?
Chippers can greatly help senior golfers who have lost some of their mobility and touch.
They're also awesome for beginners who are still in the process of developing a solid chipping technique.
The additional forgiveness offered by a chipper allows you to play bump-and-run shots around the edge of the green. The alternative option of using a higher lofted iron, like a sand wedge, can cause too much spin and the ball to check too early.
How to Practice With a Golf Chipper
Since chippers are perfect for shots around the edge of the green, conducting your practice with shots that are around 20 yards from the hole is perfect. Another tip would be to put a small object in from your chipper when you practice making sure you're getting a little lift at the beginning of your shot.
Quick Overview: Our Top Picks for 8 Best Golf Chippers
Golf Chipper Reviews
The high lofted chipper with its Smart Sole 4 assists golfers to get the ball higher for longer, making it ideal for situations with a large obstruction between you and the green that does not require you to revert to a wedge.
The weight is distributed towards the toe section of the chipper, moving the center of gravity to the center, offering an enhanced feel.
The 3-tiered smart Sole offers excellent turf interaction, thus minimizing fat shots, better contact and ultimate control.
The Cleveland chipper comes with an industry-leading 42 degrees of loft.
Shafts are available in either Graphite or Steel Shaft options.
Golfers that are mid to high handicaps with slower swing speeds will get the most benefit from the forgiveness and feel.
Cleveland's three-tiered sole offers excellent turf interaction.
Powerbilt TPS Two-Way does not lack quality or durability despite being a leader in the budget chipper category.
Steel alloy is used in the construction of the head for durability, control, and proper weighting.
Powerbilt uses its custom steel to construct the shaft producing the best weight to aid you in building a better swing.
Lifting the ball off the surface is easy with 32 degrees of loft. This can carry the golf ball a fair distance to fly over a short distance and hazards between you and the hole.
Holding the club is comfortable with the Powerbilt custom velvet grip that is unlikely to slip or twist in your hands.
Wilson is a recognized leader in the sporting good and has been around since 1914. Its history of producing high-performance clubs is continued in the Wilson Harmonized Golf Chipper. It will benefit golfers that struggle to get a chip near the hole.
Ahead designed as a mix between a mallet and a blade putter, makes it an easy-to-use chipper. This shape makes you make more consistent, accurate strikes, even on off-center hits.
A helpful alignment aid for beginners makes lining up putts accurately straightforward.
The steel shaft is 35 inches long with an iron-like firm grip and 32 degrees of loft, making it ideal for launching the golf ball away from hazards and out of soft lies. The standard Golf Pride grip has a revolutionary vertical seam for additional comfort and a controlled swing.
Manufactured from premium steel material, you can rest assured that it will be durable and scratch-free. The polished finish offers a luxurious appeal at an affordable price.
Since there is no face insert you can control it allows you better control overflight and distance.
Unfortunately, left-handed options are extremely limited.
Another Intech Golf chipper that deserves some evaluation is the Approach Two-Way Chipper. However, not competition-legal two-way chippers can help you avoid uncomfortable situations in a social, friendly, or non-competitive round.
It allows you to play a shot with the opposite hand orientation, left-handed for right-handed golfers, that will get you out of sticky situations. Ambidextrous players will especially enjoy the benefit provided by the Intech Golf Approach Two-Way Chipper.
Designed with a low center of gravity to assist in the balanced feel you get with the Intech Golf Approach Two-Way Chipper. It allows for a natural putting stroke and offers forgiveness on off-center strikes. The clubhead is a similar size to a blade putter, making it comfortable to hit around the greens.
The shaft is comparable in length to a 7-iron, making it ideal for chipping close to the hole while having control over the shot.
Steel construction adds to the durability and strength of the Intech Golf Approach Two-Way Chipper. You should be able to carry this chipper in your bag for as long as you require it to bail you out of tricky situations.
Intech Golf EZ Roll Chipper is a durable, affordable, and stylish chipper with a 35-degree loft which is ideal for beginners and high-handicap golfers.
The design pushes the weight back, allowing the golf ball to travel at an ideal pace with minimal effort on your stroke.
Advanced alignment top lines help you aim better and accurately guide the face towards the target.
A shaft length of 35 inches and 35-degree loft enables you to execute a putting stroke for best results. Furthermore, the gooseneck hosel provides a better view of the golf ball for better alignment.
Finished in a non-glare satin finish prevents reflections off the face from distracting you during the alignment and stroke.
The Intech EZ Roll is a great golf club for chip shots and is priced competitively, making it accessible to budget-conscious golfers.
The MAZEL Golf Chipper was designed with an extra-wide sole to glide smoothly on the turf for ultimate forgiveness on off-center strikes. No more digging into the turf and chunked pitches. This also offers more control over your shots and improves your game and scores.
MAZEL chipper wedges are designed for golfers that struggle with the short game. The design aids you in effectively minimizing thin and fat chip shots from the fringe and around the green.
A 330-gram clubhead keeps the center of gravity low for a more balanced feel. The added weight will assist experienced golfers who want to improve their chipping.
The 35-inch shaft with a steel wedge flex is coupled with an anti-rotational weight design to aid in smoother strokes and fluidity.
It comes in a choice of 35, 45, and 55-degree lofts, allowing you to select one for the conditions you encounter most.
The CNC milled face aims to improve all your shots' consistency and enhance durability.
A rubber grip prevents the chipper from slipping in your hands and offers more control for enhanced accuracy.
The Square Strike Wedge is a highly rated chipper with quality design and manufacturing to provide consistency on all chippers fit for golfers of different skill levels.
It is constructed from high-quality stainless steel that is expected from a premium and durable club.
Loft options available are 45, 55, and 60-degree lofts to ensure you can find a configuration that suits your needs.
The extra-wide sole and a beveled leading edge allow the face to glide smoothly across the turf and prevent digging.
Anti-rotational weight design offers increased control and increases your confidence when standing over the golf ball.
The clubhead weighs 330 grams with a centered and low center of gravity for increased accuracy and forgiveness.
The Acer Assembled XK Golf Chipper is a confidence-inspiring chipper that is affordable.
A wide sole provides the appearance of a putter while offering a chipper's launch.
The back-weighted design and 37 degrees of loft make launching the ball into the air a straightforward action.
Improved turf interaction minimizes the chances of fat shots.
A 34-inch shaft is only available in steel with an uncomplicated rubber grip.
The compact and simple design is ideal for mid to high-handicap golfers who want affordable equipment to help them get better scores.
Should I Use a Golf Chipper or a Wedge?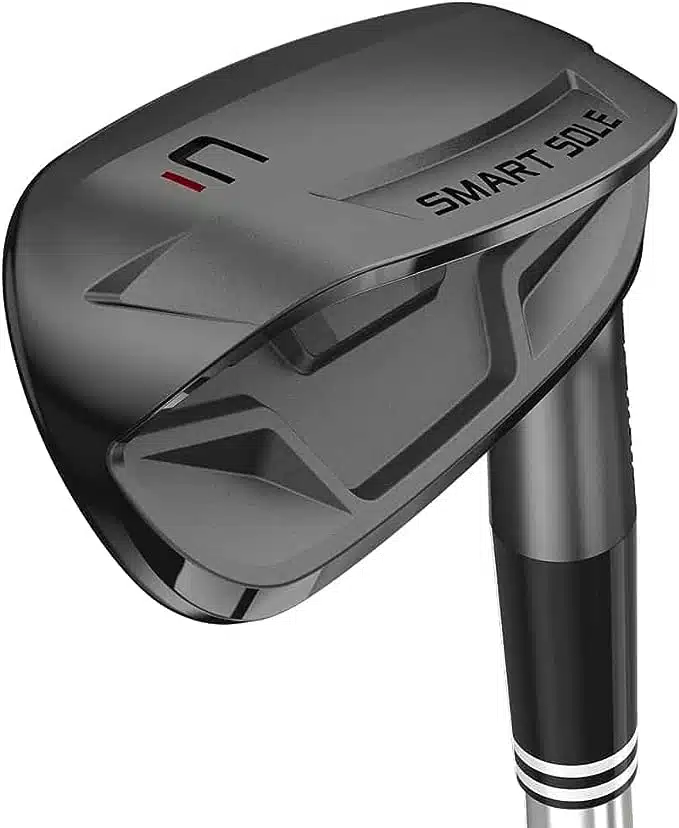 A chipper generally works well from a good lie within close range on the fringe or just off the green, while a wedge is more versatile for longer distance shots or from difficult lies such as rough or sand.
Versatility
Wedges are generally more versatile, while chippers are ideal for beginners and high handicappers requiring a specialized club with consistency inside 20 yards.
Shape
Chippers usually come in the form of a blade or mallet. The face is much shallower than a wedge. The face is generally not much higher than one inch.
The clubhead of a wedge is larger to provide more surface area at impact for difficult lies and to generate more spin on long-distance shots up to 100 yards.
Distance
Chippers are aimed at shots around 20 yards from the pin. You may be able to hit it slightly further up to 30 yards but are almost certain to lose the control that you desire from a chipper.
Wedges are more versatile, with specialized wedges of various lofts dialed in to deliver the exact distance. They are more suited for distances from 20 yards to 150 yards.
Height
Chippers offer a bump-and-run shot that keeps the golf ball on the surface for the optimal period. At contact, it will lift the ball a few inches off the ground to overcome perceived hazards between you and the hole.
Wedges are designed to provide height due to the high amount of spin imparted on the golf ball and a soft landing on the green. This high arc reduces minimum rollout and sufficient spin to track the ball back after landing on the green.
The Best Golf Chippers 2023 Buying Guide

To enable you to select the most suited chipper, we will discuss some of the features to look out for when selecting a chipper so you can improve your chipping.
Material
Like putters, a good chipper will stay in your bag for a long time until you have built a solid swing and confidence in your chipping ability.
Durability is thus a key factor. Steel options ensure that it does not wear out in a short time.
Chippers made of steel, stainless steel, or steel alloy are known for their strength and durability and for keeping their shape.
These materials also allow manufacturers to keep the cost of a chipper down.
Lightweight graphite shafts are ideal for beginners that are finding their way around the green, while steel can keep the chipper more affordable without losing control.
Loft
Wedges generally vary between 44 degrees up to 64 degrees of loft. This makes them versatile to get the ball airborne on longer shots and sit softly on the green due to the high ascent angle.
This is not required for chippers as they are not aimed at hitting the ball long distances and on a high trajectory.
Many golfers are taught to chip with a 7-iron or 8-iron when close to the green. For this reason, chippers generally have a loft between 30-37 degrees to make it easier to hit low chips from just off the green and keep the ball low while promoting rollout to the flag.
Lie Angle
The lie angle on chippers is generally positioned to enable you to keep the sole flat and get the bottom of the blade in under the golf ball.
Grip
To stay within the rules of golf, chippers are measured the same as irons and, therefore, cannot have a flat side on the grip like those found on putters.
Since you will not swing the chipper as long as an iron but more like a putter, your hand orientation will be more like a putting grip than an iron grip.
Shaft
It is possible to have a graphite or steel shaft fitted to your chipper.
To maintain its legal standing for USGA tournaments and stroke play and to provide a similar feel to your short irons and putter, the shaft length can vary between 34 inches of a typical putter to 37 inches, as typically found on a 7-iron.
Head Size
Chippers are used much in the same way as putters and therefore share similar shapes with blade or mallet heads. This is ultimately the feel of the clubhead that will determine your choice.
Larger mallet-like chippers offer a wide sole with a heavier feel that anchors the club throughout the swing, while the blade-style putter affords you more control over your putting stroke.
Weight
Chippers are designed to be accurate and allow for maximum control.
Having the correct weight and balance for your putting stroke will allow you to execute the chip more precisely.
One-Sided vs Two-Sided Chipper
Most one-sided chippers are tournament legal, provided they have an appropriate loft and the right type of grip. Two-sided chippers are not legal. Yet, they offer more options for the perfect shot in a social game. It depends on the type of games you wish to play to decide on the best chipping club for you.
The Best Golf Chippers FAQ
Do Pro Golfers Use Chippers?
You'd be very unlikely to see a pro golfer use a chipper as they offer less control over shots than a wedge or putter.
Are Chippers Illegal on PGA Tour?
Only double-sided chippers or those with square grips are not tournament legal.
What Degree Wedge Is Best for Chipping?
Anywhere between 52 and 56 degrees is the correct range to chip with a sand wedge.
Can You Put a Putter Grip on a Chipper?
A square-style putter grip would make the shipper illegal for tournament use.
Can You Chip With a Sand Wedge?
Yes, you can chip around the green with a sand wedge. In fact, many golfers that carry their bags prefer to only use a sand wedge to save space and weight.
Is a Two-Sided Chipper Illegal?
Yes, two-sided chippers are illegal for tournament use.
Can You Putt With a Chipper?
You could technically do it. But, is it a good idea? Probably not.
What Is the Best Grip to Use With a Golf Chipper?
That depends on your preference. We'd recommend matching with the grips you have on your wedges or irons. You cannot have a putter grip on a chipper.
Are Chippers Legal in Golf?
The USGA (p12) has declared chippers legal for competition use since they are classified as irons generally with a loft greater than ten degrees. . However there are some rules that the club has to conform to.
According to the USGA, chippers are legal in golf provided it has:
• A rounded grip
• No flat surface like those allowed on putters
• The clubhead is generally plain in shape and has only one striking face
• The overall length of the club is between 18 inches and 48 inches
This means that two-sided chippers are not legal for tournament use and can lead to disqualification.
There is a multitude of chippers available making it an extremely arduous task to select the most suitable one.
Final Thoughts
A chipper can help you out of uncomfortable situations around the green up to approximately 20 yards from the hole.
Used with a putting stroke, it can get over some perceived hazards and roll the ball to the hole.
However, selecting the best chipper for your needs is not simple, especially for those new to golf.
We have looked at some of the more impressive chippers available on the market and offered at various price points to accommodate the budget-conscious golfers out there.
Intech Golf Approach Two-way Chipper is the best two-way chipper for use in social and non-competitive rounds, offering flexibility for left-handed and right-handed golfers.
The Cleveland Smart Sole Series are the best golf chippers on the market today. They are the best of both worlds between a wedge and a chipper and provide perfect feedback to the user. But, our list also contains plenty of other viable options. Make sure you consider which is best for your swing style and budget.
Related Articles
Chris's love for golf is only rivaled by his wanderlust. A globetrotter at heart, He's played courses throughout Europe and Asia and at home in NSW, Australia. With a writing style as smooth as his golf swing, he'll help you find the right gear to match your skill level and style. You can connect with Chris on LinkedIn.