The Garmin S60 Approach has long stood as the king of Garmin golf smartwatches, but upon the release of its successor, the Garmin S62, it may just well have been dethroned. Yet while it brings about numerous upgrades, it costs a lot more. So is the hefty price jump worth it? Especially for those who already own a Garmin S60.
That's what we hope to settle today. We'll compare the Garmin S60 vs S62 across all categories to help you determine the best smartwatch for you.
Garmin S60 vs S62: Head-To-Head Comparison
Garmin S60 Standard
Garmin S60 Premium
Garmin S62
Display
1.2"
1.2"
1.3"
Resolution
240 x 240
240 x 240
260 x 260
Memory
1 GB
1 GB
1 GB
Touch Screen
Yes
Yes
Yes
Battery Life
10 hours – golf mode

10 days – watch mode

10 hours – golf mode

10 days – watch mode

20 hours – golf mode

14 days – watch mode

Weight
52 g
52 g
61 g
Heart Rate Monitor
No
No
Yes
Blood Oxygen Saturation
No
No
Yes
Sleep Tracking
Yes
Yes
Yes
GPS
Yes
Yes
Yes
Bluetooth
Yes
Yes
Yes
Wind Speed & Direction
No
No
Yes
Virtual Caddie
No
No
Yes
Scorer
Yes
Yes
Yes
Pre-loaded Courses
42,000
42,000
42,000
Shot Distance Calculator
Yes
Yes
Yes
Garmin Pay
No
No
Yes
Garmin S60 vs S62: Pros and Cons
Before diving into the details, you can quickly examine the main pros and cons of these Garmin smartwatches.
Pros
Great value
Includes essential golfing features
Multiple straps available separately
Cons
No heart rate tracking
Battery life could be longer
Does not offer wind tracking
No Garmin Pay
Pros
Bigger screen size
Heart rate tracking
Virtual caddie
Wind tracking
More comprehensive activity tracking
Superior battery life
Garmin Pay
Multiple straps available separately
Cons
Garmin Approach S60 vs S62: Which Should You Buy?
Hopefully, this guide has helped answer your queries regarding the Garmin S60 vs S62 debate.
They are both exceptional smartwatches, and while the S62 is certainly a much-improved watch, the S60 may be a better buy for some golfers. Especially those who don't need the virtual caddie feature and are not worried about heart rate tracking.
Ultimately, you need to consider which features are of value to you and how much you are comfortable with spending.
Before we start the discussion about these watches, you should have noticed that we have included two versions of the S60 in the comparison table:
The Standard S60
The Premium S60
As you can see from the data, these watches share identical specs. That's because the only difference between Garmin S60 and S62 is that the S60 Premium has an improved watch band and bezel.
That being said, you don't need to pick between the two as the Standard edition has been discontinued, as best we can tell. It is no longer listed on Garmin's website. Therefore, we will henceforth refer to the Garmin S60 Premium as the S60.
Garmin S60 vs S62 Review: Features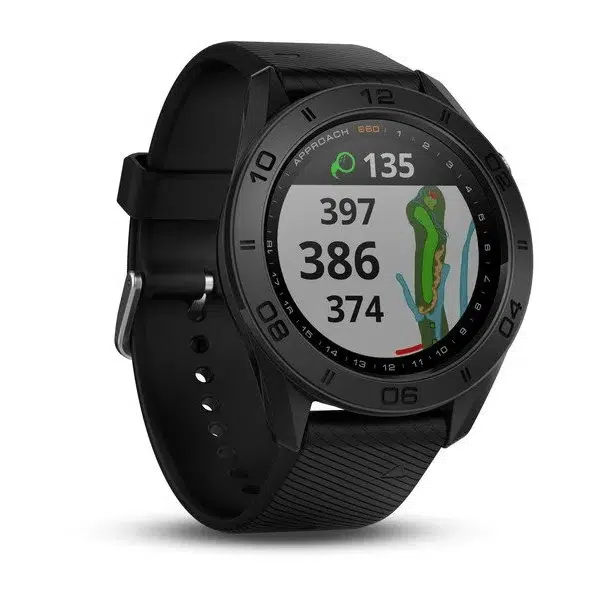 Onto the section you're likely all here for: The many glorious golf features.
While the Garmin Golf Watch S62 has a few qualities that the S60 doesn't, for the most part, the S60 keeps up well with the S62.
To begin with, the S60 is preloaded with the same data of 42,000 courses across the globe. These are viewable in color as a full vector map, and Garmin releases annual updates to add and edit existing courses. This means the feature is constantly improving.
Beyond the courses, you also get all the standard golfing features you would expect. This includes shot distance measurement, digital scorecards, swing tempo, pin pointer, and many more.
In terms of the new features that the S62 brings to the table, the most exciting is the virtual caddie. It's a smart feature that uses your pre-existing shot data to make recommendations about approaching your next shot. It does this by analyzing specific factors such as wind, elevation, and the course layout to advise you, firstly, which club you should use, and, secondly, where you should aim.
As a lead-on point, we should mention that wind speed and wind direction monitoring is a completely new feature of the S62. To use it, you'll need to open the app and have a stable internet connection.
Heart Rate Monitoring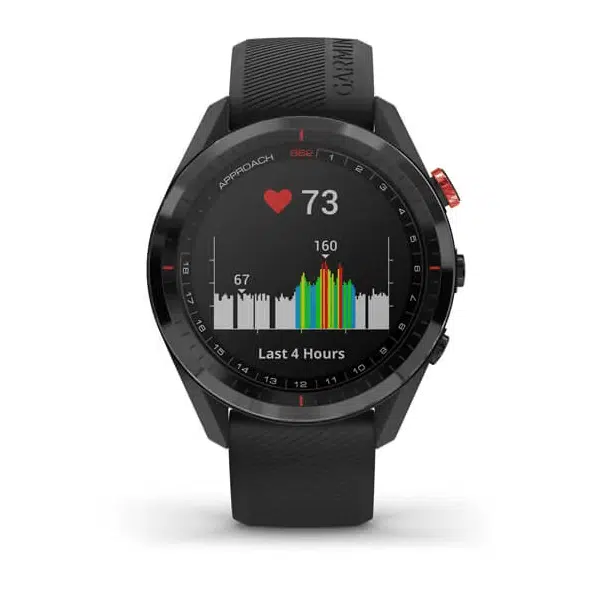 While the S60 was very well-received by golf fans, it was not without critique (which is only natural!).
However, Garmin made a pretty large oversight with the S60, and that was to exclude a heart rate tracker. A very big miss for a smartwatch. Yet they are not alone in making such a blunder. I distinctly remember feeling the same about my Fitbit Alta many years ago.
Fortunately, Garmin has added heart rate tracking with the S62. You get standard heart rate tracking and more advanced features such as the percentage of your heart rate max and heart rate alerts.
For transparency's sake, we should note that if you really want these features, you can get them with the S60 — you'll have to purchase an accessory separately for it (boo!).
Activity-Tracking
Besides the heart rate tracker omission issue, the S60 essentially includes all of the activity-tracking features you would want, such as a:
Step counter
Calories burned
Distance traveled
And others
But once again, on the health monitoring side, we have a new feature for the S62, which is blood oxygen monitoring. I doubt you'll look at it too much, but it's good to check now and again to ensure it's within the healthy range.
If you're interested in tracking your sleep, the S60 or S62 will do, as both have this feature.
Instead, the stress tracking gives the S62 the edge, as the S60 has nothing to offer in this department. With the S62, you can access 24/7 stress tracking, stress reminders, and a relaxation breathing timer.
Finally, we come to the tracking of specific activities, and once again, the S62 easily has the S60 beat here. With the S60, you can only track rowing, whereas the S62 is compatible with rowing, strength, cardio, walking, yoga, and treadmill/elliptical training.
Build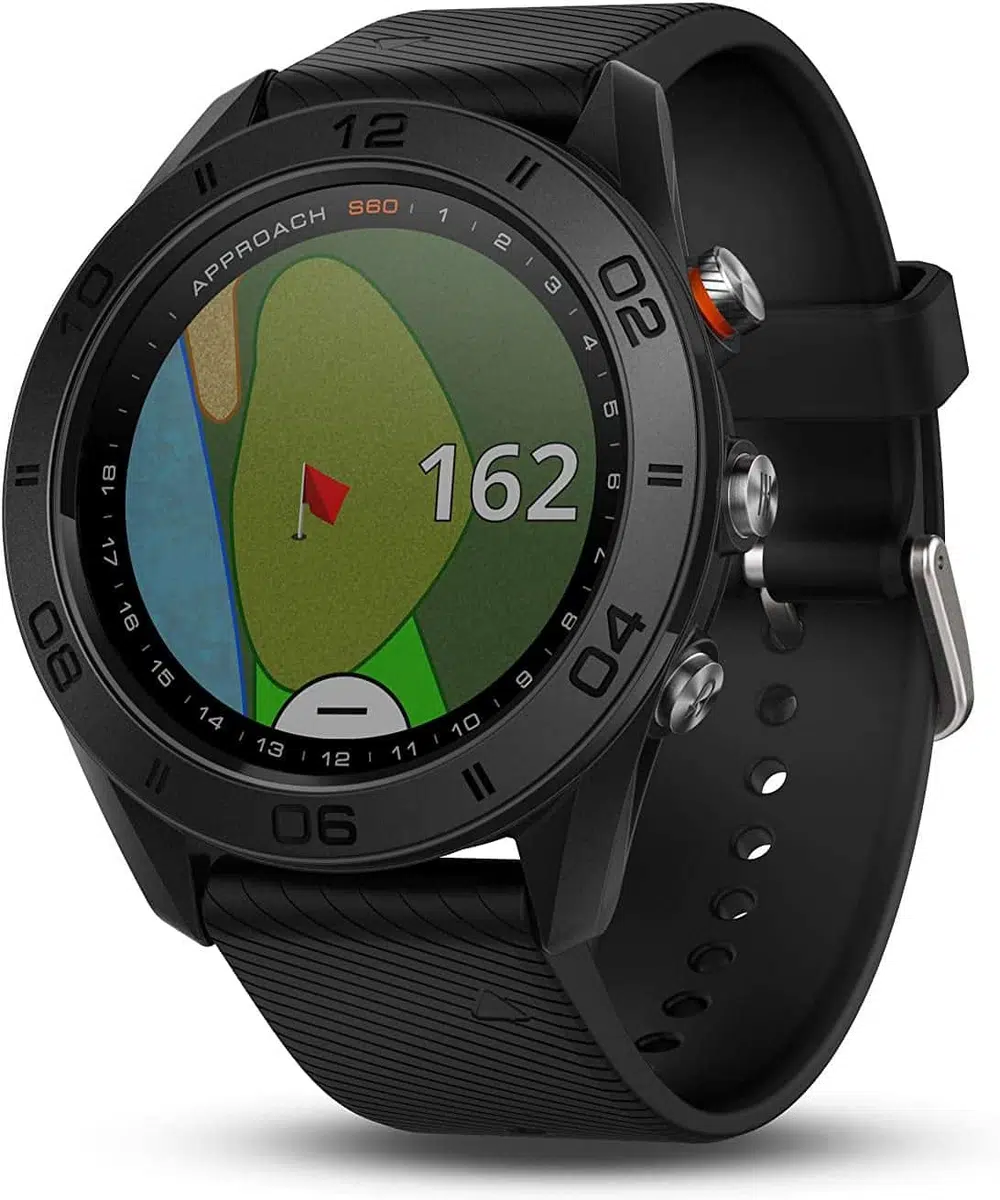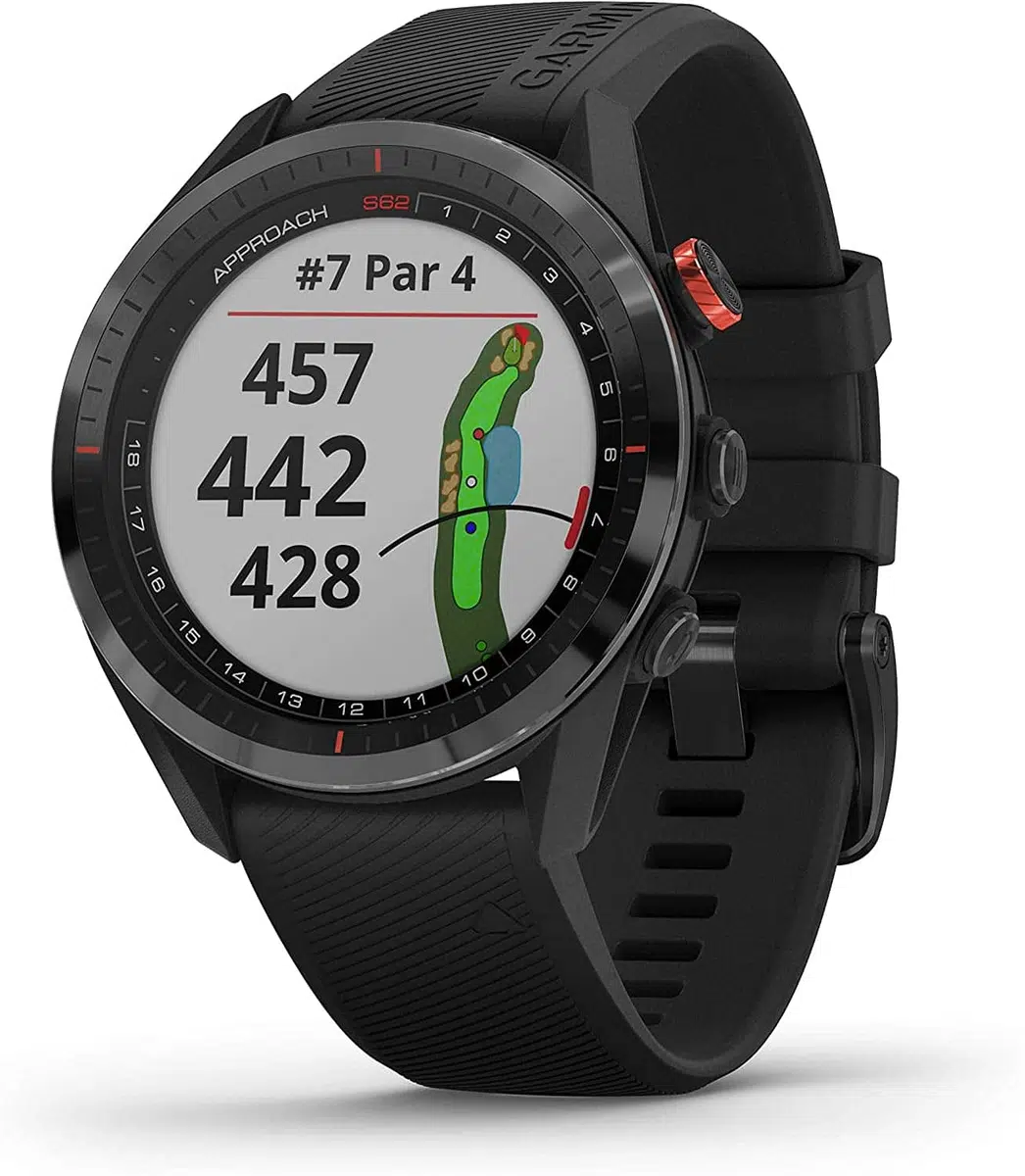 Comparing the two watches side by side they have a very similar appearance. Garmin didn't make any radical changes to the S60 when making the S62, probably because the older model was so popular.
However, we do see a more minimalistic bezel on the S62 as the numbers are swapped out for simple notches.
The biggest difference we see is in the screen size. The S60 measures 1.2", whereas the S62 measures 1.3". This gives the S62 >15% greater overall surface area. While this makes the watch a little bulkier, it will certainly be a great trade-off for those who love larger screens.
To fill out the larger display, the S60's 240 x 240-pixel display is bumped up to 260 x 260 for the S62.
In terms of durability, we see more similarities. Both watches use Gorilla Glass 3 to help keep the face clear of scratches.
And as for the bezel, the S60 comes in either polymer or ceramic, with the S62 only coming with the more resistant ceramic. Moving onto the straps, the S60 uses either a silicone or leather strap, whereas the S62 only comes with a silicon strap.
However, for either watch, you can swap out the bands for a replacement that is more your style. Garmin sells a range of Quickfit bands and almost all are compatible with both watches. They come in a plethora of colors and materials such as silicone, nylon, and titanium.
Battery Life
Getting battery life right is pretty essential when it comes to smartwatches, and it's one Garmin debatably got wrong with S60 as they did with the lack of a heart rate monitor.
The watch lasts just 10 hours when in golf mode, which for keen players, is insufficient as they could see their watch run out of juice by the end of a very long day. Of course, the 10-day battery period when 'watch mode' is on is plenty, but as a golf smartwatch, it's pretty critical they get the golf element right!
They corrected this mistake with the S62 by doubling the S60's battery life to give buyers 20 hours of operation. More than enough for any player. They also increased the watch mode's battery life to 14 days which is another great change.
Daily Smart Features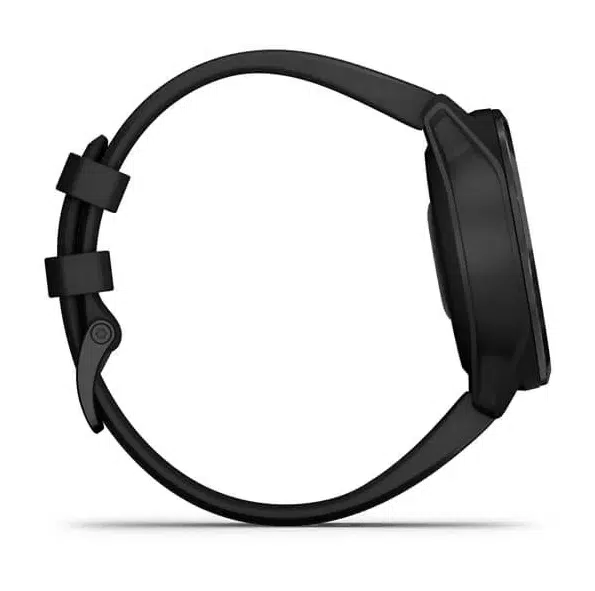 In terms of daily smart features, the Garmin golf watch S60 vs S62 matchup is less one-sided as the S60 includes most of what we would consider standard smart features. These include weather tracking, calendar management, and music control. However, the S62 has a few additional features that are fairly typical of smartwatches.
The first is the ability to interact with phone notifications. This includes answering or declining calls and responding to text messages. However, the latter is only available if you have an android device (sorry, iOS users).
The second is the 'find my device' feature. This allows you to track your precious watch down if it goes missing. Simply open up your Garmin app, click 'find my device' and your watch will vibrate and emit a sound so that you can track it down.
The third and final extra is Garmin Pay. This contactless payment feature eliminates the need to carry your phone or wallet around with you. Very handy!
Value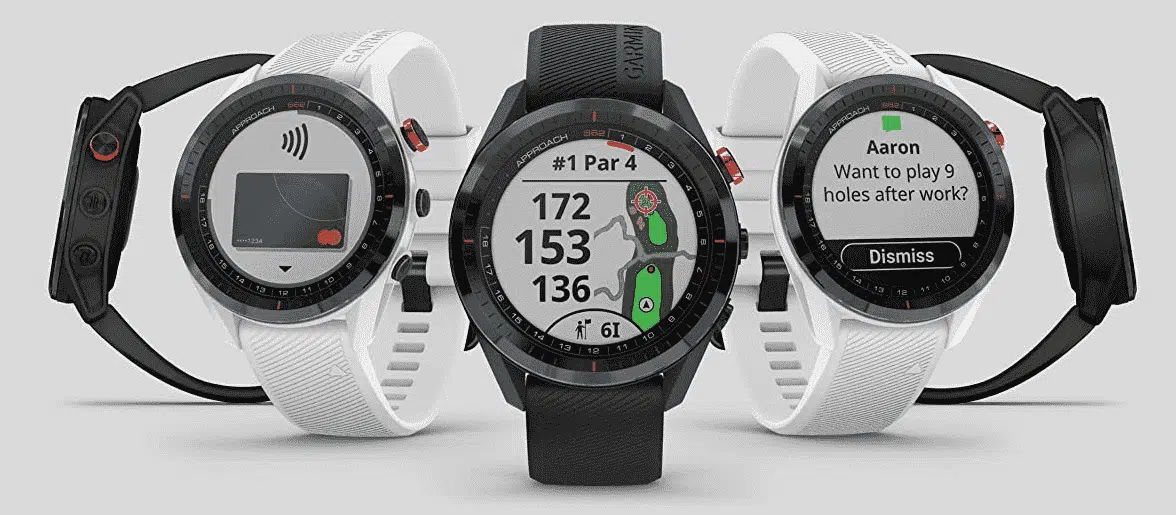 When comparing the Garmin s62 vs s60 for value, there are a few main points to consider.
As the S60 is the older watch of the two, naturally, it's taken a bit of a hammering when comparing it with the features of the newer S62 model. Therefore it only seems fair to weigh up the value of each, as this is a category where it can potentially triumph.
So how do the two compare in the value department?
Well, in all honesty, they both do rather well. The S60 may have shortcomings, such as its lack of a heart rate monitor and sub-optimal battery life, but these are hardly deal-breakers. It also isn't lacking any essential golfing features, just useful extras. And you have to consider how much you're saving by going for the S60. It's fallen $130 since its release, which is hard to ignore.
[Read more customer reviews on the S60]
As for the S62, the price tag may make you tear up, but the technology warrants the figure. You're getting access to a range of premium features, and if you're a keen golfer, you'll likely make full use of those features. Therefore, to many, we think it's a worthwhile investment.
[Read more customer reviews on the S62]
FAQs
When Was the Garmin S62 Release Date?
The Garmin S62 was released on January 2020. The prior model, the S60, was released in July 2017.
What Is the Difference Between the Garmin S60 and S62
Besides a 17% larger screen face, the Garmin S62 vs S60 debate is one-sided as the S62 has many notable upgrades such as heart rate tracking, a longer battery life, a virtual caddie feature, and Garmin Pay. But if you don't need the advanced features, you can pick up a used Garmin S60 for a budget-friendly price.
Does the Garmin S60 Measure Heart Rate?
The Garmin S60 does not measure heart rate. However, you can access this feature with a compatible heart rate monitor accessory. The Garmin S62 does have this feature.
Is the Garmin S62 Waterproof?
The Garmin S62 has a 5 ATM waterproof rating. This means it can withstand depths of 50 m, more than enough for the average user.
Is the Garmin S60 Tournament Legal?
The Garmin S60 has a tournament mode. You must toggle this on for it to become legal for tournaments.
Final Thoughts
All in all, the Garmin S60 and S62 offer great value for golfers. The Garmin S62 may appeal more to those looking for a superior tracking experience, with a bigger screen size and longer battery life.
On the other hand, the Garmin S60 is ideal for those who want a cheaper device with the essential features to help you on the course.
Additionally, multiple strap options are available separately with both watches, so they can fit every wrist size and desired look.
As these two smartwatches come equipped with many features, you will surely be able to maximize your play on the course—and if you decide that neither watch fits what you are looking for, Garmin has plenty of other models that might be worth considering for optimal performance out on the links.