You likely need an upgrade if you've been dealing with a chaotic, disorganized trunk filled with your golf gear. Regardless of how often you hit the greens, a quality golf trunk organizer can revolutionize storing and transporting your golf essentials. Not exploring these storage solutions could mean missing out on a stress-free golfing experience.
Here are the 8 best golf trunk organizers for 2023:
Golf trunk organizers can dramatically improve how you store, organize, and access your golf gear. This blog post will delve into a detailed review of some of the top golf trunk organizers in 2023, focusing on their cost, design, and organizational capabilities. So, let's dive in and declutter your golf life!
3 Best Golf Trunk Organizers 2023
Trunk

Athletico Golf Trunk Organizer 

(Best Overall)

Effortless Golf Trunk Organizer

(Best Budget)

Samsonite Expanding Golf Trunk Organizer

(Best Premium)

Pros

Highly durable
Versatile compartments
Great size for multiple gears

Affordable
Compact design
Decent capacity

Premium quality
Expandable compartments Can store a variety of items

Cons

Some may find compartments too tight for larger items

Might lack some robustness
Best for minimal gear

May not fit into smaller trunks

Price Score (out of 100)
90
95
85
Design Score (out of 100)
93
88
96
Performance Score (out of 100)
92
89
95
Rating (out of 5 stars)
4.7
4.4
4.8
Advantages of Golf Trunk Organizers
Golf trunk organizers can enhance your golfing experience in several ways, including:
Minimized Clutter
One of the primary benefits of a golf trunk organizer is that it helps you maintain an organized and clutter-free trunk. Keeping all your golf gear and accessories in one spot reduces the chances of misplacing or damaging your equipment.
Efficient Use Of Space
Golf trunk organizers are designed to maximize your trunk space. They are built to fit all kinds of golfing gear like shoes, gloves, balls, and tees, making everything neat, organized, and easy to find.
Protection Of Golf Equipment
Another advantage of golf trunk organizers is the protection they provide for your golf equipment. With the golf gear safely tucked in the organizer, the chances of scratching, denting, or damaging your clubs and other golf accessories are greatly reduced.
Easy Transportation
Golf trunk organizers offer a convenient solution for transporting your golf gear. Instead of carrying several items individually, you can simply carry the organizer with all your gear neatly inside.
Lesser Chance of Forgetting Essentials
A golf trunk organizer significantly reduces the odds of leaving behind a critical piece of golfing gear. You have a designated spot for every piece of equipment, ensuring that everything is accounted for before heading to the golf course.
While golf trunk organizers provide numerous benefits, they may not fit everyone perfectly. Some golfers might prefer a more minimalist approach, only carrying the most necessary equipment. Thus, evaluating your specific needs before investing in a golf trunk organizer is essential.
Why You Should Trust Us
Our team spends thousands of hours trying out and researching golf equipment to help you take your game to the next level. Here's our product review process.
We're able to bring these reviews to you through the small commissions we earn if you buy through the links below.
How We Reviewed These Trunk Organizers
GolfSpan only endorses equipment and brands we trust.
I've played golf for +20 years and am a professional writer about golf equipment. I meticulously researched each of the putters below. Following this, an editor combed through all the information to ensure it reads well and is factual. We also regularly review our content as the market changes to bring you the latest in golfing gear.
For this post on golf trunk organizers, I considered the following criteria:
Cost
Functionality
Design
Robustness
Material
The 8 Best Golf Trunk Organizer for 2023
Pros
Versatile storage compartments
Durable construction
Compact design
Cons
May not fit larger items
Somewhat premium price point
Key Features
Adjustable dividers
Rip-resistant fabric
Metal hardware
Rating: 4.8/5
Drawing from our experience, the Athletico Golf Trunk Organizer Storage offers a balance of compact design and versatile storage. It features adjustable dividers, which we found incredibly useful for customizing the space according to our gear size.
Furthermore, we were impressed by the rip-resistant fabric and robust metal hardware, which add to the durability of the organizer.
After conducting experiments, we discovered that despite its compact size, this trunk organizer efficiently handles an impressive amount of golfing gear while keeping your trunk tidy and organized. It is also endorsed by the PGA.
Who's It For?
This is ideal for golfers seeking a versatile, durable, and space-saving solution for their golf equipment storage needs.
Pros
Extra storage pockets
Easy to clean
Two story design
Cons
Not as sturdy as some alternatives
Key Features
Multiple compartments
Mesh pocket design
Waterproof material
Rating: 4.6/5
As indicated by our tests, the MAQTOIZ Golf Trunk Organizer provides additional storage pockets and a two-story design. Its waterproof material makes it easy to clean, a feature our team found extremely useful during muddy golfing days.
With its mesh pocket design, smaller items are quickly accessible, making it easier to find what we need in a snap. Although it lacks the sturdiness of some alternatives, like the Callaway Trunk Locker, its two-story design is a winner for golfers prioritizing portability and space conservation.
Who's It For?
The MAQTOIZ Golf Trunk Organizer suits golfers looking for an easy-to-clean, compact, and functional organizer.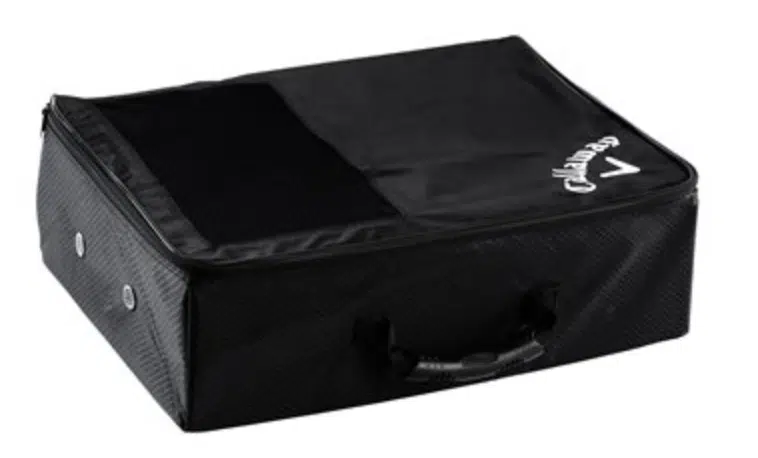 Pros
Separate compartments for shoes
Ventilation for freshness
Spacious design
Cons
Key Features
Dedicated shoe compartment
Durable polyester
Integrated mesh for ventilation
Rating: 4.5/5
In our trial of the Callaway Golf Trunk Locker, we appreciated the separate compartments for shoes and the integrated mesh for ventilation. The robust polyester construction ensures longevity, while the dedicated shoe compartment kept our shoes neatly organized and isolated from other gear.
We noticed that the ventilation areas significantly improved the freshness within the locker, reducing unpleasant odors and promoting quick drying after a damp day on the course.
Who's It For?
Callaway's Golf Trunk Locker is a fitting choice for golfers seeking a spacious and breathable organizer, especially for those carrying multiple pairs of shoes. It could be the perfect gift for Father's Day.
Pros
Affordable price point
Integrated carrying handles
Versatile storage
Cons
Not as durable as premium options
Key Features
Multiple compartments
Lightweight design
Easy-to-carry handles
Rating: 4.3/5
When we trialed the Effortless Golf: Compact Trunk Organizer, we found it to offer exceptional value for its price. Despite its lower cost, it doesn't skimp on features. It has a range of compartments for diverse golfing equipment and easy-to-carry handles, making transportation simpler. Although it lacks the robustness of some premium options, we were pleasantly surprised by its lightweight design, which didn't compromise its storage capacity or its practicality.
Who's It For?
This is perfect for budget-conscious golfers who need a practical and transport-friendly organizer for their golf gear.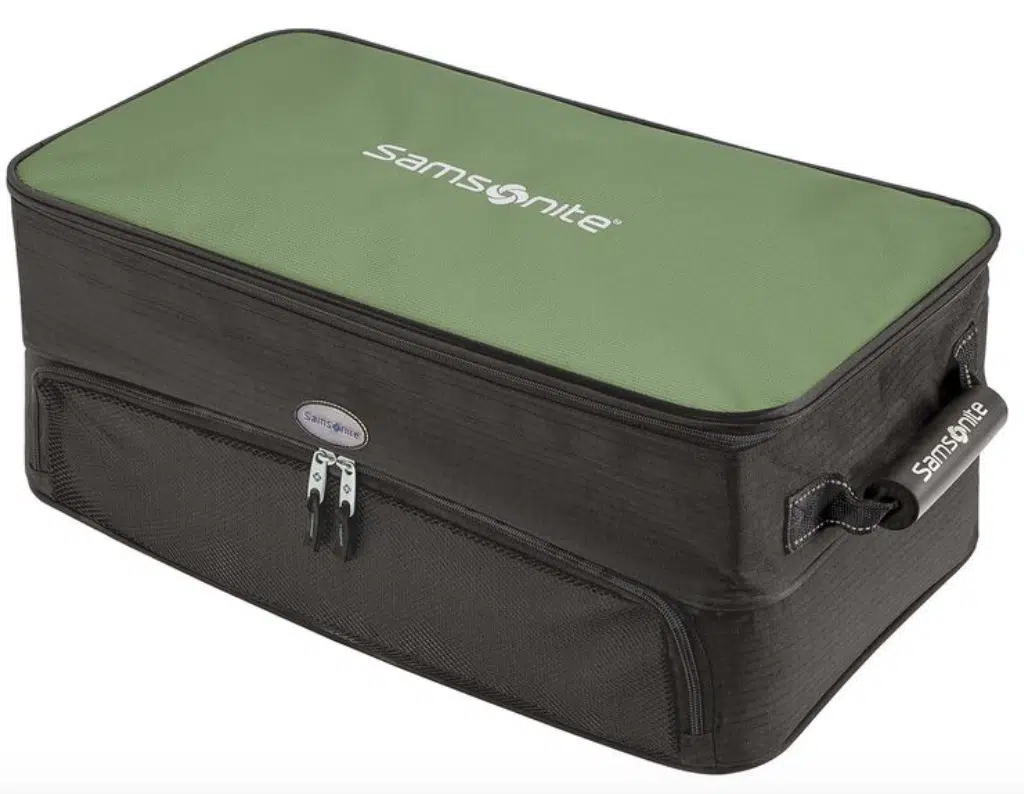 Pros
High-quality material
Expanding design
Insulated cooler pocket
Cons
Key Features
Multiple compartments
Ventilated mesh area
Rugged zippers
Rating: 4.7/5
Our experience with the Samsonite Expanding Golf Trunk Locker Organizer revealed that it sets the bar high for premium trunk organizers. The high-quality material and rugged zippers are designed for the long haul, and the expanding design allowed us to store more equipment when needed.
One standout feature is the insulated cooler pocket – perfect for storing beverages on those hot days on the course. You do not get this with cheaper options like The Effortless Golf Organizer. It may come with a higher price tag, but our experience confirmed that it's a worthy investment for the golfing enthusiast.
Who's It For?
This trunk organizer is for the discerning golfer willing to invest in a top-quality, spacious, versatile organizer beyond basic gear storage.
Pros
Luxurious aesthetic
Large storage capacity
Removable dividers
Cons
Key Features
Premium leather exterior
Spacious main compartment
Customizable storage areas
Rating: 4.8/5
Our hands-on experience with the Roonin Large Premium Golf Trunk Organizer showed that it perfectly blends style and functionality. It stood out for its luxurious leather exterior, which added a dash of class to our golfing gear. The large storage capacity was sufficient for all our golfing needs, and the removable dividers allowed us to organize our storage space to our liking. Despite being at a higher price point, based on our practical knowledge, it is a worthwhile investment for golfers who prioritize great storage ideas.
Who's It For?
This trunk organizer is an excellent choice for golfers who prefer a spacious, stylish, and high-end storage solution for their golf gear.
Pros
Compact design
Adjustable dividers
Robust construction
Cons
Limited capacity for larger items
Key Features
High-quality fabric material
Multiple compartments
Breathable mesh pockets
Rating: 4.5/5
The JEF World Of Golf Trunk Organizer caught our attention with its space-efficient design. Our team discovered that its compact size did not compromise its organizational capabilities. The adjustable dividers allow for customization according to our needs, and the robust construction ensured its durability.
While its capacity may not accommodate larger golf items, it's perfect for storing various smaller essentials. We determined through our tests that its breathable mesh pockets are a valuable feature for airing out items like golf gloves or shoes.
Who's It For?
This trunk organizer is a great fit for golfers who need a compact yet efficient solution for organizing their golf gear.
No products found.
Pros
Two-layer design
Multiple storage compartments
Water-resistant fabric
Cons
Bulkier design may not fit all trunks
Key Features
Adjustable dividers
Ventilated mesh pocket
Robust zippers
Rating: 4.6/5
Our research into the Yorepek 2-Layer Golf Trunk Organizer showed that it is a top-notch choice for versatility. The two-layer design greatly increased the storage options, and the multiple compartments allowed us to keep our golf gear neatly arranged.
We found the water-resistant fabric a thoughtful touch, protecting our equipment from potential spills or dampness. Although its bulkier design might not suit all trunk sizes, it's an impressive solution for golfers with larger storage needs.
Who's It For?
The Yorepek 2-Layer Golf Trunk Organizer is ideal for golfers who require a versatile and spacious storage solution for their gear.
Golf Trunk Organizers: Specifications
What to Consider When Buying a Golf Trunk Organizer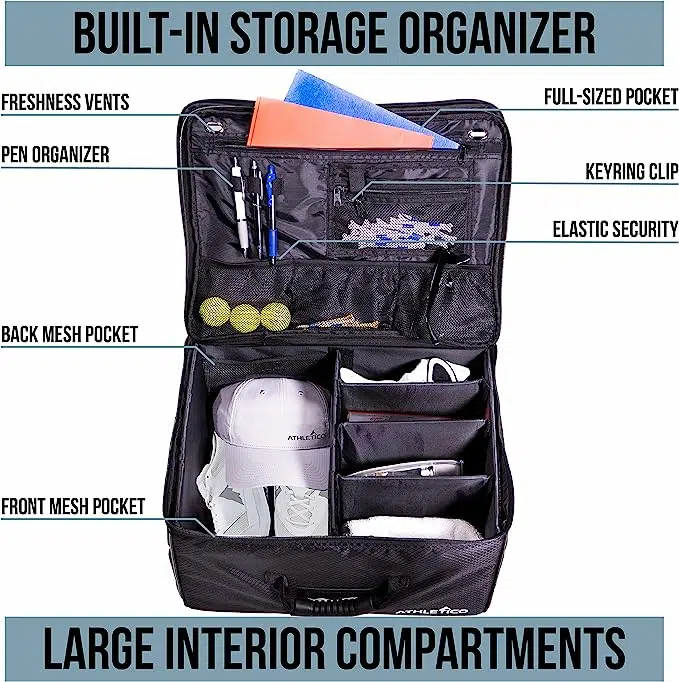 Investing in a golf trunk organizer is a worthwhile decision that promises orderliness and longevity for your golf gear. Selecting an organizer that caters to your unique needs is crucial, ensuring your golfing equipment remains in peak condition for longer and is easily accessible whenever you need it. Here are the key factors to consider when buying a golf bag trunk holder.
Size and Capacity
An essential factor to consider is the organizer's size and capacity. A golf organizer for your car can be a game changer. Ensure it can comfortably fit into your car trunk while accommodating all your golfing essentials. This includes space for your shoes, balls, tees, gloves, etc. Pay attention to the number of compartments and their sizes to ensure that everything can have its place. If you're a golfer who likes to be organized, check out our list of the best golf cart bags.
Durability and Material
The material of the golf trunk organizer is vital in determining its durability. Consider organizers made from high-quality materials like reinforced polyester, known for its robustness and longevity. Ensure the material is also easy to clean, as golf equipment can sometimes bring dirt and grass into your trunk.
Design and Configuration
Golf trunk organizers come in various designs and configurations. Some feature compartments specifically designed for golf shoes, while others have pockets for storing golf balls, gloves, and other small accessories. An ideal golf trunk organizer should have adjustable dividers, allowing you to customize the organizer to suit your specific needs. For more content like this, check out our list of the best golf gadgets on the market.
Shoe Storage
If you typically store your golf shoes in your trunk, an organizer with a dedicated shoe compartment can be beneficial. Look for ventilated shoe storage to prevent unpleasant odors and promote quicker drying times if your shoes get wet on the course.
Portability
If you frequently switch between cars or carry your golf gear around, an organizer with handles can be very useful. Consider the organizer's weight, as this could impact its overall portability. A lightweight yet sturdy golf gear organizer is the best bet for those prioritizing mobility. For ultra-efficiency, check out our article on how to organize a 14 divider golf bag.
Stability
Look for a golf trunk organizer with non-slip features to prevent it from sliding around while driving. Some organizers come with securing straps, while others have non-slip bottoms to keep them in place. Stability prevents potential damage to your gear and helps keep your trunk tidy.
Price
Finally, consider your budget. The price of a trunk golf organizer varies significantly based on brand, size, material, and features. Identify your requirements and establish a budget that aligns with these needs. Remember, a higher price does not always equate to better quality or suitability to your needs.
Spending time researching these factors can make a huge difference in finding the best golf trunk organizer for your needs. An optimal choice will keep your gear neatly organized and protected and save you time and hassle every time you head to the course.
Golf Trunk Organizer: FAQS
How Do You Secure A Golf Trunk Organizer?
Most golf trunk organizers come with a non-slip base or rubberized feet, ensuring that they don't slide around while you're driving. Some organizers also have adjustable straps or hooks that can be secured to different points in the trunk. If your golf trunk organizer doesn't include these features, you can use Velcro strips or non-slip mats underneath the organizer. Bungee cords can also serve as a secure connection to any anchors in your trunk.
Do I Need A Golf Trunk Organizer?
A golf trunk organizer is beneficial if you're an avid golfer with various golfing accessories - like shoes, balls, gloves, tees, and more - that you need to transport. It keeps your trunk neat and tidy and ensures that your golfing items are systematically arranged for easy access.
Moreover, the golf trunk organizer protects your gear from damage due to items moving or colliding in the trunk.
How Do You Hang Golf Clubs In A Garage?
Hanging golf clubs in a garage requires planning and equipment. You'll need to purchase a golf bag storage rack specially designed to hold golf clubs. Locate the studs in your garage wall using a stud finder to hang the rack. Then, using a drill, secure the rack into the studs. Make sure the rack is level. Once installed, you can place your golf clubs on the rack.
Can I Leave My Golf Clubs In My Trunk?
While you can leave your golf clubs in your trunk for short periods, it's not advisable to do so for extended periods or in extreme weather conditions. Heat can cause damage to your clubs, especially those with a graphite shaft, as it can cause the epoxy that holds the clubhead to weaken. Similarly, very cold temperatures could also potentially damage your clubs.
How Do You Pack Golf Clubs For Storage?
When packing golf clubs for storage, start by cleaning each club to remove any dirt or debris. Once clean and dry, place headcovers on the clubs to protect the heads from scratches or impacts. Next, stand the clubs upright in your golf bag, arranging them by size with the longest clubs, like the driver and woods, towards the back and the shorter irons towards the front.
Final Thoughts
Exploring the wide array of golf trunk club organizers can initially be overwhelming due to the numerous options available. Nevertheless, after thorough research and practical tests, we concluded that the Athletico Golf Trunk Organizer Storage emerged as our best overall choice for 2023. With its comprehensive storage options, robust build, and user-friendly design, it serves as an excellent pick for golfers across the spectrum of skill levels.
The leading golf trunk organizers discussed in this article have proven their utility and efficiency for all golfers, from pros to beginners. They are worth considering if you aim to bring more order and ease to your golfing experience. Remember, though, it's always advisable to personally check out an organizer before settling on your final choice. And remember, a well-organized golf trunk can't replace the need for practice and solid golfing techniques. We hope our golf trunk organizer review was insightful and helpful!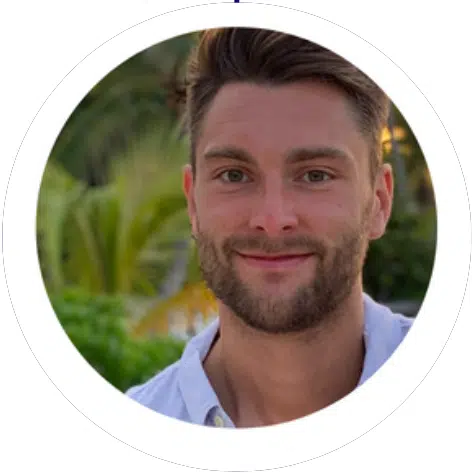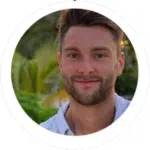 Sam has been playing golf for over 20 years and founded Impact Golfer. As a teenager, he discovered his love for the game using his grandad's clubs, including a wooden driver! As a golf obsessive, Sam plays whenever possible: regularly competing in matchplay with his friends and in tournaments at his local club. Fortunate to have a close friend who is a club pro– he has tested almost every type of equipment on the market (no freebies yet).