Topgolf combines the traditional elements of golf with an engaging social experience. It is one of the fastest-growing sports entertainment destinations in the world. If you haven't been before, you probably are wondering:
What is Topgolf? Topgolf is like going to a driving range meets a bowling alley. You can rent a tee to hit golf balls toward targets and three-story-tall nets. Your balls are microchipped and tracked, so you earn points and compete against friends. Music, food, drink, and lights also improve the experience.
Topgolf can be pricey, so to get the most out of your experience, read on to learn what it's all about, including:
How does the process work?
How are your golf balls tracked?
Does Topgolf work for beginners?
Locations and hours
Food and drink options
What does Topgolf cost?
Types of games offered at Topgolf?
Do you need to bring your own clubs at Topgolf?
Do you need to make reservations at Topgolf?
Can you get lessons at Topgolf?
Let's dive in!
How Does the Process Work When You Arrive at Topgolf?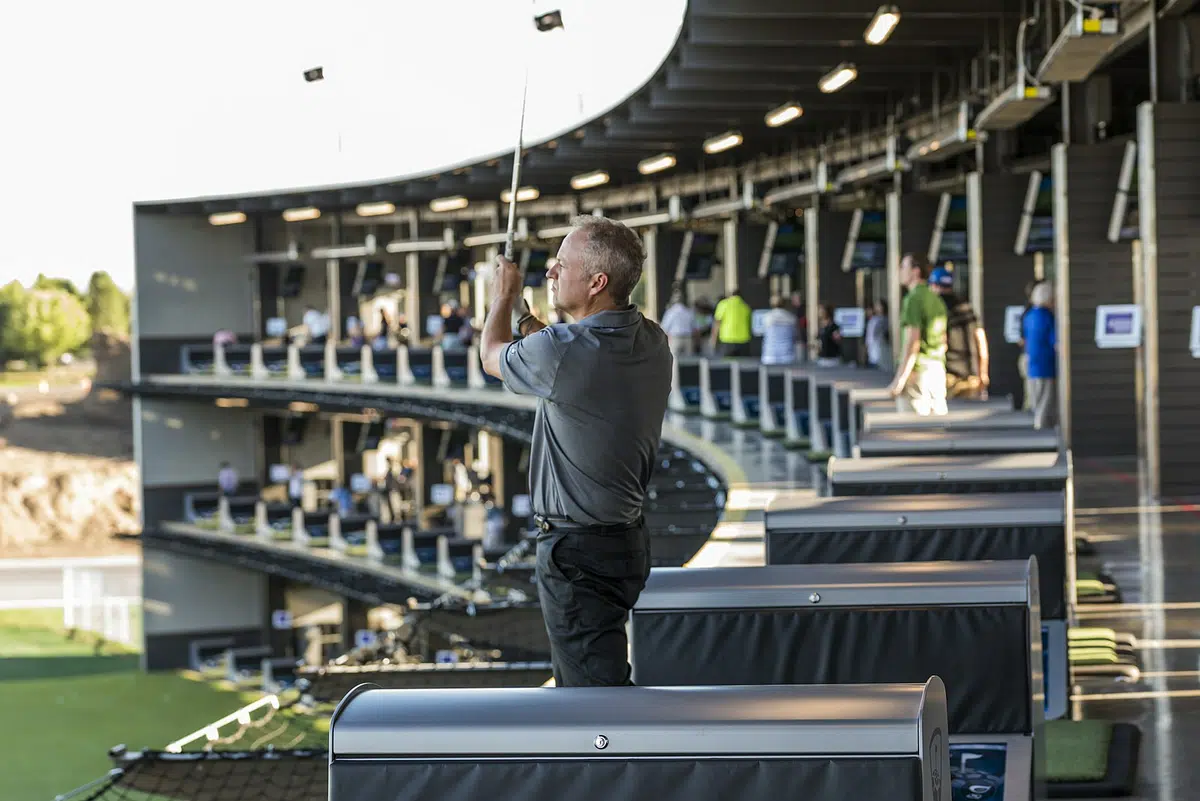 When you arrive, you are welcomed by a host. The host will direct you to the check-in desk, where you and your party can register for their particular hitting bay.
Then, you will be directed to your bay.
Before hitting, reminders about safety guidelines and etiquette will be provided.
Super simple!
Expert tip- make sure you book online before for a more seamless experience!
How Does Topgolf Work?
It all starts with ball tracking.
But, how does Topgolf track balls? The short answer is that each one is microchipped.
Every bay has a tee line where players take turns hitting these balls at targets on the field. The chips contain data to track points earned and averages over time.
After playing, golfers can check out their scores via profiles which are displayed on screens next to each bay.
Who Can Play Topgolf?
Topgolf suits all different skill levels of golfers. It can be super fun for beginners and more advanced players alike. Different game selections provide an opportunity to score points regardless of skill.
Even if you are completely new to golf and it's your first time playing, many game options are available. These options enable you to become familiar quickly so you can get involved.
Bottom line: everybody can play Topgolf.
Topgolf Locations and Hours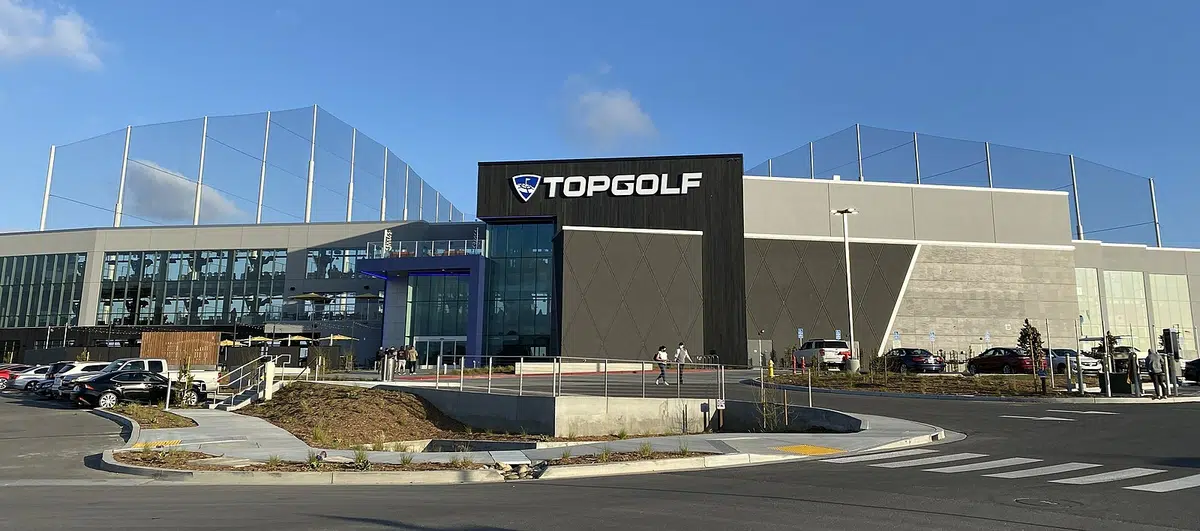 There are currently Topgolf locations in various states across the U.S. as listed below and they are always opening more.
Alabama
Arizona
Arkansas
California
Colorado
Florida
Georgia
Idaho
Illinois
Indiana
Kansas
Kentucky
Louisiana
Maryland
Michigan
Minnesota
Missouri
Nebraska
Nevada
New Jersey
New Mexico
New York
North Carolina
Ohio
Oklahoma
Oregon
Pennsylvania
South Carolina
Tennessee
Texas
Utah
Virginia
Washington
Topgolf hours vary between locations, so be sure to check your specific location. A lot of their locations have the below hours:
Mon-Thurs: 10AM – 12AM
Fri-Sat: 10 AM – 1 AM
Sun: 10 AM – 12 AM
TopGolf Costs and Fees
Prices vary depending on the location. Topgolf works on a per-hour rate, which is obviously lower when split between friends.
Expect locations like New York, Las Vegas, and Los Angeles to cost more.
Prices range from around $20 to $80 per hour, depending on location, time of the day, weekends, and which floor you are on.
There is also a $5 member fee for new players.
Check out our article for more details on the cost of Topgolf.
Types of Games Offered At Topgolf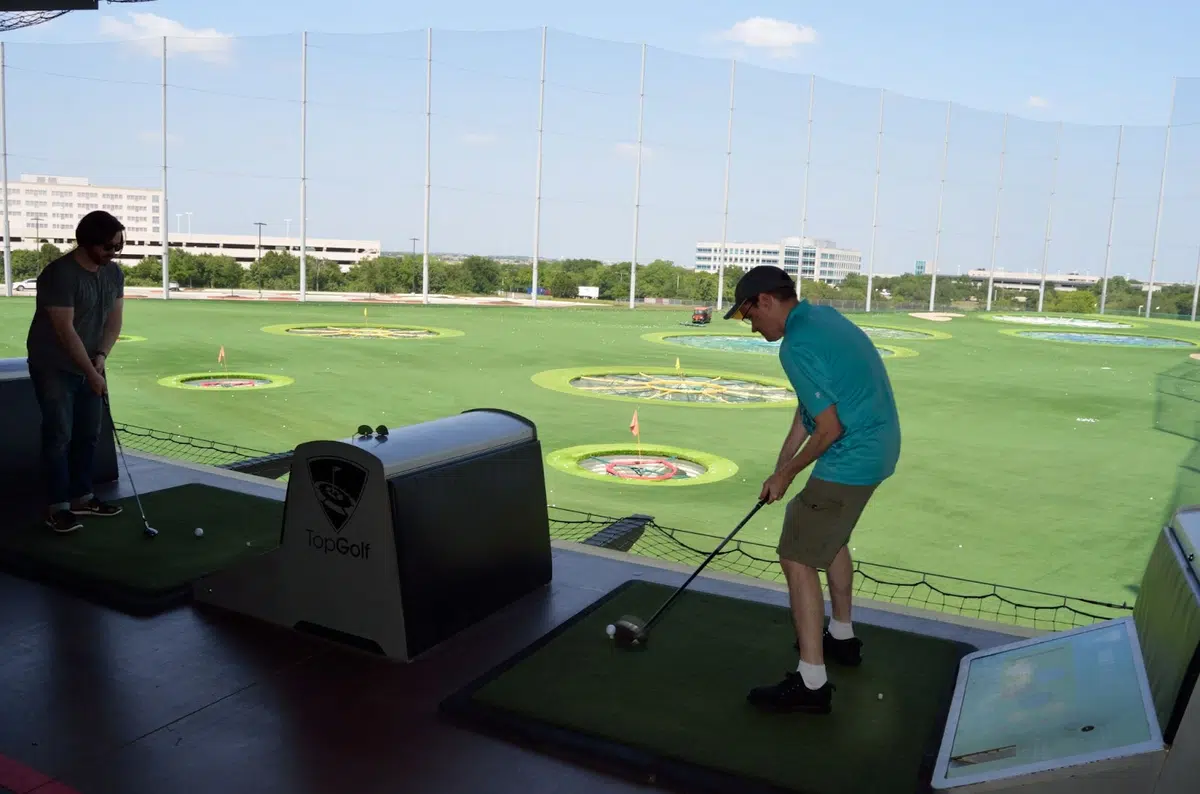 Topgolf offers a wide selection of games that use micro-chipped golf balls and Toptracer technology.
That all sounds great but is Topgolf fun?
The answer is a resounding yes. Topgolf is fun and interactive, regardless of your ability level.
Availability varies depending on location, but some of the most popular games are below.
Topgolf: This is the classic game that Topgolf is known for. Players aim for targets on the range and score points based on the accuracy of their shots.
TopPressure: In this game, players must hit targets before time runs out. The pressure increases with each shot, making it more challenging as the game progresses.
TopShot: Challenges players to hit specific targets in a specific order. The quicker you hit the targets, the higher your score will be.
TopBreak: Players aim for targets that are placed in clusters. The goal is to hit as many targets as possible with each shot.
TopDrive: Challenges players to hit their shots as far as possible. The farther the ball travels, the more points you will score.
TopChip: Players aim for targets that are closer to the tee box. The goal is to hit the targets with accuracy and precision.
TopPutt: Is played on the putting green and challenges players to sink as many putts as possible in a certain amount of time.
TopScore: Like Topgolf, but with a twist. Players earn bonus points for hitting certain targets. They can double their score by hitting the designated "TopScore" target.
TopContender: Head-to-head competition between two players. The goal is to score more points than your opponent.
TopPressure Pro: Basically the same as TopPressure, but with even more pressure. Players must hit targets before time runs out, and the pressure increases with each shot.
Now to the important part. How does Topgolf scoring work? Well, the more accuracy you have in hitting the assigned targets, the more points you will score. Ah, the wonder of microchips.
As you can see, there are far more gaming options than you might expect in your typical garage golf simulator.
What Food and Drinks Are Offered At Topgolf?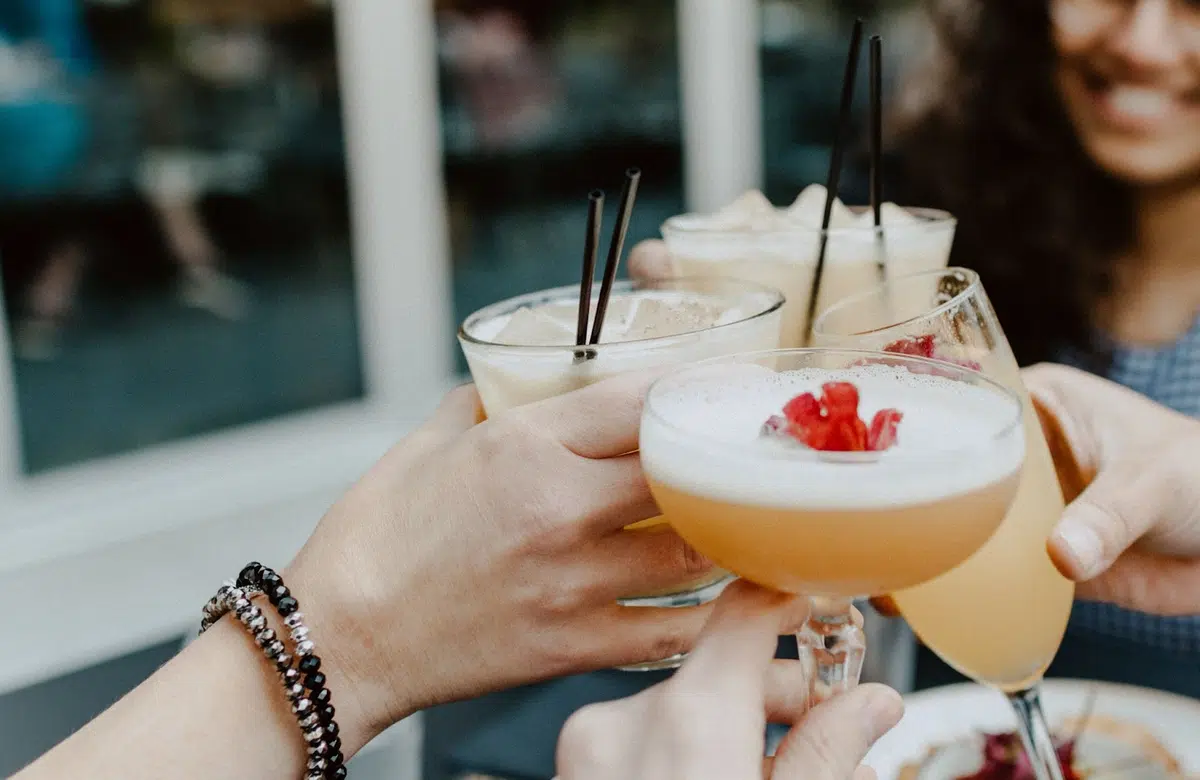 Topgolf offers various food and drink options that are on-brand with the music and atmosphere.
You can enjoy classic American dishes like burgers, chicken tenders, and fries. There are also more unique options like signature mac and cheese and flatbreads.
There are also vegetarian and gluten-free options available.
Topgolf's drink menu includes a range of cocktails, beer, wine, and non-alcoholic beverages like lemonade and iced tea.
You can order drinks directly from your hitting bay or relax at the bar area, which also features TVs and games. The menu at Topgolf varies by location and season.
Does Topgolf Provide Clubs, or Do I Need to Bring My Own?
How do you play Topgolf if you do not own clubs? Fear not!
You can bring your clubs or rent clubs on-site. Rental clubs are available for both adults and children, with a variety of sizes and options to choose from.
Club rentals are complimentary, which is a great perk.
If you bring your clubs, then Topgolf provides storage in their clubhouse so you can enjoy food or a drink without carrying your bag around. There is also storage on each of the bays for when you are playing.
Note that you are not allowed to wear golf shoes with metal spikes. Other than this, the dress code is super relaxed.
Read also: What to Wear to Topgolf
Do You Need Reservations At Topgolf?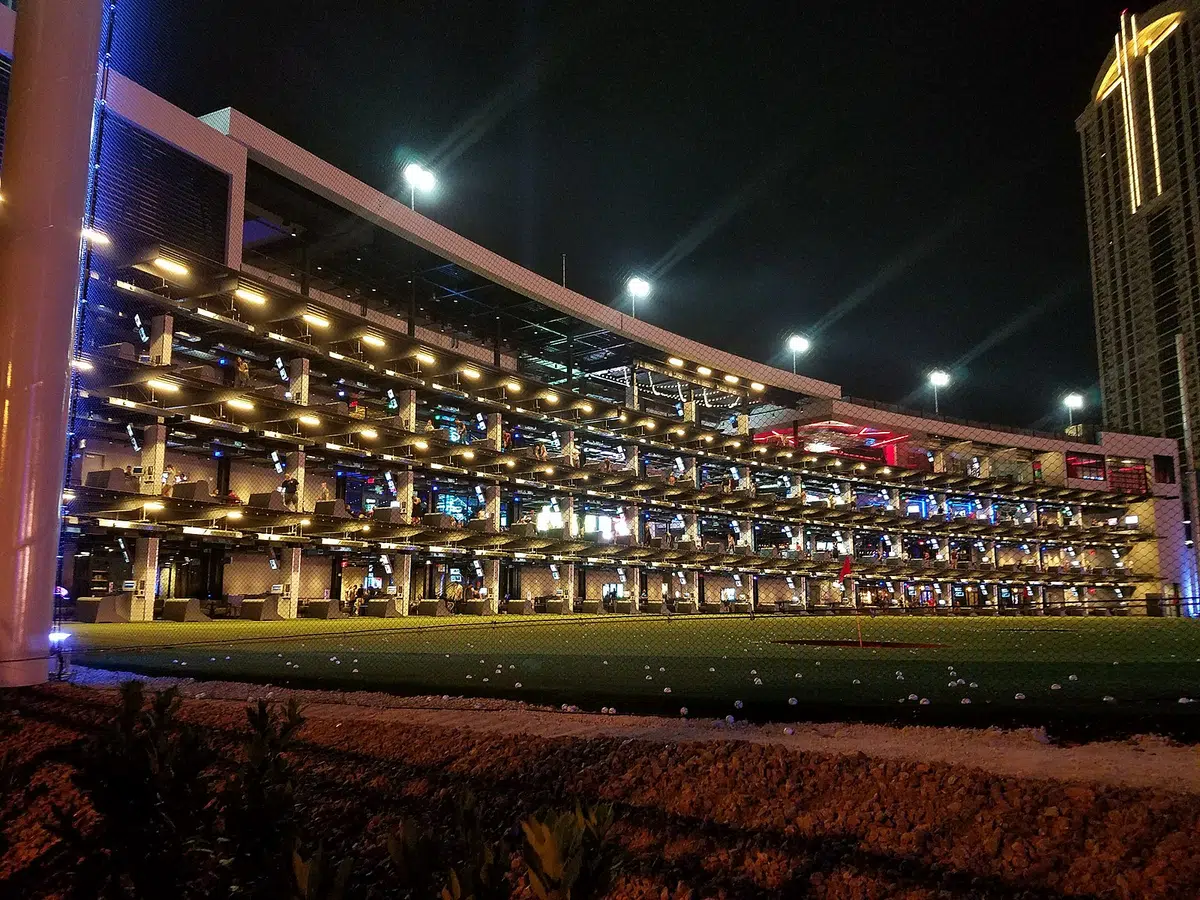 The best bet is to book online to avoid disappointment, but Topgolf always welcomes walk-ins.
Availability will depend on when you go. Obviously, 8 pm on Saturday night of a Masters weekend will be busier than 10 am on a Tuesday.
You can also join a virtual waitlist on the Topgolf app if it's impromptu.
Can You Get Lessons at Topgolf?
Yes, you can take advantage of a variety of options for golf lessons. Lessons are available for beginners and experienced players. The first step on your journey to the PGA Tour could start here!
Topgolf employs certified golf pros to provide personalized instruction. Lessons range from teaching players how to play Topgolf to the more advanced technical aspects of the game.
You can customize your lessons to focus on specific areas of the game, such as driving, chipping, and putting. Individual and group lessons are available for up to six people.
Topgolf also offers a Junior Academy for young golfers looking to develop their skills.
You can book lessons at your local venue online.
Related: Is Topgolf Open In The Rain
FAQs
How Long Do You Play at TopGolf?
You pay for your bay on an hourly basis. Generally, one or two hours is perfect to make the most of all the games on offer.
How Far Is the Net in TopGolf?
The net is normally at the 220-yard mark. If you have designs on trying to clear the net, there are a couple of things to be aware of.
Firstly, the net is unlike those on cheaper home golf simulators. They are tall, and I mean really tall. For a golfer to carry the net, it must be struck with serious distance and trajectory.
Second, the balls are flighted. This means they travel less distance than the balls you use on the course.
What Other Activities Does TopGolf Have?
What do you do at Topgolf if you don't want to golf? Well, Topgolf offers a variety of activities and amenities that make it a great destination for non-golfers too.
Private events can be hosted at Topgolf venues. There are corporate events, team building, birthdays, weddings, and more options.
Topgolf also features a lively atmosphere with music, big-screen TVs, and an extensive food and drink menu. The perfect spot to catch the big game with your friends.
In some locations, guests can enjoy other activities such as billiards, shuffleboard, and cornhole.
Topgolf often hosts special events and live music performances.
Does TopGolf Have Leagues?
Yes. At selected periods of the year, Topgolf offers a league format. Groups can compete in a team of up to six players.
The leagues have a regular season and playoffs for teams that progress.
If you do not have a team, you can list yourself as a free agent and potentially fill a spot if teams are down players.
How Many People Can Play at TopGolf?
Topgolf is designed to accommodate groups of varying sizes, from solo players to large parties. Each Topgolf venue has dozens of hitting bays, each accommodating up to six players at a time.
Conclusion
Topgolf is a great destination for people of all ages and skill levels looking to have some fun. With complimentary club rentals, golf is made easy and accessible.
So, bottom line: what is Topgolf, and what is Topgolf like? It is best described as an experience that pairs innovative and exciting golf games with a great atmosphere, tasty food, and energetic music.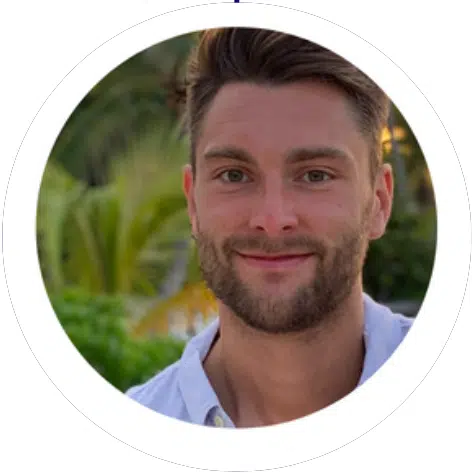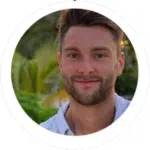 Sam has been playing golf for over 20 years and founded Impact Golfer. As a teenager, he discovered his love for the game using his grandad's clubs, including a wooden driver! As a golf obsessive, Sam plays whenever possible: regularly competing in matchplay with his friends and in tournaments at his local club. Fortunate to have a close friend who is a club pro– he has tested almost every type of equipment on the market (no freebies yet).