Topgolf is a popular entertainment venue that combines golf with food, drinks, and music, making it a perfect destination for a night out. But before you head to your local Topgolf location, you might be wondering how much it will cost.
How much is Topgolf? The Topgolf prices are as follows for a location in New Jersey for one bay that accommodates up to 6 people:
Monday thru Thursday before noon: $40 per hour
Monday thru Thursday from 12 pm to 5 pm: $50 per hour
Monday thru Thursday after 5 pm: $62 per hour
Friday thru Sunday before noon: $43 per hour
Friday thru Sunday from 12 pm to 5 pm: $55 per hour
Friday thru Sunday after 5 pm: $65 per hour
You'll pay $10 more to play on floors 3 and up
Some locations have half off on Tuesdays
A $5 membership fee is required for new players
Prices vary by location, so you'll pay more in places like Las Vegas
Overall, you'll pay ~$60 per person for a third-floor bay for two hours on a weekend night. This includes a meal and a drink. The cheapest time to play is for half-price on Tuesdays. A $5 one-time membership fee is also required, but equipment rentals are free.
But you can save money in several ways when playing Topgolf, so read on to be sure you're not wasting money.
This guide will discuss the various costs of playing at Topgolf. We look at hourly rates, food and beverage costs, equipment rental fees, and where you can make smart savings.
If you're new to Topgolf, check out our article, which gives a great overview of what Topgolf is.
Topgolf's Upfront Membership Fee
The first thing to consider is the membership fee. Before you hit a ball at Topgolf, you must pay a one-off fee of $5 plus taxes when you register.
How Much Is a Bay at Topgolf?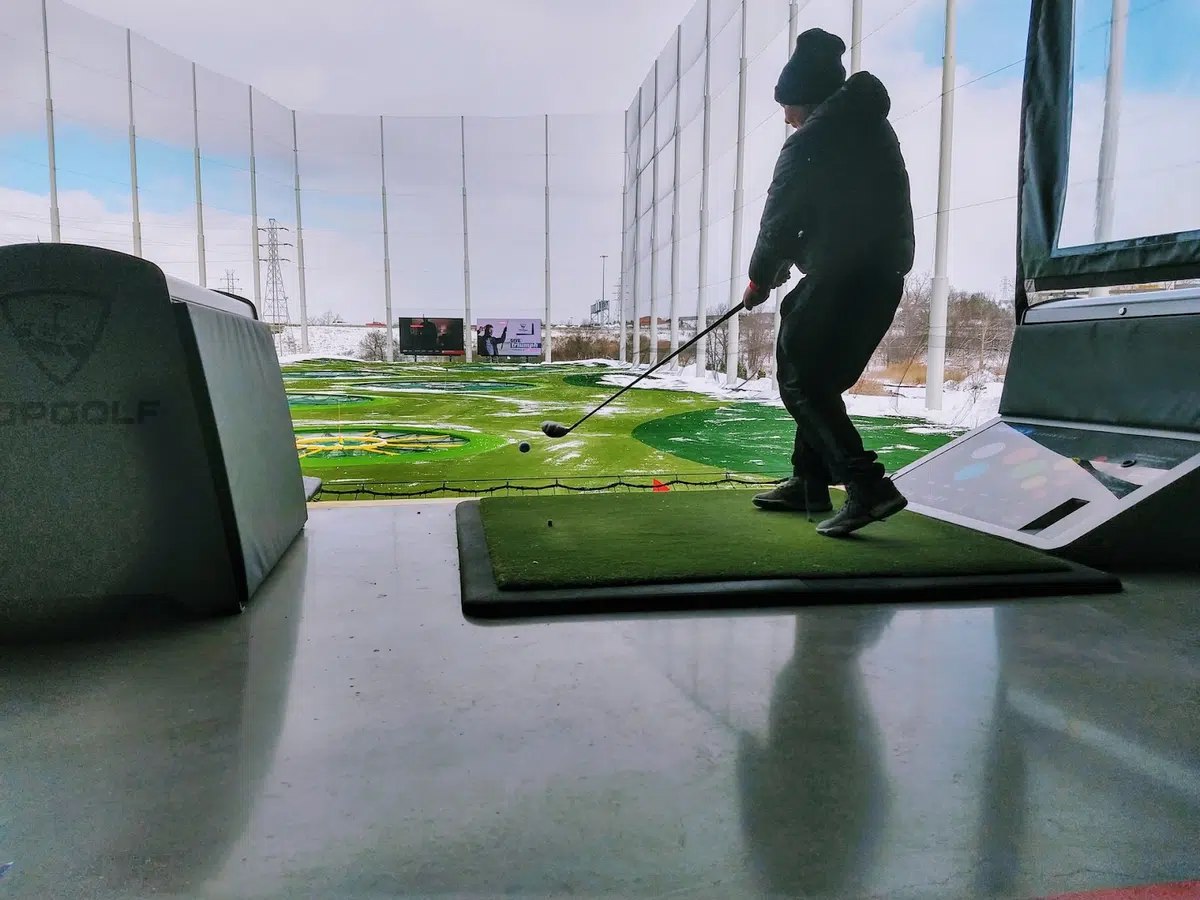 Topgolf fees are calculated by the hour and vary based on several factors:
Location: There are about 70 locations across the country
Time of Day: Evenings are the most expensive
Day of Week: Weekends are more expensive
Floor of your bay: The higher up you go, the more you pay
Number of players in your group
Typically, hourly rates range from $25 to $70 per bay, which can accommodate up to six people.
As you can imagine, California, Las Vegas, and New York rates are at the higher end of the spectrum.
The hourly rate may be higher during peak hours, such as evenings and weekends. Off-peak hours, such as weekdays and early afternoons, have lower rates.
Some venues have three floors. As you might expect, the third floor tends to have the best views, so they raise prices for these bays.
Refer to our table, which breaks down the cost by floor and day of the week. Please note that these are purely indicative. Actual Topgolf rates vary by location. These prices compare a location in Philadelphia which is cheaper, and Las Vegas which is more expensive. 
How Much is Top Golf? (Prices are per hour, per bay. Each bay can hold 6 golfers.)
Day of the Week
Open-12pm
12pm-5pm
5pm to Close
Monday
$40 – $42
$50 – $57
$62 – $74
Tuesday (Half Price)
$20 – $22
$25 – $29
$31 – $37
Wednesday
$40 – $42
$50 – $57
$62 – $74
Thursday
$40 – $42
$50 – $57
$62 – $74
Fri, Sat, Sun
$43 – $57
$55 – $74
$65 – $89
+Add $10 per hour for bays on floors 3 or 4
+$5 one-time member fee for new players
Note: Prices vary by location. This is for the Topgolf location in Philadelphia. You also may pay more for bays on the top floors.
How Much is Topgolf Per Person?
The great news is that you pay for your Topgolf bay by hour. Up to six people can play at once, meaning you can split the cost between the group.
Topgolf recommends between 1-2 hours of play to complete a round, or full game.
How Much Is Topgolf Per Person on Saturday?
Saturday is the most popular day to play at Topgolf.
Let's consider a group of 4 friends wanting to play at 7 pm on a Saturday night. They hire a third-floor bay (who can blame them, the views are always awesome) for two hours. A rough total cost would work out at $170 between 4 people— that costs $42.50 per person for Topgolf on Saturday evening.
Note: this is at peak time for two hours.
The cost would be far lower if the same four friends wanted just an hour-long game on a Thursday morning. The total might work out at $40 or $10 per person. This is pretty impressive when you consider every golf ball has tracking technology.
Topgolf's Equipment Rental Fees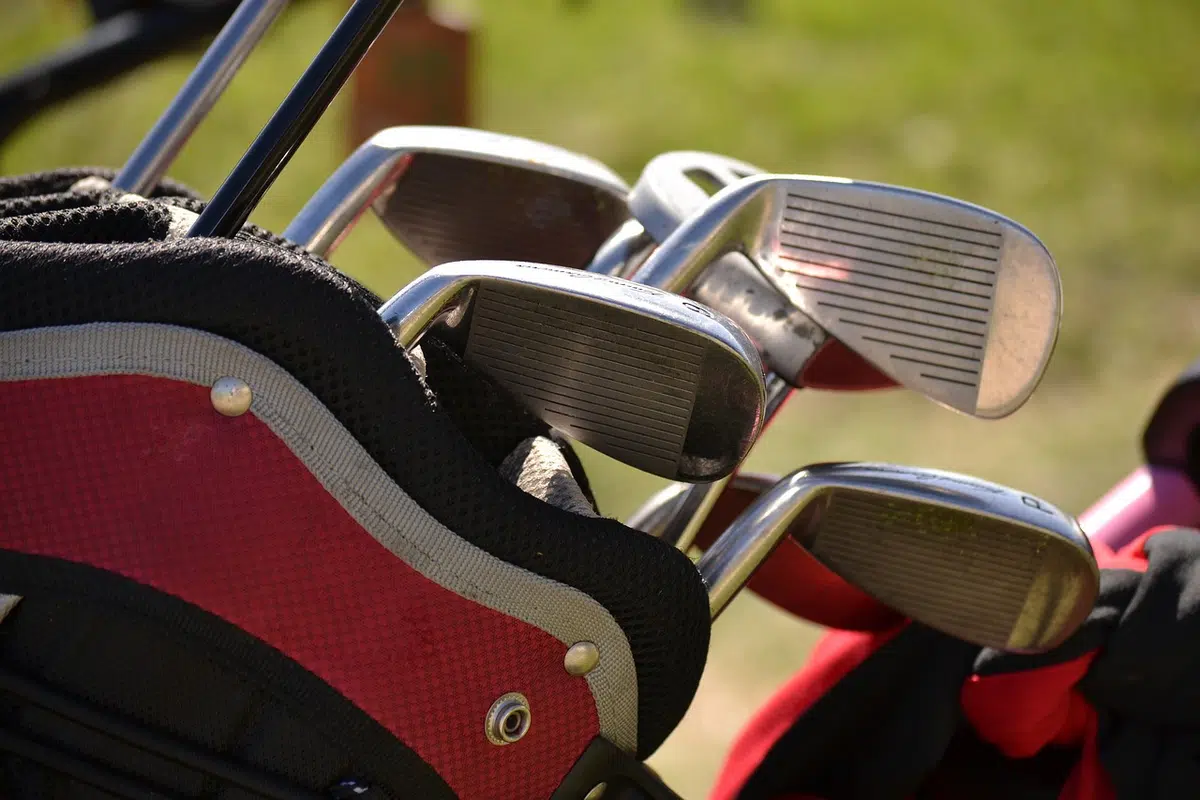 If you do not bring your own golf clubs, Topgolf offers rental clubs for free! This is the preferred option for those hitting town afterward. If you are playing more seriously, you can bring your own clubs and TopGolf will provide storage at the venue.
Topgolf's Platinum Membership
If you want to play regularly, Topgolf offers a platinum membership. Platinum membership has a rather complex pricing structure that varies depending on location. Memberships cost from $100 to $500 per month and allow you to bring up to five guests for unlimited golf during designated hours. The general 'platinum' Topgolf hours are below.
Mon-Wed: open – close
Thu-Fri: open – 5 pm
Sat: open – noon
Sun: open – noon; 5 pm-close
Aside from unlimited golf, Platinum members can also benefit from:
20% off food and non-alcoholic beverages
20% off in venue retail
20% off private events
Priority bay access
$1000 hole-in-one prize
Upgraded club rentals
These perks depend on the level of platinum membership you opt for.
Whether this is something you want to consider is really dependent on how much you like Topgolf. The upper-tier platinum memberships rival those of a nice country club membership.
Topgolf's Food and Beverage Costs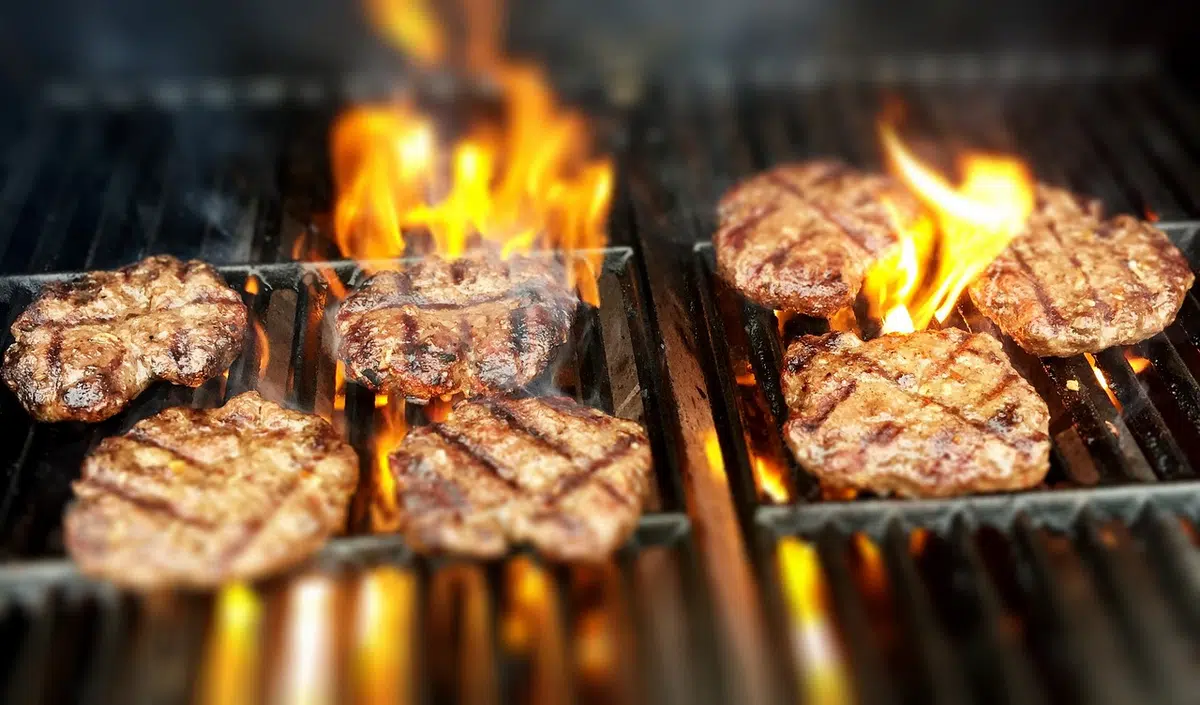 Topgolf offers a wide range of food and beverage options for players to enjoy while they play. These include appetizers, entrees, desserts, and drinks.
You can expect to pay the same prices as at any good quality sports bar.
Beers are typically priced at the $7-$8 mark. The Topgolf Marg is always a firm favorite at $12. Food is reasonably priced, with chicken tenders, fries, and a dip at $13. You can't go wrong with the $15 Smokehouse burger if you're hungry.
What is the Cheapest Time to go to Topgolf?
The cheapest time to go to Topgolf is half-price Tuesdays. Or you can get the $15 Unlimited Play during the morning, Monday to Friday.
Topgolf offers a variety of special packages and deals that can help lower the overall cost of playing. These include group rates, event packages, and holiday specials.
For most golfers though, a sure-fire winner is their half-price Tuesdays.
How much does Topgolf cost on a Tuesday, I hear you ask.
All across their venues, all customers can enjoy bays at half-price. However, this offer does come with some caveats – it doesn't cover arcade games and cannot be combined with any other deals or coupons.
Note: this does not cover all locations, so check this on your local Topgolf website.
It's also worth checking out their amazing $15 Unlimited Play offer from Monday to Friday. You can play unlimited golf rounds with your friends and family from morning until noon for $15 per person.
FAQs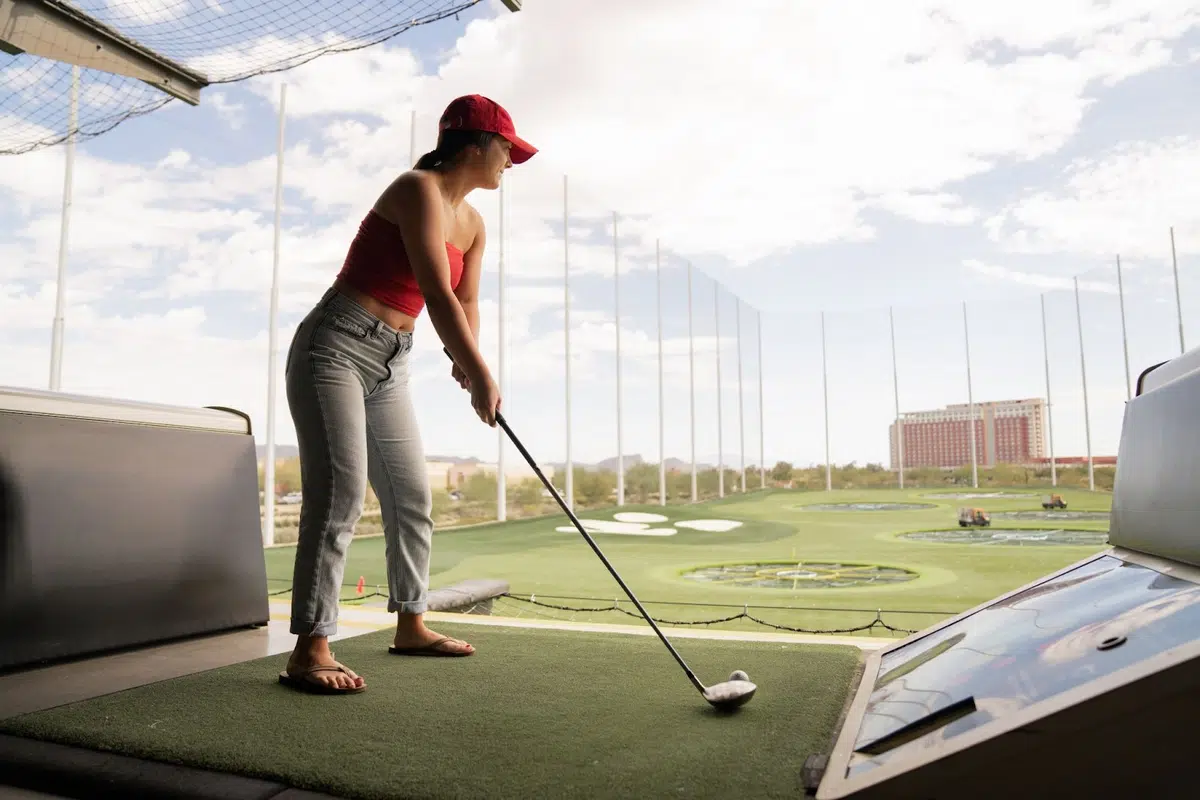 Is it Unlimited Balls at Topgolf?
No, it's not unlimited balls at Topgolf. Players are charged for a bay by the hour, and the price includes a certain number of golf balls. The number of balls included in the price depends on the package or membership level chosen. As mentioned, you can enquire about their Unlimited Play offer with unlimited balls.
Can You do Topgolf for 30 Minutes?
Yes, Topgolf offers 30-minute reservations for individuals and groups. However, the availability of 30-minute reservations may vary depending on the location and time of day.
How Much is it For 6 People at Topgolf?
The cost for 6 people at Topgolf depends on the location, time of day, and duration of play. Typically, hourly rates range from $25 to $70 per bay, accommodating up to six people. You can split this cost between the six of you.
How Much is a Bucket of Balls at Topgolf?
Topgolf does not offer buckets of balls like traditional driving ranges. Instead, you rent a bay at an hourly rate. These rates depend on the location, time, and floor you select.
Is Topgolf Expensive?
The cost of Topgolf varies depending on the location, time of day, and the number of people in your group. First, there is a one-time joining fee of $5. Hourly rates typically range from $25 to $70 per bay, with additional costs for food and beverages. Topgolf is more expensive than traditional driving ranges, which is understandable.
They are amazing complexes that clearly cost a lot of money to build. It's not just golf courses that get serious investments nowadays.
However, it offers way more from a social, atmosphere, and entertainment perspective.
Conclusion
So, how much is Topgolf? You'll pay about $60 per person to play at the peak times on weekends, including food and drink. If you want to save money, go for half-price Tuesdays or in the morning for Unlimited Play for $15 on Monday thru Friday.
If you want to practice alone on your swing, hitting your local range will be more economical. If you want a relaxed dress code, a fun night out with friends, and great food, then Topgolf is the way to go!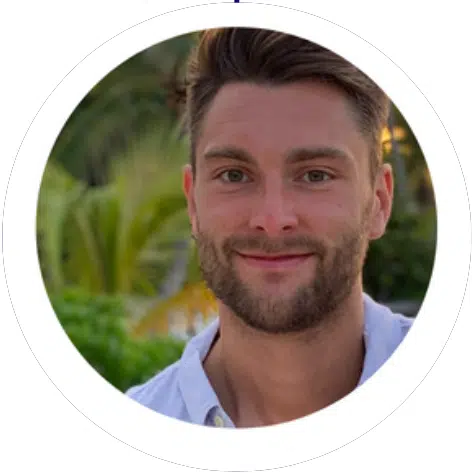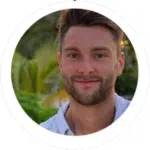 Sam has been playing golf for over 20 years and founded Impact Golfer. As a teenager, he discovered his love for the game using his grandad's clubs, including a wooden driver! As a golf obsessive, Sam plays whenever possible: regularly competing in matchplay with his friends and in tournaments at his local club. Fortunate to have a close friend who is a club pro– he has tested almost every type of equipment on the market (no freebies yet).