With its unique atmosphere and playing environment, people often wonder what to wear to Topgolf. Do you need full-blown golf attire, or are you okay with jeans and a t-shirt?
Topgolf is a popular entertainment destination that combines golf, socializing, and vibes. Regardless of whether you play off of scratch or you've never swung a club before, Topgolf is fun for all ability levels.
In this article, we'll provide you with a complete guide on what to wear to Topgolf. We break down appropriate clothing and footwear, outfit examples, and more.
What is Topgolf's Dress Code?
Topgolf has a relaxed dress code. There is no requirement to wear tailored trousers, golf shoes, or a collared shirt.
With this said, there are some guidelines to follow. According to Topgolf's dress code policy, you should dress appropriately to play golf safely.
Be sure to wear comfortable and practical clothing that allows you to move freely.
But what should you wear to Topgolf for a date or a party? Read on.
Read more: What Is Topgolf?
What to Wear to Topgolf
Each of the bays at Topgolf are outdoors so the biggest consideration is the weather. If you're talking about a November night in Minneapolis is going to be a different setting to July Scottsdale, Arizona.
With this said, at Topgolf you are never directly exposed to the elements. Each of the bays has a heated roof and provides protection from all different sorts of weather. Essentially, Topgolf is both an indoor and outdoor experience.
So now we've established temperature is a factor, what sort of clothes should you actually wear to Topgolf?
A good rule of thumb is: Dress how you would for any night at a sports bar.
Let's go deeper into what to wear for different weather.
Read more: Can You Play Top Golf In The Rain
What to Wear to Topgolf in Summer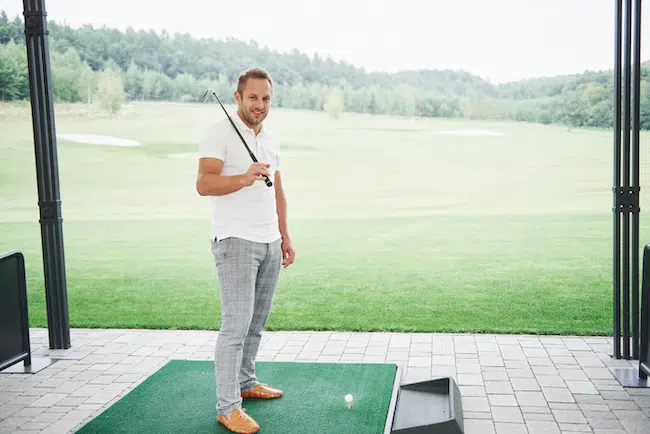 If you're looking for some basic summer Topgolf outfit ideas, see below.
For men, you can wear these in warmer conditions:
Polo shirts
T-shirts
Collared shirts
Loose-fitting khakis or jeans will work great. If it's hot, then shorts are appropriate as well.
A baseball cap always gives the impression that you are familiar with golf, even if you haven't played and it keeps the sun out of your eyes.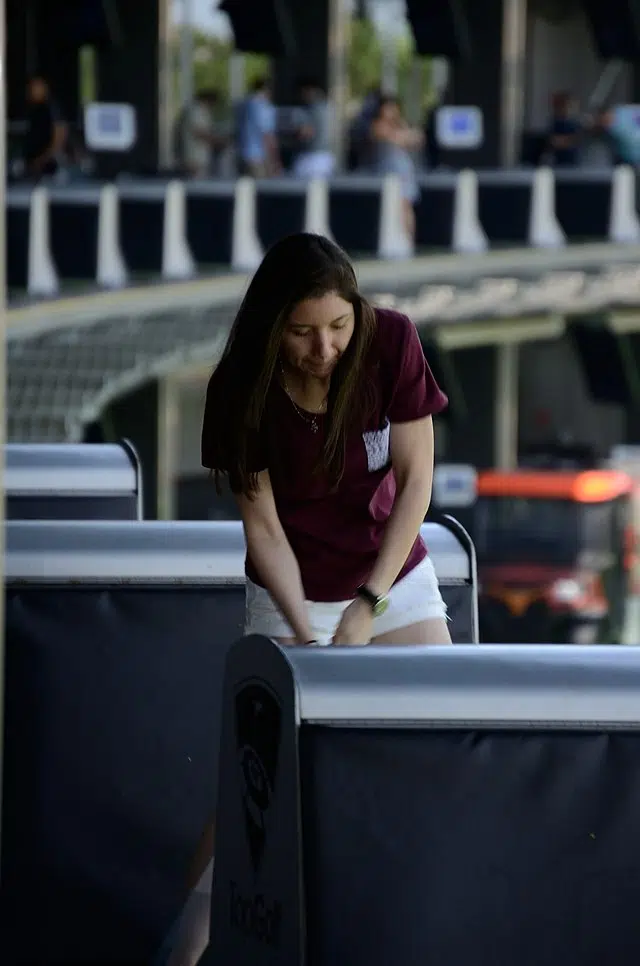 Knowing what to wear to Topgolf for girls is a similar approach: Choose something comfortable.
For women, you can wear these in warmer conditions:
Light tops
Blouses
T-shirts
These can be paired with shorts, skirts, or ladies' golf pants depending on the weather and your personal style.
Remember, the most important thing is to dress comfortably and practically for playing golf.
What To Wear To TopGolf In Winter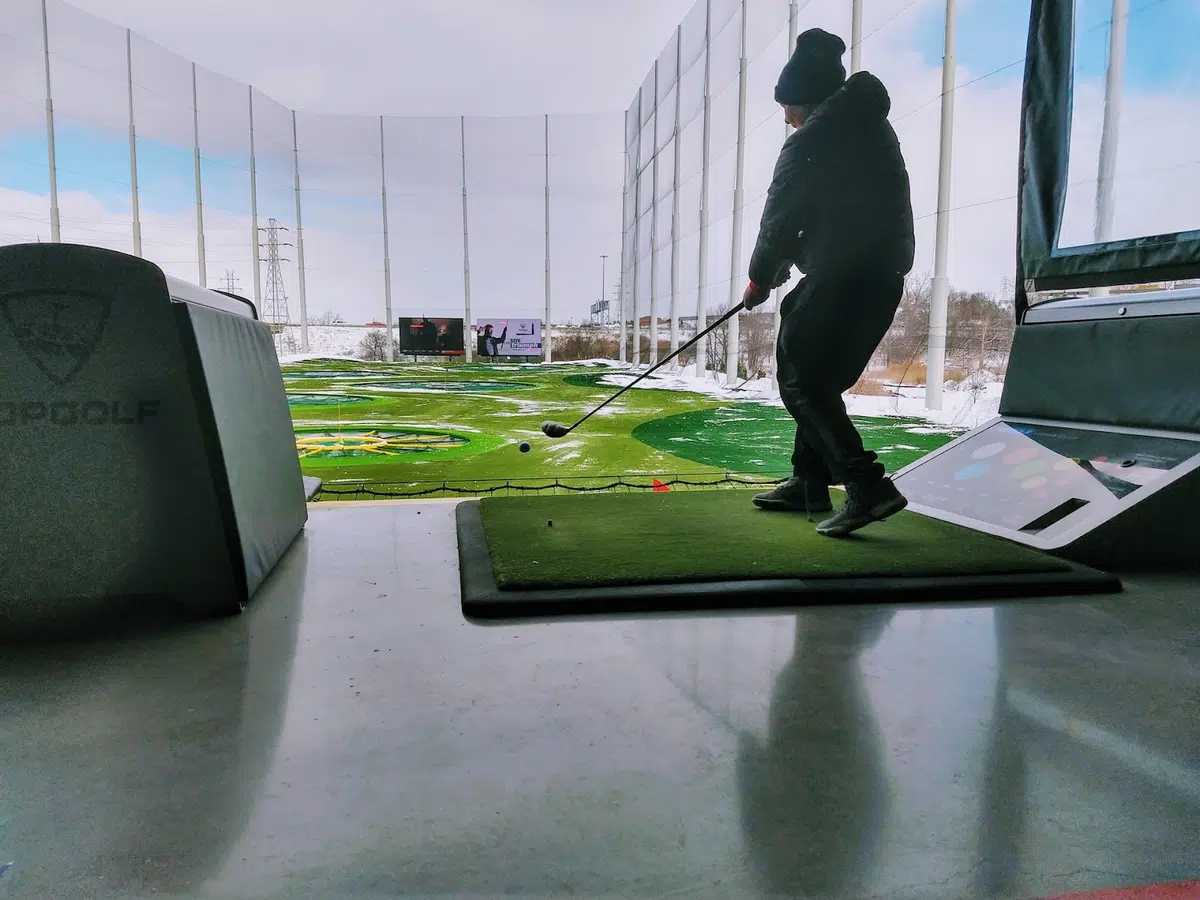 To stay warm while playing at Topgolf in winter, it's important to wear layers.
Start with a base layer of thermal or moisture-wicking clothing to keep sweat away from your skin.
Then, add a warm mid-layer, such as a fleece or sweater, to insulate your body. Finally, add a weather-resistant outer layer, such as a coat or jacket, to protect against wind, rain, or snow. Wear gloves, a hat, and a scarf to keep you extra warm. As for footwear, wear comfortable shoes with good traction to prevent slipping on wet surfaces.
If it's colder then you want to be efficient with your layering. A thick puffer coat with five or six layers of clothes will keep you warm, but hamper your mobility.
It's key to dress comfortably and practically for Topgolf. Avoid wearing tight or restrictive clothing where possible.
What Footwear Is Best for Topgolf?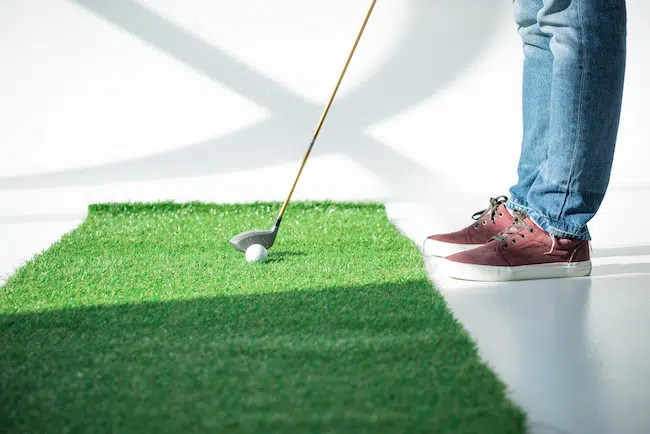 When it comes to Topgolf's dress code for shoes: It really depends on why you are there. If you are on your own tracking your shots and working on your swing then golf shoes will probably be best to replicate the traction you feel on the course. It should be noted that Topgolf does not permit spiked golf shoes.
If you are there socially, then sneakers will provide the best balance of support, stability, and style.
Can I Wear Sandals to Topgolf?
Flip-flops and sandals are not recommended for safety reasons. Closed-toe shoes are also recommended to protect your feet. If you clip an exposed toe with a pitching wedge, it could be bad.
Can You Wear a Skirt to Topgolf?
Yes, you can wear a skirt to Topgolf.
However, it's important to choose a skirt that is comfortable and practical for playing golf. Obviously, when it comes to fashion: you do you. With this said, golf involves a lot of twisting and movement of the lower body.
Skirts that are too tight or restrictive could make for another thing to consider when swinging the club. Golf is hard enough, so always put functionality first!
Top Golf Outfits for Different Occasions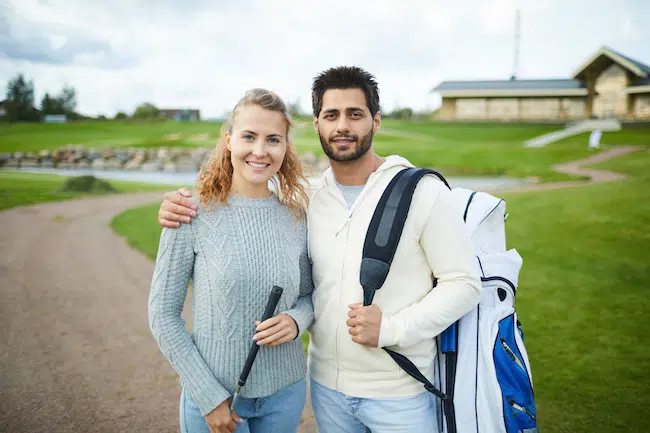 If you're going to Topgolf for a chilled game with friends, you can wear a more casual outfit.
For a corporate event, you may want to dress up a bit more. If you're lucky or innovative enough to organize Topgolf for a date night, you can still dress up! Obviously, we say this within reason. Topgolf is generally quite casual, so a full-blown tuxedo or cocktail dress might be a step too far.
Below, we have outlined three different outfit inspirations for Women and Men.
Women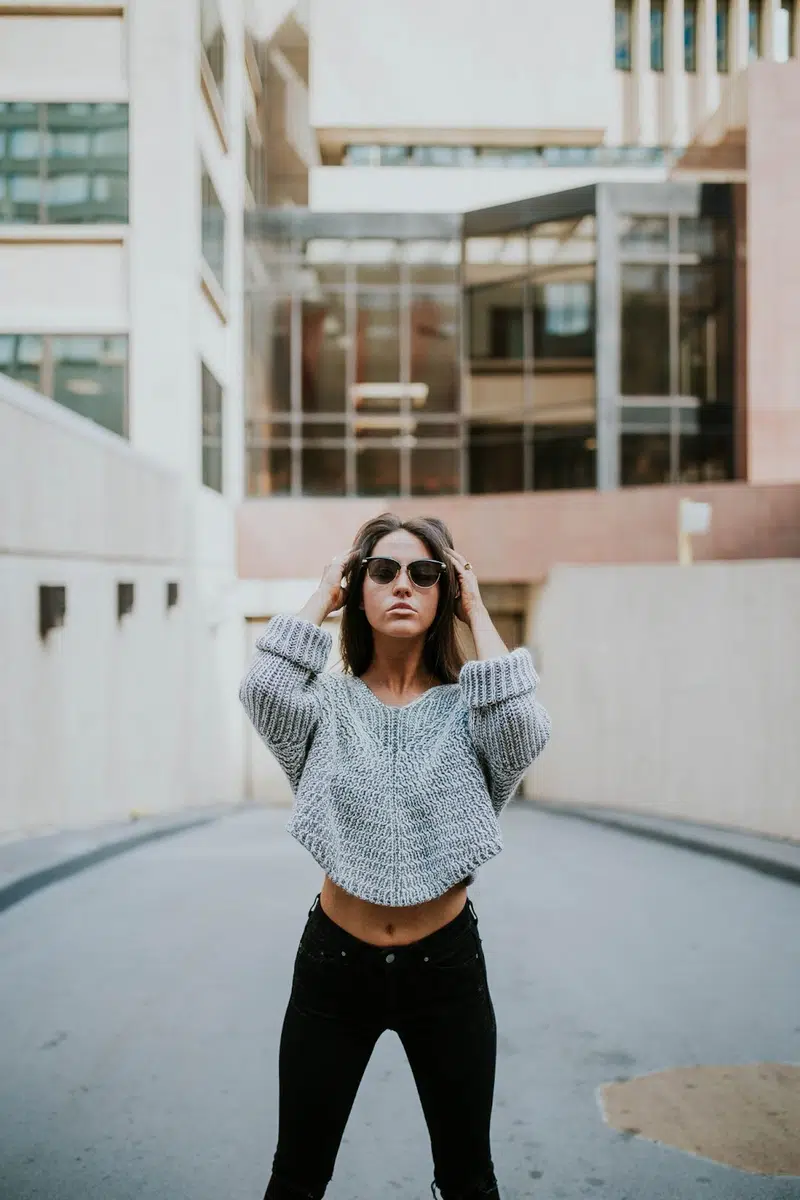 Chic and Comfy – Pair an oversized sweater with black skinny jeans and accessorize with a statement necklace and a pair of black pumps. It might not pass on the first tee of an LPGA tour event, but it will be perfect for a Friday night at Topgolf with friends.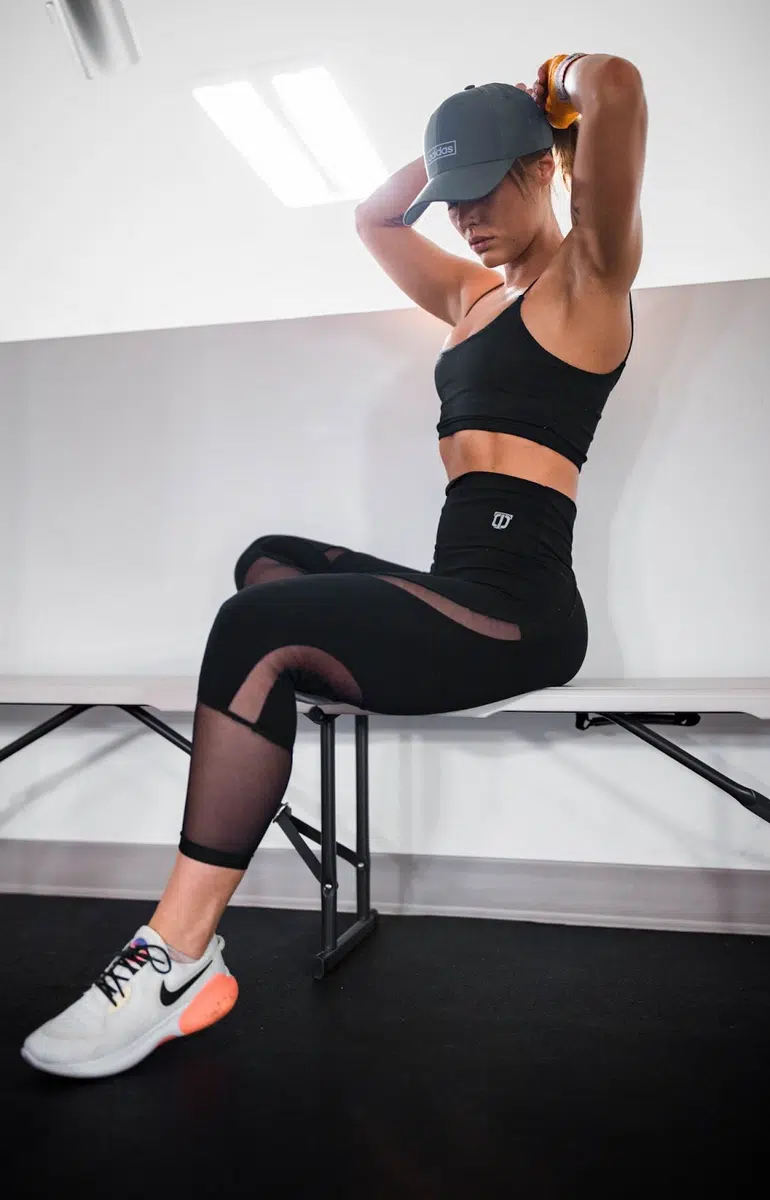 Sporty Lesuire – Try a pair of high-waisted black leggings with a colored tank top. Finish the look with a pair of white sneakers. Finally, accessorize with a cute baseball cap and a simple necklace. Roll up like you mean business!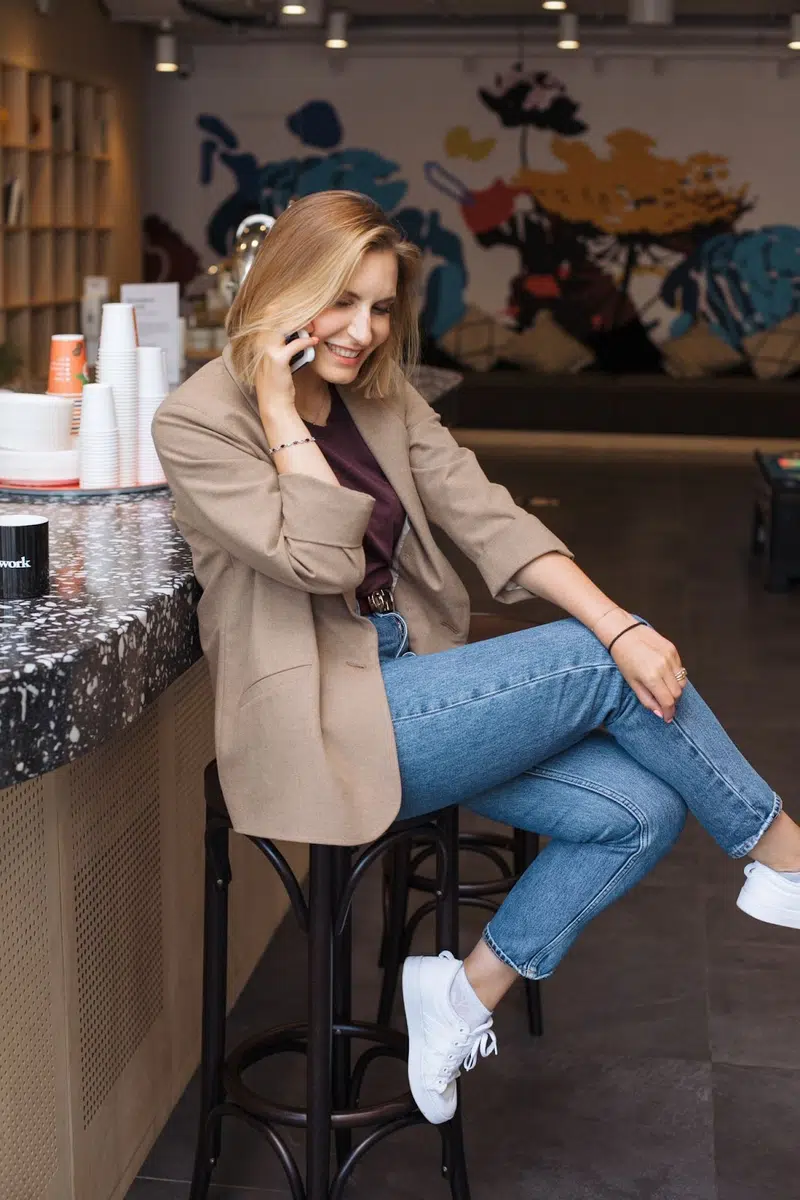 Sophisticated Style – A pair of jeans with a crisp t-shirt, smart trainers and blazer is a winner. Chic and sophisticated, you'll be on brand for any corporate event or formal night at Topgolf. Don't be afraid a pop of color with the shirt.
If you're planning on hitting the course, then check out our article on golfing attire for women.
Men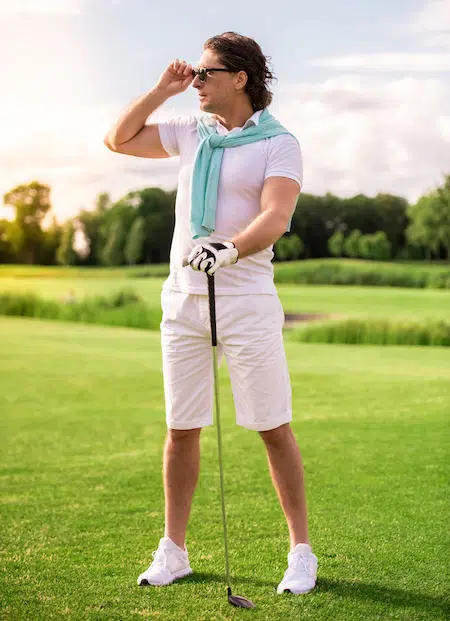 Relaxed and Casual – The swing comes first! A classic polo shirt paired with khaki shorts and white sneakers is a great outfit choice. This look is both comfortable and stylish.
Street Style – A pair of black jeans paired with a loose-fit tee and a pair of fresh sneakers creates effortless style. Accessorize with a stylish watch and a cap.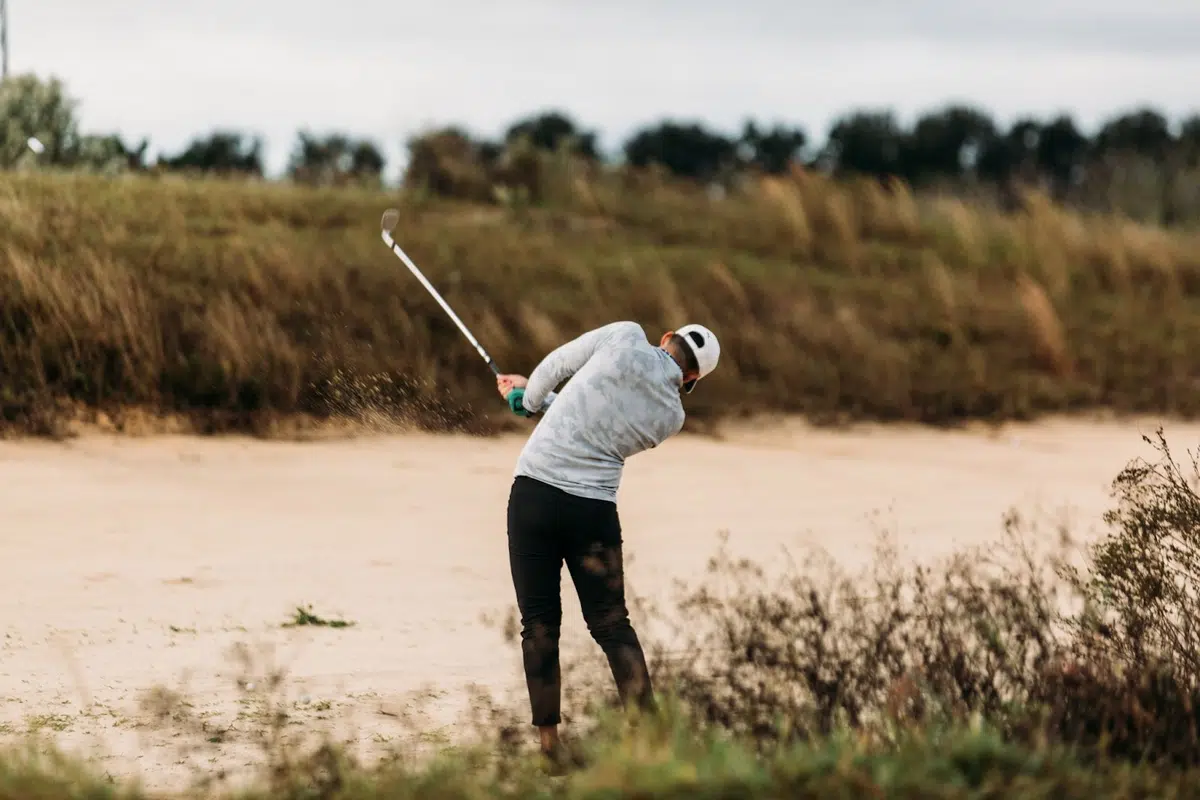 The Guy That Takes it Seriously – Sometimes, style comes second to winning. Let your pals know you have zero intention of buying a round of beers by rocking up in full golf attire. Think golf cap, utility zip-up top, and tailored trousers. This is the ultimate Topgolf uniform.
Clothes to Avoid Wearing to Topgolf
There are some clothing items that are not appropriate for Topgolf. These include swimwear, revealing clothing, and offensive clothing. It's important to dress appropriately and respectfully when attending Topgolf, as you would in any social setting.
Be sure to coordinate this with friends before. Remember, you are splitting the cost of the bay with them. If someone gets turned away then your cost per person will go up!
FAQs
Does Topgolf Have a Dress Code?
Yes, Topgolf has a dress code, but it is not very strict. The best way to dress is as if you are heading to a bar, especially on the weekends when there is a party atmosphere. Generally, Topgolf attire should be respectful to others. It also helps if it does not pose a safety risk. They also request that guests wear appropriate footwear, such as athletic or closed-toe shoes.
Is It Cold at TopGolf?
It depends on the location and the time of year. Since Topgolf venues are typically open-air or semi-outdoor facilities, they will be colder than indoor locations during colder months. However, many Topgolf locations have heating elements, such as heaters in bays and fire pits, to help keep you warm during cooler weather.
Conclusion
Knowing what to wear to Topgolf is important for a fun and comfortable experience.
Remember to dress comfortably and practically for playing golf, and most importantly, have fun!
Men can wear polo or t-shirts with loose-fitting khakis or jeans. Women can wear a similar outfit or something more stylish with a golf skirt.
Read more: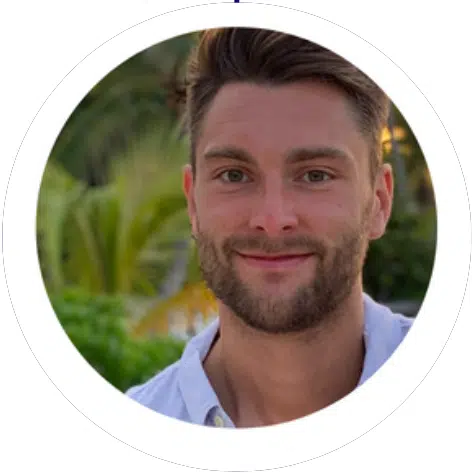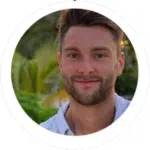 Sam has been playing golf for over 20 years and founded Impact Golfer. As a teenager, he discovered his love for the game using his grandad's clubs, including a wooden driver! As a golf obsessive, Sam plays whenever possible: regularly competing in matchplay with his friends and in tournaments at his local club. Fortunate to have a close friend who is a club pro– he has tested almost every type of equipment on the market (no freebies yet).