Attire can be different in certain parts of the country and at private or public golf courses. We will do our best to tell you what you should be wearing and why.  After all, you must look good, to feel good, to play well!
First, let's break down the different parts of women's' golf clothing and what you will need.
The Key Items of Women's Golf Wear
1. Tops
There are two choices here for women.  Where men must wear a collared shirt, women have the option to wear no color as long as the shirt has sleeves.  The most important takeaway here is not to go with a sleeveless shirt with no collar, that will not be allowed at almost any golf course.
Most women golfers do wear a collared shirt. It is the more traditional choice and keeps with the classic and professional look that golf is so accustomed to.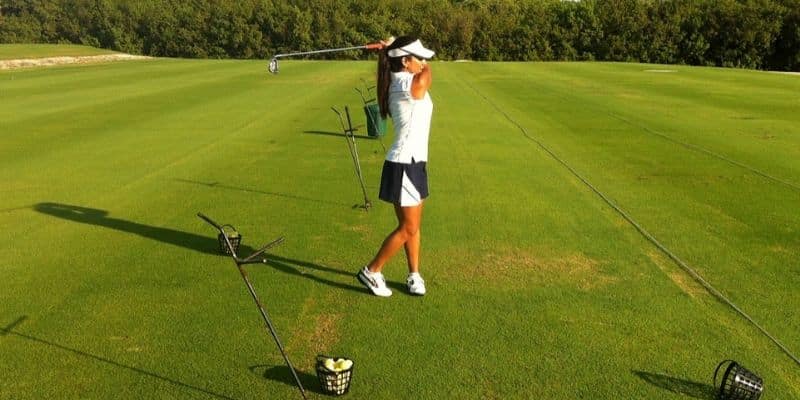 If you choose to go with a non-collared shirt, make sure it is not just a t-shirt or tank top.  Choose something made by a company that produces golf clothing.
Options include a ¼ zip-top or a  half zip-top, there are even some button-downs that work well for playing golf.
2. Bottoms
The decision as to what to wear for bottoms is going to be considerably more manageable in the winter months.  Full or ankle-length slacks are perfect for golf.  Do not wear leggings or any athletic type workout pants when going out to play.
Where things get a bit less clear is the summertime.  Different clubs have varying rules on short lengths, and it can get confusing.  Some clubs want the shorts to go all the way to a woman's knee.
Others use the rule that as long as they go past your fingertips (when arms are down at your side), then they are long enough.  Based on arm length, player height, and style of shorts, there are just too many variables here.
We have always found that there are two crucial rules to follow when it comes to shorts for female golfers.  The first is to check with the golf course you are going to play. They should very clearly state a dress code on their website, and if not, don't be embarrassed to call the golf shop to confirm.
The second rule of thumb is to go with the longer shorts when possible.  If you purchase your shorts from a company that is producing golf shorts, they will generally be the proper length.  You can never go wrong with Bermuda length golf shorts even if they aren't your favorite thing to wear; you will know that you are not breaking any rules.
3. Sweaters and Jackets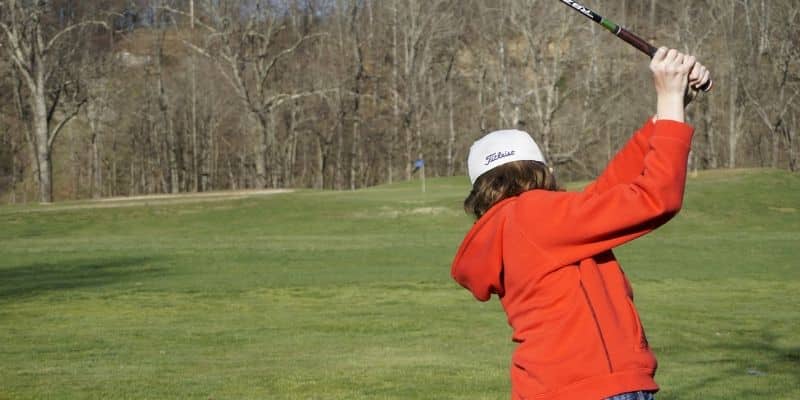 It is a great idea to dress in layers when you go out to play.  Especially if you have a morning tee time, the weather is likely to change during your time on the course.  When playing a round of golf, you need to come prepared with what you need to be outside for five hours (hopefully less!).
Lightweight layers and jackets are going to be your best option because they will not be restricting your swing in any way.  We always recommend keeping a lightweight wind shirt in your golf bag for times when the temperature drops or if a quick rain shower was to hit.
This won't add much weight to your golf bag, but you will be glad you have it the day that you need it.
4. Head
Four to five hours in the sun can be difficult for your skin.  Wearing a hat on the golf course is highly recommended.  Many women like to wear a visor because it will provide some sun protection to your face.
In the past few years, larger crocheted sun hats have become quite popular.  They do an even better job of keeping the sun off of your head and sometimes can breathe a bit more than a traditional baseball-style cap.
5. Footwear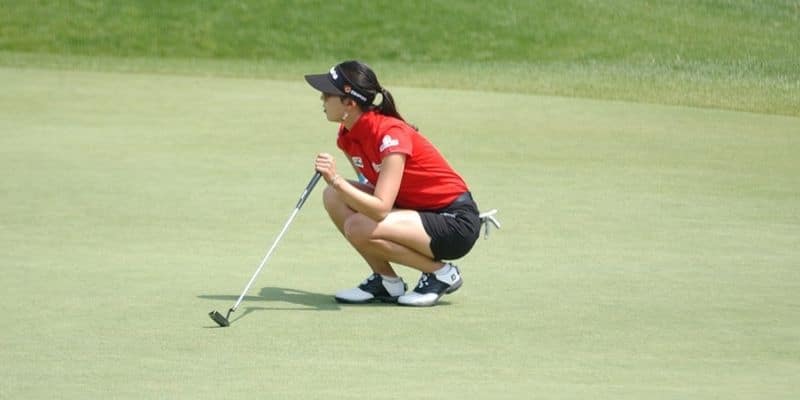 Sometimes when you first start playing golf, you may not have all the equipment you need.  Golf shoes are something that will eventually be worth investing in. However, if you go to play golf with a simple sneaker or tennis shoe, you will not be violating the dress code. Just do not wear a sandal, flip flop, or heel of any kind.
Golf shoes are both the traditional style of dress, and they serve as a functional article of clothing.  Golf shoes provide the greens with the least amount of damage and give you the most stability when you swing.
Years ago, golf shoes were made with metal spikes, but that is now a thing of the past.  All golf shoes are now made with soft spikes.
As far as socks are concerned, most people prefer no show or very low cut socks. They look better if you are wearing shorts or Capri style pants when you go out to play.
6. Eyewear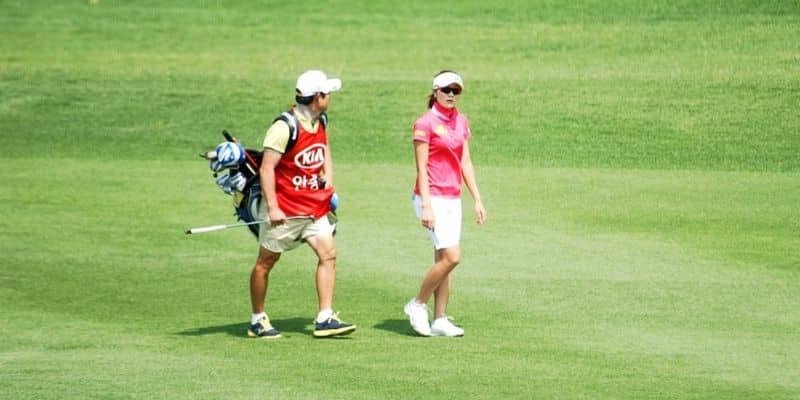 Often overlooked when planning for a day out on the golf course is eyewear.  Just as much as your skin will struggle from spending four to five hours in the sun, your eyes will too.  Make sure to protect them with a pair of sunglasses.
One thing that may seem trivial (but you will be glad we mentioned it) when purchasing sunglasses, try them on, and then look down like you would when setting up to hit.
Depending on the type of sunglass you choose, if they are not explicitly designed for golf, they can alter or block the view of the golf ball and make this game way more complicated than it needs to be!
What Should I Do If I'm Not Sure What to Wear?
Try to avoid having too much stress over a golf outfit.  Having spent the majority of my life in the golf business, the best possible thing you can do is call the golf shop for the course you are playing.
This simple phone call will take away all the guesswork and leave you with confirmed advice as to what you can and can't wear at that particular club.  When you step up on that first tee, you will want all the confidence you can get.
Final Thoughts
Dressing for golf is not all that difficult once you have the few basic rules down.  Most importantly, make sure to have a collar or sleeves, make sure that your shorts are not too short, and make sure to protect yourself from the sun. Outside of these three major things, have fun with it and start to develop your own golf style!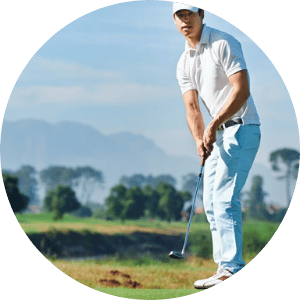 Nick Lomas is the founder of GolfSpan, an avid golfer, not quite a pro but has over 15-years of experience playing and coaching golfers from all over the world. His mission is to bring the golfing community a better experience then it comes to choosing the right golf gear, and finding the right set up for your game.