Even when you have been playing golf for a long time, choosing the correct clothing for a round of golf can be overwhelming and confusing. There are rules about golfing attire for women and men that have changed dozens of times throughout the years. 
Attire can be different in certain parts of the country and at private or public golf courses. But there are some basic rules to follow that will work on most courses. 
The most common women's golf clothes are a polo-style shirt with shorts or a skirt that's not too short. Wear this, and you'll be fine. 
Or read through this post, we will do our best to tell you what you should be wearing and why. After all, you must look good, to feel good, to play well!
First, let's break down what women's golf clothes you can wear and what is better left at home. 
What Women Should and Shouldn't Wear on the Golf Course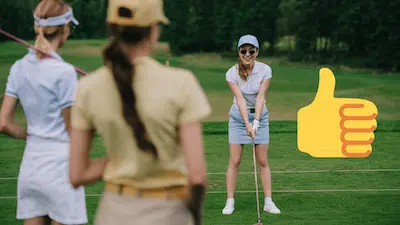 The governing bodies, LPGA and R&A, set guidelines for the attire worn on the golf course.
This is not strictly enforced on all courses, but the top courses and clubs use these guidelines to make dress code rules for men's and women's golf attire. 
Female golfers should wear:
A polo-style shirt with a collar 

A turtleneck

Slacks, skirt, shorts, or a skort of a certain length
Collarless shirts are allowed on some courses for women if they have sleeves.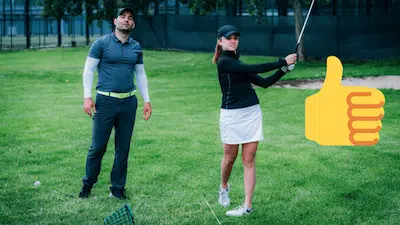 Most courses won't allow you to wear:
T-shirts

Halter tops

Tank tops

Strapless tops 

Plunging necklines

Leggings

Denim or jeans

Cargo shorts or pants

Workout gear and joggers
We'll cover more about the specific dress code later in this article, but you will be allowed on most courses if you follow these rules. Let's dive right into the best women's golf apparel without further ado. 
The Key Items of Women's Golf Wear
1. Women's Golf Tops

There are two choices for tops with ladies' golf apparel. Where men must wear a collared shirt, women have the option to wear no collar as long as the shirt has sleeves. 
But most women golfers do wear collared shirts. It is the more traditional choice and keeps with the classic and professional look that golf is accustomed to.
If you choose to go with a non-collared shirt, make sure it is not a t-shirt or tank top. Options include a ¼ zip-top or a half zip-top. There are even some button-downs that work well for playing golf. 
Women's Golf Shirts
Sizes: XS-XXL

Materials: 89% Polyester, 11% Elastane
Colors: 5
The Adidas Women's Performance Primegreen Polo is super light to wear and stays fresh for the day due to its wicking ability. This is a must feature for the golfer who wants to stay cool on the course. 
The material also stretches, and thus it does not inhibit your swing.
Sizes: S-XXL

Material: 100% Polyester supporting sustainability through Oeko-tex fabric certification
Colors: 7
IZOD designer golf shirts are soft on your skin with a subtle texture. They have a built-in UPF 15+ sun protection which can save your skin.
The fabric also has moisture-wicking properties to keep you fresh and dry for the entire day.
The engineered shoulder seams move with you as you swing to offer the maximum range of motion.
Size: S-XXL

Materials: 100% Polyester
Colors: 10
CQC golf tops are made from 100% polyester with moisture-wicking properties keeping you dry and fresh all day long.
The sleeveless design allows for a 4-way stretch, providing an unrestricted swing and maximum comfort.
Its UPF 50+ sun protection offers some of the best protection against the sun, but without sleeves, you will still need to pack your sunscreen.
Women's Golf Sweaters and Jackets
It is a great idea to dress in layers when you go out to play.  Especially if you have a morning tee time, the weather is likely to change during your time on the course. When playing a round of golf, you need to come prepared with what you need to be outside for five hours (hopefully less!).
Lightweight layers and jackets will be your best option because they will not restrict your swing. We always recommend keeping a lightweight wind shirt in your golf bag when the temperature drops or if a quick rain shower hits.
Size: XS-4XL

Materials: 95% Recycled Polyester, 5% Elastane
Colors: 2
Adidas provides some of the best clothes women can wear on the course. This women's insulated jacket is ideal for cold-weather training with a regular fit that is slightly wider in the lower body creating a straight silhouette rather than an hourglass silhouette.
The jacket only has a half zip with a hood but offers full coverage of your upper body.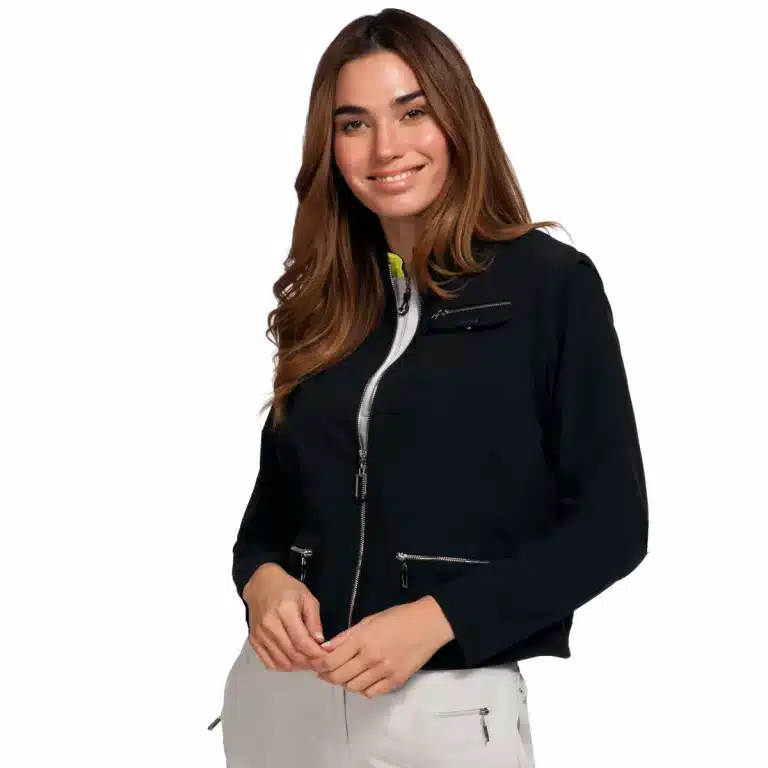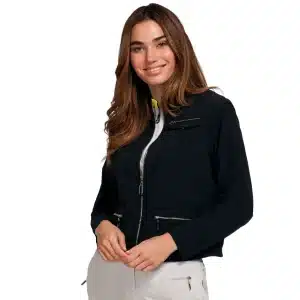 Size: XS-XXL

Materials: 92% Polyester / 8% Spandex
Colors: 2
Oasis Airwear jackets have a standard collar and full zipper for easy removal.
The zip-off sleeve adds flexibility if the weather warms up during the round.
You have storage in 2 pockets on the left upper side. First, a pocket on the upper left side with snap closure and a zipper pocket right above snap closure.
Two zipper pockets provide additional storage at the bottom of the jacket.
2. Women's Golf Bottoms
In 2017, the rules changed for women's golf clothes, making bottoms slightly more difficult. While the women's golf dress was popular in the past, fashions and styles have changed. 
All bottoms must cover your rear end when standing or bending.
A good guideline to determine the length of your bottoms is to hang your arms along your side and let the bottom of the skirt, shorts, or skort meet the end of your fingertips.
It is always advisable to check with the golf course if they have any specific rules you must comply with. If you are unsure about the length, wear a longer option like Bermuda bottoms.
Women's Golf Shorts
Size: 4-1

Materials: 92% Nylon, 8% Spandex
Colors: 6
Willit's lightweight 4.5" summer shorts comes in a tailored fit, constructed from 92% Nylon and 8% Spandex. They dry quickly and stretch to offer an uninhibited swing.
Storage is provided by 2 front slant pockets and 2 back pockets. These pockets are large enough to provide ample space for your scorecard and golf glove.
Sun protection is provided by the UPF 50+ protection.
Size: 2-22+

Materials: 98% Polyester, 2% Spandex
Colors: 4
This stretchable short has moisture-wicking technology to offer you an all-day-long dry fit that remains comfortable.
Its 4-way stretch provides increased comfort, offering you a full range of motion.
No belt is required. The stretch in the waistband creates a comfortable fit without being constrained.
Sun protection of UPF 50 prevents the sun from penetrating the fabric, thus damaging your skin.
Size: 2-16

Materials: Polyester, Spandex
Colors: 5
Adidas Women's 7-inch shorts offer an elastic closure for a relaxed fit around the hips and thighs.
It is made from a lightweight stretch fabric. It offers front slip-in pockets, back Welt pockets, and a secret ball pocket on the hip below the waistband.
Women's Golf Skorts
Size: S-XXL

Materials: 89% Nylon, 11% Spandex
Colors: 41
Ekouaer skorts are made from a breathable fabric, moisture-wicking, quick-drying, and wrinkle-resistant fabric consisting of 89% nylon and 11% Spandex.
The wide range of colors makes Ekouaer one of the most trendy female golf attire suppliers.
Its versatile two-layer design offers a bottom liner and skirts outer.
Versatility is the name of the game as it can be used for many other sports such as running, tennis, golf, workout, and hiking.
Size: 2-14

Materials: 100% Cotton
Colors: 17
Royal & Awesome offers a range of bright skorts with stretch undershorts and outer skirts.
Skorts come standard with two front pockets, one back pocket Elastic closure, a free golf tool, and a bottle opener.
The combination of cotton and spandex provides the freedom required to have unrestricted movement and maximum performance.
Size: S-XL

Materials: 88% Polyester, 12% Lycra
Colors: 29
Annjoli skorts offer lightweight athletic skorts that are pleated, flared, and flowy.
Storage is provided by 2 side pockets enabling you to store a golf ball or two.
No more worrying about where your cellphone is. The side pocket stores your cellphone, keys, cards, and other necessities.
The inner liner is made from a black mesh to prevent unwanted attention.
Women's Golf Dresses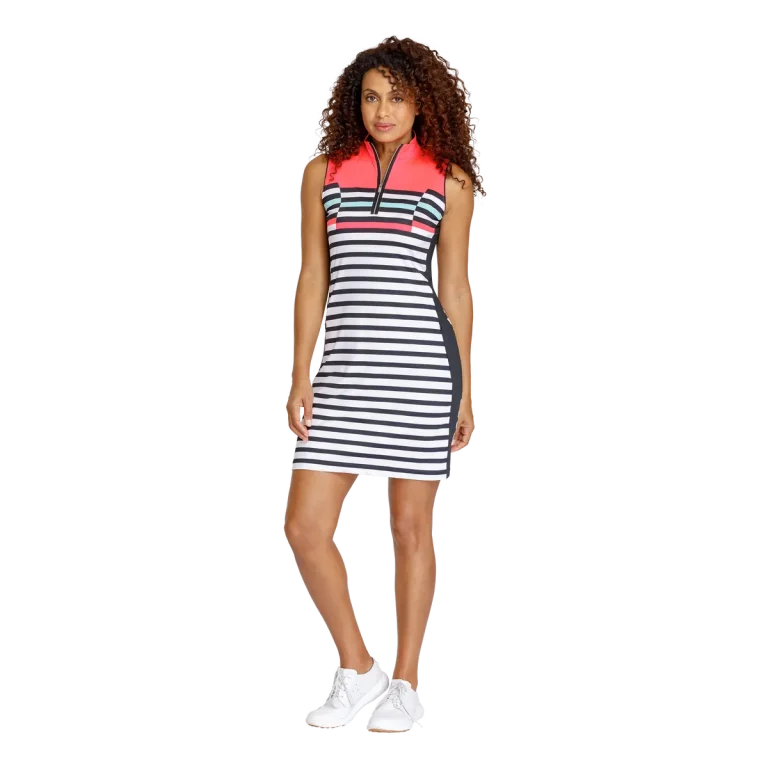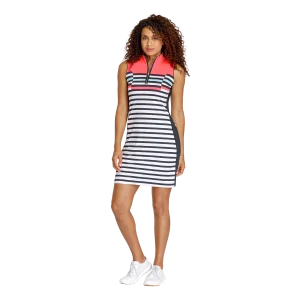 Size: XS-XL

Materials: 91% Polyester / 9% Spandex
Colors: Multiple
This Diva dress is sleeveless with a quarter zip panel and zippered pockets.
Accessories that come standard with the dress are a performance jersey and Onyx Shorties.
The length of the dress 36 ½ inches and protection is provided by the UPF 50+ sun protection.
Girls Got Drive Collection: Pin High Print Sleeveless Dress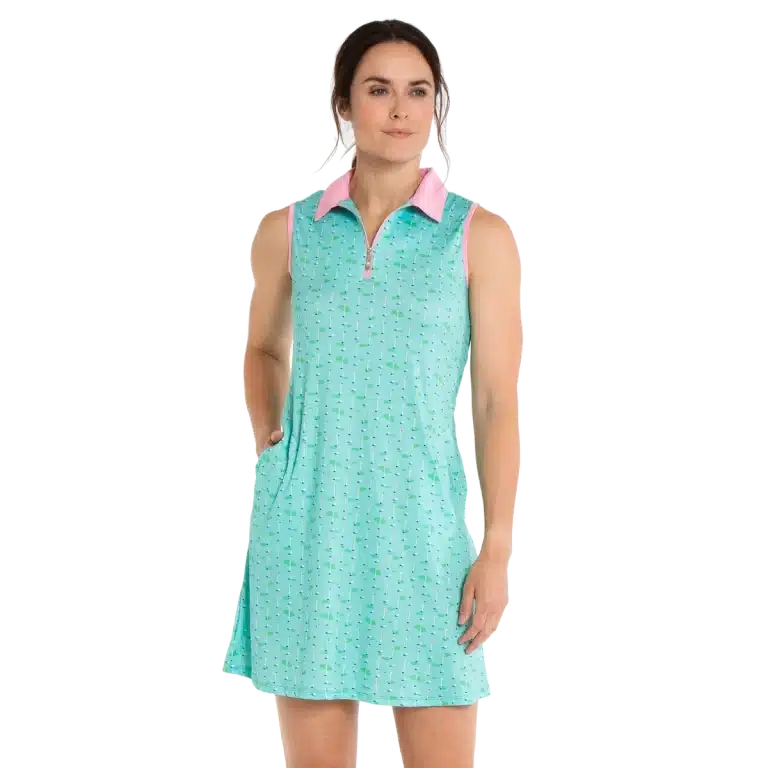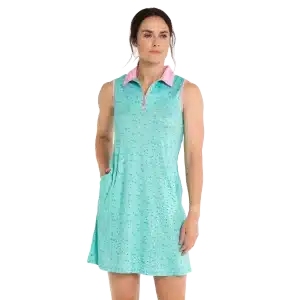 Size: XS-XXL
Materials: Performance wicking fabric
Colors: Multiple
The Pin High Print sleeveless dress with a solid polo collar is 36 inches long.
It is made from performance-wicking stretch fabric that provides 30+ UPF sun protection and will keep you dry.
Storage is provided by two side pockets on the front of the dress.
Women's Golf Pants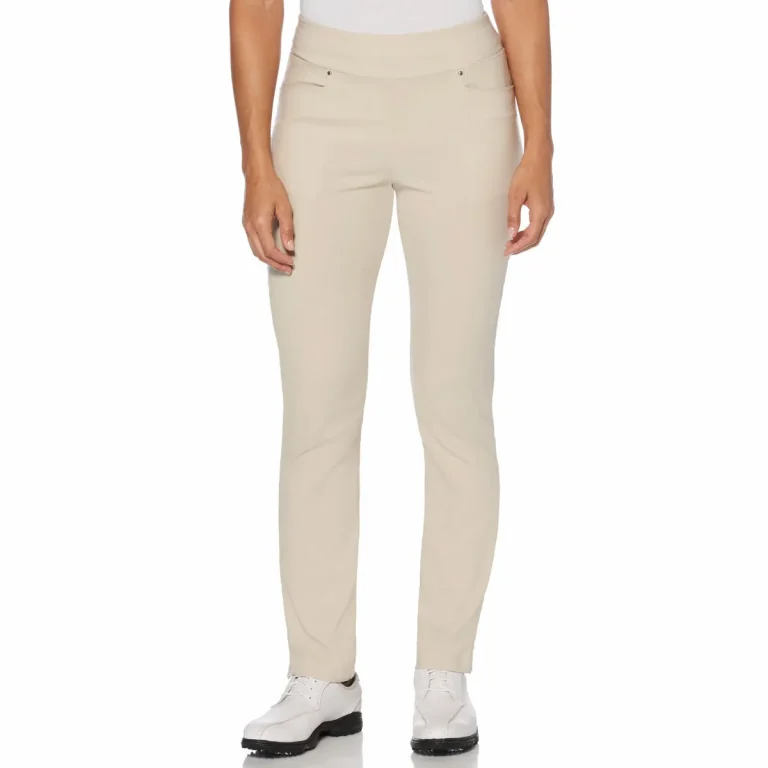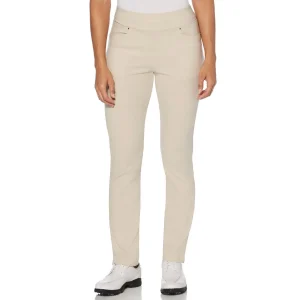 Size: S-XL

Materials: 73% Rayon / 24% Nylon / 3% Spandex
Colors: 2
PGA Tour offers comfortable pant for those long hours on the golf course.
The waistband is made from a stretchable material and no belt is required.
Its DRIFLUX™ Moisture Wicking material will ensure your legs stay dry on the course.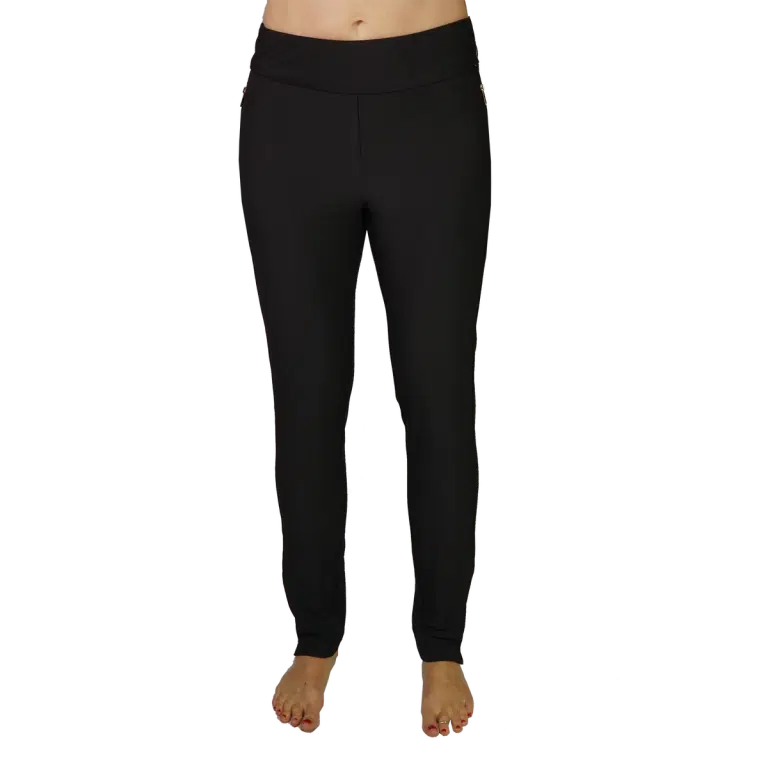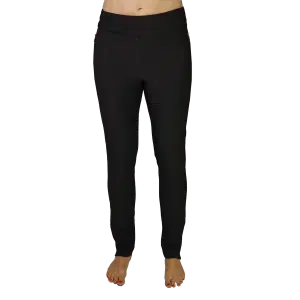 Size: XS-XXL

Materials: 88% Polyester / 12% Spandex Stretch Twill Performance Wicking Fabric
Colors: 3
This versatile pant comes with a full elastic waistband, Silver Zipper Pulls side seam zippered pockets, and back welt pockets.
To make them easier to remove the side seam slits at the hem.
3. Women's Golf Accessories
In addition to tops and bottoms, you'll want to protect your head, eyes, and feet. There are plenty of choices that can be overwhelming so let's focus on some high-quality accessories that could help your game. 
Women's Golf Hats
Four to five hours in the sun can be difficult for your skin. Wearing a hat on the golf course is highly recommended. Many women like to wear a visor because it will provide some sun protection to their face.
Size: Adjustable for many sizes

Materials: 100% Poly Twill
Colors: Multiple
Women's golf clothes do not have to be boring, as this hat shows. It is available in a large variety of colors and is more vibrant in person than in photos.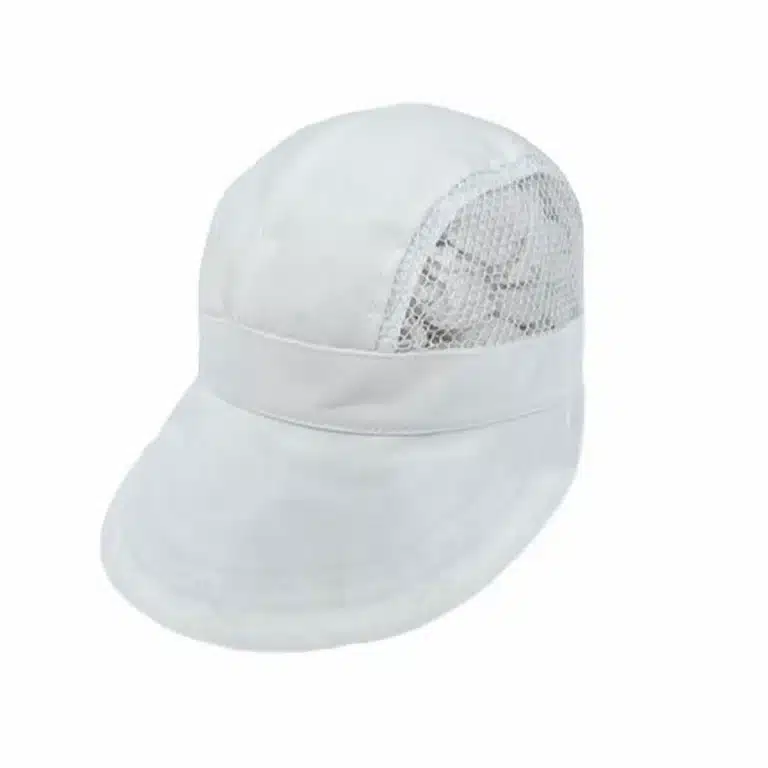 Size: Adjustable for diverse sizes

Materials: 100% Cotton
Colors: White
The Dorfman Pacific Facesaver hat provides extra coverage of your face and has a baseball band enabling you to adjust the size to fit your head.
It allows you to keep a cool head that can breathe using the mesh on the sides of the hat.
Women's Golf Footwear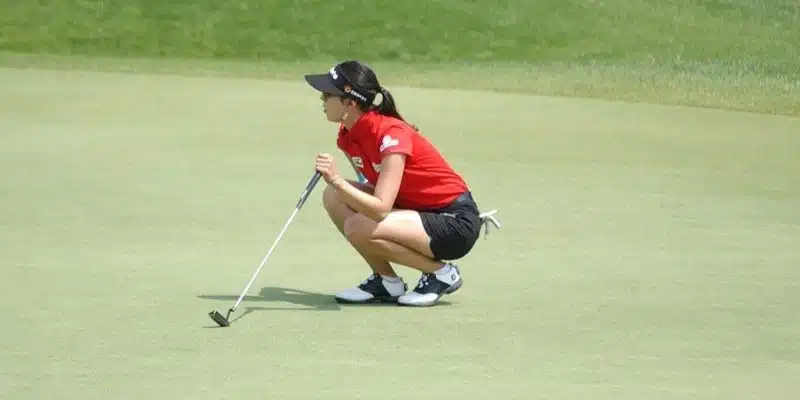 Sometimes when you first start playing golf, you may not have all the equipment you need. Women's golf shoes are something that will eventually be worth investing in. However, if you go to play golf with simple sneakers or tennis shoes, you will not be violating the dress code. Just do not wear a sandal, flip flop, or heel of any kind.
Golf shoes are both the traditional style of dress, and they serve as a functional article of clothing. Golf shoes provide the greens with the least amount of damage and give you the most stability when you swing.
Years ago, golf shoes were made with metal spikes, but that is now a thing of the past. Most golf shoes are now made with soft spikes.
As far as socks are concerned, most people prefer no-show or very low-cut socks. They look better if you are wearing shorts or Capri-style pants when you go out to play.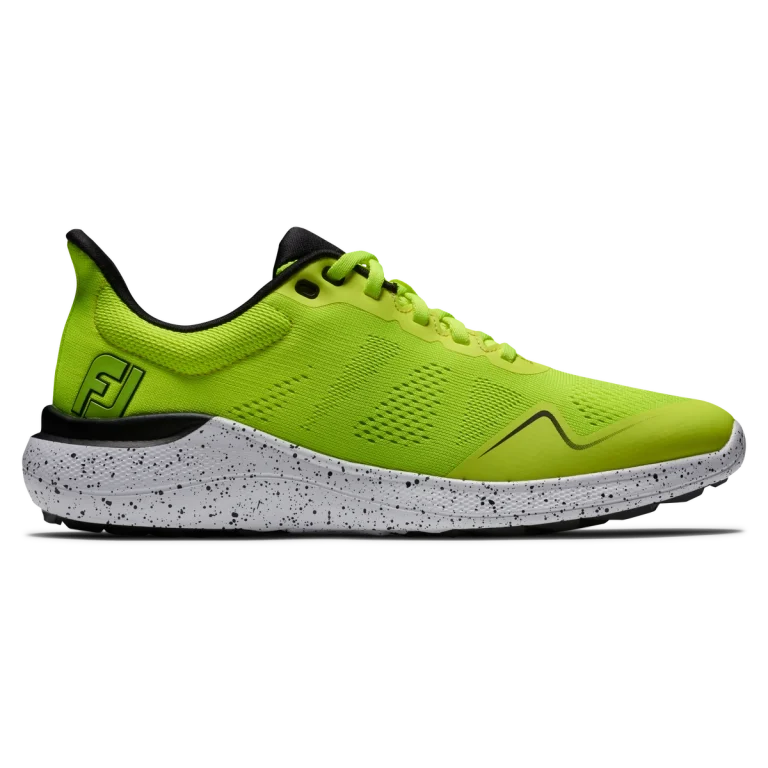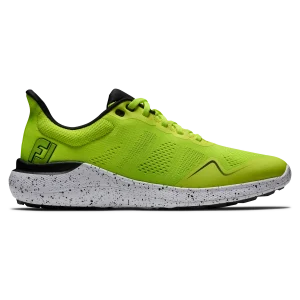 Size: 5 – 11

Materials: 100% Cotton
Colors: 1
Footjoy Limited Edition Flex "Citrus" Women's Golf Shoe offers exceptional on/off course versatility & performance. On the course, you can rely on the traction during your swing, and off the course, it offers the versatility of a sneaker.
The addition of a lightweight performance mesh keeps your feet fresh and comfortable all day long.
Its VersaTrax outsole is engineered for maximum stability during your swing, no matter how fast you swing. Various traction zones also provide exceptional grip when walking the course.
Size: 5 – 11

Materials: 100% Cotton
Colors: 3
Skechers Go Golf 600 sandal is made from sporty heathered jersey fabric upper in a sporty casual comfort strappy sandal. This uses a combination of Goga Max® footbed and the Skechers GOrun 600 design sole to produce one of the most stable golfing sandals.
Furthermore, Skecher's 5GEN® Midsole helps absorb impact. The technology is the proprietary lightweight injection-molded compound with memory retention.
Your grip will not be compromised with this sandal. It offers a durable grip TPU outsole for on-course comfort
What Should I Do If I'm Not Sure What to Wear?
Try to avoid having too much stress over a golf outfit. Having spent the majority of my life in the golf business, the best possible thing you can do is call the golf shop for the course you are playing.
This simple phone call will take away all the guesswork and leave you with confirmed advice as to what you can and can't wear at that particular club.  When you step up on that first tee, you will want all the confidence you can get.
FAQs
How Should a Female Golfer Dress?
The governing bodies such as the LPGA set the dress code for professional tours and amateur competition play. However, these are not strictly enforced on regular golfers. 
But club rules and regulations are typically based on the LPGA dress codes and are usually monitored.
Wearing the correct women's golf outfit will ensure that you are welcomed at almost any golf club.
Most courses require women to wear blouses with sleeves or sleeveless blouses with collars. Polo-style shirts are the most popular amongst women golfers and come in V-neck, button-down, and zip-top configurations. You can choose short or long sleeves.
In 2017, the LPGA announced changes in the dress codes as they felt that some professional golfers were pushing the limits.
Changes that were made include:
Racerback tops must have a collar or mock collar.

Plunging necklines are NOT allowed.

Leggings, unless under a skort or shorts, are NOT allowed.

Length of skirt, skort, and shorts MUST be long enough to not see your bottom area at any time.

 

Workout gear and jeans are NOT allowed inside the ropes.

 

Joggers are NOT allowed.
What Is the Most Popular Golf Shirt Brand?
Adidas is renowned for producing some of the best women's golf clothes, and the Adidas Women's Performance Primegreen Polo is one of the most popular golf shirts for women.
It is made of 100% recycled polyester jacquard, and has a zipper closure and collar. The fabric is breathable and air-cooling.
Primegreen is a series of high-performance recycled materials using no virgin polyester.
Can I Wear Leggings to Golf?
The LPGA prohibits professional players from wearing leggings such as yoga pants or compression pants unless it is undershorts, skorts, or skirts.
However, your club can override the regulation for amateur golfers. But most high-end golf clubs and country clubs tend to disapprove of wearing leggings on their own and would rather you follow the LPGA guidelines.
Do You Wear a Sports Bra for Golf?
Women with larger chests can find it difficult to keep their front arm straight while swinging across their chest.
Wearing a sports bra is a sure-fire way to optimize your backswing and help your swing.
Do Female Golfers Have To Wear Skirts?
You can wear slacks, shorts, a skirt, or skort (a combination of skirt and shorts).
In 2017, the LPGA changed the rules due to the number of revealing outfits worn on professional tours.
The length of shorts, skirts, and skorts must hide your bottom area whether you are standing or bending.
Workout gear, jeans (all colors), and joggers are not allowed inside the ropes.
Do You Tuck In Golf Shirts?
Golf is a conservative sport with traditions that go back centuries. Fortunately, some of the traditions, such as wearing a sports jacket and tie when playing golf, disappeared over time.
However, many golf clubs insist that your golf shirt is tucked in to appear neat and tidy.
Golf shirts are designed to be tucked into your pants.
Apparel manufacturers make it easy as some use "shirt grippers," a silicone material around the waistband. This keeps your shirt tucked in for that neat look. Women's golf clothing can be a straightforward selection and dressing for golf is not all that difficult once you have the few basic rules down. 
Most importantly, golf outfits for women must have a collar or sleeves, make sure that your shorts are not too short, and make sure to protect yourself from the sun. Outside of these three major things, have fun with it and start to develop your own golf style!
Final Thoughts
Women's golf clothes can be a straightforward selection, and dressing for golf is not that difficult once you have the few basic rules down. But as women's golf fashion becomes more popular it can also be overwhelming. 
Most importantly, golf outfits for women must have a collar or sleeves, make sure that your shorts are not too short, and make sure to protect yourself from the sun. Outside of these three major things, have fun with it and start to develop your own golf style!
Nick Lomas is the founder of GolfSpan, an avid golfer, not quite a pro but has over 15-years of experience playing and coaching golfers from all over the world. His mission is to bring the golfing community a better experience then it comes to choosing the right golf gear, and finding the right set up for your game.