Picture this: it's a beautiful morning, and you're on the green, club in hand, surrounded by other enthusiastic golfers, ready to start your tournament.
But instead of the usual tee times, you're suddenly assigned to a random hole and given the green light to start your round at the sound of a "shotgun" blast.
Welcome to the world of shotgun starts in golf tournaments.
We've compiled this comprehensive guide to help you navigate the ins and outs of shotgun start in golf. Let's get down to business!
What Is a Shotgun Start in Golf?
The golf term shotgun start is a tournament format where all players begin their rounds simultaneously from different holes on the course. It was traditionally started by shooting a shotgun, but a siren is often used now.
Now, you may be wondering how this seemingly chaotic format actually works. By assigning each group to a different starting hole, organizers can accommodate a larger field of players and ensure the event finishes in a timely manner and all at the same time.
It's a win-win for everyone involved, from the golfers to spectators to tournament organizers and sponsors.
How Does A Shotgun Start in a Golf Tournament Work?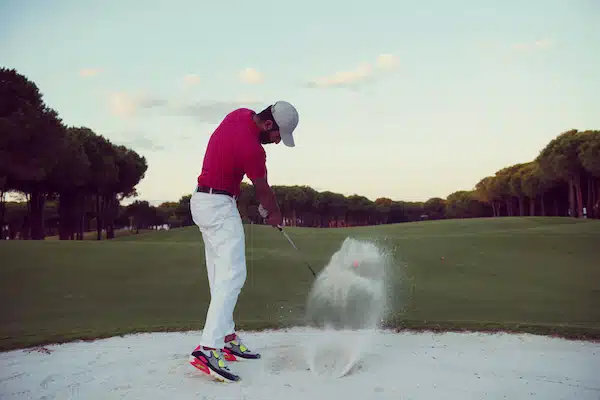 So we've answered what a shotgun start in golf means, but how would the tournament work?
In a nutshell, the organizers pre-assigned the starting holes and tee times. This lets them accommodate a larger number of players and ensures that the tournament finishes on time.
For example, let's say there are 144 golfers in a tournament. In a traditional format, tee times would be assigned to each group, spread out over several hours, which means the event would last all day.
But in a shotgun start tournament, all 144 golfers can start at the same time, from different holes, and finish at the same time.
This means the event finishes much faster, making it more efficient and enjoyable for everyone involved.
However, organizing a shotgun start tournament has its challenges. Assigning starting holes and tee times can be a logistical nightmare, especially when dealing with a large field of players.
Another challenge is scoring and leaderboard management. Since players start at different holes, keeping track of scores can take time and effort.
Despite these challenges, the benefits of a shotgun start tournament far outweigh the downsides. It's a great way to accommodate more players, makes the event more efficient, and create an enhanced experience for both the players and the spectators.
Holding A Successful Shotgun Start Tournament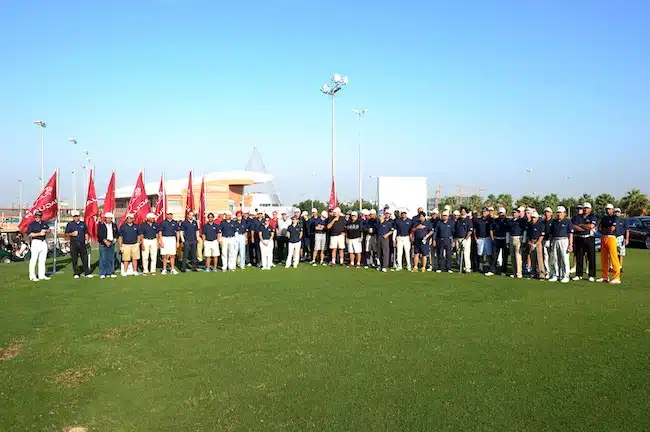 Are you thinking of organizing a shotgun golf tournament? Then, it's crucial to understand some essential keynotes to ensure success. From preparation and planning to communication to coordination, here are the top tips for nailing your first shotgun start tournament.
Preparation And Planning
Before the shotgun golf tournament day arrives, you need to ensure that all the necessary preparations and planning are in place.
Determine the number of players: Shotgun start tournaments can accommodate a larger field of players, but you need to ensure that the course can handle the capacity.
Assign starting holes and tee times: Ensure that the starting holes and tee times are assigned fairly to avoid conflicts and disputes.
Coordinate with the golf course staff: It's crucial to work closely with the golf course staff to ensure that the course is ready and set up for the tournament and all regular play has been halted.
Plan for contingencies: Have contingency plans in place for unforeseen circumstances like weather changes, injury, or other issues.
Communication And Coordination
Communication and coordination are crucial to ensuring a successful shotgun start tournament. In essence, you need to:
Provide clear instructions to players: Ensure that all players understand the tournament format, starting holes, and tee times.
Coordinate with caddies: It's essential to work closely with the caddies to ensure that they know the starting holes and can provide the necessary support to the players.
Establish clear communication channels: Have a reliable communication channel in place to communicate with players and caddies during the tournament.
Be responsive and adaptive: Be ready to adapt to unexpected issues and be responsive to player and caddy needs during the tournament.
Pros And Cons Of Shotgun Starts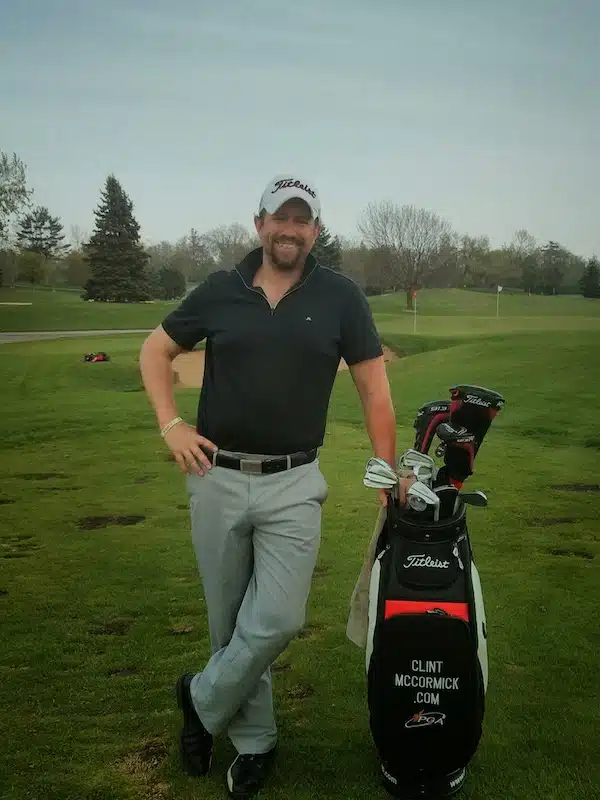 Pros
Time management: Say goodbye to long waits between tee times! With a shotgun start, you can start your round at the same time as everyone else, which saves you valuable time and allows you to enjoy the rest of your day.
More excitement: The shotgun start adds a new level of excitement to the tournament as all players start simultaneously. There's nothing quite like the sound of a "shotgun" (or, in most cases, a siren) blast signaling the beginning of a round.
Balanced playing field: Since all players start at the same time, a shotgun start evens the playing field and eliminates any potential advantages or disadvantages based on tee times.
Cons
Limited flexibility: With a shotgun golf start, players must start at a specific time and location, which can be inconvenient for some players who prefer to start at a different time or location.
Logistical challenges: Shotgun start requires careful planning and coordination between organizers, players, and caddies to ensure a smooth and efficient process.
Difficulty in scoring and leaderboard management: Since players start at different holes, scoring and leaderboard management can be more challenging than traditional tee times.
Potential delays: If there are any delays at the start of the tournament, it can create a domino effect and cause delays for all players, potentially impacting their entire day.
Tee Times Vs. Shotgun Start—Which Is Better?
Let's talk about one of the biggest debates in golf tournaments—tee times versus shotgun start.
In essence, tee times are the more traditional format, where players are assigned specific times to start their round, typically 9-12 minutes apart. It's a method that allows players to begin their rounds at their leisure, providing a bit more flexibility in scheduling.
On the other hand, a shotgun start is a more unique approach, where all players start at the same time from different holes, with the help of a starter's gun, usually at 8:00 am or 1 pm sharp.
So which is better? It ultimately comes down to your situation. A more casual charity event may benefit from a shotgun start, while a more professional tournament may opt for tee times for its flexibility and fairness.
Examples Of Successful Shotgun Start Tournaments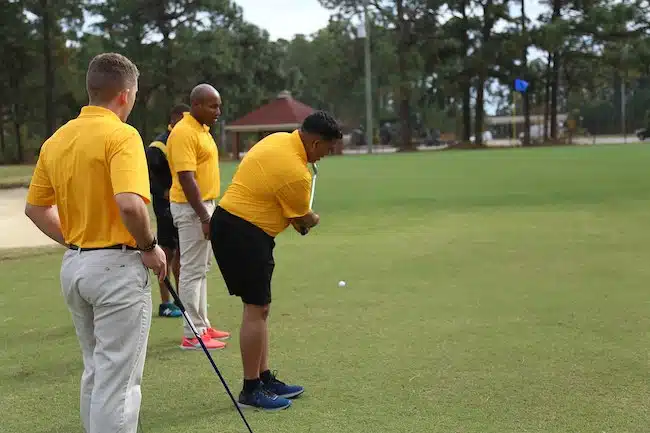 If you're wondering where you can witness the shotgun start format in action, look no further than some of the most prestigious golf tournaments in the world.
Professional golf tournaments have embraced the shotgun start, and for good reason. The European Tour's Alfred Dunhill Links Championship and the PGA Tour's AT&T Pebble Beach Pro-Am are two examples of top-tier tournaments that employ the format.
But it's not just the pros who get to enjoy the shotgun start experience. Charity events and corporate outings also use this unique format to add an element of excitement and challenge to their golfing activities.
When And Why To Use Shotgun Start Format?
Let's break it down for ease. First of all, the shotgun start is typically used when there are a large number of players competing in the tournament.
It's a way to streamline the process and ensure that the tournament runs smoothly. Plus, it adds an element of excitement and anticipation for the players and spectators alike.
Now, let's talk about when to use it. If you're organizing a tournament with 100+ players, it's definitely worth considering the shotgun start. You save time and eliminate the need for players to wait around for their tee time.
But keep in mind that the shotgun start isn't always the best option. If you have a smaller field of players, using the traditional tee times may be more beneficial.
How Can You Have More Than 18 Groups Play With A Shotgun Start?
Golf tournaments with a shotgun start format typically present a challenge when accommodating more than 18 groups. Nevertheless, you can find a way to make it happen with some ingenuity and flexibility.
One approach that can be useful is the "double shotgun start." In this format, groups are assigned a hole and a letter designation of either 'A' or 'B.' Upon the first siren, all the 'A' groups tee off. Once they clear the fairway, the second siren will blast, and all the 'B' groups will tee off.
Alternatively, you can opt for a "modified shotgun start." Some groups begin on the front nine, while others start on the 10th to stay ahead of the tournament. This can offer more flexibility and enable you to accommodate regular play as well as the tournament.
However, remember that with more groups, logistics become more complex, and communication and coordination become even more critical. As the organizer, you need to ensure that players know where to go and when to start and that the tournament runs smoothly.
Make Things More Interesting—The Scramble Format
Scramble format shotgun start—it's a mouthful, but it's a popular variant of the classic shotgun start format.
In a scramble format, each team member hits their tee shot, and the team then chooses the best shot. Then, all players hit their next shot from that spot. This process is repeated until the ball is in the hole.
If you're looking for added fun, then this format is definitely for the win.
FAQs
Does The PGA Do Shotgun Starts?
Yes, the PGA uses the shotgun start format for some of its tournaments, particularly those with many players, such as Pro-Ams. This format can alleviate congestion on the course and make for a smoother tournament experience for both players and spectators.
Nevertheless, due to convention and popularity, the PGA usually uses other formats, such as tee times.
How Many Golfers Can Play With A Shotgun Start?
The number of golfers that can play with a shotgun start depends on the specific course, its layout, and the number of available holes. Generally, the shotgun start format is designed for tournaments with a larger number of players, with 36 groups, or 144 players, being the maximum number that can be accommodated.
What Is A Reverse Shotgun Start?
A reverse shotgun start is a variation of the traditional shotgun start format. Unlike the traditional shotgun start, where all players tee off simultaneously from different holes, the reverse shotgun start begins with all golfers playing a full round, but in reverse order.
That is, the last hole becomes the first, the second-to-last becomes the second, and so on. This format can offer some distinct advantages over the more conventional tee-time, or shotgun start approaches.
One key difference between the reverse shotgun start and the traditional shotgun start is the way tee times are assigned.  Rather than being pre-assigned by the tournament organizers, tee times in a reverse shotgun start are typically determined by each player's finishing time on the preceding hole.
Conclusion
And there you have it, folks! We've covered everything you need to know about what is a shotgun start in golf, from its definition and purpose to the advantages and challenges of using the format.
If you're looking to graduate to senior golf, understanding the different tournament formats, including shotgun start golf tournaments, can help you navigate the golfing world with confidence and ease.
We hope this guide has given you a clear idea of how the shotgun start works.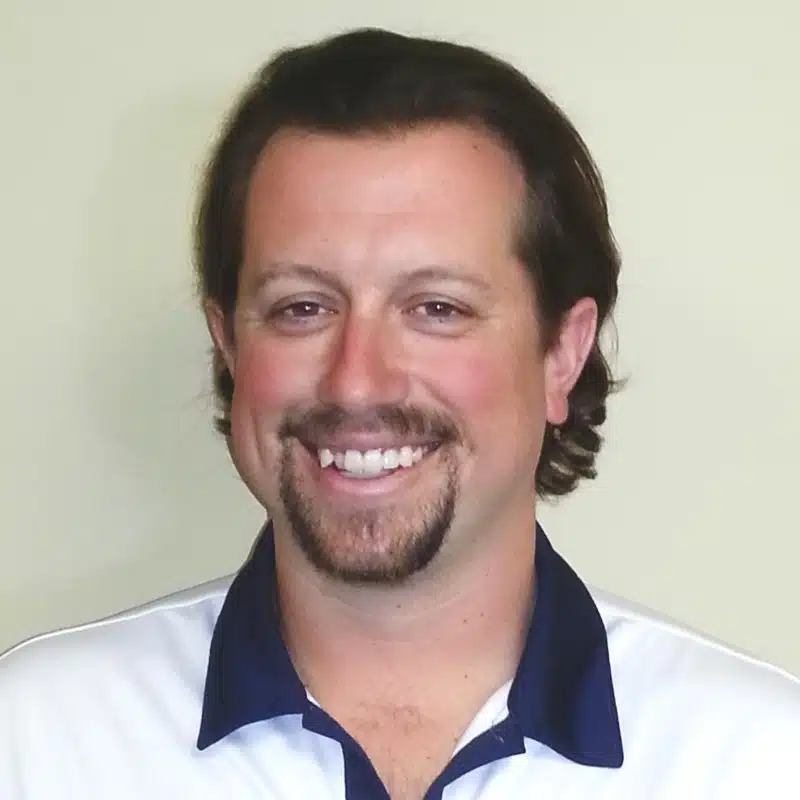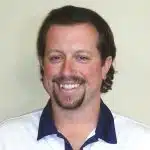 Clint became the Head Teaching Professional at one of Toronto's busiest golf academies and was featured on Canada's National Golf TV program, "Score Golf Canada," twice. He now tests and reviews golf equipment and gets to enjoy the game he loves whenever he wants while helping people lower their scores.