The USGA plays a big role in golf, and they dictate the game's rules. Many golfers don't realize it, but they test over 2,000 golf clubs, balls, tees, gloves, and other golf products. Their tests will create regulations that professional golfers must follow.
What is the longest driver shaft length? USGA rules dictate that the driver shaft can't be longer than 48 inches and can't be shorter than 18 inches. You may want as long a driver as possible too. Every 1 inch of your driver shaft can lead to 1 mph in clubhead speed, which can lead to 2 to 3 yards off the tee.
But having a long driver shaft may not necessarily lead to more yards. The longest driver shafts can be more difficult to hit.
Read on to learn about the rules around it, the factors in a drive shaft that can lead to more distance, including the best drivers and things to look out for.
Beware: Don't Buy Too Long of a Driver Shaft
You may buy a driver shaft thinking that all golf companies will follow the rules of the USGA.
In fact, to satisfy the cravings of the recreational golfer, several companies even brag about manufacturing driver shafts longer than 48 inches. One company brags that it can produce a 6-foot golf driver, but this will create problems if you try to play in official tournaments.
Some trick-shot artists like to swing the long driver shafts so that they may have their place, but you need to understand how and when to use them.
Does A Longer Driver Shaft Help You Get More Distance?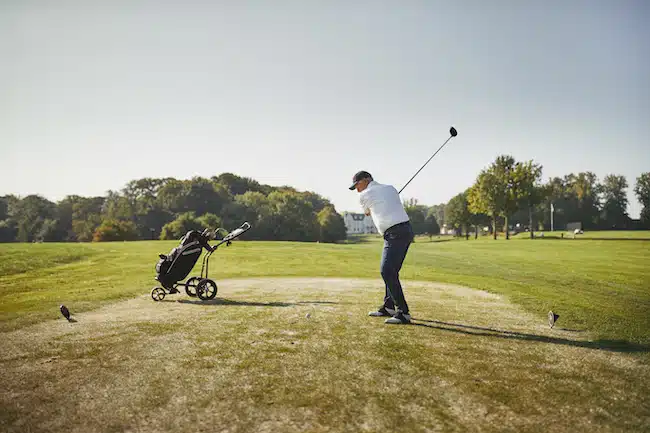 For every inch you add to your driver shaft, you should add about 1 mile per hour to your clubhead speed. Each 1 mile per hour of increased clubhead speed can lead to 2 to 3 more yards off the tee.
But this data was found by testing with robots.
Humans actually vary their swing based on the driver shaft length. Longer drivers are more difficult to swing. If you hit inaccurately, that extra few yards won't help you.
But some driver shafts can add help you add distance off the tee.
What Makes a Driver Shaft Better for Distance?
Stiff shafts make sense, especially if you can swing faster because they let you hit the ball farther. Besides a stiff shaft, you want to buy a driver shaft with a higher kick point. The kick point is where the shaft flexes the most during the swing. Especially if you want distance, you would want to avoid a lower kick point because you launch the ball higher, but it loses distance from it.
Shaft Materials and Their Impact on Distance
The shaft material that you choose will impact the distance. Steel shafts will give you greater control over the ball and improve your distance. Graphite is another common shaft material that you encounter, and it has grown in popularity because of how you can swing it faster to make the ball fly farther. At the same time, it works well for high handicappers and PGA Tour players alike. Just remember that they do cost a bit more. Don't look for a 25-yard increase, but you should see a greater improvement in distance with them.
Titanium is the newer material to hit the golf market. This material is stronger and stiffer than other options, and they dampen vibrations better than the other choices. You might choose a shaft with this material in cases where you don't struggle with distance but would like to add more accuracy.
The 3 Best Golf Driver Shafts for Distance
Let's look at the best golf driver shaft options for distance to let you take shots farther than the other shafts.
 Remember: The shaft is the opening door to finding the perfect golf club. You need the right shaft to get the right club.
Measuring 45.5 inches, the Fujikura Ventus Black has low launch and low-spin characteristics, making it a great choice for professional golfers with swing speeds over 110 mph. The Fujikura Ventus Black will maximize your distance in the hands of the right golfer. It's an extra stiff graphite shaft that may cost more because of that, but we would call this the best driver shaft for distance.
Pros
Maximize your distance
Extra stiff graphite shaft of high quality
Has a low spin and low launch
Cons
Expensive for a golf shaft
They designed and engineered the Grafalloy ProLaunch Blue with a launch monitor, making it the first of its kind. Because of the design, you don't need to worry as much about hook shots or slices. This golf shaft is one of the longest driver shaft options at 46 inches in length. The lightweight nature of the shaft makes it produce a higher spin rate. You can maximize your distance through an improved launch angle.
This golf shaft includes patent-pending technology known as Dynamic Torsional Stability.
Pros
Good lightweight shaft
Affordable
Fast and reliable golf shaft
Cons
Some say they lost distance with the senior flex
This golf shaft offers a high launch for those who want to get the most distance on their shots. When you put it in your hands, you feel the control over the club. This is a longer driver shaft, and the shaft's length is 46 inches. They designed it to help you increase your velocity and distance. One golfer said that when they swapped out their previous shaft for this one, they saw a definite increase in distance.
In particular, this golf shaft makes the most sense for golfers who swing between 106 and 115 mph.
Pros
Gives you excellent distance
Designed to help with velocity
Great value
Cons
Not the strongest durability
Why Trust GolfSpan?
You can trust GolfSpan because we have operated our business with the utmost integrity, and as one of the bigger industry players, we didn't get this big without helping many golfers in the process. We are professionals dedicated to helping you improve your golf game, and we hope that our recommendations will be of true value to our customers.
Factors That Affect Golf Driver Distance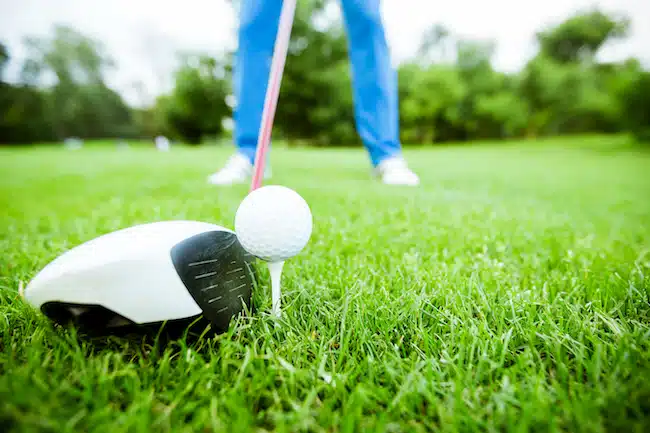 A longer driver shaft will impact how far you hit the ball, but multiple factors will impact the distance of the golf ball, including:
Wind
Elevation
Humidity
Clubhead
Factor #1: Wind
In particular, the direction of the wind will dictate how far the golf ball flies. When the wind moves in the same direction as the ball, it will fly a farther distance. Moving against the wind, believe it or not, does have a couple of advantages, like greater accuracy and a straight shot. The biggest issue with the wind comes from how it loses distance.
Wind crossing your path will curve the ball, so you want to plan for this in advance with your shot to avoid bunkers and water features.
Factor #2: Elevation
The ball will travel about five percent farther for every 1,700 to 1,800 feet of elevation. Balls at that elevation will travel about 10 percent farther. The golf ball flies farther because of a change in air density. As elevation increases, the air density drops and equates to less resistance.
Factor #3: Humidity
Greater humidity levels will increase air density and make the ball fly farther. That happens because water vapor is lighter than dry air. With less resistance in the air, the ball will fly farther. Especially in regions with humid climates, this can mean that the ball flies farther one day over the next. On a hot and humid day, you may hit the ball for a greater distance.
Factor #4: Swing Speed
When you can swing the club faster, it will send the ball a greater distance. Let's say that you increase your swing speed by 5 mph. Your distance will increase 11 yards or more in those cases. Lighter weighted clubs will increase your speed and help you to hit the ball harder.
Custom Fitting for the Optimal Driver Shaft
A custom fitting will help you determine the correct length of your driver shaft. You do this because it will help you achieve greater consistency with your golf shots, and you will see your balls go farther. You can do this best through a knowledgeable shaft fitter because they will ensure it gets done right.
FAQs
Does a Longer Driver Shaft Give You More Distance?
Longer driver shafts will generally let you hit the ball for the farthest distance. Still, the extra length can prove more problematic to amateur golfers than its worth, and you may choose something else for it instead.
Will Graphite Shafts Give Me More Distance?
Graphite shafts were meant for the slower swing speed players, but the manufacturers designed them to help you out the most with distance. You will increase your ball speed and take a better trajectory with your shots.
Conclusion
Whether you want the longest driver shaft or one that suits your stature, we recommend you go in for a custom fitting to get the best shaft for driver distance. Remember that you must play with a driver shaft under 48 inches at official tournaments, or you risk being disqualified.
If we had to recommend the best long-driver golf shafts, we would recommend the Fujikura Ventus Black because of the high-quality graphite material that lets you strike the ball for the maximum distance.